The Paleo Diet is a healthy way of eating based on how our ancestors ate before processed foods and preservatives dominated the Standard American Diet (SAD). As a result, the Paleo Diet is focused on eating real, high-quality, nutrient-dense food that our bodies can digest effectively and utilize efficiently for energy. In short, it is also known as the "Caveman Diet".
The Paleo diet is ever-growing in popularity due to its various health benefits. Aiming to work with your body's genetics, the diet helps you develop a strong, lean, and energetic body by taking your diet back to basics.
Obesity, cancer, diabetes, and heart disease are often attributed to a poor and general lifestyle consisting of no exercise and sugary or processed foods.
Related Readings

The Best Protein Bread: Nutrient-Dense and Popular in 2022
Ezekiel Bread: Boost Your Nutrient & Protein Value in 2022?
An Overview of the Paleo Diet
Here's an overview of the benefits of the paleo diet and the foods allowed to be eaten if you decide to take the plunge and eat like the caveman!
So the paleo diet goes back to dietary basics for vital physical and mental wellbeing.
The Paleo Diet takes us back to basics, stripping away the foods that have been processed or contain a large amount of sugar. Instead, it replaces them with new lean protein, fruit, vegetables, and healthy fats from nuts, seeds, avocados, or olive oil.
Numerous studies have shown that diets high in Omega-3 fatty acids can reduce the risk of obesity, cancer, heart disease, and cognitive decline by a significant amount. The paleo diet takes this into account for the health and wellbeing of the whole person.
What is paleo?
Paleo is a lifestyle change. The paleo diet removes foods that are at odds with our health and increases foods that can aid in better health and overall wellbeing. By decreasing our ingestion of grains, legumes, and dairy and increasing our intake of vitamins, antioxidants, and minerals, One can appreciate the following health benefits:
Possible benefits include:
Weight Loss
Clearer Skin
Increase in energy
Increase in muscle
Reduced allergies
Avoid Cardiovascular Diseases
It Reverses Type II Diabetes
Fewer sugar cravings
Reduce Inflammation in the Joints
Improved Sleep
What foods are not allowed in a paleo diet?
No processed food – More than 1/3 of U.S. adults are obese.
No Gluten/Meat – Between 5–10% of all people suffer from gluten sensitivity and 1 in 133 Americans has celiac disease.
No Dairy – Approximately 65% of the human population has a reduced ability to digest lactose after infancy and 33% of people are lactose intolerant.
No Sugar – 10% of the U.S. population has diabetes and 35% of U.S. adults 20 years or older have prediabetes.
What to Eat on a Paleo Diet?
Protein
Eggs and Egg Whites
Low-Mercury Fish
Shellfish
Poultry (Chicken, Turkey)
Insects
Bison
Carbs
Yams
Sweet Potatoes
Taro
Yuca
Bananas and plantains
Apples and pears
Fats
Olives
Avocado
Egg Yolks
Fresh, unprocessed coconut
Extra Virgin Olive Oil
Extra Virgin Coconut Oil
Paleo Diet Health Benefits
The Paleo Diet improves the ratio of Omega-6 to Omega-3-fatty acids in the body by increasing the amount of Omega-3-rich foods and decreasing the amount of Omega-6-rich foods. Fatty acids are a vital component of the cells in your body.
The type of fatty acid affects both the cells' health and function. The proper ratio of omega-6 to omega-3-fatty acids makes for healthier cells, which makes for a healthier body.
Healthy Eyes, Brain, & Heart
Omega-3-fatty acids are also critical for brain function, growth, and development. They are also shown to be good for the eyes and heart.
Overeating can be a significant contributor to weight gain. The Paleo diet helps a person feel more satiated over a longer period because of improved glucose tolerance and less dramatic spikes in insulin levels.
Since the paleo diet helps insulin levels remain constant, energy levels will be better throughout the day.
Reduced Allergic Reactions
The health of the microbiome has been associated with allergies. The paleo diet is rich in fibre, and the gut microbiome thrives on fibre.
A 2016 study published by a researcher in Sweden showed that the Paleo diet was able to help older women lose significant weight and lower their future risk of diabetes and heart disease over two years. The study included 35 postmenopausal women who were obese but had normal blood pressure.
Reduces inflammation in the body
There are two types of inflammation: acute and chronic. Acute inflammation is essential in healing bruising, cuts, and wounds. On the other hand, chronic inflammation can be damaging and is linked to cancer, heart disease, and other potentially lethal conditions. The Paleo Diet, which encourages the consumption of coconut oil, fibre-rich vegetables, and wild-caught seafood, is considered an anti-inflammatory diet.
Reduce Your Diabetes Risk
Starting a Paleolithic diet consists of lean meat, fish, fruits, root vegetables, eggs, and nuts. People with diabetes who start a Paleo diet can improve glucose tolerance and insulin resistance.
Lowering the Risk of Rheumatoid Arthritis
The Paleo diet has reduced the risk of autoimmune diseases like rheumatoid arthritis (R.A.). Due to the anti-inflammatory properties of the food consumed in the diet and a decreased intake of immune-stimulating anti-nutrients, it is less likely that tissue will become damaged around joints, which can cause swelling and pain.
Reduce Your Chances of Having a Heart Attack
Three common causes of death among adults are heart attacks, cancer, and diabetes. The Paleo Diet helps reduce the risk of these diseases with the change in lifestyle that comes from committing to the diet.
How to get started
Eat only real food (if it doesn't spoil, then don't eat it).
Cut out grains.
Cut out dairy.
Cut out sugar.
Paleo Tips & Tricks
Make sure you avoid gluten, beans, and soy products.
It is better to cook your meals until you are used to this diet.
For salad dressings, try to use avocado and olive oil.
Avoid junk food altogether.
Try to add different types of herbs and spices to your food.
Try to use or add smoked salmon, eggs, and non-starchy vegetables to your meals.
Try to keep your meals simple.
Connect with other people following a paleo diet.
Make sure you eat enough and don't starve yourself.
Clear your kitchen and house out of all non-paleo food items. It will help with the temptation factor.
Drawbacks of the Paleo Diet
The biggest obstacle between people and paleo is usually the intense sugar cravings. Sugar can be as addictive as drugs to some people so you can expect the longing for sugar. You can overcome it with dedication and willpower.
The low amount of carbohydrates in the Paleo diet can result in lethargy, sluggishness, and lightheadedness. However, this effect is temporary and can be avoided by easing into the diet.
Building a Paleo Meal
Salad with Chicken
Vegetables: Salad greens, tomatoes, cucumber, red onion, and kalamata olives.
Protein: Chicken breast
Fat: Olive oil
Optional Extras: Dried cranberries,
Frittata
Vegetables: Tomatoes, mushrooms, basil, pepper
Protein: Eggs
Fat: Bacon
Optional Extras: Sweet potato,
Soup
Vegetables: Carrots, celery, onions,
Protein: Pork ribs
Fat: Olive oil
Optional Extras: Pine nuts
Best Paleo Protein Powders
To increase your protein intake, you need to add a high-quality paleo friendly protein powder to your diet. However, not all protein powders provide similar results. Some paleo protein powders may contain anti-inflammatory ingredients such as whey and casein. As a result, they are loaded with toxic ingredients, added sugar, and artificial sweeteners. It could result in autoimmune or thyroid conditions.
So, here we are with a list of pure paleo protein powders designed for healthy paleo meals.
Let's explore it in detail:
Julian Bakery Protein Powder
If you are not allergic to eggs, you can take this egg white protein powder to get the desired results. It is primarily available in an unflavored cinnamon roll and glazed doughnut flavours. It is entirely soy-free and GMO-free. It is also available in three sizes, packs of 1, 2, and 3, depending on your needs and preferences. It instantly mixes into the water with a smooth texture. In addition to this, it is gluten-free, which is great for adding protein to your diet.
Nutritional Facts:
Calories-108
Protein-25g
Total Carbs-1g
Sugars-1g
Sodium-381mg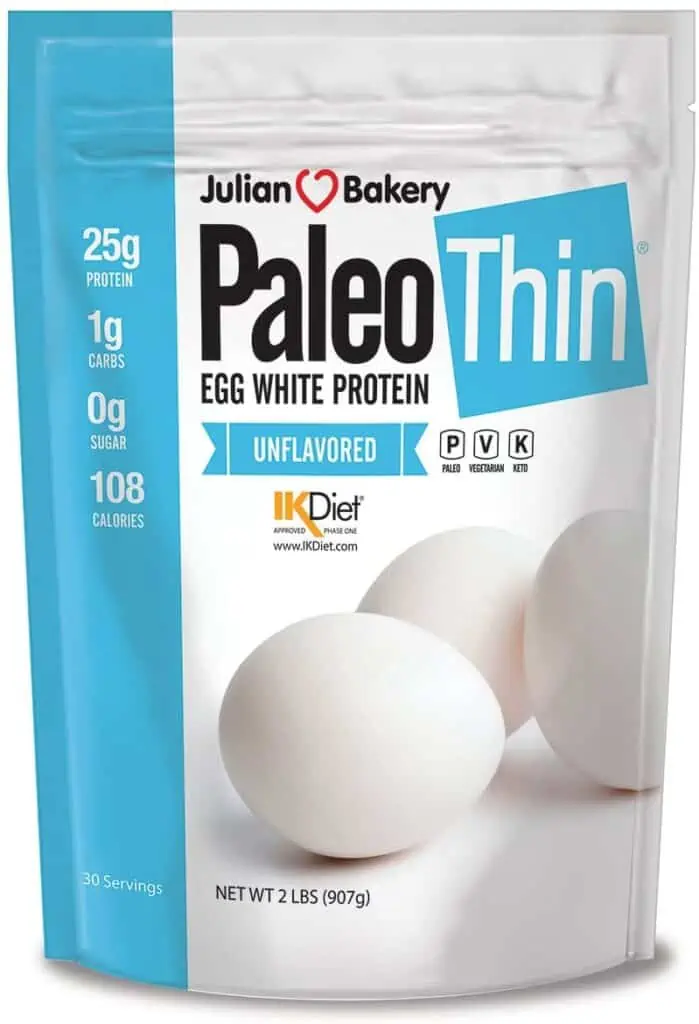 Amy Myers' Paleo Protein
It is a paleo-friendly protein powder that is amazing for making paleo protein smoothies. Moreover, it is a grass-fed and pasture-raised protein powder perfect for keto and paleo diets. It is both gluten and dairy-free. It maintains the non-GMO standard. It mixes easily, which helps in fast absorption in the body. Thus, it is clean and pure, unlike most protein powders available today. The paleo protein formula supports a leaky gut. Furthermore, it encourages weight loss for both men and women.
Nutritional Facts:
Calories-100
Total Fat-1g
Protein-21g
Total Carbs-3g
Dietary Fiber-2g
Sodium-150mg
PaleoPro Protein Powder
Are you looking for paleo-approved protein powders? Well, your search ends here. The Paleo Pro Protein Powder is made from pastured, grass-fed beef and eggs. It contains no added hormones or added sugar. It is entirely gluten-free, soy-free, and whey-free to achieve the best results in feeding your muscles properly. Its protein, featuring paleo ingredients, makes it both healthy and delicious.
Nutritional Facts:
Calories-120
Total Fat-1g
Total Carbs-1g
Dietary Fiber-1g
Protein-26g
Organic Paleo Protein by NaturePlus
It is an unflavored and unsweetened paleo protein powder containing certified organic high protein energy protein. It is entirely vegetarian and gluten-free. Also, it is a plant-based protein that can be used as a paleo meal replacement shake or a paleo protein shake. So, you can easily mix this formula with water, juice, milk, or other drinks. It also contains all the essential amino acids that are helpful for digestive enzymes.
Nutritional Facts:
Calories-130
Total Fat-3g
Total Carbs-9g
Dietary Fiber-8g
Total Sugars-1g
Protein-20g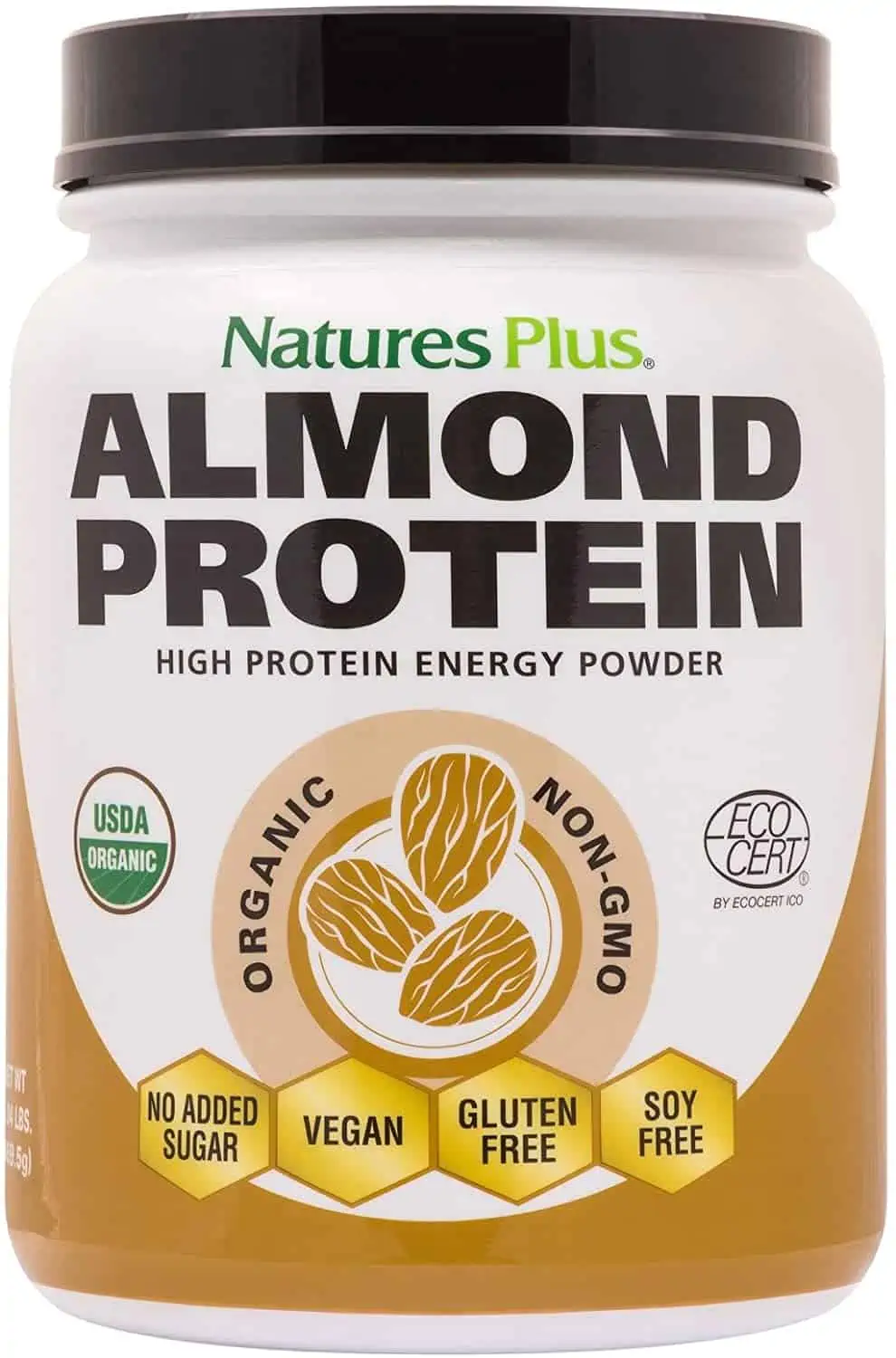 Autoimmune Health- Paleo AIP Protein Powder
It is grass-fed beef collagen available in vanilla banana flavour, cherry choco flavour, cherry chocolate flavour, unflavored, double chocolate, etc. It includes an organic superfood blend that is soy-free, gluten-free, and dairy-free. It is nutrient-dense, which improves overall health and the immune system. Furthermore, it promotes four major diet plans: the SCD, the keto diet, and the autoimmune protocol diet (AIP).
Nutritional Facts:
Calories-51
Cholesterol-2g
Protein-10g
Total Carbs-3g
Dietary Fiber-1g
Sugars-2g
Sodium-70mg
Organic Paleo Grain Free Plant-Based Protein Powder
It is a paleo vegan protein powder with a fantastic amino acid profile. In short, it is a complete raw organic vegan protein powder. It is best used for supporting muscle building, the immune system, and lean muscle growth. It is GMO-free, gluten-free, additive-free, and preservative-free. It is also rich in antioxidants, fibre, and omega 3 fatty acids to promote healthy growth. It maintains high standards for the safety of its users.
Nutritional Facts:
Calories-120
Total Fat-3g
Saturated Fat-1g
Total Carbohydrate-4g
Dietary Fiber- 4g
Total sugar <1g
Protein-18g
Sodium-210mg
Isopure Protein Powder from Nature's Best
It is the best protein powder for a paleo diet. It is available in an unflavored option that supports muscle building, weight management, and supports recovery post-workout. It is best used by professional athletes that have a passion for fitness. It is lactose-free, fat-free, and aspartame-free.
Nutritional Facts:
Calories-100
Cholesterol-5mg
Protein-25g
Sodium-160mg
Natural Whey from BodyLogix
It is natural whey from BodyLogix. It is sourced from grass-fed cows that contain 100% of the protein from the whey. It gives effective results, has no artificial flavours, colours, or sweeteners and is third-party tested and certified. You can make your favourite beverage by using this fantastic whey protein powder for the paleo diet. Also, use this product as a food supplement and not as a weight loss formula.
Nutritional Facts:
Calories: 130
Total Fat-2.5g
Saturated Fat-1g
Cholesterol-95mg
Total Carbohydrate-3g
Total Sugars-2g
Protein-24g
Sodium-80mg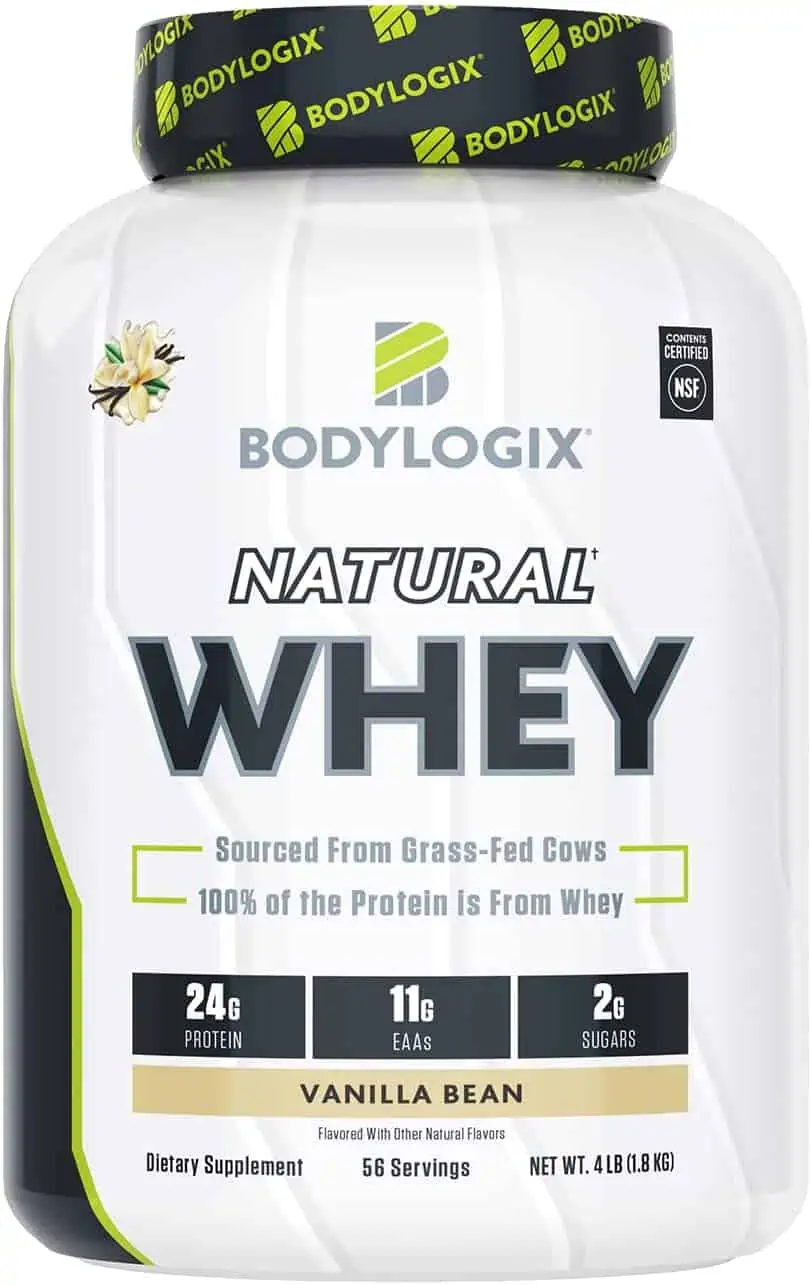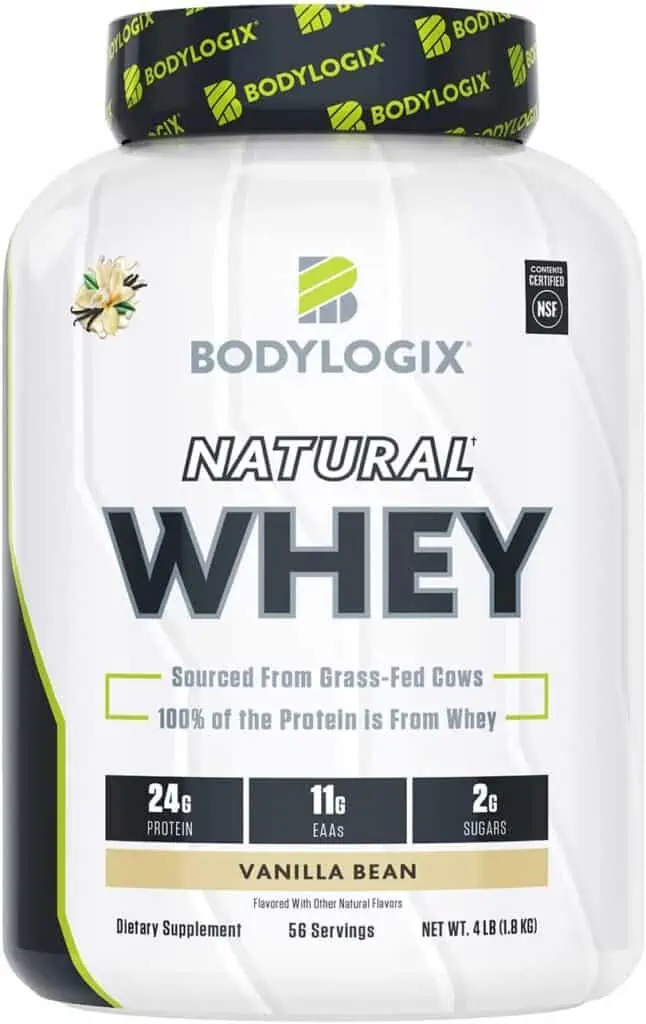 Best Protein Powder for Vegans: PlantFusion
It is a complete protein from the PlantFusion health supplement brand. It consists of clean protein that is dairy-free and gluten-free. It is a plant-based protein powder that works amazingly for digestive enzymes. You can enjoy your meal without having gas or bloating. It is a vegetarian protein mix that tastes delicious with pure flavour. It is best for making smoothies and baking. You can make your shakes and smoothies to enjoy a cool beverage.
Nutritional Facts:
Calories-120
Total Fat-3g
Total Carbohydrate-2g
Protein-21g
Sodium-390mg
Her Natural Whey Protein Powder
It is highly suitable for women who support weight loss and lean muscle mass. It is low-carb, gluten-free, grass-fed, and rBGH hormone-free, contains no artificial sweeteners and keeps a complete amino acid profile. It is available in two flavours: Vanilla and Chocolate Delight.
Nutritional Facts:
Calories-110
Total Fat-2g
Saturated Fat-1g
Cholesterol-30mg
Total Carbs-3g
Total Sugars-2g
Protein-20g
Sodium- 80mg
Conclusion
The Paleo Diet is all the rage right now and is hailed as one of the healthiest diets. Following the paleo diet is more likely to ensure you eat foods without additives, preservatives, or chemicals. However, it may not be for everyone, and if you are set on giving it a go, why not slowly incorporate some of the critical principles before fully adopting the diet?