Need to get fit but worried about being able to accurately track your miles? The good news is you don't need to be a professional athlete to get accurate and reliable fitness tracking data. The most accurate technology is often found in wrist-worn devices, which is why we've selected the best fitness tracker for cycling.
Fitness trackers for Cyclists can be a great motivation to stay active, but they all focus on different aspects of your health. So you'll end up wearing at least two if you want to track how many calories you're burning, or how many steps you've taken, and how much sleep you're getting each night.
But now, with the advancement in technology, you don't have to run around with two different devices, to achieve your fitness goals if you're a cyclist: Some of our best activity trackers for cycling have added various biking fitness metrics to track your daily activity. These monitor your fitness levels in every possible way. How many miles you've biked in a day, your current speed and average speed, heart rate monitor, sleep tracker and even tells you how many hours you were in an intense zone, tracking your heart rate constantly.
Smartwatches vs. Activity Trackers
Which Are Better for Cyclists? Whether we should use a cycling fitness tracker, a smartwatch, or even a dedicated GPS unit is the first step many of us need to take. They are the most basic of the bunch. They are great for people who want to keep a record of their activity and health. Most will include metrics related to the activity. The best activity tracker for cycling and a smartwatch differ most from one another in terms of functionality and intellectual skills.
Features like auto start and stop, third-party app as well as more accurate recording, come as a result of price increases. Wireless pay options and voice and text smart notifications blur the lines between the best cycling trackers and smartwatches. Most smartwatches have a lot of features and various exercise modes. Compared to a bar-mounted GPS unit, watches with full GPS give you better battery life, waterproofing, and sophisticated route maps.
With more advancement in technology, the difference between cycling trackers and Smartwatches is decreasing. Whether it is heart rate variability, power meter, expert recommendations, emergency situation, measuring sleep quality, almost all are available depending on the model you purchase.
According to most fitness instructors, a smartwatch has the same capacity for tracking as the best fitness tracker cycling. For example, most smartwatches have cardiovascular sensors and built-in GPSs for better health tracking, coaching, and special training session. These are water-resistant up to 50 meters and do heart rate tracking.
The most advanced fitness trackers also have various smartwatch features nowadays.
So the situation is rather better for the customer now as the no. of options combining both the categories have almost doubled.
Importance of Battery Life
The hours of battery life is important for cyclists. When you start tracking your workouts or using GPS, the performance of your tracker can drop dramatically. There are smartwatches with a long-lasting battery but with GPS on battery life decreases dramatically.
GPS function on SmartWatch
Various kind of GPS is available in the smartwatches nowadays. If you are looking at a watch with GPS mode, make sure you check to see if it has basic GPS or GPS with Glonass functions. The number of satellites you can communicate with is doubled by this Russian equivalent of GPS. The European Union's Galileo satellite system can be also be accessed by some devices..
Smart Watch with Music
To be able to hear music is, at least for me, a very good addition to a fitness tracker. The majority of fitness trackers can connect to your phone. Some offer access to Spotify, Pandora and Apple Music as well. Purchase a cellular service smartwatch and music can be downloaded. So you don't have a cell phone to carry. Best Fitness trackers for cyclists, with the latest features, also have a payment facility.
The popularity of devices that can take electrocardiogram readings is growing. It can help in the prevention and monitoring of heart rhythm disorders. But I suggest not to rely on the parameters of these watches for clinical purposes and it is always better to consult your doctor. So while doing our reviews, we have considered both the categories this time.
Best Fitness Tracker for Cycling
Garmin Fenix 6 Solar
Size – 1.3″ Thickness -14.7mm
Battery – Li-Ion – 420 mah
Weight – Case only Steel-60gm, Titanium-49gm
Build – Corning Gorilla Glass or Saphire Crystal
Water Resistant – 10 ATM – 100 mtrs
Display – 260*260
Memory – 32Gb
WLAN/Bluetooth/GPS – Wifi/5.0/Yes
The battery life is among the best in its class. The ergonomic design is extremely long-lasting. There are excellent fitness tracking and coaching services available. There is ample room for maps and local music.
Wrist-based heart rate and Pulse Ox sensors provide information about your fitness activities. Dynamic PacePro helps you to operate intelligently across different field types. Running and cycling measures are possible in ways you are not aware of. Surf through your world using Multi-GNSS satellite and outdoor sensors. Synchronize your preferred streaming services with music without your phone.
The entire Garmin Fenix 6X line is the best in class. The 6X Pro is a big watch with many technologies and a lot of batteries, but its size means it won't be for everyone.
If you need to go the extra mile in terms of battery life and workout intensity and don't mind the extra weight, the 6X is a great choice. Most cyclists, however, could stick with a 6 Pro and be just as happy with the quality.
Apple Watch Series 6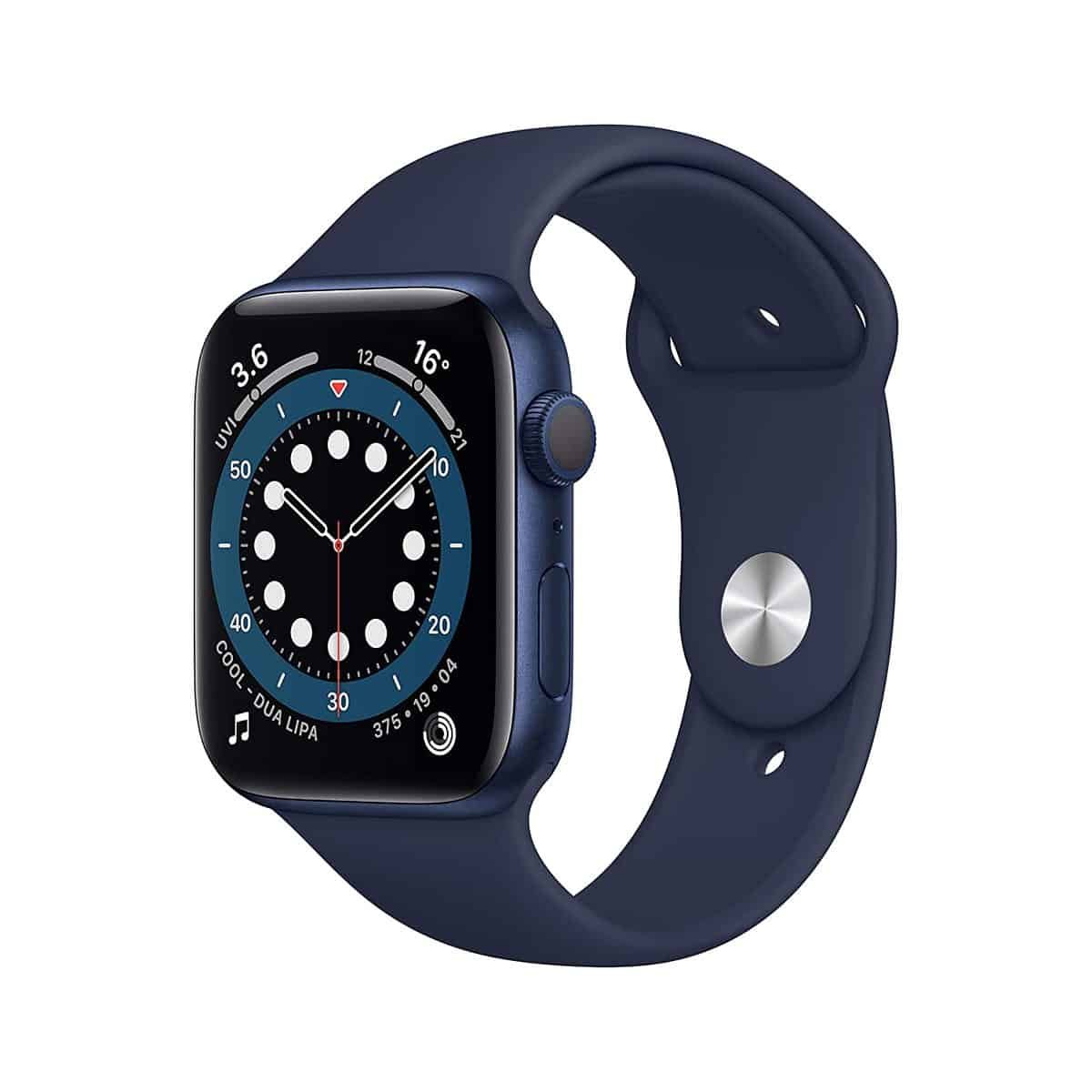 Size – 1.78″ Thickness -10.4mm
Battery – Li-Ion – 304 mah
Weight – 47.1 gm
Build – Sapphire Crystal
Water Resistant – 50 mtrs
Display – Always On 448*368
Memory – 32Gb RAM – 1GB
Loud Speaker – Yes
WLAN/Bluetooth/GPS – Wifi/5.0/Yes
The Apple Watch 6 is fully capable of tracking every rotation. It maps your routes and keeps track of your location using advanced built-in GPS systems. In an emergency, it uses GPS and its built-in cellular system to pinpoint your exact location. It will broadcast SOS signals to the appropriate local emergency services.
After entering the address, you will be able to see your track map on your wrist and receive a wrist tap indicating when the time is correct. You can still personalize your Apple Watch with thousands of different watch faces, as before. There are cycling-specific watch faces available, so look for them on the App Store, the web, or on social media.
The integrated cellular system allows you to ride without the need for a telephone so that you can remain in touch and listen to music while moving. Send texts, make calls or check voicemails anytime, anywhere, and play your favorite tunes. The Apple Watch 6 has a battery life of up to 18 hours on one charge, and overall, battery charging is faster.
Suunto 9 Baro
Size– 1.97″ Thickness -16.8mm
Battery – Li-Ion, 14 Days
Weight – 81 gm
Build – Sapphire Glass
Water Resistant – 100 mtrs
Display – 320 x 300
WLAN/Bluetooth/GPS – Wifi/5.0/Yes
The battery is 25 hrs in Performance mode & 120 hours in Ultra with Charging Reminders. Extensive testing in the most extreme conditions. FusedTrack technology improves track and distance accuracy. Eighty different Sport Modes, Wrist HR and Barometer.
The Suunto 9 Baro is the top-of-the-line smartwatch from the Finnish company, featuring a touchscreen and barometric pressure measurement.
It has a lot of easy-to-operate features. It will provide you with as much data as you need to track your exercise and fitness and your non-exercise activities throughout the day. The Suunto 9 Baro is equally suitable for running, swimming, hiking, and mountaineering: over 80 sport profiles.
Suunto's battery management technology is impressive. When using the Suunto 9 Baro for a combination of activity tracking, all-day wear, and sleep tracking, you can expect it to last for at least a week before needing to be charged.
Polar Vantage V
Size– 1.2″ Thickness -13 mm
Battery – 346 mAh Li-pol
Weight – 52 gm with wrist band
Build – Laminated Gorilla glass lens with anti-fingerprint coating.
Water Resistant – 100 mtrs
Display – Always On colour 240*240
WLAN/Bluetooth/GPS – Wifi/5.0/Yes
Lightweight aluminium shell, wrist-based HR, running & cycling performance tests, Training Load & Recovery Pro to guide you.
The Polar Vantage V2 is one of the most versatile multi-sport watches available, with 130 sport profiles, GPS tracking, and an eight-LED heart-rate sensor. It also works with chest straps and cadence sensors.
The Vantage V2 supplements your training and provides meaningful recovery insights. You can check your training, running & cycling details, hill runs, sleep statistics, and recommendations as well.
The Polar Vantage V2 gives a premium feel due to the aerospace aluminium case. It's lighter and better built than many of its competitors, and it's more stylish and sleek.
A limited set of watch faces and a slow touchscreen. The Smart Watch's capabilities are still limited.
POLAR Grit X
Size– 1.2″ Thickness -13mm
Battery – 346 mAh Li-pol
Weight – 64 gm with band
Build – Laminated Gorilla glass lens
Water Resistant – 100 mtrs
Display – Always On 240*240
WLAN/Bluetooth/GPS – Wifi/5.0/Yes
Track hill ascent and descent. Features Komoot route planning. Fueling reminders for long events and training sessions. It provides training advice in conjunction with a data-rich companion app. long-term sleep tracking battery life. Always-on display with a dedicated button to light up the screen
The Grit X is designed for serious outdoor athletes who train in the mountains. Its Hill Splitter, Komoot route planning, and FuelWise features make it an appealing option for anyone who enjoys cycling, hiking, mountain biking, endurance events, trail running, skiing, or snowboarding. The Grit X and its companion app, Polar Flow, will track your progress, motivate you to move, and provide insights to help you train more efficiently. It has a long battery life, a stylish yet rugged design, and useful, outdoor-specific features.
The Polar Flow app is an excellent companion to the Grit X, providing even more useful insights to help you train. Physical activity, training, nightly recharges, and sleep is all taken care of.
It is on the pricey side and has no smartwatch features other than phone notifications.
SUUNTO 5
Size– 1.4″ Thickness -14.6mm
Battery – Li-Ion–Tracking 7 days Training with GPS 20 to 40 hrs
Weight – 66 gm
Build – Mineral Crystal
Water Resistant – 50 mtrs
Display – Always On 218*218
WLAN/Bluetooth/GPS – Wifi/5.0/Yes
High functionality and athletic qualities. The GPS is very precise. Trusted Sync and the app are great.
The Suunto 5 can do everything that the best bike-specific head units can, plus a lot more. It is a GPS-controlled watch with sophisticated performance metrics that track your condition by utilizing the variability of heart rate, sleep, stress, and other data – something that a cycle unit can not do. It has everything you'll need for sports like cycling and running.
The Suunto 5 has a lot of power, and its sleek, lightweight design makes it easy to use daily. You won't have to worry about running out of juice with its intelligent battery modes and long life of up to 40 hours, even on longer training sessions or hikes. The watch learns your training patterns and even reminds you to charge it, so you're always ready for the next session. The Suunto 5 is built to withstand even the most adverse conditions.
Fitbit Versa 3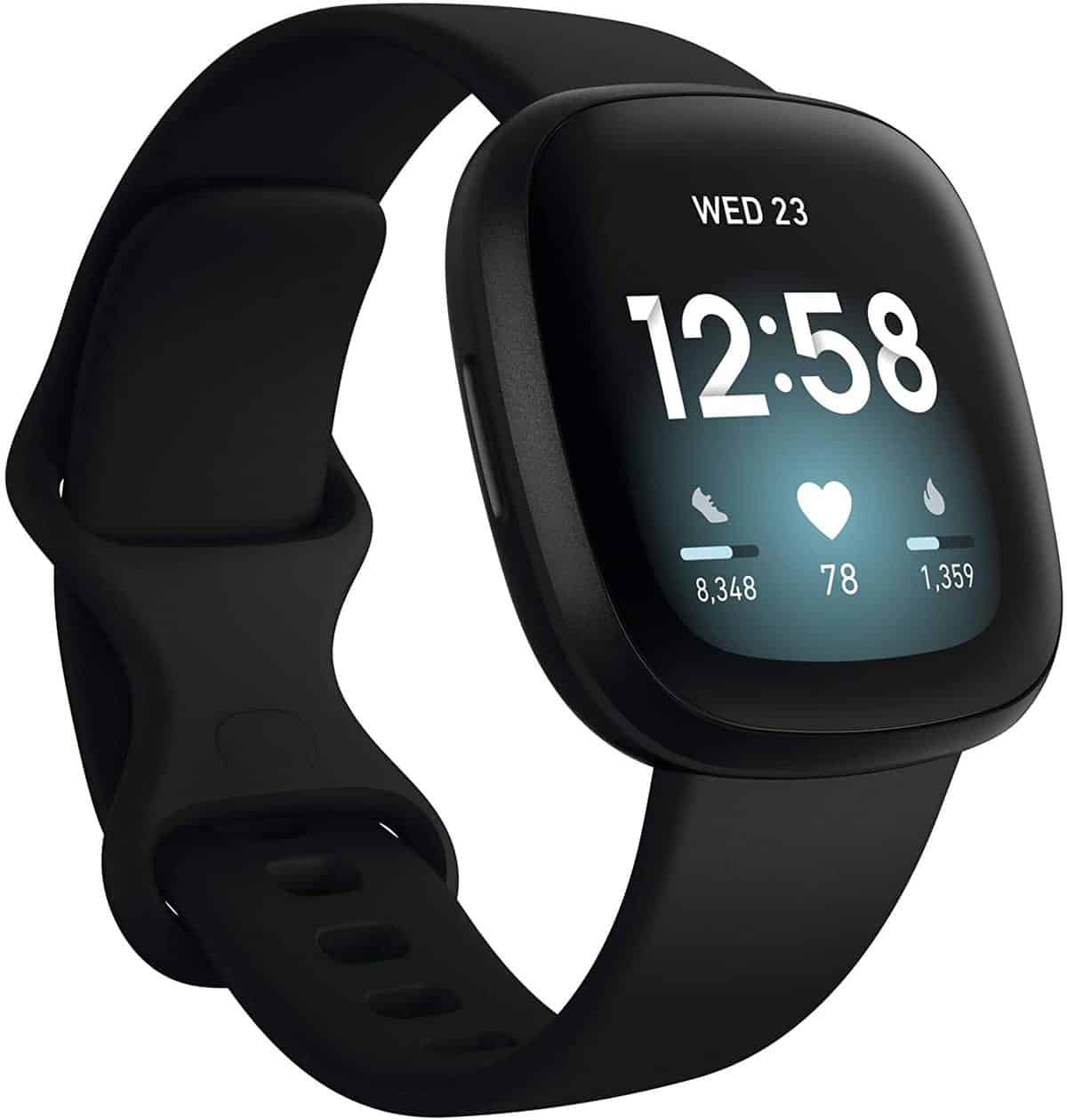 Size– 1.58″ Thickness – 12.35mm
Battery – Li-Pol – 340 mah
Weight – 40 gm
Build – Aluminum Casing
Water Resistant – 50 mtrs
Display – Always On 336*336 Amoled
WLAN/Bluetooth/GPS – Wifi/5.0/Yes
The design is appealing, with a large, always-on color display. The built-in GPS battery charges quickly and lasts for several days.
While sleeping, it measures the level of oxygen in the blood. Amazon Alexa, Fitbit Pay, and Spotify are all supported.
The Fitbit Versa 3 is an excellent wearable with built-in GPS and a few design changes. With only a few productivity apps available, it is more of a fitness tracker than a smartwatch. What you do get is longer battery life, a better display, and a slew of fitness statistics, making this a very compelling and reasonably priced Apple Watch alternative.
It provides excellent value for money, particularly for Android users. If you leave your phone at home, the integrated GPS now tracks the pace and distance of your walks, runs, bike rides, or hikes in real-time.
It has a larger screen, an integrated SpO2 sensor to measure the amount of oxygen in your blood while you sleep, and it supports the Fitbit's Active Zone Minutes metric.
Withings Steel HR Sport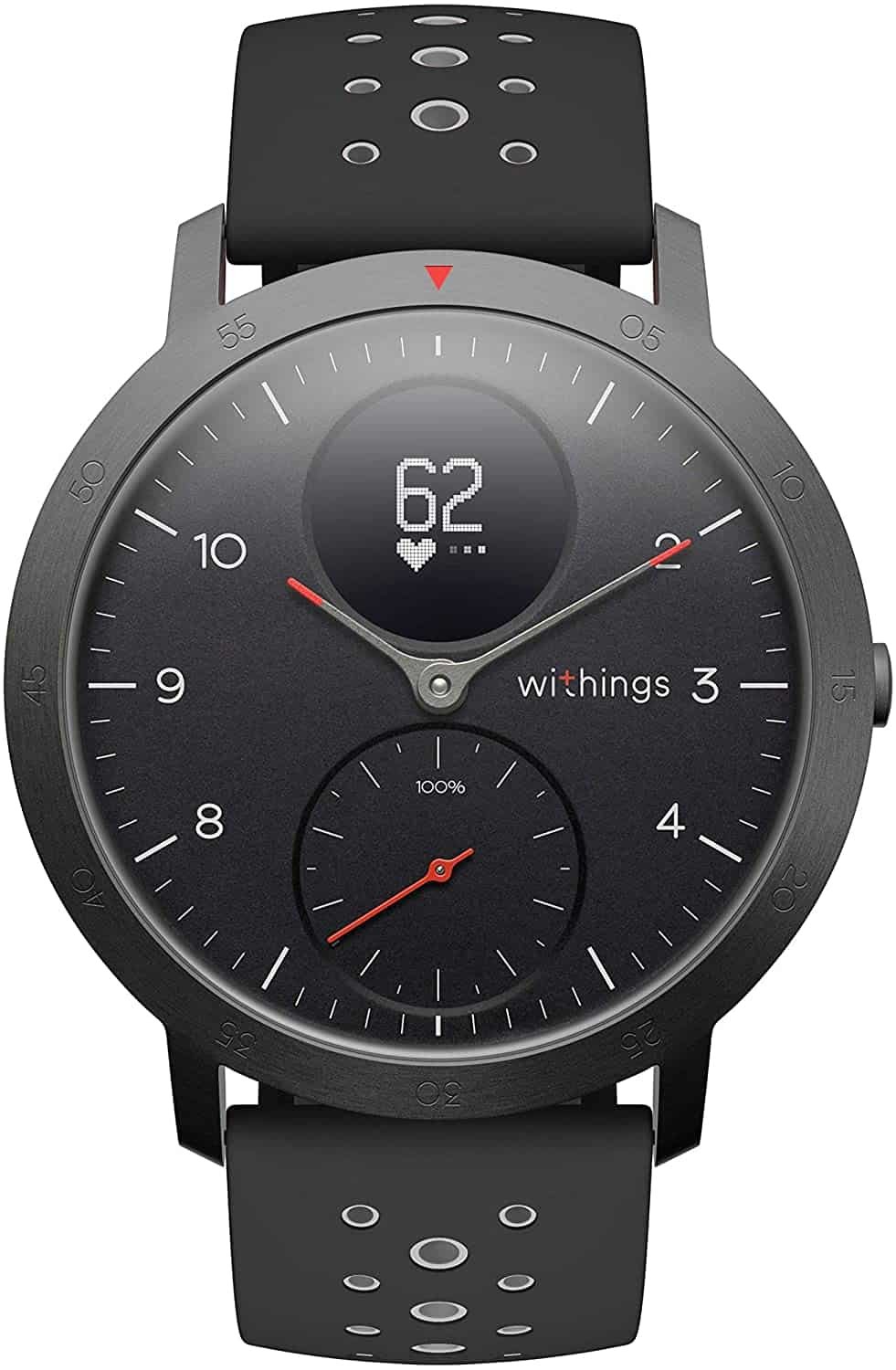 Size– 1.6″ Thickness -13 mm
Battery – Upto 25 days
Weight – 49 gm watch only
Build – Stainless steel case
Water Resistant – 50 mtrs
Display – Oled display 360*360
WLAN/Bluetooth/GPS – Wifi/5.0/Yes
Heart rate monitoring, activity tracking, sleep monitoring, 25 days of normal battery life, stylish design, GPS capabilities and long battery life.
The design of this hybrid watch is slim and light. A small display sits above the main watch. It comes with a perforated sporty band. It's a small and slim hybrid watch that won't take up much room on your wrist. The watch has a stainless steel 40mm case with a black bezel around the outside and a white or black watch face in the center. It has a premium feel to it.
The watch has a small black and white screen. You have a date, alarms, heart rate, calories burned, step count, distance traveled etc. You can also use it to check the battery life.
Garmin Lily
Size– 1.36″ Thickness -10.15 mm
Battery – Upto 5 day Battery Life
Weight – 24 gm
Build – Corning® Gorilla® Glass 3, fiber-reinforced polymer
Water Resistant – 50 mtrs
Display – 240 x 201 pixels LCD
WLAN/Bluetooth/GPS – Wifi/5.0/Yes
A classic watch design that is both stylish and timeless. Breathing, energy, and stress levels are all measured. SpO2 sensor and a plethora of useful widgets This is an excellent companion app.
It is extremely classic and modern to make a statement and keeps you connected as well. You've never seen a smartwatch this small and capable. The stylish patterned touchscreen display lights up by flicking the wrist and then disappears by itself. Lily is petite and stylish. A small, fashionable smartwatch that keeps track of your vital health statistics.
The Garmin Lily is a stylish watch that was thoughtfully designed with women in mind. It has a slimmer profile, a more appealing face, and a thinner band than any previous Garmin device. Menstrual tracking is available by default on your wrist, and sending an emergency alert to a contact is as simple as repeatedly tapping the touchscreen.
One Bonus Review – I personally love this one
Fitbit Charge 4
Wrist Band
Battery – 7 Days – 5 Hrs with GPS
Water Resistant – 50 mtrs
Display – Grayscale Touch Screen
WLAN/Bluetooth/GPS – Wifi/5.0/Yes
It has a built-in GPS and a robust app. You have Spotify support and various sleep tools. Fitbit Pay is also present. It also has the new Active Zone Minutes to monitor your vigorous heart rate according to WHO guidelines. To top it all, it has a very pleasing design.
The Charge 4 has a slim design, measuring less than half an inch thick at its thickest point, and a one-inch diagonal grayscale touch screen.
If you want to improve your health and fitness, the Fitbit Charge 4 and its excellent companion app provide a wealth of insights to help motivate you to get moving and sleep better. The Charge 4's display could be improved, but it has a sleek design, a long battery life, and is water-resistant. The Charge 4 is one of the best-advanced fitness trackers you can buy. It has GPS, Spotify controls, better sleep tracking, and Fitbit Pay too.