The shoulder is the body's most mobile joint in the body. The shoulder is susceptible to a variety of pain-inducing conditions like rotator cuff injury, shoulder bursitis, shoulder impingement syndrome, frozen shoulder.
One of the most common concerns is the rotator cuff. The rotator cuff, a collection of four muscles and tendons, gives the shoulder its range of motion.
Painful rotator cuff happens due to swelling, injury or bone changes. Your arm may hurt when lifted over your head or moved forward or backwards.
Can a mattress or sleep position hurt your shoulder?
A small 2017 study found that people who sleep with their dominant hand on their forehead while lying on their back were most likely to experience shoulder pain. This position puts more stress on the neck and shoulder muscles than on others.
The shoulder is a ball-and-socket joint prone to injury with persistent discomfort. A number of illnesses may cause shoulder discomfort, but if you can't pinpoint the source, your mattress may be to blame.
Shoulder discomfort is a widespread ailment, affecting up to 26% of Americans. The mattress a person sleeps on each night influences how much pain they feel.
Trying to sleep with shoulder discomfort is difficult; try a new mattress. If your memory foam mattress is causing shoulder discomfort, it's time to upgrade.
Sleeping on an old, uncomfortable mattress may aggravate shoulder discomfort. Even if you suffer shoulder discomfort, your mattress should help you sleep.
Sleeping Possibilities during Shoulder Pain
To get a good night's sleep after a rotator cuff injury, most people need to change their sleeping posture. After rotator cuff surgery, some doctors claim it takes six weeks to sleep comfortably horizontally. Sleeping reclining may be more comfortable than sleeping flat on your back.
Several pillows behind your back may create a reclined posture when resting in bed or on the sofa. If you have an adjustable bed, you may change the mattress's angle. Put a cushion beneath your wounded arm for extra support. Lie on your back with your wounded arm raised. Pillows may help relieve tension and strain on an injured side.
Keep your injury-free side down. If the pain is in the right shoulder, sleep on your left side. Sleeping with a rotator cuff injury isn't easy. See what works best for you.
Related Readings

Recumbent, Exercise or Air Bike? Which 1 is Best for Me?
Best Mattress for a Platform Bed! 9 Luxurious Yet Affordable
Melatonin Gummies Benefits and Dosage: The 7 Best Selling!
What firmness of mattress is best for shoulder pain?
We recommend a medium-firm mattress for shoulder discomfort. This will support your body without being overly harsh.
Many light sleepers with shoulder discomfort prefer softer beds. For side sleepers, additional padding under the shoulders and hips is frequently required for proper spinal alignment.
While no mattress can entirely eliminate shoulder discomfort, some are more suited to reducing pressure than others. Weight and preferred sleeping position also influence which mattress is ideal for a person.
You may select a mattress that relieves shoulder discomfort. Experts advise sleeping on the opposite side of the discomfort and changing routines as required to prevent exacerbating any damage.
How do I stop my shoulder from hurting in my bed?
You may select a mattress that relieves shoulder discomfort. Experts advise sleeping on the opposite side of the discomfort and changing routines as required to prevent exacerbating any damage.
Adults in the US suffer from chronic shoulder discomfort. Daily activities may exacerbate this problem, causing nighttime pain. Fortunately, the proper mattress may help shoulder pain sufferers sleep better.
Pain induced by a medical condition may be episodic. When you aren't in pain, you may require moderate cradling, but when you are, a gentle embrace may be needed. For this, I recommend a topper over your mattress so you may add or remove the cushioning layer as required.
A mattress that provides both spinal support and pressure reduction is ideal.
As stated before, a mattress topper may help relieve shoulder discomfort. A soft topper may help alleviate shoulder discomfort and strain if you sleep on a too-firm mattress or a new mattress that hasn't fully broken in. If you currently have a wonderful mattress and want to keep it but need additional pressure relief, a topper is usually the best choice.
If you're a side sleeper with shoulder discomfort, your mattress should be neither too hard nor too soft. Your height, weight, and sleeping position will assist in identifying the most comfortable density.
Sleeping on your stomach misaligns your shoulder.
Use a firm cushion under your head to help straighten your spine and relieve shoulder strain. Sleeping without a pillow strains the neck and exacerbates shoulder discomfort.
Even if you suffer shoulder discomfort, your mattress should help you sleep.
Best Mattresses for Shoulder Pain
Most excellent side sleeper mattresses with shoulder discomfort are between 5 to 7 firm on a scale of 10. They adapt nicely to the body form and do not cause excessive shoulder strain.
Nolah Evolution 15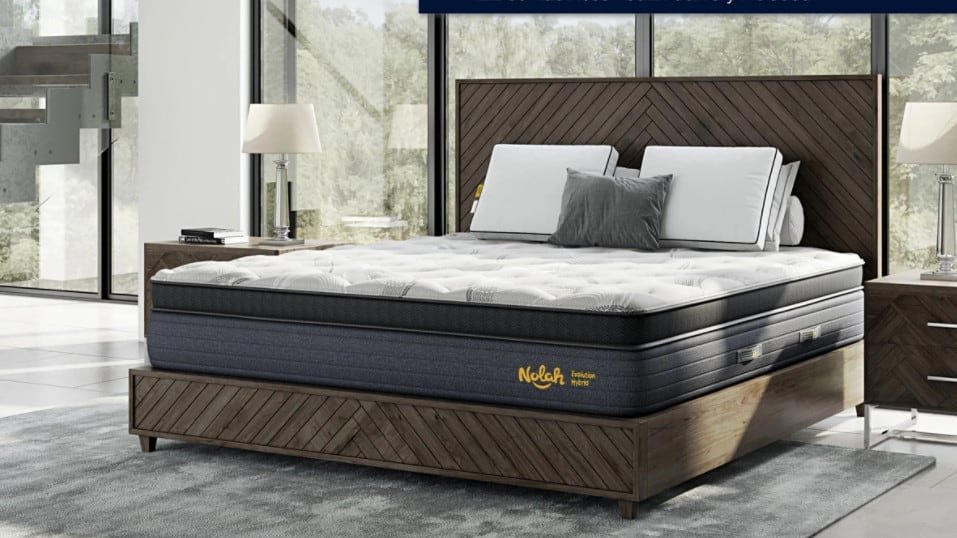 120 Night trial with money back guarantee.
Warranty – Lifetime Warranty
The Nolah Evolution 15 is a plush hybrid with a thick profile and a foam-padded Euro-top. A graphite-infused polyfoam comfort layer conforms to the body without undue clinging or heat retention, while another polyfoam layer offers transitional support and avoids excessive sinking.
The support core is made up of pocketed coils that are zoned by thickness. Stronger coils support the torso and hips and strengthen the perimeter to avoid drooping when you sleep or sit towards the boundaries.
The Evolution 15 comes in three firmness levels. The plush choice is a medium, suitable for side and back sleepers up to 130 pounds. The medium-firm offers a little more support for sleepers weighing 130-230 lbs. The firm feel provides great support for sleepers above 230 pounds.
Hot sleepers should like the mattress. Aside from the graphite-infused comfort layer, the coil system helps maintain a pleasant core temperature. The cover is composed of a breathable cooling fabric.
Zinus Memory Foam Mattress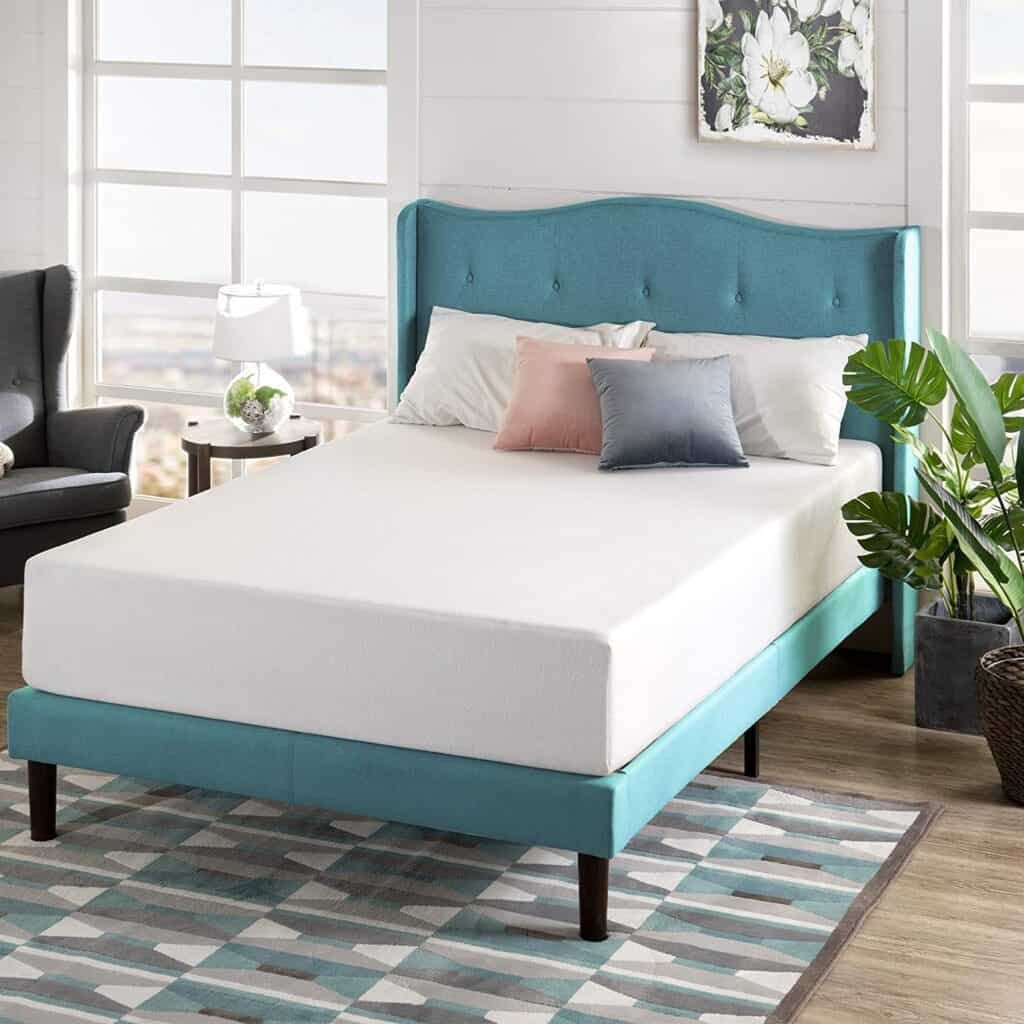 100 Night trial with money back guarantee.
Warranty – 10 Yrs Limited
The pressure-relieving memory foam cradles your form and infuses it with refreshing green tea and moisture-absorbing Activ Charcoal.
3″ conforming memory foam, 2″ soft comfort foam, and 7″ durable high-density base support foam are all excellent for side sleepers and petite to medium weight sleepers. This bed should provide excellent contouring and pressure relief while still preserving good spinal alignment for average-weight side sleepers.
Medium-heavy back sleepers may like something firmer though you do feel the weight equally distributed. Some back sleepers like to feel on top of the mattress rather than engulfed by it so they might like a firmer mattress. Medium to heavy stomach sleepers might also require a firmer mattress to avoid sinkage at the hips.
The highest quality foam is used in this mattress which is CERTIpur US certified, which means it has been tested for content and performance.
Linenspa Hybrid Memory Foam Mattress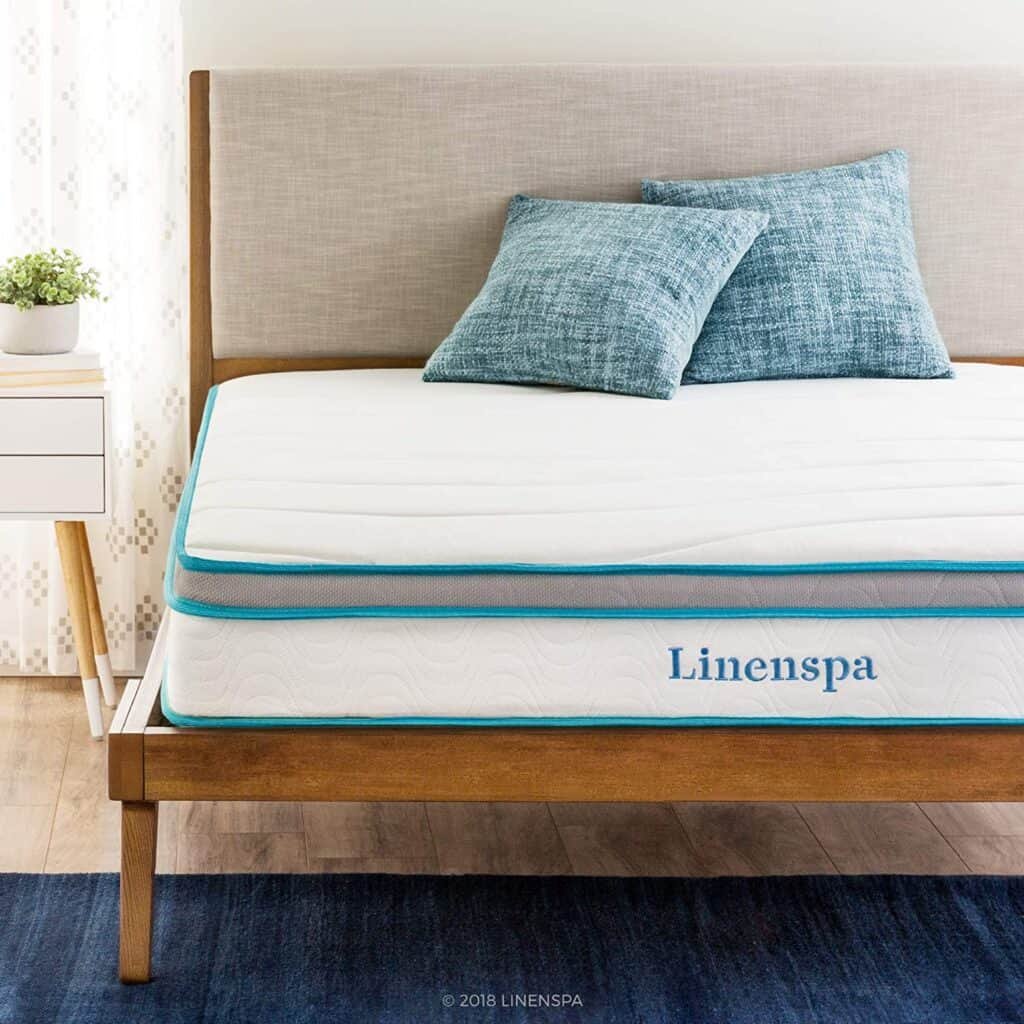 30 Night trial
Warranty – 10 Yrs Limited
For a medium-firm feel, this 8-inch hybrid mattress combines hypoallergenic memory foam with conventional innerspring support. A soft layer of memory foam aligns the spine and relieves pressure spots.
Side sleepers with normal weight may find a nice mix of softness and support for their shoulders and hips. The coil core should conform to their contour, and the polyfoam comfort layer should provide extra cushioning.
The Linenspa Mattress should support most back sleepers of all weights. A lighter person will receive less padding, but plenty of support. A heavier back sleeper may receive greater support and cushion, but their hips may sink into the bed somewhat. But this is unlikely to matter. Stomach sleepers of all weights should be comfortable.
Lucid Memory Foam Mattress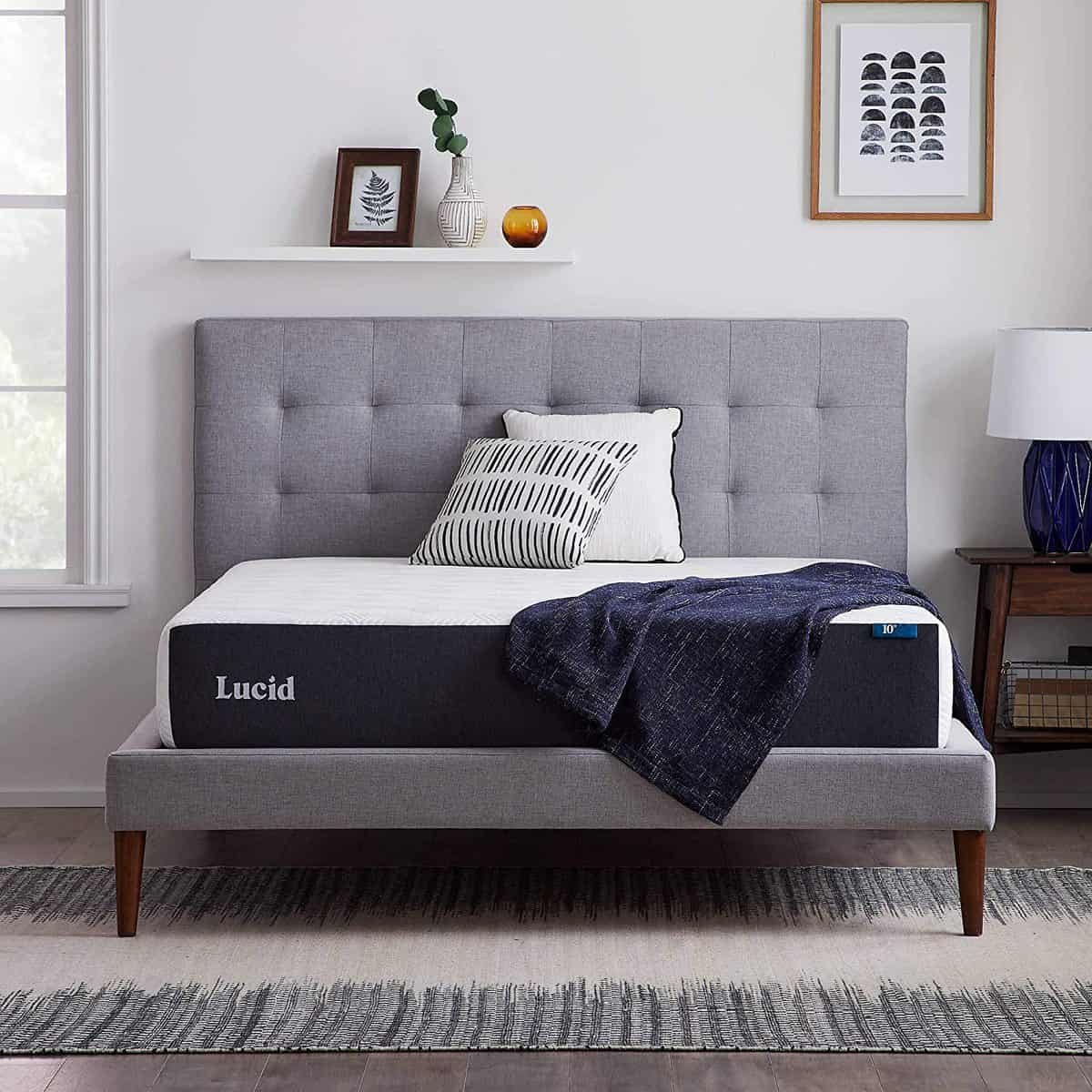 30 Night trial
Warranty – 10 Yrs Limited
This mattress has a 10-inch medium-soft feel. Gel-infused memory foam controls temperature and relieves pressure spots.
The 2.5-inch vented top layer with gel memory foam helps control temperature and improve circulation, resulting in a cooler sleep experience. This mattress has 1.5 inches of transition foam and 5.5 inches of thick bamboo charcoal infused support foam.
Being on the firmer side, it offers a good balance to back sleepers. The sinkage feels great for the comfort of the lower back. There is little pressure around the shoulders and hips for side sleepers. The memory foam contours well to sensitive areas.
Stomach sleepers like firmer mattresses to keep their hips up for proper spinal alignment. So it might suit you if you are of normal weight.
Necter Gel Memory Foam Mattress
365 Night trial
Warranty – Lifetime Yrs Limited
Nectar is a gel memory foam bed-in-a-box that helps distribute your weight and body heat evenly throughout the mattress so you don't get overheated or feel bumps.
This Nectar has a top layer of quilted cooling Tencel mattress cover with a second layer of gel memory foam for support. It is a top-rated mattress with several layers of premium memory foam. This medium-firm mattress offers the slow sinking comfort of memory foam.
The Nectar is one of the most comfortable memory foam mattresses available. It should suit buyers who value pressure alleviation and contouring. It is one of the finest soft mattresses with slow-moving memory foam suitable for light to medium-weight side sleepers who need a shoulder and hip relief. It also suits medium-build back sleepers seeking comfort and support.
It's cool, breathable and firm. Nectar conforms to your body, easing aches and pains. It's strong enough to support you yet soft enough to comfort you.
Casper Sleep Element Mattress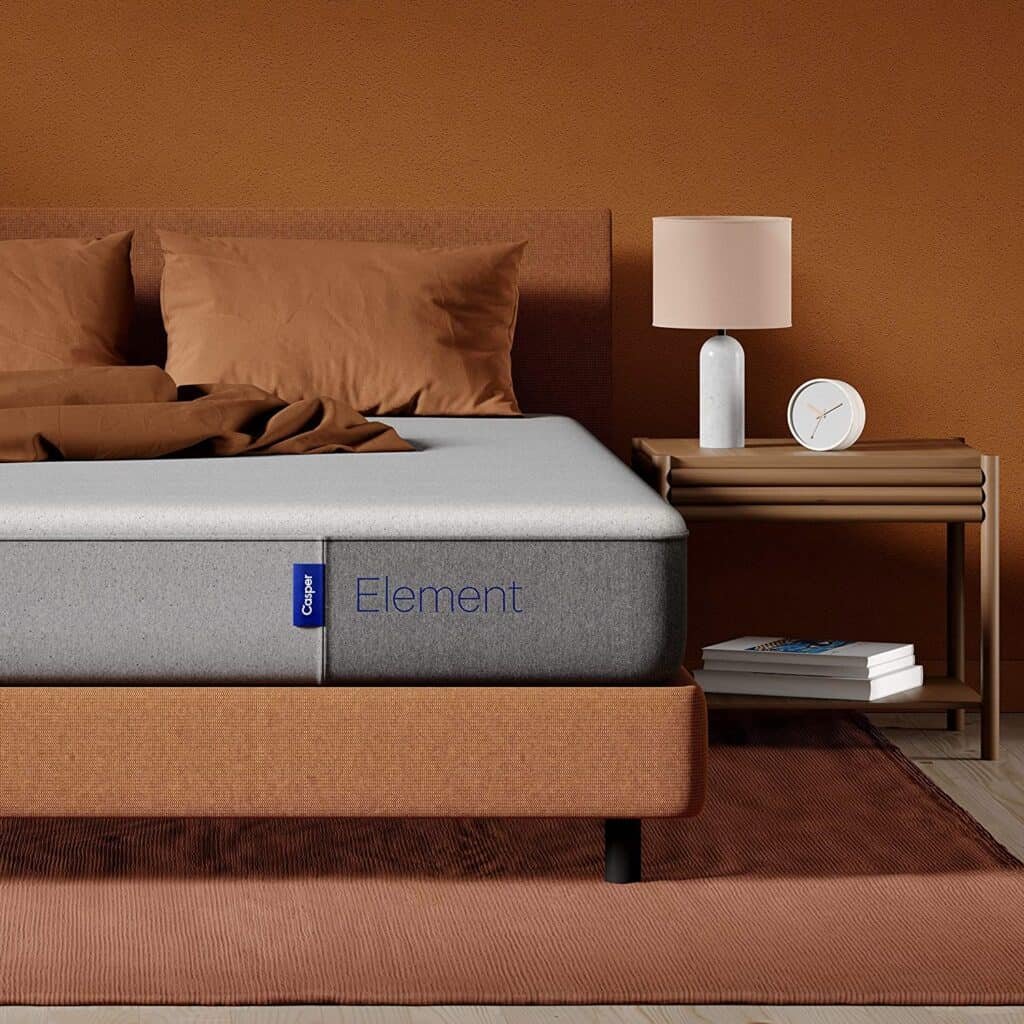 100 Night trial
Warranty – 10 Yrs Limited
The Casper Element has two polyfoam layers and is all-foam. It is medium-firm, which is in the range favoured by most sleepers. The Element is designed to be both soft and supportive.
The Element is a 10-inch thick mattress wrapped in polyester, upcycled cotton, rayon, and Lycra mix.
A 3-inch layer of AirScape patented, the perforated breathable foam helps circulate air and keep you cool. This foam moulds to your body to alleviate pressure. The small pores remove body heat. A 6.5-inch polyfoam core supports the comfort system.
The base foam prevents sinking and drooping while supporting your whole body.
Serta iComfort Hybrid Mattress
180 Night trial
Warranty – 10 Yrs Limited
Serta iComfort Hybrid mattress has an innerspring system, which enables it to breathe more than an all-foam mattress. Carbon fiber and gel memory foam combine to regulate temperature. The extra cooling properties of a hybrid mattress will certainly appeal to overheated sleepers.
Foam reduces pressure by enabling you to sink into the mattress, while the innerspring support the spine. If you prefer a spring mattress that better conforms to your body, these additional characteristics may appeal to you. Being hybrid its support makes it appealing to heavier sleepers. These mattresses are also known to help relieve aches and pains inside and back sleepers.
A hybrid mattress with spring coils will feel more bouncy than an all-foam mattress. While the hybrid construction allows the mattress to better conform to your body, it does not isolate motion like a memory foam mattress. The iComfort Hybrid is available in fluffy, medium, and firm.