The renegade company Casper undoubtedly introduced the concept of mattress-in-a-box to the world in 2014, and the company keeps on delivering its promise even to these days. The company has impressed customers with their long line of soft, comfortable mattresses in various styles.
Although Casper introduced the concept of mattress in a box revolution, how does it actually feel like to sleep on this superior mattress? This post will shed light on the honest review, product details and other aspects involving the Casper Original Memory Foam Mattress Queen Size.
Overview of Casper Original Mattress – Queen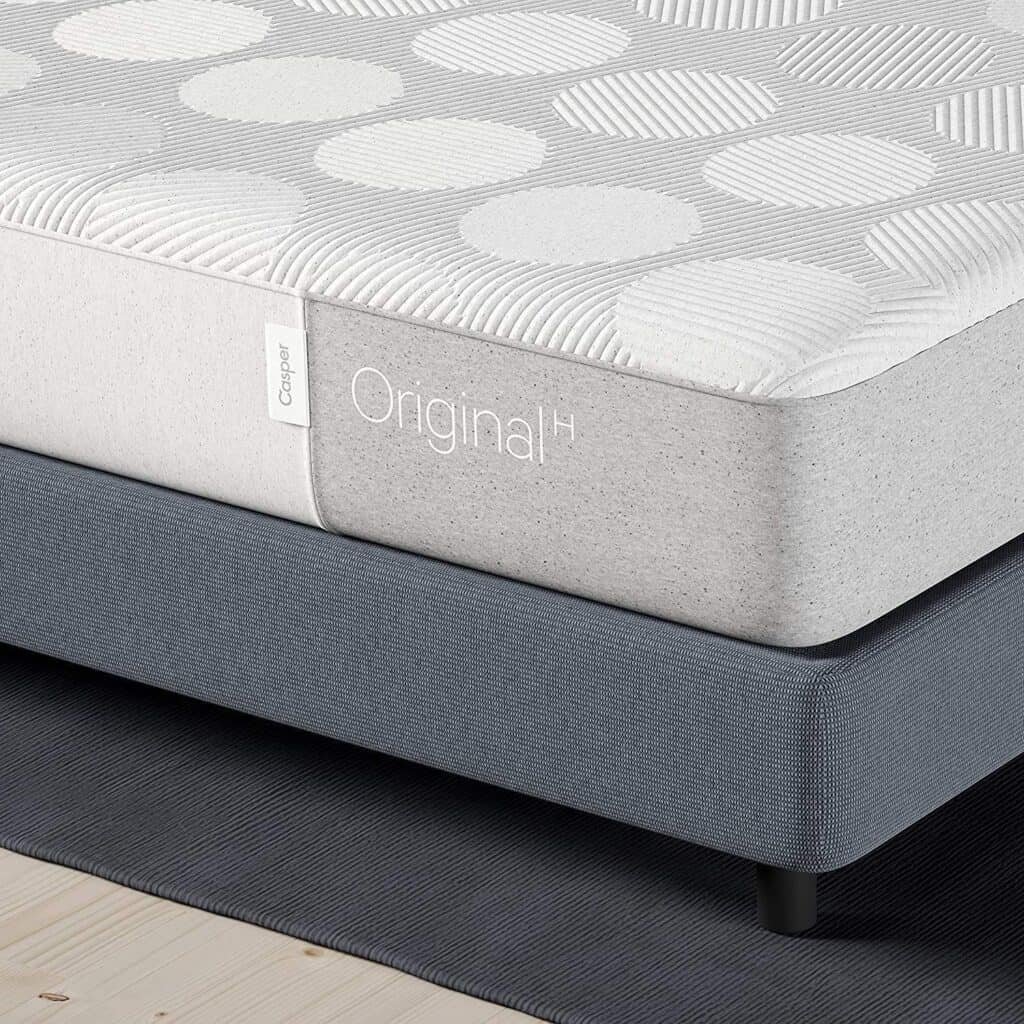 Mattresses are crucial investments for people who like to have a sound sleep and take a break from the uninvited back, neck pains. Casper Sleep Memory Foam Mattress is ideal for people who look out for versatility and comfortability at the same time and is an excellent choice for all types of sleeping positions.
Casper original mattress comes with a unique Zoned Support System that offers more targeted body support than other foam counterparts. The zoned support system is a unique technology that improvises a soft memory foam layer that is firm towards the mattress centre and tends to be soft towards the head and foot.
The creative and unique best memory foam mattress design gives a softer or firmer feel based on your sleeping positions. In a nutshell, Casper Sleep Original mattress is a supportive, comfortable, and sturdy mattress that surely deserves the No.1 spot in the line of comfortable full-size memory foam mattresses.
Related Readings

Does Gel Memory Foam Really Sleep Cool? Check these 7 Best
Best Protein Bars in 2021: Macros, Fibers and Sugar Checked
Best Under Desk Treadmills in 2022: Walk While Working
Advantages of Casper
People who sleep on their back will like this mattress along with light and medium weight sleepers. This is one of the best orthopaedic sleeping mattresses and ideal for those who like to sleep on a soft mattress.
If you prefer a balanced and responsive foam mattress helping in moving around with ease, Casper is your best bet.
Disadvantages of Casper
If you are looking out for thicker comfort layers and prefer sleeping on the heavier side, Casper may not be ideal for you. Those preferring a slow-responsive memory foam mattress can opt for other similar foam mattress. Stomach sleepers may not also be a fan of Casper mattress.
How Firm is the Casper Mattress?
The most important thing a mattress buyer should consider is the firmness and mattress feel type they are looking out for. Consumers have rated Casper Sleep Original memory foam mattress 6 out of 10 for its firmness as well as feel, but that is also solely dependent on the person sleeping on the mattress.
A heavier person sleeping on the mattress might press into it deeper, which will make them feel it firmer, while a lighter person may not exert that force and may feel it softer. Moreover, the unique Zoned Support system will let you feel the mattress softer or firmer depending on your sleeping position.
Since the central transition mattress layer tends to be firmer than the rest of the surface, the Casper queen memory foam mattress can feel firmer for back or stomach sleepers and softer for side sleepers. Casper memory foam mattress reviews state people have benefitted massively in terms of sleep and spine support upon using the mattresses.
Can I Sleep Comfortably on the Mattress?
Casper Memory foam Mattress is an ideal choice for back sleepers since the hips sink in little and the Zoned Support system offers enhanced lumbar support. Owing to this, the Casper mattress is considered one of the most impressive mattresses for treating lower back pain as well as sciatica. The AirScape foam top layer offers splendid contouring support to the sleepers.
The Zoned Support system makes the Casper mattress feel softer under the shoulders, making them an excellent choice for side sleepers. The offered pressure relief is pretty good since the mattress is softer in that spot (under shoulders).
On the other hand, when you sleep on your stomach, the impressive Zoned support system prevents your hips from sinking in too deep that eventually making the mattress feel firmer. Although Casper isn't the most sophisticated choice for stomach sleepers, it is nicely supportive compared to other full-size memory foam mattresses available on the market.
Is Casper Mattress Responsive to Different Weights?
Casper Sleep Original Foam Mattress Queen size offers a splendidly balanced and responsive memory foam feel, featuring substantial bounce. Due to the AirScape mattress foam, you do not have to sink in too deeper and should have no trouble moving around the mattress surface, and it doesn't get you stuck anywhere. The Zoned support system will bring an uneven mattress feel since it is firmer towards the central position.
Average Weight Users– People weighing between 130lbs to 230 lbs. should feel comfortable in any of their sleeping positions. They can expect firm support and comfort while back or stomach sleeping and pressure relief whilst side sleeping. This is one of the most impressive memory foam mattresses for neck, shoulder and hip support with pain eradication.
Heavyweight Users– People who weigh more than 230lbs can get that extra lumbar support from the Zoned support system in all their sleeping positions. However, anyone weighing more than 275lbs must look out for innerspring mattresses.
Lightweight Users– People weighing less than 130lbs may find it very comfortable and soft in all their sleeping positions. They can get that extra support from the full-size memory foam mattress, especially while stomach sleeping.
Casper Sleep Original Foam Mattress Queen – Construction and Build Quality
Casper Sleep Original Foam Mattress is made from the most premium and soft materials to ensure unmatched comfortability. The cover is fragile, softer and doesn't hamper the mattress feel.
The comfort layers are superiorly impressive with AirScape technology on the memory foam topper, which makes the mattress soft as well as responsive. Being open-celled and well ventilated, the mattress doesn't trap much heat. Moreover, the Zoned support system makes the mattress firmer at the centre and softer in other areas. Casper best memory foam mattresses are considered a spectacular choice for fibromyalgia and arthritis.
The support layer is likewise unique and advanced in this memory foam mattress and is usually a tick supportive layer of base polyfoam. They are approximately 11 inches tall in height.
This foam mattress comes with a robust 4D sleep technology and a supportive memory foam pillow-top, which offers a brilliant value for money. The steel springs of 7″ are superior in durability and can last longer compared to the Tungsten Carbide coils. It also comes with 3 layers of ergonomic zoned support and temperature regulating technology.
CertiPUR-US Certified– The memory foam has been tested and analyzed by independent, accredited testing laboratories and follows CertiPUR-US standards for emissions, durability as well as content. The mattresses are made without using ozone-depleted chemicals as well as phthalates and comprise feeble Volatile Organic Compounds.
Competitors of Casper Sleep Original Foam Mattress – Queen
Although Casper Sleep's original memory foam mattress is one of the most dominating mattresses, it still has its own counterparts. Some of the best mattresses in this segment compete with Casper: The Aviya Mattress, Leesa Original Mattress, Nolah Original Mattress, and Saatva Classic Mattress.
The mattresses mentioned above are superior in their texture. They are more comfortable compared to the Casper foam mattress, but if you're into a reliable brand, Casper is the go-to name. Pricing is another aspect that makes this full-size memory foam mattress a tad bit better than its counterparts. Moreover, the 4D sleep technology of Casper Original foam mattress is also what makes it a premium choice to bet on.
Positive Traits of Casper Sleep Original Foam Mattress Queen Size
Casper Sleep Memory Foam Mattress offers unprecedented performance when it comes to cooling, edge support as well as motion transfer.
Cooling Quality
Casper being a fully-foam mattress, may not offer the same level of cooling and breathability as that of latex or hybrid. However, it comes with features that prevent the mattress top from being extremely hot. The topmost mattress foam topper is splendidly breathable, and the AirScape layer of foam is significantly ventilated for better airflow as well as breathability. It is also open-celled, which contributes significantly to the cooling quality.
Motion Transfer
Although the top of the memory foam mattress is brilliantly responsive, the mattress comes with memory foam in its most comfortable state. The build material is at its very best in isolating motion, and there isn't much movement when you lie down on it or move around. Considering this feature, this best memory foam mattress is an excellent choice for couples.
Edge Support Performance
Casper Original Mattress offers beautiful edge support to the users. You can feel comfortable and secure enough sitting on the edge of the mattress while tying your shoes, and it also doesn't collapse too much whilst you lie down near its edge, and you won't feel like rolling off.
Durability
Casper Memory Foam Mattress is built with superior foam quality, and the base mattress layer is durable enough to last for longer years. These mattresses can resist at least seven years of consistent usage.
Noise
Being a completely foam mattress, you can witness a noiseless experience using these mattresses. They do not make any sound, unlike the hybrid or innerspring mattress.
Shipping
Casper Sleep Original Foam Mattress is shipped delicately in sturdy boxes for proper set-up. They are offered as a bed in a box delivery in contrast to white gloves delivery, which tends to be expensive in this case. The large-sized mattress would take up a larger workforce to deliver, and hence, those costs will come out of your own pockets. Simply take the box to your room, unbox the mattress and watch it expand to its actual size.
Conclusion
Believe it or not, Casper Original Mattress is the best bet you have when it comes to owning a comfortable, soft memory foam mattress. Priced economically, Casper mattress is the best value for money, but if you want to experience comfort in all sleeping positions and also alleviate numerous pains.
Cleaning the mattress is super easy, and you can also opt for an enzyme-based cleaning solution. It can last more than 6 years and come with a limited warranty that offers good monetary value. So, buy Casper Original mattress without a second thought and experience a sleeping salvation.