Samsung Galaxy Watch 4
The Galaxy Watch 4 is a budget fitness smartwatch that provides the complete Wear OS experience. The new UI is simpler and includes Google services and third-party applications. With a new sensor, it could be even more of a workout companion. 40mm/44mm size, AMOLED display 1.2″/1.4″.
Galaxy Watch 4 Classic
The Samsung Galaxy Watch 4 Classic is the true flagship of the Samsung Health wearable lineup this year with a stainless steel build and physical rotating bezel, plus all the great performance, health tracking, and longevity of the Galaxy Watch 4.
The model Galaxy Watch 4 Classic is a more elegant version of the Watch 4, with the same specs and Wear OS from Samsung. It is an excellent smartwatch. It is a bezel watch. You may use the movable bezel or touch gestures to traverse the UI. It's for work, exercise, and health. 42mm/46mm size, AMOLED display 1.2″/1.4″.
Interesting Read

Collagen Powder Ultimate Benefits and 9 Best Selling in 2021
New Black Water & 9 Alkaline Drinks: Liked by Fittest Celebs
8 Best Meal Replacement Shakes: Need a Quick Weight Reduction?
Both are 50mtr water resistant, with Corning Gorilla glass DX+, eSIM and 330 ppi density. They have a memory of 16 GB and RAM 1.5GB
Chipset
Exynos W920 (5 nm)
CPU
Dual-core 1.18 GHz Cortex-A55
Loudspeaker
Yes
WLAN
Bluetooth
GPS
NFC
Wi-Fi 802.11 a/b/g/n, dual-band
5.0, A2DP, LE
with A-GPS, GLONASS, GALILEO, BDS
Yes
Sensors
Accelerometer, gyro, heart rate, barometer
Natural language commands and dictation
Samsung Pay
Charging
Qi wireless charging
Choose from analogue or digital watch faces in various backgrounds, typefaces, and colours to suit your mood, the weather, or the occasion. Enhance your character watch faces with augmented reality emojis to reflect your personality, while animated visuals display your current activity, such as jogging or listening to music.
SAMSUNG Galaxy Watch 4 Classic 46mm
The Samsung Galaxy Watch 4 Classic is the true flagship of the Samsung Health wearable lineup this year with a stainless steel build and physical rotating bezel, plus all the great performance, health tracking, and longevity of the Galaxy Watch 4.
The Watch 4 and Watch 4 Classic only vary in design. The Classic features a rotating physical bezel, a Samsung favorite. In addition, these are the first devices that run Google Wear OS Powered by Samsung. You'll receive applications and services like Google Play Store, Google Maps & Google Pay. It'll also be a lot better than previous Wear OS devices due to Samsung's hardware and software impact.
SAMSUNG Galaxy Watch 4 44mm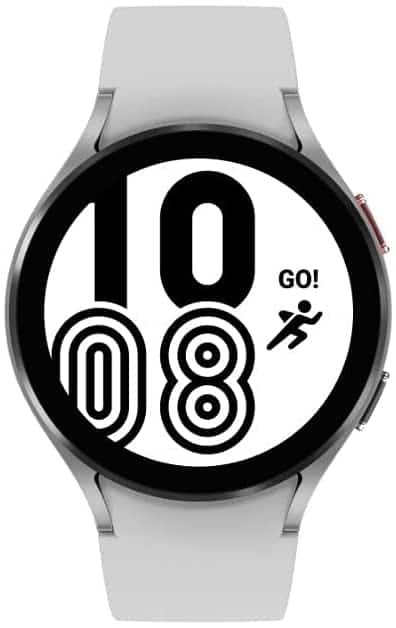 If you're looking for an affordable smartwatch with all day battery life.The Watch 4's new Wear OS-based operating system is the greatest update. And its built-in GPS makes it perfect for outdoor activities like running or walking.
As a result, you'll get access to a diverse range of applications, ranging from music streaming to a huge library of health and fitness apps. Activate applications on your phone directly from your watch. The additional features such as the compass enhances the Galaxy Watch 4's use.
SAMSUNG Galaxy Watch 4 Classic 42mm
With an improved design, better battery life, and longer lasting processor than previous models, stay up to date with notifications from your phone or other devices while tracking your activity levels throughout the day.
Samsung is competing itself with the earlier Galaxy Watch Active 2 and 3. The Watch 4 and Watch 4 Classic are more polished and pleasant experiences than prior Samsung smartwatches at $250 and $350, respectively.
SAMSUNG Galaxy Watch 4 40mm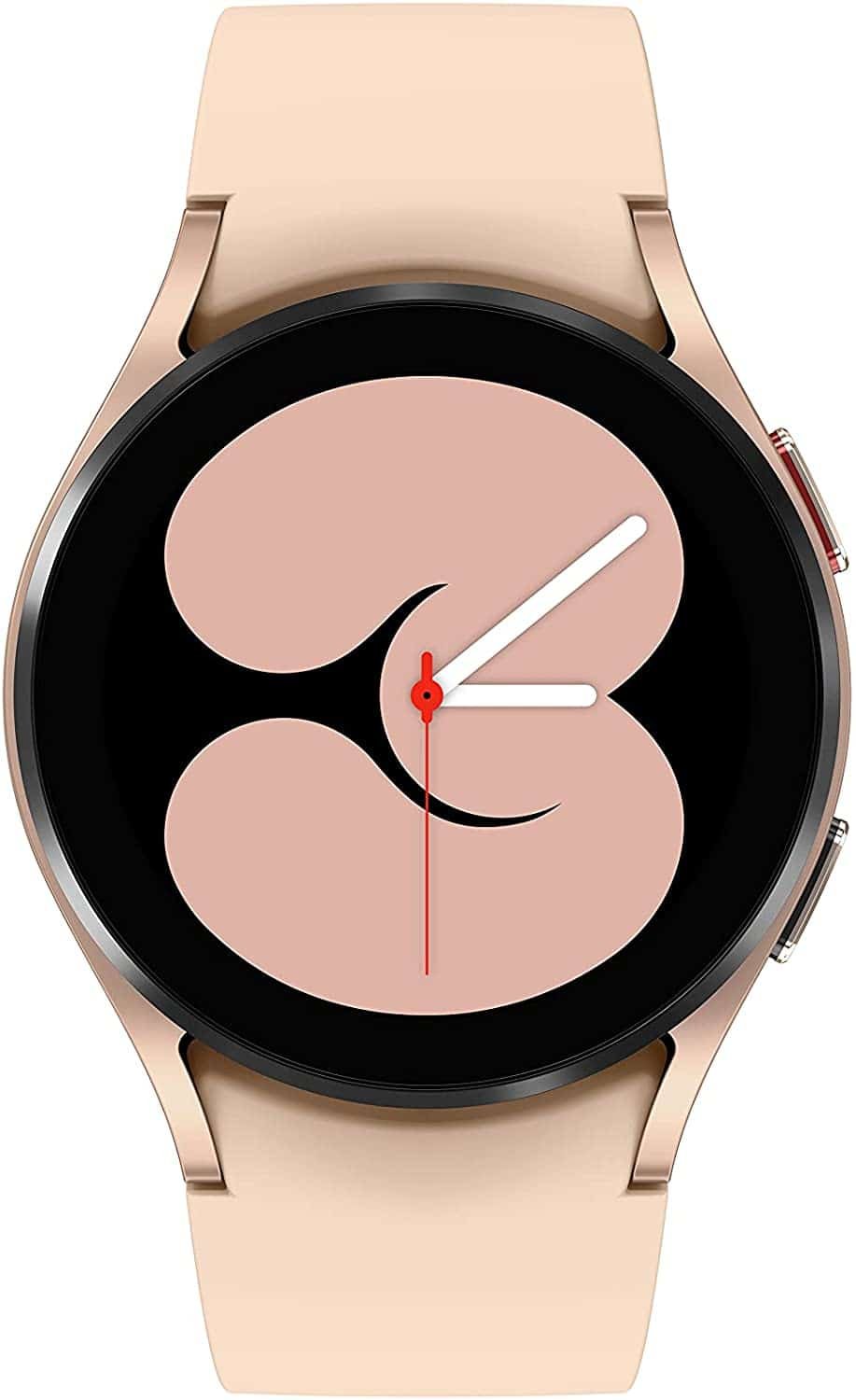 Stylish pink gold smartwatch with an ECG monitor, activity tracker for health and fitness, running and sleep cycles, GPS with Fall Detection, Bluetooth and other features.
Both the Watch 4 and the Watch 4 Classic are quite similar. The Watch 4 has no bezel, whereas the Watch 4 Classic has a rotating bezel. The aluminium Watch 4 housing looks different from the beautiful and elegant stainless steel Watch 4 Classic.
Everything else is the same. The internal components, screen resolution, and button arrangement are all the same. A sensor array and two physical buttons on the right side of the casing are shared by both watches.
They both come with a simple silicone band. Create your band style by selecting from various Samsung Galaxy watch bands, including the Hybrid Leather Band and the Sport Band. High-quality materials, a comfortable fit, and sweat-resistant surfaces pamper your wrist.
The circular display is 1.2 or 1.4 inches depending on the watch size. Both models include 1.5GB of RAM, 16GB of internal storage, and a 361 mAh or 247 mAh battery.
The Samsung Galaxy 4 and 4 Classic don't reinvent the wheel. Instead, Samsung updated two recognizable styles, the Galaxy Watch Active 2 and the Galaxy Watch 3. They're both stunning.
The two firms combined the best of both systems — Google's App and Samsung's UI and performance — to create a formidable wearable android product.
Setting up the newest Samsung watch on a non-Samsung phone takes a few extra minutes since you need to download a few applications first.
The movable bezel is fun and less complicated than the motions. Turn it clockwise to navigate the app panels.
The Watch 4 and Watch 4 Classic have dependable battery life. You get two days of usage when the always-on display is switched off and one day when it is turned on. Samsung provides the charging station but not the power brick. The Watch 4 and Watch 4 Classic also take a while to charge to 100%.
Both timepieces are quick on the wrist. You can switch rapidly between tiles, begin a workout, do fitness tracking, monitor our stress level, and manage Spotify using taps, swipes, and button pushes. However, installing applications from the Play Store app on the watch seems a bit slow.
Not applications or functions that replace your smartphone, but health features are the most appealing element of a wristwatch to Samsung. Again, Samsung has led or set the pace.
It can now track your heart rate, detect AFib(Atrial Fibrillation), test blood oxygen levels, and even conduct an electrocardiogram (ECG) on the Watch 4 Series courtesy of the new Bioactive sensor introduced by Samsung. The new Samsung BioActive Sensor continuously measures your body composition to assist you in managing your health goals and objectives.
Keep track of your fitness progress with a Samsung health monitor that tracks body composition, assesses your BMI, and further splits it down into specifics like body fat percentage, skeletal muscle, and body water content.
One interesting function is that it utilizes a nearby smartphone to listen to and record snoring. The next morning, you can listen to and understand your snoring patterns and get entertained or get a complex.
The watch does sleep tracking and detects and analyses your sleep stages holistically. Increased measurement capabilities enable you to monitor your blood oxygen levels. Additionally, you'll get enhanced insights from the National Sleep Foundation to help you improve your sleep quality and length.
The Watch 4 is a fitness and smartwatch device. Because it has built-in GPS, you can leave your phone at home when you go for a run or cycle. The Galaxy Watch 4 or Watch 4 Classic will remind you if you don't start an exercise.
Keep track of your activities and fitness scores. With GPS, you can track your steps, calories burned and remain on the grid. The Galaxy Watch 4 monitors physical activity to track your routines and supports over 90 activities for a more accurate workout report.
The Galaxy Watch 4 or Galaxy Watch 4 Classic offers the best smartwatch experience if you own an Android phone. Of course, that goes for a Samsung Galaxy, a Google Pixel, or even a OnePlus. Yes, you must join the Galaxy ecosystem, but it is the greatest experience for Android smartwatch users.
The Watch 4 and Watch 4 Classic are currently the only smartwatches with this updated Wear OS. Other manufacturers have promised versions, but no launch date has been set. So galaxy watches are the way to go for now.
The Galaxy Watch 4 is the choice for people who want less flash. The $350 Galaxy Watch 4 Classic is perfect for individuals who want a more classic watch style. A fantastic movable bezel for simple control.