If you are searching for a reliable latex mattress that can support your body well and is also easy on your pockets, look no further. The Ghostbed Classic mattress has got you covered. This mattress comes with advanced cooling components made of synthetic latex and gel memory foam.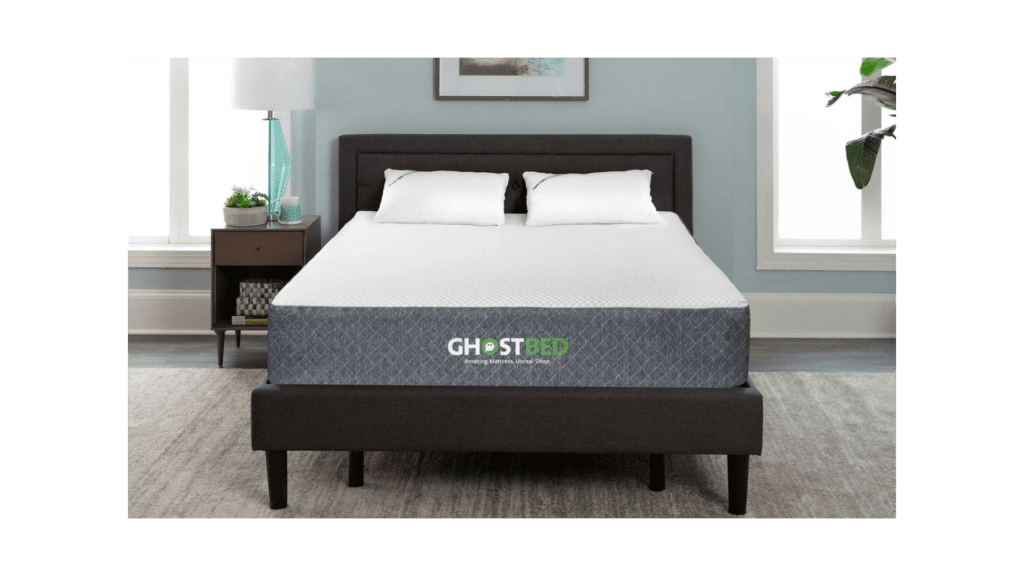 Moreover, it is ideal for all kinds of combination sleepers and can be adjusted to your bed foundation.
Pic credit: Ghostbed.com
The Ghostbed Classic Mattress is also ideal for back sleepers who require improved pressure relief in key body areas such as the hips and shoulders. The mattress also has a high-density foam base layer for added support and ranks high in firmness.
Related Readings

Ghostbed Natural Mattress: 8″ Pocketed Coils & Latex Benefit
Does Gel Memory Foam Really Sleep Cool? Check these 7 Best
Best Under Desk Treadmills in 2022: Walk While Working
Construction of the Ghostbed Classic Mattress
The Ghostbed Classic mattress is the flagship mattress model and comprises toxin-free synthetic latex comfort layers with a high-density polyfoam base layer. The cover of the Ghostbed Classic mattress is made of polyester material that is stretchable, thin, and comes with higher breathability. It not only helps in keeping the mattress cool for a long time, but also enhances comfortability.
Right under the mattress cover, there is 1.5 inches of aerated synthetic latex that dissipates heat from your body to let you have a cooler sleep. The latex is non-allergenic and delivers an excellent bouncy feel.
The mattress's proprietary 2 inch gel memory foam comprises larger cells than other foams to repel heat away from the user's body.
Finally, the 7.5-inch high-density foam support core has excellent durability and provides a strong foundation for your bed. It helps with exact spinal alignment and doesn't create any uncomfortable feelings.
The Ghostbed classic mattress can be vacuum cleaned by opening the zip cover, and the cover can be machine washed. However, the mattress cannot be machine washed.
The firmness of the Ghostbed Classic Mattress
The classic mattress comprises body-conforming gel memory foam that keeps you cool and offers unparalleled support. It has minimal motion transfer yet a soft, plush feel. The mattress is a great option for back sleepers and stomach sleepers. The mattress is very responsive and is ideal for people who frequently change their sleeping positions at night.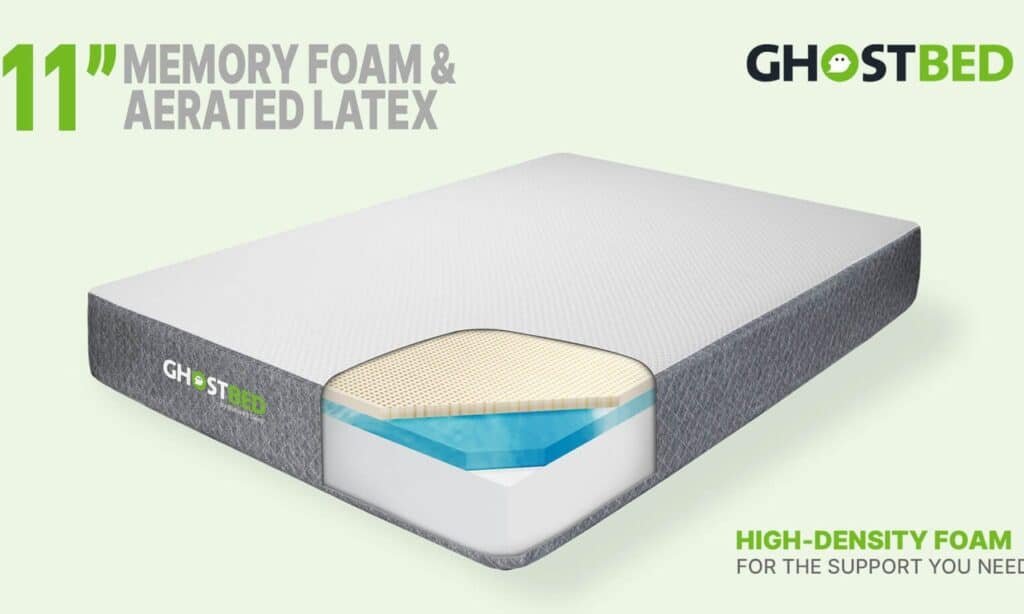 The mattress does not let you sink too deeply into it, so you will have the best comfort and use the entire surface area.
Pic credit: Ghostbed
Motion Isolation
Motion transfer for the Ghostbed Classic Mattress is pretty low, and hence, if you are sleeping with your partner, you may feel a lot of movement around you. However, the latex layer can absorb a considerable portion of the movements, so you may not be at all uneasy when sleeping on it. It is on par with most other latex foam mattresses out there.
Pressure Relief
The innovative two-layer mattress comfort system can conform to the user's body and evenly distribute their weight across the surface. It helps relieve pressure on vital points such as the hips, shoulders, and neck. Latex, being less elastic, spreads the users' weight on the top layer surface area, and memory foam, being highly elastic, can compress right under the sleeper's body. The incorporation of memory foam and latex helps relieve pressure on your body and prevent sinkage.
Edge Support
Since the edges of the Ghostbed Classic latex foam mattress are not reinforced, users may find it uneasy when sitting near the edges as the foam gets compressed. However, the mattress's high-density foam is durable and robust enough to balance out this instability, and the medium-firmness of the mattress helps users utilise the entire perimeter.
Temperature Control
The Ghostbed Classic latex foam mattress is far better than its counterparts when regulating temperature. The large cells of latex help maintain breathability and let cool airflow through the mattress. Although the memory foam layer may retain some heat, the larger cell blocks and gel memory foam technology help in repelling the heat of the mattress and body.
This memory foam latex mattress is ideal for people who like to sleep on foam and also like it a bit warm.
Pic Credit-Ghostbed
Ideal for Combination Sleepers
The Ghostbed Classic Mattress is undoubtedly one of the best mattresses for combination sleepers. The memory foam layer and synthetic latex used in it offer a soft yet firm feel and contour well to the user's body. Stomach sleepers and back sleepers may find this mattress very appealing due to the level of comfort and firmness. However, side sleepers who prefer a more reinforced base may not like it so much.
Pros
Breathability and natural cooling are provided by a synthetic latex comfort layer.
Ideal for stomach and back sleepers.
Gel memory foam for temperature regulation
Is a responsive mattress.
Better spinal alignment
Cons
Not ideal for side sleepers.
Maybe a bit heavy.
People who prefer highly responsive mattresses may not find this ideal.
Product Specifications
Cover Material: Polyester/Viscose Blend.
Firmness: Medium Firm
Mattress Type: All-Foam
11″ in height; 4 layers of comfort
Gel-memory and aerated-latex (non-allergenic)
High-density support foam
Knit cover that is both breathable and plush.
Size Dimensions
Twin, 38″ x 75″
Twin XL 38″ x 80″
Full 54″ x 75″
Queen 60″ x 80″
King 76″ x 80″
California King 72″ x 84″
Split King Two 38″ x 80″ pieces
Competitors
The Ghostbed Classic Mattress is one of the best latex foam mattresses known to offer brilliant support and health benefits, including spine alignment. The mattress is affordable and comes with proprietary gel foam technology to offer the best temperature regulation, unlike others. Nest Bedding, Casper, Sleepycat Latex Mattress, and Saatva Mattress are some of its competitors. However, Ghostbed Classic is unquestionably a good buy in this price range.
Trial & Warranty
The Ghostbed Classic Mattress offers a fantastic trial period of 101 nights for you to check the comfort level and quality. After that, you can decide whether to keep it or not. However, you need to use the mattress for a minimum of 30 days during the break-in period.
Users can get a 20-year warranty on these mattresses, which actually proves their durability and the company's trust in the materials used.
Shipping & Returns
The Ghostbed Classic Mattress is available for bed-in-a-box delivery for free throughout the United States within 2 to 5 days, depending on availability. White glove delivery is also available at the cost of $199 per item. The item is packed, vacuum sealed, and set up is very easy.
You can opt to return the mattress within the trial period and get a full refund on it. However, you may have to pay for the transportation.
Conclusion
The Ghostbed Classic Mattress is for you if you are looking for a reliable, soft, and firm mattress at an economical price. The mattress is durable for a long time and offers the best cooling in its segment.