Best Hybrid Mattresses for Sleepers with Back Pain
If you have had lower back pain, you are not alone. Back pain is one of the most common reasons people see a doctor or miss days at work. Even school-age children can have back pain.
The best mattress for back pain is mostly a medium-firm mattress. A coil or air foundation supports a soft memory foam or latex top. The two materials work together to provide comfort and mattress support, reducing back discomfort, soreness and aiding in sleep. Comfortable hybrids include several layers of foam or latex, not simply a topper. Hybrids are the greatest beds for back discomfort.
Not all back pain sufferers desire softness and deep conformance. Some want greater responsiveness and a gentler body shape than adaptive foam. Though there is no one size fits all but following guidelines are generally applicable to most
A medium-firm mattress is ideal for stomach sleepers with back problems.
A medium or firm mattresses is best mattress for back sleepers with back pain.
A medium-plush mattress is the best mattress for side sleepers with back pain.
Mattress Recommendations for Those with Back Problems
Layla Hybrid Mattress
Queen 80 x60 x12
365 Night, risk-free trial
25 Yrs Limited Warranty
Free Shipping
Supply direct from the company
The Layla hybrid mattress is a cutting-edge hybrid memory foam mattress. This mattress meets all requirements for a pain-relieving mattress.
It is a hybrid memory foam mattress. Layla Hybrid mattress has a flippable design. Due to this innovative construction, it offers two firmness choices, so you can discover the perfect fit for you.
The Layla hybrid mattress has a 2.5-inch copper gel-infused memory foam. As a consequence of the copper gel's fast cooling, you will sleep considerably cooler. This antimicrobial mattress layer fights odour-causing germs to keep your mattress fresh.
Layla has a 2-inch layer of surface modification technology foam on it. That means you won't disturb your spouse, but you won't feel trapped in your mattress either. Layla's responsiveness and motion control are due to SMT memory foam and an internal pocketed coil technology.
The firm side is better for support. It is ideal for back or stomach sleepers who want a firmer mattress. It is the best mattress for lower back pain sufferers or for any other spinal problem. It is best treated with this medium-firm support method. The other side is soft. It is suitable and recommended for side sleepers with backache or individuals with hip or shoulder discomfort.
Related Readings

Looking for The Best Hybrid Mattresses in 2021? A Healthy Need!
7 Best Silent Treadmills: Get Fit While the Neighbors Sleep
11 Best Unflavored Protein Powders in 2021- Inexpensive but Better
Cocoon by Sealy Chill Hybrid Mattress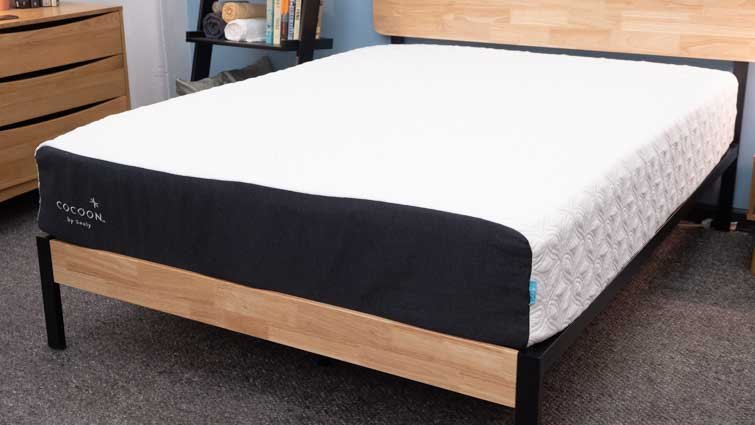 Queen 80 x60 x12
100 night, risk-free trial
10 Yrs Limited Warranty
Free Shipping
Supply direct from the company
According to various consumer reports best mattress for back pain is cocoon chill hybrid. This bed is ideal for back pain sufferers, back sleepers of all sizes and back sleepers who require a cool mattress. It is a good mix of comfort and spinal bed back support for back sleepers. The Cocoon Chill Hybrid accommodates back sleepers of average weight. It is an excellent choice for heavyweight back sleepers under 300 pounds. Lightweight back sleepers will appreciate the Cocoon Chill Hybrid's pressure reduction and spinal support.
But it seems too soft for stomach sleeping as the hips sink too far into the mattress, misaligning the spine, and it is too soft for average-weight stomach sleepers to provide sufficient spinal support.
WinkBeds EcoCloud
Queen 72 x60 x12.5
120 night, risk-free trial
Lifetime Warranty
Free Shipping
Supply direct from the company
Heavy individuals should consider WinkBed. It's a great, affordable luxury mattress. It is dual-coil/innerspring design provides optimum back support without sacrificing comfort. The softer variant is excellent for upper back discomfort, while the Luxury Firm and Firm mattresses are ideal for lower back pain. It is the best mattress for spinal stenosis as well.
The WinkBeds EcoCloud is a great option for eco-conscious shoppers seeking a high-quality mattress. This bed is made of genuine Talalay latex and repurposed steel coils.
The EcoCloud offers zonal support, good for back pain sufferers since it encourages neutral spinal alignment. A little stronger at the hips and softer at the shoulders and feet. It keeps the spine straight, avoiding back discomfort. It is the best mattress for back and hip pain for a side sleeper. They too benefit from zoned support, which relieves strain on the shoulders.
If you have discomfort in your hips, shoulders, or lower back, you should test a mattress's ability to relieve that strain. Your weight should be properly distributed on a pressure-relieving mattress, preventing discomfort. EcoCloud's zonal support technology is intended to distribute your weight properly.
The EcoCloud is a good shoulder pain mattress for back or stomach sleepers. However, if you have shoulder discomfort, I recommend a softer pillow.
For those who sleep on their back or stomach, this mattress is acceptable. However, side sleepers with hip discomfort need something softer since they put a lot of strain on the joint.
The EcoCloud's zoned support is excellent for those with back discomfort since it encourages a straight spine.
Leesa Original Mattress
Queen 80 x60 x10
100 night, risk-free trial
10 yr Warranty
Free shipping and return
Supply direct from the company
Are memory foam mattresses good for your back? Some memory foam mattresses don't support back pain sufferers well enough, but the Leesa mattress does well in areas like spine alignment and pressure reduction. The bed utilises three layers of medium-firm foam to keep you upright. Its memory foam recovery layer conforms to your back, hips, and shoulders for a pleasant night's sleep. Unlike other memory foam mattresses, the Leesa is cool to the touch and provides both comfort and support. Its 6-inch strong foam foundation should last 7-10 years.
In order to keep the hips and shoulders aligned with the lower back and neck, a side sleeper's mattress should be cushioned. Leesa Original, with its medium feel and above-average contouring, is excellent for this.
Leesa mattress is a good lumber support bed. The lumbar spine has a natural curvature in it and Leesa supports it well, otherwise, the abdomen would sag too far forward, compromising spinal alignment.
For most stomach sleepers who are above average in weight, the medium feel is soft, causing their core to sink deeper into the mattress than the rest of their body, causing lumbar spine tension.
Casper Wave Hybrid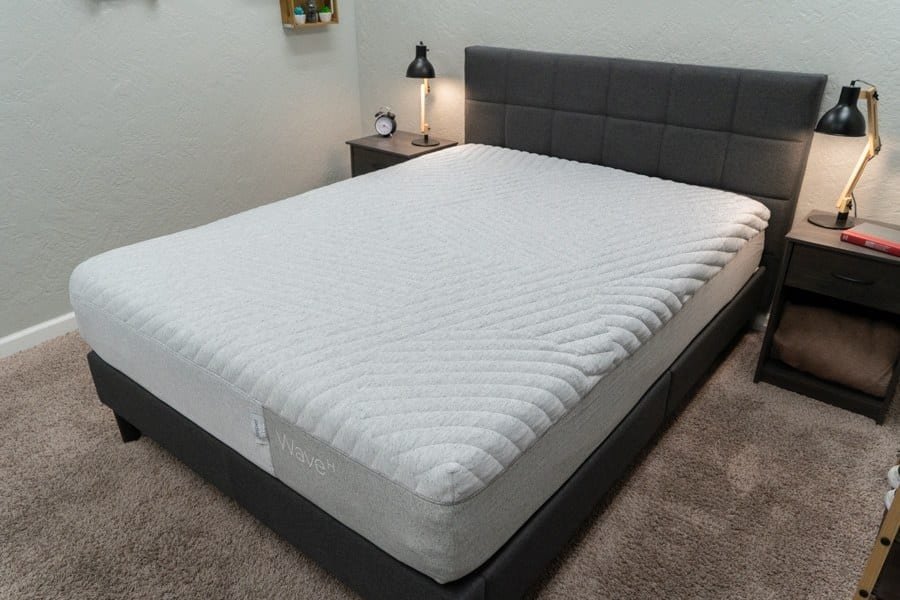 Queen 80 x60 x13
100 night, risk-free trial
10 Yrs Warranty
Free Shipping
Supply direct from the company
The Casper Wave Hybrid is the brand's most luxury mattress and caters to back pain sufferers. It cools, aligns, and supports. This model's firmness rating of 5 out of 10 is ideal for side sleepers. And snorers will love its excellent bounce back, which makes turning from side to side a breeze.
The Wave Hybrid can accommodate back sleepers up to 130 pounds. However, it is less supportive for heavier people. Back sleepers often need a flat, non-sagging surface to preserve good spinal alignment. The Wave Hybrid's zoned layers may assist in minimizing drooping in the mattress's middle, which may benefit back sleepers.
The medium feel of the mattress may enable heavier people to sink deeper, causing spinal misalignment. Back sleepers between 130 and 230 pounds may find the Wave Hybrid very pleasant despite this impact. Those above 230 pounds are more prone to sinkage in the stomach.
Casper's Wave Hybrid is the newest revolutionary mattress to reach the market. The American Chiropractic AssociationTM recommends this bed for optimum spinal alignment and lower back pain relief.
Purple Hybrid Premier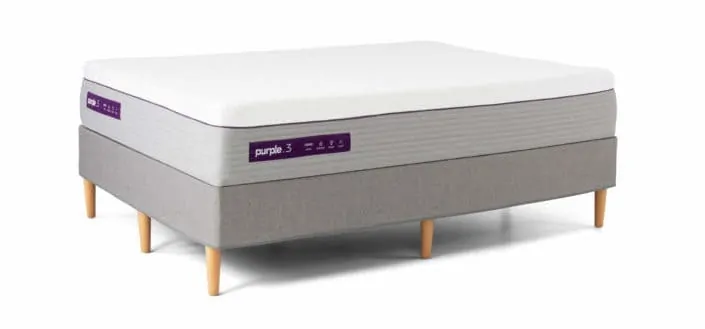 80 x60 x12
100 night, risk-free trial
10 Yrs Warranty
Free Shipping
Supply direct from company
The Purple mattress for back pain is well recognized. The Purple Hybrid Premier versions are ideal for side sleepers with back problems. They're thicker and more robust than the regular Purple Hybrid. The support should assist your lower back, and the gel top layer will let you sleep on your side.
The Purple Grid is unusual in that it may seem harder or softer depending on how you sleep. For example, it is more supporting while laying on the back or stomach but softer when resting on your side.
Back sleepers will appreciate the Purple Hybrid Premier's comfort and support. The hips dissolve into the grid, but everything else feels wonderfully supported.
The Purple Hybrid Premier performs well for side sleeping too. The lighter you are, the firmer the mattress would feel. It is extremely cushiony while remaining supportive. It should relieve neck and shoulder discomfort in individuals of medium or high weight.
The hips do not bend into the mattress, causing you to be out of alignment while sleeping on your stomach. The Purple Hybrid Premier is one of the finest hip pain mattresses.
Alexander Signature Hybrid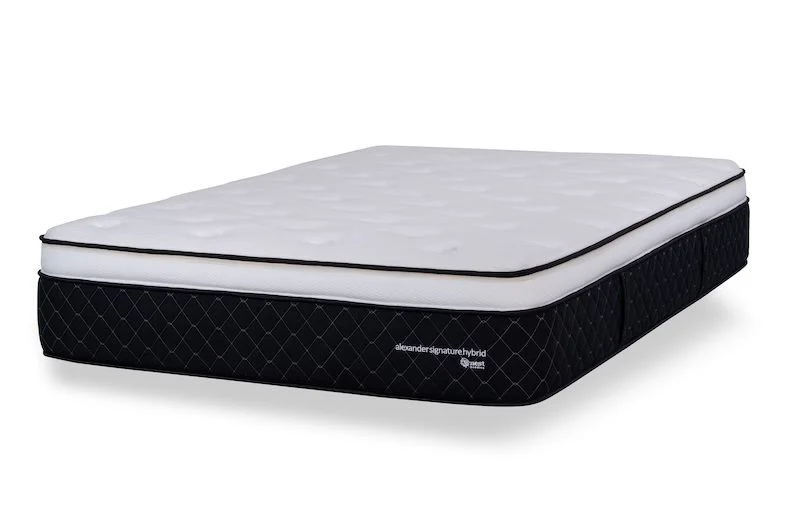 80 x60 x13.5
100 night, risk-free trial
Lifetiem Limited Warranty
Free Shipping
Supply direct from the company
The Alexander Signature Hybrid from Nest Bedding also comes in several firmness options. The soft feel is ideal for lighter people and side sleepers, while the medium feel gives a nice mix of cushioning and support for back sleepers.
Because back sleeping keeps the spine aligned, back sleepers require a mattress that supports their natural posture. But back sleepers often experience hip sagging. While the Alexander Signature Hybrid's memory foam cover and polyfoam comfort layer contour the body, the polyfoam transition layer and coil core prevent sinkage. Each firmness option may be suitable for back sleepers of varying weights.
Back sleepers under 130 pounds may choose the plush or medium choices for additional support and shaping. However, over 130 pounders may suffer sinkage around their hips, putting pressure on their spines. As a result, most heavy back sleepers choose the Luxury Firm choice for its equal support.
Overweight stomach sleepers' bodies sink deeper into mattresses than the rest of the body, placing pressure on their spine. The best stomach sleeping mattress typically combines support and cushioning.
The Alexander Signature Hybrid has a quilted cover with a polyfoam comfort layer for cushioning and a pocketed coil core for spinal support.