Every time you wake up with a sore back or neck, it feels like an eternity until you can roll over and hit the snooze button again. It's hard to get going when you're in pain, but luckily, relief is just a mattress away. If you're over 60 and have been waking up with aches and pains, you may want to consider investing in a new type of mattress. The best supportive mattress for seniors will help alleviate back and neck pain and help them sleep better and longer.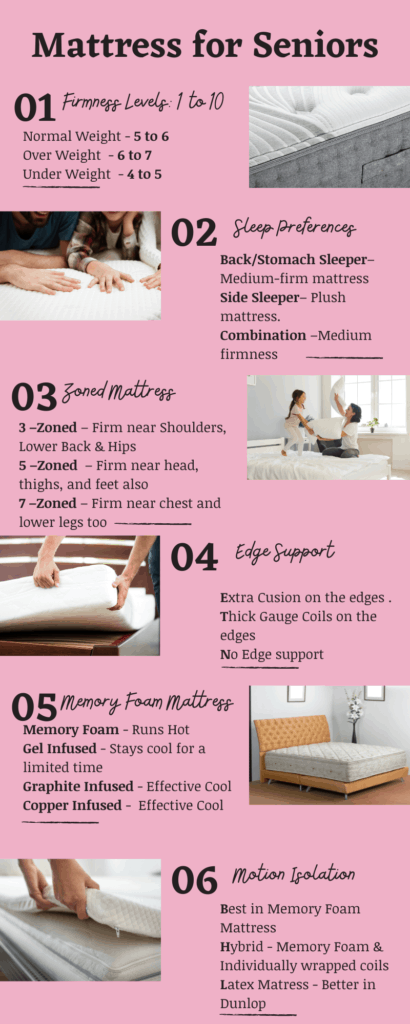 Mattresses for Seniors play a very important part in their life. Nighttime sleep disruptions are very annoying and spoil the whole of the next day. In the long run, such disruptions prove unhealthy for the body as the person can never rest completely. Comfortable night sleep is as essential as food and water.
There are various reasons for bad sleep quality. Mainly sleep disorders like stress, chronic pain, medical condition, sleep apnea, hip pain, joint pain, menopause, or other medical conditions.
To say the least quality sleep is very important for seniors to stay cheerful throughout the day. There has to be a minimum of 7 to 8 hours of sleep for good health and wellbeing. Sleep deprivation hinders any growth.
Along with regular exercise, a comfortable mattress plays a vital role in providing a restful night, if not an absolute one.
Here are seven of the best, as well as the most appropriate, for Seniors.
Saatva Solaire Mattress
Saatva Solaire Mattress
Warranty – 25 Yrs
Free Trial Nights – 180 days
2 Remote Controls to fix firmness levels
13″ Tall
Solaire Adjustable is a very comfortable mattress that is available at a number of firmness levels. Lightweight and medium-weight folks in any sleeping posture can utilise it.
The success of the Saatva Solaire is influenced by a variety of factors, including sleeping posture and body weight. Each couple is able to find their ideal feeling, which is not feasible in any of the other beds.
The Saatva service offers white glove delivery, mattress setup, and removal of your old bed at no additional cost.
It is the only airbed sold by Saatva. The Solaire uses a latex-memory-foam-power-edge enclosure, pillow-top insulation, and vulcanised air chambers. To alter the mattress's firmness, empty and refill the air chambers. The Saatva Solaire provides support in several firmnesses, advanced enough to accommodate people of every sleeping position and body size.
The Saatva Solaire mattress comes standard with an adjustable base, and an upgrade to the Solaire Upper-Flex can be purchased as an add-on. The Solaire Upper-Flex gives you even more customizable comfort options for your peaceful slumber.
The Solaire mattress is both non-flippable and includes a moisture barrier to protect the inside of the mattress from bacterial growth. Together with the Guardin antimicrobial fabric treatment on the top of the mattress, this contributes to Solaire lasting longer.
The smartly-designed Solaire Adjustable Mattress provides unmatched comfort and versatility.
Cocoon Hybrid Mattress by Sealy
The innovative Cocoon Chill Hybrid mattress, created by combining memory foam with supporting pocketed coils, is pleasant and efficient.
Sealy's distinct brand includes a 12-inch hybrid product, the Cocoon Chill Hybrid. It offers a medium-firm feel, with specific cooling characteristics designed to regulate sleep temperatures.
The Cocoon Chill Hybrid mattress lays memory foam atop coils. Sealy is one of the largest mattress companies, and this model has various cooling design characteristics.
A wonderful memory foam mattress for anyone who doesn't like to feel 'trapped' on their mattress.
The Cocoon Chill Hybrid is a supportive hybrid mattress that helps to cool sleepers.
Dreamcloud Luxery Hybrid Mattress
The DreamCloud mattress is an economical mattress with a cashmere-blend cover, gel-infused memory foam, and individually wrapped coils, comfortable, supportive, and bouncy. The DreamCloud Luxury Hybrid is considered a luxury firm mattress, which translates to "luxurious softness plus good support."
This DreamCloud hybrid mattress strikes a perfect balance between pressure alleviation and support.
This model uses memory foam, polyfoam, and pocketed coils. The mattress delivers great heat distribution. The DreamCloud Luxury Hybrid is an excellent mattress for people who struggle to maintain their temperature at night.
It's plush and quite comfortable, especially if you would prefer to sleep and cuddle with your mattress. Edge support is great. This mattress provides optimum support for all positions.
The DreamCloud is a luxury hybrid that is priced lower than the competition. This provides customers with an affordable option with luxurious materials and workmanship without a high price point.
Casper Wave Hybrid Mattress
Casper Wave Hybrid Mattress has superior zoning, supporting coils, and latex.
People who sleep in any position can benefit from Casper's most expensive mattress because it is likely to last the warranty.
The Casper Wave Hybrid is a 13-inch memory foam, latex foam, and coil spring mattress.
The Casper Wave Hybrid did not get hot when I slept and was quite cool. The support coils promote a good deal of ventilation, while the upper foam layers are vented for airflow as well. The permeable cover, cooling gel, and latex layer should all help the Casper Wave Hybrid keep from trapping heat.
The Wave Hybrid supports a 10-year warranty. There are no additional fees to repair or replace a faulty mattress because the guarantee is non-prorated.
Before deciding if it is a good mattress for you, spend 30 days or so getting acclimated to it. Although you can return the Wave Hybrid at your convenience, Casper will send a courier to collect it. They will try to donate or recycle it. If you return it, you will receive a refund.
The Wave Hybrid is slightly more expensive than the other Casper models and hybrid beds in general. Many users describe the mattress as having a pleasant balance of body-conforming, pressure alleviation, and responsiveness.
A medium-firm mattress is a 5 on the firmness scale (where 1 is the softest and 10 is the most firm). The coil layer makes this hybrid mattress perform well for people of varied weights and sizes, despite the mid-range firmness.
On top, there are cushy foam layers. Zoned Support also has an advanced version. Its Zoned Support Max technology offers a blend of comfort and support we have not encountered with many other mattresses.
The Leesa Original Mattress
Leesa was the first online mattress mover in the world. The company was praised for its first foam mattress, the Leesa Original.
The Leesa 10″ All-foam Mattress is constructed with three premium foam layers for cooling, comfort, support, and pressure reduction. When you combine layers and sleeping styles, the mattress adapts to your body weight and sleeping pattern, no matter if you sleep alone or with a companion.
The original mattress is medium-firm, with a comfort level of 5-7 out of 10 (firmest). It is better for individuals who prefer a certain firmness, texture, and overall experience.
Consider your sleeping position and body weight when analysing the Leesa Original.
The Leesa Original is a great deal overall. It is comparable to the overall average for all-foam mattresses in design and profile. In the market, customers may discover products that are less and more expensive, but the Leesa Original all-foam bed has a decent price tag in the centre of the total range.
Those who want something all-foam, yet are concerned about getting trapped or sleeping hot, use this mattress. The Leesa is also a comfortable and supportive mattress, and it is suitable for a wide range of sleepers.
Layla Memory Foam Mattress
The Layla Memory Foam Mattress consists of four layers of foam. Two for comfort and two for support. Since the mattress is all-foam, you have complete control over the firmness level. If your needs change over time, all you have to do is flip the mattress.
The Layla mattress is one of the most popular and distinctive, providing sleepers with two firmness levels in one.
Both layers of the Layla Memory Foam Mattress feature memory foam and polyfoam. All Layla mattresses contain high-quality materials, and because of that, they are at an excellent price.
If you want a memory foam mattress that doesn't have bells and whistles, look into the Layla mattress.
Layla's soft side relieves pressure well, while her hard side provides firm support. Additionally, it is a memory foam mattress that has some fascinating cooling properties.
Layla is an incredible mattress, one of the most comfortable mattresses I've ever slept on.
Allswell Luxe Hybrid Mattress
Allswell's goal is to offer high-quality mattresses at a reasonable price.
The Allswell is a simple hybrid mattress with charcoal and copper-infused memory foam as the primary materials. This mattress is less thickly padded than other hybrid mattresses.
This hybrid is excellent for sex, as it's more responsive. The Allswell Luxe Hybrid provides stronger edge support thanks to its slightly thicker coil layer.
The Allswell Mattress is a hybrid mattress with quality memory foam and supportive pocketed coils.
The Allswell mattress is a relatively affordable hybrid model. The Allswell Hybrid mattress is one of the few bed-in-a-box mattresses under $500 that is suitable for heavier people.
The Allswell Hybrid mattress is best for back sleepers. These individuals often prefer firmer beds that give ample support. The Allswell Hybrid does exactly that.
We share here various tips for seniors to be aware of while buying a mattress.
Mattresses are one piece of furniture that holds the maximum dust mites. These are responsible for various allergies like sneezing, coughing, runny or stuffy nose, itchy, watery eyes, red itchy skin, itchy throat. They can also cause breathing issues like asthma and other chronic conditions.
Dust mites are more in normal foam and innerspring mattresses. Therefore, it is better to buy a memory foam or organic latex mattress as these are most resistant to dust mites.
As seniors are more prone to allergies, you must give special attention to cleaning their mattresses regularly. That is one reason to change their mattress in 6 to 8 years, especially in humid environs. In an air-conditioned room, though, the humidity is less, and there are fewer chances of dust mites presence.
There is a wide range of mattresses available in the market today. Generally, even a high-quality mattress needs to be replaced in 6 to 8 years. But if it is in good condition, you may use it for another couple of years. Change it if
It is sagging.
It isn't quiet when you shift on it.
You feel pain in your lower back when you get up in the morning, which goes off after 15 minutes to half n hour.
You have some unexplained skin allergies or feel asthmatic.
The senior sleepers must change their mattress on time to avoid lifelong problems. What is needed is a good, responsive mattress with a balance of comfort and support.
Mattress Advisor – Be aware of a mattress advisor who tries to sell you the product available in the showroom.
Orthopedic Mattress
Please do not buy a mattress for a medical term attached to it. Many companies sell mattresses named Orthopedic, and Doctor approved, Medically approved, etc. While these types of mattresses might be good for a restful sleep but these are not certified as medical or orthopaedic approved by any recognized body. So don't fall for these terms. Especially seniors do want to believe in such terms early due to their ongoing sleep problems.
Best mattress for Seniors with Arthritis
If someone says a mattress is made for arthritis patients, do not believe him.
For Arthritis patients and due to regular arthritis pain, a medium-firm mattress is ideal for supporting the body with a soft 1-2 inch mattress topper to provide relief to joints. But take your weight into account. If your weight is above normal then you need to buy a firm mattress which could be 6-7 on a scale of 10.
Firmness Levels & Personal Preferences
While checking the mattress types, you have to check the firmness option too. Your quality of sleep depends on that.
A comfortable mattress height is between 8 to 14 inches thick, and one can choose it according to the individual comfort preferences.
Mattress Firmness option for seniors based on body types.
Normal weight – Medium-firm mattress which has 5 to 6 on a firmness scale of 10
Over Weight – Firm mattress 6 – 7 on 10. A firmer mattress will keep the spine aligned.
Under Weight – Soft mattress 4 to 5 on 10. In this case, a softer mattress will keep the spine aligned.
Whatever the case may be, spinal alignment with the mattress is most important. If it is too firm, you will not sleep well. If it is too soft, you will wake up with pain in the backbone.
Sleep Preferences
There are various types of sleepers considering your sleep position. So, while buying a new mattress, do consider your favourite sleeping position.
Back/Stomach Sleeper– You need a medium-firm mattress that is 5 – 6 on a ten scale to give support to your backbone.
Side Sleeper– You need a plush mattress. Maybe 4 to 5 so that your shoulders do not bear undue pressure.
Combination Sleepers – Mattresses with medium firmness are most suited to combination sleepers of normal weight.
Zoned Mattress
Zoned mattresses, a relatively new concept, is for a high comfort level. There are various types available in the market. Our body does not have uniform weight all over as we are heavier on our lower back, hips, and shoulders. So these parts need more support than other body parts.
A zoned mattress is not uniformly plush or firm all over. It is firm near the heavier body parts and plush otherwise. The layers of coils inside have thicker gauge near the hip, lower back, and shoulders for proper support. Other coils have a thinner gauge.
An all-foam bed also has a more dense foam near the heavier body parts for neutral spine alignment.
These three types of zoned mattresses
3 – Zoned Mattress – Firm near Shoulders, Lower back, and Hips
5 – Zoned Mattress – Firm near the head, shoulders, lower back, thighs, and feet.
7 – Zoned Mattress – This also includes the chest and lower legs. It might not be much comfortable as compared to a 5 – zoned mattress.
These features are generally available in a luxury model only.
Edge Support
It is essential for senior citizens. I have seen seniors slipping down due to no edge support. Nor is it possible to sit properly on the bed edge in the absence of support.
Some mattresses have an extra cushion for strong edge support. Still, others have two lines of thicker gauge coils along the edges for support. That gives excellent edge support.
People sometimes leave the polythene cover on the mattress for safety against falling liquids. But, unfortunately, it makes the mattress more slippery. In such a case, if the edge support is not there, then the accident is just waiting to happen.
Memory Foam Mattress
Memory foam mattresses engulf your body so that you will feel it be more comfortable than an ordinary mattress. It happens as the layers of memory take the shape of your body when you lie down. It also comes back to its original shape when you get up. Seniors like such mattresses more as they feel cosier and are good for pain relief.
But a traditional memory foam mattress is not for hot sleepers. They retain body heat and become hot during the night. So seniors are susceptible to lose their sleep over it.
Gel Infused Memory Foam
To counter this, manufacturers infuse gel in the layers of foam. The memory foam layer becomes cooler with this. But the gel works only for some time, and the gel memory foam mattress often loses its cooling property after some time.
Copper or Graphite Infused Memory Foam
The latest in the series are copper or graphite-infused memory foam mattresses. Both keep the mattress cool.
Being a good conductor of heat, copper dissipates heat faster and keeps the body temperature cool. Besides, it has anti-microbial and anti-bacterial properties, due to which the mattress is clinically an ideal choice.
Graphite is a carbon derivative. It is used in various applications due to its property of dissipating heat. The main examples being computer CPUs where the heat is as high as 120 degrees Fahrenheit. For the same reason, graphite has found its application in mattresses as well.
Motion Isolation
Most seniors are light sleepers. They get disturbed even with the slightest motion transfer around them. Therefore, we must try not to disturb them when sleeping. If once the sleep is disturbed, they are not able to sleep for a long time.
There are various mattresses in the market which have complete motion isolation, and the partner does not get disturbed when you change or shift in the bed.
Memory foam mattresses are very good for undisturbed partner sleep.
The hybrid mattresses also have individually pocketed coils to reduce partner disturbance. But a memory hybrid mattress is not as effective as pocket coils do have some extra bounce.
You will have to check this feature practically by visiting the market. Unfortunately, not all companies have an effective motion isolation mattress.
Latex mattresses are not as effective in motion isolation, especially the Talalay Latex, as it is more bouncy. But if your preference is a Latex mattress, buy a Dunlop latex mattress or a mix of Dunlop and Talalay Latex mattress.
Hypoallergenic Mattress
Seniors also develop certain skin allergies as they grow old. Natural latex is the best in such cases. Natural Latex, which is the most long-lasting material, is also hypoallergenic. But it is also the most expensive.
Perfect Mattress
Any mattress in which you are comfortable is perfect. There is nothing very technical about it. I recommend that you.
Avoid buying a polyurethane foam or innerspring mattress due to its propensity to attract dust mites.
Mattress warranties are very important. Brands that offer long-term warranty have more confidence in their product. Some companies even offer a lifetime or 25-year warranty.
Buy a mattress with an organic cotton cover that will keep the body cooler. Breathable material is better for keeping the body cool.
Mattresses are sold with even a 365-night sleep trial. But be aware of their terms and conditions. For example, some companies charge for the transport while returning. Some have service charges as well.
Buy a mattress cover along with a mattress. It will save you the embarrassment of not being able to return the mattress in case of a manufacturing defect. Companies usually don't take back soiled mattresses.
Do your mattress shopping from an online retailer. They save a lot on distribution costs and pass a part of it to the consumer too. Ask him for the return of your current mattress too. You can get some exchange offer, or at least they can dispose of it for you.
Check the mattress review before buying it. The reviews shouldn't be much old, and the more reviews, the better it is.
Expensive options are not the best ones. Mattress Industry is very competitive, and a luxury mattress need not be a durable mattress. Do proper study before buying, or you will end up with the wrong mattress.
Try not to go overboard in buying a plush mattress for above-average pressure relief. You will later understand that you have bought a very bouncy mattress that offers less than optimum support to the backbone.
End Note
What are the best sleep habits?
Establishing and following a routine of going to sleep and waking up at the same time every day, even on weekends limiting napping, avoiding large meals and caffeine late in the day, exercising regularly keeping the bedroom at a cool, comfortable temperature, creating soothing bedtime rituals, such as taking a warm bath, avoiding using tablets, phones, or computers with disturbing bright lights before bed avoiding alcohol before bedtime, because even small amounts are likely to interfere with sleep.
Summary
As with people of any age, sleep is extremely important for seniors.