Naturepedic EOS (Ergonomic Organic Sleep)Trilux Organic Mattress
Lately, mattresses have directly come under strict scrutiny to prevent the toxic chemicals we can potentially bring to our homes. It is the sole reason why products such as Naturepedic organic mattresses or organic hybrid latex mattresses have stepped into the market. To address the concerns involving toxic mattress chemicals, the company introduced a line of comfortable mattresses that are health-oriented and have a sustainable ethos. Naturepedic EOS Trilux Organic mattress is just the kind of mattress that makes you feel good when sleeping on them. Available in different tailor-made models, you can customize these organic mattresses to suit your exclusive needs.
Why Naturepedic EOS Trilux Organic Mattress?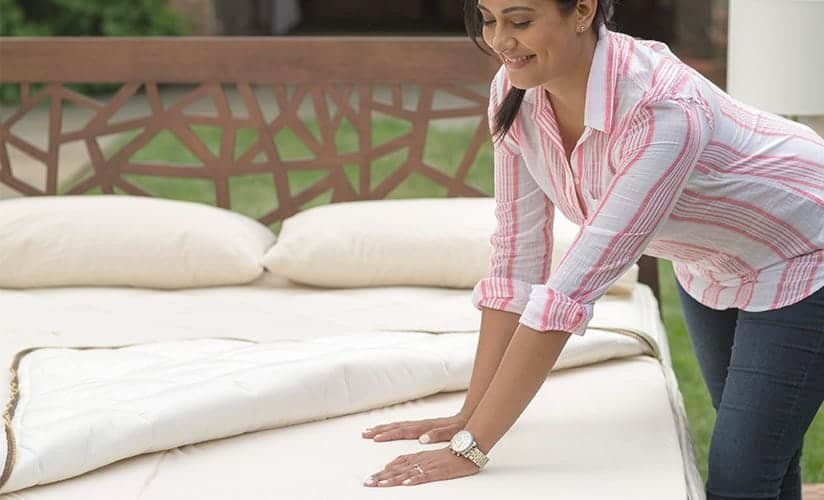 Naturepedic EOS Trilux organic mattress is the most impressive choice when choosing the best organic latex mattress free from toxic chemicals and comes with the organic build quality.
You can completely customize the 12-inch-high organic mattress for your requirements. If you are latex allergic, you can settle for the all-spring model or opt for their springs and latex models.
In the case of allergic consumers, Naturepedic will replace the latex with micro-coils that offer unparalleled cushioning and enhanced support underneath the thick cover of the mattress. You can hardly find high-quality latex mattresses that are customizable to this extent.
Related Readings

7 Best Mattresses for Shoulder Pain and Sleeping Options
Benefits of Brown Rice Protein Powder: 8 New Best Selling
Incline Treadmill Benefits: Ultimate 7 for Thrice The Gain
Naturepedic EOS Trilux Organic Mattress Constructions Layers & Materials
Naturepedic EOS Trilux is an organic latex foam mattress and comes with zero toxic compounds. It comprises cotton quilted covers and organic wool batting along with PLA fiber.
The quilted cotton cover lays on the top of three different three-inch organic latex-made comfort layers, and the entire stuff rests on an organic foundation made of cotton batting. The organic Trilux model comes with a single organic mattress encasement.
Benefits of Construction Materials
Organic Cotton Fabric + Fill– Organic cotton is considered the purest cotton form and is undoubtedly a healthier substitute to synthetic fabrics and foams. Naturepedic employs only US-grown and certified cotton as its organic fillings. The stretch knit fabrics are incredibly luxurious and soft to touch, and they have nice stretchability that easily conforms to your body.
Organic Wool Batting– This organic wool repels moisture, offers outstanding fire protection, and has a temperature control ability that helps you keep warm in winter and cool in the summer. The natural crimp of the organic latex mattress offers bounce, body, and softer support characteristics.
PLA Layer– PLA is a reliable and performance-oriented synthetic fiber made from non-GMO sugarcane, adding resiliency and enhanced moisture repulsion aiding in a good night's sleep.
Organic Latex– Organic latex is a known product for its outstanding efficacy in pressure-point relieving characteristics. Latex is a brilliant organic compound extracted from rubber tree saps used in these latex mattresses.
All the latex used in these best latex mattresses are GOTS certified, unlike synthetic, and are incorporated in all-natural materials for manufacturing these mattresses.
Naturepedic EOS Trilux Organic Mattress Performance
Naturepedic EOS mattresses come with a unique modular construction that can be customized to your specific needs of firmness and comfort by simply splitting it up. The latex-made EOS Trilux mattress has five different firmness levels: extra-firm, firm, cushion-firm, medium, and plush. The cushion-firm is a latex mattress model that most people prefer for comfortability and firmness.
Motion Isolation
Although the performance varies depending on the firmness options, EOS Trilux organic latex mattress offers brilliant motion isolation. It is, though not as good as memory foam, but there is not much difference.
Pressure Relief
The EOS organic latex mattress offers superb pressure-point relief properties for multiple sleepers. The efficient 3-inches latex-made comfort layers are ergonomically designed to adjust to your body positions, thereby allowing the muscles to relax better for pressure-point relief.
It offers balanced support to the body, distributes the weight evenly, promotes proper spinal alignment, and does not focus weight directly on your hips or shoulders, which are the main pressure points.
Temperature Regulation
Organic wool assists in regulating temperature and controls excess moisture. The natural temperature-nullifying properties of latex comfort layers help circulate heat through the night and limit hot spots. The EOS best latex mattress is better than all-foam models and ideal for sleepers who want maximum temperature-controlling mattress properties.
Due to the temperature control properties, it becomes better than memory foam.
Edge Support
The EOS Trilux organic latex mattress comes with an entire perimeter, efficient edge support that helps you feel secure and does not cause sinkage when you sleep on the edges of the mattress. It is ideal for users who have problems getting in or out of their beds and like to sleep throughout the mattress perimeter. The perimeter support helps in expanding the usable sleeping areas of the mattress.
Off-Gassing Properties
The EOS Trilux Organic latex mattress does not emit any off-gassing odor that is most common with most latex mattresses. It happens due to volatile organic compounds that release a pungent synthetic foam odor. Although VOCs are not that harmful to health but can be bothering many individuals. Since Naturepedic does not use synthetic foams, the VOC odor will not be the case.
Product Specifications
60″W x 80″L x 12″H
Quilt (organic cotton fabric + organic wool batting + PLA comfort layer)
3″ organic latex
Organic cotton mattress cover with organic cotton filling for extra padding
GOTS certified organic wool batting, MADE-SAFE Certified & UL/GREENGUARD Certified ensure low emissions, organic compounds usage, and no toxic chemicals as per independent testing laboratory standards.
PLA Comfort Layer
No flame retardant chemicals
90-day comfort exchange
Encasement (organic cotton fabric + organic cotton fill + solid brass zipper)
EOS Trilux Mattress for Different Sleeping Positions
Back sleepers
The firmer the organic mattress is for back sleepers, the better their comfort. With the availability of extra-firmness options in Trilux mattresses, users can better support their back while sleeping.
Side Sleepers
Users can select between the different Trilux organic latex mattresses, following their side sleeping needs. You can have the softest mattress in the Trilux range for side sleeping and avoiding direct pressure on your hips or shoulders.
Stomach Sleepers
Stomach sleepers need firmer support to their hips and stomach while sleeping. EOS Trilux organic latex mattress offers a firm yet softer mattress that prevents your hips from sinking too deep and provides a comfortable sleep.
EOS Trilux Mattress Competitors
Some of the dominating competitors of this best latex mattress are PlushBeds Botanicals Bliss Mattress, Savvy Rest Serenity and Earthspring Mattress, Avocado Vegan Mattress, and Obasan Mattress. However, Naturepedic EOS Trilux Organic mattress ranks the best due to the Amish handicraft, modernized designs, and many firmness options. Moreover, price is also a factor since this organic mattress does not make a hole in your pockets.
Shipping
The mattress is vacuum-sealed, compressed, and rolled as a bed in a box delivery for free within the continental US and most of Canada. The mattress box is easily maneuverable, environmentally friendly, and easily placed in your room. At some places, white-glove delivery is also allowed, but that might seem to be a costly option due to the larger size of the mattress requiring more workforce.
Conclusion
What is more vital for you when you are out there shopping for a mattress? Well, for most American citizens, it's their health aspect. If you are a health-concerned individual, it is worth looking for the all-organic EOS Trilux mattress for your betterment. Very few people in this world are allergic to latex. You have a broad spectrum of firmness options, which is indeed what ranks Naturepedic to the top.