The journey of Nest Bedding started back in 2011 when they began producing upscale mattresses that are comfortable and health-sustainable at the same time. Nest Bedding All Latex Mattress is the company's only line of mattresses with a completely latex-made model.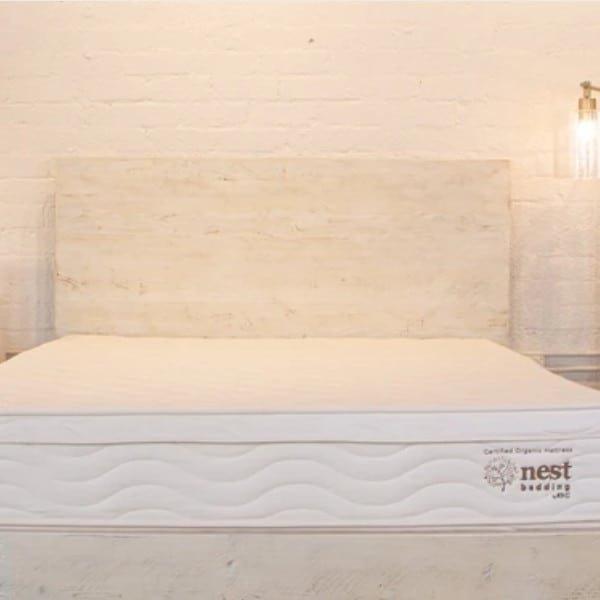 The Nest Bedding All Latex Mattress is an organic latex mattress made using organic latex or blended latex. Finding a reliable and cost-efficient latex mattress can be challenging; however, Nest Bedding all organic latex mattresses have proven to be a reliable solution.
Nest Bedding All Latex Mattress Options
Nest bedding organic latex mattresses come in two different variations: the Finch, previously known as All Latex Mattress, and the Organic Latex model.
The Nest latex organic mattress comes with two different variations: Medium and Firm options. The firm mattress option is one of the most demanding ones compared to the medium variant.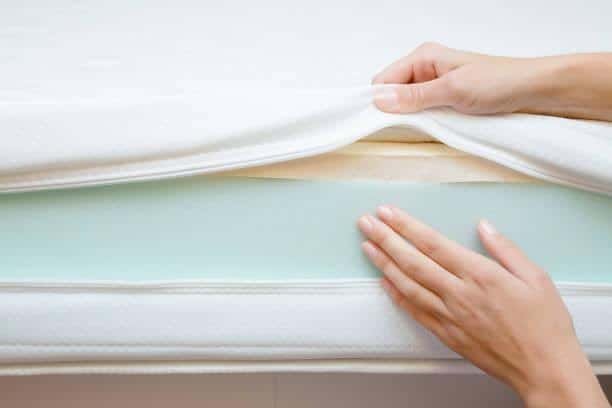 The inclusion of varied materials such as stretchable, softer organic cotton, natural latex foam, and high-quality polyfoam make it one of the best organic mattresses in the market.
Related Readings

Longest Lasting Mattress with Best Bounce and Support? Latex?
Lactose Free Protein for Weight Loss? 10 Best Shakes in 2022
Best Under Desk Treadmills in 2022: Walk While Working
Organic All Latex Mattress Properties
The organic all latex mattress is organically made of cotton covers. The all-latex cover employs GOTS certified organic cotton for health assistance and sustainable ethos. The All-latex organic mattress comes with GOTS backed wool batting to soften the bed surface and regulate temperature. The 3-inches natural Dunlop latex comfort layer contours the user's shape and comes with a better buoyant feeling than conventional foam.
Construction of Nest Bedding Latex Mattress
The all-latex mattress comprises three distinct main layers made primarily of latex. The unique latex mattress has exceptional quilted covers.
The organic latex mattress cover is made up of organic wool batting. The couple Dunlop layers act as the comfort provider and supportive layer for both the medium and firm variations of the organic latex mattress.
Cover
The organic certified all-latex mattress comes with a GOTS certified organic cotton cover. The organic cotton cover is unzippable and completely removable, allowing the customer to wash it properly. The organic wool batting cover is a moisture repellant that helps people who sweat too much in their sleep.
Comfort Layers
The organic GOTS certified all-latex mattress comes with a couple of comfort layers for extra comfort. The topmost layer of the mattress is certified 1-inch wool batting organic in nature, which is breathable and assists in regulating the temperature. Moreover, wool is considered a natural fire repellant. Right under the wool batting layer lies the 3-inch GOLS backed Dunlop Latex, which enhances the responsive feel of the organic all latex mattress.
Support Layers
The certified organic latex mattress enables the customer to select the layer they want to use as the support core of the mattress. While the 6-inch GOLS backed Dunlop latex is on the bottom, the mattress measures 5 out of 10 on the firmness scale. However, when the 3-inch Dunlop latex layer is utilized as the support core with the firmer layer above it, the firmness scale goes to 7.
Dimensions
Twin | 38″ W x 75″ L x 10″ H – 110 lbs.
Twin XL | 38″ W x 80″ L x 10″ H – 115 lbs.
Full | 54″ W x 75″ L x 10″ H – 145 lbs.
Queen | 60″ W x 80″ L x 10″ H – 170 lbs.
King | 76″ W x 80″ L x 10″ H – 195 lbs.
California King | 72″ W x 84″ L x 10″ H – 205 lbs.
All-Round Performance of All-Latex Mattress
Motion Isolation
The all-latex mattress comes with minimum motion disturbance and has higher levels of motion isolation. The thick quilted cotton cover makes them efficient in motion isolation, and the wool batting enhances the motion dampening power.
Pressure Relief
Compared to other latex mattresses, the Nest Bedding all latex mattresses have better pressure relief due to the quilted cotton covers. It acts as surface-level cushioning support for the pressure points of the sleeper.
Temperature Control
The all-latex mattress from Nest Bedding excels when it comes to controlling temperature. The latex mattress has an open-celled structure that offers breathability, thus allowing more cooling airflow and better heat dissipation than the conventional synthetic foams.
Edge Support
The Nest Bedding all-latex mattress come with prolific edge support that is very supportive to the users. Although the mattress does not come with reinforced edges, the firm latex layer of the core prohibits any sinkage.
Sleeping Style and Latex Mattress
Side Sleepers
The latex mattress from Nest Bedding offers cushion and contouring that can eventually relieve the pressure points users generally face while side sleeping. The wool batting in the all-latex mattress assists in cushioning the surface, with the Dunlop latex layer offering deeper contouring.
Back Sleepers
The latex mattress helps sleepers prevent their hips from sinking in and aligning their spine in a proper position. The Dunlop latex cradles the hips from sinkage and helps support the sleeper's spinal curvature.
Stomach Sleepers
Stomach sleepers usually put most of their weight on their midsections since they sleep on their stomach and eventually put pressure on their spine. The Dunlop latex layer prevents this kind of sinkage, and the quilted cover brings in more plushness and cushioning for the user.
Pros & Cons
Pros
Made of organic cotton cover and natural latex that do not contain toxic chemical compounds.
Brilliant edge support for users who like to utilize the entire surface of the mattress
Perfect motion isolation so that you or your partner's sleep is undeterred.
Ideal temperature regulating properties to keep you cool during the night.
Cons
Not ideal for heavyweight sleepers
It does not offer extensive contouring, such as the memory foam mattress
Nest Bedding All Latex mattress is heavy, so it might be a bit tough to move it around.
Competitors
Nest Bedding All Latex Mattress is one of the most impressive latex mattresses on the market, and their prices are justified. It competes with some of the most prolific names such as Avocado, Saatva, Awara and Brentwood Home, to name a few. However, if you want to enjoy superior features with all-around protection, reliability, better firmness and within a stipulated budget, Nest Bedding is the one you should bank on.
Trial & Warranty
Nest Bedding, All Latex mattress, offers a 100-night trial period for users to try out and see if the mattress fits their requirements. You can also exchange your mattress's comfort layer if you don't like the original one within the trial period for just $100. The mattress comes with a limited lifetime warranty.
Shipping & Returns
Nest Bedding All Latex Mattress is shipped delicately in sturdy boxes for proper set-up. They are offered as a bed in a box delivery in contrast to white gloves delivery, which tends to be expensive in this case.
Customers can get a full refund on their mattress if they don't like it within the 100-night trial period. Alternatively, they can also opt for exchange by simply unzipping it and placing a new comfort layer inside. It will cost them about $100.
Conclusion
Nest Bedding All Latex mattress is undoubtedly a winning bet if you are looking for a firm, soft yet sturdy mattress for maximum comfortability. The all-latex mattress does not involve using any harmful compounds and is excellent for crucial temperature regulation.