These days, everyone is busy, and it becomes difficult to hit the gym every day or 4-5 times a week to keep yourself healthy. But if you get that exercise equipment at home, it becomes easy for you to do the workout.
Luckily, several home elliptical machines can make you fit without taking up much space. These are beneficial in many ways to the individual. Moreover, it is a great way to burn excess calories without leaving the comfort of your home.
What is an elliptical machine?
An elliptical machine is a low-impact cardio workout exercise equipment. To do the workout, an individual will hold the handlebars, and with the help of pedals, their legs will move in an elliptical pattern to run, walk, stair, climb, or sprint.
It has varied features like static and movable handlebars and has different resistance levels, inclines, and preset programs. Furthermore, many of these machines also come with backward pedalling.
Benefits of Home Elliptical Machines
Great way to get both cardio and High interval training exercises for the whole body.
It is user-friendly and easy to get started.
It has zero impact on joints, is excellent for people suffering from knee pain, and is suitable for doctors advising them to avoid high-impact exercise.
The elliptical machine burns body fat quickly by improving balance.
Being the best cardio tool, it is also helpful for you to get back on track smoothly even after injuries.
Opt for cardiovascular training on it, which is a great way to lower your blood pressure and keep healthy heart.
An elliptical machine is a versatile option on which you have a chance to do workouts as per your needs.
Highly affordable option as compared to various other exercise options available today in the market.
Elliptical trainers increase quad and hip strength.
If you are depressed, exercising on an elliptical trainer will improve yours overall. However, in starting, you don't feel like doing a workout, but almost every time after finishing, you feel great and accomplished.
Helps in increasing stamina.
Every elliptical cannot offer this benefit, but most of these deliver the option to multitask. That means it also comes with a screen to watch your favorite movie or increase your knowledge.
Types of elliptical machines
Before we jump on the best machine to keep you fit and healthy, I want you to go through the types of machines quickly. They are: –
Standard ellipticals
You see these regular elliptical machines at the gym with swinging arms for upper body workouts, an elliptical stride, a console, and a sturdy base.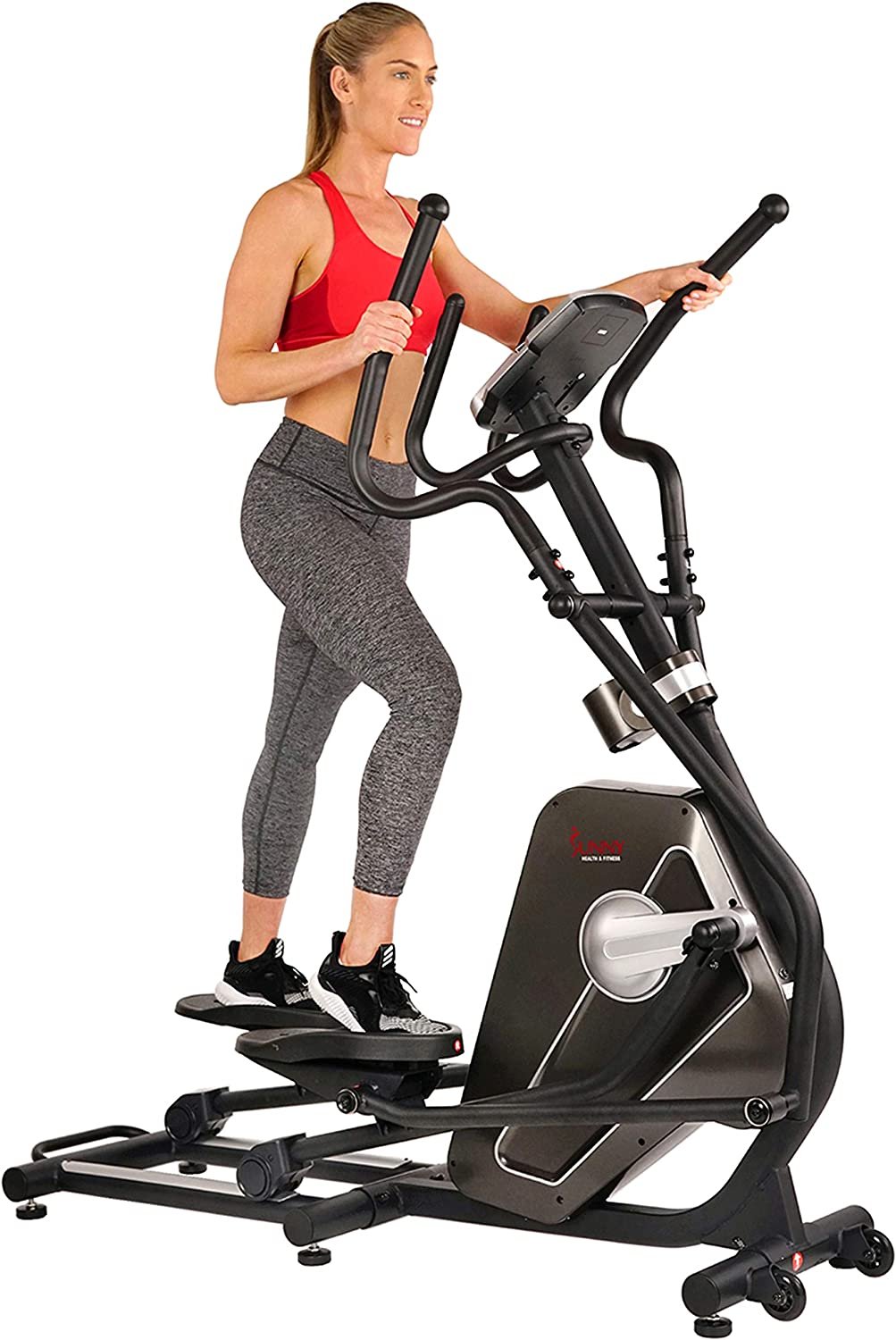 Under Desk Ellipticals
Additionally, they are apex space savers, as they only come with elliptical pedals and not the arms or console.
Elliptical Cross Trainer
This elliptical machine looks like a stationary bike when you first see it, but the reality is something else. Nevertheless, it delivers the same benefits as a standard elliptical machine and some bonuses.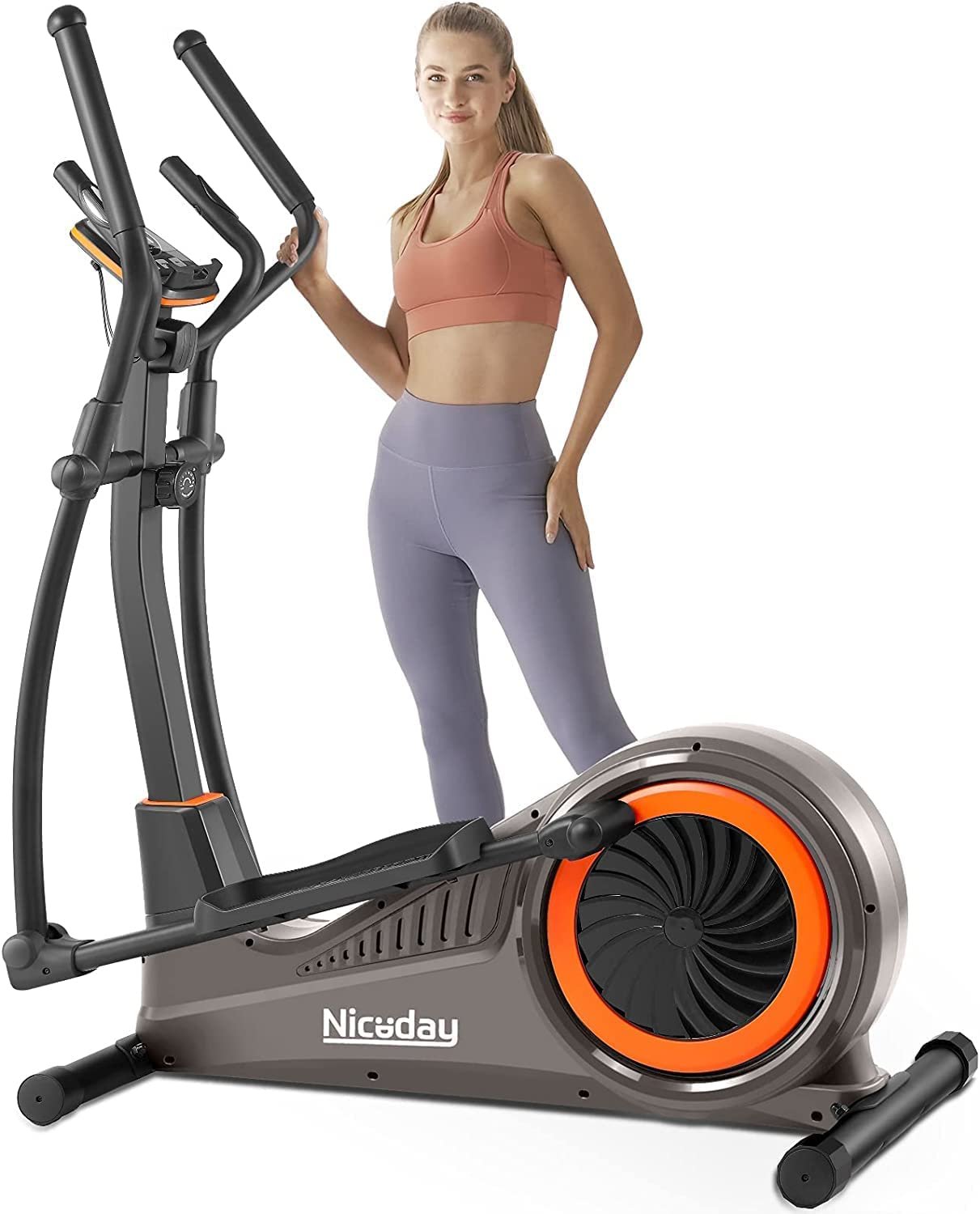 However, if you talk about the difference between standard and cross trainer, the latter typically allows the user to perform the workout from a seated or reclined position. On top of that, cross trainer elliptical offers much more comprehensive full-body training.
Elliptical glider
This elliptical machine is one of the least complex and low-impact trainer types. It doesn't come with a flywheel, but this trainer's pedals operate on a swinging glider rather than a circular track.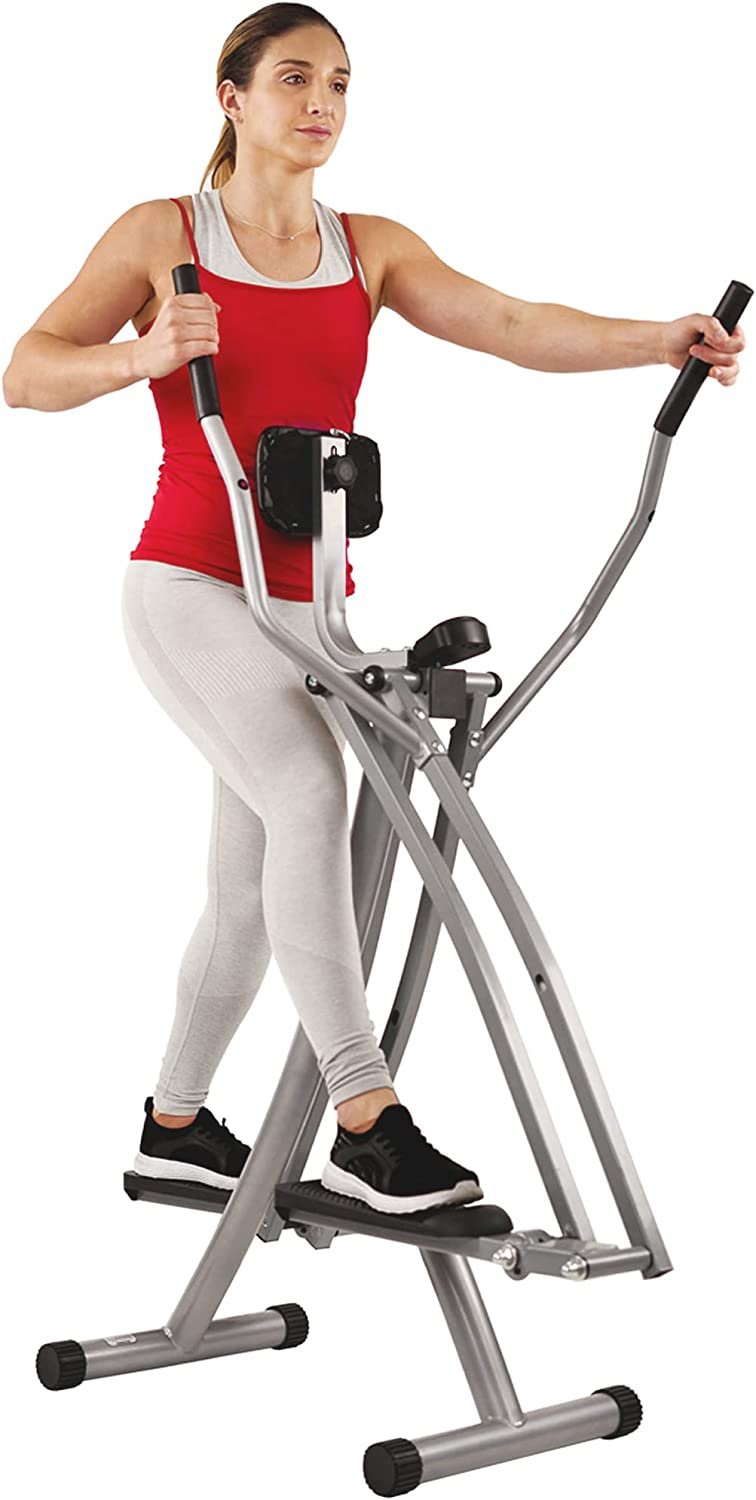 However, the best part of this elliptical glider is that the pedals will remain fixed on the feet, reducing the strain on joints like the ankle, hip, and knee. In addition, they are considered compact elliptical machines because there is no flywheel.
Recumbent elliptical
The recumbent elliptical machine is designed for a sitting-down position in which most of the body weight is handled by the seat, not the legs. But remember one thing: This elliptical machine offers you a less effective workout but delivers the best results to people recovering from joint injuries or surgeries.
Aside from that, it is ideal for people who struggle to support their own body weight, and it is especially appropriate for beginners who have just begun training.
Elliptical configurations
One main benefit of elliptical machines is quietness. These are absolutely quiet as they are self-powered and do not run on motors. So their noise will be even less than under desk treadmills.
When you step into the market to buy an elliptical machine for your home, you will see three main types of ellipticals. The main difference lies in flywheel location. In short, the machines will function the same way and deliver the same result, but the difference lies in the workout experience with each one.
Let's look at the three elliptical types: –
This elliptical flywheel is located right at the front of the machine. While working out on this elliptical, you will have the sensation of leaning forward like climbing a stair machine.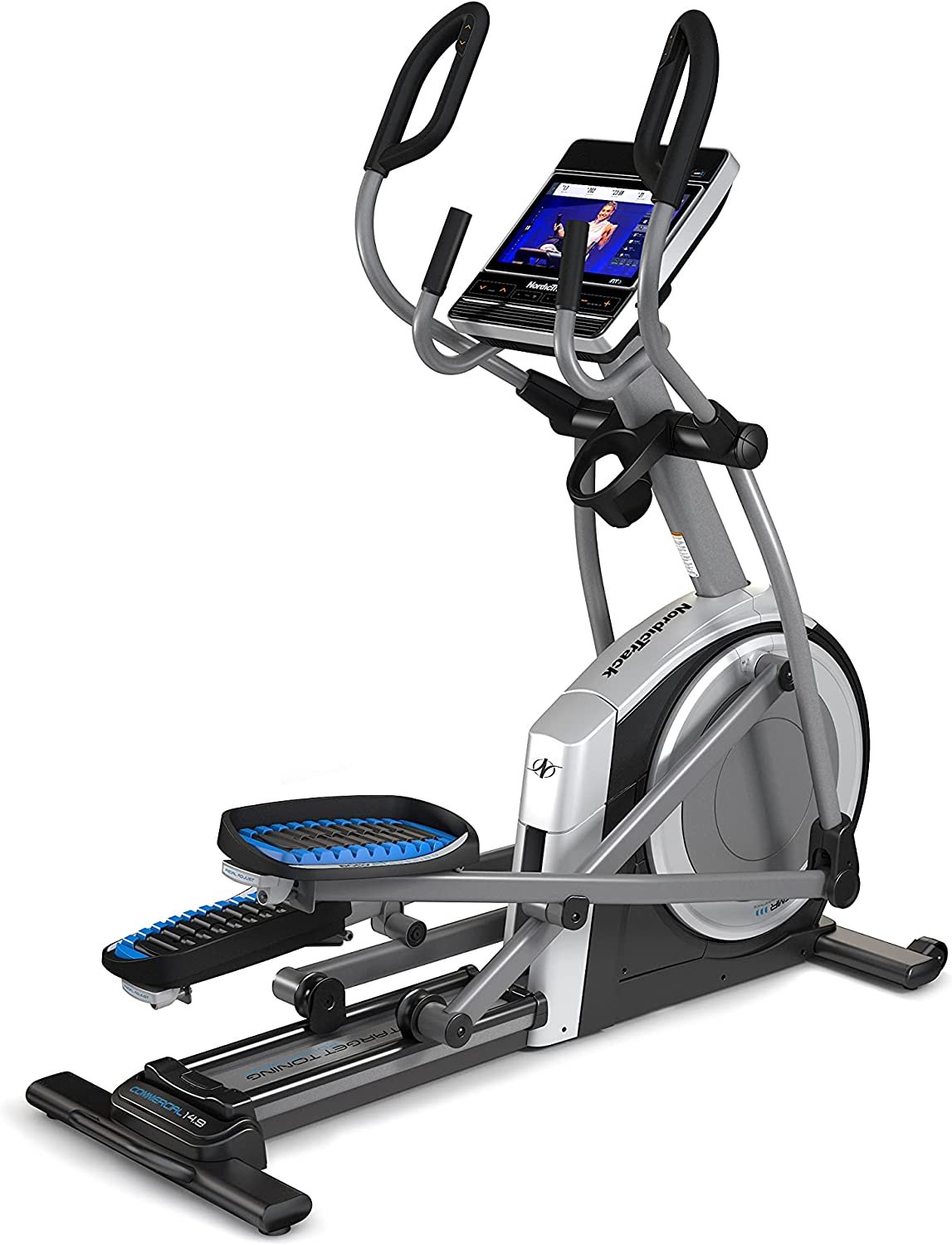 Centre-drive elliptical
The drive wheel is located at the center of the elliptical. This machine comes with pedals that work on cylindrical rollers and a crankshaft. However, this elliptical machine is less common in homes and is used commercially.
But if you can work out on this elliptical, you will get the best experience and a more balanced feel.
The rear-drive elliptical machine is one of the oldest designs in ellipticals, but now it delivers awesome results and is widely used.
In this, the drive wheel is at the rear of the elliptical and has a track-and-roller step-up for the pedals, which are suspended on long pedal arms between the drive wheel and the moving hand grips.
This elliptical is a little bigger in size but delivers a longer stride.
What are the things you must look for in elliptical machines?
You must consider some factors before buying the best elliptical machine. They are: –
Features
Most people go for full-body workouts, and if you are one of them, consider an elliptical machine with movable handlebars. Many of these machines also have smart features, like bottle holders, fans, USB ports, smart devices, and many more.
So, think of your needs and then choose the best.
Ease of use
The elliptical stride length must match your height to be comfortable while working. Also, having enough step-up height offers enough space between you and the ceiling.
Resistance and incline
Elliptical machines with different levels of resistance and incline let you work out in more ways and with more intensity. Additionally, many of them also have preset programs that help individuals meet their fitness goals.
Warranty
The warranty comes in various forms, which different manufacturers offer. So, before you choose any of the elliptical machines for your home, note the warranty.
Connectivity
Connectivity is another factor that you must consider while buying an elliptical machine. People serious about their fitness join virtual classes and stream trainer-led classes. Remember, check if the product allows syncing with smartphones for easy fitness tracking.
Durability
Durability is the most important factor that allows the individual to exercise on the machine for a long time. That means most elliptical machines are manufactured with lighter materials, making them less durable.
Drive design
Elliptical machines with rear-drive systems are quiet and offer a natural feel but take up more space. Also, elliptical machines have front drives that take up less space.
Stride length
This is another important factor to consider while buying an elliptical machine for the home. If the machine's stride length is longer, it allows the user to extend the knees and hips for a natural stride fully. According to industry standards, the elliptical stride length is 16 to 20 inches.
So, if you are a shorter individual, you must buy an elliptical with a length of 16 to 18 inches, and taller individuals go for at least 20 inches in stride length.
The bottom line
After reading this post, you may feel overwhelmed as there are many things you need to consider while buying an elliptical machine. But don't get confused. Rather, look for the features you want in your elliptical machine that work well within your budget.