Finding the best treadmill under $1500 is most challenging as this is the most preferred segment and there is a very close competition for the top slot. The competition for the best commercial treadmills also starts slightly above this price range. For the same reason the benefits of the treadmills in this segment are also the maximum.
Midrange choices provide superior quality with sophisticated features and long warranties without breaking the budget. Besides these are constructed of high-quality components. Some of these have a higher print price but still we have included them as these are frequently available below $1500.
Treadmills in this price category have greater horsepower, better build quality, and more technology choices than cheaper ones. This category includes treadmills suitable for walkers, runners, and joggers.
A 4.0 CHP motor tracks inclination and descent, and Bluetooth or WiFi allows access to an infinite number of personalized training routines.
This price range treadmills are ideal for home usage since they are not too expensive. These treadmills come from well-known brands including Sole, Lifespan, Proform, and NordicTrack. Most home users will find all they need and more for around $1,500.
Whether you are an experienced runner, fitness fanatic, or constructing your ideal home gym, this variety of treadmills may be what you need.
Related Readings

Best Treadmill under $1000: Foldable and Perfect for Home
7 Best Treadmills with Screen: More Luxury in Running
Benefits of Spirulina Abound and 9 Best Selling Products
Best Treadmill under $1500
| Name | Motor CHP | Incline % | Track Inches | Speed mph | Weight Capacity-lbs | Dimensions Inches | Built-In Programs |
| --- | --- | --- | --- | --- | --- | --- | --- |
| Sole F80 | 3.5 | 15 | 60 x22 | 12 | 375 | 82x 37x 66 | 10 |
| Horizon 7.4AT | 3.5 | 15 | 60 x22 | 12 | 350 | 76x 37x 63 | 10 |
| Nautilus T618 | 3.5 | 15 | 60 x20 | 12 | 350 | 78x 38x 63 | 26 |
| ProForm Pro 2000 | 3.5 | -3/15 | 60 x22 | 12 | 300 | 79x 39x 71 | 50 |
| Xterra TRX4500 | 3.25 | 15 | 60 x20 | 12 | 300 | 77x 35x 56 | 30 |
| Schwinn 870 | 3 | 15 | 60 x20 | 12 | 300 | 72x 35x 57 | 26 |
| Lifespan TR3000i | 2.75 | 15 | 56 x20 | 12 | 350 | 71x 33x 56 | 17 |
Sole F80
Warranty – Frame, Motor & Deck – Lifetime, Electronics & Parts – 5yrs, Labor – 2yrs.
Return Policy – 30 Days
Apps – Sole, Fitbit, Record, Apple Health, Mapmyrun.
The Sole F80 has steel side beams and cross beams beneath the deck for strength. All steel support rails. The robust running platform fits firmly on the floor, allowing little movement while jogging up an incline.
The F80's railings are epoxy-coated steel, which is uncommon. More training options such as Tabata intervals, fartlek sets, and sprint drills are possible. The solid structure of Sole's F80 ensures that the deck never rocks or sways. The integrated Sole chest strap syncs via Bluetooth with the LCD for real-time heart rate monitoring.
The 9″ LCD screen is white and backlit and shows Workout Time, Distance, Speed, and Calories Burned and also Pace, Pulse, and Heart Rate. The screen may show laps, vertical, segment time, or data scan. While not touchscreen, the big numerals are easy to read.
The Sole F80's deck features a Cushion Flex Whisper Deck that reduces impact by 40% compared to outdoor surfaces. The 2-ply belt offers a comfortable running surface and tight fit on the deck. The engine is the most silent of all reviewed in this category. The two fans above the screen don't move much air.
The F80 tablet holder above the console allows you to do a cardio workout on the treadmill while viewing videos on your phone. It is excellent because the console lacks WiFi and subscription alternatives. The F80 has excellent storage. Beyond the console's two big pockets on each side, a storage tray runs the length of the deck beneath the console. In addition, it features three big pockets for extra storage.
The Sole F80 has six Preset Workouts: Manual, Hill, Fatburn, Cardio, Strength, and HIIT. Three more options are accessible as well, with buttons immediately below the screen. You know what you're getting since each button launches the identical application. However, an input jack in the console allows you to play music via the speakers.
You may download the Sole App on your phone to track your exercise data like calorie burn, heart rate, and duration. The Sole F80 excels in noise reduction. It was the quietest.
Horizon 7.4AT
Warranty – Frame & Motor – Lifetime, Parts – 5yrs, labor – 2yrs.
Return Policy – 30 Days
Apps – Studio, Daily Burn, Aaptiv & Trio
Rather than limiting users to iFit or other applications, this new treadmill can integrate Studio, Daily Burn, Aaptiv, and Treo. It is a brilliant move and sets the Horizon 7.4 AT treadmill apart from the competition. The treadmill also has QuickDial Controls on the handlebars that assist with inclination and speed changes.
The 3-Zone Variable Response Cushioning has been shown to decrease joint impact by up to 30%. Based on stride, it offers distinct degrees of shock absorption to the front, middle and back running areas. The FeatherLight Folding mechanism is simple to use and safe. The treadmill also has a single fan at the control's base, which might be inefficient looking at the cooling needs.
Horizon has enhanced the damping of its running belt. The gentler settings assist in decreasing joint stress, while the harsher ones simulate road jogging. Horizon Fitness includes a Bluetooth wireless chest strap with the 7.4 AT treadmill purchase. The company provides HIIT-specific training routines on their equipment. Choose the training approach that best fits your objectives.
You'll need your iPad or tablet to utilise the smart app integration rather than the console's screen. The non-touchscreen 8.25′′ LCD screen displays exercise metrics and data. The 7.4 AT treadmill has bigger belt rollers.
This treadmill's motor also has Horizon's innovative Rapid Sync Technology, which allows it to speed up and slow down quicker than a standard treadmill motor. With the introduction of interval training, this technology is worth having.
7.4 AT treadmill has enough new features. It lacks sleek touchscreen interfaces, but it still offers enough value in function, features, and build quality.
Lifespan TR3000i Treadmill
Warranty – Frame & Motor – Lifetime, Parts – 5yrs, Labor – 1yr.
Return Policy – 30 days.
App – Lifespan fitness club
LifeSpan's treadmills are always loaded with great programming. The redesigned LifeSpan TR3000i includes all the earlier features, plus a new full-color touchscreen. In addition, Bluetooth integration makes listening to music simple.
It has three distinct dashboards (graph, gauge, and track) that visually show your workout outcomes. The console is simple to use, so start the console and start working out. It also has physical controls on the console, so you can change the pace and inclination while running without reaching. In addition to the inclination, trainees can choose from three difficulty levels for each programmed exercise.
The console's low height allows you to watch TV while walking, jogging, or running on the treadmill.
The 1″ deck and 8 compression shocks minimise noise and impact on your knees, back, and joints. The TR3000i treadmill is easy to assemble and maintain, allowing you to focus on your workout.
It has a two-ply belt and rolls on 2.5-inch rollers. Eight shock absorbers of varying densities further support the belt to reduce body pressure. It is also a very quiet treadmill.The treadmill's Bluetooth speakers let you listen to a podcast or view the movies as you run. The built-in USB charger allows you to charge your phone/tablet.
The fold-up treadmill's dashboard tracks and displays your heart rate, so you remain in your training zone.
The TR3000i has 38 programmes, including a customised treadmill program and various dashboard settings. All in all, it is a very sturdy treadmill.
Nautilus T618 Treadmill
Guarantee – Frame & Motor – 15yrs, Parts & Electronics – 5yrs, Labor – 2 yrs.
Return Policy – 6 weeks
Apps – Supports Google Fit, MyFitnessPal, and Nautilus Trainer and Runsocial
The Nautilus T618 console has interactive training programs. This treadmill's virtual outdoor training sets it apart from rivals. The Nautilus T618 has integrated speakers and a three-speed cooling fan.
You have bluetooth to connect the treadmill to your smartphone or tablet to enjoy RunSocial workouts with streaming visuals. For each exercise you get a fitness score to track your improvement. It has 2.75-inch rollers, which reduce noise and prolong belt life. It has a powerful, it has a quiet motor. It has Rebound Cushioning for gentler landings that reduce knee and joint impact.
Two backlit LCDs measuring show workout progress. The treadmill's media shelf can securely store your tablet computer for entertainment, training assistance, or multitasking. Handrails have contact pulse monitors, and the Nautilus T618 accepts a wireless chest strap. Under the console is an accessory tray for a towel and a water bottle. On either side of the Nautilus T618 console are two storage cups to increase storage capacity.

Use the treadmill's lanyard or retractable cable to halt the belt if you lose balance. It also includes a big "Stop" button. It is a folding treadmill. This Nautilus treadmill comes with a five-year parts/electronics and two-year labour warranty. While much of the product's guarantee is industry-leading, the frame warranty is just 15 years. The parts/electronics warranty is usually the most essential.
Xterra TRX4500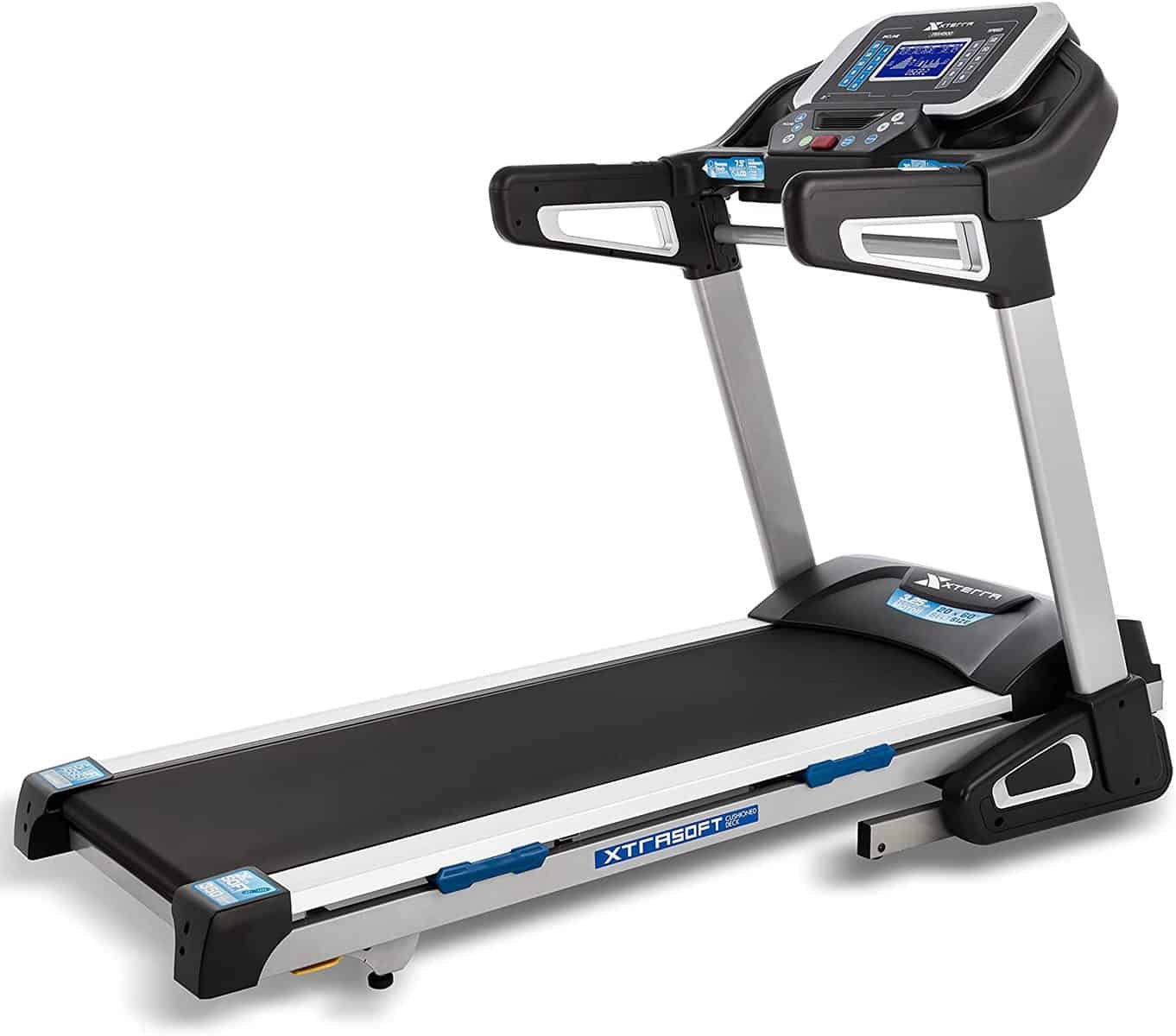 Warranty – Frame & Motor – Lifetime, Deck – 5yrs, Parts -2yrs, Labor -1yr
Return Police – 60 days
Apps – Connects to Zwift, Kinomap, Tacs
The TRX4500's aluminium rails give it a classier appearance and additional durability. The treadmill handlebars and console include controls to adjust the inclination.
XTERRA's console includes a lighted 7.5″ data panel and 30 preset training programmes that range from five to 99 minutes in length and are classified as "Speed" and "Incline". In addition, it has the option to store two exercise profiles. A built-in cooling fan, accessory tray, and cup holder add to the user's comfort. The machine has wheels and can be moved.
Bluetooth connects your smartphone to the XTERRA Fitness tracking software. It also has an audio port and a built-in speaker system to deliver sound. In addition, the free software works with the iPhone's built-in iHealth app and third-party applications like FitBit.
The equipment comes with a wireless chest strap with all exercise routines preloaded. In addition, it has metal rails instead of thick plastic.
The 4500 isn't portable, but it appears elegant when folded to save space. The TRX4500 is a foldable treadmill. If you start raising the deck, it immediately folds. The running surface is stored vertically and gently returns to the floor when unlocked when not in use.
XTERRA treadmill belts are two-ply for reduced machine noise. This treadmill's incline feature makes it simple to burn calories and tone muscles. It has a maximum of 15% power inclination. The console has 10 speed and inclination options. The handlebars also include up/down buttons.
The tread deck has two shock deflection levels. You may work out on a road-like surface or activate the cushioning for greater impact absorption on an indoor track.
The TRX4500 treadmill comes with a wireless heart rate transmitter. Your target heart rate is adjusted using a preset heart rate control programme. The default setting is 60% theoretical capacity.
The XTERRA TRX4500 has a high power gradient for faster calorie burn at any exercise speed.
ProForm Pro 2000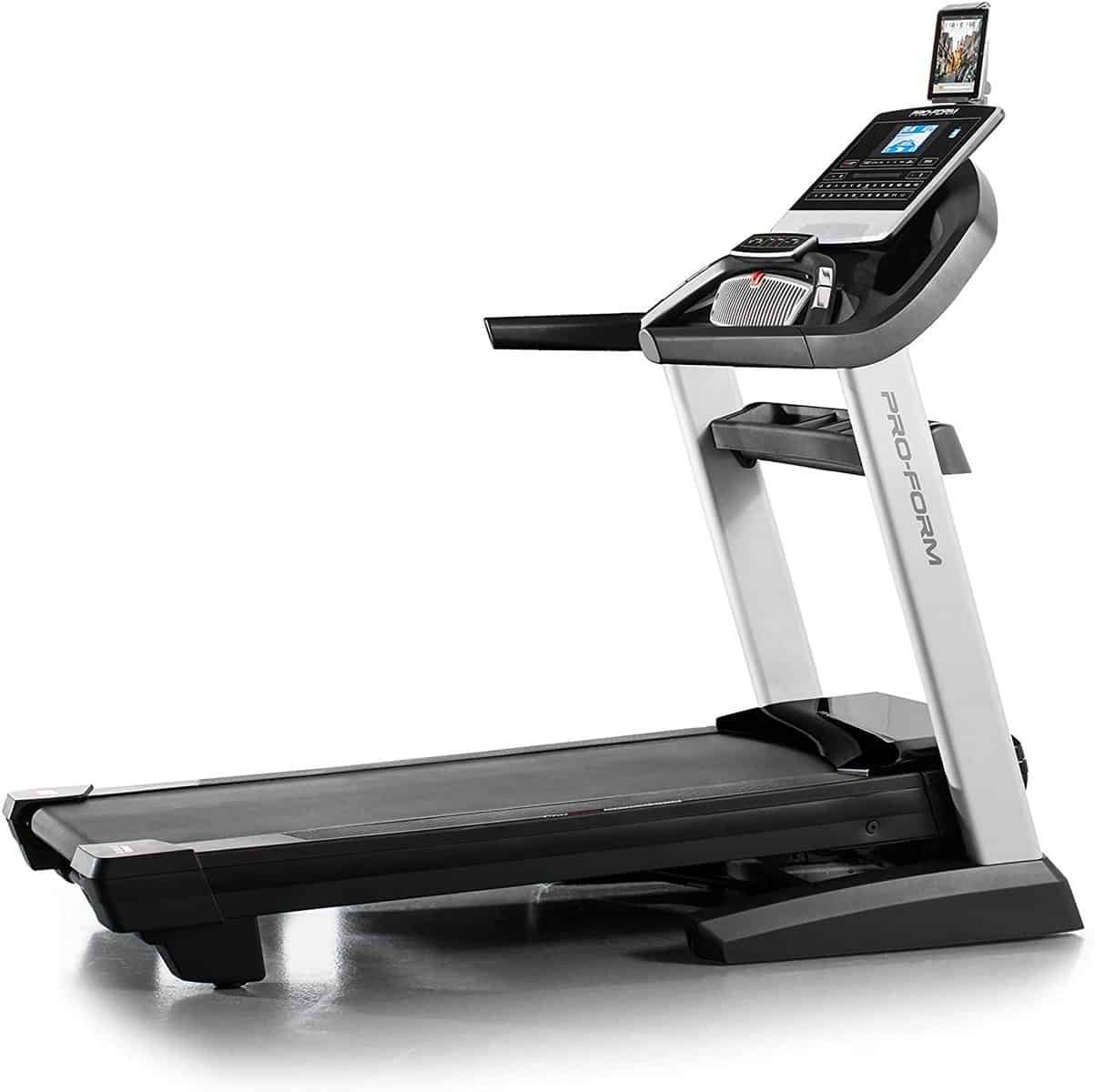 Warranty: Frame – 10Yrs, Parts – 2Yr Labor – 1yr
Return Policy – 30 Days
Apps – iFit Program for free for a year
Proform Pro 2000 has a sturdy build. In addition, it has 50 programmes you can enjoy and use to maximise your treadmill workout. You get a 12 month iFit membership free with it.
The deck has ProForm's patented ProShox™ cushioning, allowing a firm yet cushioned workout. It has a 2-ply belt with a good texture to keep users from slipping. The Proform Pro 2000 includes heavily textured foot rails, which makes them safer.
Proform Pro 2000 uses EasyLift™ assist, making it easier to lift and lower the treadmill deck for storage.
It has a simple, 7″ HD bright touchscreen. It has 50 programs preloaded on it and you also get iFit access free for 12 months.
The console's soundbar has two 3″ speakers and there is an audio jack to use headphones. It also has blue tooth to connect the mobile and there are two fans and a detachable tablet holder and an extra tray.
The Proform Pro 2000 has handlebar grips with heart rate monitors or you may pair the console with iFit chest-strap.
Schwinn 870
Guarantee – Frame & Motor – 10yrs, Components and Electronics – 2yrs, Labour – 1yr
Return Policy – 6 wks
App – Works with RunSocial Smart App
The new 870 Treadmill console is easy to programme. With four user accounts, its computer tracks fitness after each exercise. Various treadmill exercise programs are included, along with plenty of data feedback and long-term preservation of workout information. You can export data through Bluetooth and use 26 built-in exercise applications. It also has a wireless heart rate transmitter.
The 870 has a high-quality exercise belt and big 2.5″ crowned rollers that make it suitable for runners. It has a 6 cell Softrak cushioning system for a smooth run. The new Schwinn 870 has a USB charging connector, a phone ledge, and a smartphone-compatible music system. Using hydraulics, you can raise the exercise deck and store it vertically.
Schwinn 870 has a two-ply exercise belt that is more durable and requires less maintenance. Schwinn treadmill consoles store four user profiles. The 870 not only tracks speed and heart rate but also compares your pace to prior workouts. It also displays your lifetime calorie and distance data. The screen displays prior session data, workouts from the last seven days, and 30 days.
Touch sensors on Schwinn treadmills measure heart rate. The 870 comes with wireless telemetry and a wireless chest strap. The Schwinn 870 Treadmill console includes Profile programmes, heart rate control exercises, fitness assessments, and more. The treadmill also works with the RunSocial smartphone app, which allows you to virtual workout outside.
In addition to the three-speed fan, the new Schwinn 870 console includes a media ledge and USB charging connection. Schwinn 870 includes several features seen in computers costing much more.