With the appropriate treadmill, you can improve your health and well-being. Our professional guide evaluates power, size, speed, weight capacity, features, and pricing to locate your ideal match. Accept touchscreens, Bluetooth, and sturdy build. Improve your work-life balance without going broke. Transform your workspace right now!
Under the desk, treadmills are built for indoor walking only. If you're looking for a walkable treadmill that will allow you to walk around and stretch out, look into one of the many models made specifically for the purpose. These are also called uplift or desk treadmills, easily placed under uplift standing desks. There are also similar treadmills that can be used for light running and then pushed under the bed.
So we chose these nine standing desk treadmills based on their features and customer feedback for our under desk walking pad reviews.
Comparison Chart – Best Under Desk Treadmills
Best Small Under Desk Treadmills
The top three are walking pads with a high weight capacity of 400 pounds. All these have a treadmill base only and a remote control but are good for hours of walking. There also are treadmills meant for running with similar weight capacity.
The iMovR ThermoTread GT Treadmill
Screen – LCD
Bluetooth – Yes
Control – App
Warranty – Motor – 3 yrs, Parts – 2 yrs & Labor – 1 yr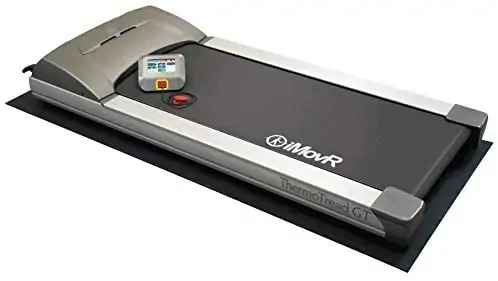 The ThermoTread GT is the best desk treadmill with a touchscreen LCD. It has a tiny footprint, a low-profile deck, a quiet motor, precise digital interfaces, and connects to the cloud via the iMovR cloud station.
The iMovR ThermoTread has a simple console interface that enables various profiles for slow walking with significant torque. With multiple safety precautions built in, iMovR developed it for the home or office.
Second, the user must sign a liability waiver before using this walking treadmill base. It guards companies against risky business practices and liabilities. Businesses and public areas will benefit from the feature.
ThermoTread GT has a durable frame and powerful self-cooling motor support for long, slow walks on its 2-ply quiet belt and huge rollers.
The Silent 3.0 HP engine at 4000 RPM allows endless walking hours on a silent motor. A 42-dB motor makes this a very quiet under desk treadmill in the office. The front of the treadmill has a low-profile motor hood that protects it and keeps it quiet.
The LCD screen on the under desk treadmill displays your average walking speed, total time, distance, steps, and calories burned per hour. There is a timer, and you can vary your pace. The app lets you measure your progress by uploading various metrics. ThermoTread GT features a contemporary touchscreen LCD desktop controller with multiple functionalities.
It weighs 147 pounds, making it heavier than similar under desk treadmills with a robust design and a strengthened frame. Most workers can use treadmills with 400 lbs weight capacity.
To avoid component burnout, the ThermoTread GT has no duty cycle limitations. This under desk treadmill has a cushioned surface and a 2-ply rubberized belt. The rails are higher than the belt to avoid feet slipping off. Ample forward and backward space for a comfortable stride helps walkers of all heights.
Six compression shock absorbers under the ThermoTread deck reduce the impact of walking, which is only 5″ off the ground.
As a result of the ThermoTread design, the walking belt may be raised and lubricated in less than a minute. The belt is complemented by aluminum side rails.
You can establish five profiles for each user, each with different stats. The Internet is available, so an integrated step counter, data storage, and multi-device control are available via the iMovR CloudStation to track your fitness stats. There is a 100-inch power cord.
iMovR says it will keep adding features through updates with the help of USB. Upon logging in, the computer automatically changes the pace of this under desk treadmill and desk height based on your choice of sitting or standing.
The company also manufactures the best walking treadmill under desks.
LifeSpan Fitness TR5000
Screen-LED
Bluetooth-YES
Control-App
Warranty: Frame-10yrs, Parts-2 yrs, and Labor-1 yr
The TR5000 is LifeSpan's most powerful and best-walking treadmill under desk. It looks great, runs well, requires no maintenance, and can use indefinitely.
This under desk treadmill's low 4.6′′ height is ideal for most people of average size. It has a powerful motor and an aluminum frame that never creaks, squeaks, or whines. The TR5000 is designed for multi-user corporate environments and is industrial-grade.
The TR5000's 119 lb. frame looks tough. It has upgraded scratch-proof and strong aluminum components, due to which it doesn't flex the midsection. Its fan runs even when you aren't walking. Large rollers on the TR5000 reduce belt and motor wear. The TR5000 is self-lubricating. After 2000 hours or two years, the belt and deck must be replaced.
A powerful 3.0 HP AC motor is used in commercial treadmills and rarely in homes. The noisier AC motor costs more, but the TR5000 is quiet. The LifeSpan TR5000 DT3 under desk treadmill's motor is so quiet that the belt needs to be marked.
The motor is strong enough for 10 hours of walking motion for users weighing up to 400 pounds. A low-profile motor hood protects the motor and keeps it quiet.
The TR5000 has a retro console with basic walking features. This handy console displays steps, time, distance, calories, and speed on your walking desk treadmill.
WHEN ASSEMBLED, the TR5000 weighs only 119 lbs. It makes it easy to roll under your desk and into tight spaces.
The walking belt is 20 inches wide and 50 inches long, with a 1-inch thick, long-lasting deck and black anodized aluminum side rails.
No other treadmill has self-lubricating belts. The Intelli-Guard safety feature ensures that the treadmill only works when you actively walk on it.
Inmovement unsit under desk treadmill
Screen – SmartPhone
Bluetooth – Yes
Control – App
Warranty – Frame – LT, Parts – 3yrs, Labor – 1yr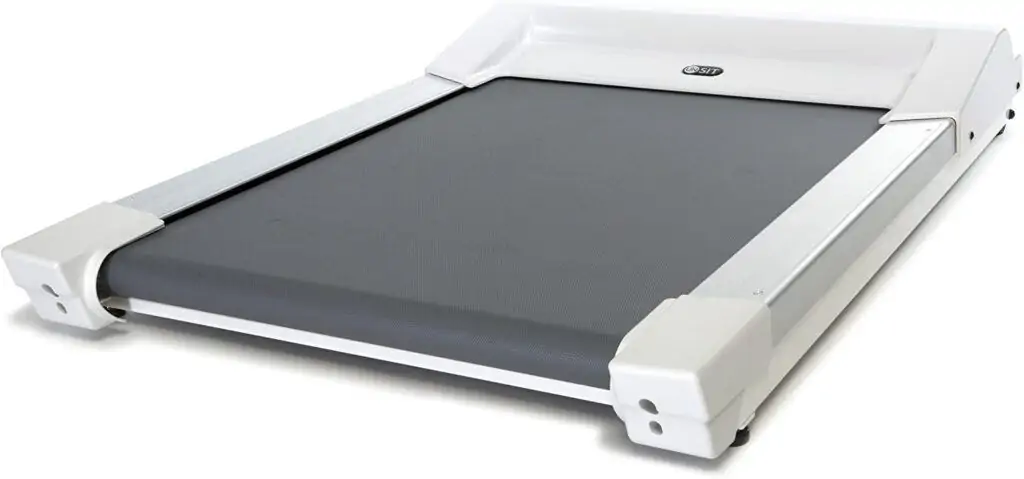 The UnSit treadmill is the widest on the market. The treadmill under desk's legs is 39 inches wide and requires a desk with a space of 40 inches between the legs. The 56-inch length of the treadmill won't trail too far behind. It's also one of the quietest.
It has a strong motor, an app, and a great warranty. The sturdy frame and 2.75 HP self-cooling motor are calibrated for endless hours of walking. Its sound at two mph is 42 dB, comparable to a refrigerator. The UnSit treadmill uses less power, lasts longer than other treadmills, and has no maximum usage time.
To check the readings, use the smartphone app.
UnSit offers a mobile app that tracks speed, steps, calories, and time. There's also information on average speed, walking and standing time, and workout time per week, month, and year.
With a 5-inch height, the UnSit is also easily accessible.
It stops when you step off and needs a 70-pound person to step on it to start again. So, no pets or kids can use it.
Incredibly, the Unsit can support up to 400 lbs. The UnSit uses Bluetooth, and you can sync its data with FitBit and MyHealth.
Lifespan TR1200-dt3 under desk treadmill
Screen-LED
Bluetooth-YES
Control – App

Warranty: Frame-10 yrs, Parts-2 yrs, and Labor-1 yr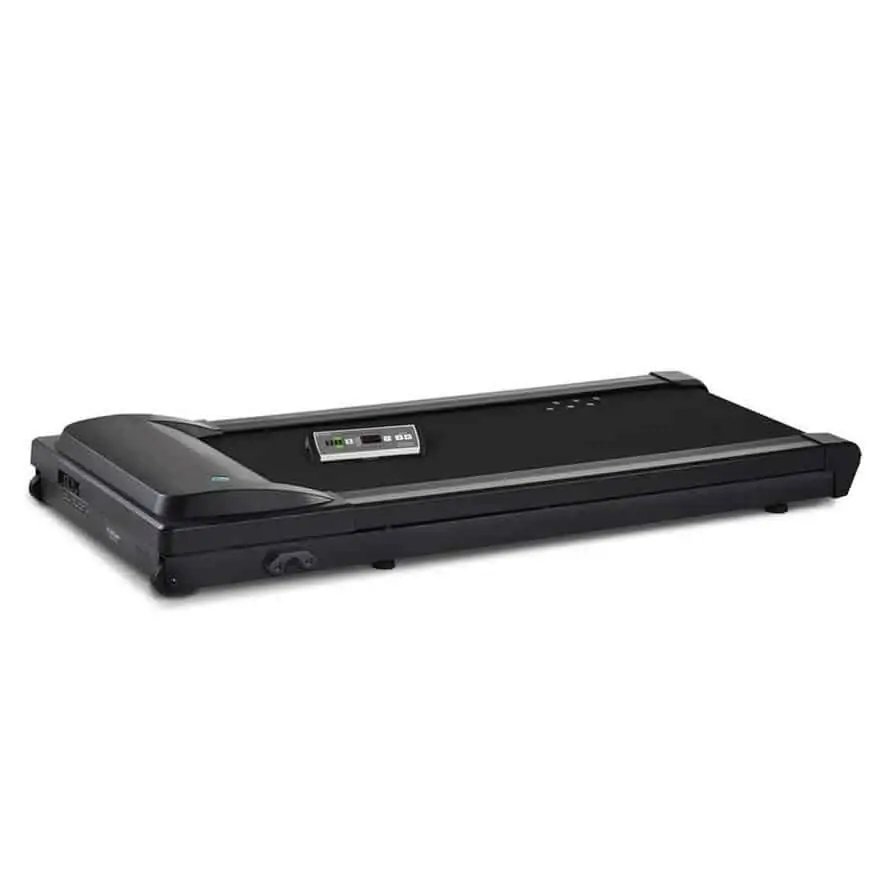 The LifeSpan TR1200 is the best-selling office treadmill suitable for most users who plan to walk and work together. It is the only under desk treadmill with a 350 lb capacity.
The quiet and compact treadmill fits under standing desks. The TR1200 has a large motor, a wide walking belt, and a slim design. It comes with a retro console that is simple and easy to use. You get readouts for steps, time, distance, calories, and speed.
The TR1200's 131-lb frame outperforms all other treadmill frames in this price range. It has more metal and more robust rectangular tubing. A sturdy walking deck ensures years of walking.
It has a 2.25 HP Turdan motor. At 48.9 dB, this is the quietest LifeSpan treadmill, the most silent in its price range. The only noise is the belt moving along the deck and the user's steps.
You can customize your treadmill desk. Select a maximum speed of 2.0 to 4.0 MPH, resume the previous speed, or change units of measurement.
When you leave the walking belt, Intelli-Guard stops it. The Intelli-Step pedometer feature counts your steps as you walk.
The Lifespan TR1200 DT3 under desk treadmill console weighs 3 pounds and is designed for easy access. It has large buttons and a single metric display with settings, and it fits most standing desks to form a treadmill workstation.
At 114 pounds, the TR1200 is a surprisingly light-standing desk treadmill. The TR1200 has a 20-inch belt that gives you more movement. It is also better for individuals who have a higher-than-average weight. The 4.6-inch step-up height makes it easy to get on and off.
The Intelli-Guard safety mechanism turns the belt off when you step off it. You can leave your desk and return without stepping on a moving belt without manually turning off the treadmill. It takes some time to get used to this comfort. It is also helpful when working from home with kids and pets.
The TR1200 is more powerful enough for users up to 350 lbs. who can walk for 6 hours a day.
The Intelli-Step technology onboard keeps track of your daily step count.
The Rebel Treadmill 1000
Screen – LED
Bluetooth – No
Control – Console
Warranty – Frame – 20 yrs, Parts & Labor – 2yrs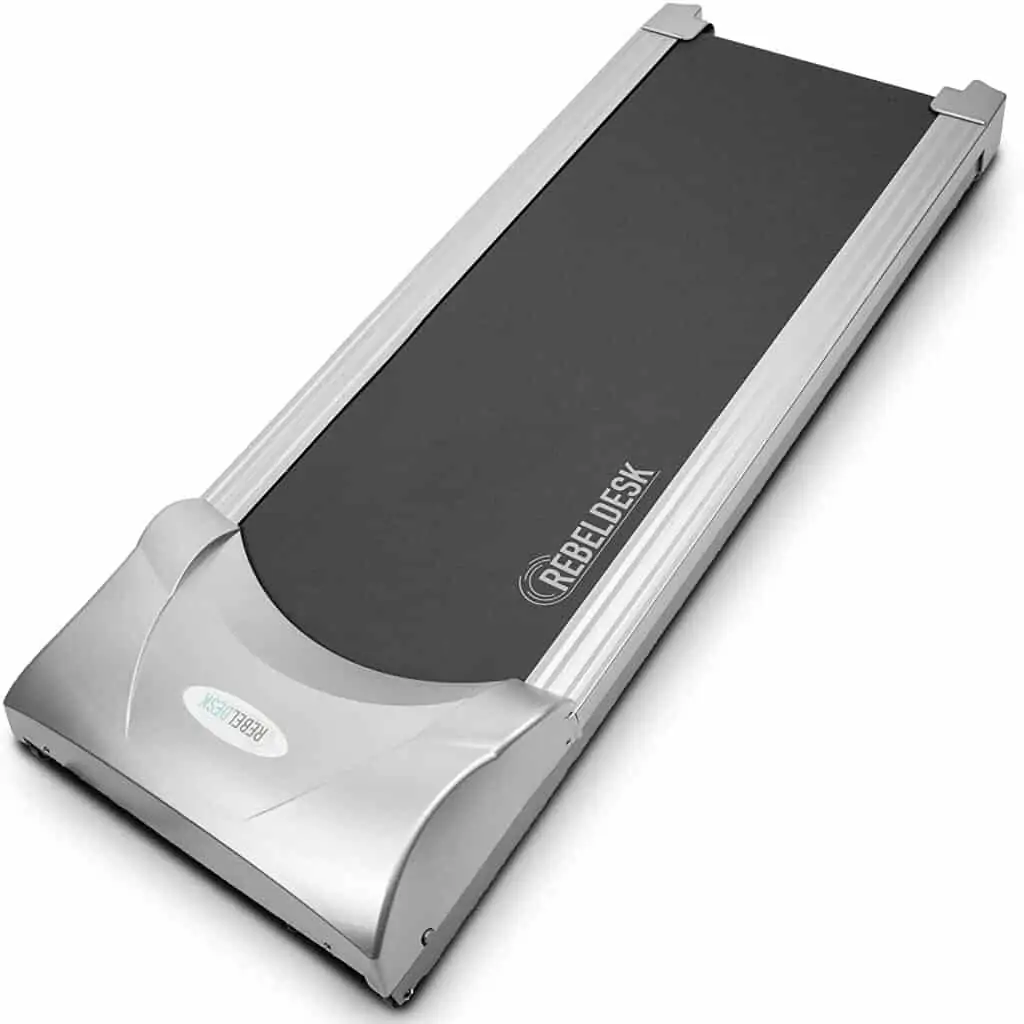 The Rebel Treadmill 1000 is a less expensive office desk treadmill with less space and a standing desk base. It is an under desk treadmill with a 250 lb capacity.
This 88-pound, attractive under desk treadmill is one of the thinnest, most compact, and lightest options. The Rebel Treadmill 1000 is 63″ long x 24″ wide.
It also has small treadmill belt rollers. This low-cost option requires tightening to reduce friction, increasing power consumption, and component wear. An elegant stainless steel base houses the motor.
The Rebel Treadmill 1000 has a 0.5–2.0 mph speed range and makes 57 decibels. Though the motor is quiet, the belt makes noise.
The motor does not have any restrictions on the number of hours. So you can keep using it without voiding the warranty.
The speed range is ideal for walking while typing, writing, or reading. You can accelerate by 0.1 mph.
The console is eight ′′ long by three ′′ wide, matching the Rebel Desk's aesthetic. It has a gym-like design but lacks advanced features. It's not too big to obstruct other desk items.
A small window on the left of the screen keeps track of your progress by displaying speed, time, and distance. It works well with MyFitnessPal or Fitbit to track daily activity.
It has more flex than most durable treadmill decks. So the laminated deck's durability is questioned. There is also increased friction and power consumption due to excessive flexing. It has eight "elastomers," compared to six on most other treadmill desk walking platforms, which should make it more rigid, but it isn't.
The belt is of good quality but has no markings, so you must carefully inspect it for movement, or a minor accident is possible.
Goyouth 2-in-1 Under Desk Electric Treadmill
Screen – LED
Bluetooth – Yes
Control – Remote
Warranty – 1 Yr
The under desk treadmill's shock-absorbing and noise-reducing steel structure make jogging quieter, safer, and more pleasant.
You can use it as a jogging, running treadmill, or walking pad under the desk.
It's sturdy, lightweight, and can reach six mph, making it one of our faster models.
The Goyouth 2 in 1 treadmill is safe for both walking and running.
With an independent remote, you can easily manage your running speed and improve your safety.
You'll have plenty of options and can target your weaknesses with 12 exercise programs.
The track area of 15.75′′ x 41.34′′ appears small for running strides, especially if you are six ′ or taller.
It is also uncomfortable in terms of width if you have above-average weight.
A bigger running track is much needed. It is shock-absorbing and has a non-slip rubber running belt, making running more comfortable and safer.
To listen to music while exercising on the treadmill, pair your phone with the speakers via Bluetooth.
Considering the price, this is the best convertible treadmill of the bunch.
Sunny Health Fitness Walkstation SF-T7945
Screen – LCD
Bluetooth – No
Control – Remote
Warranty – Frame – 3yrs, Rest – 180 days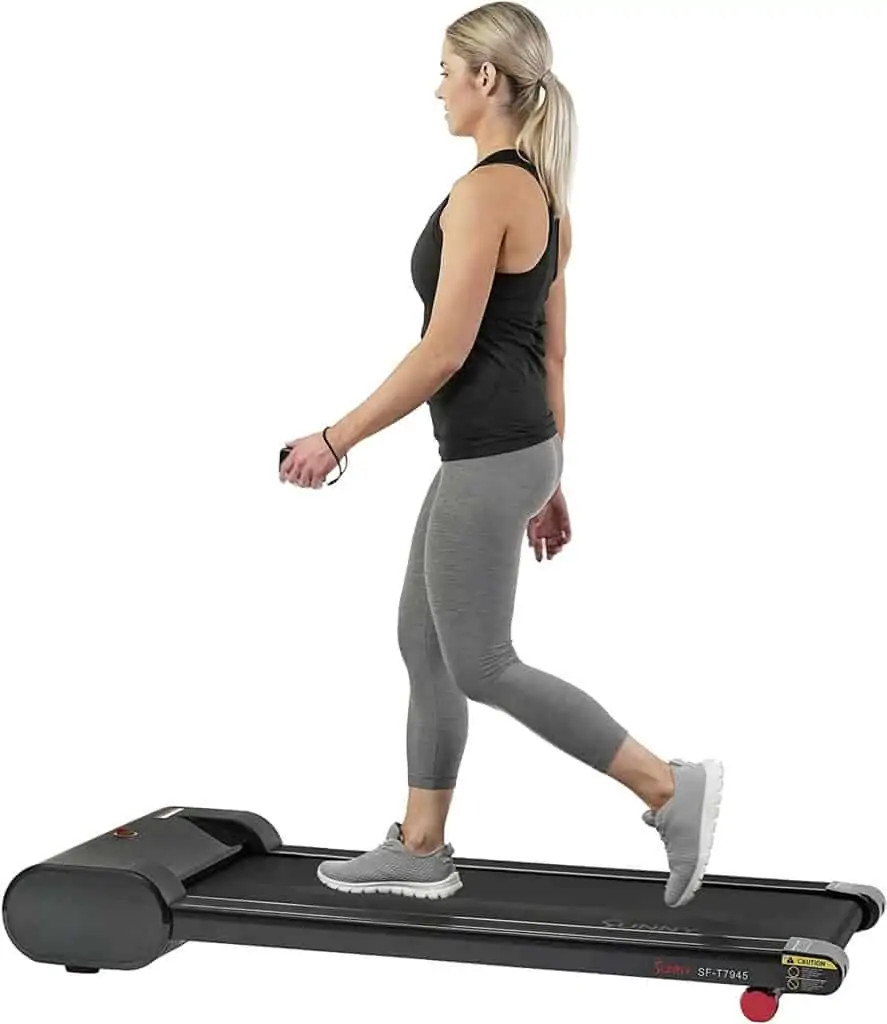 Sunny Health and Fitness Walkstatin Treadmill is compact and wireless.
It moves at 0.5 to 3.75 mph. Users can change speed and other settings without stopping their workout using the remote control. The Sunny Health & Fitness Walkstation has 36 pre-programmed workouts.
If you leave the treadmill while it is running, after 5 seconds, the running belt automatically pauses. There is no eye-level display. The floor-level display isn't ideal for reading, especially for seniors.
The treadmill walking belt is 39″ x 14″. While it is sufficient for walking, the length can cause problems at 3.75 mph for average-sized individuals as the stride size increases. Also, 14″ is a bit too small, even for slightly obese people.
It also has shock absorbers to protect your knees, feet, and joints while exercising. Sunny Health & Fitness suggests using this treadmill beside a table, nightstand, or another stable object for balance. It is non-slip for safety reasons, and there's also a trip-stop clip. A power-saving mode is activated after 10 minutes of inactivity.
The Sunny Health & Fitness Walkstation has an 83-inch power cord, allowing greater mobility.
LifeSpan TR800 Treadmill
Screen – LED
Bluetooth – Yes
Control – App
Warranty – Frame – LT, Motor – 3 yrs, Parts & Labor – 1 yr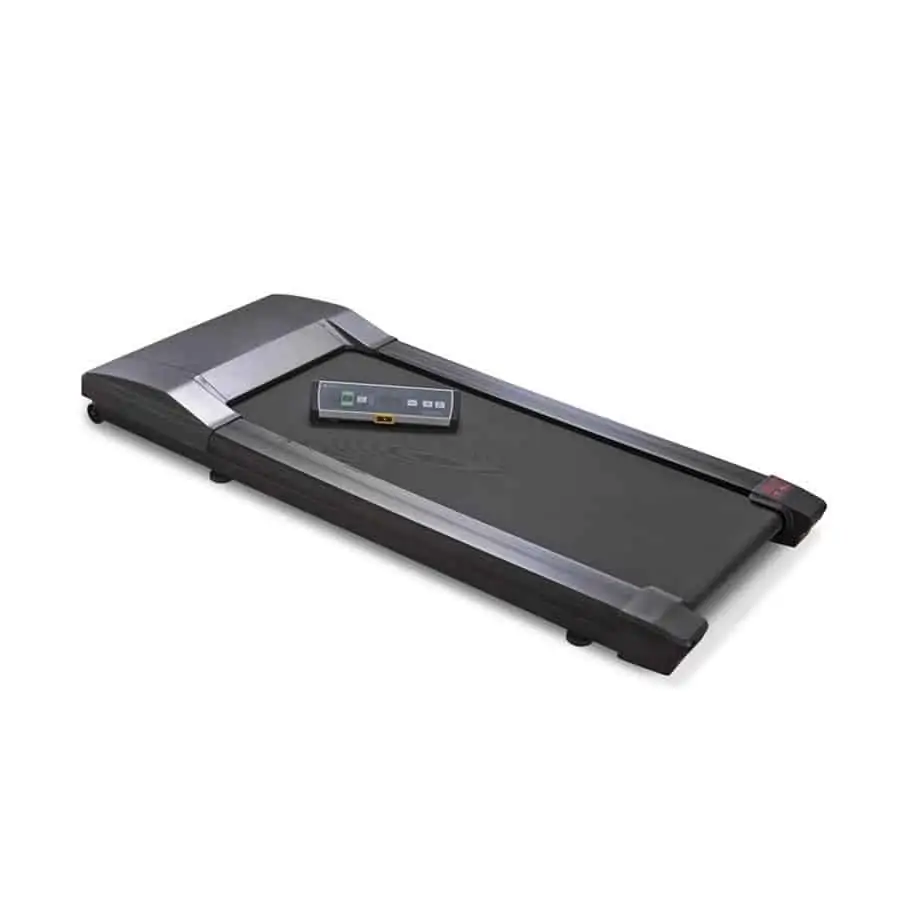 The LifeSpan TR800-DT3 is the most affordable treadmill in the LifeSpan under desk series that lets users walk while working, preventing postural and inactivity issues.
There are non-slip side rails along the walking belt for stepping on and off the treadmill. These are also higher compared to the belt, preventing foot slippage.
LifeSpan treadmill desk motors are whisper-quiet, and the TR800-DT3's motor is no different. The sleek motor supports up to 3 hours of walking daily, making it ideal for private or shared offices.
The treadmill only functions when you walk and stops if you happen to step away from it.
Download the Active Track fitness app to sync your workout progress.
The LifeSpan TR800 is surprisingly light for a treadmill at 96 pounds.
The TR800 is 60.5 x 26 inches, with a 45-inch x 18-inch walking belt and a two-ply track. Strides are short at low speeds, so the length isn't an issue.
All LifeSpan desk treadmills have six independent compression shocks. The Intelli-Guard safety feature prevents the treadmill from running when not in use. This makes it suitable for a home office with kids and pets.
The TR800 has a 2.0 HP motor and big rollers that ensure the belt's and the motor's long life.
UMAY Portable Treadmill
Screen – LED
Bluetooth – Yes
Control – Remote/App
Warranty – 1 Yr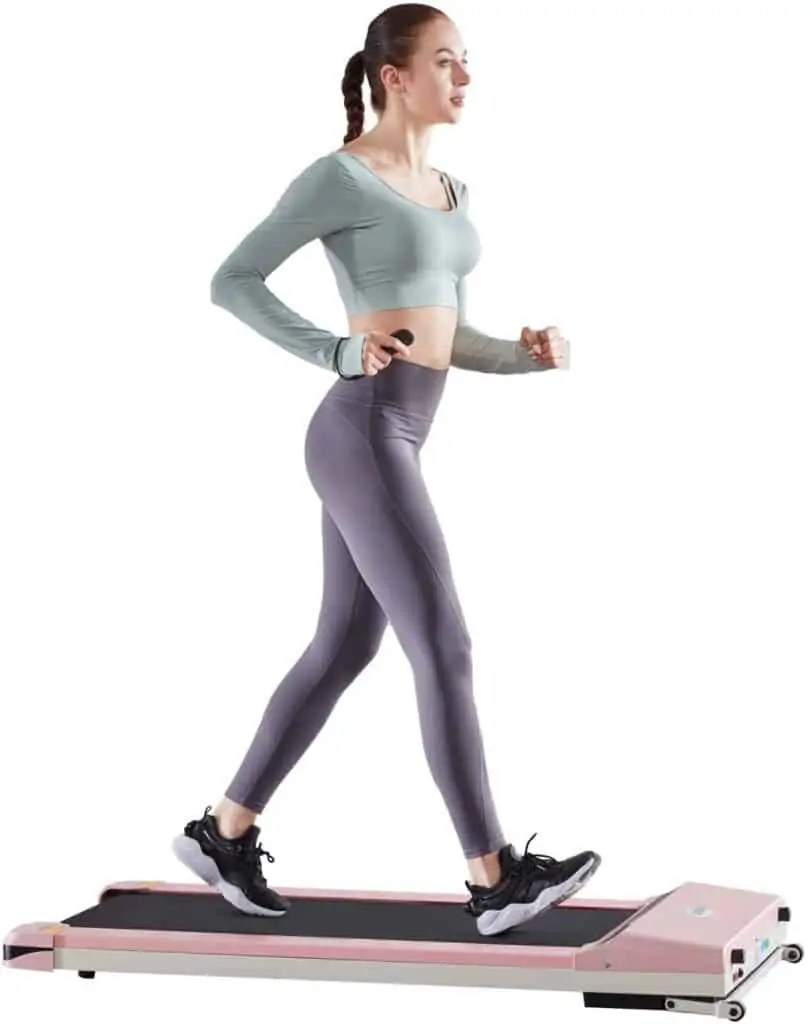 Umay under desk treadmill is a desk treadmill and is not a 2-in-1. It has no side rails, and its maximum speed range is only four mph. It has a preset workout option with 12 different workout settings. So it is for walking and jogging only.
It is super quiet and can be used in an office hall with 20 people without disturbing anyone. For ease of use, it comes with a small remote. You get to know all the details about your workout, like time, distance, speed, calories burned, etc. The cushion on the treadmill deck is quite thick for the safety of the knee joints and other lower body joints.
What are the benefits of an under desk treadmill?
There are many advantages to using an under desk walking treadmill.
Keep your spine straight to avoid back pain.
It improves posture. Posture is important because it can affect your health. For example, if you slouch forward all day, you're putting stress on your lower back.
It keeps you from sitting too long in one place.
It makes you healthier overall. Regular walking has many benefits besides reducing the risk of a stroke or heart attack.
Some of them come with built-in speakers to listen to music while exercising. Others include apps that let you track your progress and monitor your heart rate.
FAQs
Are under desk treadmills worth it?
Well, if you have a sedentary job where you always sit at your desk, there is nothing better than an under-desk treadmill. You can walk and work simultaneously on it.
Are under desk treadmills good for running?
Under-desk treadmills are not meant for running, so their maximum speed is usually limited to 4mph.
Are under desk treadmills safe?
These are rather safer than regular treadmills. As
1. The maximum speed is very less, so the chances of getting hurt are minimal.
2. These are much lower than regular treadmills.
3. Some stop when you get down and start again when you are on them.
Can you lose weight with a treadmill desk?
If treadmill walking helps you lose calories, which it does, then you can lose weight with a treadmill desk, provided you have a daily calorie deficit.
Can you run on an under desk treadmill?
No, you cannot run as its maximum speed is usually limited. Running while working is difficult. Its walking belt is usually shorter than regular treadmills.