A Treadmill cum Elliptical combination is great for cardio and body shaping. The 2 in 1 elliptical treadmill and the 3 in 1 elliptical treadmill stepper may help you get a whole-body cardio workout. These cross trainers combine the benefits of an elliptical, treadmill, and stepper.
Cross-training treadmills promote not only walking and running but also stair climbing and elliptical movements. These cross-training or hybrid treadmills are excellent for rehab, senior users, runners, and walkers who require the advantages of exercising several muscle groups at once without the negative effect of a conventional treadmill, e.g., knee discomfort. They are also great for individuals who want a low-impact exercise.
Why are Treadmill cum Elliptical hybrid machines preferred?
Hybrid machines are gaining popularity because they allow users to exercise various muscle groups and vary their routines without utilizing multiple cardio equipment.
It's possible to get a machine that combines components of two, or even three, of these machines. These machines all combine a treadmill, elliptical, and stepper, enabling you to modify your workout and optimize your results. The greatest equipment for toning and improving endurance is the elliptical treadmill combination.
Buying a 2-in-1 elliptical/treadmill combination is a smart decision, particularly because some of these take up less room than a treadmill even.
Elliptical Treadmill Combination
The elliptical treadmill combination machine helps you become more flexible by working all of your joints.
Combining an elliptical and treadmill helps you do a more balanced workout.
The elliptical is ideal for increasing knee, pelvic, thigh, and hip flexion since it simulates stair-climbing action. For lower body and upper body exercise, the elliptical is better.
The elliptical is Joint-friendly, low-impact, and does not place too much strain on your joints. It is safe for people with low back, hip, or arthritic discomfort. Both beginners and seniors will enjoy it. The ellipticals also assist with mild workouts as part of the motion is done by the machine itself putting less pressure on joints.
Slowly you get used to its motions and can workout various muscles on it. You will have numerous choices to develop a muscular body. Features include reverse direction so you may walk forward or backward. The machine will strengthen your thighs, legs, and arms. It will improve your calves and hamstrings' endurance too..
On the other hand, the treadmill has a rapidly moving belt that forces you to run to keep up. The treadmill is ideal for strength and running training. The treadmill has the advantage in terms of flexibility. You may choose from a variety of exercise modes.
You may alter the treadmill's pace and inclination. Some versions enable you to set a timer and have the speed increase or decrease automatically. It is my favorite for stamina gains. The treadmill is leg-supportive equipment. It works the hamstrings, calves, legs, knees, and quadriceps.
This cross trainer allows you to exercise any area of your body. That is, you may work out your whole body. Using a combination device allows you to receive the benefits of both the treadmill and the elliptical.
Treadmill Elliptical Combo Drawbacks
The elliptical is fine since it has minimal stress on your joints. But initially, its motion can be difficult to adjust to as it seems a bit awkward. Unless you add different workouts for the upper body and core the elliptical may also seem to be for the lower body only.
The treadmill is easy to work on if you are in good shape. Else start slow and develop the walking or jogging effort overtime. Do not start the hard training immediately or you will strain your legs and joints. You may develop knee and thigh discomfort if you don't exercise carefully.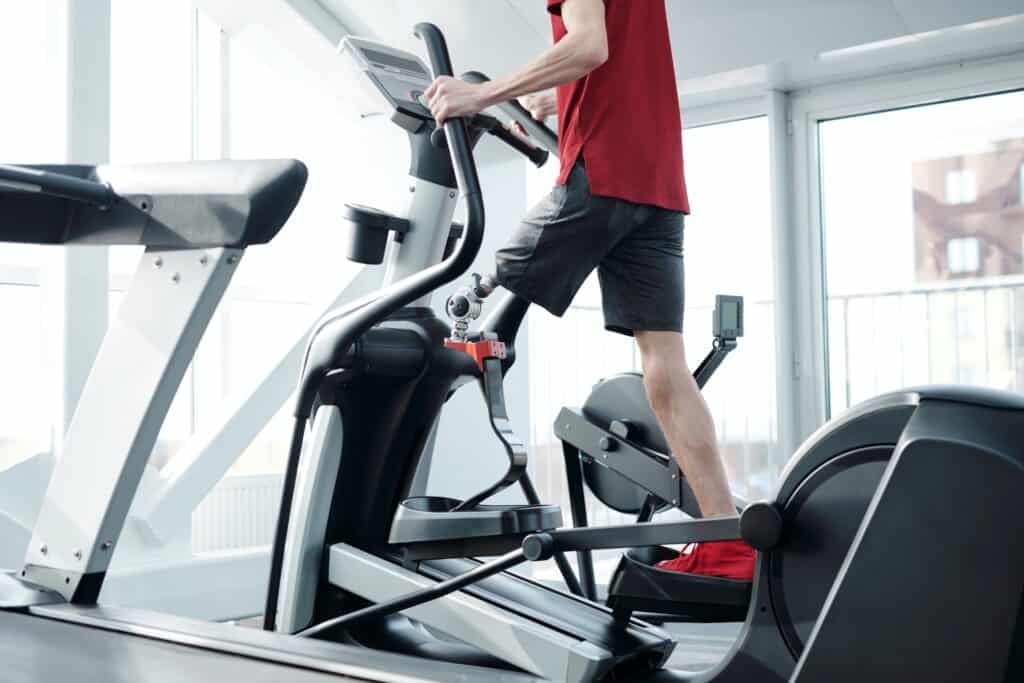 As it is a combination of two machines, one has to get used to doing workouts on it or else you can get injured. You may need to struggle at first to become accustomed to the product.
Expensive
Because the combination can operate with two machine kinds, it is costly. Though not as expensive as the total of two bought separately, still it is quite expensive. It also needs a lot of expensive space in your metropolitan apartment.
Do not buy it as your first machine as you won't be sure, whether you will use it regularly or not. If you are in the habit of regular exercise then it can be a perfect fit for your home gym and will provide all the health advantages.
Bowflex TreadClimber
Not all companies manufacturing treadmills or ellipticals are present in this category.
Most big brands have launched or planning to launch hybrids. ProForm offers Hybrid and new HIIT Trainers, Sole Fitness has Steppers and Striders, and Precor has Adaptive Motion Trainers and Nordictrack with their tread climbers.
Bowflex is very active in this category with its tread climbers and max trainers. They also keep upgrading the models and launch newer models at regular intervals.
If you want something similar to a treadmill but not quite, have a look at the Bowflex TreadClimbers. The Bowflex TreadClimbers are the most popular, combining a treadmill, elliptical, and stepper.
A TreadClimber burns more calories per minute than a treadmill, elliptical trainer, or stepper. It makes them ideal for rehabilitation, elderly users, or anybody looking for a low-impact exercise. Any of the models will provide a calorie-burning, sweat-inducing exercise, so choose the one that appeals to you.
Max Trainer M9
With the Max Trainer, you can burn 2.5 times as many calories as with the stair stepper and elliptical combined. The Bowflex Max Trainer M9 now has a 10-inch HD touchscreen and 20 levels of resistance.
This trainer is intended to be a multi-use training tool for one person or the whole family. The JRNY Digital Fitness Platform also allows many users within a home to customize routines and evaluations.
To establish their unique sprinting posture, users may utilize the trainer's large, textured pedals. Four-grip handlebars enable riders of different heights and hand sizes to customize their positioning. They have touch sensors for heart rate monitoring. The purchase also includes a Bluetooth HR wristband for enhanced cardio performance data and listening to music. The M9 also connects to Netflix, Hulu, Amazon Prime, and Disney. It also has a media deck for phones, tablets, or maybe TV remotes.
The M9 requires 49.2 x 30.5 x 65.1 inches of area. The JRNY Digital Fitness Platform offers interactive training and is included in the cost for the first year. Workout regimens automatically adjust to the user's previous performance and individual data. The service includes fitness tests, trainer-led films, and virtual coaching. More than 50 worldwide locations are available through the screen, and customized playlists offer a unique mix of songs.
The M9 is designed to offer high-intensity, low-impact exercise without injuring joints or tendons. Unlike a cushioned treadmill, the Max Trainers offer a smooth motion with magnetic and air resistance. This kind of trainer combines the motions of a stair climber with an elliptical, providing a superior whole-body exercise. The Bowflex Max trainers guarantee good exercise in just 14 minutes.
Pros
10-inch HD touchscreen
Interactive training on the JRNY
dimensions are 49.2 x 30.5 x 65.1
Weight -148lbs Weight limit 330lbs
Heart-rate contact sensors
Cons
Guarantee too less
Built-in routines are less
No fan
JRNY app cost $149/year or $19.99/month
Steady wifi connection needed
Max Trainer M6
The Bowflex Max Trainer M6 is a low-impact hybrid that combines an elliptical with a stepper to burn a lot of calories quickly. The M6 has a variety of HIIT exercises. The new M6 even has a customized exercise capsule of just 4 minutes for people who are short on time yet want a fast exercise. Though I am sure 4 minutes of exercise won't help much it will be a good start.
Max Trainer M6 comes with a Max Intelligence app which is a subscription-based interactive experience with on-demand trainer-guided exercises, monitoring, objectives and accomplishments, Run Social maps, and much more to help you optimize your training outcomes. The app supports two user profiles.
It has a Burn Rate Display to inform you about calories burned per minute and in the zone, you are burning i.e. Fat Burn, Endurance, or Performance, so you know how hard you're training. Getting your inputs and fitness levels creates objectives for you to hit throughout your exercise.
Pros
M6 is a small machine, 46′′long
It is quite light also.
16 Resistance levels
Cons
2 yrs guarantee on frame and components & 90 days on labor.
The Bowflex Max Trainer M6 at the current price point is a great alternative to the conventional treadmill or elliptical. It's small, has plenty of built-in applications, and the new Max Intelligence platform opens up limitless possibilities.
Precor AMT 835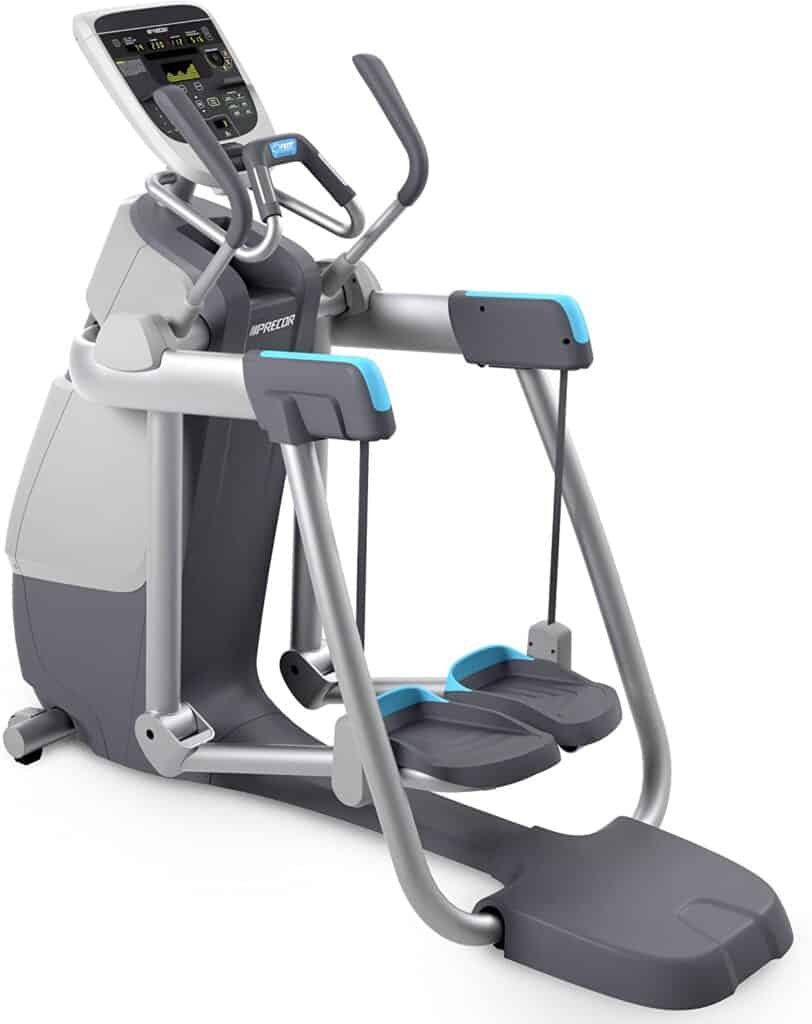 Open Stride technology from Precor allows users to customise their stride height and length, as well as create an infinite number of stride paths. The AMT 835's full-motion handlebars work both arms and legs simultaneously, allowing users to climb, walk, and run. It's a low-impact, high-calorie-burning exercise that's both fun and safe.
It is 80″L x 35″W x 69″H, weighing 412 lbs. The AMT 835 is designed for users up to 350 lbs., and its fully adjustable stride height and length allow it to be used by adults of any height.
The AMT 835 has a USB charging port for mobile devices and a standard audio jack plug for headphones or speakers.
The AMT 835's stride height can be adjusted from 6.8″ to 10″, making it suitable for all users. The Precor AMT 835 is easy to get on and off due to its responsiveness and stability.
The Precor AMT 835 offers three distinct handlebar positions for added flexibility and comfort. The handlebars are made of hard plastic that is easy to grip even with sweaty hands.
The Precor AMT 835 pedals are made of durable hard plastic that keeps users safe and in control during intense workouts.
Precor offers a lifetime frame and weld warranty, a 10-year parts and wear warranty, a 3-year console warranty, and a 1-year labour warranty.
Pros
The machine's fully adjustable stride length accommodates all users.
Easy to use Open Stride technology.
Users can alternate between low-impact and high-intensity workouts.
The Stride Dial shows which muscle groups are being worked.
Three handlebars provide a sense of security.
Cons
The cost is high, especially with installation and delivery.
No Bluetooth or WiFi means no devices can be connected.
No USB charger
No speakers for music while exercising.
No cooling fan
NordicTrack FS14i
The NordicTrack FS14i is a high-end elliptical that focuses on iFit training. The FS14i is ideal for home cardio and cross-training. NordicTrack FreeStride Trainers feature a small footprint, making them suitable for most home gyms. They are also very suitable for you if you are looking for a low-impact workout machine.
The FS14i is an elliptical and a stepper as well as a treadmill. It has a 20-pound center drive, a 32-inch auto-adjustable stride length, and a 58.5-inch long by 29.5-inch wide compact footprint.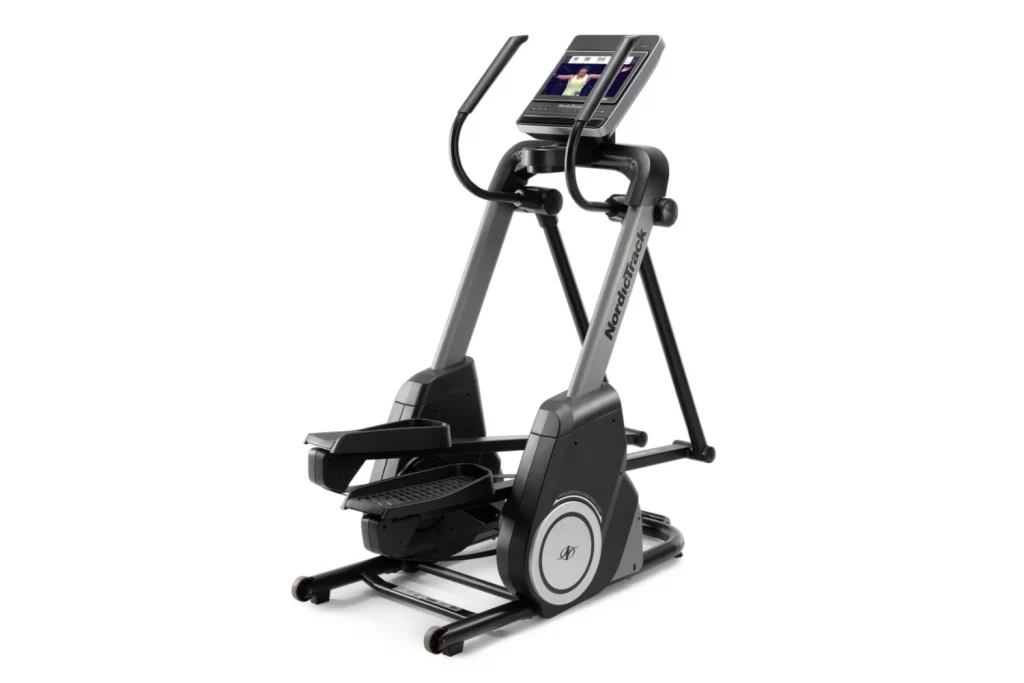 It has a 14-inch HD touchscreen for iFit exercises and power reductions. This machine also has a four-speed fan: low, medium, high, and auto. iFit is free for a year with this trainer.
An excellent option for those who wish to do a full-body workout, including moving handlebars, without placing too much strain on their knees or other joints.
The FreeStride FS14i has a 32-inch auto-adjustable stride, almost twice that of a conventional elliptical. It can thus support a broad variety of user heights and workout styles. Keep in mind that it will take up extra room in a house.
The 14-inch touchscreen is perfect for iFit exercises. There are approximately 35 built-in routines to utilize with iFit. This is great for when your free iFit trial ends and you wish to cancel. Infinite exercise options with experienced personal trainers, automated statistics monitoring, and more.
Warranty: 10 years on the frame, 2 years on components, and 1 year on labor.
Pros
26 magnetic resistance settings
Power incline & decent
35 built-in routines
Large padded pedals for longer workouts.
Weight Capacity – 375 lbs
Cons
Difficult to change stride length during the workout.
ProForm Pro HIIT H14
The ProForm Pro HIIT H14 offers a full-body exercise without straining the knees or other joints. The Pro HIIT H14 has a vertical elliptical route, making it an elliptical/stepper hybrid. Multi-grip handlebars train the arms and the core also.
The 14-inch full-color touchscreen gives you access to iFit's video workout courses. However, it now includes a year's membership to iFit and a bigger screen, so the price increase makes sense.
This top-of-the-line cardio trainer offers a great experience. This includes the 30-pound flywheel, which makes the Pro HIIT H14 as smooth as any professional elliptical in a gym. The motor enables the machine to handle a broad variety of strength levels.
The Pro HIIT H14's warranty has been updated, but it's still fairly typical for the category. – 10-year frame warranty, 2-year parts warranty, 1-year labor guarantee.
Spacious pedals enhance comfort and endurance. They let the machine suit various body shapes and allow for varied upper-body exercises. You get excellent performance from the 30-pound flywheel, which comes with 26 levels of resistance. The 34 predefined programs and optional iFit provide great exercise diversity.
There are contact and wireless pulse monitors. A wireless chest strap is included. A 14″ touchscreen with a web browser improves exercise and 2″speakers too. It also has a ledge for tablets, Kindles, magazines, etc. Much smaller than conventional cross-trainers and treadmills, at 39 "L x 29.25″ W x 66.7″ H. A two-speed fan and a drink holder help keep trainees cool. It has a fixed stride. The vertical route is 10″ and the horizontal path is 5".
Pros
Comfy, spacious pedals enhance comfort and endurance.
Multigrip handlebars
26 levels of resistance give as many options
34 predefined programs and optional iFit provide great exercise diversity.
Contact and wireless pulse monitors & wireless chest strap
Cons
Fixed stride 10″vertical & 5″horizontal
HIIT has its limitations
Good HIIT activity, great for metabolism and body shaping. High-intensity interval training may provide amazing effects. A significant factory-direct warranty and high-end specifications make this a standout piece of exercise equipment.