A heavy-duty treadmill is the ideal workout partner, whether you're training for a significant event or want to build up your endurance. However, finding a treadmill that can keep up with you can be difficult if you're a committed runner. Runners also require specialized equipment attributes to get the most out of their gear.
Serious runners need treadmills with belt motors to manage high speeds, respond rapidly to speed adjustments, and function for extended periods without overheating. To reduce costs, some serious runners choose treadmills with lower HP capacities. The "Best treadmills for serious runners" should have 4.0 CHP.
If your treadmill lacks padding, daily treadmill jogging can destroy your joints. Some high-end treadmills may have better-cushioning systems to protect your bones and joints.
Serious runners choose treadmills with extensive workout space, superior cushioning, and high-top speeds. In addition, there is room for customization afterward. Modern running treadmills incorporate electric ramps that help train on natural terrain. The best treadmills provide varying training programs and exciting features.
Best Heavy Duty Treadmills
The best treadmills for fast runners and long-distance runners. The best treadmills for marathon training. If you want to achieve 12 mph on a treadmill, it could be any of these. All of these are treadmills for sprinting or treadmill trails.
Related Readings


Horizon 7.0 AT Treadmill: Strong and Quiet but No Frills
Treadmill with 350 lb Capacity: 7 Best on The Market in 2022
Zwift for Running: 9 Best Treadmills That Work With It
Sole F85 Treadmill
Warranty- Frame, Motor & Deck- Lifetime,
Electronics & Parts – 5 yrs,
In-home labor – 2 yrs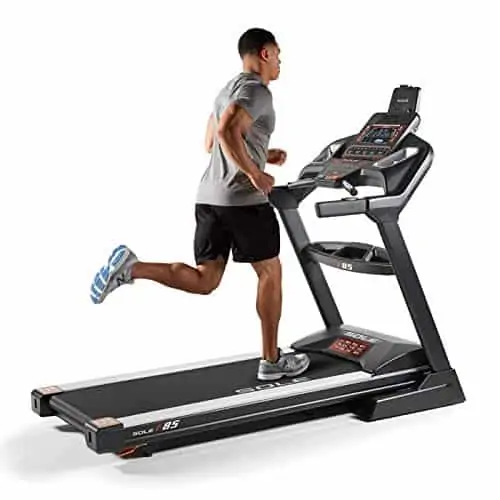 It's a treadmill that folds up, so it's great for most homes that have room for a treadmill.
F85 advertises the treadmill as "the planet's best folding treadmill." Sole's top-of-the-line treadmill is a best-seller. It has a strong motor, enough space to work out, good cushioning, and an automatic incline for serious runners and power walkers.
The Sole F85's performance is enhanced by its stacked tracks, which reduce noise and wear.
The Sole F85 offers more value for the money due to its performance.
Buyers get excellent customer service and the comfort of owning superior equipment. Sole hasn't gone beyond when they state that this specific model is the greatest foldable treadmill in the world.
The Sole F85 offers users a broad cushioned running surface that may decrease foot impact by 40%. It's the Cushion Flex Whisper Deck feature, and big rollers provide treadmill users with the option to run even if they're at full tilt.
Sole has one of the best guarantees in the industry. The motor, frame & track are covered for life, and electronics & parts are covered for five years. Two years of labor are also included.
This treadmill is equipped with a variety of Bluetooth capabilities, including the ability to connect to smartphones. The fitness band connects to the smartphone to allow users to upload and save their exercise data.
All F85 Folding Treadmills with Bluetooth
Pros: strong motor, well-built, wide running space, incline features for tall and heavy people, excellent warranty
Cons: It uses a lot of space. It is big and hefty, and the speed adjustment is sluggish to react.
3G Cardio Elite Runner Treadmill
Warranty – Frame & Motor – Lifetime,
Parts – 10 Yrs
Labor – 2yrs
The 3G Cardio Elite Runner Treadmill is amazing and is almost silent. The Elite Runner treadmill is provided to you by 3G Cardio. Fifty years is a long time to remain in the same industry. Yes, you're correct! Over fifty years of health and fitness industry experts.
Just like you'd expect for the price, the 3G Cardio Elite uses strong steel tubing in the frame. It is intended for dedicated runners who want a treadmill that lasts a lifetime.
With this 10-year parts warranty and 2-year in-home labor, you can trust that you will get your money's worth with the 3G Cardio Elite Runner Treadmill. Stop worrying about your treadmill's performance, since now you can concentrate on your own.
This 3G Cardio Elite Runner Treadmill features an updated, commercial Ortho Flex Shock™ suspension system for more cushion. You get terrific exercise and less wear and strain on your body, and the Orthopedic treadmill belt softens the impact, reducing part of the stress.
The 3G elite cardio treadmill has an inclined motorized mechanism that a runner can control effortlessly. It is a fun aspect of this treadmill. The primary active part of the incline is the front base. This base rises to make it easier to align with the front section. Now the base sits on the front caster wheels.
3G Cardio includes several pre-programmed exercises and a fitness level test. You have access to speed, elevation, heart rate control, and exercise personalization. It features a 4.0 horsepower motor and 3-inch rollers, and therefore it works well.
The 3G Cardio Elite Runner Treadmill brings together all the finest health club features at half the price. Their high-end commercial-grade treadmill is designed to compete with the likes of Life Fitness and Precor. The 3G Cardio Elite Runner Treadmill combines all the great elements from the health club and puts them into a product that's half the price.
Gadgets: 3G Cardio employs elite athletes, and in partnership with them, they create comprehensive and sophisticated training programs to achieve your fitness objectives.
Bowflex T10 Treadmill
Warranty – Frame & Motor 15 Years,
Mechanical Parts 5 yrs,
Electronics- 1yr,
Labor- 2 yrs
The T10 comes with a 4.0 HP motor that can operate at a top speed of 12 mph. Above the console is a 10-inch HD display that is completely touchscreen, and the console feels like a tablet.
It can fold thanks to the SoftDrop folding system. The T10 has a much cleaner, more durable, and way more attractive look than other treadmills. It has an actual running surface made of very high-quality material.
It has the standard arms that connect the base to its console, but these are made with durable steel that can easily withstand your entire weight plus additional force.
The Bowflex T10 comes with the JRNY app. If the treadmill is the body, JRNY is the brain. You enter a huge and diverse workout world that can introduce you to anything from coach-led workouts to complete entertainment with the app.
There are group classes similar to real-life gym sessions, with real-time coaches and interface options that allow you to see how you are compared to other real members in the same class.
You can turn on the display and have it show you a scenic route for your exercise. Studies have shown that runners perform better while seeing changes in scenery, seeing and passing by other people, and visual landmarks to help the workout. You can easily connect to Netflix, Amazon Prime, Hulu, and any music streaming app while working out.
It has a heart monitoring system, cooling fan, media rack, and water bottle holders.
Bowflex includes an armband heart rate monitor. Alternatively, you can do the same thing with Bluetooth or through the JRNY app. There is a built-in cooling fan to help keep you more comfortable during intense workouts, as well as a bottle holder.
With its incline settings, JRNY app, crystal clear, and touch-sensitive touchscreen display, all of these features come together to give you an amazing workout.
Sole TT8 Treadmill
Warranty – Frame, Motor, and Deck- Lifetime
Electronics & Parts- 5yr,
In-home labor- 2yr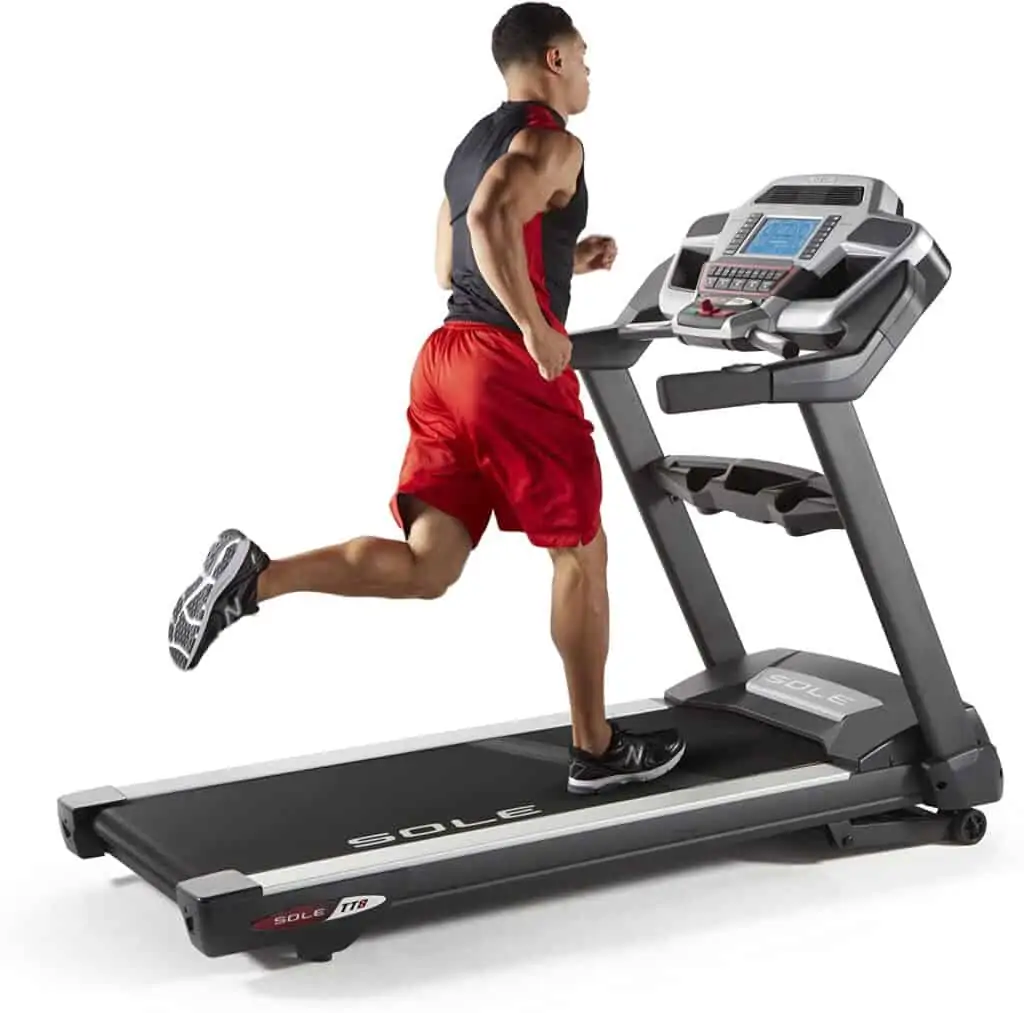 The Sole TT8 is non-folding. It is a light commercial treadmill, which rests securely on the ground and is not intended to fold or move. Ideally, you want to put the machine where you will use it. The TT8 is a sturdy, well-built treadmill that appeals to those who have a dedicated place for it.
The Sole TT8 treadmill has delivered uncompromising excellence for years, and it performs at the same level as commercial devices at a higher price range. This treadmill is 22″ wide and has a steel structure capable of supporting up to 400 lbs. For an even more "faux" exercise, the TT8 has 6 degrees of decline instead of the normal 15 levels of incline only.
All sole treadmills come with good warranties, and if you keep them in your home gym, they could last you a lifetime. One of the most popular high-end 2021 models from Sole Fitness is the Sole TT8 Light Commercial Treadmill. It is one of the best things the company has ever made, which is why it is so popular. It was the first time I evaluated this treadmill, and I liked what I observed.
An excellent home treadmill for serious runners, as well as fitness enthusiasts of all levels, will be impossible to ignore.
The heart rate training goal is programmed into the Sole TT8 treadmill's built-in function. It is very simple to keep track of and regulate the heart rate since it is integrated with the TT8 treadmill.
The characteristics include the Cushion Flex shock-absorption system (which provides shock absorption and support to reduce the impact on your feet, ankles, knees, and hips). Heart rate and chest strap monitoring.
A lifetime warranty is included with this Sole TT8 treadmill with a motor, frame, and deck. It has a 5-year electronics warranty and a 2-year labor warranty.
The TT8 treadmill has an inbuilt cooling system, which keeps the motor and controller cool and prevents overheating.
Everyone receives a 30-day free trial of Sole treadmills and other workout equipment.
Life Fitness Platinum Club Series Treadmill
Warranty – Frame- Lifetime
Parts- 10yr
Labor- 1yr
As the name of this treadmill implies, this model resembles the design and feel of commercial-grade treadmills seen in local gyms.
The Life Fitness Platinum Club Series Treadmill is a gorgeous treadmill that creates a club-like atmosphere in the home gym. Platinum Club consoles combine exercise assistance and entertainment while offering a lengthy guarantee.
The Platinum Club Series Treadmill motivates you to exercise with enjoyment. Enhanced interactivity, Internet connection, and more. It is a home treadmill that provides club-quality technology and performance, and four color options give you total versatility.
A true partner, The Platinum Club Series Treadmill offers a fun, inspiring workout. This 21″ screen has improved interactivity, Bluetooth, Internet connection, and TV. This home treadmill has the same proven technology and performance as the fitness club.
The Platinum Club Series Treadmill includes a motiva enhanced interactivity, Internet connection, and other features.
There are a few noteworthy elements that are missing from the Platinum Club. The treadmill you're searching for will be fun to use, plus it will provide access to instructor-led courses. However, if you want speakers and fans, then you should look elsewhere.
The guarantee is for ten years of components and a lifetime frame warranty.
The Platinum Club is the treadmill for you if you want a strong motor, smart compatibility, and various applications to monitor your stats.
Comfort and durability are incorporated into the treadmill and treadmill/deck combination. The running space accommodates tall runners and those with additional circumference, and the Flex-Deck with eight shock absorbers lowers the stress on joints by nearly 30%. 3.5″ sealed rollers were installed for durability, and no waxing is required.
One of the most recognized fitness companies in the world is Life Fitness.
The Platinum Club treadmill has a strong steel structure that is built to last. The engine is one of the strongest in the business, with normal speed and inclination ranges.
Buy a treadmill that matches your décor. The Platinum Club is available in four different colors on the frame: Arctic silver, black onyx, diamond white, and titanium storm.
PRECOR TRM 835 Treadmill
Warranty: Frame – 7 yrs,
Motor – 5 yrs,
Parts & Console – 2 yrs
Labor – 1 yr
The Precor TRM 835 treadmill is a commercial-grade treadmill, and the Experience Series treadmill is one of Precor's mid-range models. Precor is a well-known and respected company that makes health equipment. It is based in the US and works to make high-quality products.
How fast do treadmills go? This is the fastest treadmill of the lot.
The Precor TRM 835 is widely used in gyms, hotels, and residences throughout the nation. TRM 835s are ideal for running and walking since they adapt to the natural variation in your stride.
Precor's TRM 835 treadmill has a commercial-grade build quality that is suited for health clubs. The frame is robust, giving stability throughout hard workouts.
The TRM 835 in the Experience Series is the most top-of-the-line treadmill in the commercial treadmills category.
The TRM 835 is a sturdy treadmill that will last many years. The TRM 835 has a sharp incline and drop that offers various muscle areas and differing terrain, so it is ideal for workouts that simulate different terrains and varied fitness objectives.
It provides high performance and requires little maintenance. It's value for money and designed for dependability and comfort.
Precor's latest TRM 835 commercial treadmill has a modern and intelligent design, dependable performance, and long-term durability.
The TRM 835 is one of Precor's top-performing and most popular commercial treadmills. Precor's new Experience™ Series Commercial Treadmills include treadmills built for quality, performance, and dependability in the TRM 835.
The TRM 835 has speeds of up to 16 mph, making it ideal for sprint running and interval training. Users no longer have to worry about wobbling or instability while they are going faster.
The newly-designed Precor TRM 835 treadmill combines comfort and silence with excellent performance and longevity for facility managers.
The 830 Line Console is found on the TRM 835 treadmill. The LED panel provides vital fitness data and encourages further exercise.
A lever is used to adjust the speed and inclination. It includes a QuickStart key and a numeric keypad.
With features intended to enhance the user's experience, the TRM 835 is built with a specifically constructed deck for improved shock absorption and stability. Comfortable and performance-rich, with a strong 4.0 HP motor and ultra-durable frame, these commercial treadmills are perfect for both gym owners and users.
This Precor TRM 835 has a high level of dependability and is easy to use. It also has a custom feel for each stride. Built-in motion controls and a red-lit LED display keep you moving while you focus on important fitness metrics.
Bowflex Treadmill 22
Warranty: Frame and Drive Motor – 15 yrs
Mechanical Parts – 5 yrs
Electronics – 1 yr
Labor – 2 yrs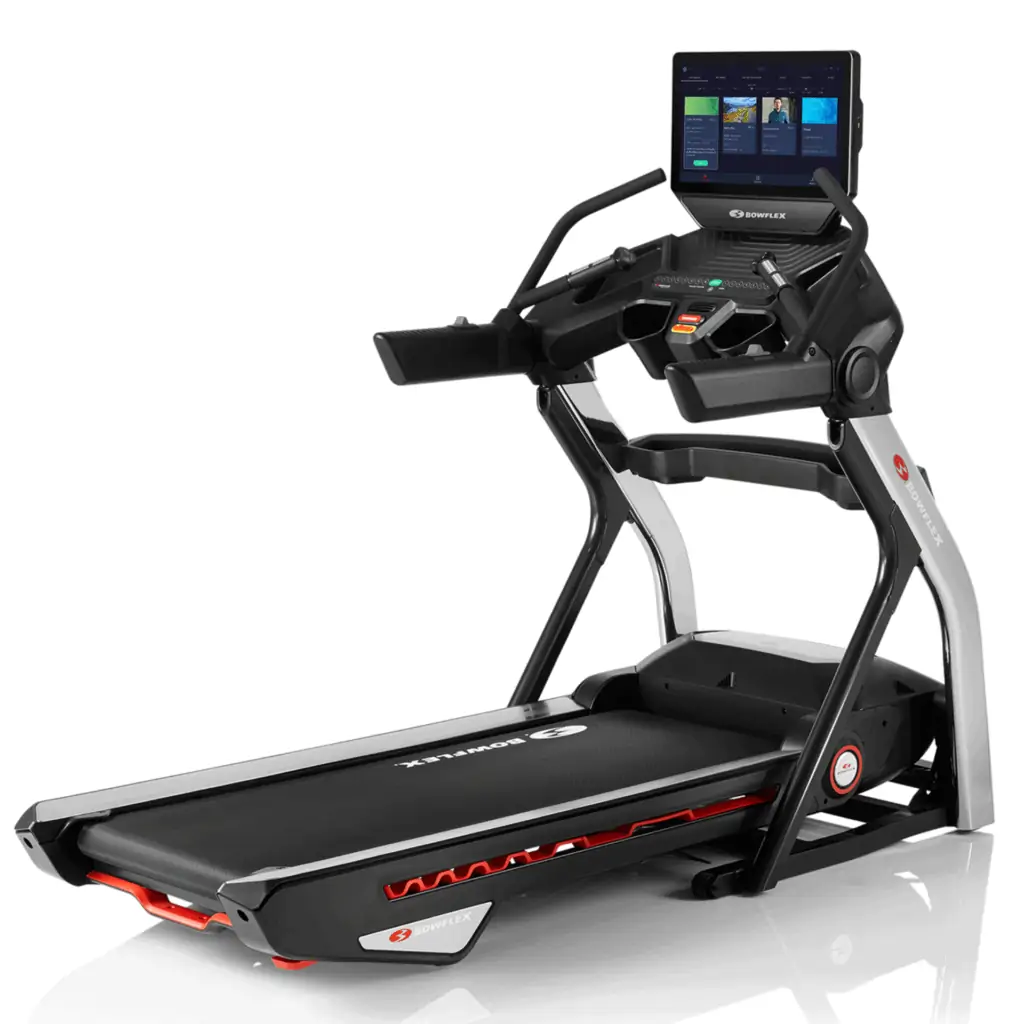 The Treadmill 22 is the Bowflex flagship model. 22 refers to a 22 "interactive full HD touch screen in the center.
Aside from the incline treadmills that can go up to 40%, I typically see a 15% incline on treadmills. A 20% incline is unusually strong and positive for those who want to use the feature. Inclines like this are best used for exercise to shed weight.
Walking at a 20% incline for 10 minutes will burn 140 calories, and it is significant for a short period, and regular workouts would aid your weight management. We can safely assume that 400-pound users will benefit from exercising, and weight loss is a reason to consider a treadmill.
I believe heavy treadmills are beneficial about 99% of the time. The treadmill 22 is a behemoth.
This Bowflex interactive 22″ monitor is full HD. The Peloton Tread is 23.8 inches long, and the NordicTrack Commercial 2950 is 22″. It is nice to see treadmills like the Treadmill 22 getting better screens now to maximize their features, and I think 22 "will suffice.
This Bowflex lets you watch streaming services like Netflix, Disney+, and more on the screen. To hold one, you'd need a tablet, and you can mount televisions on the wall. I believe exercise needs entertainment to be effective.
Peloton has its app, NordicTrack has iFit, and Bowflex JRNY has its app. Many treadmill manufacturers have their applications. The Treadmill 22 is built around the app, and it incorporates its features to elevate your well-being. It requires an internet connection to work, and it uses Bluetooth.
You get a 2-month free trial, and then it's $19.99 per month or $149 annually. These apps require a monthly payment, like all the others, and the great thing is that everyone in the family can use the same account. To use the Treadmill 22's full potential, you need the app. It is, but worth it.
After doing the fitness assessment, you'll get workouts tailored to your results. Your workout's intensity increases as your fitness improves. You can do it again if you like it. You can work out in any of the over 40 different locations available. Your activities are tracked, and you get rewards and celebrations after each major milestone. Virtual coaching and curated playlists are both here to help you stay motivated.
Always have your items professionally assembled and delivered to the room of your choice. Additionally, the assembly process is slow and requires more than one person to carry it out. The treadmill comes with all the major components pre-assembled in the box, and Bowflex has made it as simple as possible.
I haven't heard of a chest strap coming with a high-end treadmill, but an armband is impressive. It's Bluetooth-enabled, which frees you from worrying about it being on the correct frequency. Before, my treadmill wouldn't display my heart rate.
When exercising, checking your heart rate lets, you know how hard you're working. Optimally working out regardless of age or weight is the goal. The harder you work out, the lower your maximum heart rate becomes. By exercising in the ideal heart rate range, we can maximize every workout.
The width is 22 inches, which is better than 90% of treadmills on the market today. Even if you aren't a beginner, you'll need a large surface to perform your speed workouts on a treadmill.
Folding the deck gives it another benefit, and you can't fold the 22″ inch-wide deck on the best model. On a treadmill, exercising always calls for concentration because you don't have the freedom to move around outside, but with Treadmill 22, your workout takes priority.
You can return the treadmill within six weeks if you are not satisfied. Just ask for a return authorization number, and if the package is postmarked within two weeks of that, you'll get a refund. Read the website's terms thoroughly. A company that trusts its products will be open about things like this. While shipping and handling are not refunded, this offer is great. It is always possible to get your money back, no matter what happens outside of your control. Nobody else makes anything like this.
To maintain the internet connection, all of these treadmills need a consistent connection. If your Treadmill 22 HD console stops working properly, you may become frustrated with it, and it is something to consider on all decent treadmills now.
NordicTrack X22i treadmill
Warranty – Frame -10 yrs,
Electronics & Parts – 2 yrs,
Labor – 1 yr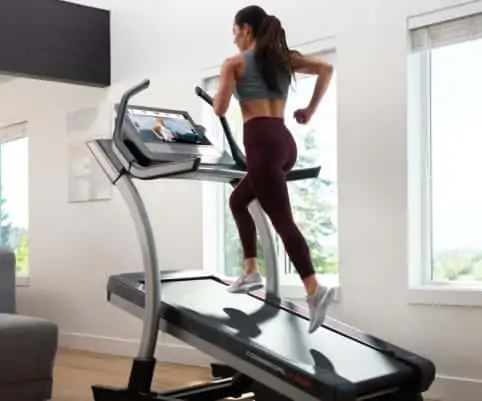 The NordicTrack X22i treadmill has a 22-inch wide touch screen, and it's more than just a screen. The X22i offers many different options for all levels of fitness as it has a maximum incline of 40% and a power tilt down to 6%. Treadmill training uses varying incline and decline levels to stimulate your muscles, increasing your strength and tone.
Using the most intense incline setting, you burn calories at about five times the usual rate. The track will change incline in time with the program or Google Street View workout you pick to view on-screen.
The NordicTrack X22i is one of the most cutting-edge treadmills on the market, and it has onboard workout programs, dual AutoBreezeTM workout fans, and many other perks. To monitor workout stats, you can use the included iFit Bluetooth chest strap with the X22i.
The X22i has a 22-inch touchscreen display, which is ideal for getting lost in virtual outdoor exercise.
With the X22i, you can enjoy iFit membership in full view and clarity. Custom-tailored workouts in beautiful locations can be accessed using this new state-of-the-art personal training technology. There are new family membership options for multi-user accounts.
Along with iFit, it comes with 50 preset workouts, ranging from calorie, incline, intensity, and speed. The X22i features Bluetooth audio capabilities and a set of 3-inch digitally amplified speakers, making it easy for you to stream your favorite workout playlists and stay motivated. You can choose between using handlebar sensors and an iFit Bluetooth wireless chest strap, which is included with the purchase.
The new X22i offers tremendous power, complex incline/decline, and top-of-the-line electronics. The X22i Incline Trainer provides an exciting and immersive workout, and iFit Coach offers personal training tailored to the individual user's needs. It is one of the best treadmills on the market.
Horizon 7.8 AT
Warranty – Frame and motor – Lifetime,
Parts – 5 yrs
Labor – 2 yrs
In the under $2000 price range, the new Horizon 7.8 AT may be a good treadmill for you.
The 7.8 AT is Horizon's most powerful and technologically advanced treadmill.
The running surface is also spacious, as it uses Horizon's 3-zone variable response cushioning system to minimize stress through joints on impact.
More cushioning is in the front and less in the back (where you want a firm surface to push off).
The treadmill comes with a sturdy frame that can hold up to 375 lbs. The frame folds, too.
It is quite simple to fold the treadmill because of the hydraulic mechanism. It also lowers the deck gently, so if you drop it, it won't crash into the floor (a nice touch).
The 7.8 AT includes a 4.0 CHP motor that can go up to 12 mph and 15% incline. This treadmill is equipped to handle serious runners as well as casual walkers.
This machine's incline operates smoothly; there are no loud, awkward movements as it ascends and descends.
Impressive responsiveness and dial controls.
This treadmill comes with 60mm/46mm tapered rollers. It equates to 2.36′′ and 1.81′′ respectively.
2′′-3′′ rollers are standard for higher-end treadmills. This treadmill's larger rollers are generally consistent with the comps, but the smaller rollers could be larger.
For comparison, the Sole F85 has 2.75″ rollers.
Overall, the 7.8AT has a powerful 4.0 CHP motor.
The Horizon 7.8 AT features the following:
This treadmill comes equipped with ten workout programs, including fat burn, hills, and heart rate-targeted options. As well as the Sprint 8 program
This treadmill is Bluetooth-compatible and is made with fitness apps in mind. Sync with apps like Peloton, Studio, and Fitbit to use their workouts and their data tracking. Remember to pay any subscription fees these apps require.
Using Bluetooth connectivity, you can listen to your favorite music through the built-in Bluetooth speakers.
The 7.8AT is compatible with Bluetooth chest-strap heart rate monitors, but I doubt if one is included.
To rapidly change the speed and incline settings, turn the dials on each handlebar. They are ideal for quick alterations in interval training. This display has a 9.3 "color screen, making viewing all your data simple and comfortable. Even the Sprint 8 program has an individual timer to boost your motivation. During workouts, the console is visible, and everything is bright and crisp.
If you don't want to use the dials to set your speed and incline, you can use the quick-touch buttons instead. Hit the appropriate button to set your desired speed or incline.
This convenient port can help you charge your phone or tablet while you're working out.
Multi-position tablet holder: Take advantage of the fitness apps by viewing them on your tablet. These apps are easy to use because of the built-in holder.
That built-in fan can help keep you cool during your workouts.
Accessory tray: large and has deep pockets, making it easy to store pretty much anything while working out.
All you have to do is put the 7.8 AT together. Horizon has thorough assembly instructions—each step has an image and good instructions that describe what needs to be done (although the images could be a little bigger).
Serious Joggers
The faster the motor, the better for runners. A treadmill's robust design, broad belt, and shock suspension system allow you to run silently and comfortably.
A typical serious runner needs at least a 20-inch wide and 60-inch long track. The standard size for treadmills is 20″ x 60″, but runners would prefer even more room to stretch out. It is easier to locate more width on treadmills with 22-inch broad belts, and more extended running surfaces aren't much easier to get on either. This minority has tracks, that are 62 inches long or longer.
These treadmills have a decline of 3% and an incline of 15% (going uphill is much more challenging than you think, and it's great to be able to train downhill for marathons and other long runs). Decks, frames, and big running surfaces are features to look for in a decent non-folding treadmill.
Are treadmills usable for sprint training?
Now is a perfect moment to get a treadmill for your home. Indoor treadmills may be a good option if you are unsure about going outside to run (either due to social distance or weather conditions).
The most notable benefit of investing more is that you can undertake hard workouts. During your workouts, you'll be able to get a full-blown sweat going on these treadmills. Standard technology includes Bluetooth, WiFi connectivity, chest strap heart rate monitoring, and larger screens.
Heavy Duty Treadmill
400-pound treadmills are made with high-end features. So, all the featured treadmills have criteria like training programs, iFit guides, and RunSocial apps installed. A free iFit subscription for 12 months with a 400-pound-capable treadmill. Some treadmills have workout programs, and the most sophisticated treadmills usually include ten workout programs.
Fitness equipment weight capacity is critical when buying pro-level equipment. But, of course, an increased treadmill weight limit is better. A high-weight capacity is recommended for heavy folks who are shopping for treadmills.
One hour on the treadmill is enough.
Anyone who is trying to stay active or get fit should invest in treadmills. You can exercise whenever you'd like, even if it's raining or there's a major traffic jam outside. The treadmill is your friend, no matter which model you choose.
Your treadmill is likely to become a daily activity. So please make the most of it by looking for a model with a great guarantee.
Do you want your treadmill to endure as long as you would like? Forever, you'll say. So you'd better buy one that is well-built and long-lasting.
Anil delights in assisting others in enhancing their health and fitness. Anil, a runner and blogger, has spent the past twenty-four years motivating others to lead healthy, fulfilling lives. Join Anil in his efforts to better the world.