The best treadmill for a senior will significantly assist him in fulfilling the requirements for safe fitness at his own speed and strength. Because of its various safety features, an older adult can benefit from a senior treadmill. One can easily adjust the pace and volume.
Why Do Seniors need a Treadmill?
Regular Exercise for seniors is very important if they want to lead an independent life. Exercise equipment keeps you motivated for a regular dose of Exercise.
Cardio workouts keep you fit and healthy while still enhancing circulation. Due to various mobility challenges, safety risks, and other hazards, not all elderly individuals are fond of going for a stroll or run. They may even lack the financial resources or the desire to attend a gym.
A treadmill is used in the comfort of your own home, where you are comfortable and protected and have access to plenty of assistance. Most small treadmills for seniors are now available in foldable models that can be folded and kept in a corner.
The treadmill is very effective in weight loss, too, as one can burn several calories during brisk walking or running. It is very good for your cardiovascular health and increasing endurance.
What to Look for in Treadmills for Seniors?
When they get older, they lose their stability. Seniors can change a treadmill's speed without realizing it.
There are various types of treadmills available in the market, from manual to electric. One should check all the options before buying one. Best walking treadmills for seniors are the standard ones with basic walk/jog features for a normal-weight person and are the most inexpensive. These cheap treadmills are enough if you don't want any bells and whistles. The cheapest treadmill can help you achieve your daily walking/jogging target.
Additional features keep increasing the cost of the treadmill. Buy a machine with essential features only. Unnecessary bells and whistles and various fancy features increase the price and are difficult to maintain.
What to look for when buying a home treadmill?
Do not buy a treadmill with a high max speed if you are not a short-distance runner. For seniors, sometimes the machine with 4 or 6 miles per hour is also sufficient as an older person will only do walking or run at slow speeds.
Beware of the slowest speed of the treadmill also. Treadmills with a high slowest speed can cause accidents while starting.
Weight Capacity – The maximum weight capacity should be at least 20 kg more than the user's weight.
Quiet Motor – A quiet treadmill is a much better option than the one with that peculiar belt noise. Most of these new electric treadmills have very low noise levels for older adults. While buying a new treadmill, do make sure it has a quiet motor.
Full-length handrails – Senior's treadmills come with full-length handrails. Avoid those with tiny or narrow handles. With rubber or foam grips, the handles must be ergonomically designed.
Safety Features – The emergency stop button or safety key is a key feature, an essential aspect of a treadmill for senior citizens. A safety key comes out of its slot if a person trips, instantly stopping the machine and saving the senior citizens from falling.
Cushioned Deck – Some versions have a cushioned deck suitable for seniors who have arthritis or joint pain. Foam padding helps in Joint cushioning as it is essential in case of problems like arthritis. By cushioning the effect of walking or running, it eliminates tension on the knees and joints. Mid-priced treadmills have orthopedic cushioning. High-end treadmills sometimes have variable cushioning. It is one of the best choices, as it provides a firmer surface at the back of the track and a softer surface where you land.
Preset Workout – There are various preset workout programs so that the elders can choose a particular program and move accordingly.
Display – It is ideal to have an LCD or HD digital display that displays the levels, strength, rpm, heart rate, and calories burned. So you can check at how many miles per hour you are running or walking. Similarly, you can check various other parameters too. The console should also be simple to use and configure.
Incline & Decline – There are certain machines with a treadmill incline and some others with a decline also. The incline automatically moves your body weight away from your knees, reducing friction. For calorie burning and muscle toning, they're enormously beneficial. As opposed to walking at zero degrees, walking on an incline burns calories more than twice as much. You will also improve muscle tone, and each incline setting allows you to strengthen your muscles in various ways.
Grip Heart Rate Monitors – We also get grip heart rate monitors in treadmills for heart rate monitoring. So they can check what is starting heart rate and what maximum rate they achieve during the workout.
Powerful Motor – It should have a powerful motor if the person who uses it is on the heavier side.
Track Length & Width – It would be best if you are looking for a wide belt treadmill so that the elders don't lose their balance while walking on the track. You also need to check whether the treadmill deck is suitable according to the elder's height. If a person is more than 6′ and running, then the deck should be 60″ or more.
Self Lubrication Belt – The treadmill belt should be self-lubricating, or you should have a clear understanding of how to oil it at regular intervals.
Cup Holder – There is usually a cup holder also to not get down to go and fetch water. There itself, you can have a sip and carry on. But do stop the treadmill if you feel thirsty. It is risky for seniors to have water while moving on a treadmill.
Lifetime Guaranty/Warranty – Some treadmills come with a lifetime guaranty on the frame. Do make sure your new treadmill has a durable steel frame.
Transport Wheels – Most foldable treadmills also come with transport wheels on one side so that they can be pushed or pulled to where ever you want to keep them.
Compact Treadmills – Some compact treadmills can even be pushed under the bed. But generally, that is their only plus point. Please check thoroughly all the benefits mentioned if you plan to buy any such treadmill.
Medical Treadmills – There are certain medical treadmills also available that are suitable for particular problems only.
Collapsible Treadmill – If there is a problem of shortage of space at home you can buy this. A compact folding treadmill can be kept in a room corner or pushed under a bed after workout.
Daily Workouts
If you are going to start using a treadmill, I shall give you a word of caution. You have to be very consistent, or else it will be a useless piece of equipment after a couple of months. Fix a workout time and stick to that so that a routine is formed. For an effective workout, consistency and timing are very important. Do not try to do vigorous exercises initially if you have never done so earlier.
Nordic Track® T-Series Treadmill Exp 7i
Self-cooling operations and low vibrations. Its FlexSelec deck cushioning protects joints by engaging dampeners or simulates a real road-running experience with one turn. It has a 7″ display and 1-Year iFit® membership included ($396 Value). A hydraulic folding, which makes it easier to fold or unfold and blue tooth connectivity with 2 digitally amplified speakers. It is the best treadmill for seniors walking and jogging.
Weight Capacity-300 lb
Motor- DC 3 CHP
Running Board-20" x 60"
Folding – Yes with Hydraulic assist
Maximum speed- 12 mph
Program- 20 Preset Programs
Warranty- Frame– 10 yrs, Motor & Parts 2yrs, Labour-1yr
Incline – 12% Automatic
Display- 7" HD Smart Touchscreen
Rollers – 1.9″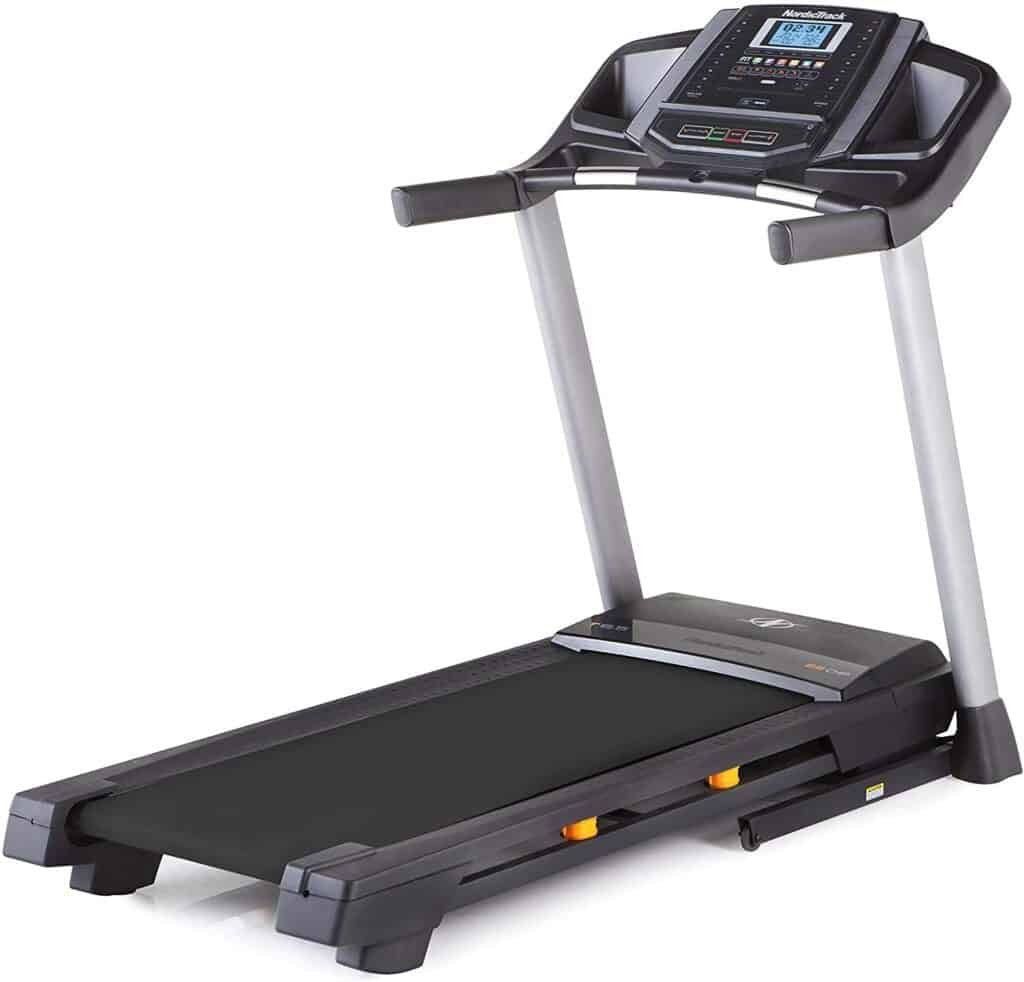 Exerpeutic TF 1000
An excellent treadmill only for walking, with a heavy-duty frame. A very impressive capacity of 400 lbs makes it useful for most people. You can adjust the speed in increments of 0.1 mph. With extralong 18″ handles for safety and safety key to be attached to clothes. An extra-wide walking platform for senior safety. A very quiet machine also.
Tall people with 6′ height cannot use it for running as it has a short walking board.
Weight Capacity-400 lb
Motor- DC 1.5 CHP
Running Board-20″ X 40″
Folding – Yes
Program- None
Maximum speed- 4mph
Warranty-Frame–3yrs, Motor-5yrs & Parts & Labour-90days
Incline – Manual, 2 Positions
Display- LCD Display shows time, distance, calories and speed.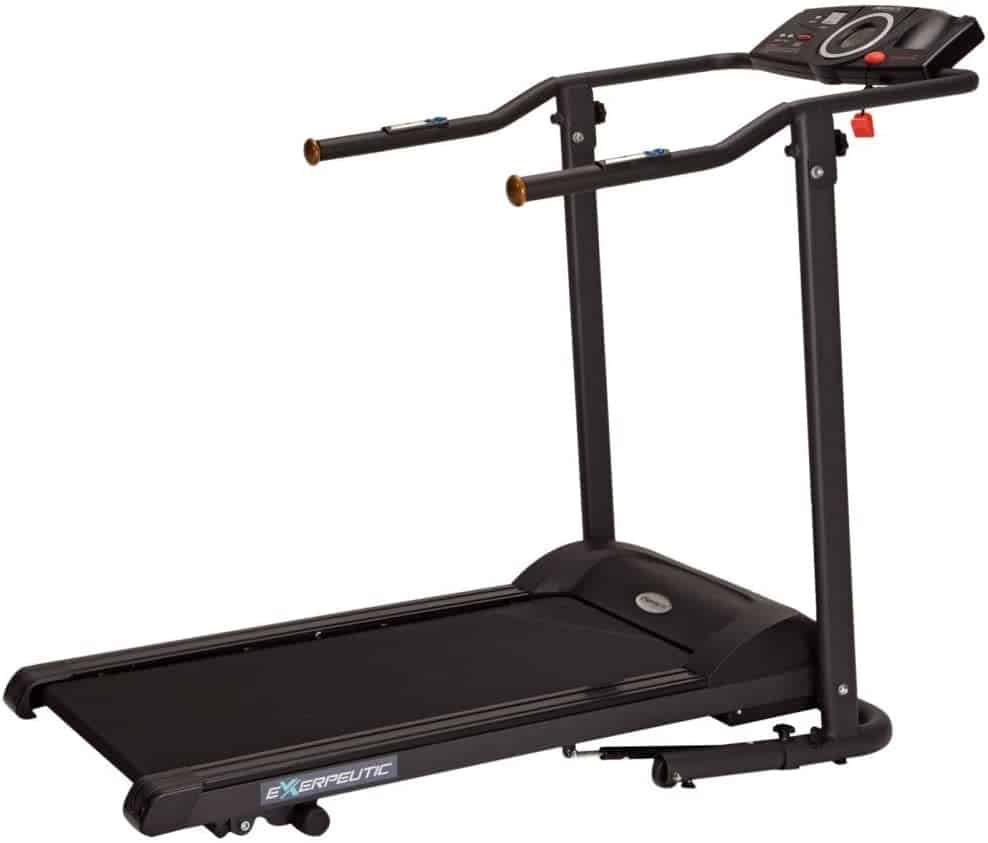 XTERRA Fitness TR150 Folding Treadmill
It's not a professional-grade unit, but it's designed to last. It is fitted with a manual incline system. It's probably one of the best treadmills available at this price right now. Even though it is a light-capacity treadmill, it has a steel tubing structure that is very robust. The side rail covers, the motor cover, and the console dashboard are the only ABS parts.
It's a treadmill designed for walking and jogging. This running surface could be too short for anyone taller than 6′ to take a full and fulfilling stride. However, it should be appropriate for moderate jogging and walking.
Weight Capacity-250 lb
Motor- DC 2.25 CHP
Running Board-16″ X 50″
Folding – Yes
Maximum Speed- 0.5-10 MPH
Program- 12 Preset Programs
Warranty- Frame–Lifetime, Motor-1Yr, Parts-90days, Labour-90days
Incline – Manual 3 levels
Display- LCD Display 5.2″
LifeSpan TR1200i
LifeSpan is a well-known brand in the treadmill industry, with a range of commercial workout treadmills to choose from. LifeSpan TR1200i has extended handles, a safety key, and a soft-drop folding mechanism, which are all things that make the best treadmill for senior citizens. It also has a shock-absorbing deck that relieves the pressure on the knees, whether you're walking or running.
Weight Capacity-300 lb
Motor- DC 2.5 CHP
Running Board-20″ X 56″
Folding – Yes.
Speed- 0.5 to 11mph
Program- 15 Preset Programs
Warranty- Frame- Lifetime, Motor- 5yrs, Parts- 2yrs, Labour- 1yr
Incline – 15%
Display- LCD Display – 3 Windows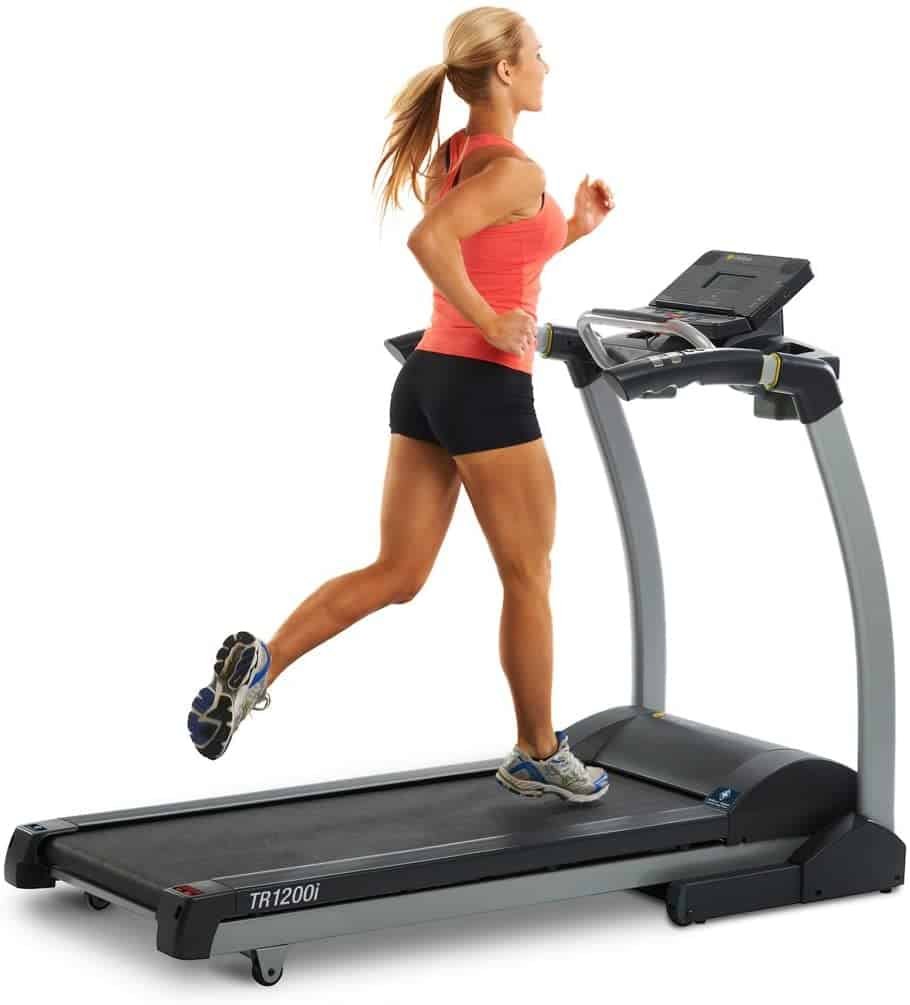 Sunny Health & Fitness SF-T7857 Walking Treadmill
It's a well-reviewed walking treadmill that's ideal for seniors who want a comfortable and productive exercise in the privacy of their homes. It is perfect for fast and peaceful walking and jogging experience. A low-profile shock-absorbing deck, multi-grip handles, and rails that stretch the length of the track offer you a sense of stability.
A straightforward control panel and a safety key are also included in the package. The console's basic nature keeps track of time, size, and calories burned. During each workout session, use the mode button to customize your workout objectives. All of the steel surfaces have a corrosion-resistant powder-coated finish.
Weight Capacity-295 lb
Motor- DC 1.2 CHP
Running Board-19.5″ X 44″
Folding – No
Speed- 0.6 to 5 mph
Program- Nill
Warranty- Frame-3yrs, Parts-180 days
Incline – None
Display- LED Display – 3 Windows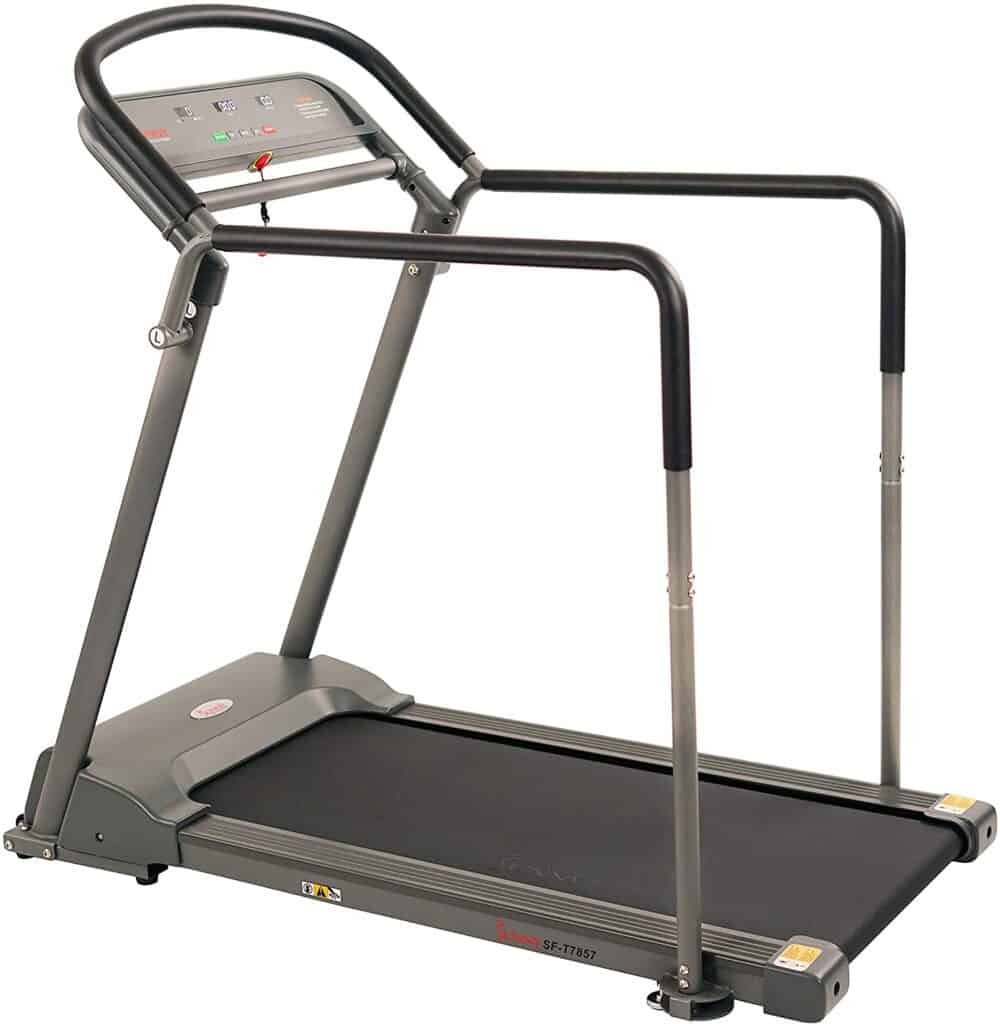 Exerpeutic 100XL Magnetic Manual Treadmill
The frame of Exerpeutic 100XL has been strengthened to support a large amount of weight. Quiet operation is ensured by precision equilibrium flywheels and magnetic stress resistance.
Flywheels with a diameter of 6″ have a smoother, more reliable workout. The user will calculate target heart rhythms with heart pulse pads. Wider and longer than any other manual treadmills for seniors on the market, with features that only electric treadmills can do. Extra-long safety handles, which are more than twice as long as those on most treadmills, ensure stable walking and avoid any lack of balance of seniors.
Weight Capacity-325 lb
Running Board-16″ X 45″
Folding – Yes
Warranty- 3yrs + free extended 5yrs Parts-90 days + free extended 90 days
Incline – 3 Incline positions 8%, 10% & 15%
Display- LCD Display of Time, Calorie, Distance, Heart rate & Speed.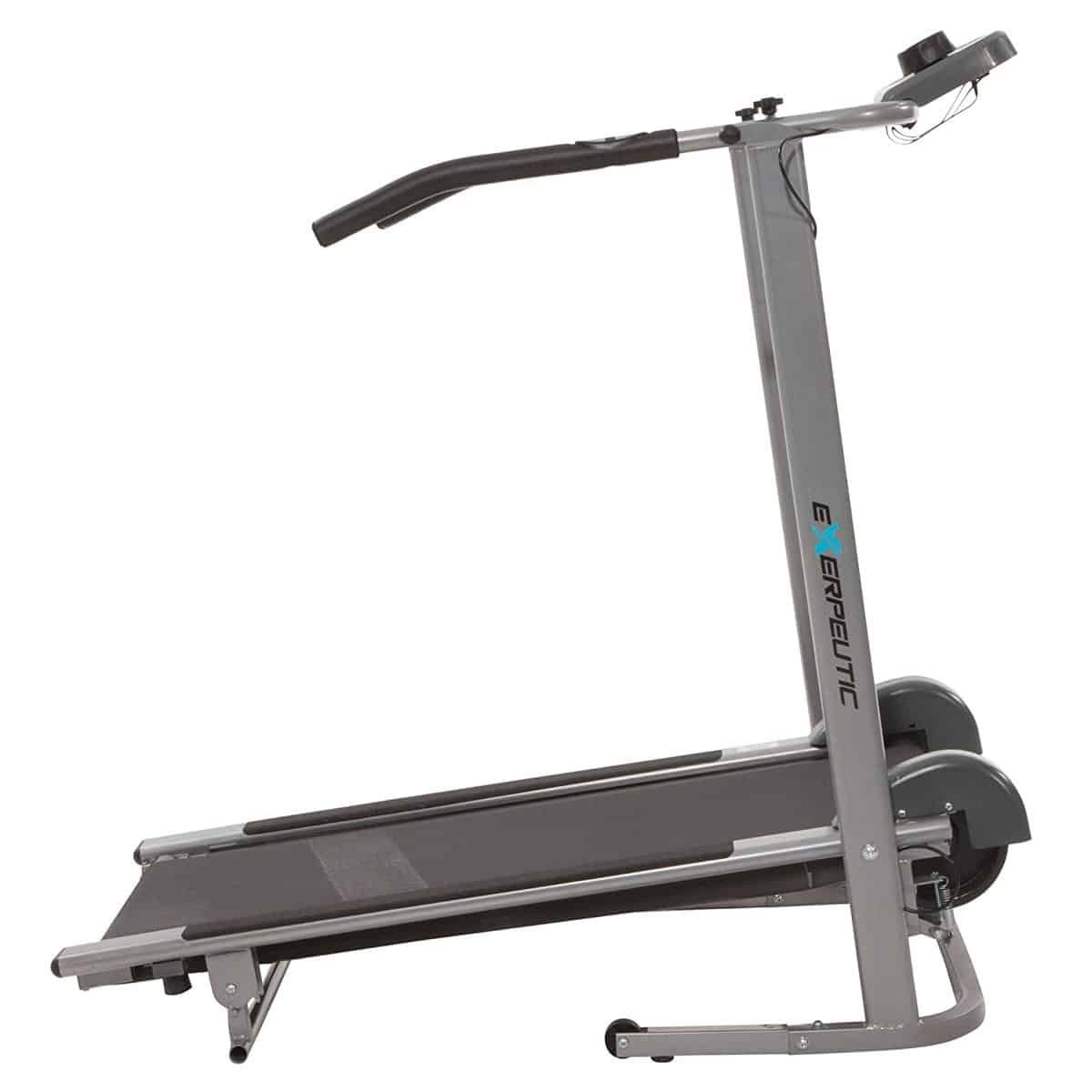 Sunny Health & Fitness T7643
It has a fixed incline of about 2 degrees, so you can't walk on the flat or increase the incline to work harder and burn more calories.
The top speed of 6 mph is sufficient for walking. The motor is reasonably quiet and appears to be capable of running at 4 mph for hours on end.
The cushioned deck puts less strain on your joints than road walking, allowing you to work out for longer periods of time without putting strain on your knees – especially if you are overweight.
It has two bottle holders as well as a slot for an iPad, screen (up to 13″), or smartphone to watch something while you work out.
The deck folds up and can be tilted before being rolled out of the way on its wheels.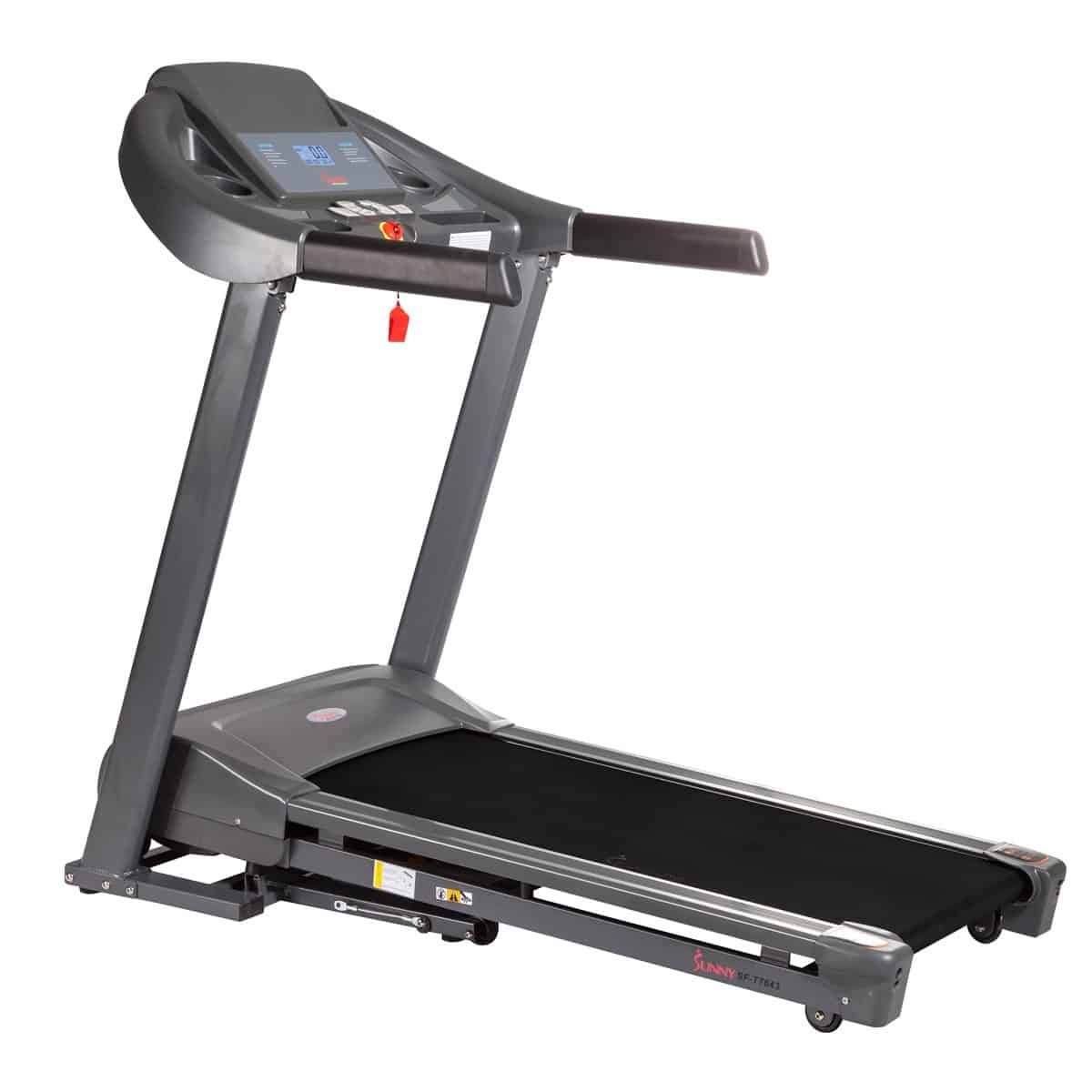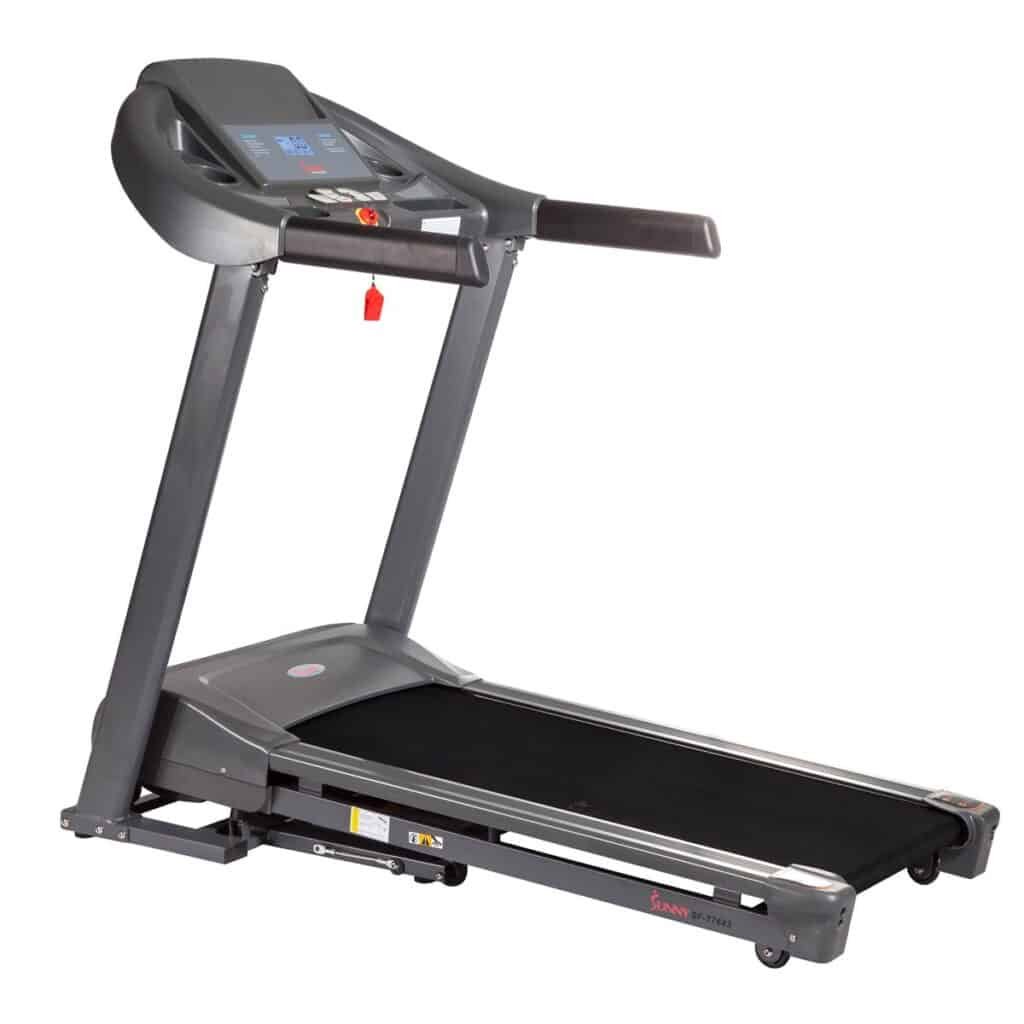 60.5Lx 32Wx 52.4″H
Weight Capacity-350 lb
Motor- DC 2.5 CHP
Running Board-19.5″ X 44.5″
Folding – Yes
Maximum Speed- 0.5 to 6 mph
Program- No Pre-Set
Warranty- Frame–3yrs, Motor, Parts & Labour-3 Months
Incline – 2% fixed
Display- LCD Display