The need for regular exercise increases as we age. In one of my earlier articles, I mentioned the importance of various exercises during old age.
The most common exercise equipment for elders is treadmills. It has been observed that seniors find these easy to use compared to ellipticals and stationary cycles, as getting on them becomes a problem with age. Elders can walk or jog on these at their own pace, and there is a wide variety manufactured only for seniors.
Some models include built-in TVs, speakers, and music players. Others allow you to connect your smartphone to the machine and listen to music through headphones. Some companies even have dedicated apps with guided videos that are excellent for learning new exercises.
Unfortunately, due to various mobility challenges, safety risks, and other hazards, not all elderly individuals enjoy going for a stroll or run. They may even lack the financial resources or the desire to attend a gym.
A walking machine for elderly, it can be used in the comfort of your own home, where you are comfortable and protected and have access to plenty of assistance. Most small treadmills for seniors are now available in foldable models that can be folded and kept in a corner.
The treadmill is very effective in weight loss, too, as one can burn several calories during brisk walking or running. In addition, it is very good for your cardiovascular health and increases endurance.
What to Look for in Treadmills for Seniors?
The best walking treadmills for seniors are the standard ones with basic walk/jog features for a normal-weight person and are the most inexpensive. These treadmills for disabled or seniors are enough if you don't want any bells and whistles. The cheapest treadmill can help you achieve your daily walking/jogging target.
There are portable treadmills also available on the market. You can check it out here: the best foldup treadmill for seniors. But additional features keep increasing the cost of the treadmill and are difficult to maintain as well. Buy a machine with essential features only.
Maximum Speed
Do not buy a treadmill with a high max speed if you are not a short-distance runner. For seniors, sometimes the machine at 4 or 6 miles per hour is also sufficient, as an older person will only walk or jog. But a low maximum speed will be a benefit in case of a trip or a small accident.
Initial Speed
Beware of the slowest speed of the treadmill also. Treadmills with a high slowest speed can cause accidents while starting.
Weight Capacity
The maximum weight capacity should be at least 20 kg more than the user's weight. That is for the treadmills life actually.
Quiet Motor
A treadmill with a quiet motor is a much better option than one with that strange belt noise. Most of these new electric treadmills have very low noise levels for annoying older adults. Besides even the best treadmill's noise level increases with age due to regular use.
Long Hand Rails
Treadmills with long handrails are much better for seniors. Avoid those with tiny or narrow handles. With rubber or foam grips, the handles must be ergonomically designed. But I also suggest not to hold the rails while walking or running. That way you increase your dependence on holding while running which makes the whole exercise a lot less effective and increases the chance of accident too.
Safety Features
An essential treadmill aspect for senior citizens is the emergency stop button or safety key. A safety key comes out of its slot if a person trips, instantly stopping the machine and saving the senior citizens from falling.
Cushioned Deck
Look for low impact treadmills with cushioned decks. Some versions have a cushioned deck, suitable for seniors who have arthritis or joint pain. Foam padding helps with joint cushioning, as it is essential in cases like arthritis. Cushioning the effect of walking or running eliminates tension on the knees and joints. Mid-priced treadmills have orthopaedic cushioning. High-end treadmills sometimes have variable cushioning. It is one of the best choices, as it provides a firmer surface at the back of the track and a softer surface where you land.
Preset Workout
There are various preset workout programs so that the elderly can choose a particular program and move accordingly or even increase their workout progressively.
Illuminated Console
It is ideal to have an LCD or HD digital display that displays the levels, strength, rpm, heart rate, and calories burned. So you can check how many miles per hour you are running or walking. Similarly, you can check various other parameters too. The console should also be simple to use and configure.
We also get grip heart rate monitors for heart rate monitoring. So they can see what their starting heart rate is and their maximum heart rate during the workout.
Incline & Decline
There are certain machines with a treadmill incline and decline. The incline automatically moves your body weight away from your knees, reducing friction. For calorie burning and muscle toning, they're enormously beneficial. Instead of walking at zero degrees, walking on an incline burns calories more than twice as much. You will also improve muscle tone, and each incline setting allows you to strengthen your muscles in various ways.
Powerful Motor
A standard treadmill should have a motor with at least 2 CHP for walking, 2.5 for Jogging and 3 CHP for running. If the person using it is on the heavier side add another 0.5 CHP. You do get treadmills with smaller motors but for long term use, I wouldn't suggest those.
Track Length & Width
It would be best to look for a wide belt treadmill so that the elders don't lose their balance while walking on the track. You also need to check whether the treadmill deck is suitable according to the elder's height. If a person is more than 6 feet and is running, the deck should be 60 inches.
Self-Lubricating Belt
There is an option of self-lubricating treadmills too but they are on the expensive side or you should clearly understand how to oil it at regular intervals. People generally forget to oil their treadmills resulting in servicing complications.
Cup Holder
A cup holder is usually nearby, so you don't have to get down to get water. You can have a sip and carry on. But do stop the treadmill if you feel thirsty. It is risky for seniors to have water while moving on a treadmill.
Guarantee/Warranty
This is very important. Some treadmills come with a lifetime guarantee on frame and motor. Then there is a separate warranty on part and the third warranty on labour as well. Make sure you understand all these before buying a treadmill. Some companies have such silly conditions as returning the treadmill only in original packing.
Most foldable treadmills also come with transport wheels on one side so that they can be pushed or pulled to wherever you want to keep them.
Some compact treadmills can even be pushed under the bed. But generally, that is their only plus point. If you intend to purchase a treadmill of this type, please carefully consider all the benefits listed.
There are certain medical treadmills also available that are suitable for particular problems only.
Daily Workouts
If you are going to start using a treadmill, I shall give you a word of caution. You have to be very consistent, or it will be a useless piece of equipment after a couple of months. Fix a workout time and stick to that so that a routine is formed. For an effective workout, consistency and timing are very important. Do not try to do vigorous exercises initially if you have never done so earlier.
Nordic Track® T-Series Treadmill Exp 7i
Self-cooling operations and low vibrations. Its FlexSelec deck cushioning protects joints by engaging dampeners or simulates a real road-running experience with one turn. It has a 7-inch display and comes with a one-year iFit® membership ($396 value). A hydraulic folding system that makes folding and unfolding easier and Bluetooth connectivity with two digitally amplified speakers. It is the best treadmill for seniors to walk and jog.
Weight Capacity-300 lb
Motor-DC 3-CHP
Running Board-20″ x 60″
Yes, with hydraulic assistance.
The maximum speed is 12 miles per hour.
Preset Programs – 20
Warranty: 10 years on the frame, two years on the motor and parts, and one year on labor.
Automatic 12% Incline
7″ HD Smart Touchscreen Display
Rollers – 1.9′′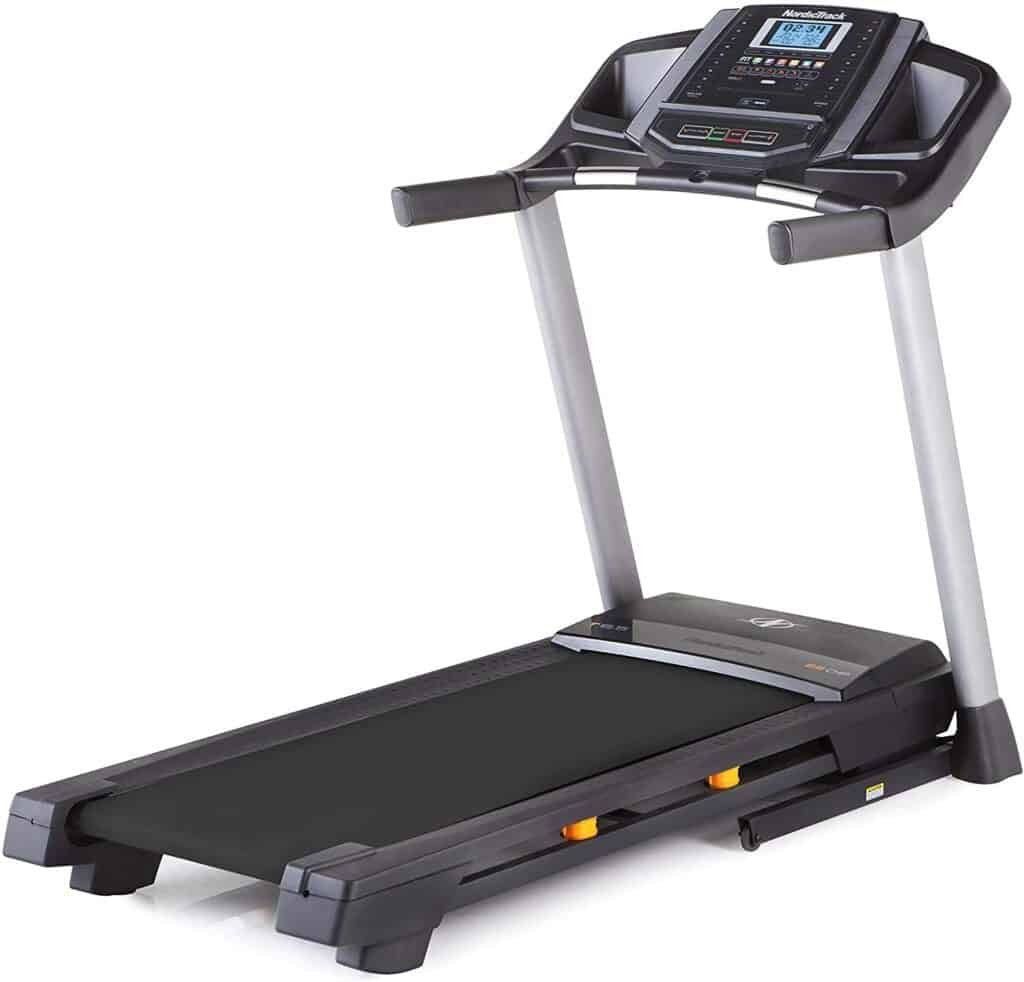 Pros
Large Running Track
Grip based heart monitor
Family membership of iFit for a year
3CHP commercial-grade motor
Workout fan for four settings
Cons
There are no built-in programs
There is only a 10-year warranty
Smaller screen
Exerpeutic TF 1000
It is the best treadmill for walking and with a heavy-duty frame. A very impressive capacity of 400 lbs makes it useful for most people. You can adjust the speed in increments of 0.1 mph. With extra-long 18-inch handles for added security and a safety key that can be attached to clothing.An extra-wide walking platform for senior safety. It is a very quiet machine too. It is not suitable for running as it has a short walking board.
Weight Capacity-400 lb
1.5 CHP DC Motor
20′′ X 40′′ Running Board
Yes, folding.
Program-None
the maximum speed of 4mph.
Warranty-Frame-3yrs, Motor-5yrs, Parts & Labour-90days
Incline –Manual, 2 Positions
Display-LCD display shows time, distance, calories, and speed.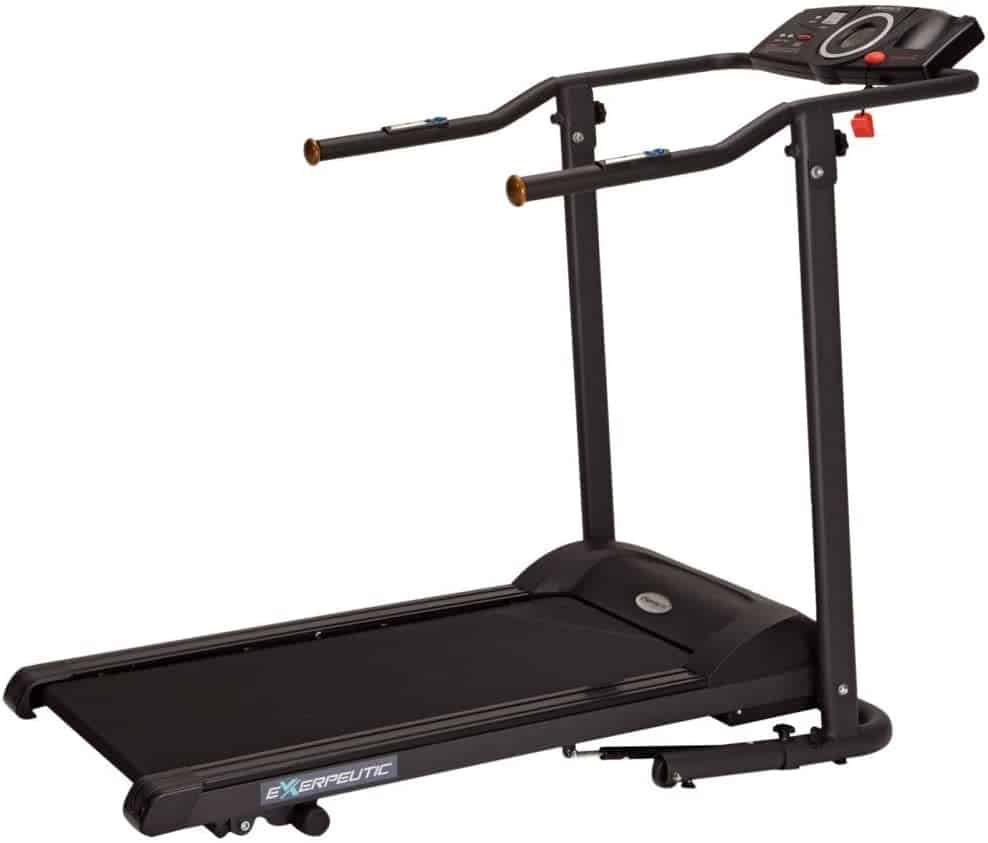 Pros
High maximum weight capacity of 400 pounds
Extremely easy to assemble
Extremely comfortable to use
Extra-wide belt at 20 inches
2 manual incline positions
Adjustable speed settings in small increments
Safety handles are 18″ long
Cons
Handlebars are low for people over 6′
XTERRA Fitness TR150 Folding Treadmill
It's not a professional-grade unit, but it's designed to last. It is fitted with a manual incline system. It's probably one of the best treadmills available at this price right now. Even though it is a light-capacity treadmill, it has a steel tubing structure that is very robust. The side rail covers, the motor cover, and the console dashboard are the only ABS parts.

It's a treadmill designed for walking and jogging. This running surface could be too short for anyone taller than 6 feet to take a full and fulfilling stride. However, it should be appropriate for moderate jogging and walking.
Weight Capacity-250 lb
2.25 CHP DC Motor
Running Board-16″ X 50″
Yes, folding.
Maximum Speed: 0.5 to 10 miles per hour
Preset Programs: 12
Frame warranty is lifetime, motor warranty is one year, parts warranty is 90 days, and labor warranty is 90 days.
Three levels of incline – manual
Display-LCD Display 5.2′′
Pros
Fitted wheels
Folding deck
XTRAsoft cushioning
Low electricity use
Convenient accessory trays
Tablet holder
Simple & quick assembly
Cons
No Bluetooth

No USB port

Weight capacity – 250lbs
LifeSpan TR1200i
LifeSpan is a well-known brand in the treadmill industry, with a range of commercial workout treadmills to choose from. The LifeSpan TR1200i has extended handles, a safety key, and a soft-drop folding mechanism, making it the best treadmill for seniors. It also has a shock-absorbing deck that relieves the pressure on the knees, whether you're walking or running.
Weight Capacity-300 lb
2.5 CHP DC Motor
20′′ X 56′′ Running Board
Folding: Yes.
Speed-0.5 to 11mph.
15 pre-programmed programs
Warranty-frame-lifetime, the motor has a 5-year warranty, parts have a 2-year warranty, and labor has a 1-year warranty.
15% incline
Display-LCD Display – 3 Windows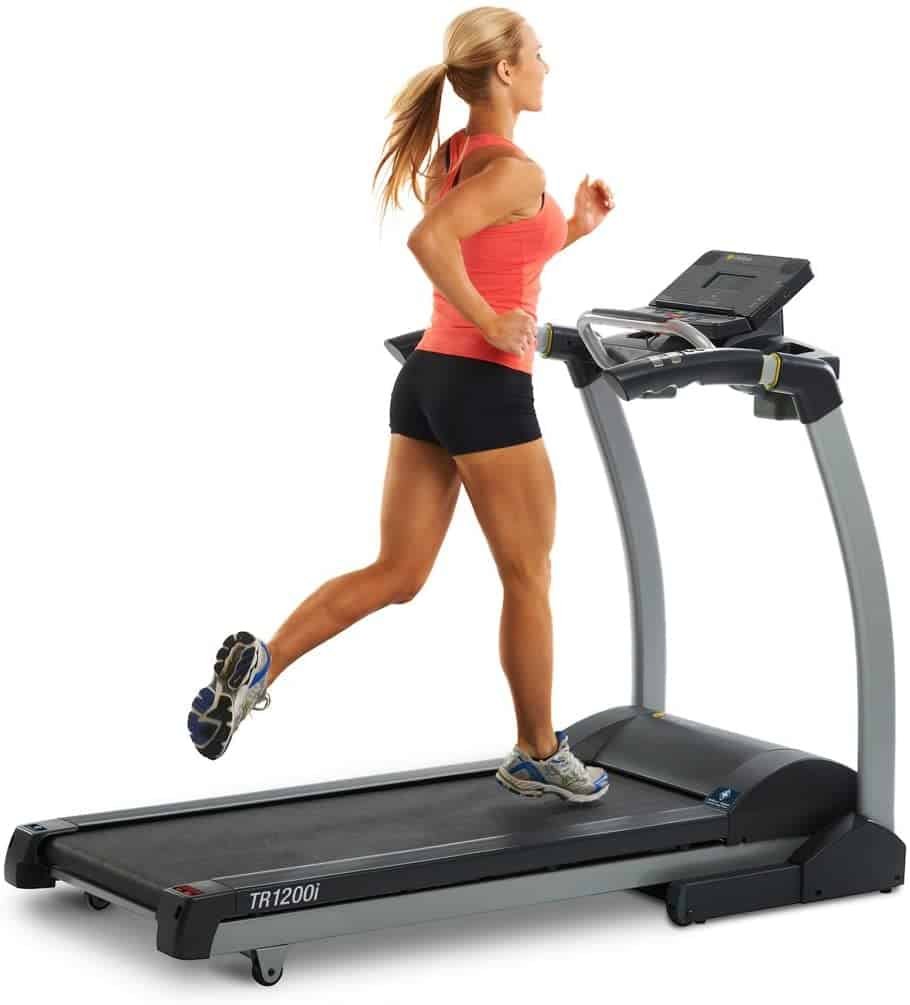 Pros
Easily foldable

Eight compression shock absorbers are built into the deck to provide safe & responsive cushioning

Wide variety of programs with different functions.
Bluetooth sync is available
21 pre-programmed workouts
Four built-in wheels for easier transportation
Advanced sound system
High-quality two-ply belt which is 20" wide and 56" long,
Cons
LifeSpan TR1200i treadmill is not equipped with a cooling fan.
No chest strap for heart rate monitoring included.
Not as tech-heavy as other treadmills in this price range.
Sunny Health & Fitness SF-T7857 Walking Treadmill
It's a well-reviewed walking treadmill that's ideal for seniors who want a comfortable and productive exercise in the privacy of their homes. It is perfect for fast and peaceful walking and jogging experiences. A low-profile shock-absorbing deck, multi-grip handles, and rails that stretch the length of the track offer you a sense of stability.

A straightforward control panel and a safety key are also included in the package. The console's basic nature keeps track of time, size, and calories burned. During each workout session, use the mode button to customize your workout objectives. All of the steel surfaces have a corrosion-resistant powder-coated finish.
Weight Capacity-295 lb
1.2 CHP DC Motor
19.5′′ X 44′′ Running Board
No folding
Speed-0.6 to 5 mph.
Program-Nill
Warranty-Frame-3yrs, Parts-180 days.
Incline-None
Display-LED Display – 3 Windows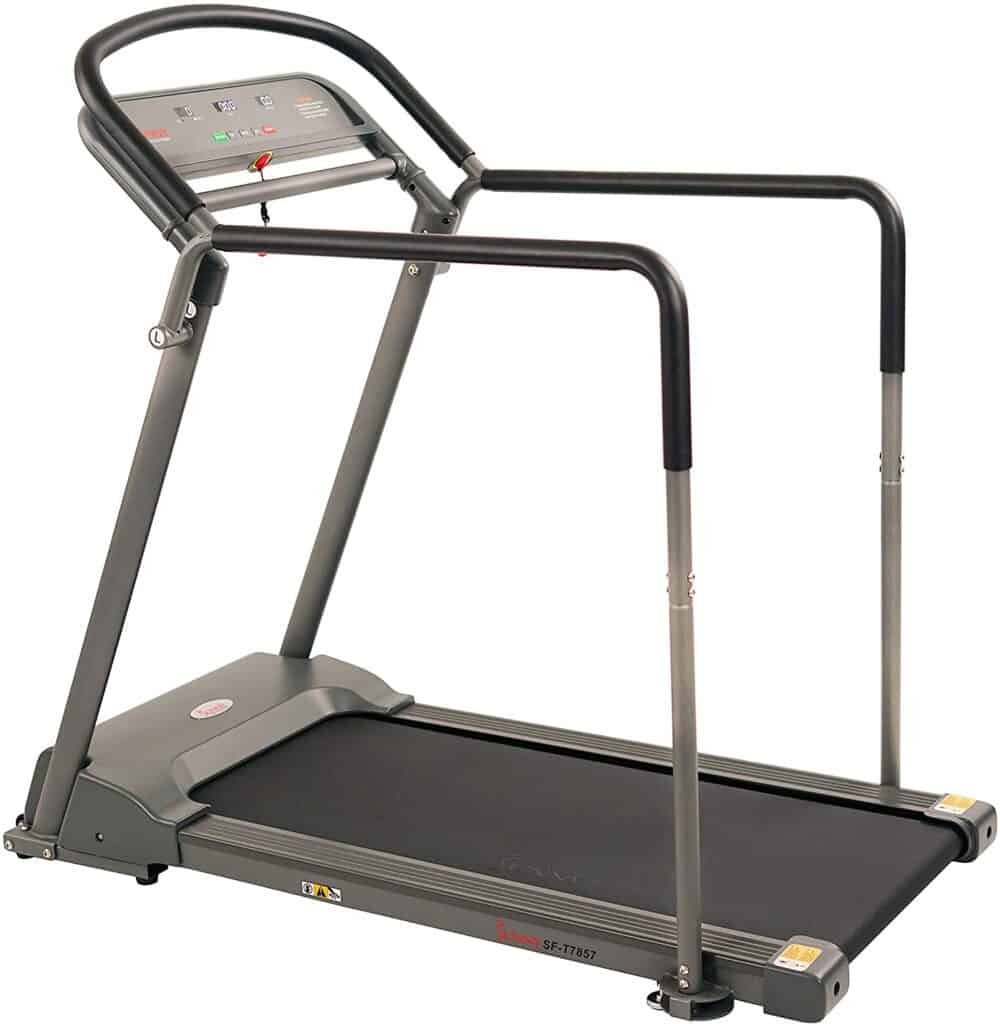 Pros
Low profile running deck around 4.5″

Extra-long sidebars

Increments of 0.1mph in speed

Lubrication Reminder function

Easy assembly

and maintenance
Cons
No heart rate monitoring
No preset workout programs
No incline or decline
No add-ons like bottle holders etc.
No online connectivity
Exerpeutic 100XL Magnetic Manual Treadmill
The frame of Exerpeutic 100XL has been strengthened to support a large amount of weight. In addition, quiet operation is ensured by precision equilibrium flywheels and magnetic stress resistance. Flywheels with a diameter of 6 inches have a smoother, more reliable workout.
The user will calculate target heart rhythms with heart pulse pads. It is Wider and longer than any other manual treadmill for seniors, with features that only electric treadmills have. Extra-long safety handles, which are more than twice as long as those on most treadmills, ensure stable walking and avoid any lack of balance for seniors.
Weight Capacity-325 lb
16″ x 45″ Running Board
Yes, folding.
Warranty: 3 years plus a free extended warranty of 5 years90-day parts warranty + free extended 90-day warranty
Incline – three 8%, 10%, and 15% incline positions
Display-LCD Display of Time, Calorie, Distance, Heart rate, and Speed.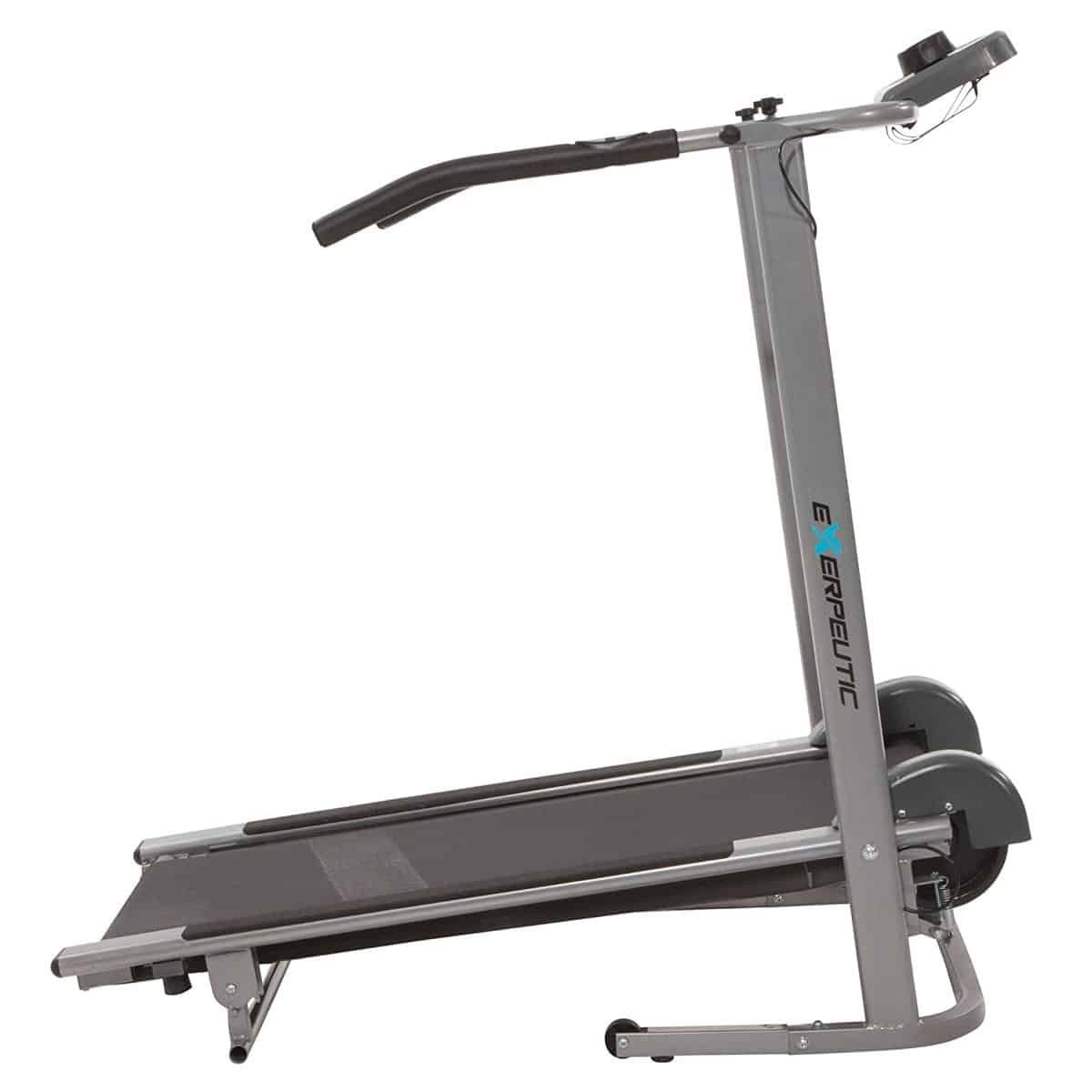 Pros
Wider and longer than other manual treadmills.

Simple assembly
3 incline positions

Heart Rate pads for measuring heart rate
Sunny Health & Fitness T7643
It has a fixed incline of about 2 degrees, so you can't walk on the flat or increase the incline to work harder and burn more calories. The top speed of 6 mph is sufficient for walking. The motor is reasonably quiet and appears to be capable of running at four mph for hours on end.

The cushioned deck puts less strain on your joints than road walking, allowing you to work out for longer periods without putting strain on your knees – especially if you are overweight. It has two bottle holders and a slot for an iPad, a screen (up to 13 inches), or a smartphone to watch something while working out.
The deck folds up and can be tilted before being rolled out of the way on its wheels.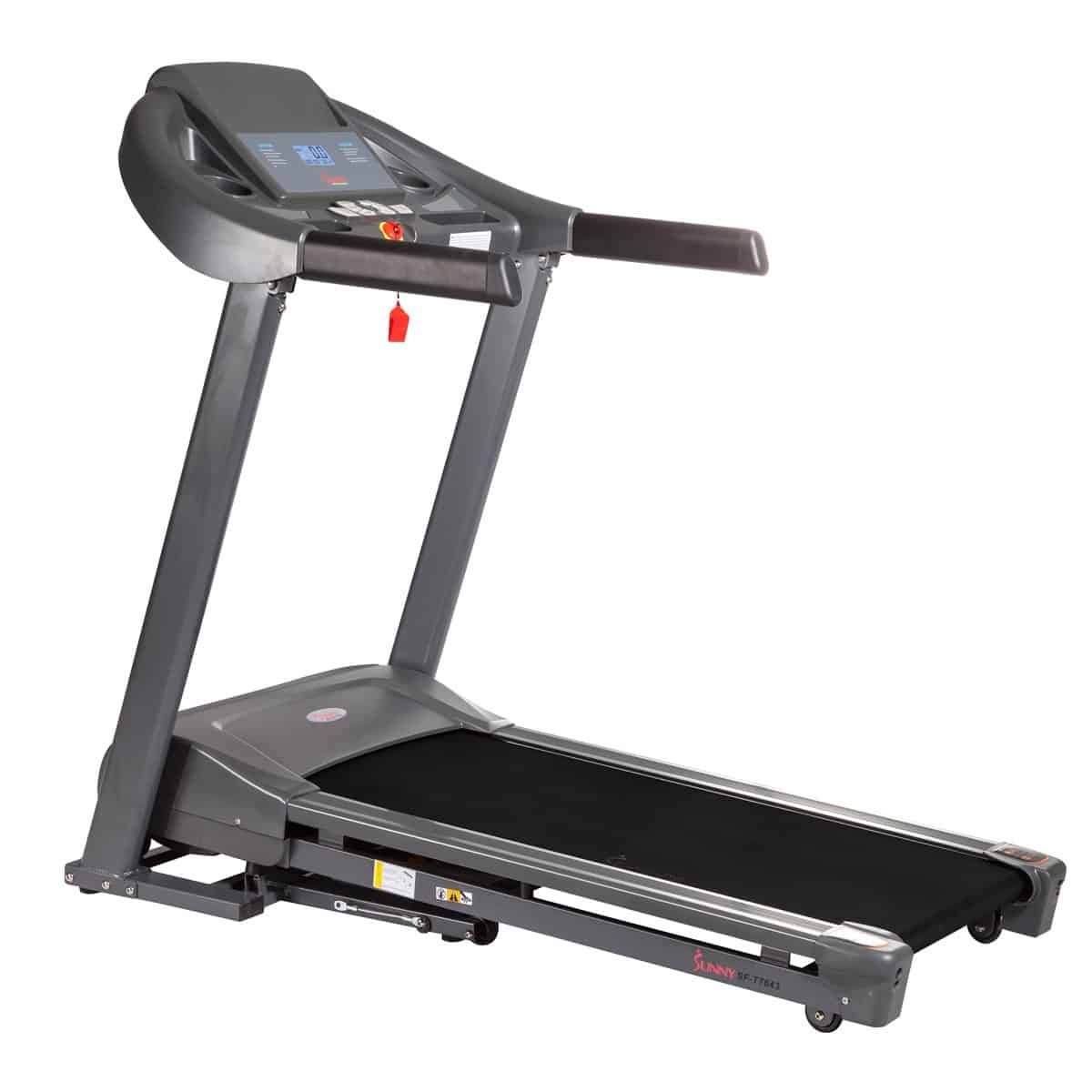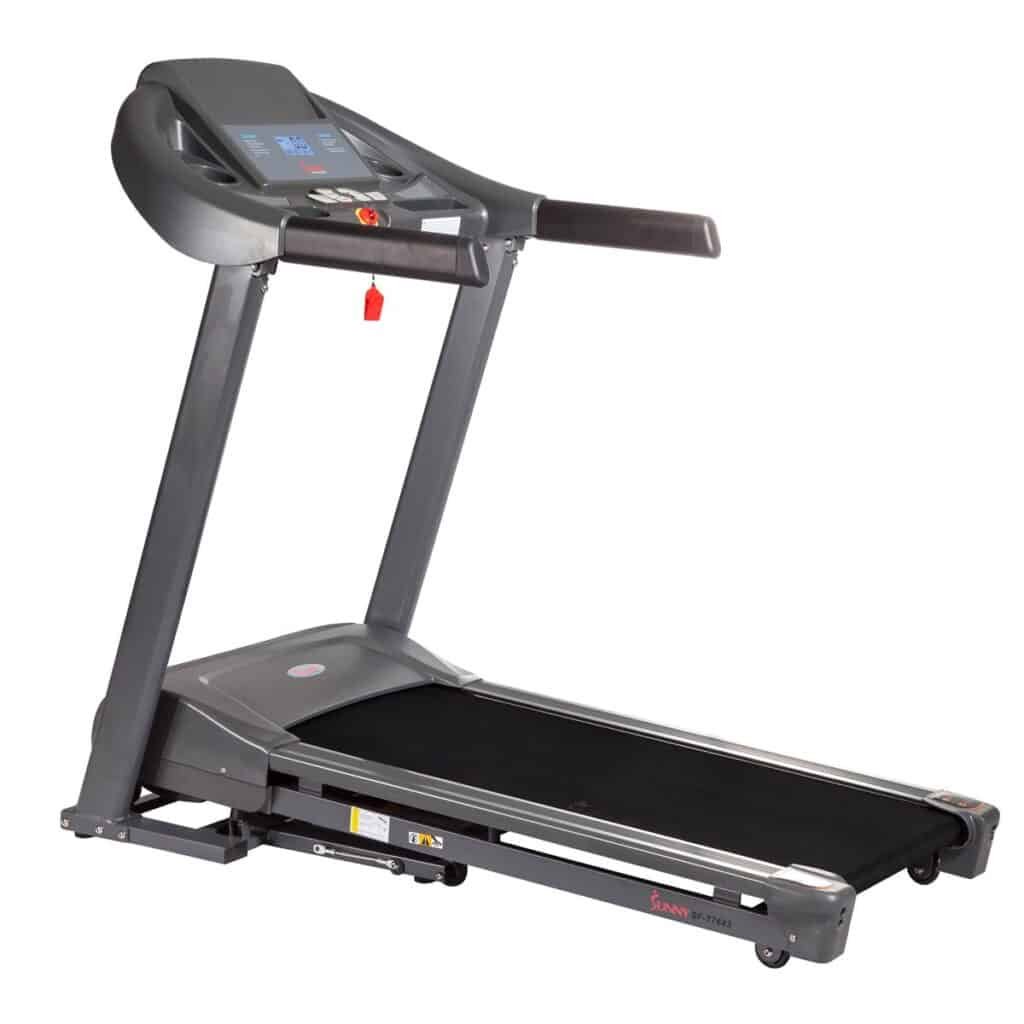 60.5L x 32W x 52.4H in.
Weight Capacity-350 lb.
2.5 CHP DC Motor
19.5′′ X 44.5′′ Running Board
Yes, folding.
Maximum Speed-0.5 to 6 mph
Program-No Pre-Set
Warranty: 3 years on the frame, three months on the motor, parts, and labor.
2% fixed incline
Display-LCD Display
Pros
Good walking track 43.3''x20''
Quick button feature for preferred speed.

S

oft drop hydraulic system.

Big

cupholders and tablet holder.
Big buttons for seniors.