Treadmills have become a common feature in gyms, offices, and homes around the world. These devices are fantastic for individual health and fitness enthusiasts, and now there are all sorts of them to suit all sorts of budgets. The best treadmills come with additional features and benefits, and are designed to make running more interesting. This includes all sorts of things to make it more challenging, such as heart rate monitors, in-depth training programs, and workout programs.
We present here some of the best treadmills available on the market specifically for serious runners. These are tough machines which can work for hours to give you the kind of physique and endurance needed by marathon runners.
Treadmill Running – For Serious Runners
Name of the Product
CHP
Track
Incline
(%)
Speed
(mph)
Weight
Capacity (lbs)
Folding
Bowflex T10
4
60″ X 22″
-5 to 15
12
400
No
NordicTrack 1750
3.75
60″ X 22″
-3 to 15
12
300
Yes
Sole F80
3.5
60″ X 22″
0 to 15
12
375
Yes
Horizon 7.4 AT
3.5
60″ X 22″
0 to 15
12
325
Yes
Nautilus T618
3.5
60″ X 20″
0 to 15
12
350
Yes
Lifespan TR 4000i
3.25
60″ X 20″
0 to 15
12
350
Yes
Lifefitness T3
3
60″ X 20″
0 to 15
12
350
Yes
Bowflex T10 Treadmill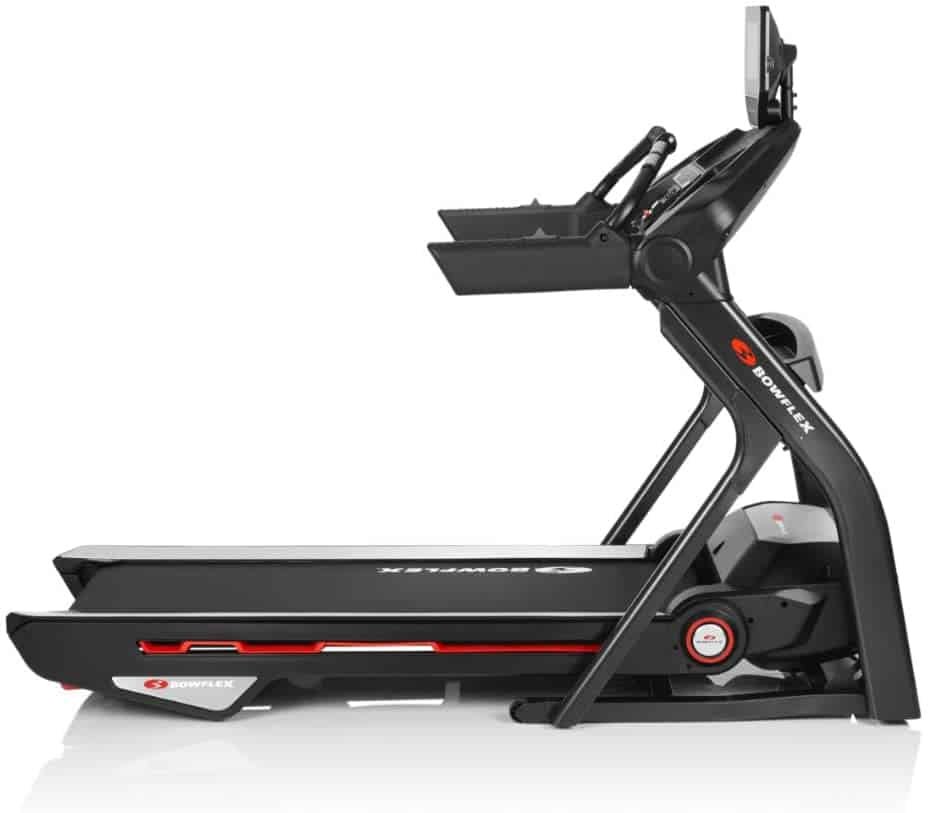 Dimensions – 85L x 39.6W x 65.3″H
Warranty – Frame & Motor 15 Years, Mechanical Parts 5 yrs, Electronics- 1yr, Labor- 2 yrs
The HD touch screen display of this treadmill is fully interactive and it'll show you all you need to know about working out. In addition, you can watch Netflix, Hulu, Disney+, and other streaming services to which you may be a subscriber. Being completely Bluetooth-equipped, it is capable of doing so. The Bluetooth connection also extends to the bundled heart rate armband.
+JRNY the Bowflex app, which is a game-changer for this treadmill makes use of the 10 "console that is interactive. The first step is to complete the fitness evaluation. It takes this information and tailors routines that are completely specific to you.
It's all extremely sophisticated, and as you get fitter, the workouts become slightly more difficult. You can do these on a daily basis or whenever you have free time. The software can show you exercising in full HD color in 40 different locations around the world. You may use your subscription to stream Netflix, Disney+, and other services on the console.
There are also films with trainers, virtual coaching, celebrations, achievement incentives, and handpicked tunes. The Bowflex JRNY app has received a 4.6-star rating from over 3,500 users on the Apple app store.
You get two months free App, after which you must pay $19.99 per month. While the treadmill may be used without it and the training programs can be used without it, the app is required to get the most out of the machine. It has so many features that you almost have to get it, but it's well worth it.
Only a few treadmills on the market can handle 400 lbs of weight. Most individuals don't even try because they know their equipment can only handle lighter people. As a result, the treadmills aren't as durable. It signifies that the treadmill is stable for all users. It implies that the components utilized are durable and high-quality. The deck must be stable and safe. The weight of the user is a crucial measure that reveals a lot about the machine.
You can go from a minus 5% descent to a huge 15% slope in a matter of seconds. It's a one-of-a-kind experience to run downhill on a treadmill.
NordicTrack 1750
Dimensions – 81.25"L x 39.25"W x 62.75"H
Built in Programs – 50
Warranty – 2 years on parts and electronics
NordicTrack 1750 is the Best home treadmill, and for a good reason. This model has a large 10″ touchscreen, a navigable console, a large incline/decline range, and iFit. In addition, you can fold the treadmill when not in use, making this the best option out there.

It has great features, excellent quality, and a great price! You can run at home and still reap the benefits of a full-service gym. If you're looking for the best all-around treadmill, check out 1750.
Want a high-end treadmill that's portable and is reasonably priced? NordicTrack's best-selling machine every year due to its perfect price-quality ratio. 1750 is a great value.

This quality treadmill makes working out fun instead of a chore! A great all-around treadmill.
1750 folds up and has a moderate footprint. Designed for all sizes, the 22″ wide by 60″ long-running surface promotes proper running mechanics and allows for a long stride. With patented EasyLift Assist, this full-sized home treadmill folds in about ten seconds. Overall, the NordicTrack Commercial 1750 remains a customer favourite.
Sole F80 Treadmill
Dimensions – 82″ L x 37″ W x 57″ H
Built in Programs – 10
Warranty – Frame, Motor, and Deck-lifetime Electronics/Parts-5 yrs, Labor – 2 yrs
The Sole F80 treadmill can accommodate users weighing up to 375 lbs. Users of this weight and below will appreciate the quiet operation of the durable F80.
Unlike incline trainers, the Sole F80 is a folding treadmill. It also has a 3.5-horsepower motor for extended training or multiple users. The Sole F80 is a great treadmill for any workout. Its cushioned running deck reduces joint impact by up to 40% compared to running on asphalt. In addition, incorporated Cushion Flex Whisper Deck cushioning adds to the quietness.
The Sole F80 is the best buy for heavy runners. The Sole F80 has a 60″ by 22″ belt and a Lifetime Warranty on the frame, motor, and deck. It has limited tech options, which can be a plus or minus depending on your needs. It has a two-ply belt and 2.5-inch rollers that help keep the machine quiet and wear-free. The F80 has a maximum incline of 15% on a folding treadmill.
This treadmill takes up a lot of room. But the F80's Easy Assist hydraulic technology practically folds and unfolds the treadmill for you when you release a release mechanism.
With its club-quality components and upgraded, modern features, this cardio trainer is a great buy. The console is simple, with raised, tactile buttons. Many people want a treadmill that they can jump on and go. The Sole F80's numerous built-in workout programmes, incline levels, and excellent build quality help achieve this. The F80 is a solid machine with a funky console and minimal tech. The Sole F80 is a great choice if you want a durable treadmill with a stylish design.
Sole is also famous for its excellent customer service and quality equipment. When Sole claims this is the world's best folding treadmill, they aren't exaggerating. Many shoppers would prefer the F80.
HORIZON 7.4 AT Treadmill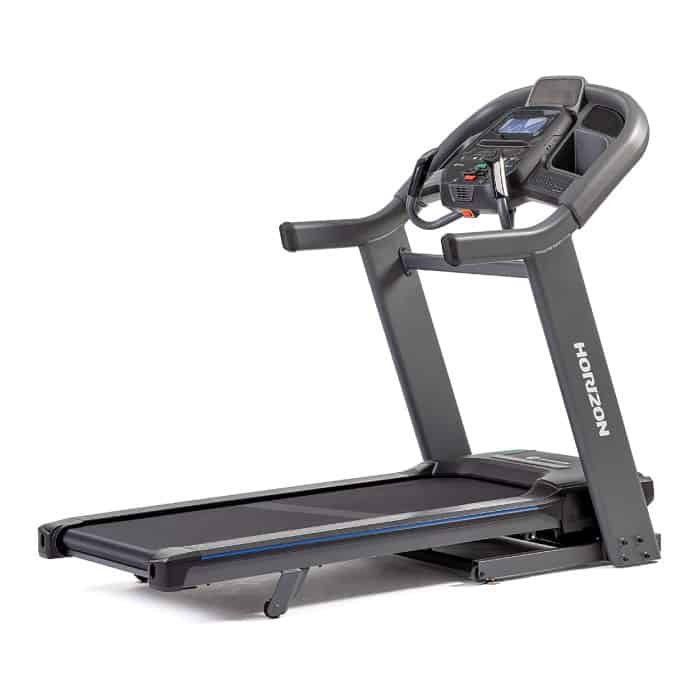 Dimensions – 76″L x 37″W x 63″H
Built in Programs – 10
Warranty – Frame – Lifetime, Motor – 5 yrs, Parts – 2yrs
The Horizon 7.4 AT has very good deck cushioning to help dampen noise. It very well protects your joints from walking and running injuries.

The 7.4 AT features extended tracks for comfortable running strides.
It has a heavy-duty steel frame and thicker plastic that doesn't vibrate and carry sound like other treadmills.
Most home-gym shoppers will appreciate the low cost of Horizon treadmills. However, if you're new to fitness, you probably don't want to spend a fortune on equipment. Start with the Horizon.

It has Bluetooth connectivity so you can sync your phone or tablet and listen to music or a third-party fitness app workout on the Horizon 7.4 AT. The included chest strap can also track your heart rate during interval runs.

It lacks the sleek touchscreen consoles found on treadmills from NordicTrack and others, but it still delivers great value for an affordable entry price. Overall, this is a great runner treadmill.
The 7.4 AT treadmill has a 3.5 continuous-duty horsepower motor and larger belt rollers than its sibling. The treadmill has the same 12 mph top speed and 15-degree max incline as its more affordable counterpart.
Nautilus T618 Treadmill
Dimensions – 78″L x 37.6″W x 62.8″H
Built in Programs – 26
Rollers – 2.75″
Warranty – Frame – 15 yrs, Parts/Electronics – 5 Yrs, Labor – 2 yrs
There is a great warranty on all Nautilus treadmills. Nautilus is a leading fitness equipment manufacturer. Investment in research and product development is evident in the company's high-end treadmills.
It weighs over 250 lbs. The treadmill's deck can be "folded" or pushed vertically to save space. When the deck is released, it slowly returns to exercise mode.

The Nautilus T618 has a 20 x 60-inch running track, which is large enough for the average walker or runner to get a good cardio workout. Space, combined with a 15 per cent incline and a top speed of 12 mph, makes it a great addition to any home gym.
This Nautilus treadmill comes with a five-year parts/electronics and two-year labour warranty. That's exceptional for $1,299!
Nautilus has built trust with its customers over the years by providing excellent warranties.
Nautilus has been around for about 50 years. Long for any company, especially long in the fitness industry, where fad brands come and go. All Nautilus treadmills come with a 3.0 HP motor.
LifeSpan TR4000i Treadmill
Dimensions – 74.25″ L x 33″ W x 55″ H
Built in Programs – 19
Warranty – Frame and Motor- Lifetime, Parts- 5 yrs Labor- 2 yrs. Extended warranties are also available.
LifeSpan treadmills are known for their durability, biomechanics, and programming options. In addition to its steel frame, the LifeSpan TR4000i Treadmill features an extra-thick track. It has 19 presets, two for heart rate control, and a manual mode. In addition, it syncs with fitness apps.
You can use preset workouts. There are various levels in it.
Various other fitness apps are compatible with the treadmill.
There is a smartphone jack and a sound system on the TR4000i.
It has an extra-thick two-ply track designed for durability and extra cushioning. In addition, 8 shock absorbers cushion the running impact.
It has a steel frame and weighs 226 pounds. It also has aluminum handle bars.
Moving away for 20 seconds disables IntelliGuard as a safety precaution.
TR4000i is a high-end treadmill with a strong motor, good speed and incline, and nice safety features. Larger or heavier users may prefer the 4000i treadmills with 60-inch belts.
LifeSpan treadmills come with a 30-day money-back guarantee. To be eligible for a refund, you must contact LifeSpan in writing and request a return authorization, then return the treadmill within 10 days. Upon receipt of the item in good condition and original packaging, you will be reimbursed in full.
Several features set LifeSpan treadmills apart. They have more safety features than standard treadmills. These machines calculate body fat percentage and BMR.
With an avid runner or multiple treadmill users, the foldable TR4000i LifeSpan Treadmill is ideal. A serious athlete can use it, but it also has programming for all abilities and workout intensities.
LifeSpan does not have a fan.
Lifefitenss T3 Treadmill
Dimensions – 79.5"x34.5"x57.5"
Built in Programs – 13
Warranty – Frame and Cushioning – Lifetime, Motor- 10yrs, Electrical & Mechanical – 5yrs, Labor – 1yr
Despite being Life Fitness's entry-level treadmill, the T3 outperforms almost every other entry-level treadmill on the market.
T3 has two types of consoles. The "Go" console has all the essentials, while the "Track" console adds variety. The "Track" connects to LFConnect.com for fitness tracking. Most importantly, it works with Apple and Android apps. The Life Fitness "Go" console has 13 workouts, including three classic, two advanced, three goal-oriented, and five HeartSync-enabled. A convenient Quick Start feature automatically adjusts to the trainee's preferred walking, jogging, or running pace.

The FlexDeck cushioning system on the T3 treadmill reduces joint impact by up to 30%. Incline training allows trainees to work out on different terrains. Contact and wireless heart rate monitors are provided. For example, heart rate-controlled workouts ensure that trainees expend a healthy amount of energy. The T3 home treadmill has a long-lasting, maintenance-free track with above-average rollers.

When not in use, this treadmill automatically reduces its power draw. So that the machine only runs at full capacity when necessary, Life Fitness motors also adjust to user weight. Silent MagnaDrive motors power Life Fitness treadmills. To ensure stability, it weighs about 250 pounds.

Garanties show how confident Life Fitness is in its treadmills.
The assembly of some treadmills is much easier than others. The T3 comes with a 32-page assembly manual. If you pay $180 for White Glove delivery, Life Fitness will assemble it. It's worth it.
It's a great Life Fitness treadmill for almost anyone. However, T3 is a big treadmill. Your home gym should designate a specific space for this piece of equipment.

Most people associate Life Fitness with high-end fitness equipment. However, Life Fitness has been around for decades. The Club Series + Treadmill brings you the same high-quality treadmills you've always known.
The Life Fitness T3 Treadmill has patented features that provide comfort and control while maintaining an aesthetic look.
Overall, this treadmill is a great option for those who want something that looks great, sturdy, and comfortable to use.
Similar to incline treadmills, they can increase your metabolic rate and muscle definition.
Treadmill Running for Marathon Training
Many people successfully train for marathons on treadmills. Whether for a specific marathon speed workouts or all of their marathon training runs. I prefer to run outside. But running on a treadmill can be more convenient.
Because of the dark winter nights, you may feel safer running on a treadmill indoors while training for a spring marathon. Running a marathon on a treadmill can also be a viable option if you live in an area where it is either extremely hot and humid or extremely cold and icy!
Treadmill training is sometimes the only option for marathon training. There are a few things to consider when using a treadmill for marathon training. I'll share five of my favorite treadmill running tips to help you maximize your marathon training.
If you choose to train on a treadmill for your marathon, there are a few key points to keep in mind:
1. Treadmill Settings for Outdoor Running

Running on a treadmill and running outside are two very different things. For starters, outside running involves "dragging" or wind resistance, whereas, on a treadmill, you are essentially running in place.
Researchers recommend running on a treadmill at a 1% incline to simulate outdoor running to compensate for the lack of wind resistance. However, this 1% figure ignores the biomechanical effects of running on a moving belt.
2. Treadmill Incline for Better Run

Adding a slight incline to your treadmill run has benefits beyond wind resistance. When you run outside, you must use your glutes and hamstrings to propel yourself forward with each stride. The constantly moving treadmill belt does that work for you.
When training for a marathon on a treadmill, I recommend an incline of at least 3% for "flat" runs. The treadmill incline forces the runner to work harder through their glutes and hamstrings.
This prepares their legs for running outside on marathon day!
The addition of an incline to your treadmill running workouts may help to prevent knee pain. Running uphill makes it much more difficult to overstride.
You'll have to slow down your pace a little to accommodate the incline when adding an extra incline to your treadmill running workouts.
I'd recommend adjusting the treadmill's speed based on effort rather than rigidly following a set speed.
3. Treadmill Workouts-Marathon Training

Running on a treadmill during marathon training allows you to be very specific about your speed workouts. Normally, the treadmill will show you all the data.
Treadmills can even be programmed to deliver specific workouts. Just run and keep up!
Hill workouts improve leg speed and strength. A favorite of runners who struggle to push themselves to run fast during flat interval sessions.
4. Treadmill Marathon Training

The reality of training for a marathon on a treadmill is that you must complete your long runs, just like you would outside.
Your longest marathon training run will be determined by your experience and goals. For example, the longest long run in my beginner marathon training plan is 18 miles.
Running outside keeps your brain busy with a variety of sights and sounds. This keeps the miles moving quickly. Treadmill boredom can set in quickly.
On the treadmill, I use audiobooks and podcasts to distract my mind. Experiment with different methods – music may work for you.
Drinks and nutrition are readily available on a treadmill for long marathon training runs.
If you ran outside, you'd have to carry your long-run nutrition and drinks, but on the treadmill, you can keep them nearby.
5. Practice Your Target Marathon Pace

This is a key session in any marathon training plan. These are the sessions where we improve our aerobic efficiency and endurance for the 26.2-mile run. It's not just about the miles but also about the pace.
Many runners run their long runs too fast. Most of your long runs should be slower than your marathon pace.
Determining your target marathon pace becomes increasingly important as race day approaches.
The benefit of running on a treadmill is that you can precisely control the speed to meet your goals.
There are several running technique coaching points to consider when running on a treadmill, as some runners run differently on a treadmill than they do outside.
Consider these key points:
Include Room for Normal Arm Swing

Avoid running too close to the main treadmill console. Runners who sit too far forward on the treadmill get too close to the console.
This limits their ability to swing their arms as naturally as they would if they were running outdoors. Running can result in excessive shoulder tightness. Not what you want after three hours on the treadmill!
Here's a tip for runners who have tight shoulders: Relaxed Shoulder Running
Use the clip-on safety cord as an extra precaution if you find yourself running too far forward on the treadmill to avoid drifting back and falling off the end.
Heads up and Look Ahead
Many new treadmill runners are tempted to look down at their feet. Your head is heavy, and as soon as you look down, your posture changes.
When running on a treadmill, pay attention to your posture and head position. Try to run tall and forward-looking.
It's fine to glance down to check your position on the treadmill, but remember to look up again!
Be careful if you're running in a gym with TV monitors in front of the cardio area. Running with your eyes to the left or right is a recipe for disaster!
If you want to watch TV while you run, choose a treadmill with the monitor directly in front of you!
See your Footfall

Running on a treadmill allows you to hear how your feet land on the machine's deck. Listen as you run to hear if you're pounding the treadmill or running lightly.
Aim to run gently with short, quick strides that result from a fast enough running cadence for the given pace.
Make shorter, faster strides if you hear loud foot contact with each stride.
A treadmill can train for a marathon, now you know. As a result of the advice in this article, I am confident that you can effectively train on the treadmill.