Walking is an effective exercise that keeps the heart healthy and overall health in good condition. Keeping this in mind, the Egofit team has created the world's smallest under-desk treadmill for walking. While walking on this treadmill, you can benefit your career and health.
| Specifications | Egofit Walker |
| --- | --- |
| Motor | 2 HP |
| Weight Capacity | 243 LBS |
| Top speed | 3.73 MPH |
| Walking area | 34.25″ * 16.54″ |
| Treadmill Weight | 58.42 LBS |
| Handlebar raised size | 40″D x 26″W x 38″H |
| Handlebar folded size | 41″D x 26″W x 7″H |
| Material | ABS |
| Incline | 5 % |
Most of the treadmills you will see in the market or gym are large, heavy, and cumbersome, and after some time, they become a piece of furniture with which you have to live. The Egofit Walker is an electric treadmill that is the smallest and lightest in the world. It is the exact opposite of all the others.
Pros
Smallest treadmill
Compact and portable design for easy manoeuvrability
Comfortable treadmill for walking at home
Easy to read console.
Adjustable speed
Handlebars can be easily raised and folded
It comes with a remote holder
Installed with the FitShow app
Cons
Incline is fixed
Most functions like adjusting speed or getting on and off can only be controlled by remote.
Features of Egofit Walker Plus-M1T
The features of Egofit Walker Plus M1T make this exercise equipment outstanding. The other model that comes without the handlebar is the Egofit Walker pro-m1. The treadmill has features you will find in advanced models of various other brands. They are-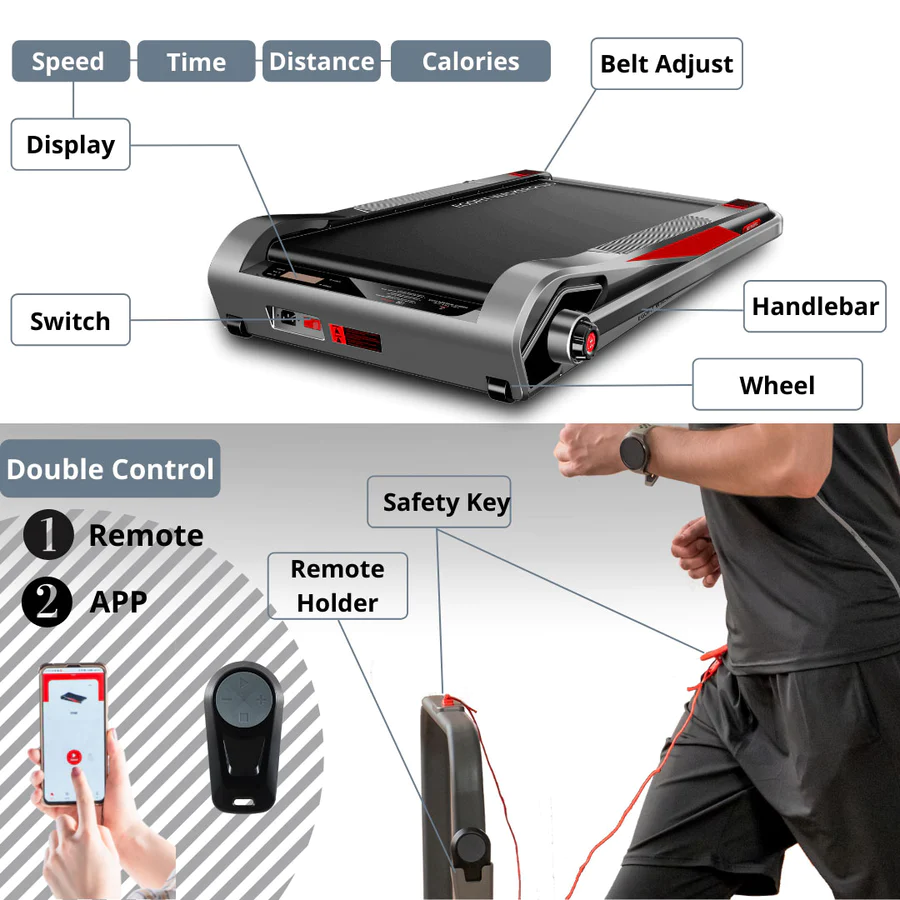 Intelligent digital display
The Egofit Walker Plus M1T has a smart digital display that lets you track how much you move. For example, the number of steps you have taken, the total time you have been walking, how many calories you have burned, etc.
Smallest walking treadmill
This Egofit Walker Plus is the world's smallest walking treadmill and can easily fit into any apartment or small office. While walking on the equipment, you can easily achieve weight loss goals, improve overall health, build muscle, and get more energy at work.
However, the best part of this machine is that it comes fully assembled. You can exercise on it in a small space or at a desk workstation.
Incline
The Egofit walker has five levels of fixed incline, which will help you burn more calories quickly. According to experts, the ergonomic 5% incline design is one of the best ways to increase the overall intensity of a workout without increasing the time or speed of the exercise.
Material
Egofit is a famous brand known for its products' quality and durability. It is manufactured with premium-grade steel that will last for years.
Because of its solid construction, it can easily support the maximum load of 243 lbs, which is quite impressive. In short, this walking pad is extremely durable and dependable.
Motor
The motor of the Egofit Walker is 2.0 HP, which is not as powerful as other treadmill motors but delivers the best results for walking. That means this treadmill desk is made just for walking because its motor is installed according to its use.
Also, the Egofit never makes a sound louder than 50 DB, so it won't bother your family or coworkers at the office. The same is helpful during a Zoom call or phone conversation.
You can check other quiet treadmills here.
Foldable and compact design
In most homes, limited space is one of the biggest issues; because of this, homeowners don't plan to buy treadmills. But when buying the Egofit Walker M1T treadmill, you don't have to consider your home space.
It is a compact, foldable treadmill that can easily fit even in a small home. The manoeuvrable wheels installed in the treadmill offer swift and easy transportation anywhere. So, if you are looking for the best compact and foldable treadmill, the Egofit Walker is the right fit.
Mobile app
The Egofit Walker Plus M1T is controlled with a mobile app in addition to the remote control. So, just put the FitShow app on your phone, which lets users start, stop, change the speed, and record their workout data.
However, all these functions are also accessible via remote control. So, this treadmill can be controlled in two ways: by remote control and a mobile app.
Ready to use
The treadmill comes in a fully assembled position and is ready to use. In other words, you don't have to call the expert for its assembly when you receive it by shipping.
Warranty
We cannot say Egofit offers an excellent warranty to its customers for one year. But for good reason, they offer a 30-day money-back guarantee. In short, if you don't like how it works, you can contact the company or the dealer and ask for a new one.
Additional features
The treadmill also has a remote holder and a safety key. Both of these features are important with regard to safety.
Adjustable standing desk feature
The world's smallest treadmill is designed with small offices and homes in mind and comes with a foldable handrail. When you do office work, fold the handrail and unfold it while jogging.
The bottom line
Overall, there is nothing wrong with this Egofit Walker Plus M1T, the number one walking treadmill. It offers numerous advanced features, like a quiet motor, a foldable and compact design, a 5% incline, and many more.
But one thing you should know is that the incline of this treadmill is fixed, so you cannot change it. On top of that, it can only be controlled via a remote or mobile app. Moreover, in terms of price, it is quite a good walking treadmill worth an investment.