The Funmily 2-in-1 folding treadmill has two sports modes: running and under-desk walking.
It is a foldable under-desk treadmill. You can use it as a regular or as an under-desk treadmill. This innovation sets it apart from other conventional treadmills.
The best part is that the treadmill is ready to use right out of the box. It arrives almost assembled and takes 10 minutes to complete.
Funmily treadmill is very quiet, functional, heavy-duty, and easy to use. This smart home trainer is free to install, easy to use, and takes up very little space. 41% Funmily treadmill reviews give it a 5-star rating.
Related Readings

9 Best Portable Treadmills – Can Be Pushed Under The Bed
The Silent Motor BiFanuo 2-in-1 Treadmill: A Fair Review
The Redliro 2-in-1 Underdesk Treadmill – A Fair Review
Construction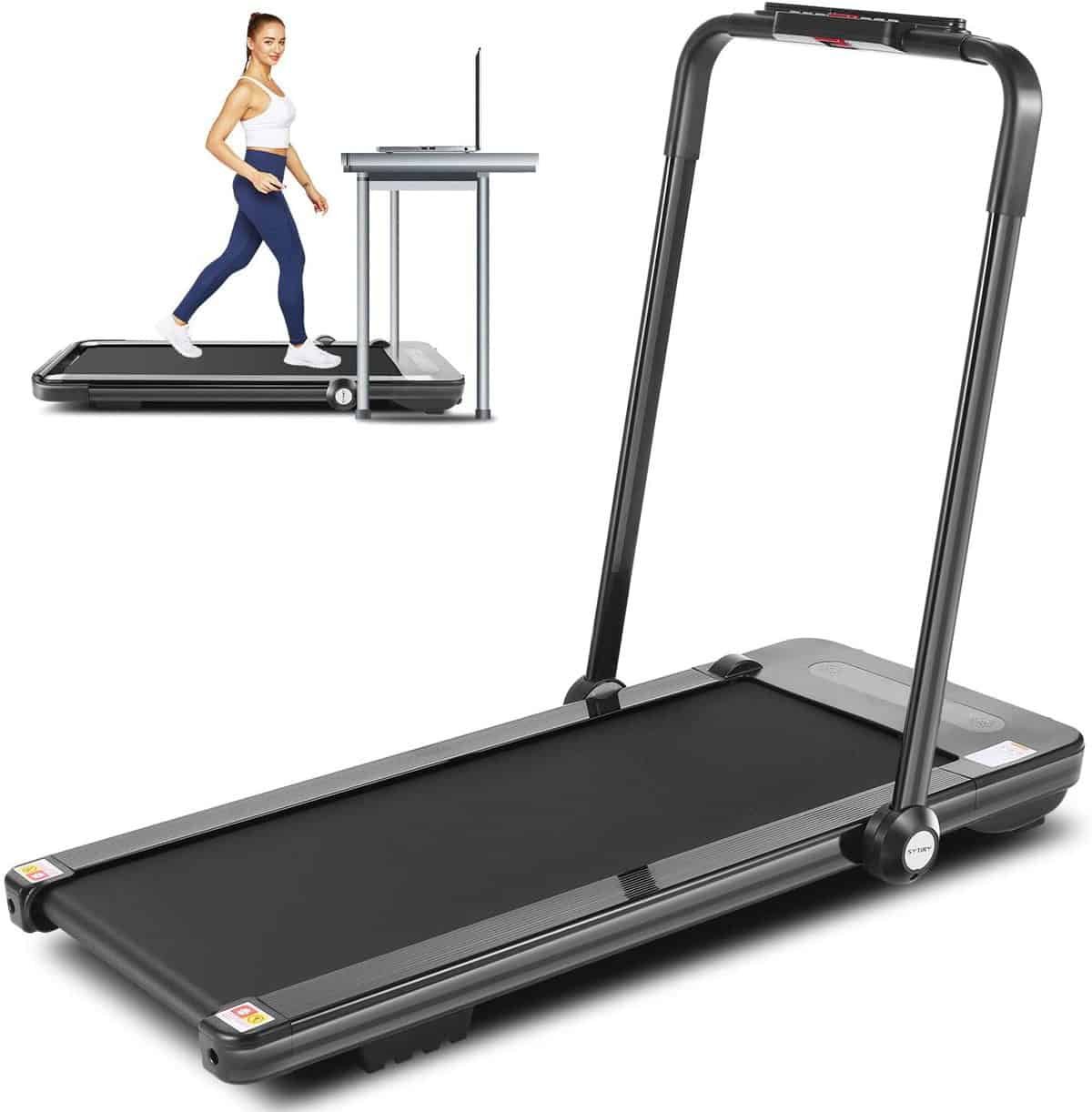 The Funmily 2-in-1 folding under-desk treadmill is made of ABS and anti-corrosion steel.
It has a strong metal frame and a textured non-slip tread belt. With a steel frame and multi-layer shield design, it absorbs shock and reduces noise, making running safer and more comfortable.
The base has anti-skid pads that keep the treadmill stable during workouts. To ensure the unit's stability, it must be placed on a firm and solid platform.
It is available in black, silver, and gold. Its dimensions for jogging are 50.2″L x 26.3″W x 40.6″H.
Motor
The powerful 2.25 HP Brushless motor and an intelligent chip ensure low energy consumption and long service life.
It is very quiet and you can walk or jog quietly at home or work, without disturbing your family, neighbors, coworkers, or even yourself. It is an ideal treadmill for home and office use.
The front base of the treadmill houses the powerful 2.25 HP motor which is covered in plastic.
You can run on it at 0.5 mph -7.5 mph with the risers up, or walk at 0.5 mph – 4 mph with them down.
Console & Display
The Funmily treadmills have a small dashboard with a safety key, speed (+/-), mode, program, and start/stop buttons.
An easy-to-read LCD screen helps you track your workout data for better results.
The P1-P12 programs and 5-speed modes provide a more challenging workout. It also has a phone groove so you can exercise while watching your favorite program.
Users can attach the safety key to their garments and in case you trip or fall, it gets pulled out turning off the treadmill immediately.
Because the dashboard buttons are inaccessible while the riser is compressed, the 360-degree infrared remote control is employed.
The treadmill has display windows at the front base rather than the dashboard. They keep track of your workout information, including time, calories, speed, and distance.
Weight & Weighing Capacity
Its assembled weight of 55 lbs/25 kg. Its weight capacity is 220 lbs/100 kg.
Preset Exercise Programs
There are 5 modes and 12 pre-set workout programs to help users reach their fitness goals.
When a preset program is chosen, the treadmill will apply a predetermined speed level based on its programming. Otherwise, the user can manually select a speed level using the riser's controls.
Speed & Incline
You can do your walking on Funmily folding treadmill with a speed range of 0.5 – 4 mph when the risers are folded. You can also do your jogging and running with a speed range of 0.5 – 7.5 mph when the masts are active.
There is no incline system on the Funmily 2-in-1 folding under-desk treadmill.
The speed can be changed using the dashboard buttons or the included remote controller. With a multi-directional 360° remote control, you can easily adjust the treadmill's speed to your needs, and pause, accelerate, or stop it.
The emergency stop switch is designed to help you stop quickly.
Related Readings
Running Track
It has a running belt of nonslip shock-absorbing cushioning for knees and ankles.
The shock-absorbing running belt is 7 layers and 16 inches wide.
The multiple layers are for compression, shock-absorbing, high strength support, pep sound, and wear resistance. So it's tough, quiet, and reduces the impact on the joints when jogging or running.
The running surface is 41.34″ long by 15.75″ wide, which is reasonable for a walking or a jogging treadmill.
Anyone can walk on it, but those above 6 feet may have to be extra careful and shouldn't try to run on it.
Easy to Fold & Move
The ultra-thin and lightweight design makes this running machine easy to fold, carry, and store. The two built-in wheels make moving from room to room easy.
After use, store it in a corner or under the bed to save space. The dimensions are 53.2″L x 26.3″W x 4.3″H
The Funmily 2-in-1 foldable treadmill is easy-folding and easy to move. Place the treadmill wherever you want it including below the bed. It can thus be stored under the couch or bed, or vertically against a wall.
Heart Rate Monitor
The Funmily 2-in-1 includes the grip HRM. The hand pulse sensors on the side handlebars keep you in your training zone and on track.
Bluetooth
The Funmily 2-in-1 has a Bluetooth built-in speaker in the front base. So while exercising, you can listen to quality audio output when streaming movies or music from a smartphone.
It includes a large desktop for laptops, books, and flat computers.
The dashboard has a tablet and remote control slots. So you can use your smartphone or tablet to make calls, listen to music, or watch movies while on the treadmill.
Maintenance
Other than cleaning the treadmill after each workout and lubricating the tread belt, there is no other maintenance required. Please maintain the treadmill regularly to extend its life.
Keeping it clean, cool, and dry helps in long-term maintenance.
Drawbacks
The treadmill is for walking and jogging. Trying to add running to it can increase the drawbacks.
Like most push-under-the-bed treadmills this also has a very limited warranty.
There is no water bottle holder.
There is no incline system.
Guarantee
The frame, motor, and parts are covered by a 12-month warranty.
Price
The current price at which it is available is $329.99.
Preparing for a Race
The Funmily 2-in-1 Folding Under-Desk Treadmill is ideal for walking and jogging. Use it for running and it won't last long.
Do not use it for more than 45 minutes at a time. After 45 minutes you need to give it a rest for 30 minutes before starting again. Being a desk treadmill, people sometimes keep walking on these for hours together. Though you might feel that walking slowly shouldn't make a difference but a half n hour rest every 45 minutes will increase its life.
One can make out from the warranties also. While the normal treadmills have a minimum of 10 years of warranty on frames this one has a twelve-month warranty only.
It is reasonably priced, so buying one before you buy a bigger more expensive treadmill might be a good idea.