This article presents the top 6 treadmills with low step-up heights. These are ideal for low-ceiling spaces.
Factors to consider when selecting a low step-up treadmill are
Treadmill height,
User height,
Room ceiling height,
Running track
Treadmill speed.
Are you looking for low-step-up height treadmills or the best treadmills for low ceilings?
Both are similar treadmills, applicable in a variety of situations. Treadmills with low step-up heights are beneficial for
Seniors
People who are recuperating from an accident or illness
People who enjoy walking while working
Tall people if they live in low-ceiling homes
Treadmills with low deck height ensure fewer injury chances. That is, if you step down or up accidentally. You get more space while walking or running. So, these are also the best treadmills for low-ceiling homes.
Comparison Chart – Best Treadmills with Low Step Up Height
Name
Motor
CHP
Step Up
Height"
Incline
%
Track
Inches
Speed
mph
Dimensions
Inches
Est Price
$
Capacity
lbs
NordicTrack T6.5
2.6
7.5
10
20x 55
10
67.5x 36x 73
999
300
3G Cardio 80i fold
3
5.5
15
18.5×58
0.5-11
74x 33x 49
1599
325
Sunny H&F S Strider
2.5P
2.76
None
47x 20
0.6-9
62.6x 29.3x 48
565
250
XTERRA TR150
2.25
3.3
Manual3
16x 50
0.5-10
63.4x 28.7x 51.4
400
250
Sole F80
3.5
8
15
22x 60
.5–12
82x 37x 57
2100
375
LifeSpan TR1200
2.25
4.6
None
20x 50
0.4-4
63x 28.5x 7.25
1500
350
Best Treadmills for Low Ceilings
Like treadmills with long handles, only some companies have such products. It would help if you had these treadmills for rooms with 7-foot ceilings. For example, rooms that have low-ceiling basements and garages. These are useful only if your height is a maximum of 5'7″.
Add the treadmill height to your height, and your hand will touch the ceiling if stretched.
Let's do some investigation to identify the low-ceiling treadmills: –
Description
Step up height- 7.5″
Weight- 198 lbs
Workout Programs – 20 Routines
Warranty

Motor – 25 yrs
Parts – 1 yr
Labour – 1 Yr
This Nordic T6.5 treadmill is one of the best low-profile treadmills with a 7.5-inch step-up height. This entry-level model of NordicTrack comes with excellent features and affordability.
It comes with FlexSelect Cushioning Technology, which softens the running surface. As we start walking, it activates a network of shock absorbers under the deck. It is the best treadmill with a compact footprint and streamlined design. It can easily fit into any apartment gym space.
Moreover, it has an interactive touchscreen showing you every workout detail. The Nordic T6.5 has a 1-month free iFit subscription to access 16000 workouts. That includes on-demand ones you can play on any mobile, laptop, or tablet.
Description
Step up height- 5.5"
Weight- 225 lbs
Warranty

Motor & Frame – Lifetime
Parts – 5 Yrs
Labour – 1 Yr
3G Cardio is another premium treadmill suitable for homes or gyms with low ceilings. This feature-rich model can offer the best experience to regular runners. It has a top speed of 11 MPH and a 3 HP motor, which is very powerful compared to other treadmill models.
This treadmill can carry more weight than other models in this guide. It is one of the smallest models with dual-folding technology for easy storage. That means you can easily fold the treadmill and slide under the bed. It also comes with built-in speakers and a lifetime motor warranty.
Description
Step up height- 2.76″
Weight- 117.0 lbs
Storage – Foldable
Workout Programs – 9 built-in
Warranty

Frame – 3 Yrs
Parts – 180 days
It is another treadmill for low ceilings with a deck height of 2.76 inches, which is the lowest till now. This treadmill has no incline feature, as deck height is the only point you can consider.
Keeping safety in mind, it has an emergency stop clip. There is a shock absorption system that reduces the impact on joints. Some other features included in the treadmill are a USB port, Device holder, and SunnyFit App.
For this treadmill, the estimated height of your home or gym ceiling must be around 7 feet 1 inch. Due to the low step up height, this is an excellent option for senior citizens.
Description
Step up height- 3.3″
Weight- 108 lbs
Workout Programs – 12
Warranty

Frame – Lifetime
Motor – 1 Yr
Deck, Parts & Labour – 90 days
It is one of the most popular treadmills in its category. The speed ranges from 0.5 to 10 mph. It is powered by a smooth and quiet 2.25 HP motor. The 12 preset programs offer unmatched variety. The XTRASOFT Cushioned Deck, 16" x 50" running surface, and three manual inclines allow you to push your limits. The console is designed for ease of use while providing all the desired features. The direct touch speed buttons provide quick access to your favorite speeds.
Hand grip pulse sensors on the handlebars help keep you in your training zone.
Intuitive 5" LCD keeps you updated on speed, incline, time, distance, calories, and pulse.
Twelve preset programs and three manual inclines offer unmatched variation in workouts. An easy pull knob releases the deck to fold or unfold. It is convenient storage when not in use. Integrated bookrack and accessory holders keep your necessities near you.
Description
Step up height- 8″
Weight – 278 lbs
Workout Programs – 10
Warranty

Frame/Motor/Deck – Lifetime
Electronics & Parts – 5 Yrs
Labour – 2 Yrs
The F80 treadmill emerges as a top contender in its price range. It offers a blend of cutting-edge technology and robust features. It delivers a comprehensive fitness experience with
10.1" Android-powered touch screen
Industry-leading aluminum frame
Cushioned Whisper Deck
Powerful 3.5 HP motor
Space-saving design
You can enjoy a variety of preset workouts, safety features, and tracking options. With built-in speakers and screen mirroring capabilities, it transforms workouts into entertainment.
With built-in entertainment apps and a wireless charging pad, it is more than a treadmill. It has speeds up to 12 mph and inclines up to 15 levels. There are various preset workouts like Manual, Hill, Fat Burn, Cardio, Strength, HIIT, Custom, HRC, and Fitness Test. Ensure a good workout every time you step on it.
The safety features include:
A stop switch with a tether cord.
A starting speed of 0.5 mph.
A low-profile running hood.
Save your profile, track progress, and save user settings on a user-friendly console. You have built-in speakers with integrated Bluetooth and WiFi to play music from a device. The treadmill deck folds up and locks into place for easy storage.
Description
Step up height- 4.6 in (11.68 cm)
Weight- 117 lbs (53.07 kg)
Warranty

Frame – 10 Yrs
Part – 2 Yrs
Labour – 1 Yr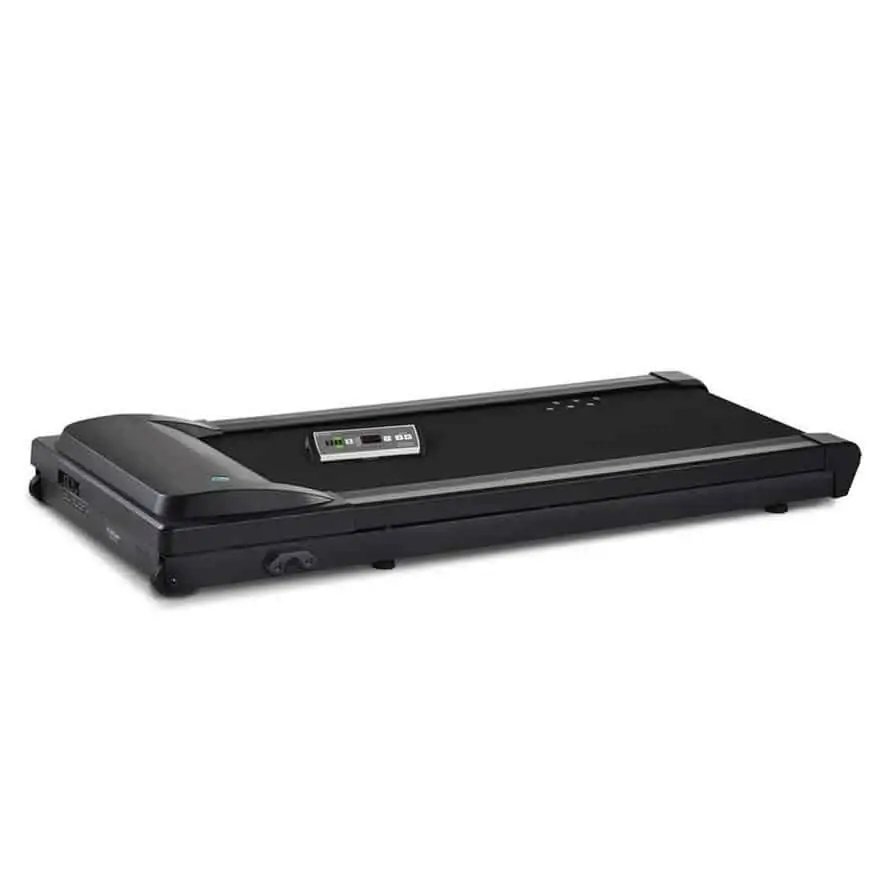 It is another low step-up treadmill with a deck height of 4.6 inches. It is best for homes or gyms with low ceilings. It is well known as the best under-desk treadmill, which you can easily keep under the desk while working.
This LifeSpan TR1200 treadmill is also best for walking due to its short running surface. Plus, if you talk about the speed, it ranges from 0.4 MPH to 4 MPH. For monitoring your progress, this treadmill offers step-counting features like a pedometer.
The Intelli-Guard feature pauses the treadmill automatically when you step off. If you want to accommodate this treadmill in the gym, the ceiling height must be around 7 feet and 2.6 inches.
How do you select a treadmill with a low step-up height?
Treadmill Height
While shopping for the low ceiling treadmill, you must consider its step-up height. The room's size should be about a foot more than your height, plus the step-up height of the treadmill.
User Height
The user's height is equally important, as you can't afford to feel claustrophobic. Besides, we tend to jump slightly while running, which must also be considered. While working, if your stretched hand touches the ceiling, you can hurt yourself.
Treadmill Running Track
While buying a treadmill for the home or gym, pay keen attention to the running area of the treadmill. The running site, though low, can be a manageable length and width. Especially if you are 6' or more, the size must be 60" minimum. If you are more than average weight, the width should also be 20" or more.
Treadmill Speed
If you need a treadmill for a quick walk, the 6-7 MPH speed is enough for nice exercise. But, if you need it for jogging, it must have a speed of 10 MPH.
Conclusion
Best step-up height treadmill: Which one should you choose?
That sums up the list of the top 5 best step-up height treadmills. Which treadmill is the best for your home or gym? So, choose the treadmill considering the deck height.
In my opinion, Nordic and XTERRA Folding treadmills are the best. They are affordable and have the best features others don't offer.