This Bifanuo 2-in-1 folding treadmill review gives you complete details of the specifications and features of the treadmill. It is so-called as you can use it as a treadmill for running and an under-desk treadmill for walking. It's a lightweight, portable treadmill with a compact design that makes it easy to store.
Considering its motor and track cushioning, the BiFanuo 2-in-1 is one of the best folding treadmills for small spaces.
Funmily 2-in-1 Under Desk Treadmill. These two also have a 2.25 HP motor.
After a workout, you can push the Bifanuo Folding Treadmill under a bed or a sofa and proceed with your daily tasks. You may use the treadmill at home for running or at the office as a desk treadmill without disturbing others. It works quietly and smoothly under the desk while walking or jogging.
It does not need any assembly as it comes fully assembled by the company. So, you may start your workouts as soon as you unbox the Bifanuo treadmill.
BiFanuo 2-in-1 Construction
Though it is a lightweight treadmill, the durable alloy steel frame supports up to 220 lbs. Nor does it wobble during walking or running.
Your options are blue or red, both of which cost the same. It is a portable treadmill in two styles.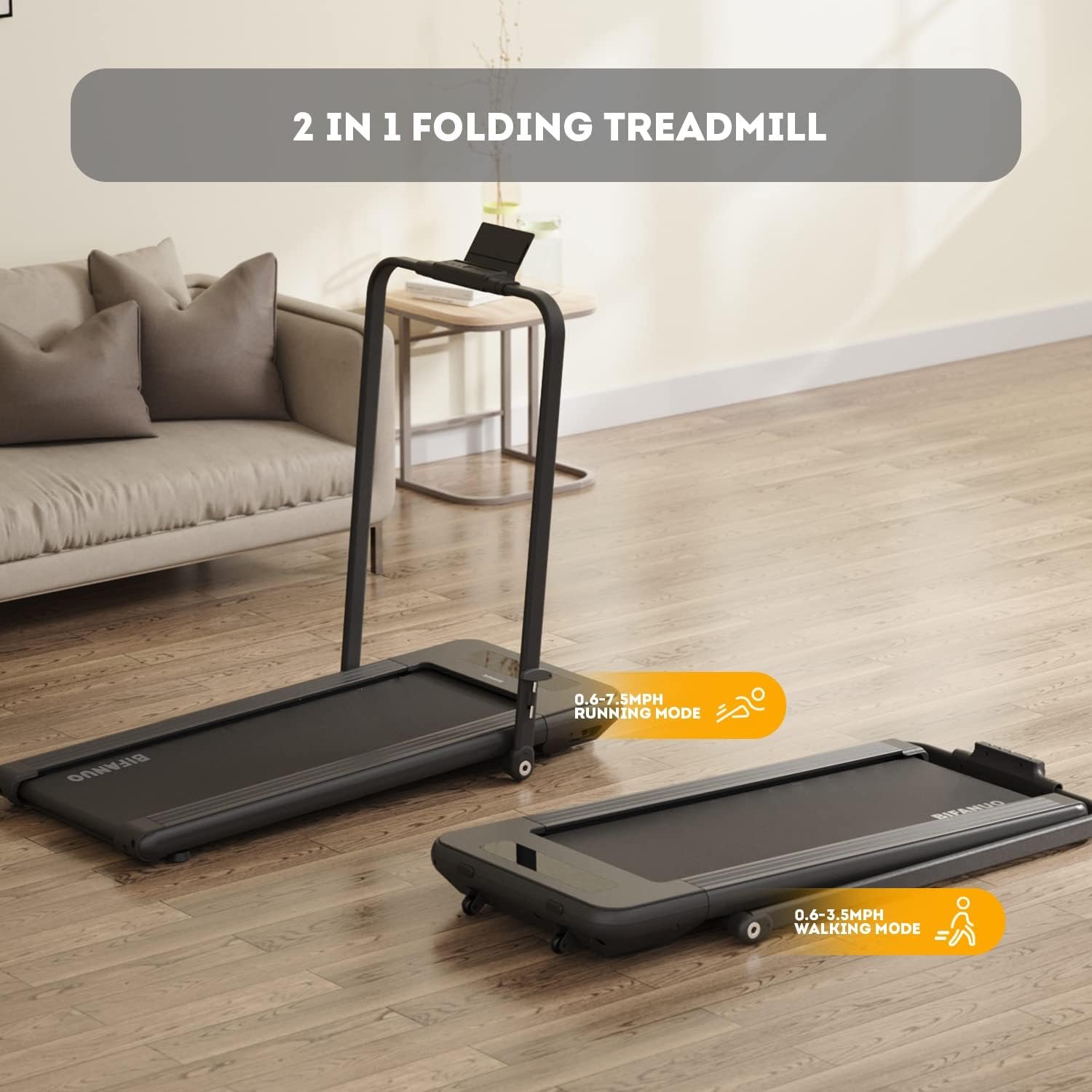 Regular with the handrails up
Under-desk with handrails folded
The treadmill track is durable and has a belt comprising five layers. Its unfolded dimensions are 50″L x 26″W x 42″H.
Motor
The 2.25 hp continuous-duty motor works quietly at any speed or intensity. There are a few options if you are looking for a desk treadmill with this big motor. You can do your workout in absolute quiet.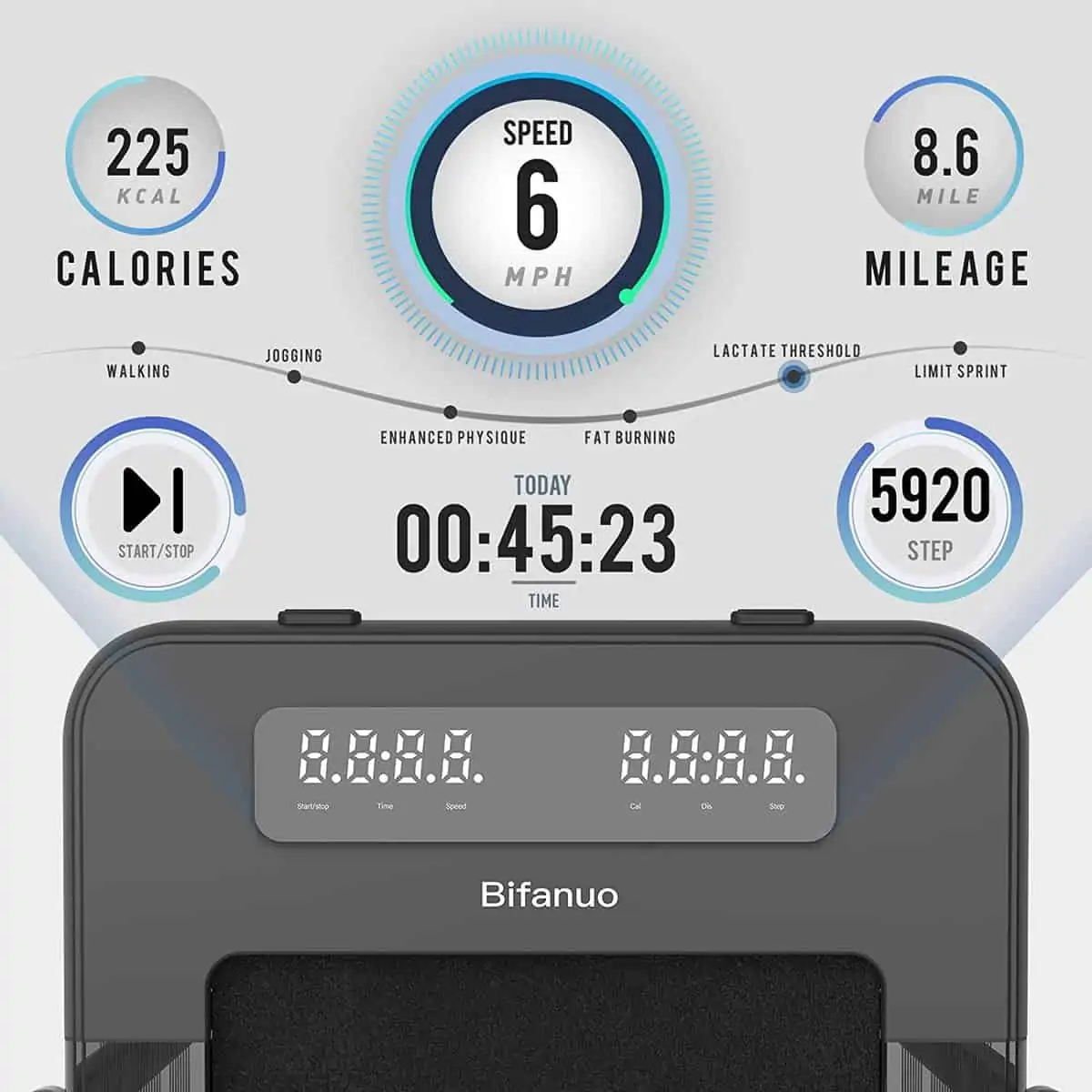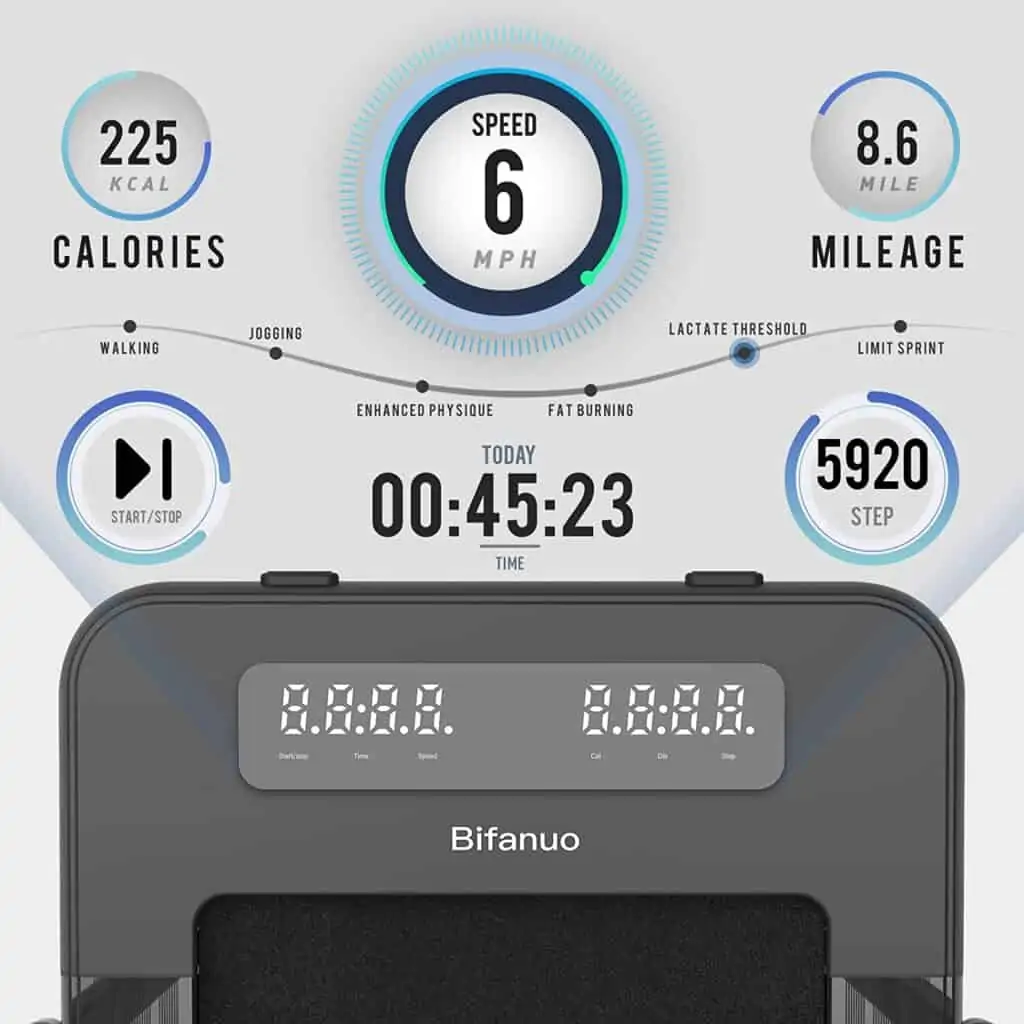 The motor is perfect for walking and running for a person of average height and weight in your home.
The workout is effective due to the 2.25 HP motor. It doesn't make much noise when you exercise fast or with more resistance.
Console & Display
In front of the tread belt at the bottom is a multi-functional LED screen that shows the total time you exercised and your speed. You can also see the distance you covered, calories burned, and the number of steps.
Weight & Weighing Capacity
Though a lightweight treadmill, its weight capacity is 220 lbs. Please remember that your weight should be at least 30 to 40 lbs less than the treadmill's capacity for its long life.
Preset Exercise Programs
It does not have any preset programs of its own.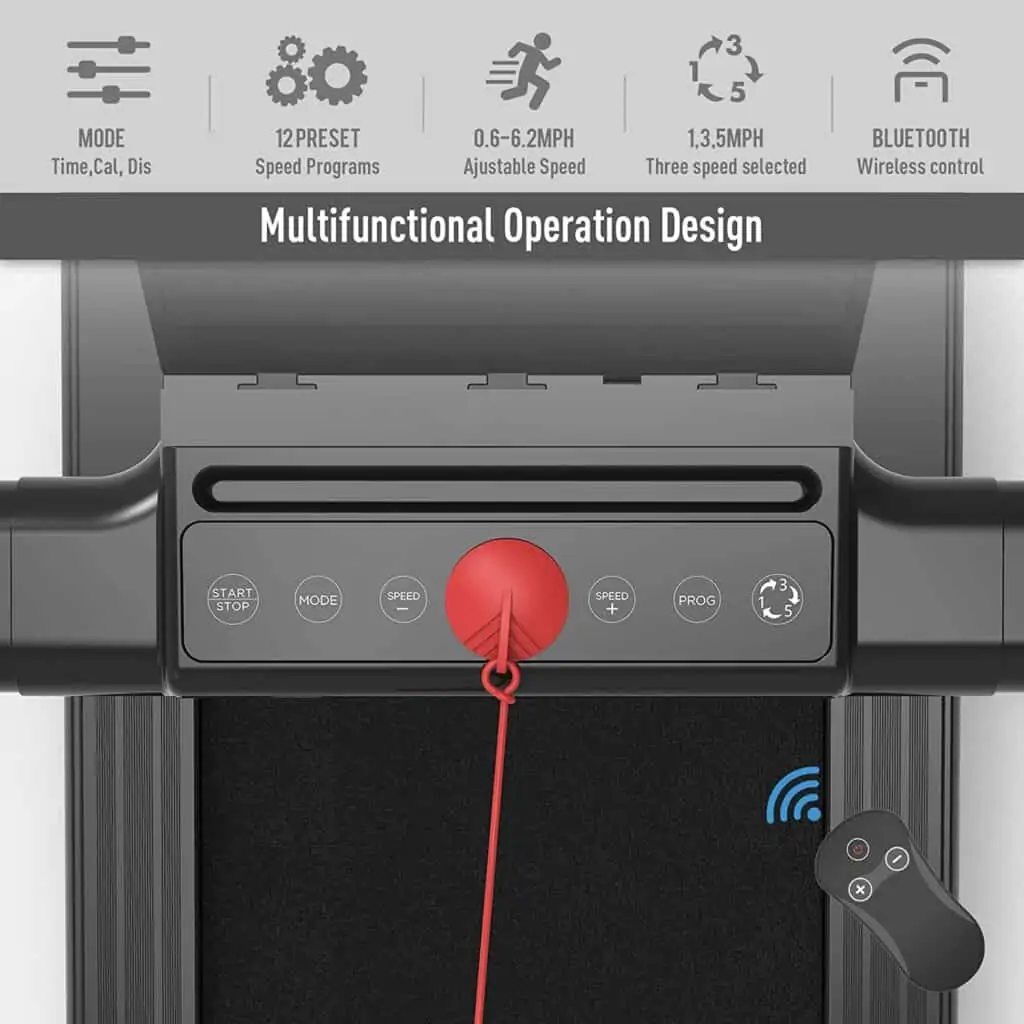 Speed & Incline
As some call it, the Bifanuo walking pad has a speed range of 0.5(0.81) – 6.5 Mph(10.5kmph), making it ideal for both the office and home. There are no jerks when walking or running on a treadmill.
The remote control can start, change speed, or stop the treadmill. The remote control allows you to adjust the speed to your body's needs. You can slow down if you're out of breath or speed up.
There is a safety key to stop the treadmill in an emergency. Before starting the treadmill, attach the easy-to-reach stop key to your clothes. With the key connected, you can quickly and safely stop the treadmill if you are about to fall.
Running Track
The walking/running area is 16 x 41 inches, which makes it suitable for a person of average height and weight to walk and run. I suggest running at its maximum speed only for a short while to avoid breakdowns.
An anti-skid running track has five layers of cushions to absorb shock and keep your joints and knees safe. These layers also keep the treadmill quiet despite a 2.25 CHP motor and your running speeds.
The cushioning also helps wear resistance and strengthen the belt, thereby increasing the treadmill's life.
Easy to Fold & Move
The transportable and foldable design allows for easy mobility and storage of this portable treadmill. You can fold and fit it in a small space at home or office, beneath the bed, sofa, or cupboard.
The foldable, space-saving design and transport wheels make moving around your home or office easy.
A handy lever on the right side makes folding it simple. It folds down to 57.5 x 26 x 4.7 inches when assembled. So, any furniture that is 5 inches from the ground can be effective in hiding it. Similarly, any almirah pulled 5 inches in the front can hold it at the back. So it's perfect for those with limited spaces in small apartments in big cities.
Heart Rate Monitor
This treadmill has no heart rate monitor or sensors.
Important Features
With the built-in Bluetooth speakers and phone bracket, you can enjoy music or TV while walking or running. The speakers have good sound quality.
You can also use your phone to listen to music, watch videos while exercising, or answer the phone.
If you need it, you can always use customer service, which is available 24/7.
The Bifanuo 2-in-1 folding treadmill manual provides elaborate details of specs and features.
Price
Today's company price is $341.99, but the Amazon price will be less than this.
Drawbacks
It does not have any preset programs.
It also does not have any app of its own.
There is no fan or heart rate monitor.
Precautions
For the long life of the treadmill, the following precautions are beneficial.
Do not run at maximum speed for a long time.
An individual weighing 30–40 pounds less than the maximum treadmill capacity should use it.
Resting it after a 45-minute run for at least 30 minutes would be best.
Conclusion
At 2.25 CHP and with a five-layer tread belt, the Bifanuo 2-in-1 treadmill is a perfect bundle for regular workouts. It is an ideal treadmill for anyone of average height and weight who needs a treadmill for their regular workouts in the home gym.