The Landise L7 Treadmill is a high-quality fitness equipment designed to help you achieve your fitness goals. The Landice company is known for producing durable and reliable treadmills. The Land L7 Treadmill has several features that set it apart from other treadmills in its class. It includes multiple incline levels and pre-set workout programs. It has safety features such as emergency stop buttons and rails. Its advanced features and sturdy build provide an excellent platform for cardiovascular exercises. This treadmill is an ideal choice for both beginners and experienced fitness enthusiasts.
Landice L7 Treadmill Specifications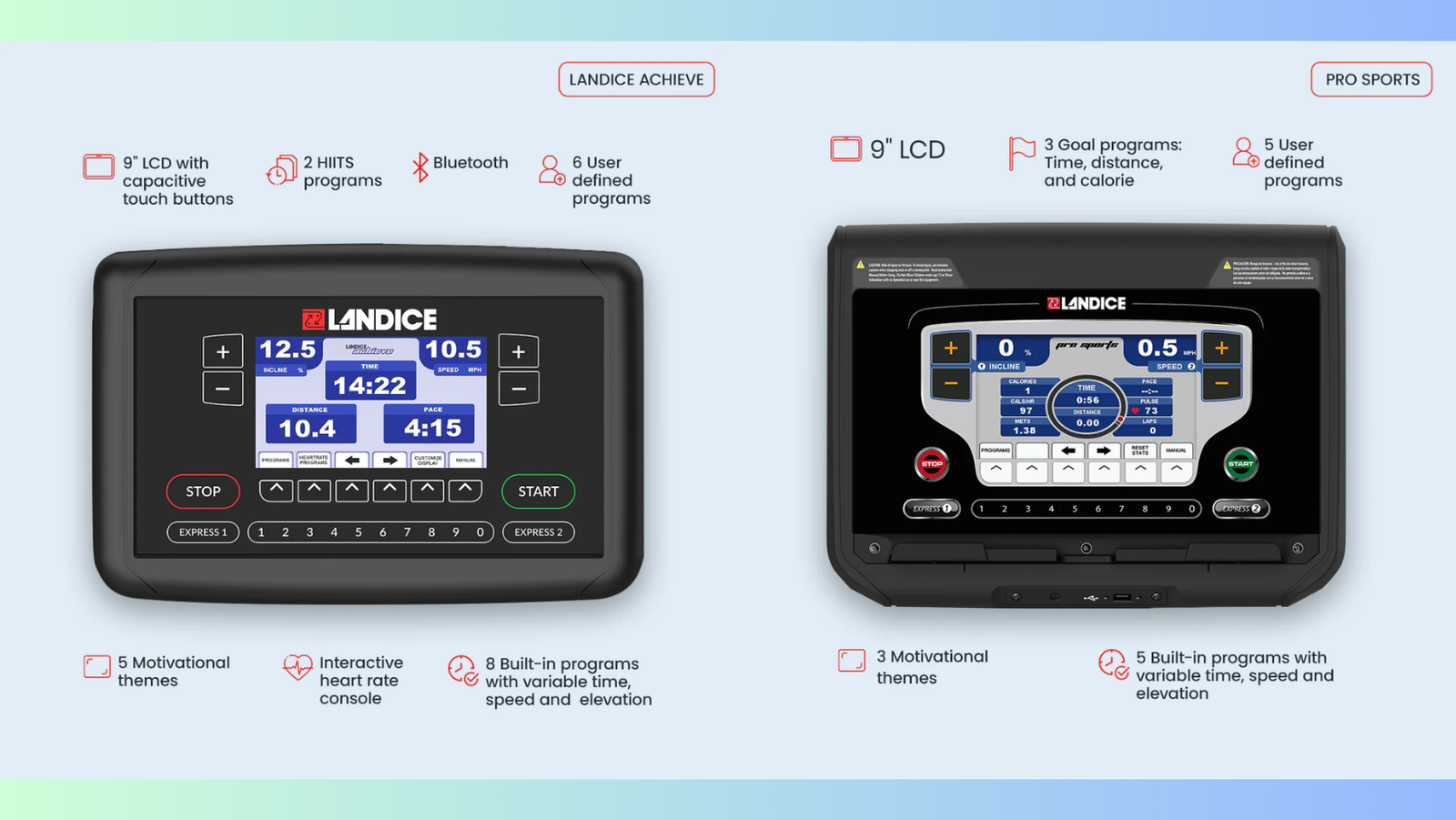 The Land L7 Treadmill comes with the following specifications:
Dimensions: The treadmill has a compact design that fits well in most home gyms.
Speed Range: The treadmill offers a speed range of 0.5 to 12.0 mph, allowing you to customize your workout intensity.
Available Programs: Landice Treadmill L7 has various pre-set workouts catering to different fitness goals.
The running area measures 20" x 58", providing ample space for comfortable workouts.
Reversible Deck: It features a 1-inch-thick reversible deck with a 4-ply tread capable of reaching a 15% elevation, providing multiple incline levels for simulating uphill running or walking.
Rust-free Aluminium Frame: The rust-free aluminum frame ensures durability and longevity.
It has 2 1/2" diameter, 14-pound steel rollers to ensure a smooth run.
The Land L7 Treadmill's aluminum side rails and end caps add to its sturdiness.
It operates on a voltage of 110 VAC, 50/60Hz, 15A.
Control Center: The Landice Control Center in the treadmill provides easy access to various settings and workout metrics.
Landice L7 Features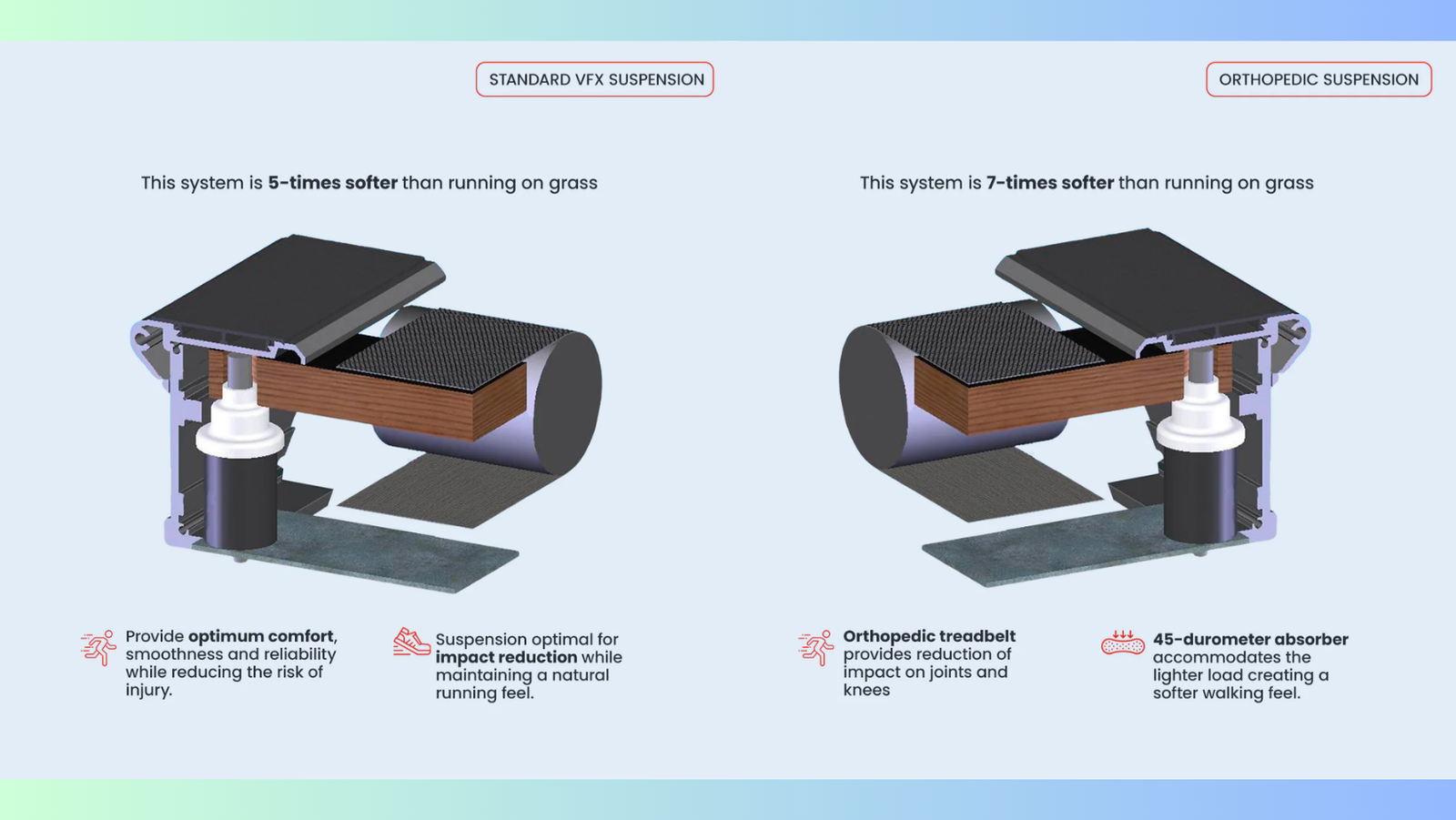 The treadmill Landice L7 boasts several features that set it apart from others in its class:
Its design and build quality are top-notch, with a sturdy frame. It ensures absolute stability during intense workouts. The deck is designed to absorb shock and reduce impact on your joints. So it is suitable for users with joint sensitivities also. The handles provide additional support and balance, enhancing the overall experience.
Display Panel and Touchscreen
The treadmill's display is well-designed and easy to read. It displays essential workout metrics such as time, distance, speed, and calories burned. Some models may also have a touchscreen interface for easy navigation.
Ease of Use
The Land L7 is designed to be user-friendly. It has intuitive controls and quick-start options. It allows you to start your workout with just a few button presses.
Safety Features are essential to any treadmill. Landice L7 has emergency stop buttons and safety rails. These ensure safety during workouts. They stop the treadmill immediately in case of mishaps.
Connectivity Options
Connectivity Options are another highlight of the Land L7 Treadmill. Some models offer Bluetooth or Wi-Fi connectivity. So you can connect your smartphone or tablet. The app integration helps in workout tracking. So you can track your progress and stay motivated throughout your fitness journey.
The Landice L7 stands out with its powerful motor and sturdy build quality. It has easy-to-use features and safety enhancements. It offers an excellent platform for achieving your fitness goals in the comfort of your own home.
Pros
Performance: The powerful motor and the wide belt provide a smooth and consistent running experience.
Convenience: Compact design makes it suitable for homes in limited space.
A bulletproof frame ensures durability and stability during intense workouts.
Excellent Cushioning to reduce the impact on your joints.
Optional TV for entertainment during the workout.
Cons
Size Constraints: A 58″ belt length may not suit 6′ or taller runners.
Non-Folding: Holds a lot of space even when not in use.
Expensive
A limited number of programs compared to some other treadmills in the same category.
Only one-year limited labor warranty, whereas others have 2 years or longer.
It's worth noting that these cons may not be significant for everyone.
User Experience
Personal experience using the Land L7 Treadmill has mainly been positive. The treadmill provides excellent stability and comfort during workouts. However, some adjustments are required initially to determine the optimal settings for your needs. The Landice L7 Treadmill offers a reliable platform for achieving fitness goals.
Maintenance and Durability
Maintaining the Land L7 Treadmill is relatively easy. Regular deck cleaning is recommended to ensure smooth operation. The treadmill's build quality ensures durability.
Summary
The Land L7 Treadmill is made in the USA for home use. It offers excellent build quality, performance, and user-friendly features. The treadmill's bulletproof frame made from aircraft-grade aluminum ensures durability and stability. The powerful motor provides smooth and consistent performance. The excellent cushioning reduces the impact on your joints. The Landice L7 Treadmill offers a choice of control panels. An optional TV is also provided for added convenience and entertainment during workouts.
The Landice L7 Treadmill is ideal for fitness enthusiasts who prioritize performance. Its sturdy build quality and motor suit users of various sizes and fitness levels. The Landice L7 provides an unparalleled experience to beginners and experienced runners alike.
However, potential buyers should consider size constraints and noise levels as potential drawbacks.
Conclusion
Overall, the Landice L7 Treadmill is worth considering if you're looking for reliable fitness equipment for your home gym. It provides excellent stability, comfort, and performance for achieving your fitness goals. However, assessing your specific needs and fitness goals is essential before deciding.
Additional Considerations
For potential buyers, it's worth noting that the Landice L7 comes with an extensive warranty. The warranty includes a lifetime on parts, a 5-year console, and a 1-year labor warranty. Additionally, customer support is available. Please refer to official sources for detailed warranty information and customer support details.
How much does a Landice L7 treadmill weigh?
The Landice L7 treadmill weighs 300 pounds.
How long will a Landice treadmill last?
Landice home treadmills are built to last 30 years, even with heavy use. They are designed to health club standards, meaning they can take a beating for 10 hours/day or 3,000 hours per year.
How big is the Landice L7 treadmill?
The Landice L7 treadmill has the following dimensions:
Length: 76.5 inches
Width: 35 inches
Height: 60 inches
The running surface measures 20 x 58 inches.