Unlock True Potential: Find the Perfect High-Capacity Treadmill for Every Fitness Goal & Lifestyle!
Whether overweight or obese, embark on a thrilling fitness adventure with the mighty 400-pound treadmill, your trusted ally on this journey. Together, we'll unveil its robust features, find the perfect fit for your lifestyle, and unlock your true potential. Ready to become the hero of your own fitness story?
Mini Guide for Buying a Treadmill
The most important aspect of a treadmill is that our weight should be 5 to 10% less than its weight capacity. People who weigh up to 380 pounds can use a treadmill 400 lb weight capacity. Don't buy a treadmill with 350 pounds capacity if your weight is 380 pounds. There are two reasons for this.
Sometimes, companies advertise a treadmill's inflated weight capability.
We should only use machines to their full potential for a short time.
Comparison Chart – Treadmills with 400 lb weight capacity
Treadmill
Motor
HP
Incline
%
Belt
Inches
Speed
mph
Dimensions
Inches
Price
$
Weight
lbs
Bowflex T10
4
-5 – 15
60x22
12
85×39.6×65.3
1799
323
LifeSpan TR5000
3
No
50×20
4
70.5×46.75×52
1819
122
3G Cardio Elite
4
0 – 15
60×22
12
84×35.5×58
3499
366
Spirit XT685 Treadmill
4
15
60×22
15
78.31.9×56.1
2699
425
Sole F85
4
-6 – 15
60×22
12
82x37x66
1999
308
LifeSpan TR 7000iM
5 AC
-3 – 12
62×22
12
80.5×36.5×61
4999
434
Life Fitness T5
3
0 – 15
60×22
12
79.5x32x61
4949
341
Exerpeutic 1000
1.5
2 levels
40×20
4
51.2x32x63
596
142
ProGear HCXL4000
1.5
2 levels
40×20
4
51.2x32x63
429
130
Treadmills 400 lbs weight Capacity
Types of Treadmills With 400 lb Capacity
We discuss here various types of treadmills for 400 lbs individuals. It is the last category with several choices. Above this is a 500-pound capacity treadmill, but both the need and the options are minimal.
Besides treadmill training, you will also need diet control to lose weight.
Heavy duty Commercial & Semi Commercial Treadmills
A treadmill for a 400-pound person has to be a heavy-duty machine. People with above-normal weights, athletes, and marathon runners can use these treadmills. Along with a higher weight capacity, these have a high maximum speed. These also have a good incline and decline, a bigger motor, a bigger running track, and a robust frame. These are the most expensive ones. Some of these also have various extra features.
Example –
LifeSpan TR 7000iM
Life Fitness T5
Sole F85
Heavy Duty Treadmills 400 lb Capacity
These are heavy-duty treadmills for 400 lb persons or good runners.
Example –
Bowflex T10
3G Cardio Elite
These don't have a big motor and are only for people who want to walk. Their maximum speed is 4-5 mph. These have smaller tracks and warranties and are inexpensive. Some of these do have an incline but no decline. These don't have any bells and whistles.
Example –
Exerpeutic 1000
ProGear HCXL4000
Under Desk Treadmill 400 lb Capacity
These are for use in offices or work-from-home environments. Place these below the desk, and keep working while walking and getting fitter.
Example –
LifeSpan TR5000
These do not have a motor and work at our walking speed. They also have a smaller walking track.
Example –
Asuna Manual
When choosing a treadmill, there are many aspects to consider, especially if you are obese. Heavier people require more robust treadmills for home usage. A 400 lb treadmill is stronger than a 200 lb capacity.
We start with a comparison table of their specifications and features.
Best Treadmills with 400 lb Capacity
Choosing the appropriate treadmill is crucial for weight loss and increased fitness. Following these short recommendations will ease the process of selecting a heavy-duty treadmill.
Here is a foldable treadmill, 400 lb capacity with incline. It has a lot to offer at a low price.
Highlights
Display- Adjustable 10-inch HD touchscreen
Warranty:

Frame – 15 yrs,
Mechanical Parts – 5 yrs,
Electronics – 1 yr,
Labor – 2 Yrs
The biggest footprint of all the treadmills in the category.
Best Incline & Decline in the category.
Streaming Apps – Netflix, Hulu, Prime Video, Disney, HBO Ma
It has a Comfort Tech Cushioning, making the deck quite comfortable to walk or run on.
It has a SoftDroptm folding system.
Bluetooth® enabled for smart devices and heart rate monitors.
It is Zwift compatible and wifi enabled.
Pros
Bright 10″ touchscreen and newer technology.
Impressive decline to -5 percent and incline up to 15 percent.
A 15-year guarantee covers the frame and motor.
Subscribe to JRNY and get access to handpicked music and extra training materials.
When not used, it neatly folds and locks into a storage compartment.
Designed with Comfort Tech cushioning to minimize pressure on joints and the spine.
The motor's power level is sufficient for walking, jogging, or running.
Cons
The screen size may be too small for those with low eyesight.
It's cumbersome to assemble.
If you are not using JRNY, you can't use any streaming services.
Lifespan TR5000-GlowUp is a heavy-duty walking treadmill with a 400 lb capacity. The 3.5″D x 13″ W x 2.25″H treadmill console rests on your desk, allowing you to adjust the treadmill's speed. It's capable of a maximum speed of 4 miles per hour. LifeSpan's Intelli-Walk technology shuts down the treadmill when you step off it. The LifeSpan Active Track fitness app works with Bluetooth to sync your workouts.
Highlights
Warranty:

Frame: 10 Years
Parts: 2 Years
Labor: 1 Year

It has the Best Warranty among all under-desk treadmills.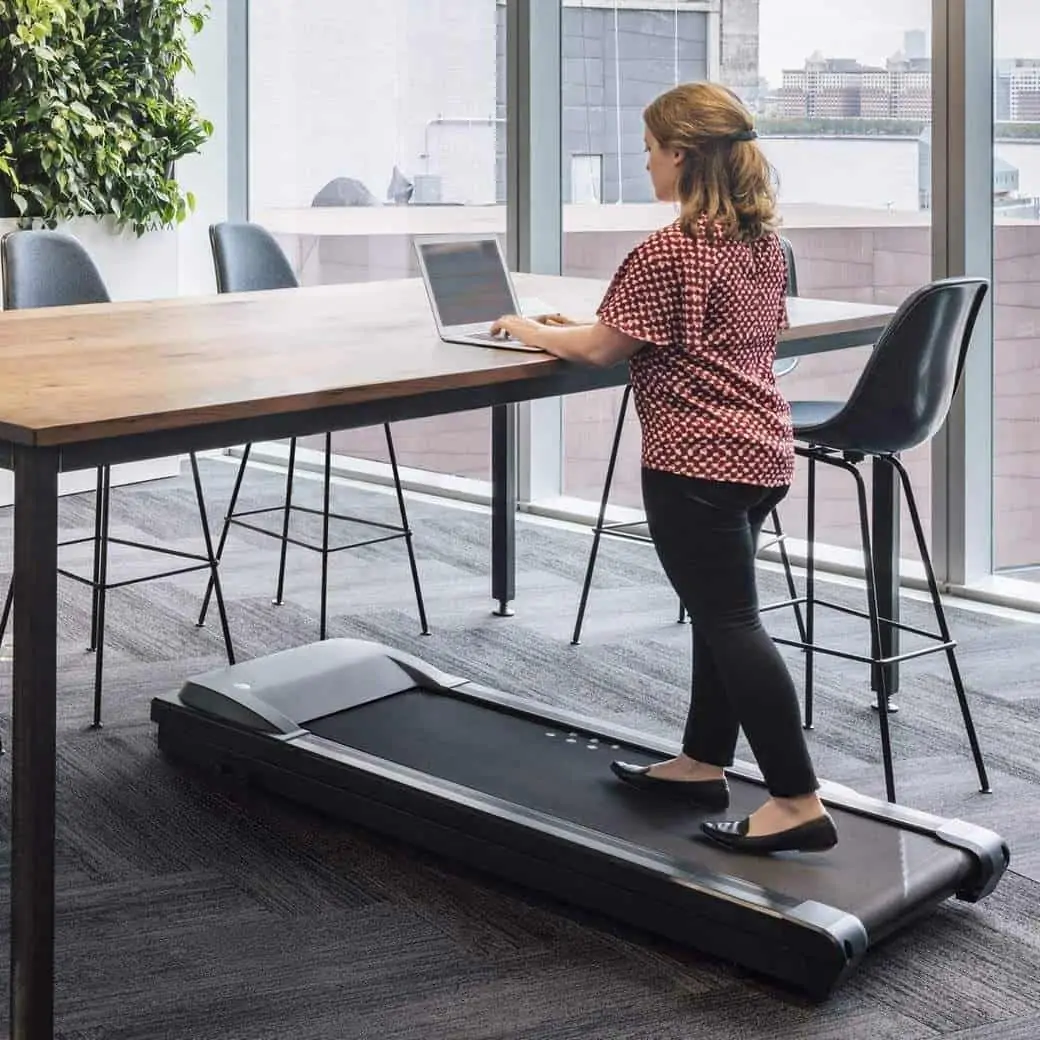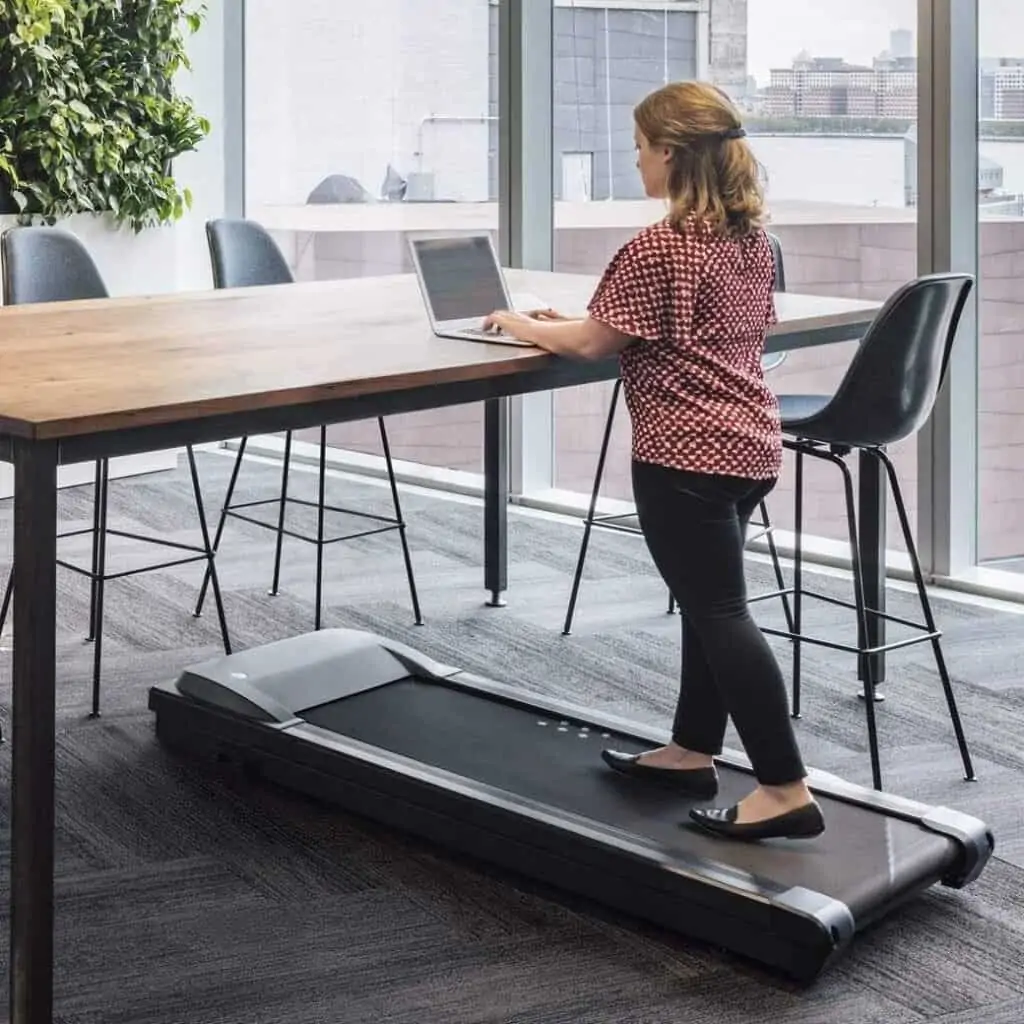 It has the biggest motor among all the under-desk treadmills at 3.0 CHP motor.
Being an under-desk treadmill, it has no incline or decline.
Full-time or several part-time users will find this to be an excellent choice.
It is so quiet that the company has given markings on the belt to show when it is moving.
You may use any standing desk with this app.
It is an excellent choice for individuals who like to stroll rather than sit at a desk.
Pros
It has belt markings to make it easier for users to track its movement.
The Intelli-Guard feature ensures that the treadmill stops running when you step down.
You can return to where you left off on the treadmill using the resume option.
Calories, distance traveled, speed, and steps done in real-time.
A mere 4.6″ height means you may tuck it beneath most standing workstations.
If you have many part-time employees at the same workstation, all can use it.
The belt will not run when you step off it, making it safe for use in a home office with children or pets.
Cons
It doesn't come with a standing desk, but you may use your own or combine it with one of LifeSpan's desks.
To accommodate the console, you must clear some space on your desk.
The Elite Runner with 400 lb weight capacity, incline, 4.0 HP DC motor, and massive 3″ rollers is quiet and smooth.
Highlights
Warranty

Motor & Frame – Lifetime,
Parts – 10 years,
Labor – 2 years in-home
Three display screens:

A heart rate tracker,
An LCD dot matrix distance tracker
A workout matrix screen for speed, distance, calories burned, etc.

It has the Ortho Flex ShockTM Suspension System for user convenience.
The largest running surface of 22″ x 62″ in the category.
Pace and incline controls on the console allow users to manage speed and elevation.
It has eight pre-programmed workouts, two personalized workouts, and three fitness test programs.
As a bonus, it has a receiver that you can use with the contact grip and wireless heart rate monitoring features.
The commercial warranty includes
Five years on the frame and motor
Two years on components
One year of Labor for the parts
Pros
Eight built-in routines, including three customizable fitness tests.
Built-in speakers and MP3 compatibility make listening to your favorite music simple.
With a 15% incline, you can focus on specific muscle groups and work on your endurance.
The suspension system is easy on joints. It uses the Ortho Flex ShockTM System and an orthopedic running belt with 3″ rollers.
With one-touch controls on the console, you can quickly and easily adjust the incline/speed.
Cons
Lack of entertainment choices and sparse console space.
Spirit XT685 Treadmill
Whether you're getting ready for a marathon or improving your home gym, the brand-new Spirit XT685 is designed to last. It comes with a sturdy 2-ply belt and a durable waxed deck, ensuring you can use it for many miles without interruptions. Plus, it offers various preset programs, such as Time, Calories, and Distance Series, to help you maximize your workouts. The big 9-inch colorful screen on the Spirit XT685 shows your important workout data, like heart rate, with a handy heart rate graph. You can also use the handlebar pulse sensors to stay in your target zone.
Highlights
Warranty:

Motor & Frame – Lifetime,
Parts – 10 years,
Labor – 1 years in-home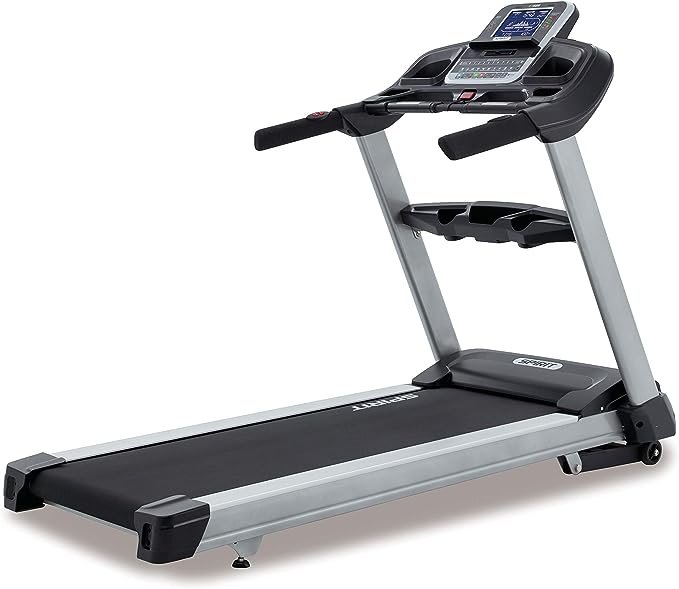 The Spirit XT685 has a big 9-inch screen that's brightly lit in blue. It also has separate LED displays for your Muscle Activation Profile and Heart Rate Percentage Profile.
The Spirit XT685 has Quick Speed and Incline buttons to save you time and make your workouts more efficient.
You can change your workout speed and incline securely with the Spirit XT685's remote handlebar toggles, without having to remove your hands from the side handlebars.
Stay comfortable and entertained with the Spirit XT685's adjustable cooling fan and dual speakers, which also have an audio jack for your convenience.
Pros
It is affordable
It is strong and highly durable
It comes with a solid console
It gives a smooth sturdy operation
Cons
Being heavy makes it difficult to move
The new console features a 10″ color touchscreen accommodating up to seven external applications! Netflix, YouTube, ESPN, CBS News, NBC News, ABC News, and CNN are a few apps that provide streaming services. It also has screen mirroring for exercise.
Highlights
Warranty:

Frame/Motor – Lifetime,
Deck & Parts – 3 Yrs,
Labor – 1 Yr.
Cosmetic Items – 90 days
It links to the Android and Apple New Sole+ App.
It saves up to 12 customized programs, providing flexibility and variation in workouts.
Military Fitness Tests are a part of the package with the F85.
It is easier to transport since it has more wheels than other competitors (4 rather than the standard 2)
Pros
The steel frame folds into a compact size.
You may operate the onboard programs on a primary LCD screen without a subscription.
The top of the console has a tablet holder for your device.
Cons
Raised buttons are more prone to dirt and grime accumulation.
When compared to similar products, the cushioning could be more plush.
It's a basic console, but the preset buttons don't work two-by-two.
This light commercial treadmill has sturdy components, a 62-inch track, and iPad integration.
Highlights
WARRANTY:

Frame: 10 Years
Parts: 2 Years
Labor: 1 Year
18.5″ Colorful touch screen and touch panel
It has two heart rate programs, two user-designed, and 17 preset programs.
It is the heaviest treadmill in this category at 434 lbs.
It has an AC motor- 5 CHP.
A LifeSpan Fitness Club membership provides lifetime personalized exercises.
Graph your treadmill workout data using a Bluetooth connection at LifeSpan Fitness Club.
Heart rate monitors feature contact grips. The treadmill has wireless telemetry, but the chest strap is not included in the price.
3″ Crown Rollers and 3-level decline function, too.
Dual speakers for music, podcasts, or audiobooks.
Two USB ports for you to charge your iPad and phone at once.
Pros
Its 62″ x 22″ track is roomy.
Extra-thick, multi-plied track
3-inch rollers.
Reversible deck shock absorbers
A quiet 5 HP AC motor
Cons
No fans
This 80.5″ x 33.25″ unit is huge
It has the FlexDeck Select technology. It allows users to choose between three distinct levels of running surface stiffness.
Highlights
Warranty:

Frame & Shock Absorbers – Lifetime
Motor – 10 Yrs
Parts – 7 Yrs
Console – 3 Yrs
Labor – 1 Yr
It is the most expensive of the lot.
It remembers your preferred walking and running speeds and various other fitness routines.
This Life Fitness treadmill's console has a dual-zone design. So you have separate entertainment and exercise zones.
You may listen to music and watch videos while working out by putting your phone and tablet at eye level.
Self-illuminating lights in the training zone help you keep track of your progress. When not in use, they dim to a soft glow.
Pros
The frame is covered for life—10 years on the motor and 7 years on components.
The FlexDeck design allows for a variety of jogging surfaces.
Placement of electrical devices at eye level is an option.
You may adjust the deck's stiffness to simulate working out on a grassy or paved surface.
Cons
It is cumbersome at 341 pounds.
Exerpeutic TF1000 Treadmill
This 148-pound treadmill is the lightest and smallest of the ones we've evaluated. It's small but not as small as other compact treadmills.
Highlights
Warranty

Motor- 5 Yrs
Frame- 1 Yr
Parts- 90 Days
+ 5 Extra Years When You Buy On Paradigmhw.com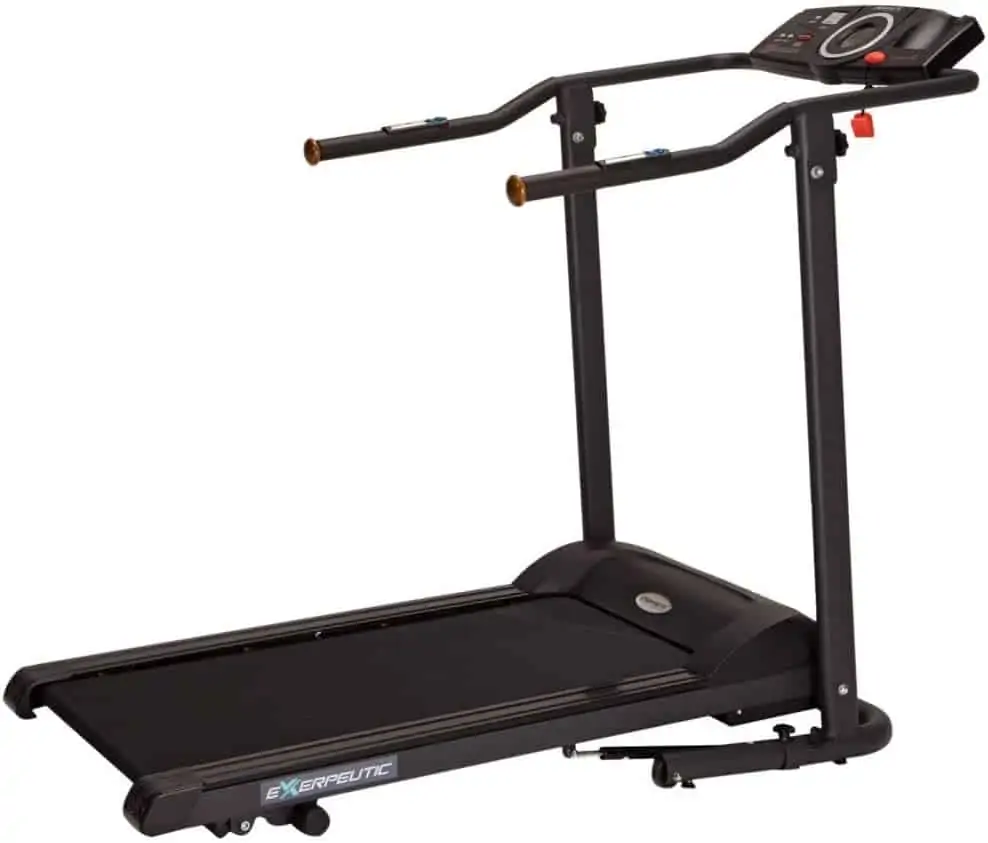 LCD window features elapsed time, distance walked, calorie burn, speed, and pulse monitoring.
A walking treadmill with a 400 lb capacity is rare.
The motor has a high torque of 1.5 HP and is very quiet.
It has a pulse monitor to measure your target heart rate.
2-position manual incline.
The robust extra-long railings are helpful if you have trouble walking.
Pros
It's light.
The motor is very quiet.
Extra long handrails for those with mobility issues.
2-level manual incline
It is pre-assembled and ready for immediate use.
Cons
It is only for walking.
An adjustment is necessary if the belt becomes slack.
There aren't any unique features on this screen.
The warranty is limited, but that's expected at this price point.
ProGear HCXL 4000 Ultimate Treadmill
The ProGear HCXL 4000 is an excellent option with an extra-wide belt and a 400-pound capacity. It is a good option because it is made by the company that makes the Exerpeutic TF 1000. LCD window features elapsed time, distance walked, calorie burn, speed, and pulse monitoring. It is more of a walking treadmill with a maximum speed of 4 mph to help you become fit.
Features
Warranty

Motor- 5 Years,
Frame- 2 Years,
Parts- 90 Days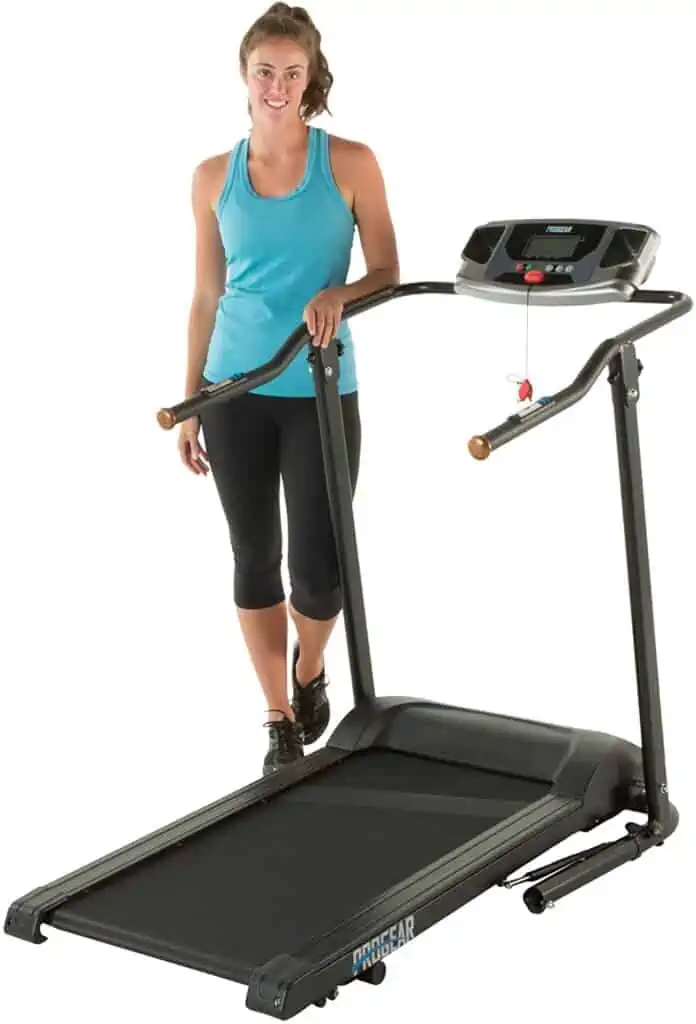 The elderly, obese individuals and people recovering from ailments can use it.
Suitable for low-impact cardio workouts
Its structure has been strengthened to accommodate extra weight.
The extra-long handles have pulse sensors to monitor heartbeats.
The LCD screen shows you your heart rate in beats per minute. Along with the time and distance, you can check how many calories you've burnt while using the app.
Pros
You can set the incline at two different levels and increase the difficulty.
Increase your speed by 0.1 mph.
Cons
A very small LCD and is not backlit.
Conclusion
As a rule of thumb, the bigger the running space, the more natural your strides will be for runners. (especially those above 5'8″ or so). Unnatural strides may lead to various repetitive motion injuries. So, this is a crucial component to ensure.
Choose a running surface based on these general guidelines:
A minimum walking width of 20 inches is advised, especially for heavier individuals. Steer clear of cheap treadmills. Their running/walking areas need to be bigger for someone of larger stature.
Competitive runners' optimal running space width is 22 inches. But 20 inches may be enough for those who want a light run or stroll.
FAQs
What are the benefits of using a treadmill with a 400 lb weight capacity?
Designed for heavier users, these are more durable and can withstand more wear and tear. They have larger running decks and wider belts, making heavier users more comfortable. They have more features, such as incline and decline, to help users get a more challenging workout.
What are some features of a treadmill with a 400 lb weight capacity?
Some of the features to look for in a 400 lb weight treadmill with a 400 lb weight capacity include:
– A durable frame and motor
– A large running deck and wide belt
– Incline and decline capabilities
– Multiple workout programs
– Heart rate monitoring
– Speakers and MP3 compatibility
What are some drawbacks of using a treadmill with a 400 lb weight capacity?
Some of the drawbacks of using a treadmill with a 400 lb weight capacity include:
More expensive than treadmills with a lower weight capacity
They are larger and heavier, making them more challenging to move.
It is less portable than treadmills with a lower weight capacity.
How do I choose the right treadmill for my needs?
When choosing a treadmill, it is crucial to consider your weight, fitness level, and budget. Consider essential features like incline/ decline, preset workout programs, and heart rate monitoring.
Where can I buy a treadmill with a 400 lb weight capacity?
You can buy these at sports goods department stores and online retailers.