Horizon Fitness Treadmills have been around since the early 2000s. Horizon exercise equipment is one of the first companies to introduce treadmills into the fitness world. Since then, they have continued to innovate and improve their product line. Today, they offer various treadmills, ellipticals, and other exercise equipment.
If you are looking for a treadmill that offers many features at an affordable price, then the Horizon T101 might be worth checking out. In this Horizon T101 Treadmill review, I am sharing my thoughts and experience on this treadmill and whether or not it is worth buying.
The Horizon Fitness Treadmill T101 has a lot going for it. First, it is one of the most versatile treadmills available today. It means that it can be used by people who want to lose weight, build muscle, or stay fit. It is also very suitable for senior citizens.
Horizon T101 treadmill assembly instructions are also very simple, and I could assemble it myself in about 45 minutes but had to call a friend to help me out as it is heavy.
Horizon T101 Structure
The Horizon Fitness Treadmills are durable, easy-to-use machines. T101 is ideal for walking, jogging, and light running. It boasts an easy-to-assemble design and a durable structure that will withstand years of use.
The Horizon T101 has been designed with runners in mind. Its lightweight, compact design makes it ideal for home use. With its sleek, modern look and simple controls, this machine will fit into any room of your house. According to the company, the frame is Featherlite.
Motor – Low RPM, Low Noise
Horizon T101 comes with a 2.5 Continuous-Duty Horsepower motor with a lifetime guarantee. The motor is suitable for walking and jogging. You can use it for light running but for medium-weight people under 6 feet. The main plus point of the motor is that it is very quiet and has a lifetime warranty.
The motor runs at a lower RPM, producing significantly low noise levels. Besides, it doesn't need a cooling fan. The motor creates relatively little noise while walking on the deck.
Display – 3 LED Windows
It includes three LED windows to keep track of your data while exercising.
Weight & Weighing Capacity
Horizon T101 treadmill Horizon Fitness T101 go series treadmill weight limit is 300 lbs, and weighs 180 lbs. An average American male weighs 200 pounds, and the females weigh 162 pounds, with only about 3% of the population weighing more than 300 pounds.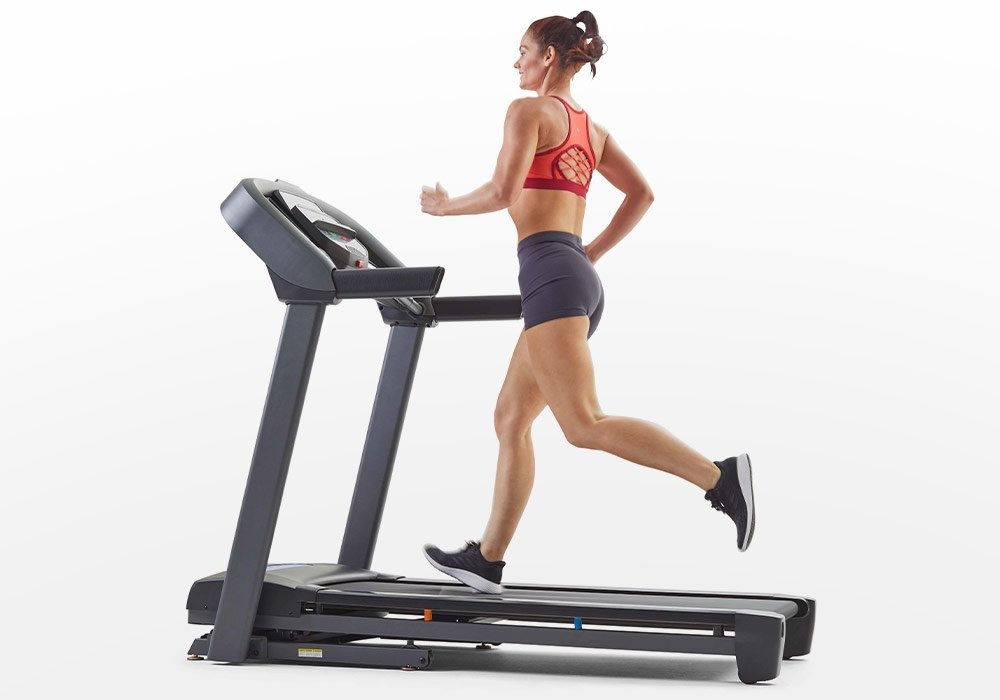 So this treadmill has a very apt weighing capacity. The weighing capacity is more than comparable budget treadmills.
Preset Exercise Programs
Horizon T101 Treadmill programs cover the following:
Manually adjust your workout's pace and incline.
Set calorie objectives. Distance and speed are used to compute calories.
Distance: Push yourself farther with 13 distance exercises.
Pick from one mile, two miles, 5k, 10k, 8k, 10k, 15k, 20k, half marathon, and marathon targets with initially established speed levels.
Weight Loss Plans: With ten levels, a fat-burning activity boosts and reduces the tempo and incline to maintain you in your fat-burning zone.
There are in all 30 programs.
Speed & Incline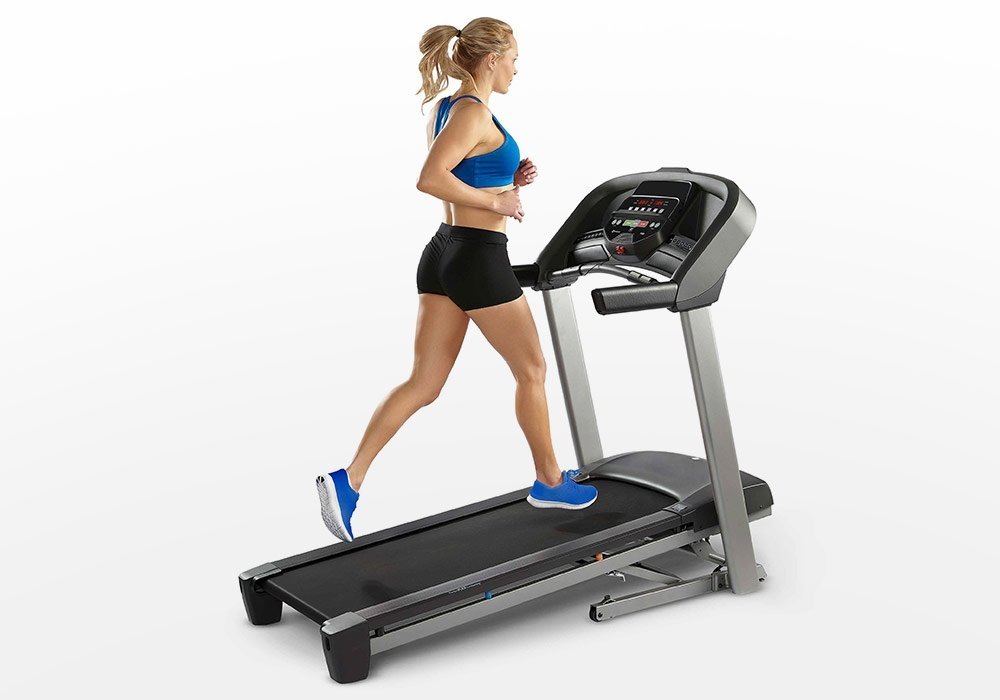 I feel that pace and incline are enough for a killer workout for an average human being.
If by any chance 10mph seems less, increase the incline range. You will put less pressure on your knees and other joints, which will be very effective for glutes and hamstrings. 
Running Track – 55″x 20″
The running track of Horizon T101 is 55″ L x 20″ W. The size is good enough for most Americans. However, you need a treadmill with a bigger track if you are above 6 feet and a runner. The track also has 3-zone Variable Response Cushioning for walking, jogging, and running.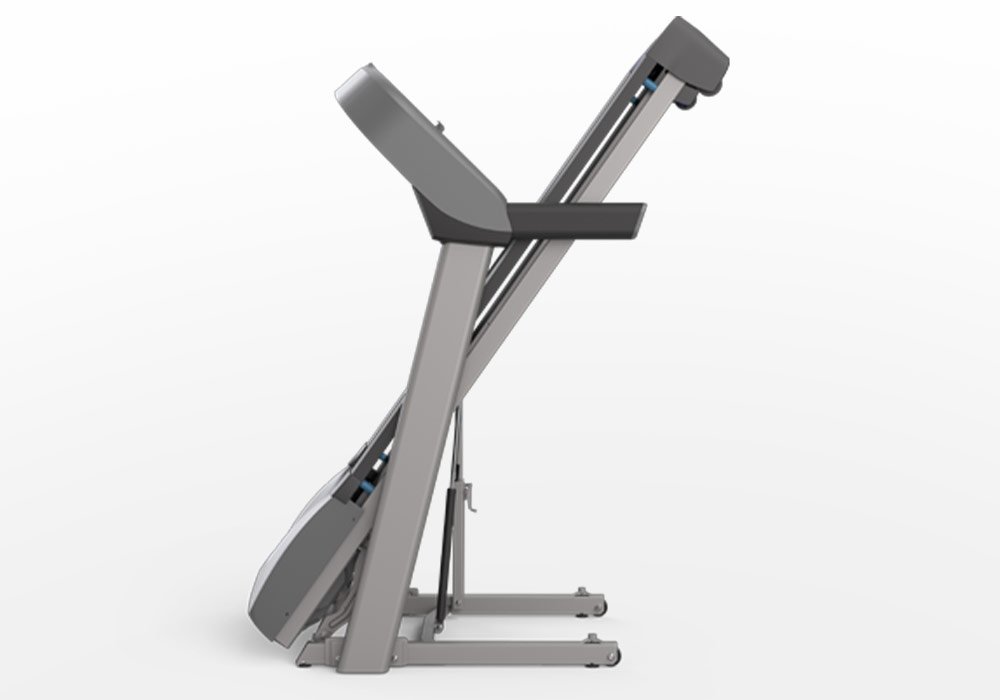 Like running shoes, Horizon treadmills feature soft cushions in the impact zone. On the other hand, it has firm cushioning in the push-off zone for optimal support throughout the stride.
It has a 1.4mm silicone belt and an 18mm deck thickness. A thicker belt is more durable and quieter. In addition, the deck thickness is apt for walking and jogging.
Ease of Folding and Transfer
This Horizon folding treadmill has a featherlight folding deck, decreasing its length from 70 to 46 inches and utilizing less space during storage. The machine employs a hydraulic cylinder to fold and, while unfolding, comes down very slowly, avoiding accidents.
The folded treadmill is slightly taller(6 inches) but easier to move.
Heart Rate Monitor
The T101's dual-grip monitoring technology makes keeping track of your pulse simple. But it can only read your pulse using the built-in sensors and cannot interact with any wireless HR chest strap transmitter.
Price
Horizon T101 Treadmill price is $699. Horizon Fitness models are generally good value for money. T101 is a great option at the current price, which was originally priced at $999.
Customer Reviews
Horizon T101 reviews are mostly positive. 83% of about 200 reviews are 4 or 5. But there is some dislike for the company's customer service.
Maintenance
Horizon T101 Treadmill belt lube should be 100% silicon oil. It is also supplied with a treadmill and can be used for two applications. Lubricate the treadmill running deck every three months or 150 miles for optimum performance.
Horizon T101 treadmill manual provides complete details of treadmill maintenance. 
Horizon T101 Treadmill parts are easily available on-site.
Bluetooth
Bluetooth connects your smartphone to the inbuilt speakers for stereo sound streaming.
The built-in device holder attaches to your tablet or phone for entertainment and workout courses. Rapid-charge USB ports keep devices charged during exercises.
Besides, it has an audio in/out jack, energy saver mode, fan, tablet rack, and a water bottle holder.
Drawbacks
Not compatible with online fitness apps.
The speakers are not of very good quality.
No wifi and no online connectivity.
Some taller than 6′ might find the track shorter at 55″. A 60″ track is more suitable if they plan to run on it.
Not recommended for intense training.
When compared to other treadmills, this one has limited technological capabilities.
Guarantee
Horizon T101 Treadmill for sale gives a fair return with its frame and motor covered for life, parts, and labor for one year.
Few treadmill firms still provide lifetime warranties in this price category. It indicates the T101's superb build and the company's confidence and support. Overall, given the price, this is a terrific value.
Horizon T101 vs T202 – Comparison
Motor Size Horizon Fitness T202– 2.75 CHP / T101 – 2.5 CHP
Weight capacity Horizon Fitness T202 – 325 lb / T101 – 300 lb.
Roller size Horizon Fitness T202 – 1.81" / T101 – 1.81″
Display Horizon Fitness T202 – 3LED windows +Backlit LCD / T101 – 3LED windows.
Price Horizon Fitness T202 – $999 / T101 – $799
Preparing You for Race
No, this treadmill is not for preparing for a race. Brisk walking or jogging will be its best utilization. The cushioned tracks and less noise can be useful for first-timers or seniors. 
Can you run on Horizon T101?
You may do some jogging on Horizon T101. It is a treadmill designed for walking or light to moderate workouts. However, if you want a more advanced treadmill with higher speed and incline options, a longer running area, and more workout programs, you may consider other models, such as the Horizon T202 or 7.0AT.
What are the electrical requirements for Horizon T101?
According to Horizon Fitness, the electrical requirements for Horizon T101 are:
120 volts of electricity at 60HZ of alternating current (AC)
A dedicated 15-20AMP circuit
A grounded outlet with no surge protectors or extension cords
Is the Horizon T101 quiet?
The Horizon T101 is a relatively quiet treadmill. It typically runs about 59 decibels at 5 mph, comparable to a normal conversation. It doesn't hit but 73 decibels at 10 mph, similar to an air conditioner's noise.