The LifeSpan TR3000i Treadmill is a sturdy machine among the finest home treadmills. It is designed to provide the best possible training routine for those who like to work out in the privacy of their own homes. In addition, it is meant for those who want to begin a fitness routine by just walking or jogging.
Users may increase the intensity of their jogging and achieve their fitness objectives.
Let's have a look at some of its essential characteristics:
Related Readings

Physical Activity vs Physical Fitness: How Are The 2 Linked?
Best treadmill under $1500: Tough Choice in a Popular Range
Assembly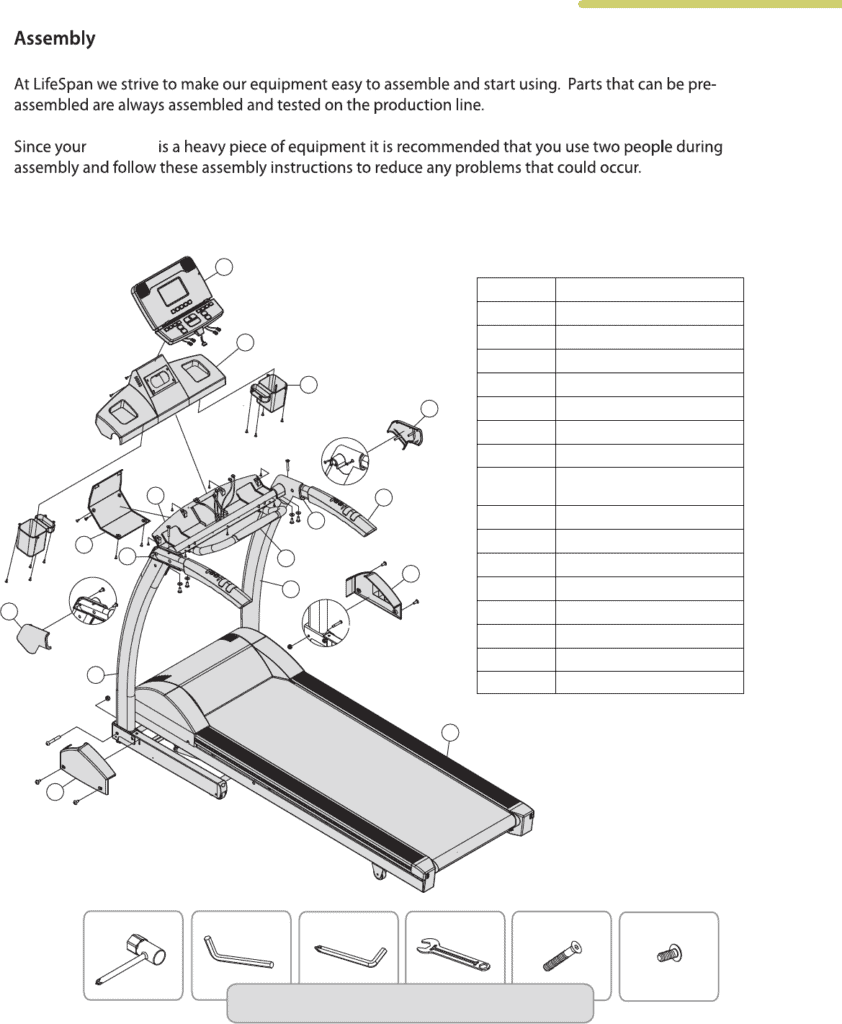 The LifeSpan TR3000i Folding Treadmill is particularly user-friendly since the user may put up the treadmill without the assistance of a technician. However, if you want to have a professional construct it, you'll need to pay for that service.
Design and build
With a running surface spanning 20″ x 56″, the LifeSpan treadmill is both portable and small, measuring 71 "L x 33 "W x 56 "H.
High-performance gear: It has been thoughtfully designed to include comfort, elegance, and utility features while remaining simple.
Minimalist and space-saving, the TR3000i is easily fit into any room, folded or unfolded. The console's lower height makes it easier to watch TV while exercising on a treadmill, jogging, or running. You no longer need a giant, clunky treadmill taking up half your space.
Its steel frame and high-quality construction provide long-lasting performance and a solid build. With a weight capacity of 350 pounds, this is an excellent choice for people who are more significant than other people.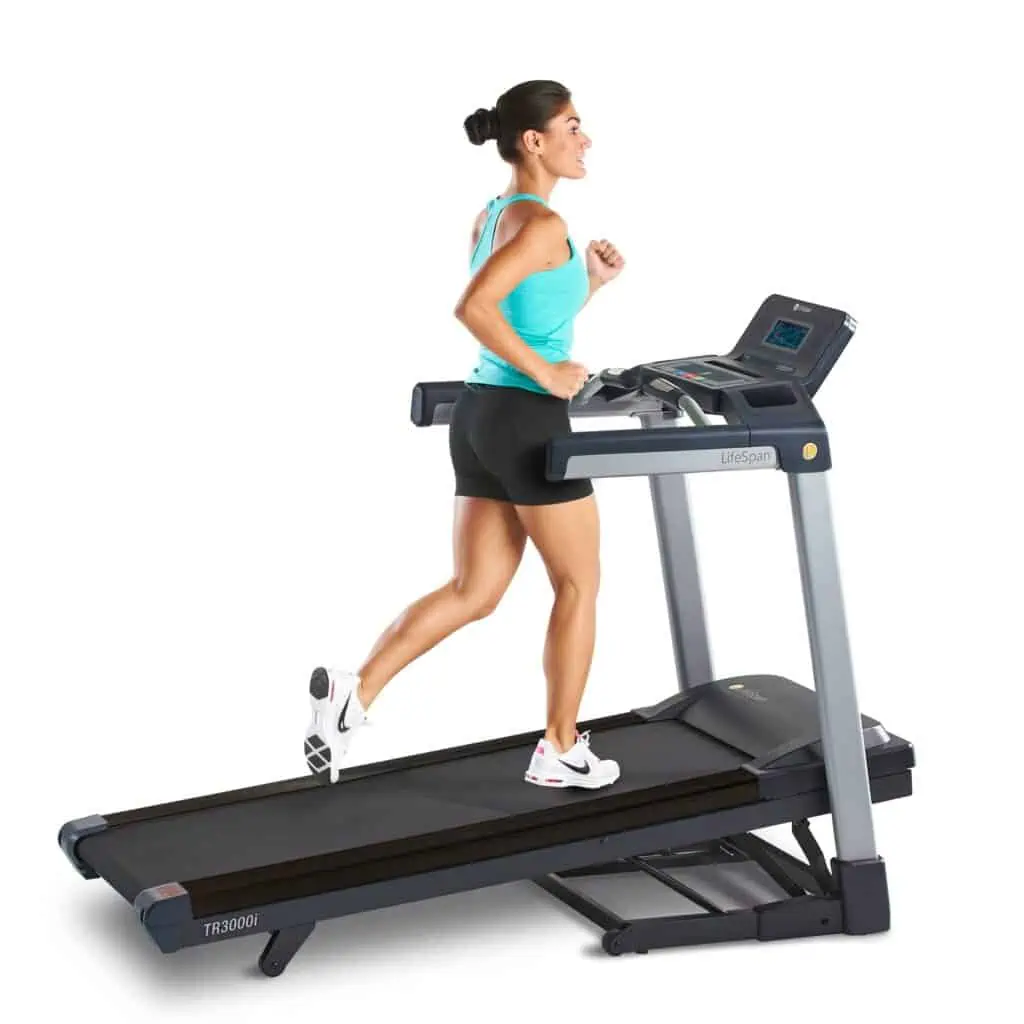 Motor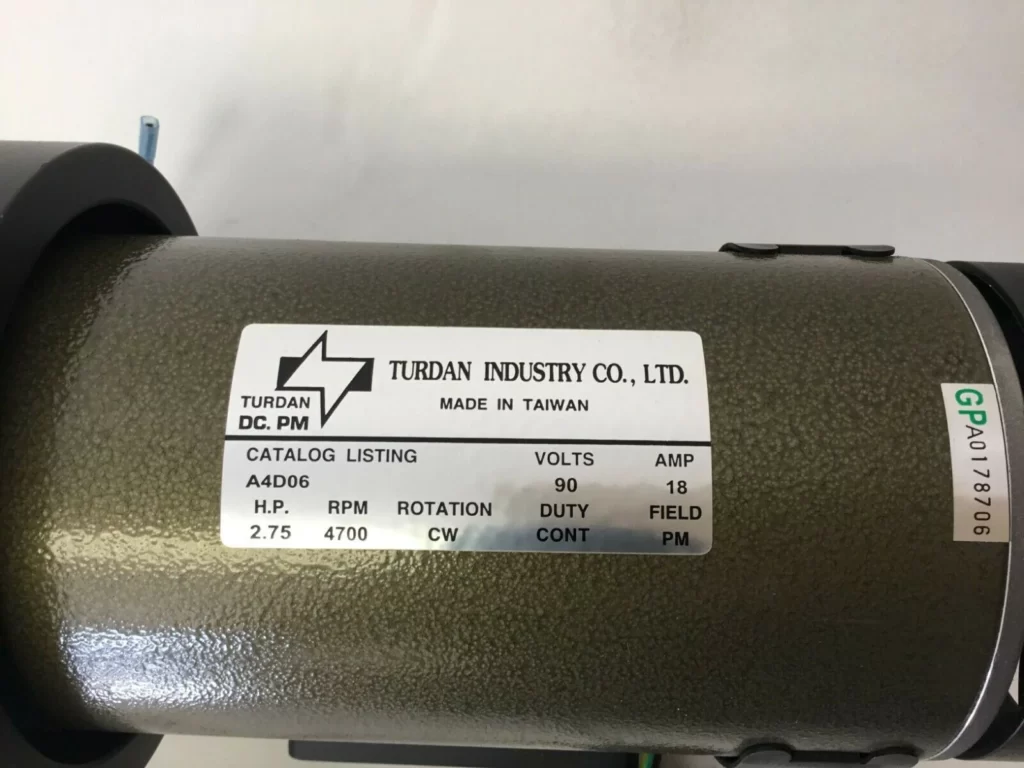 The LifeSpan TR3000i treadmill's 2.75 HP continuous-duty motor is noted for its sturdy performance. Those who want to work out at various speeds will like its speed range of 0.5–12 mph. The LifeSpan treadmill costs less than $2000, but that doesn't mean it's any less effective or durable.
Panel For Controlling a Touchscreen
An alphanumeric LED shows you precisely what you're doing throughout your workouts. Additionally, it provides extensive information about your movements.
Integrated Circuitry
Built-in Bluetooth speakers and a USB port for charging are built-in. As long as you're using the treadmill's Bluetooth speakers to listen to music or watch a movie, you'll focus more on your workout. Additionally, the built-in USB charger allows you to charge both your phone and tablet simultaneously, preserving battery life. Keep an eye on your heart rate during even the most challenging exercises.
The LifeSpan TR3000i has speakers and an audio connector for an MP3 player or iPod, making it easy to listen to music while working out. So, as you listen to your favorite music, work on your fitness.
Using the fold-up treadmill's dashboard, you can keep track of your heart rate and remain in your target training zone.
Incline and decline
The Quickest incline controls on this treadmill allow users to adjust inclination levels by pressing a few buttons. There are also 15 inclination levels available, so you may work out at your own pace without feeling rushed.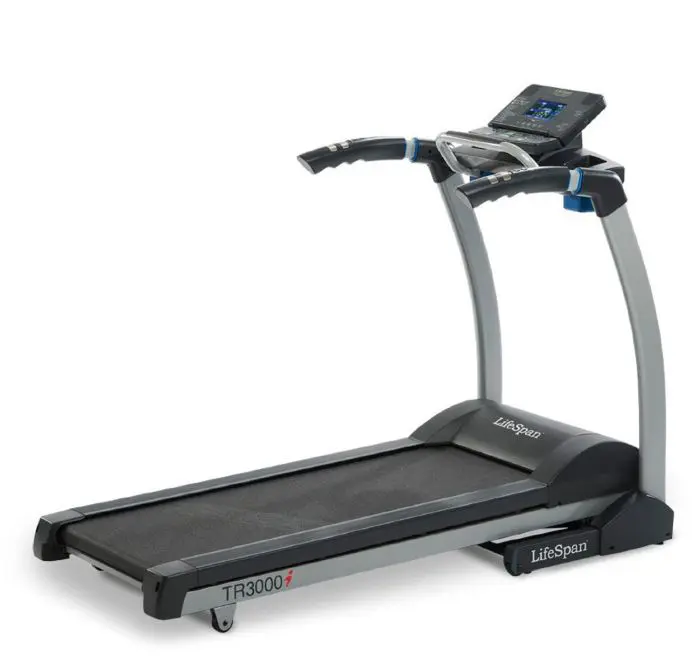 Intelli Step Technology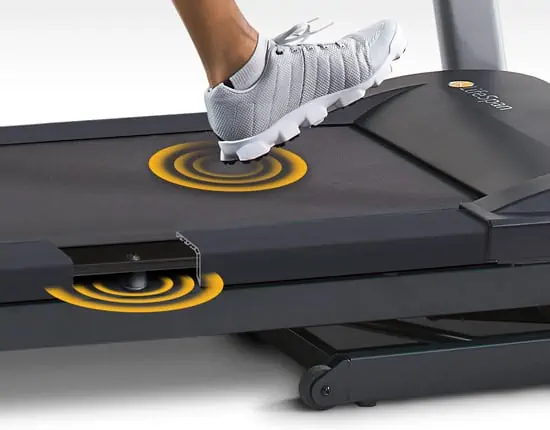 While exercising, Intelli Step keeps track of the number of steps you take so that it can calculate your exercise distance.
Intelli Guard
Stepping away from the treadmill triggers the Intelli Guard's safety mechanism, which immediately stops the treadmill's operating belt.
Holder For tablets
There is enough space behind the buttons on its media holder to make it easy to get to the controls and have a good time watching.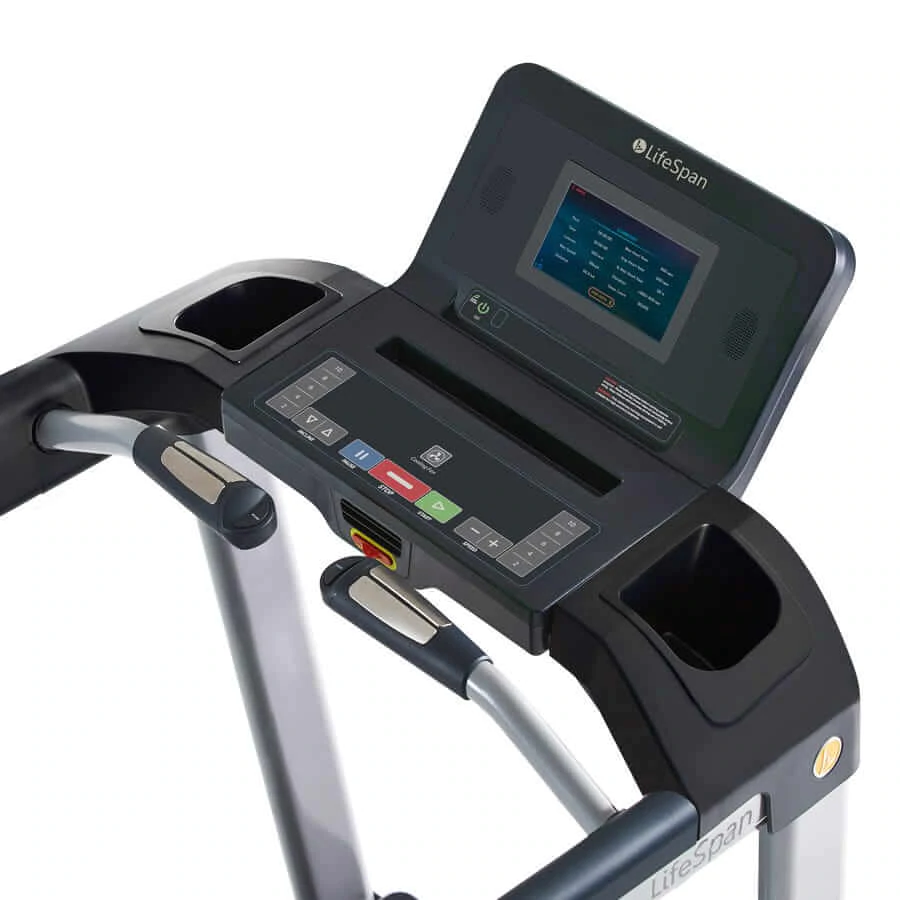 Tread Belts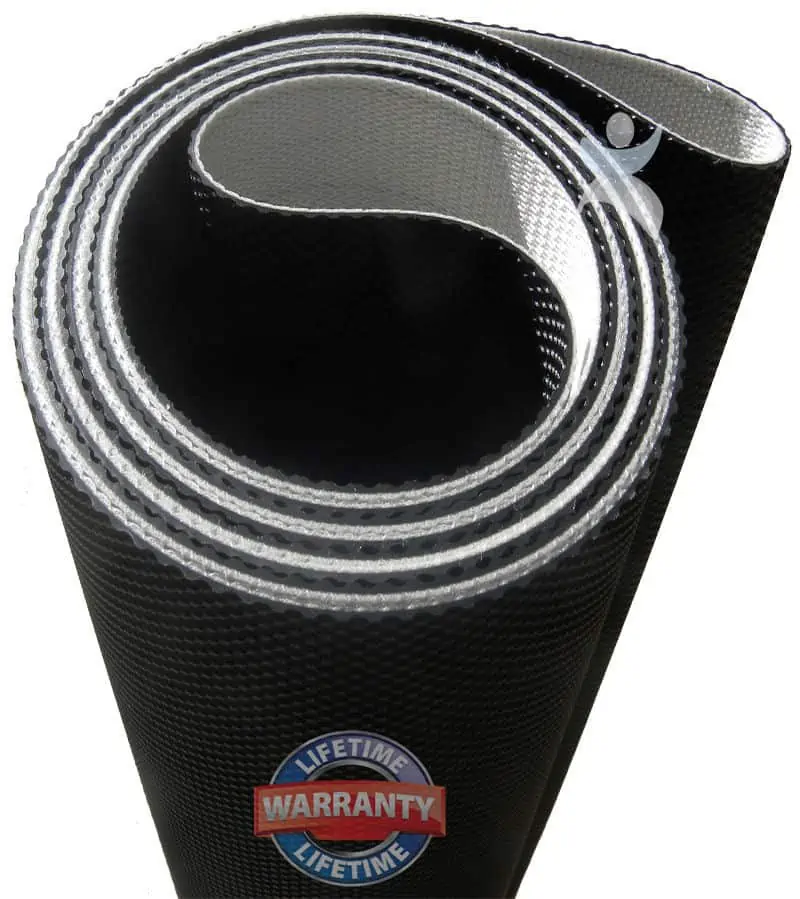 The LifeSpan treadmill has an active reaction cushioning feature that makes it more user-friendly. There are 2.5″ front and 2″ rear rollers on the LifeSpan TR3000i Folding Treadmill's 2-ply tread belt. These rollers provide shock absorption, allowing you to enjoy your workouts while relieving tension in your body.
Heart Rate Evaluation
The LifeSpan TR3000i Treadmill has a built-in heart rate monitor that tracks the user's heart rate throughout workouts. As a result, the heart rate may be accurately tracked with the pulse grips and chest straps.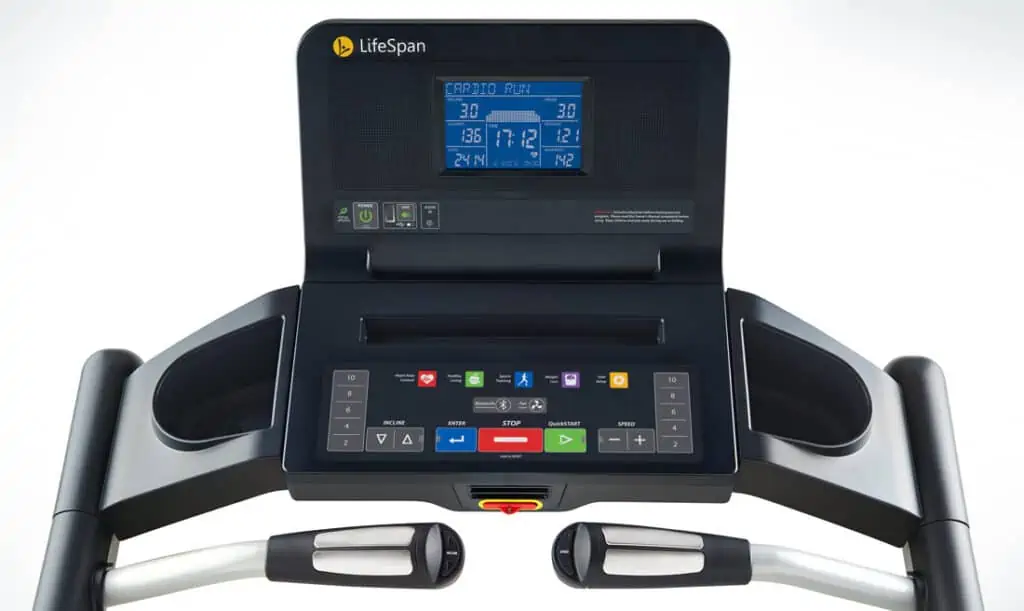 Warranty: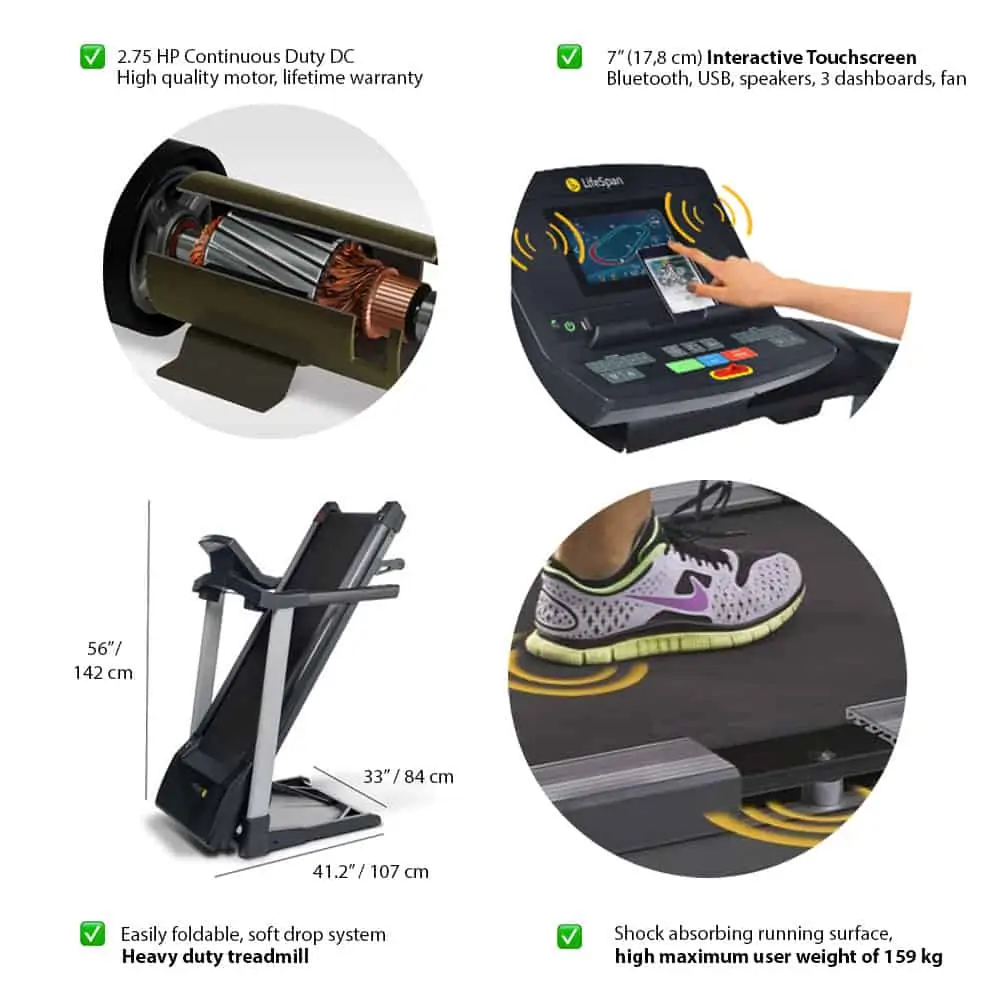 The Lifespan TR3000i Treadmill is made of sturdy steel, enough to support the weight of a 350-lb. person. Because of its durability, even shorter runners will be able to enjoy this treadmill for many years to come. The TR3000i comes with a lifetime frame and motor warranty, a 5-year parts warranty, a 1-year labor warranty, and the option to extend the shorter guarantees through a third-party service provider.
Pros of LifeSpan TR3000i treadmill
The treadmill's EZfold technology makes it simple to fold and unfold.
There is a lifetime guarantee on the 2.75 CHP motor, and it runs quietly.
The Intelli-Guard, Intelli-Step, and Intelli-Key features in the LifeSpan TR3000i treadmill are patented.
There are 17 built-in programs to help you live a healthy lifestyle, lose weight, and train for sports on the treadmill.
Cushioning for the back, knees, and joints is provided by the treadmill's 8 compression shock absorbers.
The pulse grip and wireless chest strap provide an effective measuring heart rate.
Handlebars let you easily adjust the bike's speed and inclination.
Cons of LifeSpan TR3000i treadmill
It's not great for taller people.
In comparison to modern treadmills, the handrails are somewhat short.
Conclusion:
It is a well-built treadmill, but the running area of the Lifespan TR3000i Treadmill is still too small for taller people, so they will be unable to extend their stride when training.
A 2.75 HP CD motor, despite the increased horsepower, is rated for moderate usage.
Shock absorbers that soften impacts and decrease noise during workout times for individuals who live in flats or shared living areas make this treadmill ideal for those who want to tone their lower body.
This treadmill includes a 7″ full-color touchscreen with 3 different dashboards to display performance statistics while still simple to use with substantial quickset buttons on the console.
Through the Lifespan app's built-in speakers and the device's USB charging connection, users can listen to their favorite tunes as they charge their phones.
The TR3000i has 38 programs to choose from, allowing for a wide range of exercise goals.
With just the right amount of technology, it may be used by a wide range of people to increase their exercise intensity.