In a fitness world inundated with choices, finding the perfect treadmill can be a daunting task. At myactivetribe, we pride ourselves on our unbiased and to-the-point approach, helping you navigate the options.
Today, we present the NordicTrack X32i, a top-tier treadmill with many impressive features. We break down its specifications, features, pros, and cons, ensuring you have all the information you need to make an informed decision.
The NordicTrack Commercial X32i is the highest incline treadmill, with an incline of 40% and a decline of -6%. It also offers a giant touchscreen and a strong motor. However, it's huge and can't fold up, so you need lots of space.
Highlights
NordicTrack Warranty: Frame – Lifetime, Motor – 10 Years, Parts and Electronics – 2 Years, Labor – 1 Year.
Motor: 4.25 CHP DurX™ Commercial Plus.
Tread Belt: 22" x 65"Commercial
Incline: 0% to 40%
Decline: 0% to -6%
Display: 32″ Smart HD Touchscreen
Maximum User Weight: 300 Pounds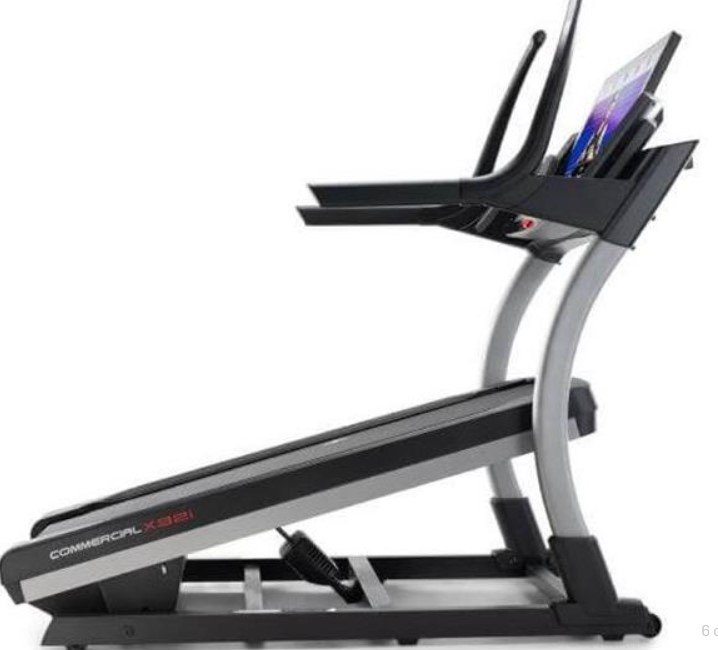 NordicTrack X32i Specifications
Speed: 0-12 mph
Footprint: 76.5" L x 40" W x 73" H
Rollers: 2.5″ Precision and Balanced Non-Flex Rollers.
Automatic Trainer Control: Yes
Foldable: No
Arm Band: ActivePulse™ Technology – Sold Separately.
Heart Rate Monitor: Yes
Bluetooth Headphone: Yes
Cushioning: Reflex™ Cushioning.
WIFI and Internet required: Yes
iFit Membership: $58/mo.
Speakers: Two 3″ Digitally Amplified Speakers.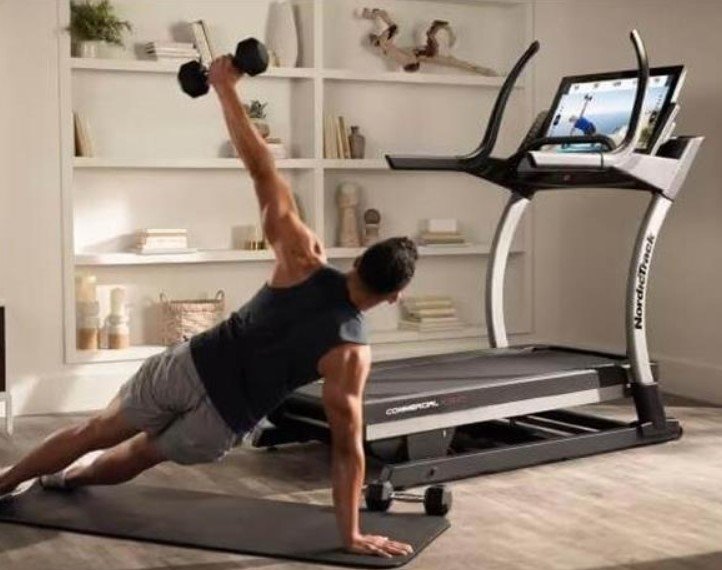 NordicTrack X32i Features
Motor: The DurX Commercial Plus motor is super strong with 4.25 horsepower. It works smoothly and powerfully. This motor is also quiet and cools itself down for better performance.
Frame: The NordicTrack X32i features a robust, durable steel frame with unique curved uprights for stability. It also includes a large touchscreen. While the high incline treadmill shakes a bit during incline running, a crossbar between the uprights could further stabilize it. However, this doesn't affect the 40 incline treadmill's overall performance.
Console: The NordicTrack X32i has a giant 32-inch touchscreen that's great for both treadmill and floor workouts. It comes with good sound and excellent graphics, making workouts at home more enjoyable. But some Users say the screen shakes when you run fast. However, if you're not using iFit workouts, the screen might need to be more handy. Plus, there's no spot for a tablet or phone because the large screen covers the whole area. Overall, it's user-friendly, with effortless speed and incline controls. It's a good choice for those who prefer a straightforward workout.
Spacious Running Surface: The NordicTrack X32i treadmill has a big 22×65-inch belt for running or walking. It's comfy and gentle on your joints with Flex™ Cushioning. Plus, it has two 3-inch Dual AutoBreeze™ Workout Fans that change speed depending on how hard you're working out. It can support users weighing up to 300 Pounds, which works for most people.
Incline/ Decline: The NordicTrack incline trainer has an impressive range from -6% to 40%. This allows you to simulate real-world terrain, making your workout more challenging. It's perfect for hikers and trail runners who want to replicate intense landscapes. The speed limits on steep inclines are for safety and shouldn't be an issue for most users. It's a great treadmill for those aiming to train for hilly races or add variety to their workouts with different terrains.
iFit®: If you get the iFit subscription, you can do different exercises like running or yoga with the help of certified trainers. You can do even more things like automatic adjustments and workouts in places worldwide with Google Maps. You can also listen to great music on the treadmill. It even gives you workout ideas based on how fit you are. Additionally, you receive a 1-month trial of the iFit® Family membership for free. While the iFIT Membership costs $58 per month, it's a great value as it gives you access to various workout programs.
Safety Measures: A red emergency button on the console immediately cuts power and stops the belt when pulled. Always use the safety key attached to your clothing and the console. If you fall or move too far back, it detaches and stops the treadmill. It's essential to read the owner's manual to know how to safely use and care for the treadmill.
Additional Features: It has two cup holders that are hard to reach behind the screen. The built-in fan works well, adjusting its speed based on how hard you're working. The front-facing speakers are loud, allowing separate volume control for the trainer's voice and music. You can also pair Bluetooth headphones for quieter workouts. You can also link up heart rate monitors that work with the treadmill for more personalized training. You can buy these monitors directly from NordicTrack if you need them.
Pros
40% incline and -6% decline range
32-inch HD touchscreen display
4.25 CHP DurX commercial plus motor
22-inch by 65-inch tread belt with cushioning
One-month iFit membership included
Built-in Bluetooth speakers
Reinforced steel frame
Cons
It costs $4,499 (as of October 2023), which may be too expensive for many.
It is large and weighs 462 Pounds, making it challenging to move, especially in smaller homes or homes with stairs.
Heavily relies on the iFit app.
Some users had problems with the iFit app, like glitches and delays.
Additional Considerations
Price and availability can vary by location and retailer. The official website lists it as $4,499, but other sources may offer different discounts.
Assembly and maintenance can be challenging. You might need professional help or an experienced person's assistance. Follow the owner's manual for proper upkeep.
Heavily relies on the iFit app, so you might lose some features if you don't keep the subscription after the first year.
The treadmill's size and weight may not work in small or less sturdy spaces. Measure your area and floor strength before purchasing, and plan for storage or moving if needed.
You need good Internet and a device that works with it because it relies a lot on the iFit app and a monthly or yearly subscription fee for full access. Not renewing means losing some benefits.
The X32i might only suit some people's fitness goals. Some may prefer different incline and speed ranges or more varied workout programs.
User Experience
People's experiences with the NordicTrack X32i treadmill are mixed. Many users like the incline range, big screen, iFit features, and comfy feel. However, some users don't prefer the high price, heaviness, size, and need for iFit. Some needed help with software, hardware, delivery, or customer service. A few suggest using a particular mode or device mirroring to use their apps on the treadmill.
Maintenance and Durability
The NordicTrack X32i treadmill is a high-end treadmill that requires regular maintenance:
Keep it clean: Wipe down the display and surfaces with a soft, damp cloth, avoiding abrasive cleaners.
Lubricate the deck: Apply treadmill lubricant every few months for smooth operation.
Check the power: Ensure the power switch is on, the cord is plugged in, and check if the circuit breaker trips.
Adjust the belt: If it slips, follow the user manual for tension or alignment adjustments.
Replace worn parts promptly: Contact NordicTrack or a service provider for assistance if any part is damaged.
Conclusion
To sum it up, the NordicTrack Commercial X32i has many features, like a high incline, a large touchscreen, and a strong motor.
However, it comes with a high price, is heavy and oversized, and relies heavily on the iFit app. It may not suit everyone's fitness needs. Regular maintenance is essential for its optimal performance. Most people like it, but some have problems and suggest using different apps. I hope this information helps you make an informed decision.
FAQs
How does the incline feature work on the NordicTrack Commercial X32i treadmill?
Ans) The incline on the NordicTrack Commercial X32i treadmill goes from a -6% decline to a 40% incline. It helps with calorie burn, muscle targeting, and simulating outdoor conditions. You can control it manually or let iFit trainers adjust it during workouts.
How do I connect my NordicTrack Commercial X32i treadmill to Wi-Fi and Bluetooth?
Ans) To connect your NordicTrack Commercial X32i treadmill to Wi-Fi and Bluetooth, go to the settings menu on the touchscreen. Choose your Wi-Fi network and input the password. You can also pair Bluetooth devices like headphones or heart rate monitors. Wi-Fi is essential for iFit and online features.
What is the iFiT, and how does it work on the NordicTrack Commercial X32i treadmill?
Ans) iFit is a fitness app that offers on-demand and live workouts with professional trainers. You can view these workouts on the treadmill's 32-inch HD screen, monitor your fitness journey, and connect with other devices. There's a 30-day trial included, and afterward, a subscription fee of $58 applies.