Home exercise equipment became necessary for all fitness enthusiasts during the pandemic. Millions of people worldwide who have been exercising regularly earlier as well as now have got their whole routine changed.
First, we all had to rush inside to stay in our bodies. Some of us stopped exercising for some time. But then, I couldn't stay out of action for long. Others continued without a gap of a single day.
The gym members who were stopped from going out by their kith and kin started their workouts at home. Runners started running in their homes only. Imagine thousands of us running in our small flats in big cities for hours together to complete the daily quota of running a 5k, 10k, or even 21k in some instances. Such is the fitness craze. Scores of rounds from the main door, via the living room, kitchen, and washroom, to the last bedroom and back to the main door. In many cases, even the family dog runs alongside.
Best Overall Exercise Equipment for Home
The equipment I recommend for different workouts is based on your preferences, not my expertise. However, you can use the following equipment to stay in great shape. Finding the best at-home workout equipment is critical because moving and exercising at home is most consistent and, thus, highly beneficial in the long run.

Multi-gyms can make a nice addition to your home gym if you have space. However, a full workout does not require buying a home gym machine. The most tricked-out gyms only succeed if used frequently. To meet your fitness goals without going into debt, supplement your workouts with bodyweight exercises and outdoor cardio.
We understand that stocking a "gym" can be overwhelming. So trainers from across the country helped us compile the best home-use equipment. This at-home workout equipment is a selection for all budgets and spaces. The best exercise equipment for small apartments. Not everyone has enough space to use an extensive range of fitness equipment. However, there are still options even if you're space-constrained—no need to go elsewhere. Everything you need and more is here.
Ultimately, you'll be able to live, work, exercise, and stay healthy in the same house. Here are the best fitness products to look into. We've included accessories to expand your home gym beyond just purchasing dumbbells and resistance bands. Even simple exercise equipment can be beneficial. The resistance bands that I'm suggesting are small, compact, and affordable. Ankle weights help diversify your at-home workout.
The necessity of home exercise equipment
Those going to gyms earlier felt they were doing incomplete workouts without the proper gym equipment. The home workout equipment sale zoomed to never-before heights. People bought all kinds of equipment to compensate for going to gyms. The best home workout programs were started.
Initially, some of us started doing our morning routine workouts in our night suits only but soon realized that you don't feel ready for the workout unless you are in proper workout clothes. I started wearing my workout t-shirts and shorts along with running shoes to do the workout on the society terrace.
I, too, felt the need for various home exercise equipment for my workouts. I was not interested in equipment like treadmills, exercise bikes, cross trainers, steppers, rowing machines, etc. My criteria for buying equipment was
These should be inexpensive.
These should not occupy much space.
I should be able to exercise my whole body with these.
Best Home Gym Equipment Names
Over a while, I bought these from Amazon & Decathlon. Following is my collection as of date. If you have these, going to a gym is unnecessary. Some friends even considered these the best home exercise equipment for weight loss.
Resistance Bands
Resistance bands are cheap arm exercise equipment for home. The 150-pound stackable 48″ Sport Bands comprise high-grade natural latex with durable metal climbing clips that won't break or distort. Yellow (10 lbs.), blue (20 lbs.), green (30 lbs.), black (40 lbs.), and red stackable bands (50 lbs.). They range in weight from 10 to 150 pounds.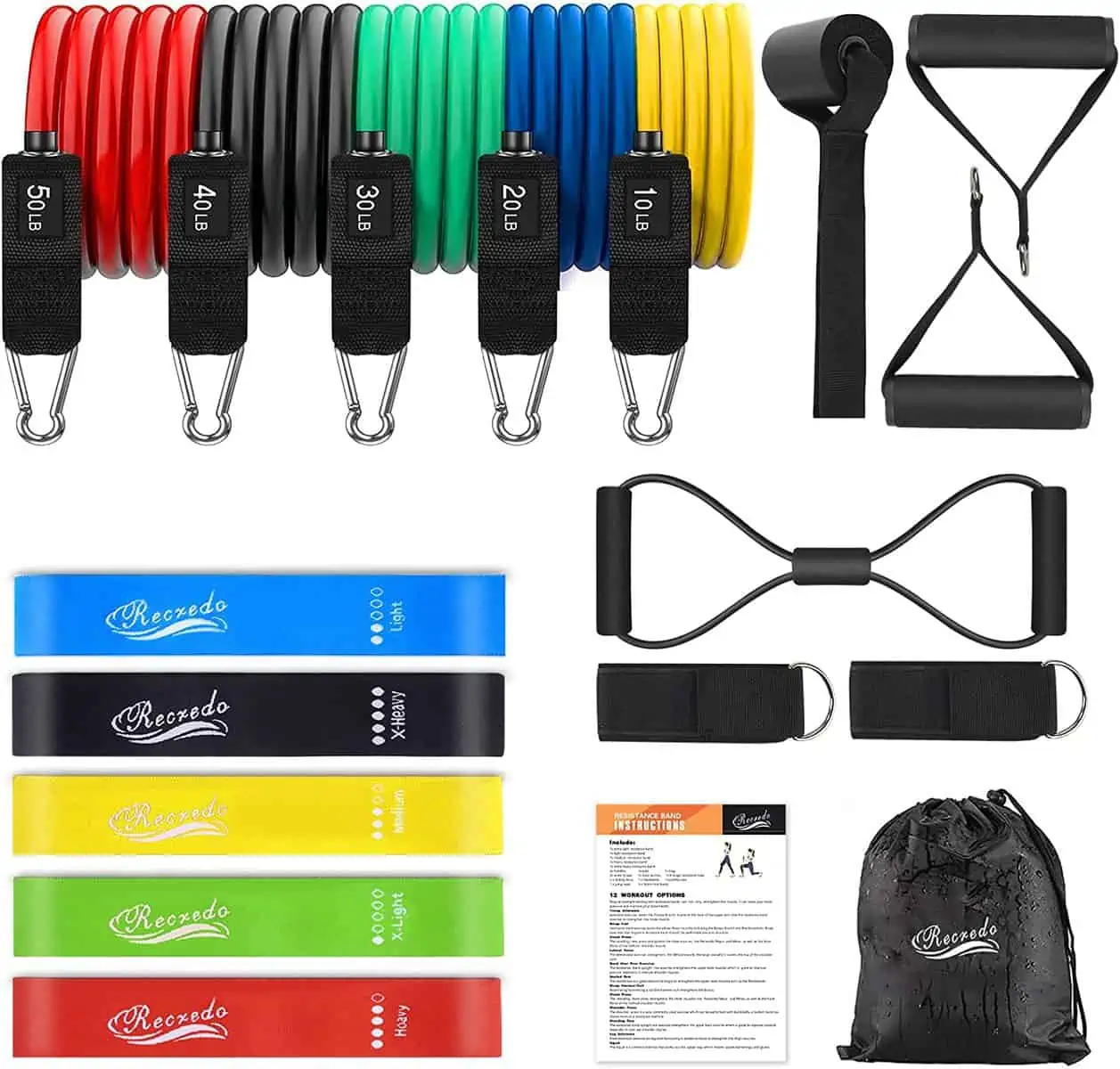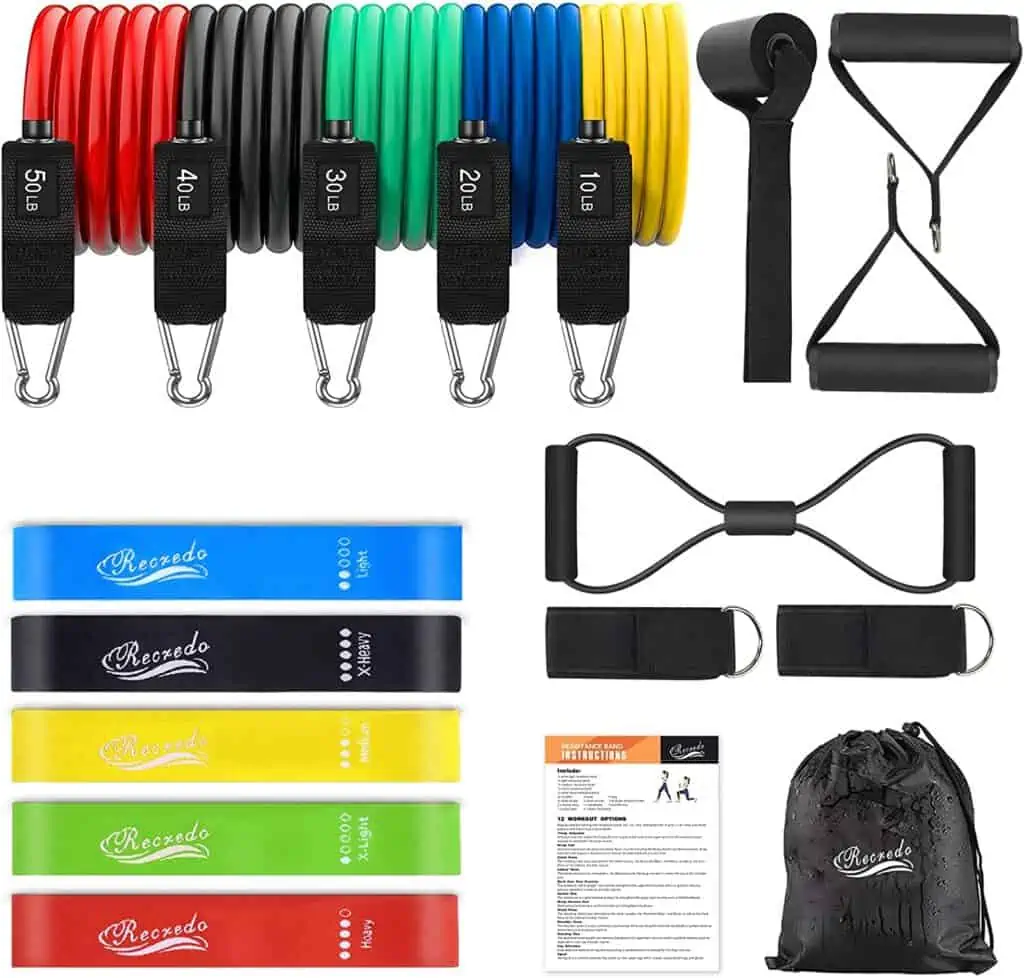 This set includes 5 exercise loops and 1 figure-8 resistance band made of 100% natural latex for flexibility and recuperation, so you'll feel confident and comfortable when stretching. Small and lightweight, these bands can fit in your suitcase or bag with our carry bag.
5 stackable tubing bands, 5 latex resistance loop bands, 1 figure 8 resistance band, 1 exercise guide, 1 waterproof travel bag, 2 soft handles with cushioning, 1 door anchor, and 2 ankle straps.
This training band integrates perfectly with yoga, Pilates, and beach body workouts, and you can modify the intensity to meet your goals. These are also the perfect equipment for leg exercises at home. Similarly, these are good for the hip, chest, abs, biceps, triceps, and more!
The best part about resistance bands is that they are lightweight, flexible, and can be tucked in anywhere. These can be used in isolation or combination with certain existing exercises. It can add additional strength to weightlifting or dumbbells. These come in various colors depending on resistance levels. So, the same set can be used for small or weak muscles to main or big muscle groups. Members of my tribe can also use these. I can exercise my whole body with bands.
There is a basic difference between doing an exercise with a band and doing the same with a dumbbell or some other weights.
It is easier to carry the weights towards the end of the movement due to the leverage, which reduces the tension in the muscle.
In the case of a band, the higher you lift your arm, the harder it becomes due to the increased resistance of the band.
While pulling up a dumbbell is difficult in the beginning and easier at the end, it is the opposite in the case of a band.
While a dumbbell only works against gravity, a workout with a band can be in any direction, so it is more effective.
Buying a Resistance Band
Choose between a strip and a tube design. A strip is more cost-effective but less durable. It is better for beginners. You can buy a whole set comprising various colors and resistances.
The tube design is more durable. It comes with handles. You can do more workouts with it. It usually does not come in sets.
The tube design has various features, such as door attachments, removable handles, clips, ankle cuffs, and rings.
Buying a starter kit is recommended as the no. of exercises, and the proper ways to perform those are not clear initially.
Yoga Mat
This is the most common home workout equipment found. It comes in various colors, materials, and price points. Its main utility is providing insulation against the ground and preventing it from slipping.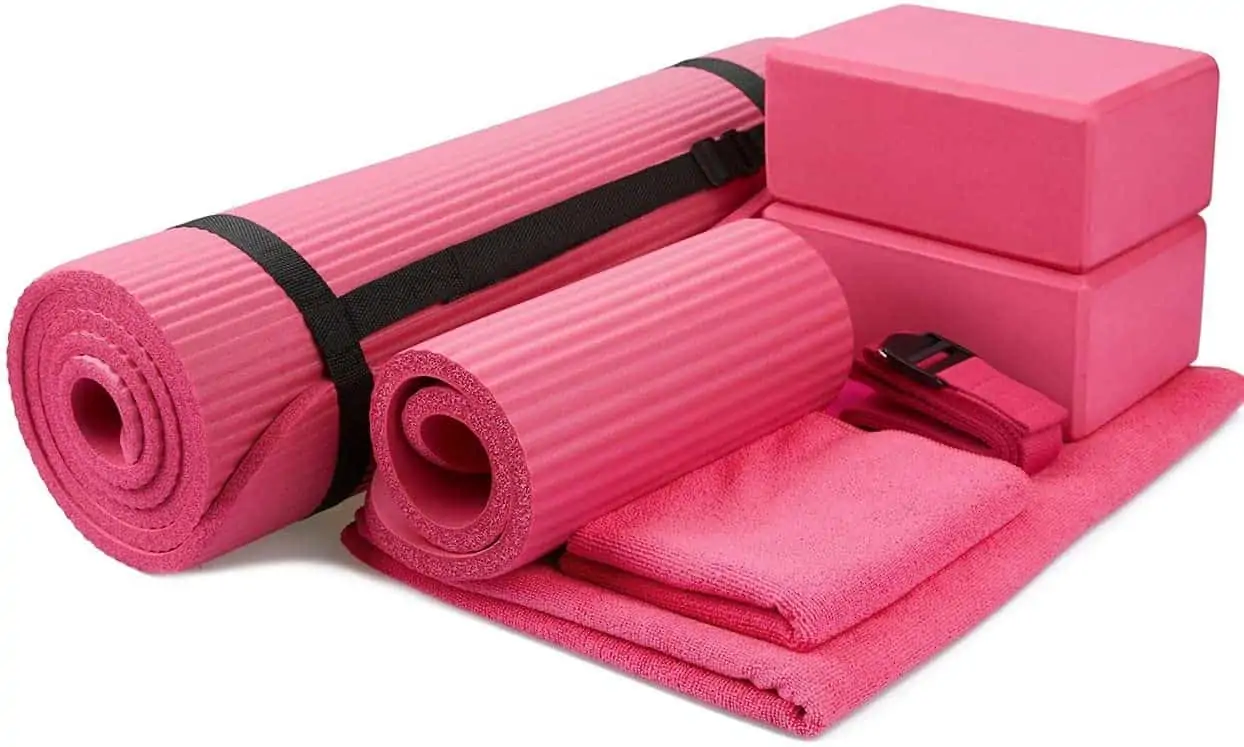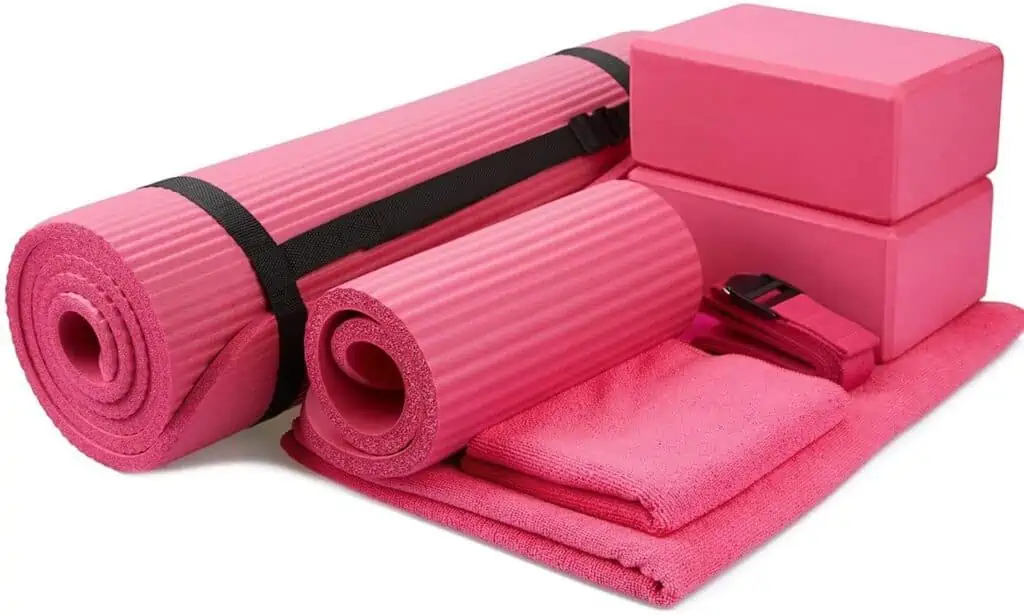 BalanceFrom GoYoga Series 7-piece set includes 1 yoga mat with a carrying strap, 2 yoga blocks, 1 yoga mat towel, 1 yoga hand towel, 1 stretch strap, and 1 yoga knee pad.
2 Styles to choose from: set with a 1/2″ thick mat and set with a 1/4″ thick mat. 1/2″ .thick mat dimension: 71″ long 24″ wide; 1/4″ thick mat dimension: 68″ long 24″ wide
With double-sided non-slip surfaces, Both mats have an excellent slip-resistant advantage to prevent injuries. Moisture-resistant Technology makes the mat be easily washed with soap and water
72"x24" and 24"x15" yoga towels are 100% microfiber and feature prime absorption to provide slip-resistant and sweat-free workouts. 100% machine washable
Other accessories: 1x yoga knee pad at 24″ x 10″, with 5/8″ (15 mm) thick for perfect cushion. 2x yoga blocks at 9″ x 6″ x 4″ and 1x yoga strap to make you a complete yoga set
Buying a Yoga Mat
These come in various materials like rubber, cotton, Jute, etc.
They also come in various thicknesses ranging from 0.5 cm to 3 cm. You may sometimes buy mats thicker than that, but then you lose the essence of a yoga mat.
Do not buy a very thin mat also. It will not be very comfortable on the hard floor surface.
Check a mat for its stickiness before buying, as a slippery mat is uncomfortable for doing asanas.
Suspension Training System
The TRX All-in-One System is a full-body suspension trainer. This system includes a suspension trainer, an anchor, a door anchor, a starting guide, and the TRX Training Club app.
Unlimited access to 500+ on-demand fitness videos and daily live courses from world-class trainers. Register your suspension trainer for 30 free days.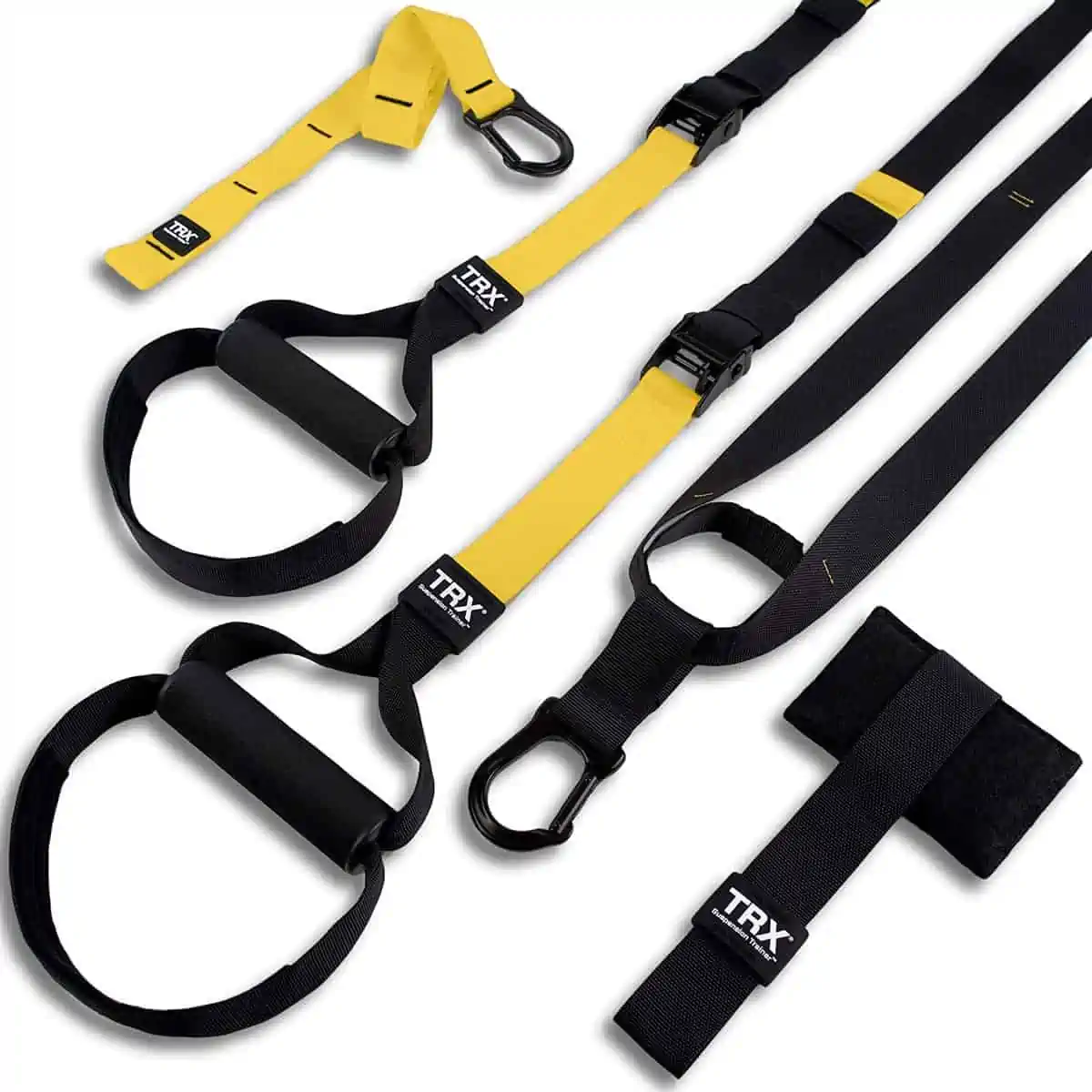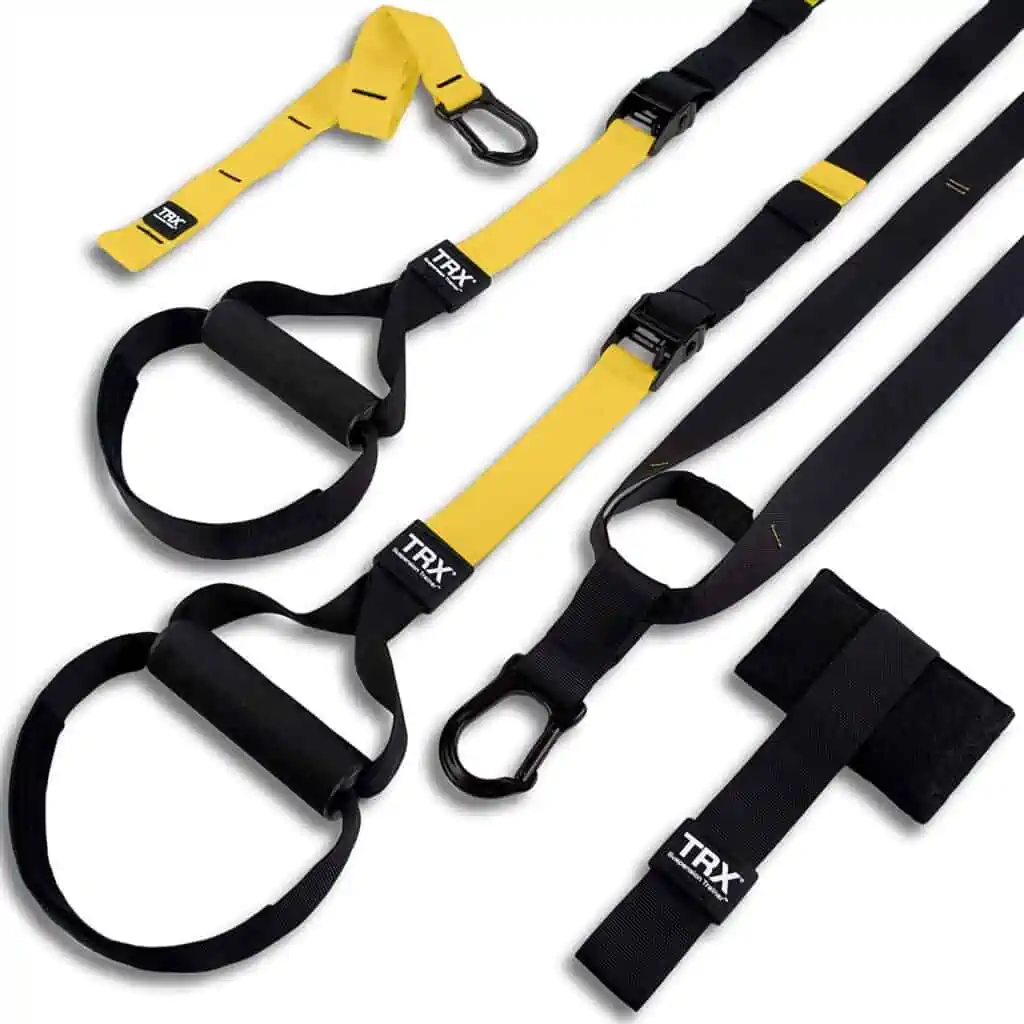 Our best-selling system improves your workout routine. Seven basic, useful moves will boost your fitness.
The carabiner has locking loops that keep it from slipping, adjusters that let you change the length quickly during your workout, strong foam handles for comfort, and foot cradles that add variety to any program.
This TRX Suspension Trainer weighs less than a pound, sets up in just a minute, and has everything you need to work out indoors, outdoors, and on the go. This travel gym gear is awesome.
While buying a Suspension training system, be aware of
Good Quality Straps – The most crucial part. They have to hold your body weight, so be doubly sure.
Strong Anchor Points – For the same reason, the anchor point should be extremely reliable and strong.
Portability – You should be able to carry it anywhere, so it has to be lightweight
Comfort Grips – The grips must be slip-resistant and padded to ensure comfort even after prolonged use.
Instruction booklet – If you are a newbie, an educational DVD or a booklet will be very useful.
Kettlebell Weights
Each kettlebell is encased in color-coded vinyl to prevent corrosion, boost longevity, minimize noise, and protect flooring.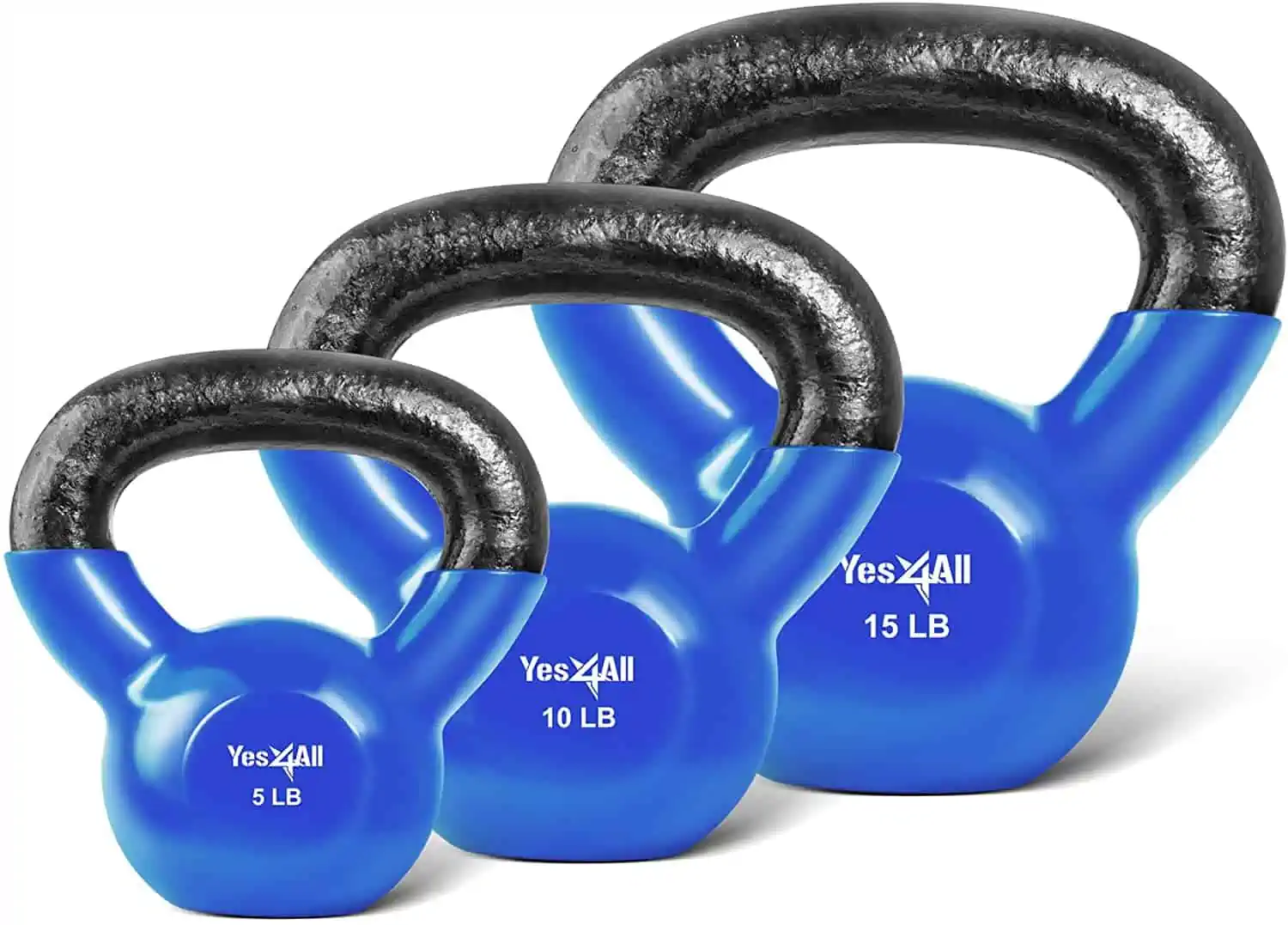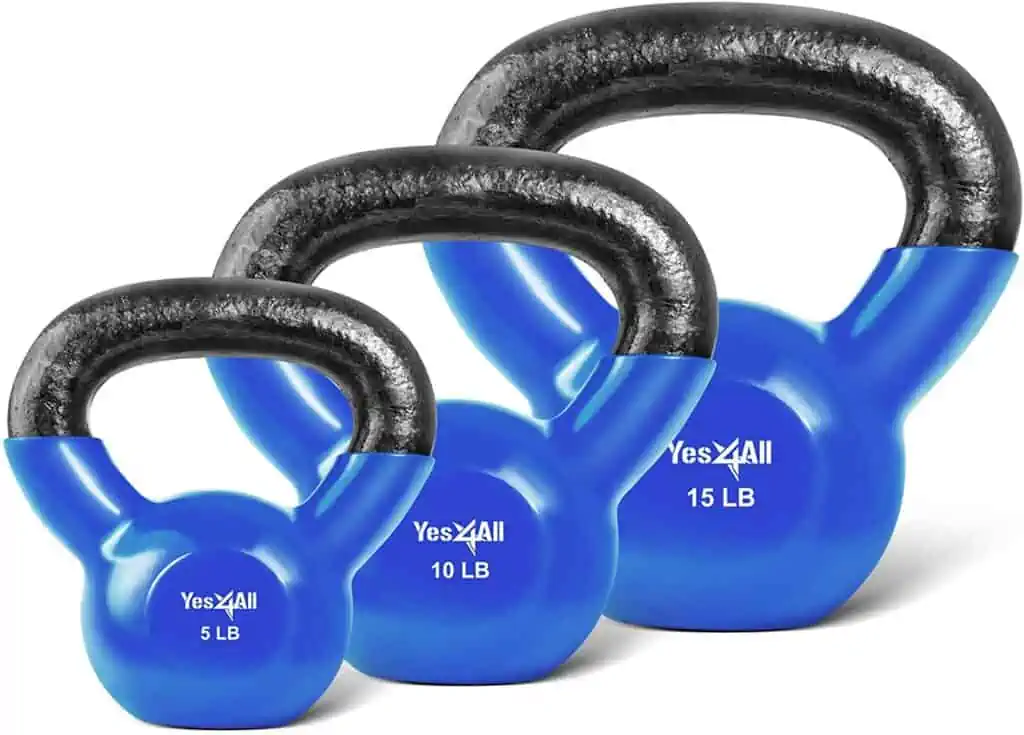 A smooth, high-quality textured steel handle gives a pleasant and solid grip for high reps, making chalk optional for men and women.
Perfect for kettlebell workouts like renegade rows, handstands, and pistol squats.
Age-and gender-appropriate: The wide range of weights is great for improving strength, power, and endurance with swings, deadlifts, squats, get-ups, and more.
5, 10, 15-lb kettlebells 3 sets for your convenience: 5, 10, 15lb kettlebells
The best part about Kettlebells is that most associated exercises are full-body. And most of these exercises are cardio. This is another all-in-one total body conditioner. It improves core strength and stability, thereby increasing coordination. One can do some serious fat-burning workouts with it. It helps build lean muscle, which is very helpful to athletes in improving their performance. It increases the range of mobility. It helps improve posture. Cures muscle imbalances. A single Kettlebell is enough. But don't buy a very light or a very heavy one.
Buying kettlebells for the first time, you will have to know the following
The handle is big enough for you to hold with both hands.
The space between the handle and the bell should be adequate. If it is less, it will dig into your wrist. If more, it will dig into your forearm.
The kettle should not be fully round but rather oval-shaped. A fully round one will again dig into your forearm.
Vinyl or plastic-coated handles are fancy-looking but not needed. They will be too smooth, slip due to sweat, and hurt your hands with their seams.
Avoid kettlebells with a base, though they look attractive. The base digs into the forearms when you raise them.
So, a cast iron kettlebell with all the above characteristics is good enough.
Plyo Box is the best home exercise equipment for legs. It has adjusts from 20″, 24″, and 30″ and weighs about 16 pounds. Easy to wipe clean PVC coating.
Plyo boxes are used for stationary jumps, step-ups, lateral leaps, approaching jumps, reverse dips, and inverted push-ups.
Plyometrics improve muscle power through fast, difficult motions. CrossFitters, track and field runners, and MMA fighters love plyometric boxes.
With this slip-free landing pad with fully wrapped and tucked corners, this adjustable plyo box won't curl up after numerous uses.
Improve shoulders, arms, chest, glutes, and legs while strengthening and increasing core stability.
This is another very interesting home workout piece of equipment. It makes exercise fun. Box jumps, the most explosive, greatly strengthen your legs. Everybody's muscles are engaged, be it calves, quads, hamstrings, glutes, core, arms, or others. Due to this, you improve your balance and posture over time. Step-ups are another great exercise to tone your glutes and total midriff. Then there are box pushups, calf raises, and dips.
While buying this home leg exercise equipment, keep the following in mind
Edges should be rounded and not sharp to prevent injuries
The jumping platform needs to be as wide as your hips
The stool-type plyo box should be solid, sturdy, and not wobble or unstable.
All screws and bolts should be sunk in, or they will hurt if rubbed against.
Jump Rope
Upgraded tangle-free double ball bearings offer a fast, smooth jump rope.
The gold combination of 9mm braided cotton rope + 9mm solid PVC rope can double your jump rope's life and make your rope skipping more vibrant.
Aluminum and Silicone Grips: The handle is durable and comfortable to hold. The raised silicone oval design enhances friction and minimizes handle loss during leaping.
The 9mm braided cotton rope weighs 0.46 lbs, is 10 feet long, has no odor, and has a wear-resistant silicone protective tube. The 9mm solid PVC rope weighs 0.58 lbs and is 10 feet long. Using it requires speed and strength.
1 lb. jump rope. The built-in lock is adjustable to your height. Indoor or outdoor rope jumping for men, women, seniors, and youth.
Jump rope is one of the most underrated exercises. You can improve stamina with it. It helps burn calories, improves coordination, strengthens bones, lowers injury risk, and improves heart health. For beginners, even 2 minutes of jumping rope can be very difficult. Fifteen different jumping rope exercises can be done and mastered.
While buying a Jump rope, keep the following in mind
Length of the rope – It should reach your armpits, or the overall length should be three feet taller than you.
Consider the surface on which you are going to jump and buy accordingly. A steel cable wrapped in vinyl is good for the outdoors. A leather one looks good but is not long-lasting outdoors.
Buy heavier ropes if you want to burn fat, and buy light ones if you do lots of tricks with them.
Check the handles – They have to bear heavy friction, so if you jump a lot, it should have a ball-bearing system.
Adjustable Dumbbells
This includes a 1-Year JRNY Membership ($149 value; auto-renews unless canceled 48 hours beforehand).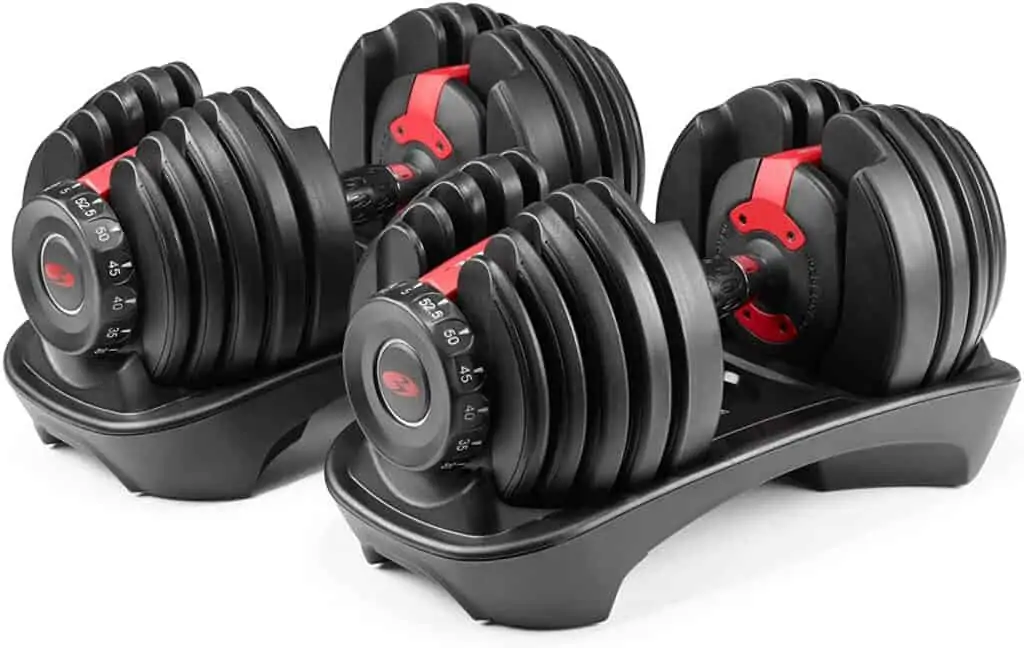 5-52.5 lb. Adjustable Dumbbells, Simple Dials. 5, 7.5, 10, 12.5, 15, 17.5, 20, 22.5, 25, 30, 35, 40, 45, 50, 52.5 lbs.
Full-body strength for legs, back, chest, abs, shoulders, and arms. The JRNY app offers on-demand full-body strength classes (JRNY Membership Required). 16.9 x 8.3 x 9 inches (43.2 x 21.2 x 22.8 centimeters)
Dumbells are also very effective equipment for exercise. These are better for joints than barbells. Adjustable dumbbells are even better as you can use a single set for various exercises and all the family members. You can do a lot of exercises with dumbbells.
While buying adjustable dumbbells, keep the following in mind –
Adjustable dumbbells are an economical choice for home use.
Dumbbells with knurled grips are more reliable as they won't slip out of your hands.
Buy hexagonal dumbbells with rubber or urethane grip, as round ones will roll off and cast iron ones will spoil the floor.
This versatile and cost-effective equipment can keep you in great shape, improve your overall fitness, and even lead to weight loss. Most importantly, they allow you to continue your fitness journey in the comfort and safety of your own home. As we continue to adapt and redefine what a healthy lifestyle means, these essential pieces of home exercise equipment provide a solid foundation for maintaining our physical and mental well-being, proving that we can live, work, exercise, and stay healthy within the same space.
Conclusion
The article advocates for versatile and budget-friendly exercise equipment in a world that adapts to home workouts. The curated selection and insightful buying considerations empower readers to create effective home gyms. These tools prove that maintaining fitness is achievable, promoting physical and mental well-being within the comfort of one's home.
FAQs
What is the most effective home exercise equipment?
If I had to choose one option, I would say that treadmills are the most effective home exercise equipment. Treadmills are versatile and effective for cardio training, allowing you to target different muscle groups and perform various exercises. Treadmills are adjustable, so you can walk, jog, or run on them. Have an incline and decline option. You can buy a treadmill for $200 to $15000.
What machines should I buy for home gym?
It depends on your fitness goals, preferences, budget, and available space. However, some of the best home gym machines for different purposes and needs are
1. Exercise bike
2. Treadmill
3. Rowing machine
4. Elliptical
Which machine is best for weight loss?
You can use maximum calories on a treadmill, but based on your preferences, you may use an exercise bike, a rowing machine, or an elliptical.