I wrote an article last year about the best whey protein powders on the market. In it, I said that they are also great for losing weight. I have received a lot of queries on the best casein protein powders for weight loss.
How come consuming casein for weight loss is important? How many grams of protein is sufficient to start weight loss? When should I take casein protein for weight loss?
Casein Protein vs Whey
So here is some comparison between Casein Protein and Whey:
Casein is digested slowly compared to whey, providing a steady and prolonged release of amino acids into the bloodstream, preventing muscle breakdown, and promoting muscle recovery.
Casein is more suitable for fasting situations, like before bed, as it keeps you full longer. Whey is ideal for pre-, post-, or during a workout, as it can quickly fuel your muscles, enhancing performance.
Casein forms curds when exposed to stomach acid, slowing its absorption and making it harder to mix with liquids. Whey dissolves easily and has a smoother texture and taste.
Casein protein is generally more expensive. Whey is more widely available and has more variety in flavors and types.
Both casein and whey are high-quality proteins containing all essential amino acids. Both help build muscle but have different effects and uses depending on your goals and preferences.
How many Calories to Lose a Pound?
Our bodies do not work on this formula. The first and foremost rule of reducing weight is to stay in a calorie deficit, which means your intake of calories should always be less than the calories you burn.
A calorie is a unit of energy, and it is a way of describing how much energy you will get by eating an apple or having dinner. For example, you get 90 calories from a cup of milk tea.
These calories are needed to run a factory called the human body. Calories not consumed stay deposited in the form of body fat.
Best Casein Protein Powder for Weight Loss
We have sorted the protein powders according to calories from lowest to highest.
BodyTech Micellar Casein Protein Powder
Scoop – 32.2
Calories – 100
Flavors – 3
Protein – 24 gm
BCAA – gm
Carbs – 1 gm
Fat – 0.5 gm
BodyTech Casein Powder can be eaten at any time of day. It is one of the best-tasting casein protein powders. It keeps muscles from breaking down too much as they heal after a workout or before bed.
Proteins made of casein are digested more slowly than other proteins. Casein helps minimize post-workout muscle degradation by providing an extended release of muscle-building amino acids.
BodyTech Micellar Casein is priced reasonably. Flavored and unflavored powder options are available. Proprietary Aminogen, an enzyme that assists the body in protein breakdown, distinguishes this brand. Only micellar casein and amino gen are used in the unflavored formula.
Pros
Very low Carbs & Fats
Taste well-liked by users
Cons
It won't mix nicely in a blender bottle.
BulkSupplements.com Casein Protein Powder
Scoop – 30 gm
Calories – 106
Flavors – Unflavored
Protein – 25 gm
BCAA – gm
Carbs – <1 gm
Fat – <1 gm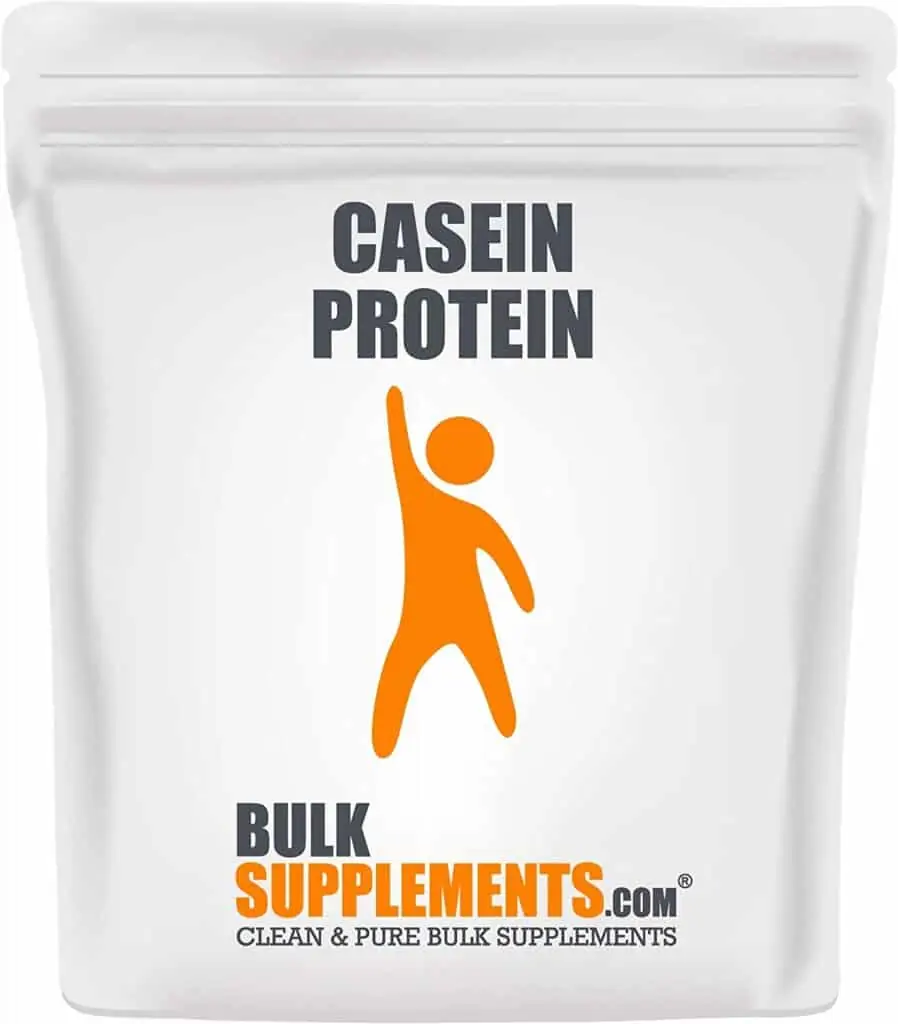 It is a top-rated casein protein powder. Unflavored casein powder provides a protein boost with no added sweetness, so you may enjoy them with a meal or drink that's not as sweet. It does not include any artificial ingredients and is unflavored. It has a hint of milkiness, but it is easy to make it tastier by blending it with various fruits. It is less thick than the consistency of other casein powder supplements. You can easily make a casein protein shake with water and blend it to a creamy texture.
This casein powder contains 25 grams of protein and less than 1 gram of carbohydrates and fat. That macro split is very effective. The product is made in an FDA-inspected facility, following cGMP guidelines.
Pros
Unflavored protein powder with no additives.
A high proportion of protein
Casein is the sole ingredient mentioned.
Gluten and sugar-free.
Available in a variety of sizes.
Cons
No mention of the casein type.
Weak packing
Naked Nutrition Micellar Casein Protein Powder
Serving Size – 30 gm
Calories – 110
Flavors – Unflavored
Protein – 26 gm
BCAA – 5.45 gm
Carbs – 0 gm
Fat – 0 gm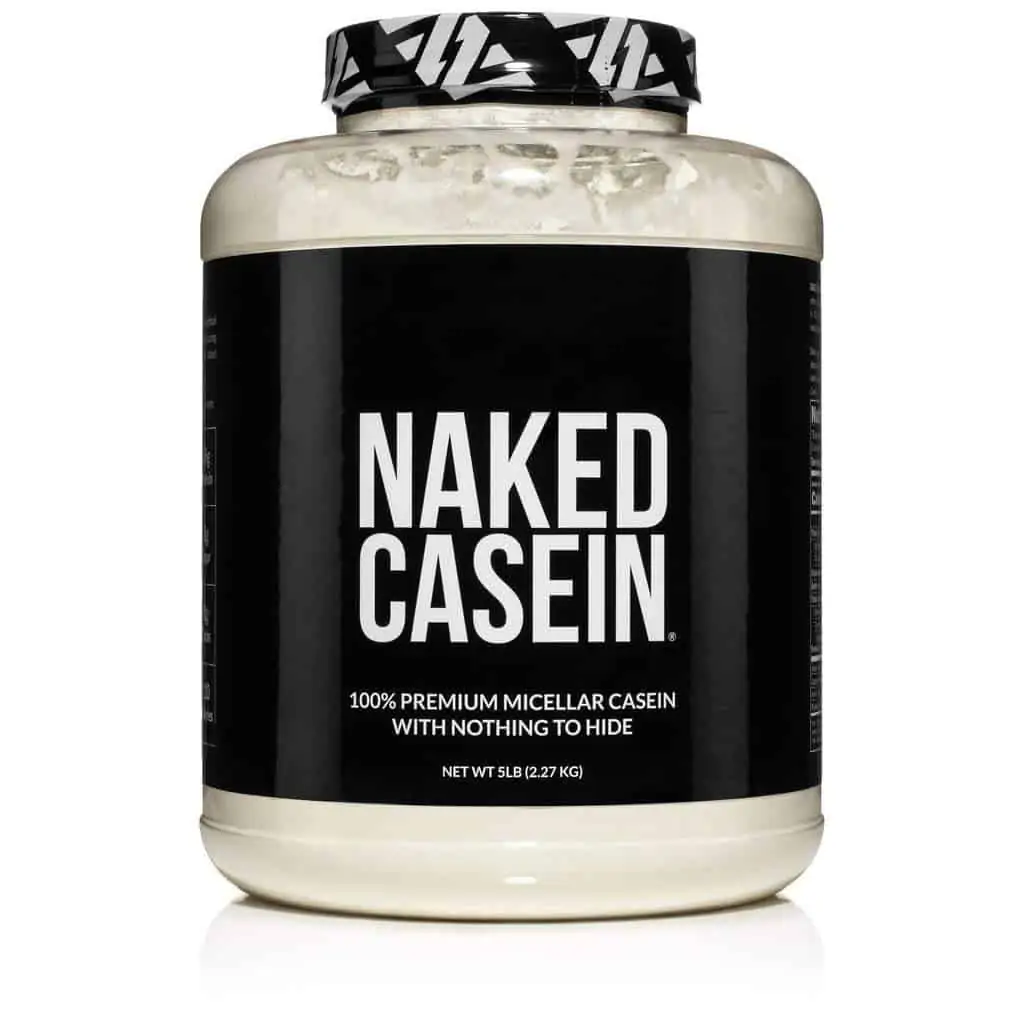 Naked Casein is a wonderful way to get the advantages of casein protein.
The primary protein source is premium micellar casein. This protein is not denatured during processing. Micellar casein digests slowly and clots in the stomach, allowing a continuous supply of amino acids. This is great for muscle development and regeneration, particularly before bed.
No chemical detergents or heavy metals are used to make this protein. Since micellar casein is the only thing in this protein powder, it is also very clean and pure.
It contains casein, which is derived from milk. Also, this product is exclusively available from US farmers. Naked Casein is also minimal in calories, fat, carbohydrates, and sugar. This makes it ideal for clean muscle development and a general diet. This powder may be used in baking, drinks, and smoothies. You receive pure casein protein with no fillers.
Pros
No Flavor
No Artificial Colors
No Carbs and no Fat
Nutricost Casein Protein Powder
Scoop 35.27 gm
Calories – 110
Flavors – 2
Protein – 24 gm
BCAA – gm
Carbs – 1 gm
Fat – 1 gm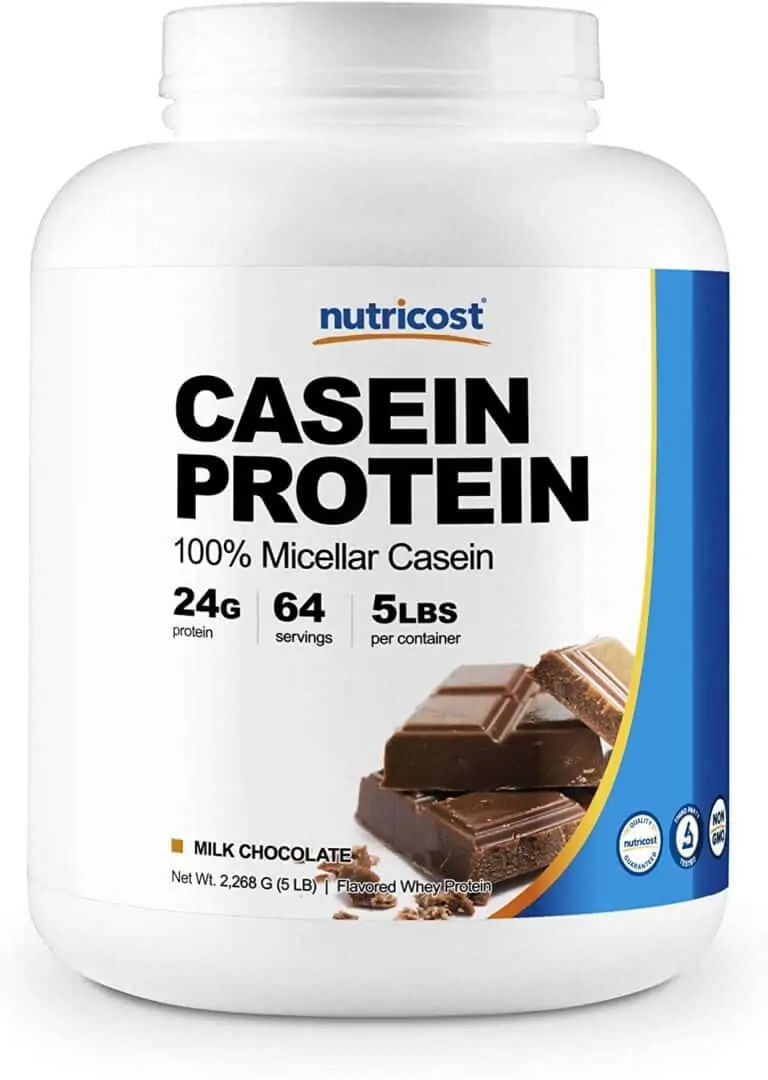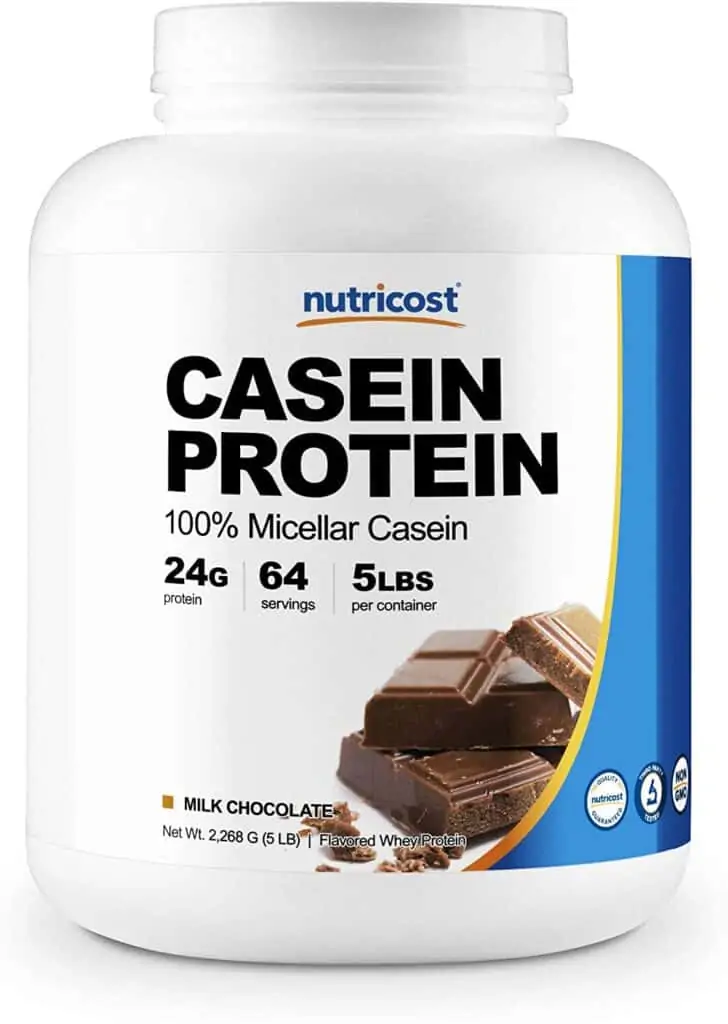 The flavor is pleasant and serves as a solid foundation for whatever other components you want to add to customize the dish. This 100% Micellar Casein is manufactured in a GMP-compliant, FDA-registered facility. It is non-GMO & Gluten free.
Pros
Micellar casein in its purest form
Gluten-free and non-GMO certified
flavored with natural ingredients
Almost nil Carbs & Fats
MyProtein Slow-Release Casein
Serving Size – 30 gm
Calories – 110
Flavors – Unflavored
Protein – 23 gm
Carbs – 3 gm
Fat – 1 gm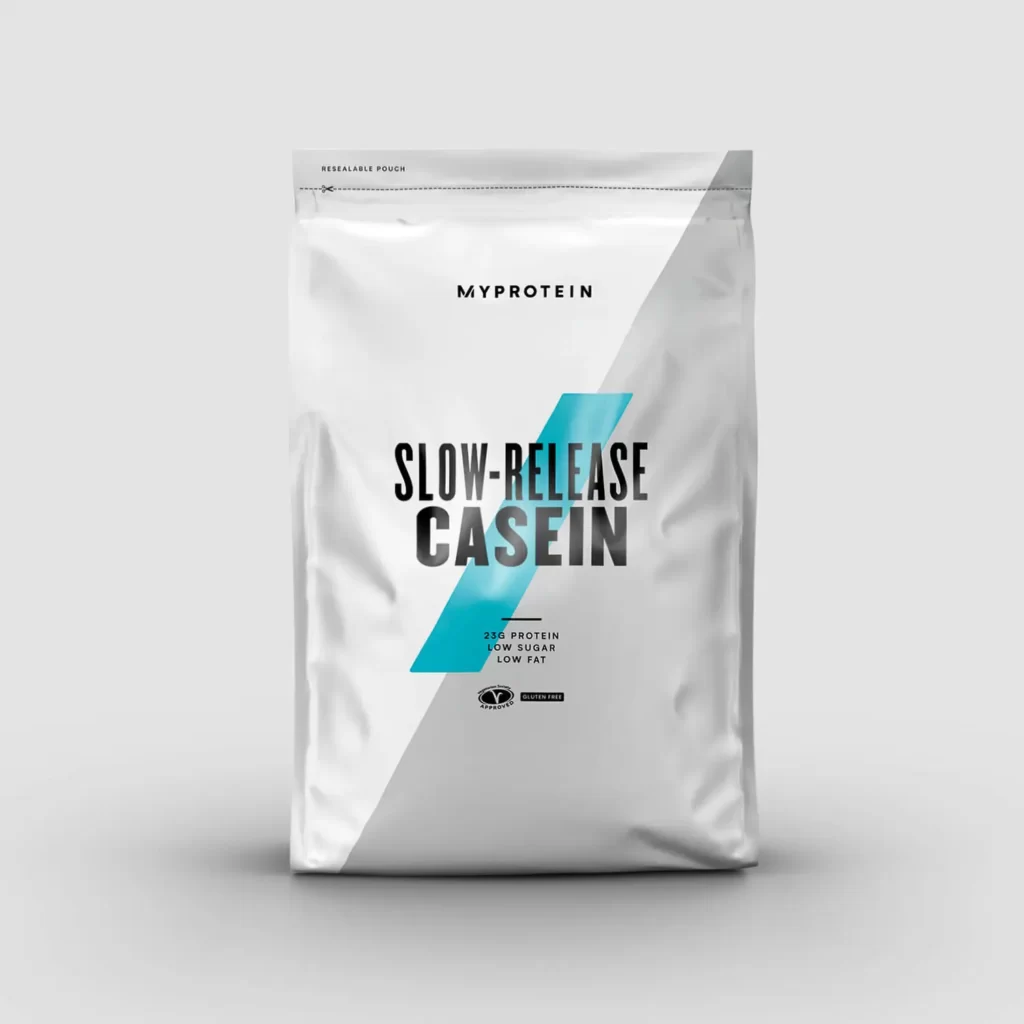 It's micellar casein, which breaks down slower than whey. Combined with whey or regular meals, micellar casein keeps you satiated and anabolic for longer.
I've only had the unflavored version and liked it. A shaker is helpful, but not necessary to stir the powder into water or milk. The dose per scoop is generous. Most folks need one scoop. I felt fuller for longer than when I didn't take it, which was great for avoiding midnight hunger.
The product completely crushes the competition on price points. And because this is MyProtein, expect to spend less. That's insanely good micellar casein with no side effects.
Casein is an excellent method to add lasting power to your daily meals. If you don't mind sacrificing taste for significant savings, this is your best bet.
Pros
No Flavor
Very economical
Very Satiating
Legion Casein+ Protein Powder
Scoop – 32 gm
Calories – 120
Flavors – 5
Protein – 26 gm
BCAA – 5.2 gm
Carbs – 2 gm
Fat – 0 gm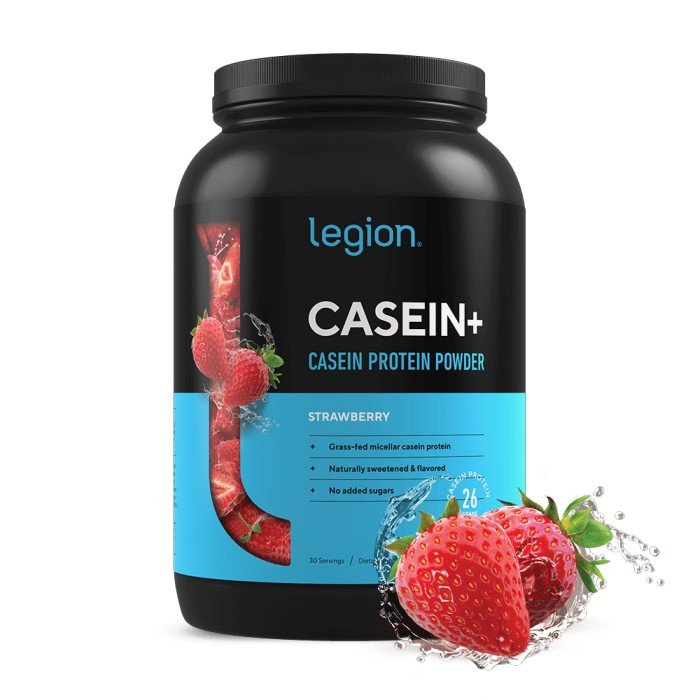 Naturally sweetened and flavored micellar casein protein powder. 100% micellar casein protein powder Casein+ has 26 gm of protein per serving and very little carbohydrate and fat. Casein is a grass-fed isolate derived from high-quality milk from sustainable dairy farms in Ireland, producing some of the world's healthiest and cleanest milk.
Seriously Casein+ is an entirely different casein powder. If you're not pleased with this low-carb protein powder for women and men, the company will promptly and courteously return your money.
Pros
It is from grass-fed dairy farms
Zero fat content
Naturally sweetened
Cons
No digestive Enzymes
Not a very good taste
Contains Soy
ON Gold Standard 100% Casein Protein Powder
Scoop – 30.4 gm
Calories – 120
Flavors – 9
Protein – 24 gm
BCAA – 5 gm
Carbs – 3 gm
Fat – 1 gm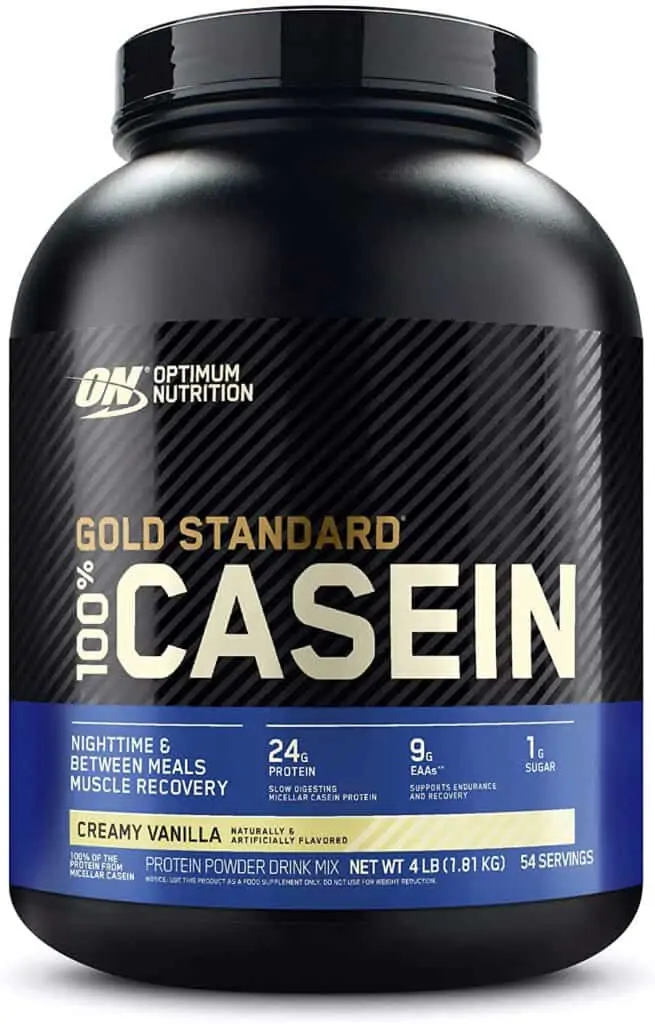 It is the most well-known company in the world that makes protein powder, and they make the best casein powders. This is a low-cholesterol protein powder.
Slow Digestion – A perfect choice between meals or before bedtime while fasting for a prolonged period, and it assists in regenerating lean muscle mass.
Micellar Casein – 24gm of high-quality, slow-digesting, anti-catabolic protein to aid your exercise and nutritional goals.
Night-Time Solution: This specially designed nighttime protein source will help you repair broken muscle fibers and stay anabolic as you sleep. It helps keep you full overnight and improves muscle recovery. SATIETÉ: keeps you fuller for longer and supports your weight-loss goals. It has more flavors, but it is usually only available in nine.
Pros
No artificial colors
Pure Casein Protein
With Digestive Enzymes
Less Cholesterol
Cons
Costlier than competitors
Artificial sweeteners
Too sweet for my taste
Soy
Dymatize Nutrition Elite Casein Powder
Scoop 35.6 gm
Calories – 130
Flavours – 4
Protein – 25 gm
BCAA – 5.4 gm
Carbs – 4 gm
Fat – 2 gm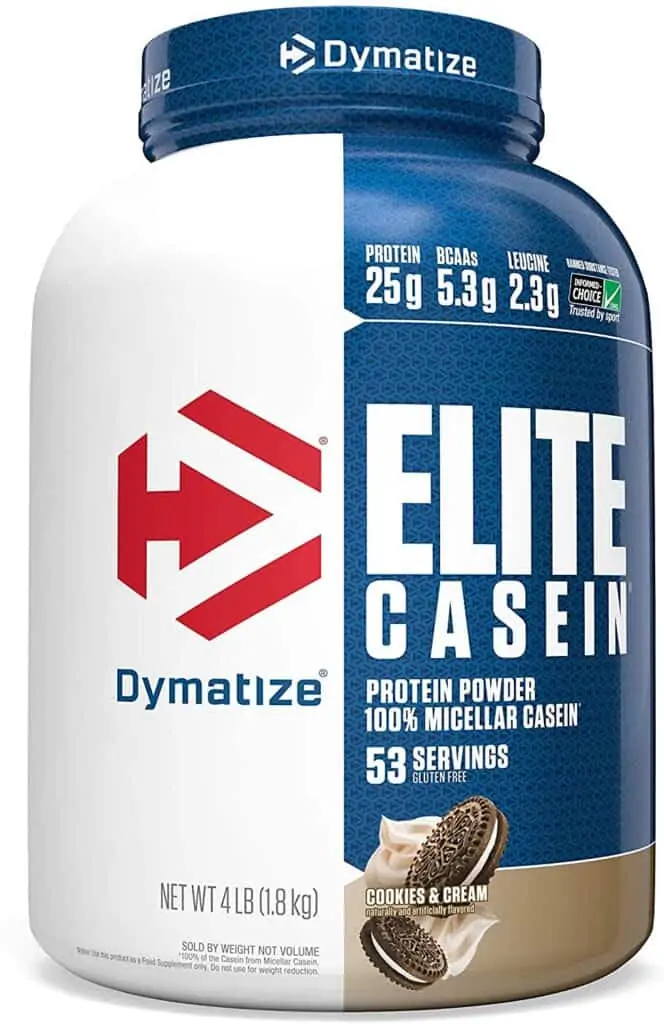 Elite Casein uses cross-flow microfiltration to keep the muscle-building properties of casein protein in its natural state. Elite Casein is made by R&D experts who work for the company. They carefully choose ingredients that meet strict standards.
All Dymatize products, including the finished goods, are produced in GMP- and Sport-certified facilities.
Ideal for overnight muscle development and recovery, as well as other long stretches between meals.
Supports muscle development and regeneration by providing a steady supply of muscle-building amino acids.
Pros
It tastes amazing.
Calcium-rich.
Informed Choice has certified this product.
Cholesterol levels are pretty low.
Sugar-free
Cons
Soy is present.
Artificial flavors are present.
A little salty
Six Star Elite Casein Protein Powder
Scoop – 40 gm
Calories – 140
Flavors – 1
Protein – 24 gm
BCAA – 4.9 gm
Carbs – 9 gm
Fat – 0.5 gm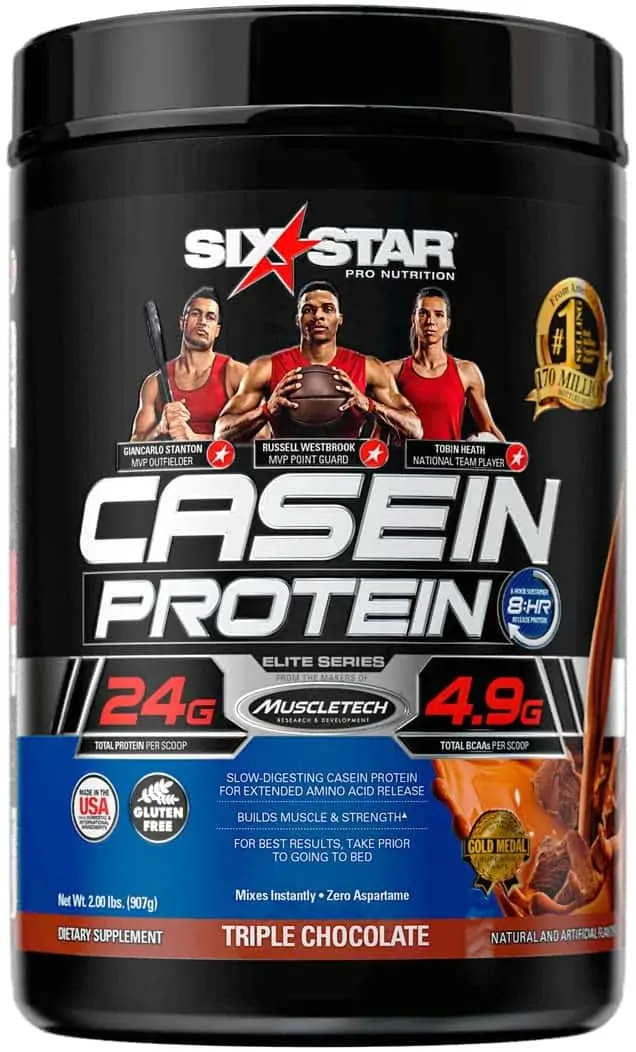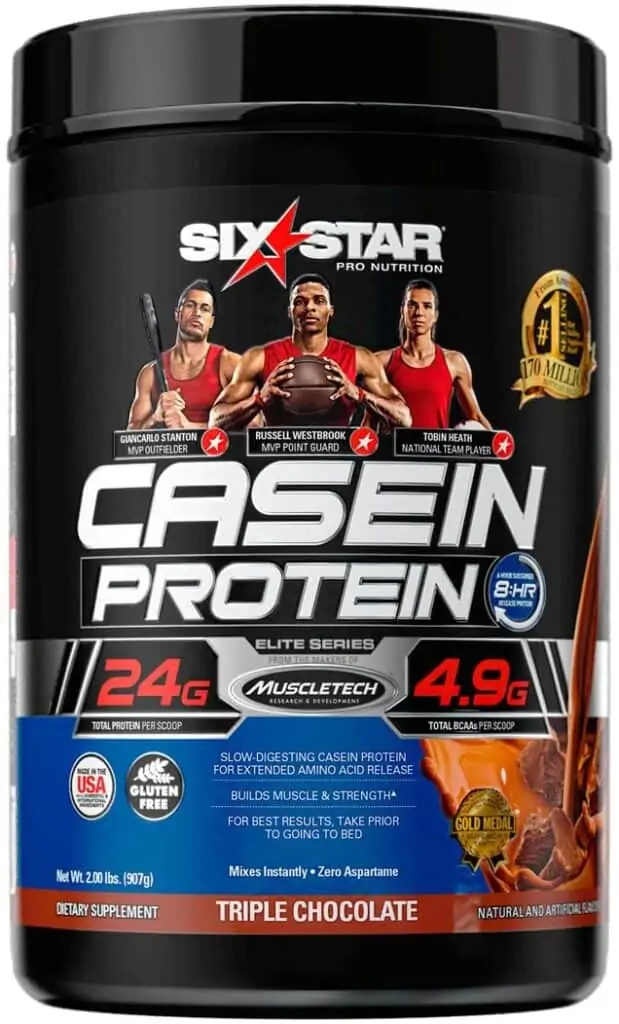 MuscleTech Research & Development has created an 8-hour Sustained Release Protein for extended amino acid release. This dietary supplement mixes instantly. It has zero aspartame. The company has received the American Masters of Taste Gold Medal for the product's superior taste. It is manufactured at a GMP facility. It is gluten-free and banned substance-free.
With 24g of protein in every scoop, Six Star Casein Protein provides your muscles with a steady stream of amino acids. Casein has a 100% sustained-release property. It's great for splitting up between meals and sleeping at night. When you eat and absorb food slowly, you get strong amino acids that keep your muscles fed all the time.
Pro
Very Good Taste
Low in Carbs & Sugars
Cons
A bigger jar is also needed.
Some clump formation when mixed with a spoon.
MuscleTech Phase8 Whey Casein Protein Blend
Scoop – 42 gm
Calories – 150
Flavours – 4
Protein – 26 gm
BCAA – 5.6 gm
Carbs – 8 gm
Fat – 1.5 gm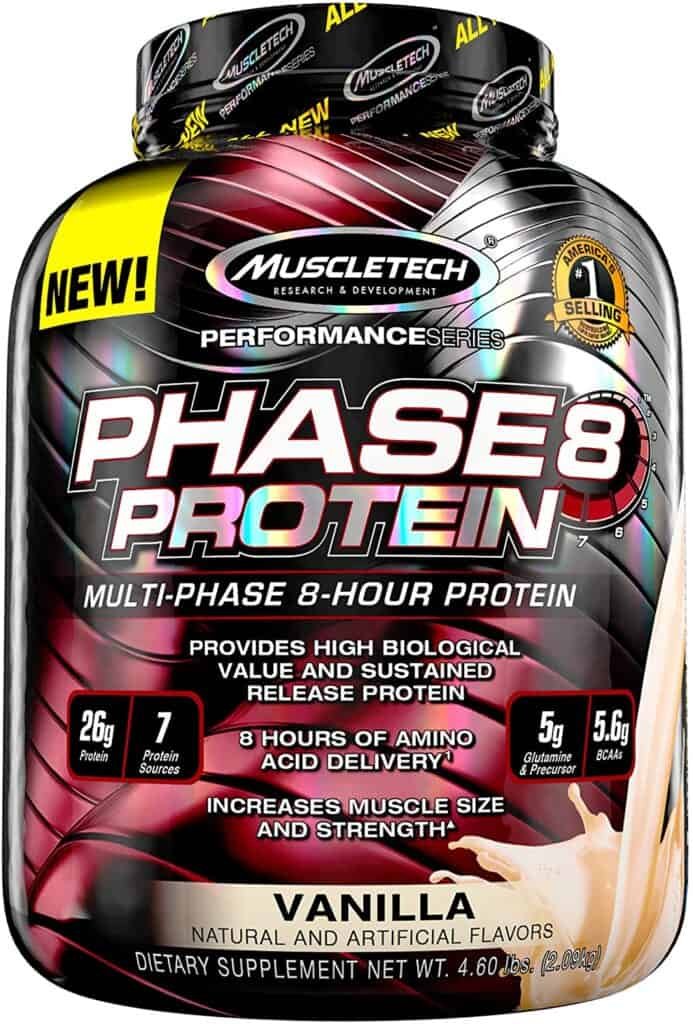 It is the best casein whey protein blend. The main protein in Phase 8 is one of the few that can keep pumping amino acids into your bloodstream for up to 8 hours after you eat it. This lets you keep a muscle-building environment going for longer.
Phase 8 was flavored in one of the world's best flavoring houses to taste better than any other protein on the market. It is a mix of various protein powders rather than casein only. It is also high in calories and carbs, and I feel this is the best-tasting casein protein powder available.
Pros
Due to various proteins, various digestion rates
It is suitable for consumption at any time during the day
Very satiating
Cons
To get a smooth texture, mix it very thoroughly.
Leads to a harsh flavor.
BSN SYNTHA-6 Casein Protein Powder
Scoop – 47 gm
Calories – 200
Flavors – 7
Protein – 22 gm
BCAA – 5 gm
Carbs – 15 gm
Fat – 6 gm
BSN offers something novel with its Syntha-6 Protein Powder, a very popular product. Boldly packaged with a nutritional label that may seem unusual, an unusual macronutrient breakdown sits next to a list of lengthy and complicated chemicals and additives. It is more of a meal replacement than a casein.
Whey protein concentrate, whey protein isolate, calcium caseinate, micellar casein, milk protein isolate, and egg albumin are all included in this product. It doesn't matter whether you eat it after a workout, in between meals, as a snack, or as a treat, and it's designed to be the go-to protein powder at any time of day. This is one of the best casein supplements for muscle protein synthesis.
Pros
Even with water, it tastes excellent.
Mixes nicely
Reasonably priced
Cons
It contains a lot of artificial components
The carbohydrate content is not low
This product contains soy, wheat, and maize
Highest calories of all those considered
Fasting for Weight Loss
People start eating less as the first step toward a weight loss program. This unplanned way to lose weight leads to losing essential nutrients because the person eats less variety of food. The body goes low on energy and causes you to crave high-fat and high-sugar foods. It, in turn, leads to the intake of more calories and weight gain.
Due to such weight loss efforts, many other problems can start due to a deficiency of micronutrients.
Some people begin exercising in addition to eating less to lose weight. But after a while, the body gets used to the exercise, and a plateau happens. Despite regular workouts, the weight does not decrease.
So people stop doing exercise, and their metabolisms go down. But we cannot reduce the diet now due to food cravings, which results in further weight gain.
Due to such weight loss efforts, we start losing micronutrients even if we decrease our diet.
So what is to be done?
You need to check your diet and see what you consume more of. In most cases, you are either –
In Calorie surplus, eating more calories and burning less.
Consuming more calories in the form of carbs and fats.
Not doing any exercise.
Leading a sedentary lifestyle.
So the only way out is
Active Lifestyle. A total lifestyle shift is needed to lose weight and not regain it.
A balanced diet with decreased calorie intake to stay in a calorie deficit.
Consistency in a workout routine.
These are the ABCs of weight reduction, and various types of protein help you achieve all these. There are so many Advantages of Protein, and see how these help you in the ABC of weight loss.
Active Lifestyle
Increases Muscle Mass and Strength
It helps Maintain Weight Loss
Good for Your Bones
Balanced Diet
Reduces Appetite and Hunger Levels
Reduces Cravings and Desire for Late-Night Snacking
Consistency in Workout Routine
Boosts Metabolism and Increases Fat Burning
Helps Your Body Repair Itself After Injury
Enables you to Stay Fit as You age
Lowers Your Blood Pressure
Does Not Harm Healthy Kidneys
Protein and Weight Loss
In one study, increasing protein intake from 15% to 30% of calories made overweight women eat 441 fewer calories daily without intentionally restricting anything.
If you need to lose weight or belly fat, consider replacing some of your carbs and fats with protein. Make your potato or rice serving smaller while adding a few extra bites of meat or fish.
Increase your Protein Intake
The sad part is that despite so many health benefits, our so-called healthy diet is still deficient in protein.
There are so many sources of protein. Milk protein is a complete, plant-based protein like brown rice protein, vegan protein powders, egg protein, and meat-based protein. You can have a mix of these if you fulfill your requirements through whole food instead of any single source of protein. We consume only 10 to 30 gm of protein in our diet, whereas recommended levels are 0.8 to 1gm per kg weight.
According to a clinical study, most people can safely eat even between 2 and 3.5 gm per kg of body weight daily, especially those who need more protein than others, such as sportspersons, athletes, bodybuilders, etc. It is recommended that 10 to 35% of your daily energy consumption should come from protein.
Protein is very satiating. So by consuming any protein, you feel more satiated and do less snacking, which reduces your fat and carbs intake. So it reduces hunger and appetite, which in turn reduces calorie intake. After you eat, some calories are used in digesting and metabolizing the food. It is called the thermic effect of food. Proteins have a higher thermic effect (20 to 30%) compared to carbs (5 to 10%) and fat (0 to 3%), So 30 calories of protein are burned while digesting proteins, and only 70 are left behind, whereas 90 calories of carbs and 97 calories of fats are left behind.
Higher protein intake boosts metabolism, burning up to 100 extra calories daily.
More grams of protein per day reduces the craving for food and late-night snacking.
Daily Protein intake helps in less weight regain after you have lost weight.
Weight loss results in the loss of all macronutrients and slows down metabolism. Protein intake slows down muscle loss, sometimes even muscle gain, and increases metabolic rate.
Along with an increase in protein intake, heavy strength training also results in a reduction in muscle loss and an increase in metabolism.
Casein Protein for Fat Loss
A by-product of cheese manufacturing activity is Casein Protein.
Micellar Casein is absorbed slowly in the body.
It keeps you full for an extended period.
Casein is slowly reacting, and after the workout, the muscles do not benefit from immediate repair.
But on the other hand, with Casein protein powder, there is a better opportunity for muscle repair when you sleep, so casein is better then.
What is the best casein protein? Micellar is the best casein protein before bed as it is the slowest digesting protein suited for all-night MPS if taken just before sleeping. Due to this, it is also known as the best casein protein for females. It is called so because it forms micelles when added to any liquid.
Natural dairy products are the best sources of casein protein. This protein is abundant in milk, natural yogurt, and cheese. Cottage cheese and high-protein natural yogurt are two popular low-calorie dairy protein sources.
Casein Protein Benefits
It supports muscle growth by providing a steady and prolonged release of amino acids into the bloodstream, which can prevent muscle breakdown and promote muscle recovery.
It decreases hunger by increasing feelings of fullness and delaying gastric emptying, which can help with weight management.
It contains beneficial nutrients like calcium and bioactive peptides, which may lower blood pressure and improve bone health.
Casein Protein Dangers
Some possible dangers of casein protein are:
Allergic reactions in some people who are sensitive to milk proteins. Symptoms can include hives, swelling, wheezing, nausea, vomiting, diarrhea, and anaphylaxis.
It may contain contaminants or additives, such as hormones, antibiotics, heavy metals, artificial sweeteners, and colors. So, choosing a high-quality supplement tested for purity and safety is essential.
Its high phosphorus content may interfere with absorbing minerals like iron, zinc, and calcium. This can lead to mineral deficiencies and affect your bone health.
Why Micellar Casein?
During the seven to eight hours you sleep daily, your body goes through its regular cycles of building muscle and healing. However, since you don't eat protein while sleeping, the body doesn't have easy access to amino acids. For example, the body has run out of easy-access branched-chain amino acids after just four hours of eating whey protein (BCAA).
If Consumed before bed, micellar casein provides the body with a stable supply of BCAA which means greater protein synthesis (and increased muscle growth) all night. Micellar casein protein has enhanced strength and stamina, better muscle gains, and improved metabolic rates and resistance training.
It is digested slowly and keeps you full for the whole night, and you don't wake up feeling hungry. So it has been shown to give better results during weight loss than whey or any other form of protein. Due to the slow disgesting property, it is also better to consume before fasts to keep you fuller for longer. It also has more calcium which is good for women, especially those 40 years and above. However, calcium quantity varies from brand to brand.
Conclusion
Due to its various properties, protein can be helpful in weight reduction by maintaining a calorie deficit. Our regular food should first fulfill all protein requirements, and we should use these protein powders only if we find it challenging to fulfill them from regular food.