Best Treadmills for Heavy persons should be 35 to 40 pounds heavier than the person using it. It also should have better shock absorption and a wider belt. Walking for 30 minutes per day is enough to help you lose weight and feel great. Furthermore, there are numerous long-term advantages to walking, such as
Improvement in Bone Density
Lower blood pressure
Prevention of heart disease
Control on Type 2 Diabetes
Besides you can get a great workout without ever leaving your house.
Best Treadmills For Heavy Persons
Here we discuss the 10 most suitable treadmills for heavy people
Sole F85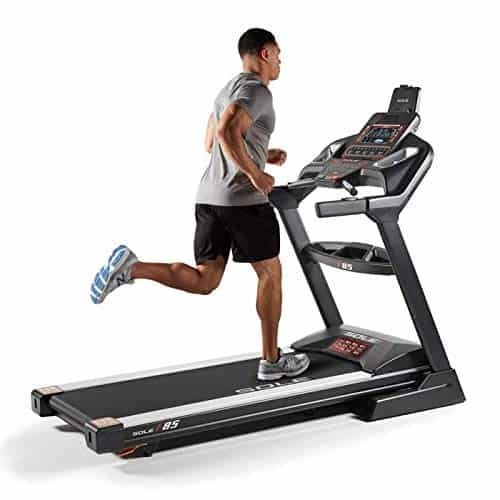 Size 35Wx 80D x 58″T
Weight Capacity-400 lb
Motor- DC 4 CHP
Running Board-22″ X 60″
Folding – Yes with Hydraulic assist
Speed- 0.5 to 12 mph
Program- 10 Preset Programs
Warranty- Frame–Lifetime & Motor, Parts 5 yrs, Labour-2 yr
Incline – 15% 15 adjustable
Display- 10.1″ Display
Rollers – 2.75″
Folding treadmill Sole Fitness F85 is one of the best treadmill on the market. It's all a runner needs because it's great for heavy runners and beginners too. It comes with an excellent proprietary coating called the Cushion Flex Whisper Deck. This reduces joints stress by nearly 40% compared to asphalt.
It has one of the quietest engines as well. The belt, pulse grip and chest strap monitor are provided along with a secure tablet holder. You can use your tablet as a workout monitor via a Bluetooth connection and share your workout data via wireless applications.
Exerpeutic TF–1000 is also an excellent treadmill for heavy persons in economy range. You can check the details here.
NordicTrack T 6.5S is another very good treadmill. You can select between two types of cushioning – FlexSelect Cushioning and Firm Deck. You can check the details here.
ProForm Pro 2000
35.3Wx 77.3Dx 59.6"T
Weight Capacity-350 lb
Motor- DC 3.5 CHP
Running Board-20″ X 60″
Folding – Yes with Hydraulic assist
Max Speed- 12 mph
Program- 36 Preset Programs
Warranty- Frame–10yrs, Parts-2yrs, Labour-1yr
Incline/Decline – 15%/-3% Quick Control
Display- 7″ Display
Rollers – 2.5″
The Proform Pro 2000 treadmill comes with 3% decline also.
It is designed for any type of runner and is a long-term investment if you are just getting started. This treadmill's backlit display will show you information such as mileage, speed, estimated calorie burn, heart rate, and time.
It includes ProShox cushioning, which reduces stress on your joints and protects them and includes a Mach Z Commercial Pro Motor, which provides excellent performance while being less noisy.
It is compatible with iFit Live Technology, has a CoolAire Workout Fan, Heart rate monitor including the strap and Daily coach-guided workouts with a compatible music port for iPod.
3G Cardio Elite Runner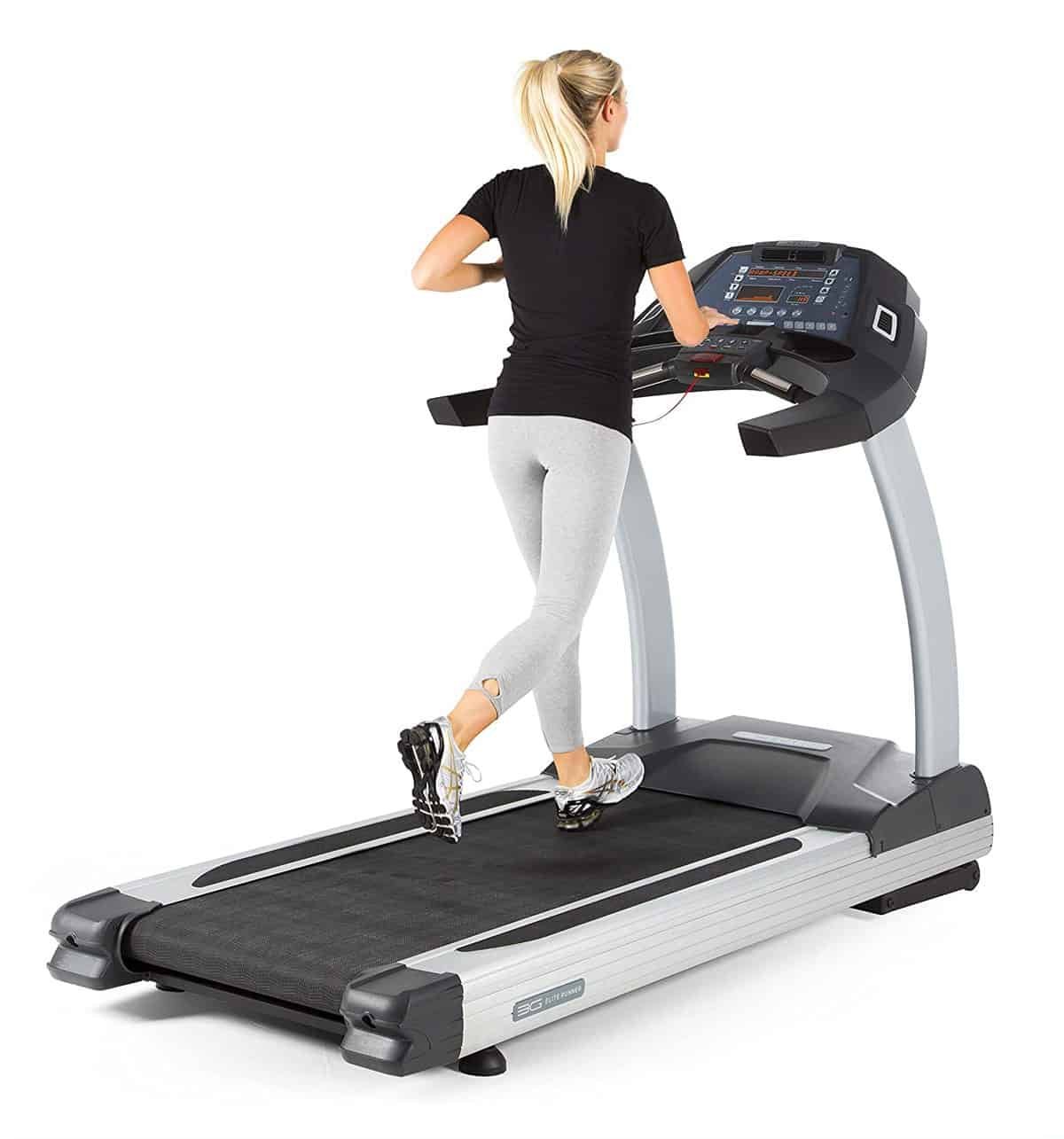 35.5Wx 84Lx 58″T
Weight Capacity-400 lb
Motor- DC 4 CHP
Running Board-22″ X 62″
Folding – Yes with Hydraulic assist
Speed- 0.5 to 12 mph
Program- 8 Preset Programs
Warranty- Frame & Motor – Lifetime, Parts 10 yrs, Labour-1yr
Incline – 15%
Display- LCD Display
Rollers – 2.5″
This is the most expensive of the lot. It comes with manual and pre-programmed running courses, fitness tests, one-touch speed and incline settings, heart-rate controls, and a plethora of customization options included with the elite runner console.
Inclines provide an additional workout, and this treadmill has a maximum incline of 15%, with the belt inclining 1 percent every 1.5 seconds.
That belt comes with an Ortho Flex Shock suspension of commercial quality. The belt is also thicker, which makes every exercise more comfortable.

You can enjoy your favourite music or podcasts through built-in speakers or connect a tablet or other intelligent device to watch your favourite shows and movies in surround sound.
Sole TT8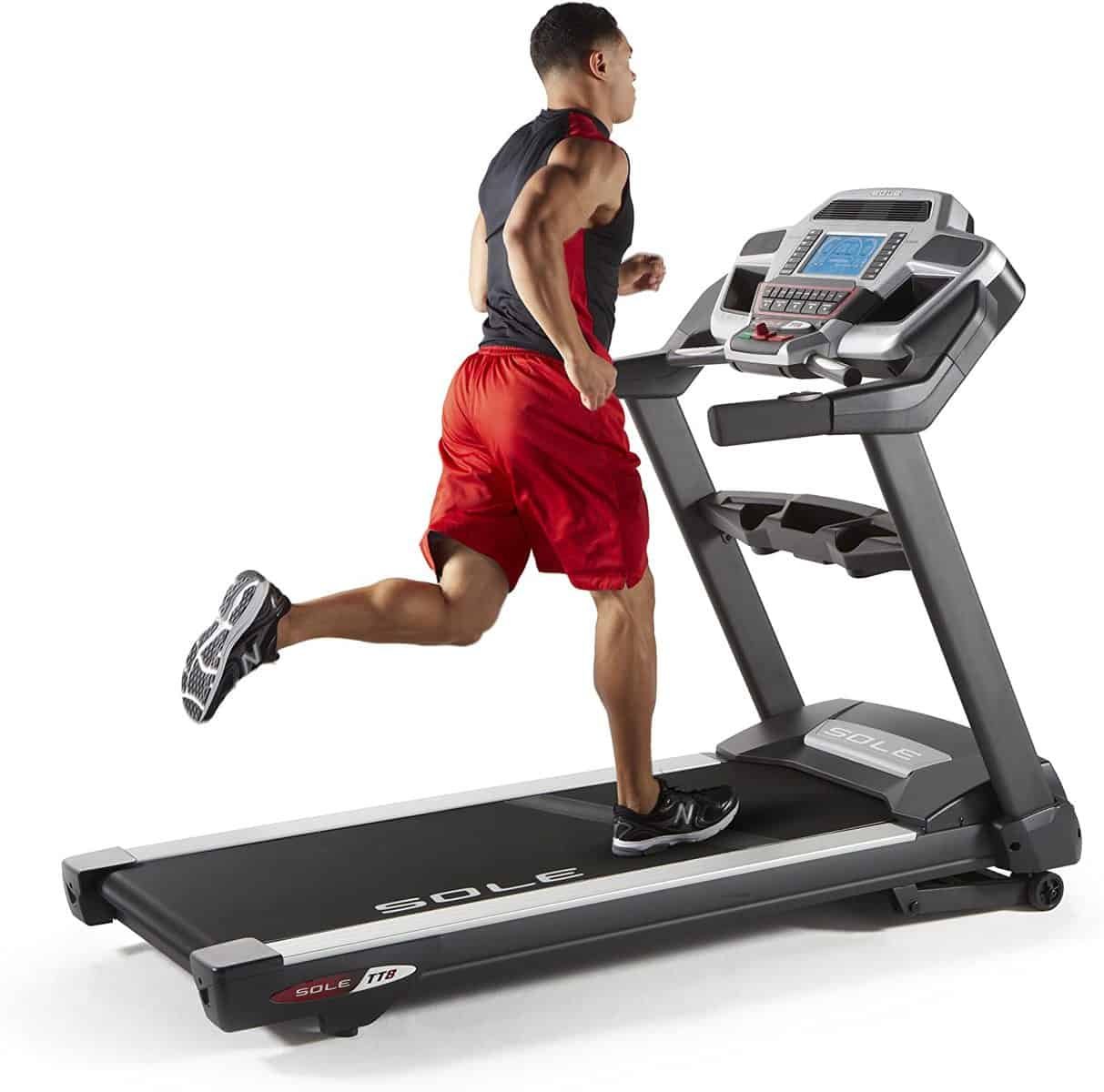 37Wx 83Dx 57″H
Weight Capacity-400 lb
Motor- DC 4 CHP
Running Board-22″ X 60″
Folding – Non-Folding
Speed- 0.5 to 12 mph
Program- 10 Preset Programs
Warranty- Frame, Motor & Deck- Lifetime, Electronics- 5yrs, Labour- 2yr
Incline / Decline – 15% /-6%
Display- LCD Display
Rollers – 3″
One such light commercial treadmill with ergonomic design for home gym is the Sole Fitness TT8 treadmill for heavy guys.
It comes with a variety of pre-programmed running routines and is intended for heavy duty use. If you are overweight, we believe this is the best treadmill for running at home.

This high-capacity treadmill also has a Cushion Flex shock-absorption system that helps to reduce impact on your feet, preventing and protecting your knees and joints.
This treadmill does not fold. It also has six levels of decline for strenuous downhill workouts.
Sunny Health & Fitness T7643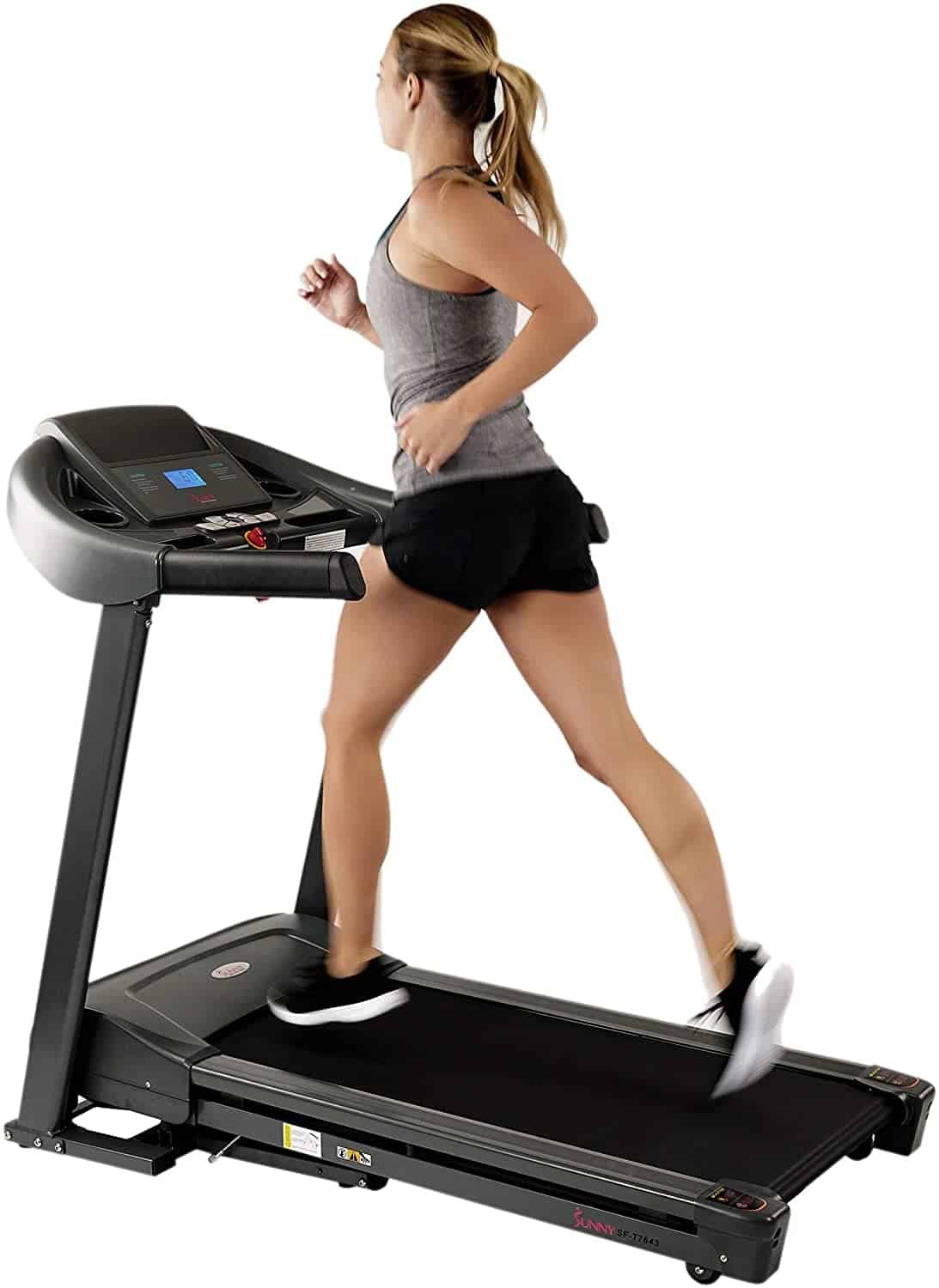 60.5Lx 32Wx 52.4″H
Weight Capacity-350 lb
Motor- DC 2.5 CHP
Running Board-19.5″ X 44.5″
Folding – Yes
Maximum Speed- 0.5 to 6 mph
Program- No Pre-Set
Warranty- Frame–3yrs, Motor, Parts & Labour-3 Months
Incline – 2% fixed
Display- LCD Display
It has a fixed incline of about 2 degrees, so you can't walk on the flat or increase the incline to work harder and burn more calories.
The top speed of 6 mph is sufficient for walking. The motor is reasonably quiet and appears to be capable of running at 4 mph for hours on end.
The cushioned deck puts less strain on your joints than road walking, allowing you to work out for longer periods of time without putting strain on your knees – especially if you are overweight.
It has two bottle holders as well as a slot for an iPad, screen (up to 13″), or smartphone to watch something while you work out.
The deck folds up and can be tilted before being rolled out of the way on its wheels.
ProForm 905 CST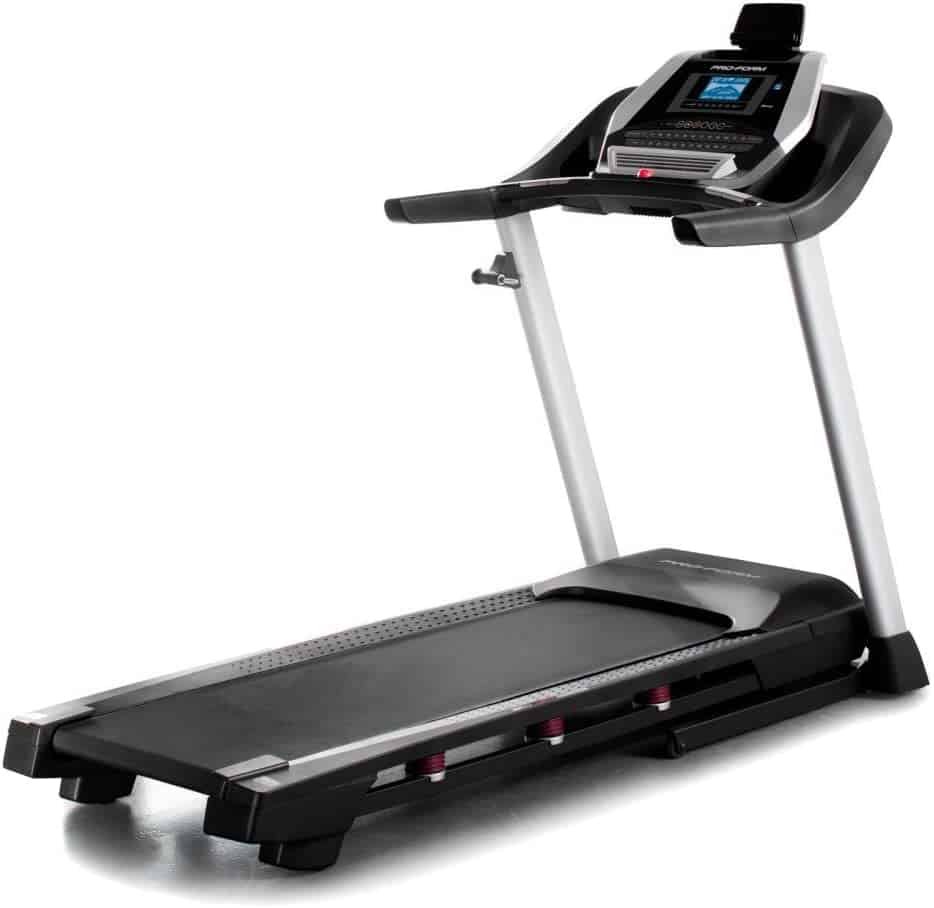 61Lx 37Wx 79H"
Weight Capacity-350 lb
Motor- DC 3 CHP
Running Board-20″ X 60″
Folding – Yes with Hydraulic assist
Speed- 0 to 12 mph
Program- 30 Preset Programs
Warranty- Frame & Motor– Lifetime, Parts-3yrs, Labour-1yr
Incline – 0 to 12%
Display- 5″ Backlit Display
Rollers – 2.5″
It has an extremely soft running surface with shock absorption built in to protect your joints and muscles.
It's foldable, so you can easily take it out and put it away. The tablet holder is also useful for bringing your iPad to your workout station and watching whatever you want.
The Proform 905 CST has a top speed of 12 miles per hour and an incline of 12 degrees. As a result, you can continue to increase the intensity of your workouts in order to perform at your best.
The ProShox cushioning system on the belt of this treadmill helps to reduce the impact on your legs. This treadmill is suitable for people who have leg or foot problems and are hesitant to run because of past or present injuries.
The Proform 905 CST treadmill is built with a CoolAire fan. You can have it blowing on your face while running to keep you cool. It simulates the sensation of running outside in the wind.
LifeSpan TR1200i as another very good treadmill for this segment. You can get the details here.
Sole F80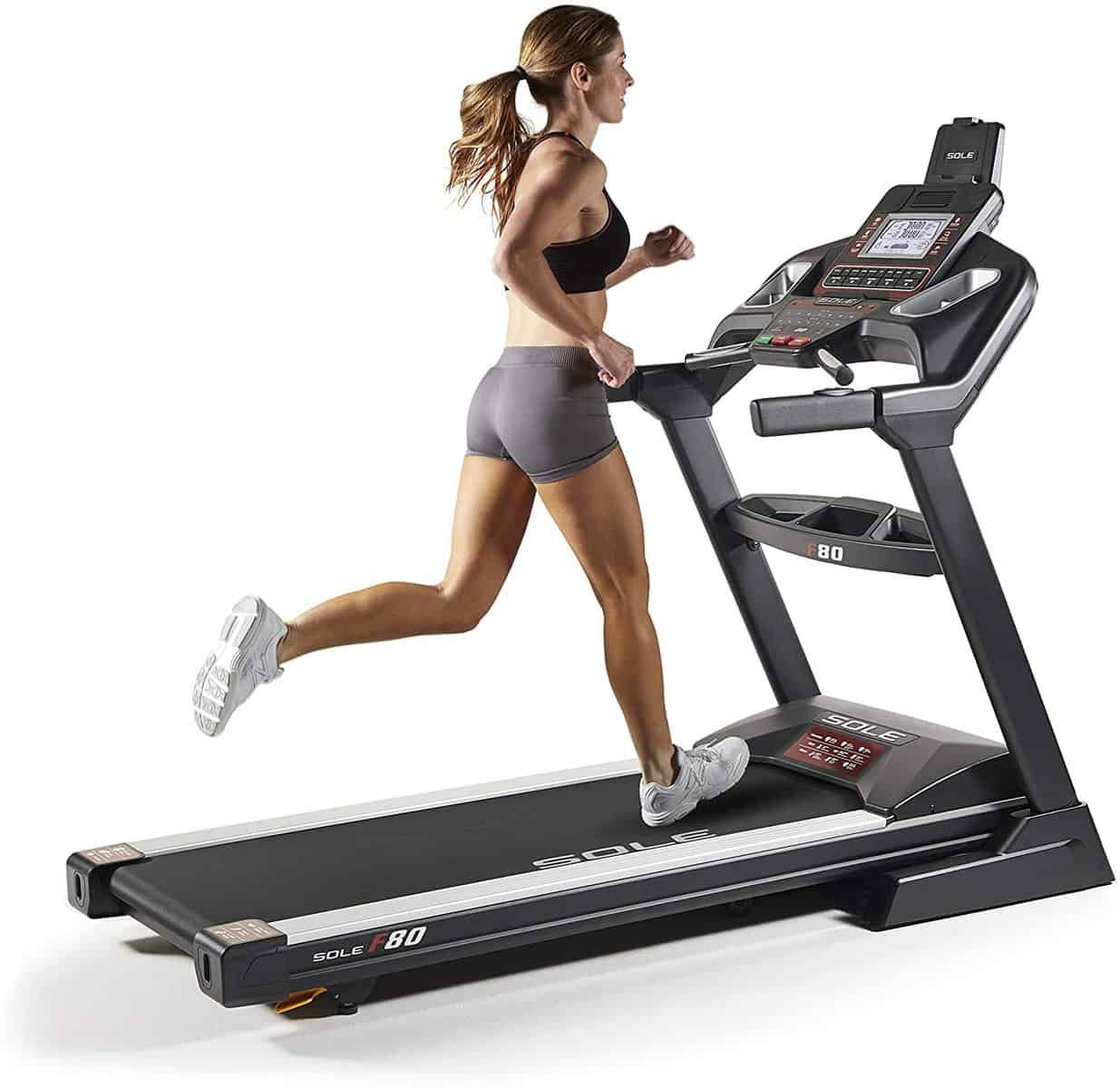 35Wx 58Hx 80″D
Weight Capacity-375 lb
Motor- DC 3.5 CHP
Running Board-22″ X 60″
Folding – Yes with Hydraulic assist
Speed- 0.5 to 12 mph
Program- 10 Preset Programs
Warranty- Frame, Motor & Deck– Lifetime, Electronics – 5yrs, Labour-2yr
Incline – 0 to 15%
Display- 7″ Display
Rollers – 2.75″
Sole F80 has a Cushion Flex Whisper Deck, a proprietary cushioning included with it.
According to some studies, this type of deck can reduce the impact on joints by nearly 40%. The motor produces almost no noise.
The automatic incline comes with a two-ply belt, pulse grip, and a heart monitor strap.
It also includes a cooling fan and an mp3-compatible sound system.
The treadmill is made with commercial-grade components to ensure you get the most bang for your buck. This not only increases durability but also makes your workouts as safe as possible.
Speakers, iPod (and other mp3 player) compatibility, cooling fans, an accessory tray, and two bottle holders are among the extras included with this treadmill.
You can easily fold and tuck the treadmill thanks to its foldable frame. The treadmill is ready for storage with the flip of a switch.
While we have just shared the ten best treadmills with our readers here, we are also sharing some extra information regarding the same which is going to be useful now as well as in the long run.
What is the weight limit on most treadmills?
The actual weight-bearing capability of a treadmill is calculated by a variety of factors. The weight limit on lower-end treadmills usually is between 200 and 300 pounds. Higher-end models typically have a more lenient weight limit of 300 to 500 pounds.
Along with horsepower, the flywheel's weight and diameter, the drive belt's gear-down ratio, the roller diameters, and the belt's friction coefficient against the deck are all variables that decide a treadmill's overall capability.
Can I use a treadmill if I'm over the weight capacity?
Yes, you can use it, but it is advisable not to use the Treadmill if you're over the weight-bearing capacity. The maximum weight the Treadmill should be subjected to should be about 35 to 40 pounds less than the one recommended by the company.
What is the most reliable Treadmill for home use?
There are a no. of treadmills that could qualify for a very reliable treadmill. However, once the Treadmill has been bought, it depends on how it is maintained at home. e.g.
What is the maximum weight it is being subjected to, and for how much time?
How many hours of continuous use is it subjected to?
How many different people use it in a day?
All these people have a very smooth way of using a treadmill, or do they do rough use?
How regularly do they do the Treadmill maintenance work, like lubricating the parts, cleaning, etc.?
Today morning came across a complaint about a very known model which starts moving after 2to 3 seconds when switched on. The Treadmill is only 5 month old but the owner agrees he has been inconsistent with lubricating the machine.
Why are treadmills so heavy?
The more speed settings required and functions required of the motor, generally, the heavier it will be. This adds to the overall weight feel of the Treadmill. If we assume suitable quality materials used in the build of the motor, then as mentioned, it will definitely add to the weight and feel of any treadmill.
Do treadmills weigh you?
Since an individual's calorie burn is closely tied to her weight, a treadmill that asks for your weight will have a more reliable calorie reading than one that doesn't.
How long will a treadmill last?
Happily, treadmills have been built for a long time. While the equipment's longevity and durability are primarily determined by how it is used and maintained. How long do treadmills typically last? Treadmills, on average, are built to last 7-12 years, according to manufacturer claims.
How big a treadmill motor do I need?
To make things easier, look for a motor with at least 1.5 continuous-duty horsepower (CHP). You can choose 2.5 to 3.0 CHP if you intend on running on the Treadmill regularly. Depending on your weight, you'll also require a more powerful motor.
Are treadmills bad for your knees?
When you're ready to increase the intensity of your workout, problems can arise. When you increase the speed of the Treadmill, you risk putting more pressure on your knees, which can cause pain and irritation in the knee joint. However a cushioned track is very convenient and an important safety equipment.
What is a good width and length for a treadmill track?
The belt should be 48 cm long at least and 18 cm wide for operation. If you are taller than 6 feet, you will need a 52-inch belt for walking and a 60-inch belt for running.
Weight Loss for a Heavy Person
Weight loss through a good workout programme for Treadmill has worked for many – and it can work for you, too.
Practically every age group and persons of every activity level can use Treadmills. Treadmills can help you lose weight and keep your loss of weight.
It's a game of numbers. The longer you spend doing cardiovascular exercises, the more calories you burn and the weight you lose. And you should have a treadmill at the top of your list if you are looking for fitness equipment that will get the best burning.
For cardiovascular training, the Treadmill is unmatched.
On average, 60 minutes of calories burnt on the following machines are
Treadmill – 865-705 kcals
Stair machine – 746–637 kcals
Rowing machine – 739–606 kcals
Indoor Cycling – 604–556 kcals
Cross Country Ski-machine – 678–595 kcals
This is one of many studies that classify a treadmill as cardiovascular machine number one.
Some steps to develop your own weight loss treadmill program are provided here:
Find ways to make your Treadmill fun by listening to music, tape books or tapes. Some people just prefer to enjoy nature and life and time to think, pray or just wander around. The more you like your Treadmill training, the more likely you are going to enjoy it.
Just like brushing your teeth, make it a DAILY habit. Working on your Treadmill every day is much more likely to achieve your weight-loss ambitions than if you work two to three days a week. And most people making the switch tell you that everyday workout is more effortless.
You don't need to think if it's a training day. You just do it every day, and your body gets used to it. You will soon start to look forward to it.
Include "intervals" every week in three or four of your sessions. Intervals are brief periods of more intense training mixed into the Treadmill sessions. For example, in the course of your practise session, you will make a faster one-minute interval every five minutes.
This is how it looks Beginning with your usual warm-up for three to five minutes, do your regular run for five minutes. Now run faster for one minute. You should be "winded" and ready to slow down at the end of that minute. During the next five minutes, you'll run at your average speed, then your sixth minute will be another fast running minute.
This pattern continues during your workout.
Fast running minutes increase your fitness by "pushing the envelope." You pass the anaerobic threshold during your interval, forcing your body to more intensive workout and to make it a better weight loss programme.
Intervals increase your basic metabolism rate (BMR), causing you to burn more calories 24 hours a day, and intervals also reduce your exercise's monotony.
Swing your arms using a variety of arm movements while walking around to tone your upper body muscles as well
Do the first thing in the morning, wherever possible, your Treadmill training. In the morning, more than 90% of those who practise consistently do so. If you want to practise always, you will have a chance early on.
Once a week go easy. Do a slow jog making it a pleasant training. Enjoy how good your walks feel when you lose weight and tone your muscles. Record your training date and time, as well as the distance and/or time you walked. Keep the miles or minutes you walked overall. Record your thoughts or feelings for this specific exercise.
You are making this time a particular time every day to care for yourself through these steps. Make your life a priority and let nobody or anything prevent you from that time. Every day, your weight loss goals will be reached by working with your Treadmill, and all things in your life will have a positive impact, including fitness!
So, in terms of weight loss, the Treadmill is by far the best exercise machine due to the significantly associated energy expenditure. Treadmills always deliver good results and lasting advantages. You can work at your own pace with treadmills, but don't slow down.
Actually if you increase your workout progressively it is more effective. You can effectively burn calories and achieve your weight loss objectives. It's that straightforward.