The LifeSpan Fitness TR5000-Glowup, like other LifeSpan under desk treadmills, is fully assembled and ready to use right out of the box. 
The Lifespan TR5000 review is about the most powerful and long-lasting desktop treadmill in the desktop treadmills category. It looks excellent, runs well for years, requires no maintenance, and withstands unlimited usage.
It has a perfect fit and easy placement under most standing desks. This under-desk treadmill's low 4.6″ height provides the best ergonomic position for most average-height individuals. Besides, the desks are also adjustable.
It has a powerful motor, a strong aluminum frame, and the assurance that it will never creak, squeak, or whine. The TR5000-Glowup treadmill is designed for multi-user corporate environments, is industrial-grade, and is built to take a beating.
The Lifespan TR5000-DT3 has a heavy-duty treadmill base, console, and maintenance-free walking belt.
The TR5000 treadmill dimensions are 63″L x 28.5″W x 7.2″H.
Related Readings

Best Under Desk Treadmills in 2022: Walk While Working
LifeSpan Fitness TR5000-Construction
The Lifespan Fitness TR5000 dt3's 145 lb. frame looks built for heavy-duty use. Upgraded scratch-proof and strong aluminum components are used when you get on most treadmills—the midsection flexes, but not TR5000.
The Lifespan Fitness TR5000 DT3 under-desk treadmill is louder than the TR1200, but not enough that you will notice unless you listen to both together. Its fan runs continuously, even if you're not walking.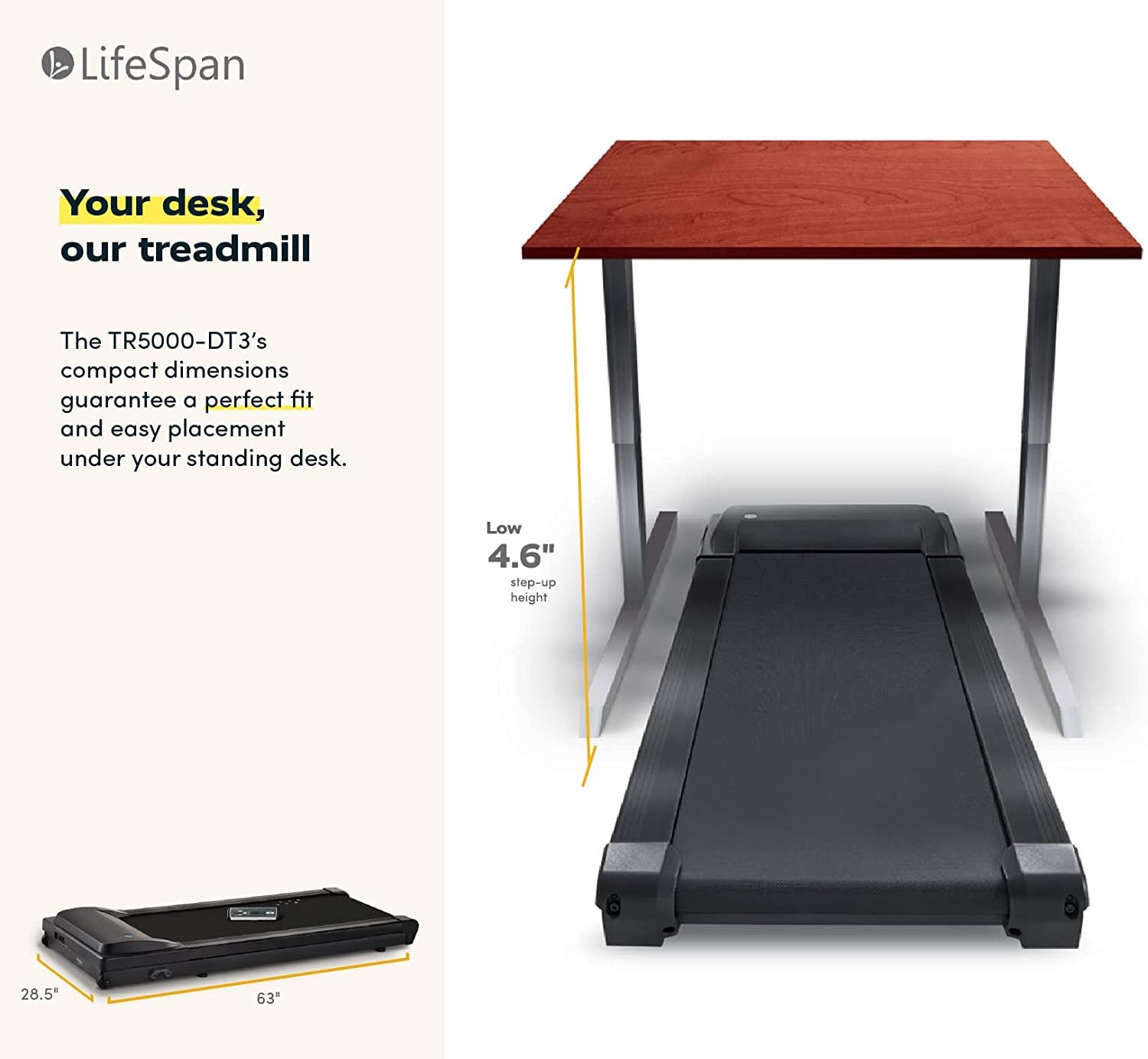 The Lifespan Fitness TR5000-DT3 has large rollers that reduce the wear and tear of the belt and motor.
The TR5000 has a maintenance-free self-lubricating system. After 2,000 hours of use or two years of operation, the belt and deck must be replaced with new ones.
Whisper Quiet Motor
The treadmill life is longer with a powerful 3.0 HP DC motor and is whisper-quiet. The motor is so quiet that belt markings were added to LifeSpan TR5000 DT3 under the desk treadmill to alert users.
This powerful motor can support up to 400-pound users for 10 hours of walking motion. A low-profile motor hood protects the motor, keeps it quiet, and doesn't obstruct your stride.
A 3.0hp motor drives a 1″ thick walking belt, black aluminum side rails, and a heavy-duty cushioned deck.
Speed & Incline
The TR5000 has a speed range of 0.4–4.0 mph.
The TR5000 has no incline or decline. Working at a desk on an incline is not advised and can harm your posture. The level deck keeps you aligned in front of your workstation for optimal ergonomics.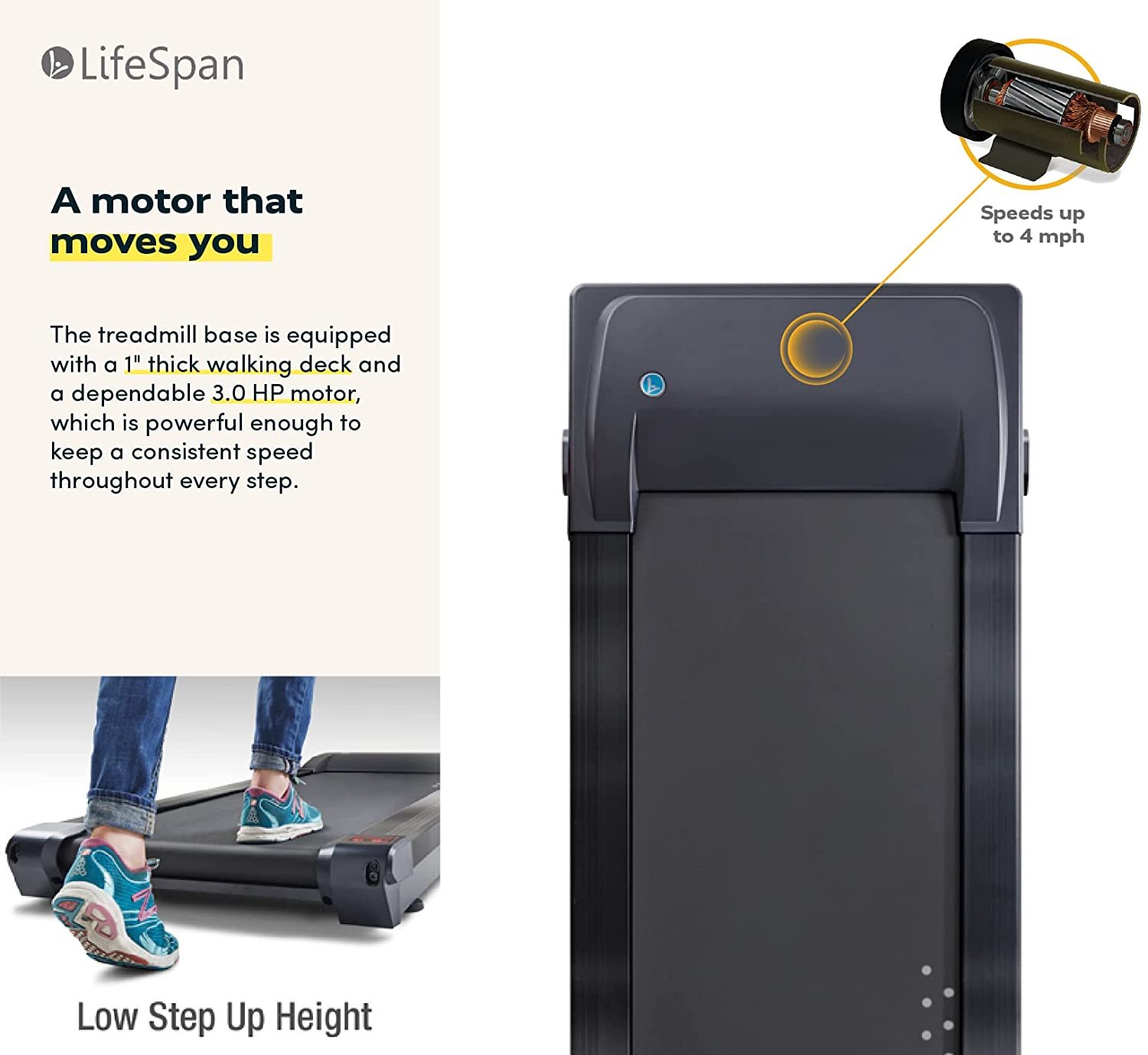 Without manually turning off the lifespan treadmill desk, you can leave it and return without stepping on a moving belt. This function is beneficial if you work from home and have children or pets.
Because the TR5000 is so quiet when tucked under your desk, the belt markings help users see motion and speed.
Console & Display
TR5000 includes a retro console with basic walking-at-work features. This small, handy console lets you control your treadmill desk and displays steps, time, distance, calories, and speed to track the progress.
The DT3 console sits on your desktop, allowing you to control all treadmill functions while walking. It occupies little space on the desk and has a USB charging port for mobile devices.
The controller for all three LifeSpan under desk treadmills is the same one. Their game consoles are very similar in function. You may see the distance traveled, the time spent, your pace, the number of calories burned, and the number of steps taken. Bluetooth can be used to transfer data into the software.
The console's red LED displays your speed, distance traveled, and time elapsed.
You can adjust the control beeps, the maximum walking speed, and the display of miles per hour or kilometers per hour.
Easy to Move
As a wholly assembled treadmill, the TR5000 weighs only 119 lbs., making it easy to roll under your desk and fit beneath tight places.
To accommodate uneven floors, the TR5000 incorporates levelers on both sides. The treadmill's front wheels make raising and moving it out of the way easy.
Stable
Running Track
The walking belt is 20″ wide by 50″ long, allowing for a comfortable stride. Your body will be less strained if your treadmill workstation is equipped with a 20-inch belt instead of an 18-inch one. With a 400 lb capacity, you also invite individuals with bigger frames.
For them, a 20-inch belt width is much more comfortable. The track has black anodized aluminum side rails with a 1″ thick extended-life deck.
Self-lubricating belts are not available on any other treadmill. You can hear your footsteps, not the treadmill's motor or deck scraping.
Six shock absorbers built into the TR5000's under-deck platform provide cushioning and support for joints and reduce vibrations. The TR5000 deck is designed to be supportive and comfy as you walk around in your business shoes throughout the workday. Walking shoes enhance the experience of this daily commute.
For safety, the side rails are somewhat higher than the belt. The TR5000 can accommodate walkers of all heights and provides adequate forward and backward room for a comfortable stride.
Safe
The Intelli-Guard safety function guarantees that the treadmill only operates while actively walking, allowing you to work safely.
Reliable
Weight & Weighing Capacity
The TR5000 weighs only 119 pounds and has a 400-pound weight capacity and a 10-hour continuous walking time. Sticking to the business maintenance frequency is critical to meet the 10-hour walking consistently over time.
Innovation
Important Features
Some new features include a high-mileage walking belt, a reversible walking deck, anodized aluminum side rails, and a 3.0 HP motor.
Intelli-step step counting is included in the LifeSpan TR5000-DT3. The LifeSpan app syncs with Intelli-Step to keep track of your daily steps.
You can also use the LifeSpan Active Measure fitness app to sync your workouts and track your progress. Use LifeSpan Fitness Club Software to upload all the day's statistics.
Value
Price
The current price, according to the company, is $1599.00
Warranty
The TR5000-Glowup has a lifetime frame warranty, a 3-year motor warranty, a 2-year parts warranty, and a 1-year labor warranty.
Drawbacks
The motor, its main plus point, is also a drawback as it consumes more electricity than the other DC motors.
Conclusion
The TR5000 is an excellent treadmill that you can use under a desk to keep you moving while at work.