The LifeSpan TR1200 DT3 standing desk treadmill is the best-selling office treadmill suitable for most users who plan to walk and work together.
The quiet and compact treadmill fits under standing desks, making a treadmill desk simple. The TR1200 has a large motor, a wide walking belt, and a slim design. It comes with a retro console that is simple and easy to use. You get readouts for steps, time, distance, calories, and speed.
The other option is to buy a regular treadmill and a desktop attachment with it.
LifeSpan TR1200 Construction
It's ready to use right out of the box and has a conveniently low-profile design.
The TR1200's 131 lb frame outperforms all other treadmill frames in this price range. It has more metal and more robust rectangular tubing. A sturdy walking deck ensures years of walking.
The Lifespan under desk treadmills has powerful motors, large rollers, and spring-mounted motor mounts that keep the drive belt tensioner.
The LifeSpan TR1200 DT3 under desk treadmill's modern design and durable construction make it ideal for your office.
The TR1200 measures 63″L x 28.5″W x 7.25″T. The walking belt is 20″ W x 50″L allowing for a comfortable stride. A protective low-profile motor hood on the front keeps the treadmill quiet.
Motor
It has a 2.25 HP Turdan motor. At 48.9 dB., this is the quietest LifeSpan treadmill which is also the most silent in its price range. The only noise is the belt moving along the deck and the user's steps.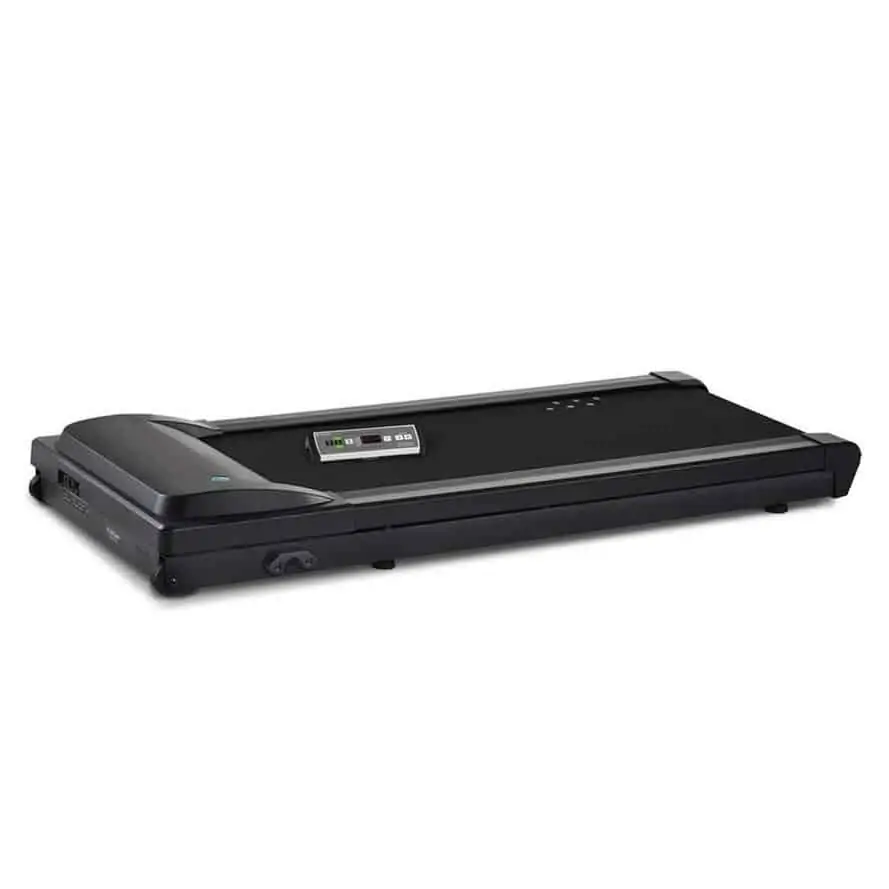 The motor is ideal for an office treadmill or a home office.
Speed & Incline
You can customize your treadmill desk. Choose between 2.0 and 4.0 MPH maximum speed, resume the previous speed, and change units of measure.
When you leave the walking belt, Intelli-Guard stops it. The Intelli-Step pedometer feature counts your steps as you walk. The TR1200 has a desk console to control the treadmill's speed.
The TR1200 lacks an incline or decline, which is ideal for an under-desk treadmill. An angle in front of a desk can affect your posture. The TR1200 supports an excellent walking stride while you work.
Faster than two mph makes typing, writing, or reading at a desk challenging. Most under-desk treadmills only go up to 2 mph, so you can choose between a two mph or four mph speed.
It has a front safety key that is required to operate the console. If you remove the safety key, the treadmill stops. Clip it to your clothes, and it gets disengaged if you fall or step off, stopping the treadmill immediately.
Console & Display
The LifeSpan TR1200-DT3 under desk treadmill's desk console weighs 3 pounds and is designed for easy access. It has large buttons, a single metric display with settings, and fits most standing desks. The red LED display is easy to read from any angle. Use the mode button to select a readout.
Tracking time, step count, belt speed, distance, and calories is simple, with a clear numerical display.
It has all the essential treadmill functions. An easy-to-use USB port lets you charge your phone.
The treadmill has an On/Start button and up and down buttons to see calories, speed, steps, etc. Besides, several settings include time, distance, and weight. The console will display the selected metric's readout.
Easy to Move
At 114 pounds, the TR1200 is surprisingly light for a treadmill. Besides, it has two front-mounted transport wheels for easy lifting and rolling for proper under-desk positioning.
You are advised not to move the treadmill between closets or offices regularly. Move the treadmill occasionally to get the best results.
Running Track
The TR1200 has a 50″L x 20″ W belt that allows you more movement. It is also better for individuals who have more than average weight.
Though a wide track increases the unit's footprint, power consumption, and noise, it is better for comfort and safety.
As the walking desk treadmill's step-up height reduces your standing desk's height range, the low 4.6″ height helps you get the best ergonomic desk position. Besides, the 4.6-inch step-up height is easy to get on and off.
Six shock absorbers under the deck provide joint support and cushioning while walking. Office shoes generally have less cushioning, so the TR1200 deck is more supportive and comfortable.
It has a 3/4-inch thick walking belt, black non-slip side rails, and a cushioned deck. The side rails are slightly higher than the belt, preventing foot slippage.
SAFETY
The Intelli-Guard safety mechanism turns the belt off when you step off it. You can leave your desk and return without stepping on a moving belt without manually turning off the treadmill. It takes some time to get used to this comfort. It is also helpful during work from home if there are kids and pets.
RELIABILITY
There are so many features to make this treadmill highly reliable.
The 2.25 HP motor is powerful enough for long-term use of the treadmill. Similarly, it is reliable enough for 6 hours of daily walking.
For your safety, the treadmill stops by itself if you step off it and starts only when you step on it again.
The height of the belt is only 4.6″, so it is easy for you to get up and off it.
Weight & Weighing Capacity
The TR1200 is 114 lbs and more than powerful enough for users up to 350 lbs. who can walk for 6 hours a day.
To maintain the hours of use, the maintenance of the treadmill should be as per the company guidelines.
Important Features
LifeSpan technologies are committed to improving your experience.
The Intelli-Step technology onboard keeps track of your daily step count.
The Intelli-Guard safety feature ensures the treadmill only works when you are actively walking.
Customize it according to your needs. Choose between 2.0 and 4.0 mph, turn off alerts, resume the previous speed, and change units of measure.
Bluetooth allows you to sync your workout activity with the LifeSpan Active Track fitness app.
Price
LifeSpan treadmill is available at $1000.
Drawbacks
Switching display modes requires a lengthy button press.
Similarly, restarting the treadmill requires a long button press.
It is not possible for the controller to track multiple users' walking stats.
The controller's Bluetooth sync feature is finicky and fails often.
Warranty
The TR1200, like all LifeSpan units, has a lifetime frame warranty. The most important part, the motor, is covered for three years. All other parts and labor are covered for two years.
Conclusion
The LifeSpan TR1200 DT3 under-desk treadmill is the most popular walking treadmill for your workstation, with a price tag of under $1,100.
This reasonably priced treadmill will last for years. You only have to lubricate it regularly.
FAQs
What is the weight limit for the LifeSpan TR1200?
According to the manufacturer's website, the weight limit for the LifeSpan TR1200 is 350 lbs. This means that it can support most users and provide a stable and comfortable walking experience. However, if you weigh more than 350 lbs, you may want to look for another treadmill with a higher weight capacity to ensure the safety and durability of the machine.
Is LifeSpan Treadmill a good brand?
LifeSpan Treadmill is a good brand that offers a range of products for different fitness levels, goals, and budgets. Some of the advantages of LifeSpan treadmills are:
– They are durable, stable, and quiet, with high-quality motors, belts, and decks.
– They have innovative features like folding mechanisms, smart-step technology, Bluetooth consoles, and under-desk options.
– They come with expertly designed fitness programs, such as manual, preset, user-set, and heart rate control modes.
– They have positive reviews from customers and industry experts, who praise their performance, comfort, and value.
Some of the drawbacks of LifeSpan treadmills are:
– They can be expensive, especially the under-desk models, which may not fit everyone's budget.
– They can be bulky, especially the non-folding models, which may not fit everyone's space.
– They may not have as many features and programs as other brands, such as incline range, speed range, display size, and entertainment options.
Overall, the LifeSpan treadmill is a good brand that offers quality products for various needs and preferences.