The Goyouth 2in1 Under Desk Electric Treadmill comes fully assembled and ready to use.
The under-desk treadmill's shock-absorbing and noise-reducing steel structure make jogging quieter, safer, and more pleasant.
It is modern, two-in-one, without side rails, compact, portable, with a 2.25 horsepower motor, and at a great price. It can go up to 6 mph. Its dimensions are 54.7″L x 26.7″W x 6.5″H.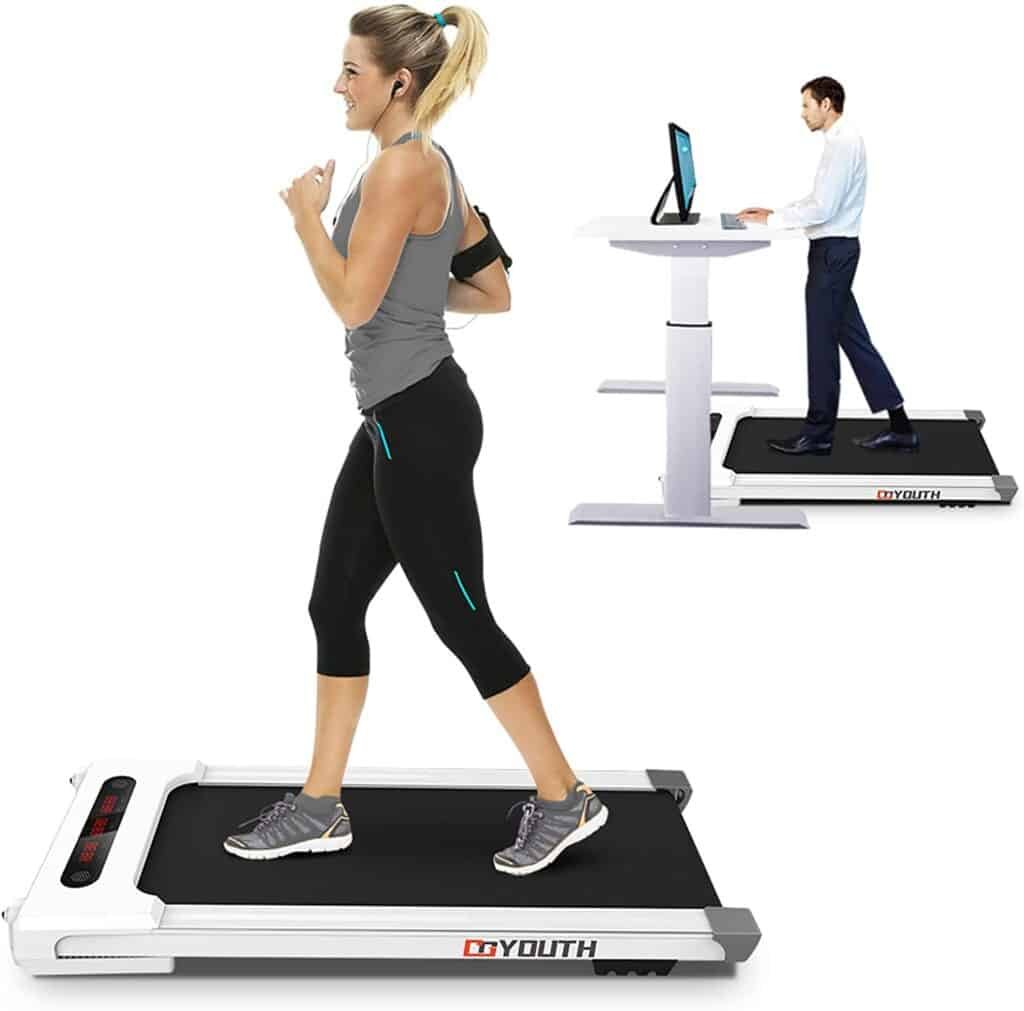 It can be used as a jogging or running mat on its own or as a walking pad under the desk.
The Goyouth 2 in 1 Walking Treadmill is a powerful and affordable machine.
It's sturdy, lightweight, and can reach 6 mph, making it one of our faster models.
FIRST EXPERIENCE of Goyouth 2in1 Under Desk Electric Treadmill
Construction
Your workout will be quiet, safe, and comfortable with a steel frame, multi-layer shield, powerful yet quiet motor, shock-absorbing, and non-slip properties.
This portable 64 lbs treadmill has flexible rollers for easy transport.
Motor
The electric treadmill's 2.25 HP powerful silent motor is great for running, jogging, and
walking at home.
Speed & Incline
The GoYouth treadmill has speeds ranging from 0.5 to 6 mph which is a very good pace for long distance running.
With a remote you can adjust the speed of this treadmill to suit your current physical condition and level of activity.
Related Readings

7 Best Budget Treadmills under $500 – Worth Investing In?
Best Protein Bars in 2021: Macros, Fibers and Sugar Checked
Does Gel Memory Foam Really Sleep Cool? Check these 7 Best
Console & Display
The LED console tracks your progress in real-time, indicating calories burned, steps, time, speed, and distance.
With an independent remote, you can easily manage your running speed and improve your safety.
Preset Programs
With 12 exercise programs to choose from, you'll have plenty of options and can target your weaknesses.
The easy-to-follow exercise programs assist you in improving your cardiovascular fitness, health, and burning fat.
You can choose pre-programmed training for speed, fitness, calorie and fat burning, cardiovascular fitness, or health enhancement.
Easy to Move
This under-desk treadmill's built-in transport wheels make it easy to transfer the treadmill and store it.
This treadmill is only 64 pounds and with wheels underneath becomes very easy to transport to any convenient location in the home or office.
So after the workout, you can hide it beneath the bed or shift it out of the way against the wall.
STABILITY
Running Track
The 15.75″ x 41.34″ track area seems small in terms of running strides especially if you are close to 6′ or more. It is also uncomfortable in terms of width if you have above-average weight.
Though it is shock-absorbing and has a non-slip rubber running belt making running more comfortable and safer a bigger running track is much needed.
SAFETY
In an emergency, if you accidentally fall back or sideways, there is a remote control and a safety key to stop the treadmill immediately.
Weight & Weighing Capacity
This treadmill is only 64 pounds and has wheels underneath for easy transport. Its weight capacity is 220 lbs. Despite the huge difference in the two weights, the treadmill is stable while jogging and doesn't wobble.
INNOVATION
Important Features
It has a remote control to switch on or off and adjust speed.
Goyouth has a quiet motor, shock-absorbing track, and a safety key to save you in case you trip.
To listen to music, while exercising on the treadmill, simply pair your phone with the speakers via Bluetooth.
VALUE
Nearest Competitor
There is tough competition in this segment and Goyouth has various competitors.
Price
The treadmill's price is $399.00 but is frequently available at a lower price.
Drawbacks
The length and width of the track is major issue. Due to its size, the treadmill is good for a very limited number of people, who are of average height and weight.
Warranty
The Goyouth 2 in 1 under desk electric treadmill comes with a one-year warranty.
Conclusion
The Goyouth 2in1 under desk electric treadmill is a good value for money treadmill. But due to its track size, it is meant for a very limited number of people.