The Goyouth 2in1 under-desk electric treadmill review is about the new ready-to-use treadmill. It doesn't need any assembly.
The under-desk treadmill has a shock-absorbing and noise-reducing steel structure. It makes jogging quieter, safer, and more pleasant, and it is well-priced too.
Highlights
According to Goyouth treadmill reviews on Amazon, 85% of people who have purchased it have given it 4 or 5 stars. So, the rating is 4.3 out of 5.
It has 12 preset exercise programs. Very few treadmills in this category of home or office gyms have preset exercise programs.
It can go up to 6 mph and be used for jogging or as a walking pad under the desk. The Goyouth WalkingPad, as some people call it, is a powerful and affordable machine.
Goyouth 2in1 Under Desk Electric Treadmill Review
Construction
It is a modern two-in-one, without side rails, compact and portable, with a 2.25 HP motor, and at a great price. Its dimensions are 54.7″L x 26.7″W x 6.5″H.
Its steel frame, multi-layer shield, and powerful motor make the workout safe and quiet. So your colleagues are not disturbed even in a small office. The shock-absorbing properties make it smooth, too.
Motor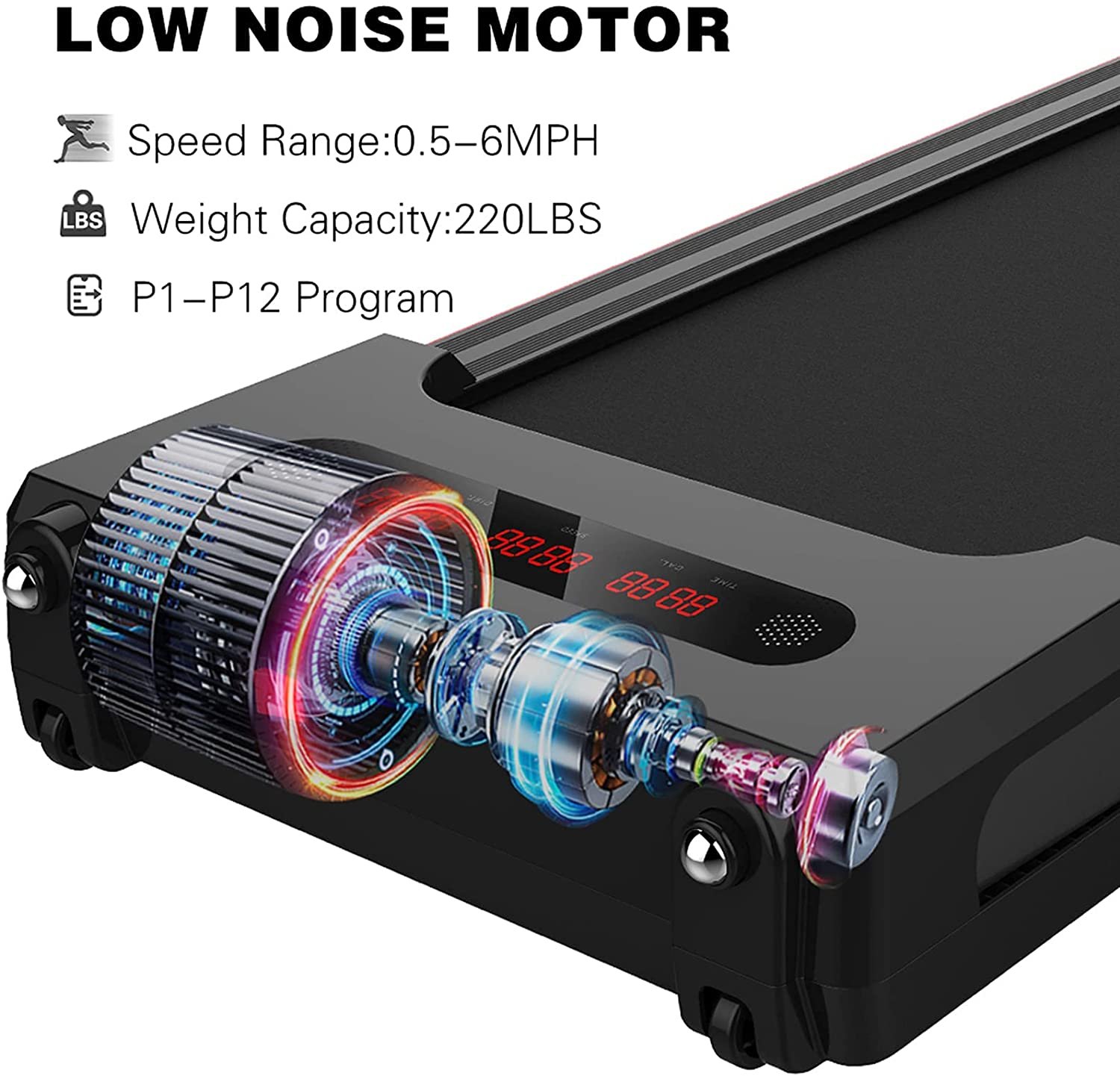 The electric treadmill's powerful 2.25 HP silent motor is excellent for jogging and walking at home or in the office.
Speed & Incline
Its speed ranges from 0.5 to 6 mph, a good pace for long-distance running. You can use the Goyouth treadmill remote control to manage the pace.
So, adjust it to suit your current physical condition and level of activity. But only run at maximum speed for a short time, as the motor running at its peak horsepower will burn out faster.
Console & Display
The LED console tracks your progress in real time. You can track your calories burned, steps, time, speed, and distance.
Enough tracking for an office treadmill while doing your office work, too.
Preset Programs
With 12 exercise programs, you can have plenty of options and target your weaknesses. Only a few treadmills in this category have preset exercise programs.
You can choose preset programs for speed, fitness, or burning calories. Or you may decide on distance and time if you plan to burn more calories daily.
The easy-to-follow programs assist you in burning fat while working. So, improve your cardiovascular fitness and health during office hours.
Easy to Move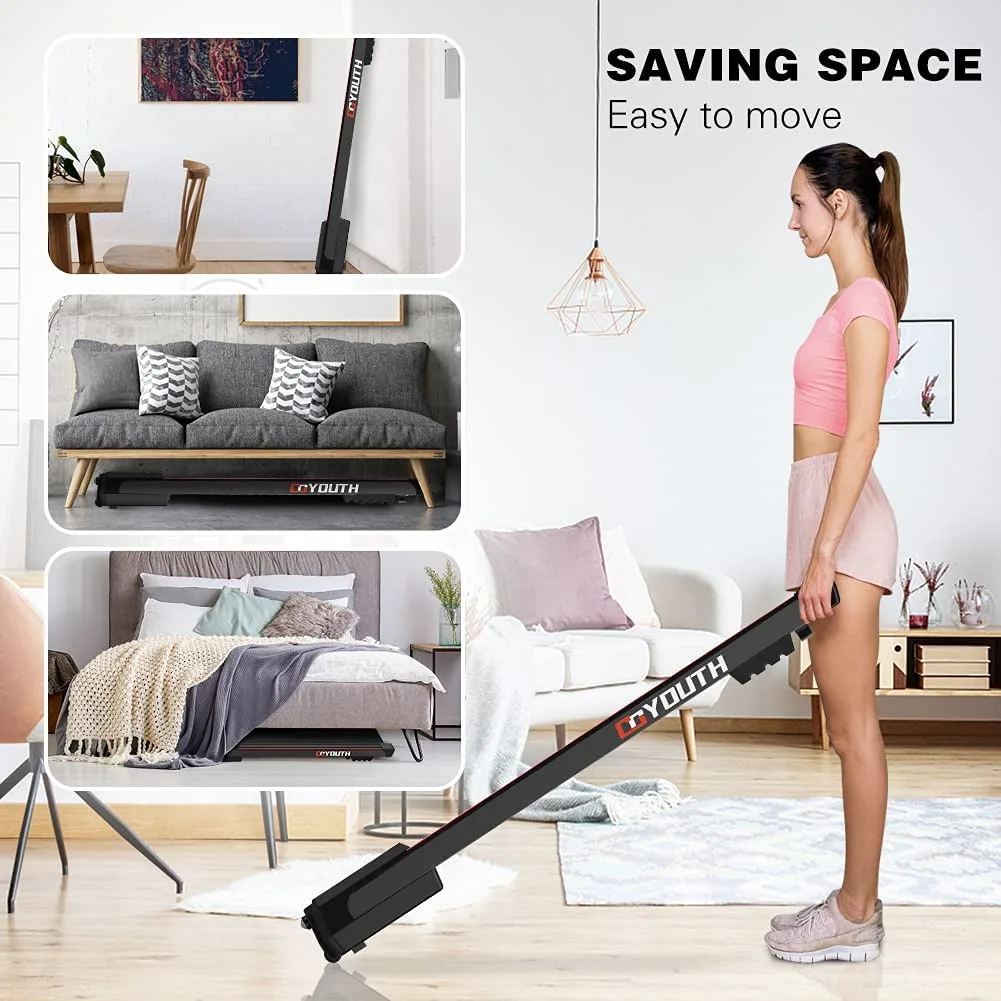 This under-desk treadmill's built-in transport wheels make it easy to transfer it. At 64 pounds, it isn't cumbersome, so that a single person can move it. You may push it in any convenient location of your home or office or, if multiple users use it, to other users.
So, after the workout, you can hide it beneath the bed or shift it out of the way against the wall.
Stability
Running Track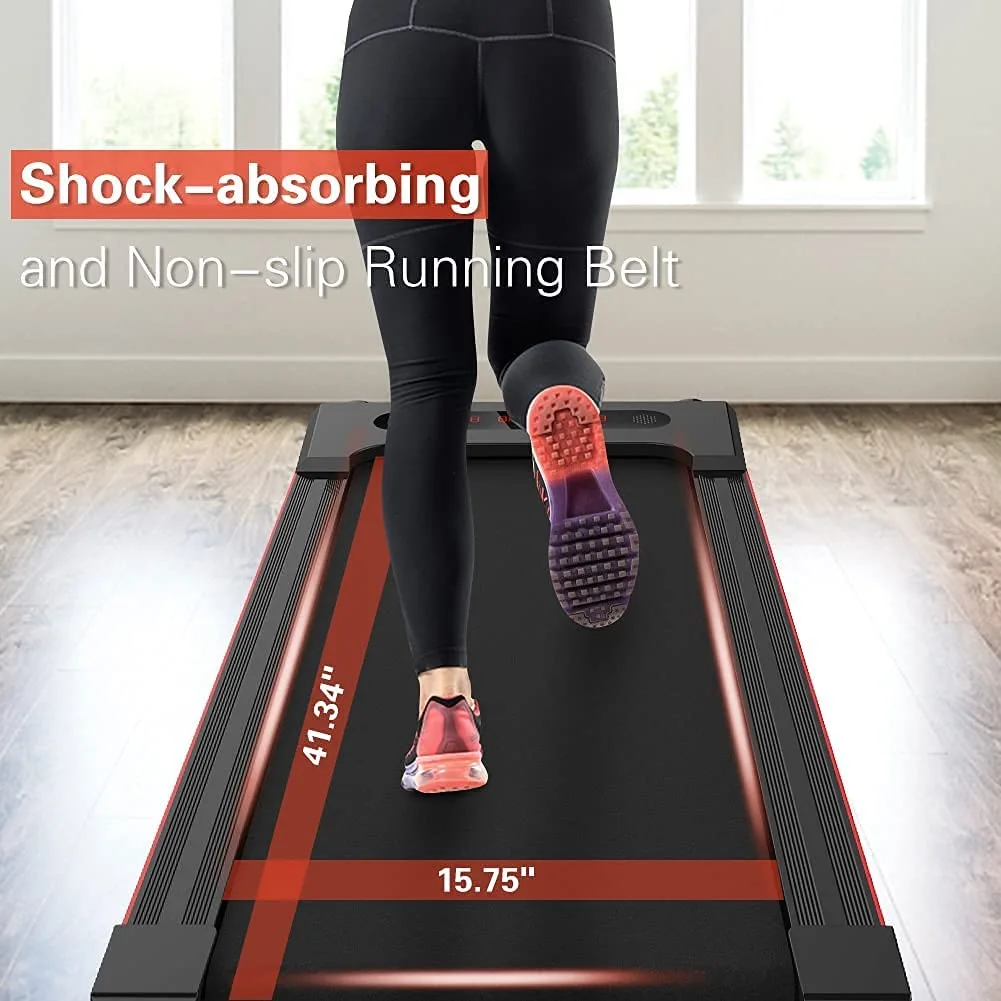 The 15.75″ x 41.34″ track area seems small for running strides, especially if you are close to 6′ or more. But the treadmill is not meant for running. It is also uncomfortable in terms of width if you have above-average weight.
It is shock-absorbing and has a non-slip rubber belt, so it tempts you to run. But a bigger running track would have been better to make running more comfortable and safer.
Safety
If you accidentally fall back or sideways, a remote control can stop it immediately.
But, we recommend using the safety key as it will get unstuck by itself and stop the treadmill.
Weight & Weighing Capacity
This treadmill is only 64 pounds and has wheels underneath for easy transport. Its weight capacity is 220 lbs. Despite the vast difference in the two weights, the treadmill is stable. It doesn't wobble while jogging.
Innovation
Important Features
It has a remote control to switch on or off and adjust speed.
The Goyouth 2in1 treadmill has a quiet motor, a shock-absorbing track, and a safety key to save you in case you trip.
To listen to music while exercising, pair your phone with the speakers via Bluetooth.
The Goyouth 2in1 treadmill manual provides all this information. We recommend you read it and know all its specs and features.
Value
Nearest Competitor
There is tough competition in this segment, and Goyouth has various competitors.
Price
The treadmill costs $399 but is frequently available at a lower price.
Drawbacks
The length and width of the track are an issue. Though for walking it is good enough. It is suitable for a few people of average height and weight for running. But if you plan to run regularly, you need a different treadmill. It is more of a walking treadmill.
Warranty
The Goyouth 2in1 under-desk treadmill has a one-year warranty.
Conclusion
The Goyouth 2-in-1 under-desk electric treadmill is a good value for money. But, due to its track size, it has limited use for people above six feet tall.
FAQs
How do I lubricate the belt?
Answer: Tilt the treadmill, elevate the running belt, and drop the lubricant. How frequently you use something determines when you need lubrication. In most cases, lubricating once every two weeks is enough.
Is this compatible with US electrical outlets?
Answer: The treadmill has been designed for American consumers, so it meets requirements.
Does this need assembly when pulled out of the box?
Answer: It's ready to use immediately! Insert the battery into the remote.