How Portable Treadmills Differ From Other Treadmills? The main characteristic of portable treadmills is their space-saving design. They can be folded up and stored away due to their compact design.
In addition, they have transportation wheels that help move the exercise equipment from room to room and are more lightweight than traditional treadmills used for an indoor workout.
I would consider that a very important feature depends on the space where I have to keep it. How and where shall I store it after use. I have a small apartment, and buying a normal folding treadmill will not solve my problem. I want my folding treadmill under bed after use so that it does not occupy any extra space.
I need a portable electric folding treadmill. If I add a treadmill in my bedroom, I won't be able to walk into the room. Due to its unique foldable design, if I can push my treadmill under the bed, I can only keep it. Due to such convenient storage, it is easy for me to convince all others about buying it. Then there are various special features which one has to decide, are needed or not.
Characteristics of a good treadmill
The best treadmill for home use should be quiet, not very expensive, moveable, and foldable. Treadmills are a great way to get in shape at home, but getting started can be tough. There are dozens of treadmill models to choose from, and each one has different features, price points, and warranties.
A Portable treadmill is comparatively a new phenomenon, and I am a bit apprehensive about the same. But looking at my bulk and my apartment size, it seems its time I buy a foldable treadmill, and the sooner, the better. Furthermore, it is time I have some fitness goals in life.
There are desk treadmills also available in the market, but I will have to keep them in the office, and others will also want to use them day in and day out, and I do not want that.
I wondered about the options available, as there is an amazing variety, so much so that one might get overwhelmed checking each one of them.
I checked the best portable treadmills on the market for home use. There was one expensive folding treadmill that comes with a lifetime warranty. It was a powerful treadmill but wouldn't have fitted in my space. A treadmill for apartments cannot be so big. There are some inexpensive treadmills as well. Looking for my type of treadmill, I found some great ones to choose from in search of a perfect treadmill.
Purpose of the Treadmill
Various treadmill options are available in the market today. There is a treadmill for walking, training programs, weight loss, runners, seniors with larger displays, patients, a compact treadmill, a budget treadmill, and more. Some very expensive treadmills with preprogrammed workouts for ultra marathoners and intense workouts are also there.
There are treadmills with features like an LCD, lightweight design, heart rate monitor, incline range, remote control, speed range, google maps, water bottle holder, integrated tablet holder, fitness app, etc.
It can be not easy to decide which treadmill is right for you. Therefore, it's best to list your particular needs before you start looking for a treadmill that matches your particular needs. Here are several factors to consider when looking for a home treadmill. First, I have to check whether these features are available only on a traditional treadmill or on a portable treadmill. And I also want an affordable treadmill.
Space
Space is the main consideration when choosing a treadmill for your home. Most of the treadmills mentioned here can be folded, so lots of space is freed when the treadmill is not used. There are different levels of folding also, and my need is the maximum folding machine.
Horsepower Motor
Most people prefer a motorized treadmill. For home use, you do not need a powerful motor and a heavy-duty AC treadmill. Those are used in fitness centers only. Usually, a commercial-grade treadmill only runs on an AC motor. The home treadmill mostly has a quiet motor running on Direct Current. The quietest treadmills run on a DC motor and are less noisy as compared to AC.
They have two kinds of horsepower. One is the continuous horsepower used while the treadmill runs, and the other is the peak horsepower, used when it is running at maximum speed.
Wheels
Most home treadmills have wheels underneath for pulling them to any place within the premises.
Stabilizer
Companies generally suggest attaching a voltage stabilizer with the treadmill if voltage fluctuations are in your residential areas.
12 Program Menu
Most companies have preset programs with 12 program control menus in their machines with pre-fixed Mph speed, incline levels, running speed. There is a heart rate program, weight loss program, and various other preloaded programs to better your exercise experience. These preset workout programs are better as your workout range increases, and you don't get bored with the monotonous jogging.
Weight Carrying Capacity
The treadmill's weight carrying capacity should be at least 40lb more than your current weight. The treadmill weight itself should not be not so less that it is not stable.
Length & Width
For walking or jogging, a small length & width track is all right. But for running, the strides are longer especially if you are a professional runner, the treadmill track should be 22″ wide and 55″ in long. If you are 6′ tall, buy a mill with a 60″ long track or more. I am not tall, and I need it for my walking, or I might do some jogging as well.
There are several other functions in a treadmill like auto incline with various incline levels, heart rate sensors, speed level, iFit program, adjustable treadmill deck, multifunctional display panel, ergonomic design, shock absorption features, digital console, etc.
Auto-Stop
All most all treadmills have a built-in auto-stop function. When running, you can attach the safety clip to your clothes and run as normal. It will auto stop if you fall or drift back on the treadmill minimizing the injury risk.
Best Folding Treadmill for a Small Space
So my compact treadmill list is here. Of the various types of treadmills, I checked this is the final shortlist of the ones from which I will choose one. Inspite of all the features, I need
A user-friendly compact frame, mill for light jogging at most.
I am looking for a treadmill to walk at my maximum walking speed or maybe jog at a good speed.
It should also have a safety feature such that it stops if I am about to trip.
I should be able to use it for an extended period. I don't want to lose my peace of mind just calling the company for one repair or the other.
The walking pad should also be cushioned not to injure my knees while I jog on it.
If there is a good desk electric treadmill, I can keep it in the office too. That way, I can use it while working. A treadmill desk will solve to issues rather. So I will get a treadmill as well as a desk to work on.
The other option is a mini treadmill that can be pushed below the bed or stand near a sidewall. In any case, whether for home or office, it has to be a space-saving treadmill.
I am also looking for a treadmill with an incline but am unsure whether I will get one at this price.
But I don't want a manual treadmill, as I am not sure about its functioning and usefulness. 
Please check the folding treadmill reviews before buying any of these.
Goplus 2-in-1 Folding Treadmill
Dimension: 49"x 27"x 42"
Motor: 2.25 HP
Weight: 70 lb
Running Surface: 40″ x16″
Weigh Capacity: 265 lbs
Speed: 1-12km/h
Control: Remote & APP
Connectivity: Bluetooth
Warranty: 1 Year
Goplus 2 in 1 Treadmill gave me all that I needed. Equipped with a safety key and even a remote control, I thought this might be the only machine in the market available in different colors like black, silver, blue, red. It didn't much look like a treadmill for seniors. But later, I saw various others too in several colors. It was quiet inspite of the 2.25HP motor.

I can use it as a desktop treadmill too for walking purposes upto 4 km/h. As a running treadmill, complete with handles attached, it goes upto 12km/h?!? So actually, this is all I want. I dont think I can run at that speed for an hour. And I can push it below the bed after use. The height is only 5″. There is Bluetooth too, and it has five-layer cushion absorption for the safety of knees.
Echelon Stride
Dimensions (folded): 69.3 x 31″x 10.25″
Motor: 1.75 HP
Weight: 156 lbs.
Running surface: 55 × 20 inches
Weight Capacity: 300 lbs.
Speed: 0.5 to 12mph
Incline: 12 levels Max – 10%
Connectivity: Bluetooth
Warranty: 1 Year
Now here is a machine which has all that I need. I can run on it at a much faster pace as the running surface is much bigger. It can bear my load and much more. It has an incline that I never expected in a treadmill that I can push under the bed. I can fold it just with a push of a button.

For a portable machine, it is quite heavy, though. Its motor is smaller though for me it is ok. But it is much expensive compared to the earlier ones that I saw. It looked like a perfect portable electric treadmill machine but for the price.

Besides, though, it might be the best in the "Push under the bed or stand against the wall category" but is not as sturdy as other treadmills of this price with this size motor. A higher price meant I only had to cry at a higher pitch to get it in the good old days, and Dad would buy it immediately.
Funmily 2-in-1 Under Desk Treadmill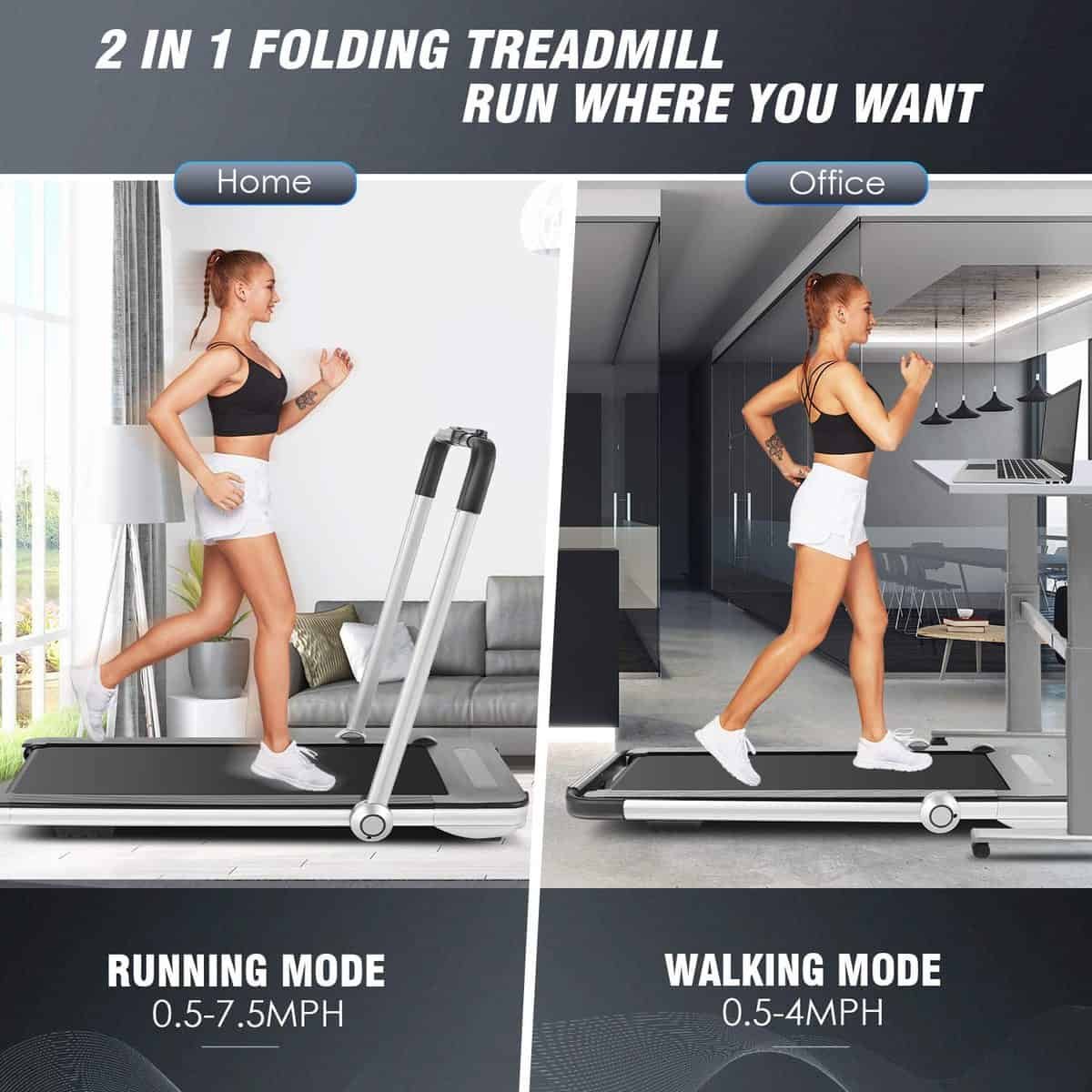 Dimension: 53.2"x 26.3"x 4.3"

Motor: 2.25 HP
Weight: 55 lbs.
Running surface: 41.8 × 15.8 inches
Weight Capacity: 220 lbs.
Speed: Walking- 4mph Running- 7.5
Programs: 12 – Modes-5
Connectivity: Bluetooth
Warranty: 1 Year
A remarkably silent treadmill with less than 50db sound, this portable walking treadmill has an excellent 7-layer cushioned design on the running track. It is good for shock absorption and safety from knee damage. Another 2 in 1 model, it can be used in an office as a desk treadmill and as a normal use-at-home treadmill.
It has a less than 5″ folded height. With a raised handrail, the speed also increases. Just fold the handles and use it as a desk treadmill. The display console gives all the details like speed, time, distance, and calories burned. There is a slot for cellphone, tablets, or remote control, and you can attach the phone with the built-in speaker to listen to songs.

The only issue that I can see on the treadmill is the short running track, due to which it is not suitable for a tall person.
Asuna 8370G Folding Treadmill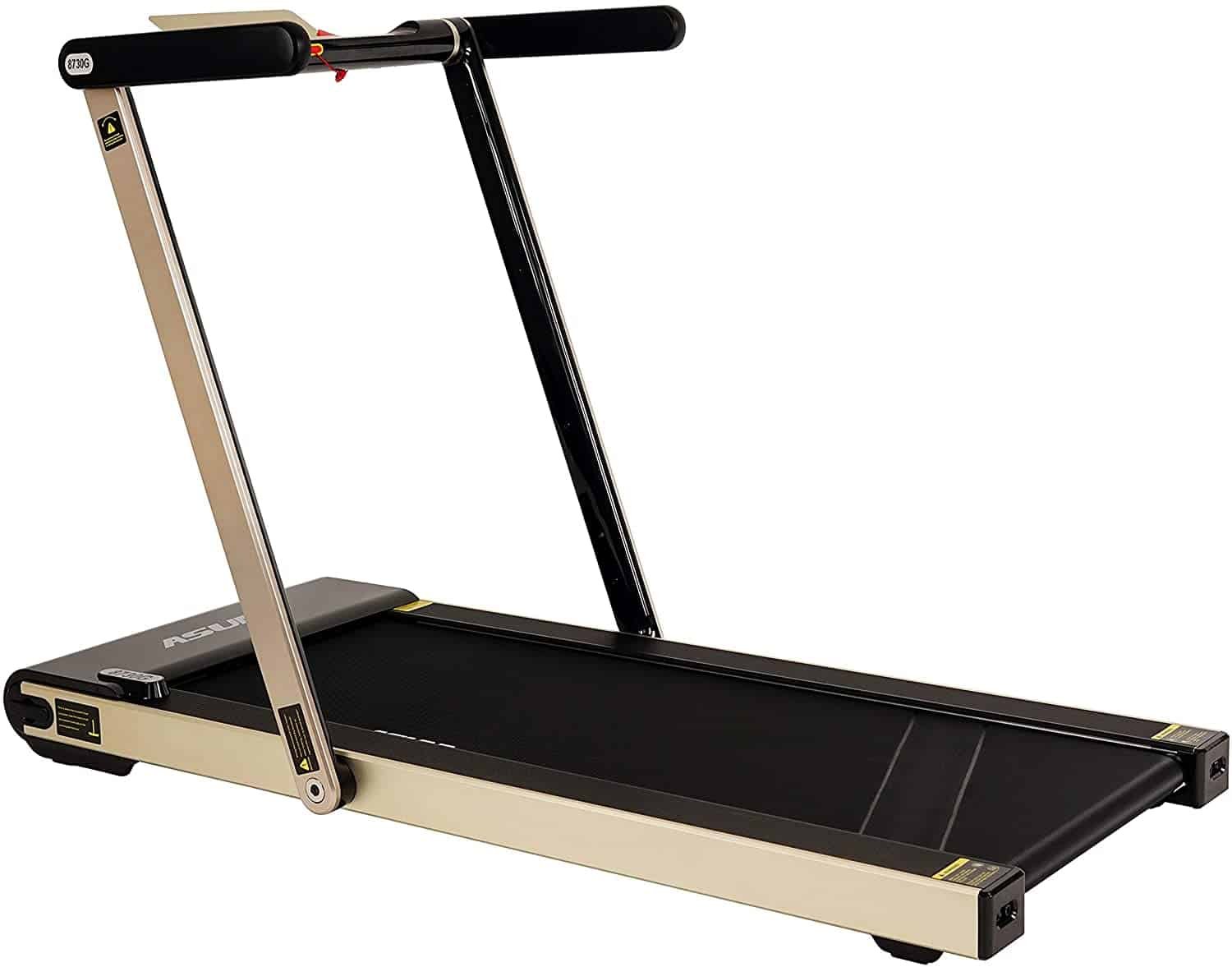 Folded dimensions: 64" x 30.5" x 4.5"
Motor: 2.50 Peak HP
Weight: 95 lbs.
Running surface: 49" x 17.7"
Weight Capacity: 220 lbs.
Speed: 0.6 to 8mph
Warranty: 5 Yr-Frame 180 Days-Parts 
Asuna 8370G folding treadmill is from Sunny Health & Fitness, a company long associated with treadmills. With a 250 Peak HP motor, it has a good mph max speed. The folded treadmill is only 4.5″ in height and can be pushed under a bed. But it is a heavy machine, and pushing and pulling it every day is going to be an exercise in itself.

As with all treadmills in this category, the running track is not suitable for runners above 6′ in height. However, for all others, it is good. The LED monitor tracks speed, distance, time, and calories burned. The machine comes in two colors, i.e., silver & light gold, and has built-in speakers for listening to music via the attached cellphone through the auxiliary port.
UMAY Portable Treadmill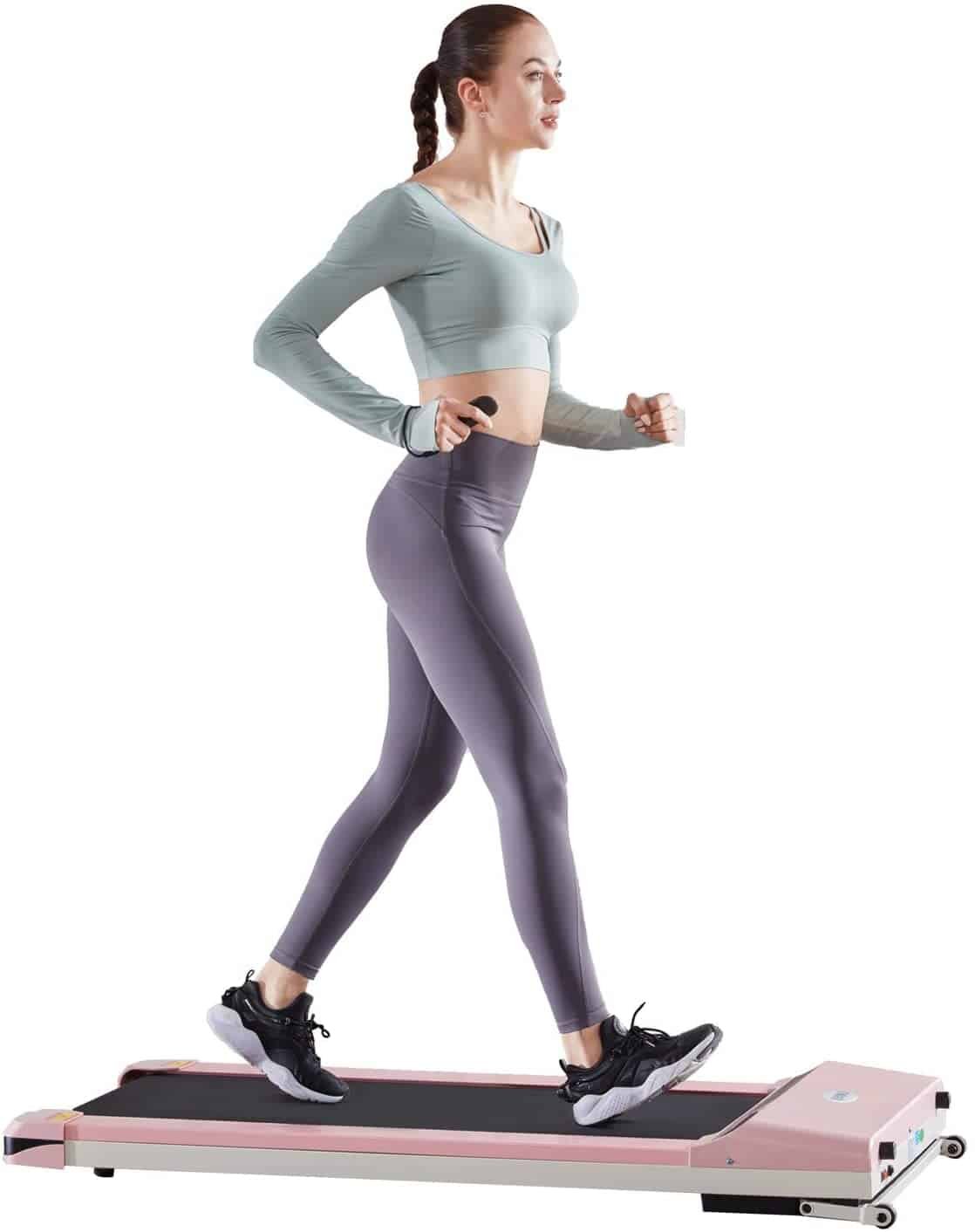 Folded dimensions:
53.74″×23.6″×5.9″
Motor: 1.50 Peak HP
Weight: 95 lbs.
Running surface: 41" x 16"
Weight Capacity: 198 lbs.
Speed: 4mph
Warranty: 1 Yr
It is known as a desk treadmill and is not a 2 in 1. It has no side rails. Its mph speed range is only up to 4mph. It has a preset workout option with 12 different programs to choose from. So it is for walking and jogging only.
It is super quiet and can be used in an office hall with 20 people without disturbing anyone. For ease of use, it has a small remote with it. You get to know all the details about your workout like time, distance, speed and calories burnt, etc. The treadmill deck cushion is quite thick for the safety of knee joints and other lower body joints.
SereneLife Portable Electric Treadmill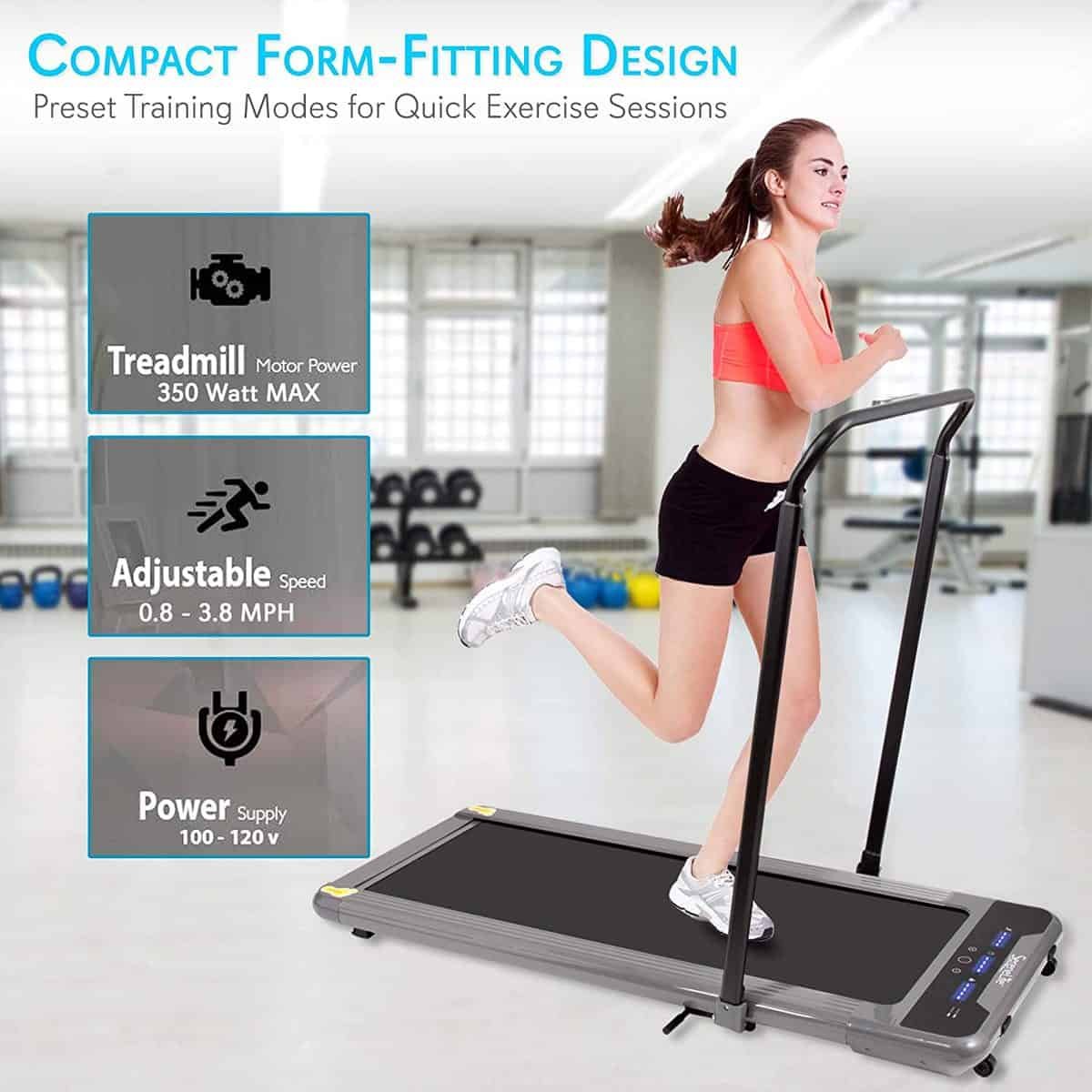 Dimensions: 61.62 x 28.35 x 44.49 
Motor: 1.50 Peak HP
Weight: 78.25 lbs.
Running surface: 51" x 18.3"
Weight Capacity: 265 lbs.
Speed: 4.9m/h
Warranty: 1 Yr
Serenelife portable treadmill is comparatively a larger treadmill with a larger jogging surface than others in this category. With a 1.5 peak HP motor for walking and jogging, it can withstand a weight of 265lbs.
So it can be described as very good for walking for obese individuals. Besides, it can be stored easily and records speed, step count, distance, calories on the LCD in the front. It comes with remote control and has a safety key to avoid accidents.
BiFanuo 2-in-1 Folding Treadmill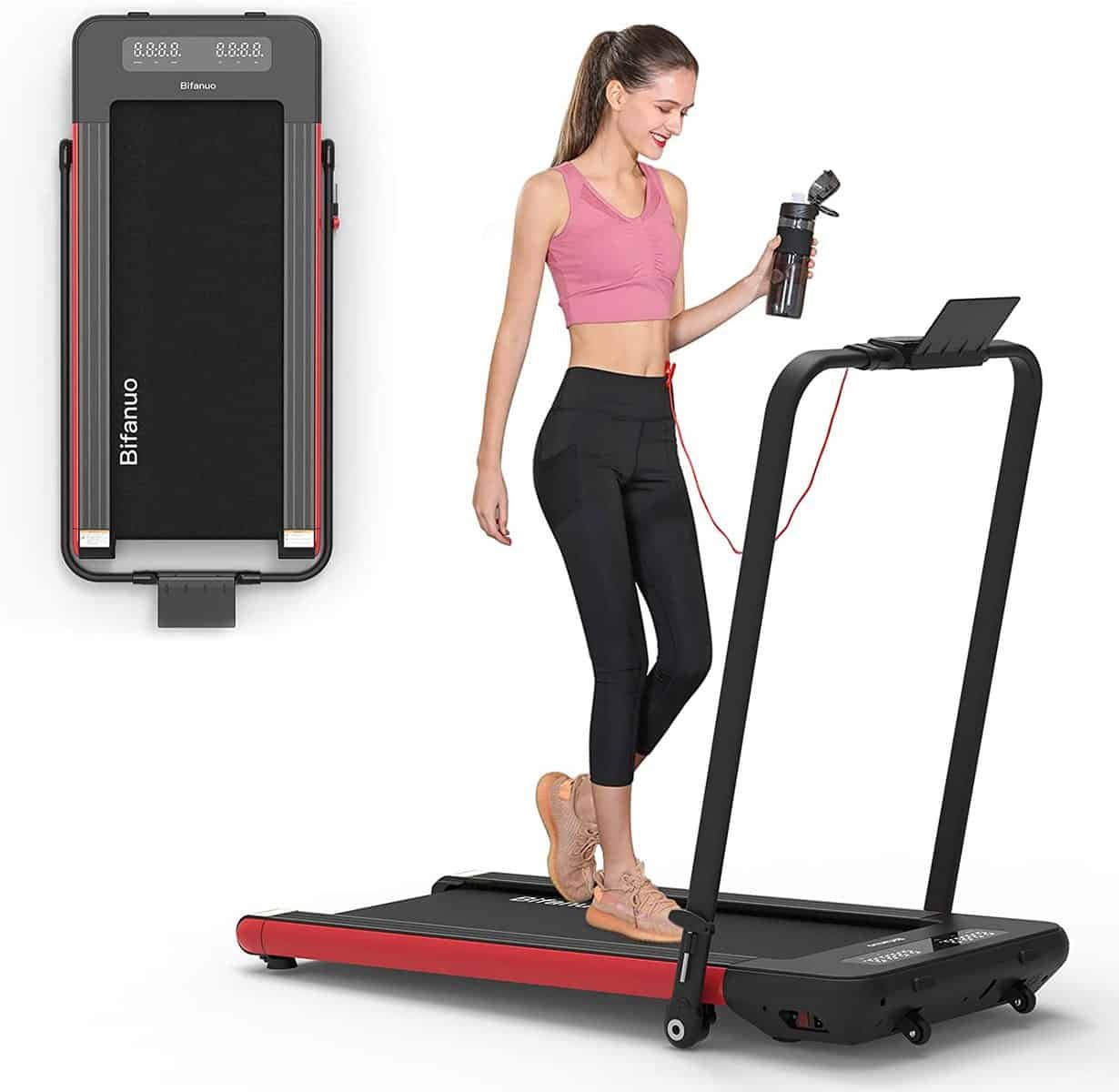 Dimension: 50"x 26"x 42" Folded Height: 4″
Motor: 2.25 HP
Weight: 80 lbs.
Running surface: 40.5" x 16"
Weight Capacity: 260 lbs.
Speed: 0.6 – 6.2m/h
Warranty: 1 Yr
Bifanuo 2in1 Portable Treadmill is another regular treadmill with two modes. One is the walking mode for upto 4km/h and running mode with handrails on upto 12km/h. It has a short running board, so taller individuals are advised not to run on it.
For people above 6,' it will be difficult to run due to their long strides. The machine is very quiet. It gives you all the details like speed, time, distance, and calories. It has a built-in Bluetooth speaker attached to the phone or a tablet to listen to songs or watch the news. For ease of operations, you have remote also.
Redliro Under Desk 2-in-1 Treadmill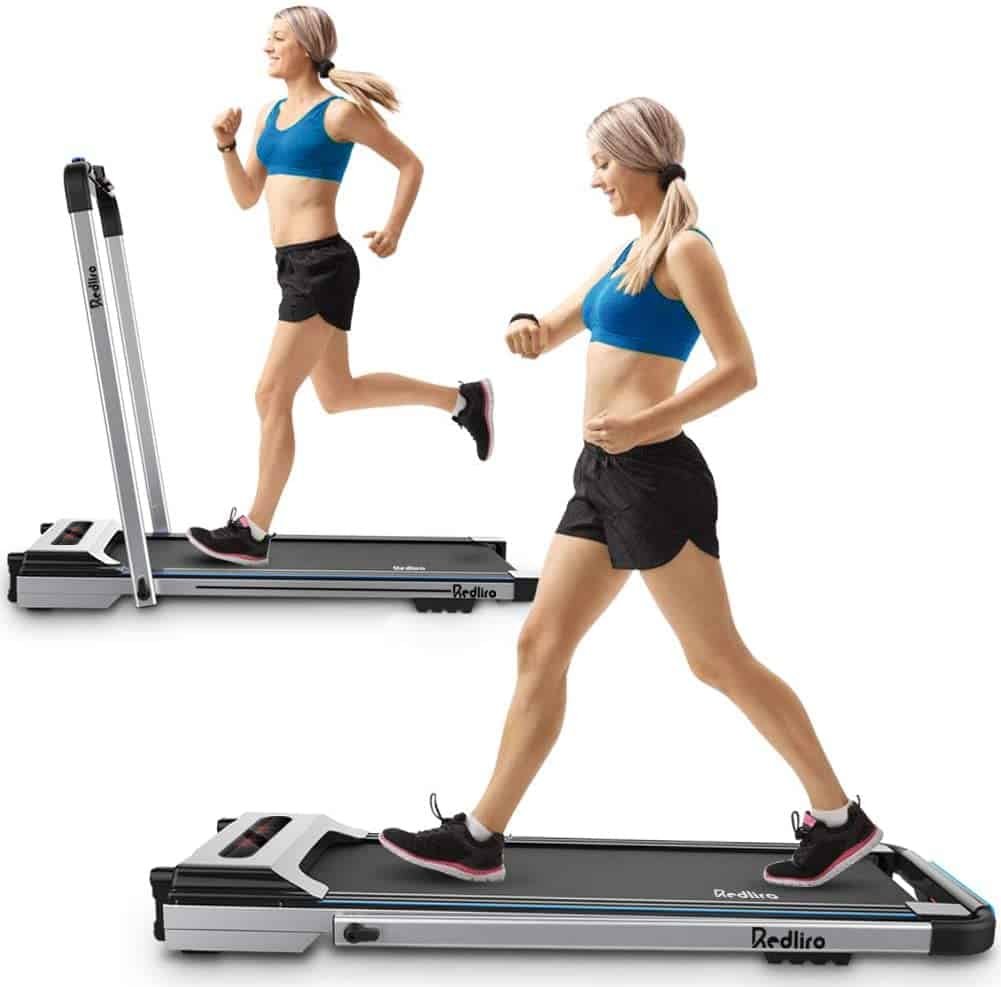 Folded dimensions: 53.7''x 24.8''x 5.5''
Motor: 2.25 HP
Weight: 57 lbs
Running surface: 41'' X 14''
Weight Capacity: 220 lbs.
Speed: Running- 7.5mph, Walking-4 mph
Warranty: 1 Yr
Redliro under desk 2in1 treadmill is another fold-up treadmill. It doesn't have built-in Bluetooth speakers or handlebars, so it is less expensive comparatively. Being a 2 in 1, it has a walking mode of 0.5 to 4 m/h and a jogging mode from 0.5 to 7.5 mph.
With a noise level of fewer than 60 lbs, it can be used in the office without disturbing others. It has five layers of shock-absorbing cushions to save you from any injuries in the knees and joints due to pressure while jogging.
FYC Folding Treadmill
Folded Dimensions: 51.1'' x 25.5'' x 7.9″
Motor: 1.5 HP
Weight: 50 lbs
Running surface: 41.3'' X 14.9"
Weight Capacity: 220 lbs.
Speed: 0.5-6.5 mph
Warranty: 2 Yr Limited
FYC folding treadmill is another collapsible treadmill for walkers and joggers. It has a small but quiet 1.5 HP motor and a small jogging track too. The maximum speed is also 6.5 mph. Unlike various other such machines, it cant be used when folded, so it cannot be used while working on a desk.
The LED console does have all the basic features like speed, time, distance, and calories. It also has 12 preset workout programs, which makes the workout more interesting. It has a cushioned running surface for the safety of knees and other joints against jerks.