Are you suffering from diabetes? Are you a type 2 diabetic? Can people with diabetes have protein powders? Are you looking for your daily protein requirement? You can have high protein, low carb powders for diabetes.
Everybody needs extra energy boosters for their daily routine after a certain age. As a person with diabetes, you must keep your sugar level on track. What could be better than high protein, low carb powders for people with diabetes? We know it is impossible to know all proteins on the market today! So, we enlighten you on the importance of the best protein powder for type 2 diabetic patients.
9 Best Protein Powders for Diabetics
With these, you can make the best sugar-free protein drinks. It is an excellent way for people with diabetes to lose weight. These include the six best whey proteins for people with diabetes.
Opportuniteas Grass-Fed Whey Isolate
Opportuniteas Grass-Fed Whey Isolate is one of the best diabetes-safe protein powder options. It makes the best sugar-free protein shake for people with diabetes to gain muscle. The product comprises two primary ingredients: protein isolate and lecithin. Here, lecithin makes up less than 1% of non-GMO sunflowers. Furthermore, it makes mixing much more accessible and simpler.
It is available in an unflavored version that you can consume as recipes, beverages, and food. The product comes with two other flavors on the market. But sticking to the unflavored version is best to prevent high carbohydrate intake.
Nutritional Facts
Calories-120
Protein-28g
Carbs-0
Pros
28g of protein per serving.
Made with only two ingredients
0g sugar
It contains 99% pure grass-fed whey protein isolate.
Cons
Not fast-absorbing or easily digested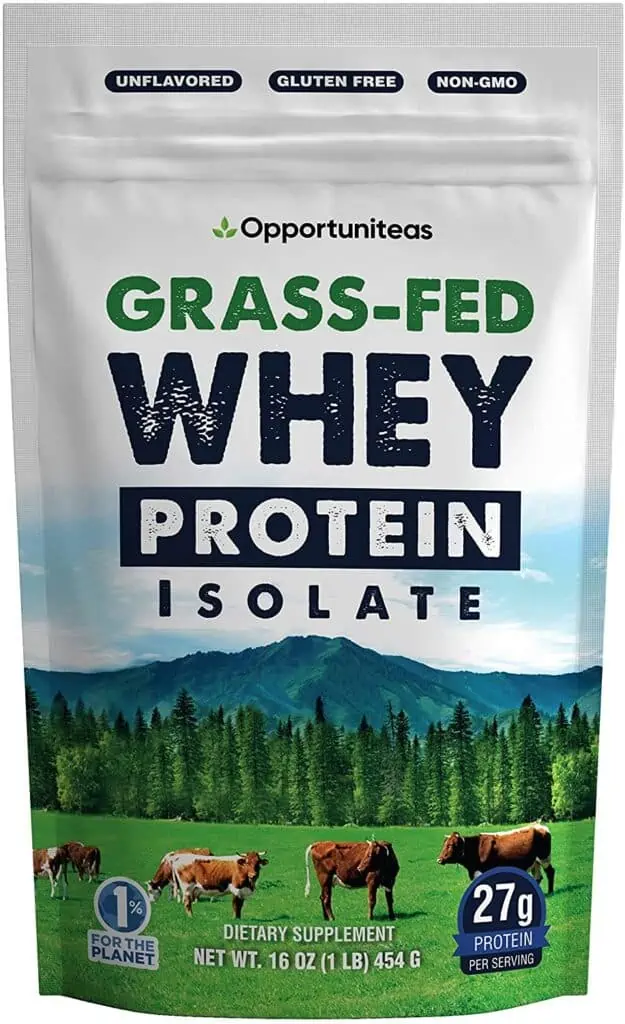 Isopure Whey Isolate Protein Powder
Isopure Whey Isolate Protein Powder provides a sugar-free protein powder. It suits runners, trainers, professionals, and others. Isopure has premium ingredients that you know you can trust. It has two elements, including whey protein isolate and soy lecithin.
Its low-carb option makes it easier to shed weight and fight various health problems. It also improves blood pressure and the immune system and manages cholesterol levels. You can meet your daily protein needs, too.
Nutritional Facts:
Calories-100
Protein-25g
Carbs: 0 g
Pros
100% whey protein isolate.
Profile of two ingredients
25 g protein
Multipurpose usage
Cons
It is unlikely to have negative feedback from customers and researchers.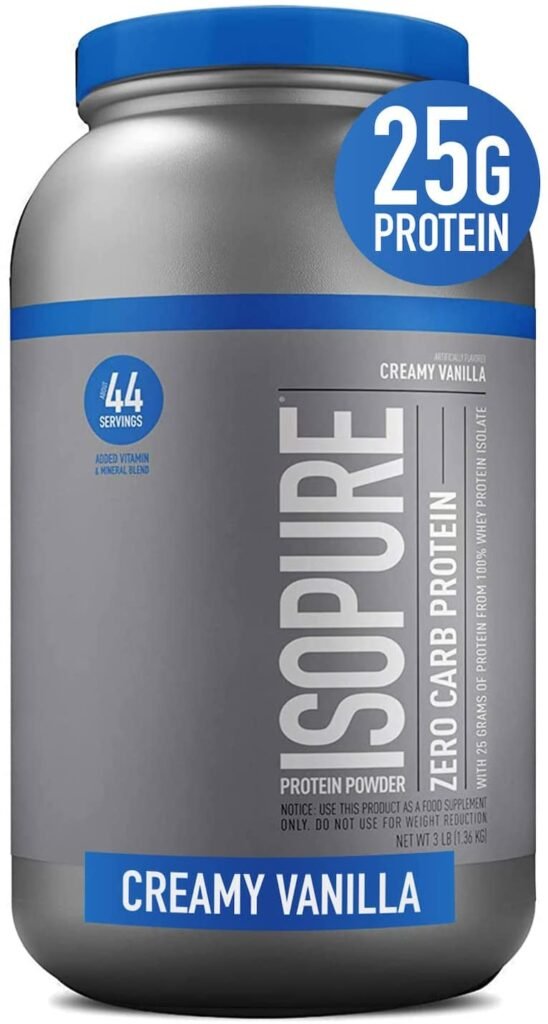 Whey + Isolate Legion
It is one of the top protein supplements for diabetes management. It is naturally sweetened with 11 different flavors. The carbohydrate content is low, making it favorable for diabetic patients. It has also caused no health issues for users. So, it's both healthy and safe to consume.
Moreover, it is lactose-free and non-GMO certified. It helps release muscle tension and prepares you for daily activities. So, whether you have diabetes or not, it is an excellent option for everyone.
Nutritional Facts:
Calories-110
Protein-23g
Carbs: 3g
Pros
It's delicious.
It is available in different flavors.
It is naturally sweetened.
Cons
Mixing requires a blender for smoothness.
ON Gold Standard 100% Whey Protein Powder
Optimum Nutrition Whey Protein Isolate is known for its advanced diabetes effect. If you have diabetes, this product can give you optimal results. It is suitable for both men and women. The brand has had a long track record of creating stellar, effective supplements. The brand also has a good track record with third-party testers.
This protein supplement is best used for building muscle growth and strength. It is consumed post-workout to support a lean physique. It is available in unique flavors like double rich chocolate, chocolate bliss, rich vanilla, chocolate ice cream, etc.
Nutritional Facts:
Calories 117
Protein-24g
Carbs: 3g
Pros
Isolate of 100% pure gold standard protein
It helps in muscle support and recovery.
100% vegan
Gluten-free
Cons
It has artificial sweeteners like sucralose and acesulfame potassium.
It tastes a little too sweet.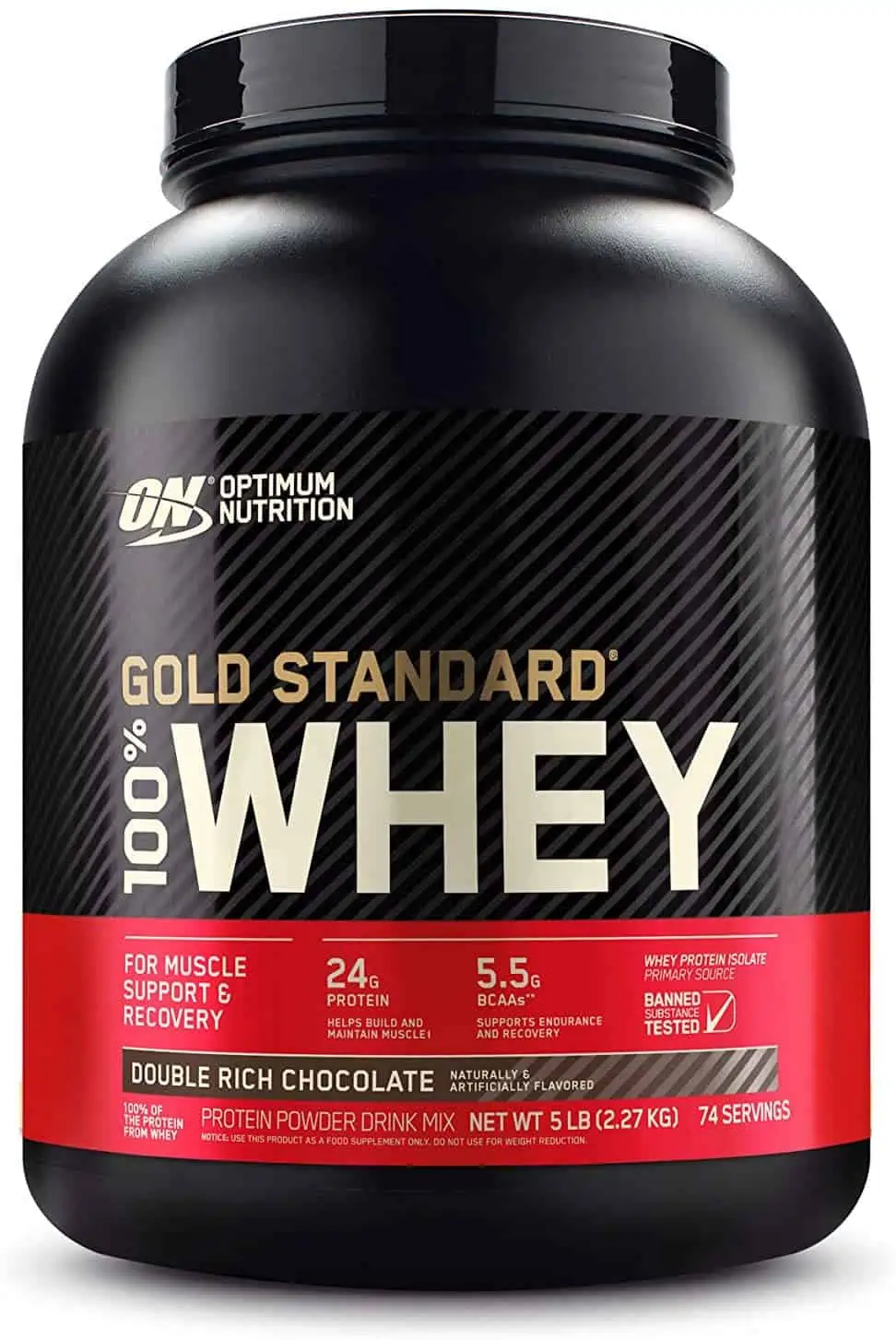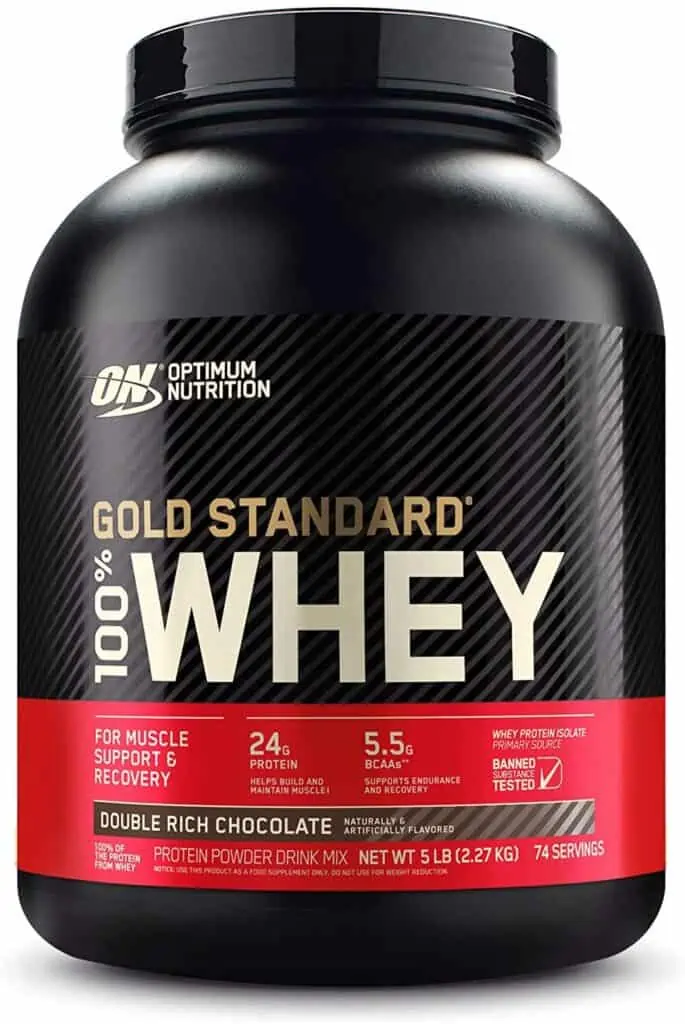 This kosher-certified supplement contains 20g of collagen for a double-scoop serving. It is a low-glycemic, non-dairy protein powder. It has vitamin C and hyaluronic acid to benefit skin and nail appearance.
In addition, it saves overworked joints from tears, breakage, or injuries.
Nutritional Facts
Calories – 70
90mg of vitamin C
Sodium-110mg
Protein- 18g
80mg Hyaluronic Acid
Pros
It goes through third-party testing.
It contains Vitamin C and Hyaluronic Acid.
It is available both in sticks and tubs.
Cons
It is expensive.
Some flavors are not tasteful.
Now Sports Whey Isolate
In Now Whey Protein Isolate, the whey is entirely in a processed form. It helps lower the fat and lactose content of protein. It is one of the great isolate powders with no artificial flavors or colors. You will also get a wide range of tastes to prepare any recipe or smoothie.
It gives the best result for all types of bodies. Besides, it contains vitamins, minerals, and other essential nutrients for optimal health. It also has high-quality protein that is both absorbable and digestible for the body. It is rich in BCAAs, making it ideal for active individuals.
Nutritional Facts:
Calories-110
Protein-25g
Carbs: 1g
Pros
Completely high-quality protein
Soy-free
Every batch is tested and verified for potency and safety.
It is both bioavailable and digestible.
Cons
The product is unlikely to have any negative feedback.
Orgain Organic Protein Powder
Orgain organic plant-based protein powder for people with diabetes is unflavored. With 140 calories per serving, it has 21 grams of protein from peas, brown rice, and chia seeds. Though total protein calories are only 84, i.e., 60%, it has higher carbs, fat, and organic dietary fiber but 0 g of sugar.
It is certified USDA organic, gluten, dairy, soy, and lactose-free. It has no added sugar, is non-GMO, and is artificial ingredient-free. Nor does it have caffeine.
Nutritional Facts:
Calories-140
Protein-21g
Carbs: 7g
Pros
The whole range is organic.
Non-GMO
It is entirely plant-based.
There is no artificial sweetener or added sugar.
Gluten-free
Cons
Mixability is not 10 out of 10.
It does not conduct third-party testing.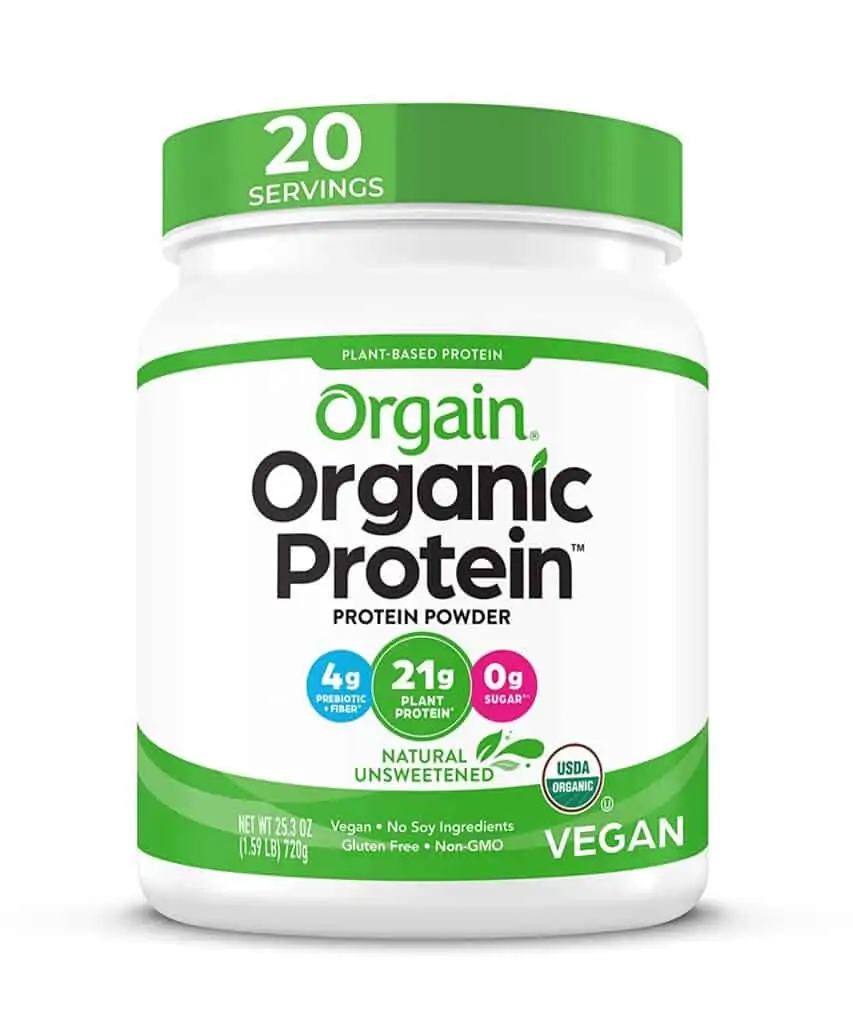 This naturally sweetened product makes it the home's healthiest protein smoothie. It is a plant-based protein powder that is an excellent choice for women's health. It not only improves bowel regularity but also stabilizes blood sugar levels.
It is 100% vegan, organic, and free from additives, artificial ingredients, and preservatives. It is best used for making delicious smoothies or making homemade baking goods.
Nutrition Facts:
Calories-130
18-gram protein
Carbs—10 Grams
Pros
Low in carbs for diabetics
Increase bone and muscle formation
It is purely organic.
Increase your energy level
Cons
It tastes a bit too sweet.
BPI Sports Best Protein
Though diabetic, you can build muscle with this product. The powder can maintain body weight and boost your immune power. It is sugar-free and made with a unique dietary formula.
So, you can enjoy having an energy-rich, deliciously flavored drink post-workout. Also, the whey protein extract is made without any fillers.
Nutritional Facts
Calories-130
Protein-24g
Carbs: 3g
Pros
It meets all your dietary requirements.
It is high in protein.
It is entirely sugar-free.
It boosts energy and supports lean muscle.
Cons
Lactose-intolerant people must not use this product.
Is whey protein good for people with diabetes?
Absolutely yes! You can add low-carb, sugar-free protein powder for diabetes to your daily diet. It is safe and healthy in both ways. You can consume it as a delicious shake in the recommended proportion. But identify the ingredients you are unfamiliar with. Also, take the supplements in moderation.
But, it is best to consult an expert or a doctor before adding any protein supplement to your nutrition plan.
Protein Shakes for Diabetics
All protein shakes on the market have their pros and cons. The best protein shakes for diabetics type 2 are low glycemic protein supplements. There are various sugar-free powders to make a protein drink for people with diabetes. However, we recommend checking the product's label to ensure it does not contain sugar.
Effects of Protein Powder on Diabetics
The best protein powders contribute less than 12 grams of carbohydrates per serving. But, mass gainer powders contribute around 30 grams of carbohydrates per serving. It means the more carbs you consume, the more likely you have high blood sugar levels.
So, if you have diabetes, you can still consume around 2 to 12 grams to control your blood sugar level.
Check the effect of protein powder on blood sugar. Test your blood sugar before and after 30 to 45 minutes after you consume it. For an accurate result, you must mix the protein powder with water for this test.
Whey protein helps manage Type 2 diabetes
Studies have shown that people with diabetes can consume small amounts of whey protein. It will prevent their blood sugar levels from increasing. Drinking before meals can help type 2 diabetics control their blood sugar levels.
Whey protein powder is believed to work in two ways in our bodies.
By slowing down the food that passes through our digestive system.
Stimulating many hormones in our body that help control our blood sugar levels.
Conclusion
As we see worldwide, a growing number of people are affected by diabetes. Whey protein is one of the potential alternatives to drugs for blood sugar control.
FAQs
Is protein powder good for diabetics?
People with diabetes can consume whey protein in the recommended amounts in any way they like.
How much protein is safe for diabetes?  
People who have diabetes need to be careful with whey protein powder. Increased protein means it can help to improve your blood sugar management. Whey protein has the potential to reduce and balance carbohydrate intake.
People with diabetes and healthy kidneys can consume up to 30–35% of their calories from protein. It equates to 120 – 180 grams of protein daily based on individual needs and health preferences. So, consult a registered dietician to determine your needs and what is best for you.
Does Whey Protein Cause Insulin Spikes?
Whey protein powder stimulates insulin secretion in people with average weight and triglycerides. But triggers increased glucose levels in obese people. In short, whey protein powder can increase postprandial serum insulin levels.
How Can a Diabetic Gain Muscle?
Having diabetes won't stop you from building or developing muscles. But, a few precautionary measures must be taken about diabetic muscle gain.
Some essential tips on working on your muscle growth without affecting your diabetes:
– Load up your protein intake.
– Consume a protein shake before working out.
– Work on strength training.
– Indulge in a high-quality meal post-workout.
– Adequate water consumption.
– Plenty of resting time
– Consume good fats.
Does Protein Powder Raise Blood Sugar?
No! Several studies have shown that protein does not increase blood sugar levels. Instead, it keeps us fuller for a longer time. But, a 2017 study has shown that protein powder has a mixed impact on people with type 2 diabetes. It is based on the type of protein powder diabetic people take.
Whey protein is also believed to reduce postprandial blood glucose. It happens especially before a meal. Whey protein powder also helps reduce appetite and unwanted food intake.