Did you know protein bars are growing in popularity in today's world? People are looking for a healthy snack option to take on the go. Quest protein bars have recently become known worldwide as a healthy snack choice. It has a lot of protein and is regularly promoted on social media. People have shared their experiences with Quest Bars and how they use them in other recipes.
Quest Bar is a dietary supplement for those looking to shed some extra pounds. It not only provides dietary fiber, but it also keeps you full and relaxed throughout the day.
So, it works well on your gut without giving you a lot of calories. Besides, Quest Bars are rich in protein, so add those extra proteins to your diet.
What are Quest Bars?
Quest Bars have a remarkable quality of fiber and protein. It only contains about a gram of sugar in a bar. So, you can have these protein bars if you are on a low-calorie diet. In a way, it becomes an ideal snack if you have an active lifestyle. If you are a gym-goer, you can grab a bar to fulfill your hunger during the workout.
Are Quest Bars good for you?
All protein bars have some pros and cons associated with them. But you need to know which is better for you. You have to check its healthiness by checking the nutritional information.
It will help you determine the number of factors that influence your decision. You will know which flavor of Quest Bars to select.
Nutritional Facts:
Whey-Based protein–20 grams
4 grams net carbs
Fibre- 18 grams
Calories: 160-210 (depending on the flavors)
Flavours that are 95 to 100 per cent natural
Most people believe Quest Bars are safe and healthy to consume. To a certain extent, this is true. For example, Quest Bar works as an excellent dietary supplement. It can be helpful for those who are trying to lose weight. It is an excellent source of dietary fiber for the body.
But it is also essential to remember that these might only work equally for some. In short, it might not work well for you as it does for others. Since the product ingredients focus on weight loss, you might need something else to gain or bulk up. It will also not help if you eat more calories than usual.
Quest Bars are good for you for four reasons.
High-quality protein
High-quality protein
Easy to carry around packaging for a quick protein fix.
Excellent pre-or post-workout snacks to aid in muscle recovery.
Aid in Weight Loss
Low in calories
Protein helps with fat metabolism and hunger control.
Some bars are high in fiber, which helps keep individuals fuller over a longer period.
A meal replacement option
Meal replacement protein bars contain a whole host of vitamins and minerals.
Before beginning such a diet, consult with a healthcare professional.
Cost-Effective
Each bar can cost an average of around $ 2.50 to $ 4.50.
Pick the one that best fits your budget.
Are Quest Bars Good for Weight Loss?
Even the healthiest bar contains processed food for a longer shelf life. So, how do you find the best protein bar for weight loss?
Before purchasing one, please go through the label to check its calories. Not all calories are bad for you. It would help if you saw what makes these calories. Is it sugar, carbs, fat, or protein?
An excellent healthy protein bar should have 8 grams of protein. But, if the bar has less than 8 grams of protein, it is more of an energy bar than a protein bar. So, look for ingredients like whey protein, nut butter, peanut butter, etc.
Advice on Quest Bar Consumption
Try to keep your diet clean and not rely on supplements or protein bars as a daily diet. Get an expert opinion if necessary. Indulge in whole foods to meet your daily protein consumption. It will be a more natural way to promote healthy nutrients in the body. We all know that raw food always works best for our bodies.
No doubt, Quest Bars are both healthy and tasty in every way. It can add enough protein to your body on the go. You can also use them in alternative ways, like baking, broiling, and microwaving.
The Top 7 Quest Protein Bars
Quest Bar – Cookies and Cream
It's one of the best quest bars on the market today. The product uses real cookie crumbs to deliver a great taste to the users. It is made from delicious white chocolate-flavored chips to make it enjoyable at the gym or on the go. It is a 100% vegetarian product with high protein and energy for everyday life.
The product uses quality ingredients that are beneficial to the body. It maintains its nutritional integrity to improve health. They are the perfect smart snack choice for everyone.
Nutritional Facts:
Calories-200
Protein-21g
8g total fat
21g total carbohydrate
15 g dietary fibre
Total Sugars-1 g
Cholesterol-5mg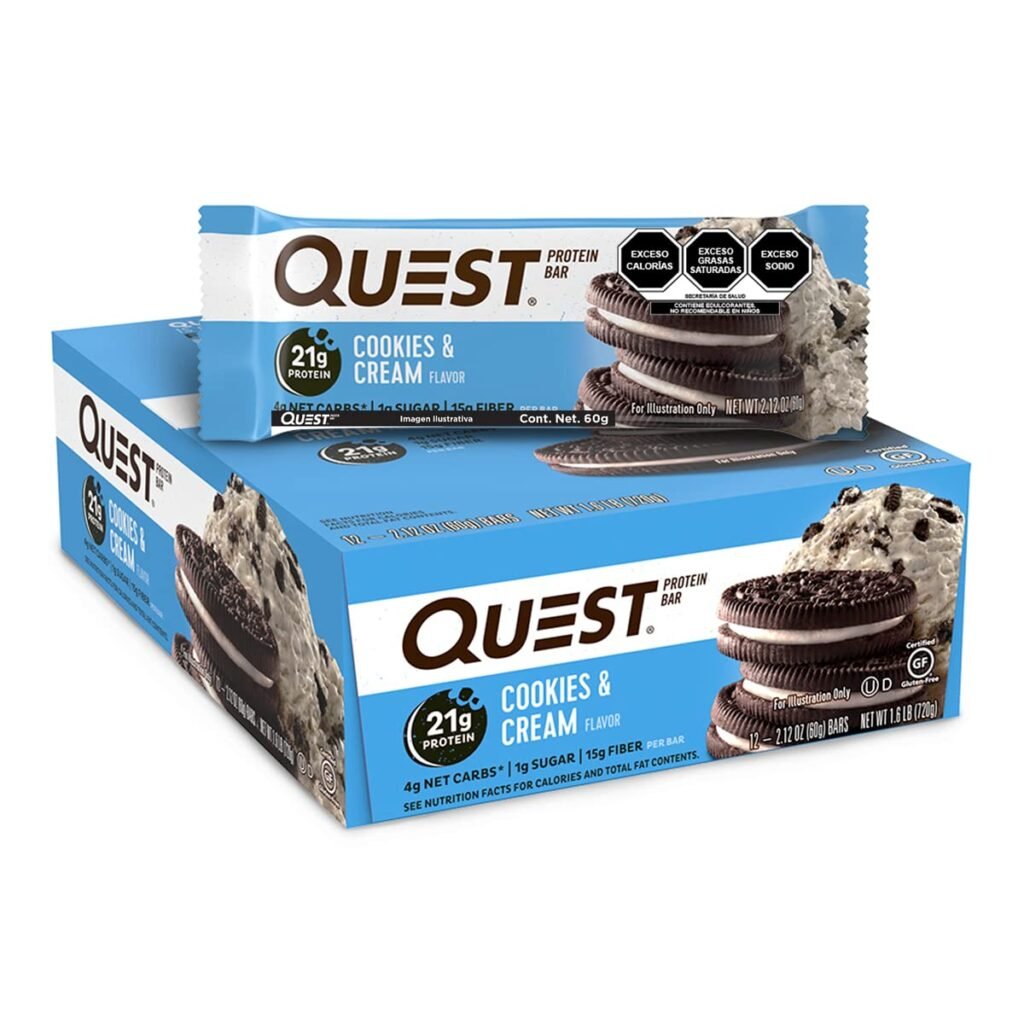 This irresistible oatmeal cookie taste challenges you to eat just one. It has pieces of chocolate flavor, cinnamon, and gluten-free oats.
Quest Oatmeal Chocolate Chip Protein Bar tastes like grandma's cookie. Dairy-based proteins in it include all nine necessary amino acids. Each bar offers 13g of fiber to balance your macros. Enjoy an oatmeal chocolate chip cookie without extra sugar. The Quest Oatmeal Chocolate Chip Protein Bar is sugar-free.
Nutritional Facts:
Calories 190
7 g total fat
1.5 g of saturated fat
23g total carbohydrate
16 g dietary fibre
Total Sugars-1 g
Protein-20g
Blueberry Cobbler from Quest
This Quest Bar has a blueberry-flavored topping. It has a crunchy effect on the mouth. The protein bar has a delicious white chocolate flavor coat. These protein bars are delicious, nutritious, and satisfying. So, if you want a guilt-free snack when you need something sweet and healthy, have it.
Nutritional Facts:
Calories-160
7g total fat
6 g Saturated Fat
30g total carbohydrate
10 g dietary fibre
Total Sugars-1 g
Protein- 16g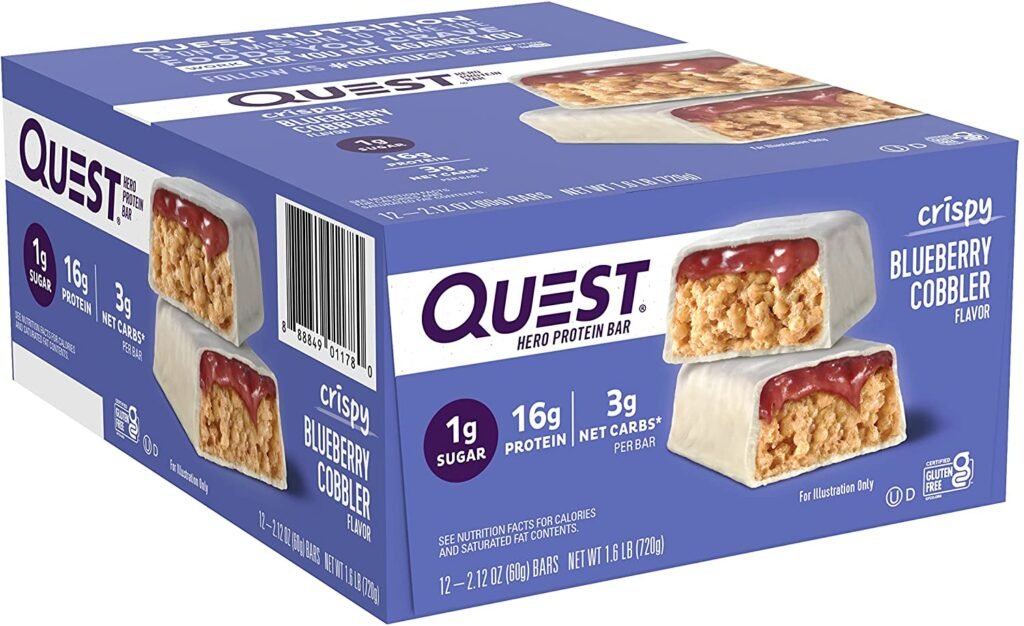 Chocolate Caramel Pecan Quest
This protein bar offers a soft, chewy core and chocolate flavor coating. Besides, it is topped with caramel and sprinkled with pecans to provide a great taste to the mouth. It is fast-absorbing and easy on the stomach. It does not leave an odd aftertaste. It is satisfying and enjoyable at any moment.
Nutritional Facts:
Calories-180
9 g total fat
6 g Saturated Fat
Cholesterol-10mg
29g total carbohydrate
11 g dietary fibre
Total Sugars-1 g
Protein- 15 g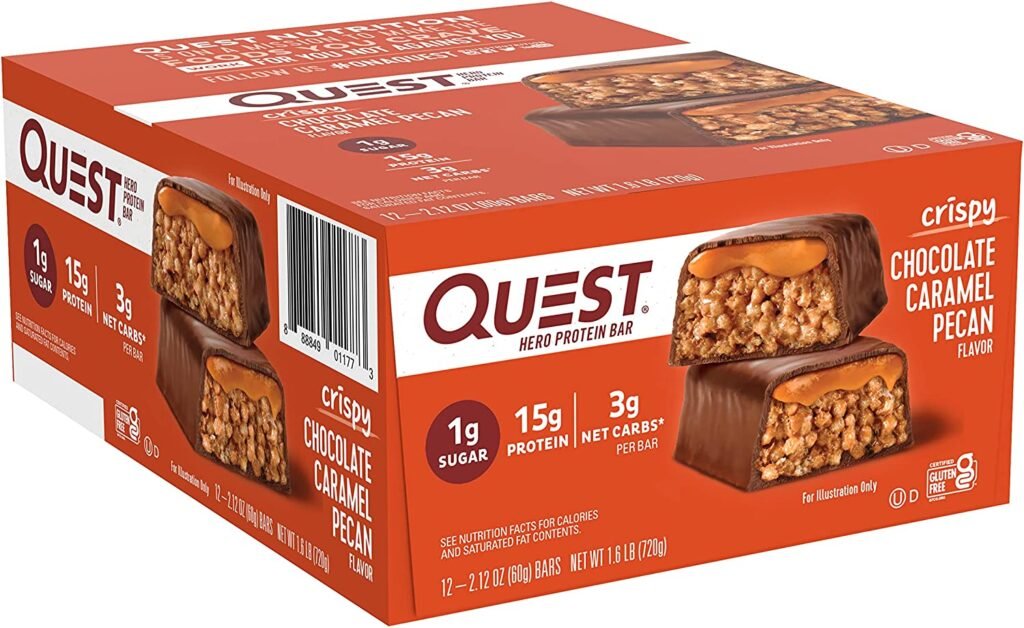 Chocolate Coconut Quest
This protein bar is coated with a tasty chocolate coconut flavor. It has a crisp cereal bite. It has a gooey caramel layer to enhance its taste. The mixture of chocolate and coconut makes it crunchy on the inside and soft on the outside. So, the product is tasty and has plenty of protein for on-the-go eating.
Nutritional Facts:
Calories-160
7g total fat
6 g Saturated Fat
26g total carbohydrate
9 g dietary fibre
Total Sugars-1 g
Protein- 15 g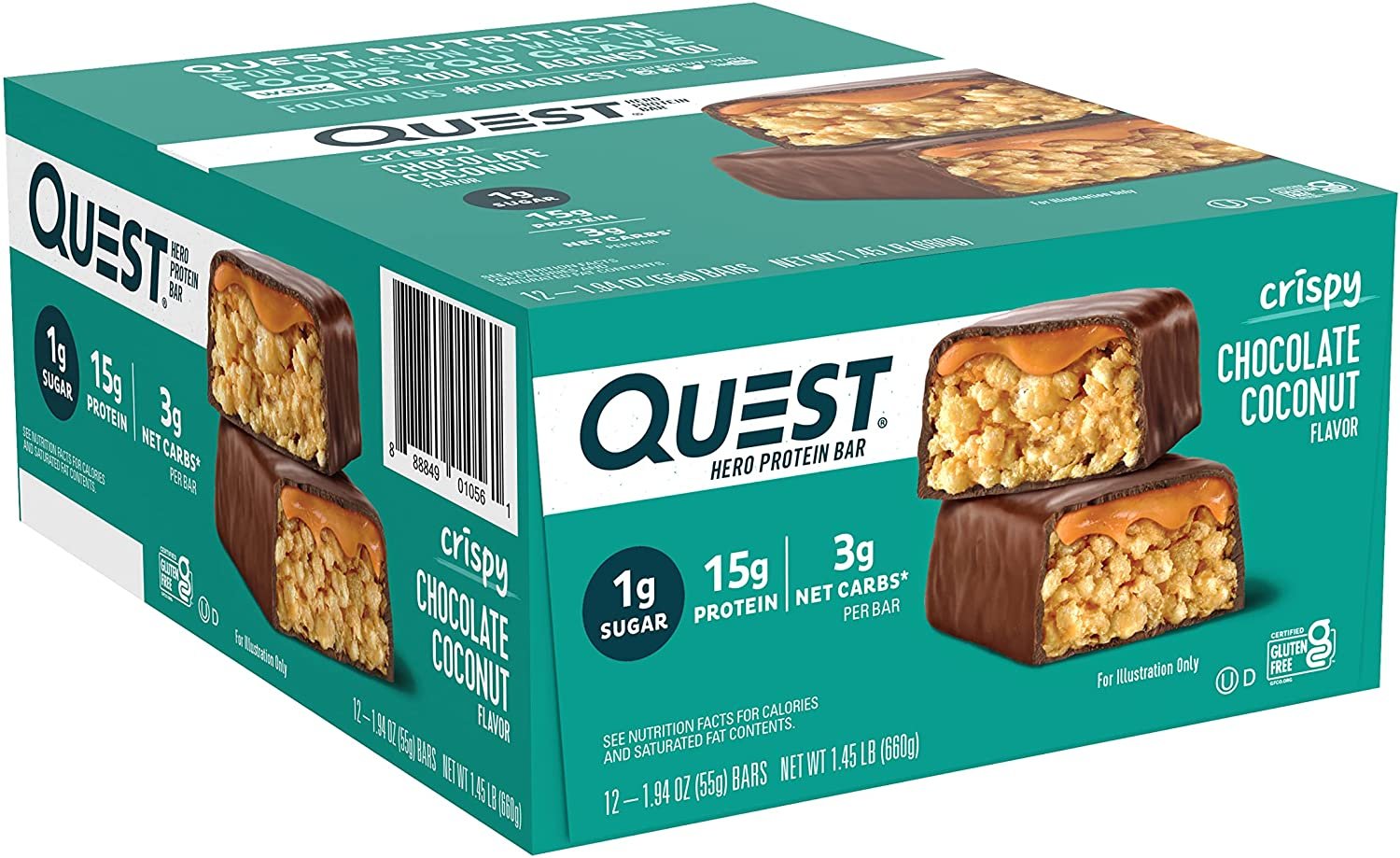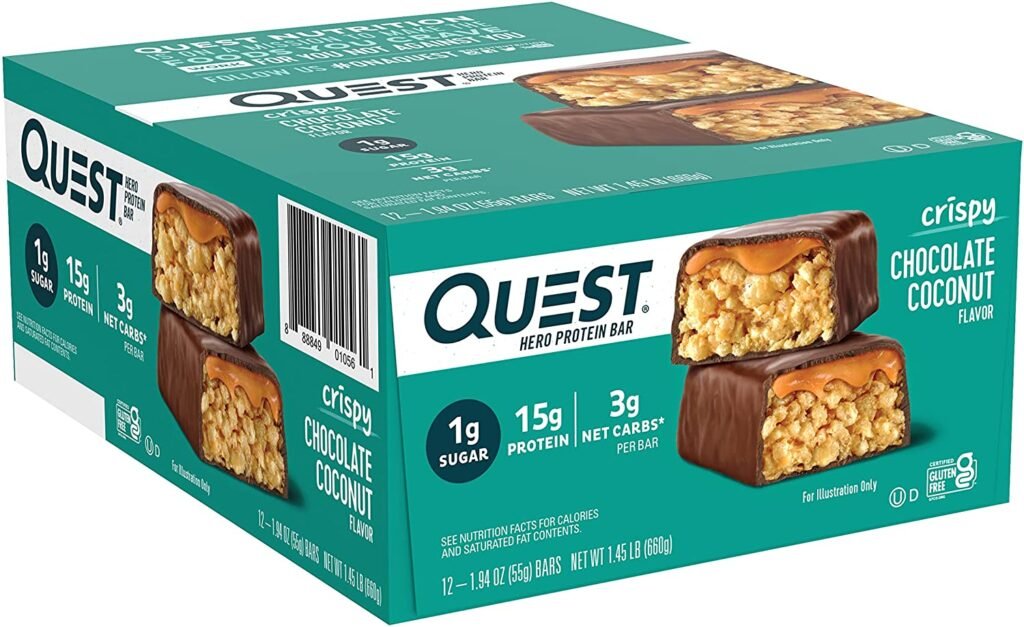 Quest Nutrition S'mores Protein Bar
It is a high-protein bar that is both keto-friendly and gluten-free. It is custom-made with marshmallow bits, followed by chocolate chunks and graham crumbles. It has a dairy-based protein isolate to provide adequate nutrition to the body.
It contains no added sugar and preservatives that are safe to consume. The box of protein bars contains 12 S'mores-flavored Quest Bars. So, living a ketogenic life can be challenging, but Quest bars come through when you have a craving.
Nutritional Facts:
Calories-120
7g total fat
22 g total carbohydrate
14 g dietary fibre
Total Sugars-1 g
Protein-21g
Cholesterol-5mg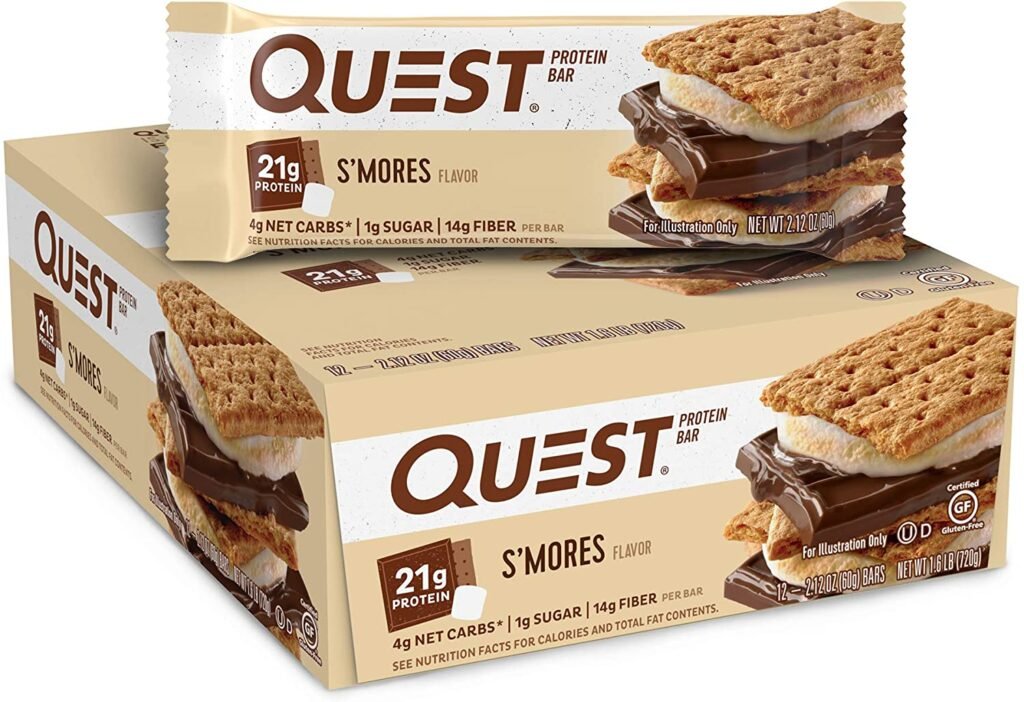 What's tastier than chocolate and peanut butter?
Quest Chocolate Peanut Butter Protein Bars taste indulgent. All nine essential amino acids with 11g of fiber comprise its macro profile. It has chocolate and peanut butter without added sugar. The bar is sugar-free. These are the treats you can take with you on your travels.
Nutritional Facts:
Calories 210
10 g total fat
2.5 g of saturated fat.
22g total carbohydrate
13 g dietary fibre
Total Sugars-1 g
Cholesterol-5mg
Protein–20g
In conclusion
Quest Bars are healthy and tasty, making them a delicious snack for anyone. If you want to boost your protein intake, you can grab one. Most Quest Bars use almonds as one of the top 3 essential ingredients. It makes the bar even healthier by using the best ingredients for the users.
And yes! Quest Bars do help with weight loss with less sugar and high protein content. With less sugar and more fiber, consuming occasionally is safe and healthy.