Struggling to pack on serious mass? The problem of not gaining weight can be frustrating. Don't let insufficient calorie intake be the hurdle to your bodybuilding journey. Introducing the top 10 mass gainers with 1000 calories in just one scoop! These mass gainers not only provide you with the essential proteins, but also come loaded with carbohydrates, vitamins, and minerals to fuel your growth. Say goodbye to your weight gain worries and power through your workouts with these game-changing supplements!
If you belong to the category, who want to gain weight, a different set of protein powders is available. And calories in 1 scoop of weight gainer can go up to 1000, or even more.
These are high in protein as well. For the sake of convenience, these mass gainers are also known as whey protein mass gainers or muscle mass gainers. But these have a much higher portion of carbs in them. These also have various vitamins and minerals to make them wholesome. Regular protein powders have 100 to 150 calories per serving.
What is the difference between Mass Gainer & Weight Gainer?
Mass gainers' per serving calories are also very high, ranging from 500 to 2000 calories. Mass gainer calories per scoop are less than that of a weight gainer. They have up to three times more carbohydrates as compared to protein. These are generally referred to as mass gainers. Then, some products have up to 5 times the amount of carbohydrates as protein. These are referred to as weight gainers.
How many calories per scoop of Mass Gainer?
Every mass and weight gainer segment company discusses a serving rather than a scoop. That is because each serving can consist of anywhere between 1 to 5 scoops and goes up to 500 gm or more than that even. A mass gainer or weight gainer has 20 to 60 gm of protein per scoop. Extra nutrients will also be present in sufficient quantities for most people compared to protein powders. So the calories in one scoop of weight gainer are the highest. You can have 1000 calories per serving or even more in a weight gainer.
Carbs in Mass Gainers 1000 Calories
A regular Whey Protein Powder has 20 to 30 gm of protein per serving, 1 to 4 gm of carbohydrates and 1 to 4 gm of fat. Except for this, there could be extra BCAAs or EAAs etc. Some will have a few different nutrients in small amounts as an advantage over others on the market.
While whey protein powder only increases lean muscle, the mass gainer increases muscle mass and weight. One trendy brand has Vitamin A, C, D, E, B6, B12, Thiamin, Riboflavin, Niacin, Folate, Biotin, Calcium, Iron, Phosphorus, Iodine, Magnesium, Zinc, Copper, Manganese, Chromium, Sodium, Potassium. These have heavy sugar content, also. A single serving can have 20 gm of sugar or even more.
Unlike protein powders, in which a serving is equal to a scoop, you will be amazed to know that, in some cases, a scoop is double or triple the size of a protein powder scoop, and a single-serving size is as big as 2 to 4 scoops. The main reason for such a big serving size is carbohydrates. Some people call it protein powder for weight gain, but it has more carbohydrates than proteins
Is Exercise Necessary with Mass Gainer?
The mass gainers are the product if you aim to gain weight and increase muscle mass. Mass gainers are recommended if you can not get all your micronutrients from your diet.
Do mass gainers work? With mass gainers, your workouts also have to increase very regularly. Having a mass gainer is like having a tiger by the tail. When your routine slackens, you will start gaining weight in all the wrong places, which you won't like.
You also need to be aware of their ingredients and whether they suit you. For all practical purposes, mass gainers are loaded with macro & micronutrients.
So if you have any problem with eating extra food to add weight, mass gainers are the answer.
There are numerous products on the market that compete for the attention of the customer. Please keep the following points in mind while buying a mass gainer.
Buy the smallest pack first. I recently bought a product that is ultra sweet and not to my liking. If you buy a bigger pack of such a product, it might even go to waste.
Whatever product you buy, initially have only half a serving of the size recommended by the company. Protein, carbohydrates, vitamins, and other micronutrients are abundant in some of these products. Once your body gets used to such a high dosage, should you start having a dose recommended by the company? Almost all companies recommend this themselves.
There are hundreds of products on the market. We discuss here the most popular and best in quality.
These mass gainers contain many proteins and carbohydrates, which will help you gain weight. To keep the macro & micronutrient balance, they also add various vitamins and micronutrients.
Which protein powder is best for weight gain?
In the mass gainer category, we have selected nine such products.
Universal Real Gains Weight Gainer
Optimum Nutrition Pro Gainer
MyProtein Weight Gainer Blend
MuscleTech Mass Tech
BSN Sythiya Mass Gainer
Muscle Feast Whole Oat Powder
Rivalus Clean Gainer
Huel Black Edition
CytoSport Cyto Gainer Protein Powder
Mass JYM Protein Powder
Universal Real Gains Weight Gainer
This product by Universal is top-rated. It delivers slow as well as fast proteins for optimal absorption. One serving is 155 gm. The company recommends that you have it twice a day. Once between meals and at bedtime. You may have an extra serving if you skip a meal. Unlike most mass gainers, it doesn't have a very high percentage of carbohydrates in it.
Serving Size – 3.5 Scoops 155gm
Calories – 600
Fat – 6 gm
Cholesterol – 130 mg
Carbs – 84 gm
Proteins – 53 gm
Dietary Fiber – 5 gm
Sugar – 7 gm
It contains Milk & Soy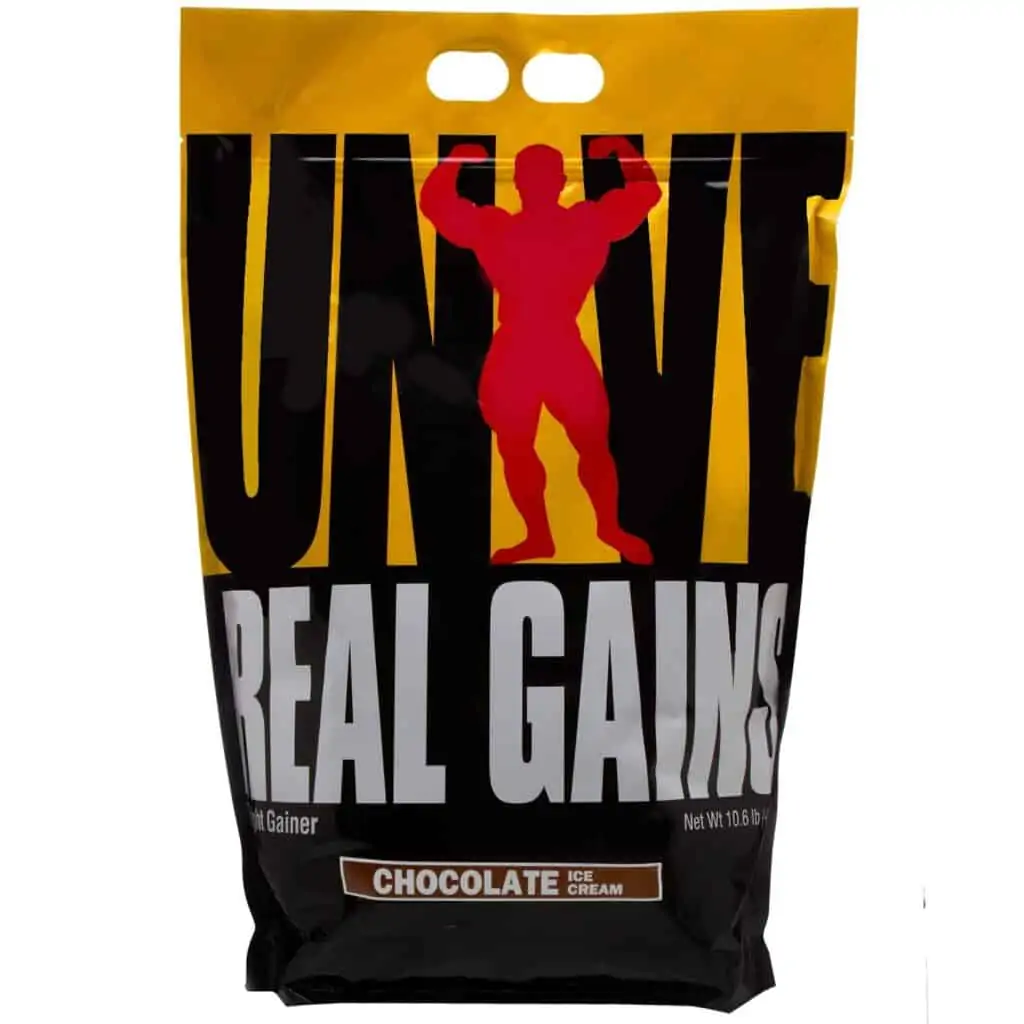 Stock & Reviews: The product faces an out-of-stock situation at various stores, and the reviews are also old compared to others.
Customer Reviews
Amazon – Regular use of the gym (mandatory) results. I've been using it for three months. I gained 8 kg within three months.
Bodybuilding – It is, without a doubt, my favourite mass gainer. The shake is thick and creamy and blends well in a blender bottle. No bloat or weird digestion for me. I'll keep buying them again and again.
Amazon US – This is the seventh time I've purchased this stuff over the last few months, so I guess I like it. I love it. I'm 6'1″ and 165 pounds. I've been a (VERY) hard gainer my entire life and have tried numerous weight gain supplements and muscle mass gainers, but I've never had the kind of result I've gotten with this stuff!!
I might need to stop taking it for a while….it works that well!! I take it twice daily, once in the morning and once in the evening/night. It tastes great by itself, but I always add a banana and a raw egg before I blend it. I still eat three meals a day.
Optimum Nutrition Pro Gainer
In addition to the 60 gm of protein, this product has the most micronutrients. It has 22 vitamins and minerals in it. It also contains fewer carbs than most other mass gainers. The serving size is 165 gm. It also contains milk, eggs, soy, and wheat.
The company insists it is a supplement and should be used with a balanced diet.
Serving Size – 1 Scoop 165gm
Calories – 650
Fat – 8 gm
Cholesterol – 80 mg
Carbs – 85 gm
Proteins – 60 gm
Dietary Fiber – 5 gm
Sugar – 7 gm
It contains Milk, Egg, Soy & Wheat
Stock & Reviews – The product is out of stock at various stores. It has the best reviews of all other products in this category.
Customer Reviews
Bodybuilding – the most effective hard-gainer protein ever. I've been using it for many years. The prices are exorbitant here, but they are now price matched. I ran out of my last bag (which I found on sale at the Vitamin Shoppe for $23.00). I ordered it from Bodybuilding.com on Saturday afternoon, and it arrived on Sunday morning. You can't go wrong with that…
Amazon US – Some mornings, I have difficulty getting a meal. Whether I'm in a hurry to get out the door or if I can't make myself eat breakfast, I can always smash one of these delicious shakes. It mixes easily and tastes the best with milk, but it tastes just as good with cold water.
MyProtein Weight Gainer Blend
There are 4 flavours. Chocolate, Strawberry, Unflavoured and Vanilla. They keep it simple and don't over-complicate things. There were no problems combining the Weight Gainer Blend with most MyProtein products. It never leaves lumps or grains. MyProtein's Weight Gainer Blend is your best option. But it depends on your needs.
Many weight gainers include a lot of complex carbs, which do increase mass, but not in a sustainable way, and a lot of it will be fat. Unlike other weight gainers, this one contains just whey and milk concentrate. 100g of powder contains 50g of carbohydrates from powdered oats and maltodextrin. If you need additional complex carbs, you may add extra oats, a banana, or other fruit to your homemade protein shakes.
It has less fat compared to other weight gainers. Possibly due to the increased protein content. Finally, there are no additional vitamins, minerals, or amino acids. You may always combine it with amino acids and/or vitamin supplements to obtain all the minerals you need for long-term health.
We recommend MyProtein's weight gainer blend for more healthy gains. It works well with different mass gainer supplements that offer amino acids, vitamins, and minerals to give you a healthy weight gain shake.
Serving Size – 3.3 Scoop 100gm
Calories – 365
Fat – 6 gm
Cholesterol – 45 mg
Carbs – 52 gm
Proteins – 27 gm
Dietary Fiber – 3 gm
Sugar – 2 gm
It contains Milk, Oats & Maltodextrin
Stock & Reviews – There is a stock shortage at Amazon and some other retailers.
The product has good reviews, like most MyProtein products, but they are few due to stock issues.
MuscleTech Mass Tech
This company recommends a wide range of services compared to other mass gainers in this category. They want you to have five scoops of one serving of 16 oz milk/water, which equals 230 gm. Many people think it is too much and change the serving size according to their preferences. But overall, this is a much-liked product, as I have checked it out on various sites.
Serving Size – 5 Scoops 230 gm
Calories – 840
Fat – 7 gm
Cholesterol – 200 mg
Carbs – 132 gm
Proteins – 63 gm
Sugar – 9 gm
It contains Milk, Soy, Egg & Coconut
Stock & Reviews – The product is top-rated and available. The reviews are also the latest.
The product has excellent reviews, except for the counterfeits available, especially in the Indian market. Thus, the company has made some India-specific products, for the first time for any multinational brand.
Customer Reviews
Amazon – I received a genuine article… It's been ten days since I've been taking it regularly… I can tell the difference, and it also helps with my workouts…Highly Recommended….. Cheers
Muscle & Strength – I am an ectomorph, very thin, and find it hard to put on. I put on 6lbs over five weeks, most of it muscle. I added Mass Tech (1 serving) daily and gained after the first week. I highly recommend this product to men who are having difficulty gaining weight.
Bodybuilding.com – I'd have to admit, I'm not a huge fan of Muscle Tech Technology Labs. I also have to admit that this is the best-tasting protein powder I've come across in years, especially for a bulking agent. It has a smooth flavour and blends well with milk or water. Vanilla is at the top of my list, followed by cookies and cream.
Amazon US – This mass gainer contains 1000 calories, 60 grams of protein, 10 grams of creatine, 160 grams of carbohydrates, and BCAAs!! You are essentially receiving three products at the same time. A perfect combination to build some serious muscles. It's the best mass gainer I have had, and I will continue to use it. It mixes well and does not make you feel bloated, which most have a tendency to do.
BSN True Mass
A mass gainer for athletes who need a higher caloric intake to build muscle and add weight with improved macros. with a 2-to-1 ratio of carbohydrates to protein. It increases muscle size and strength, boosting metabolism, exercise recovery and weight gain objectives. True Mass has one of the best packages in the industry and can be used post-workout, between meals, and before bed.
Serving Size – 3 Scoops 165gm
Calories – 700
Fat – 17 gm
Cholesterol – 130 mg
Carbs – 90 gm
Proteins – 46 gm
Dietary Fiber – 6 gm
Sugar – 14 gm
It contains Milk, Egg, Wheat And Soy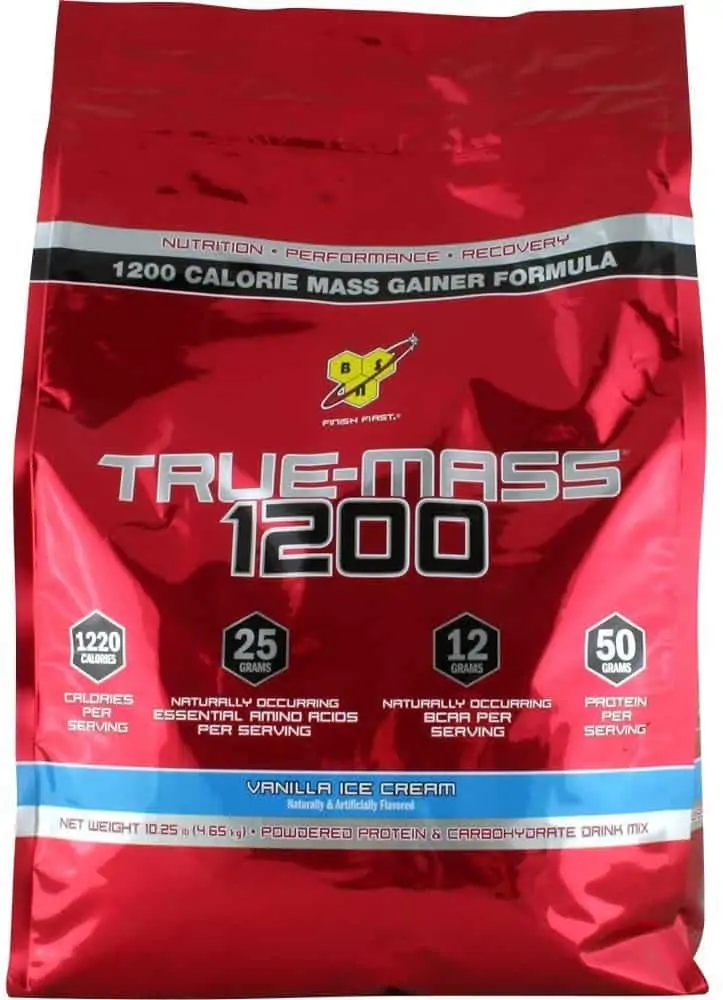 Customer Reviews
Muscle & Strength – I tried this with milk for the first time, and it was way too rich, so I used water from then on. It mixed very well (shaken). I'd say it's a little above-average mass gainer for women. Nothing too special here, but it gets the job done.
Bodybuilding – Mix well with water and milk, I definitely lean more towards chocolate, but either is delicious!
Amazon–It has the best taste and provides moderate food, which the body requires following a workout. The results are a little slower, but this is the best mass gainer for skinny guys.
Stock & Reviews – A stock issue in some stores. Excellent & fresh reviews on various sites.
Muscle Feast Ultimate Weight Gainer Protein Powder
This is the only muscle-building protein powder made entirely from natural ingredients. It is designed to contribute to your nutrition and fitness with transparent supplementation. This protein powder is protein-rich, low in sweeteners, and versatile with other ingredients and recipes. Completely Gluten-Free, Naturally Flavored, Kosher, Vegetarian and Soy Free.
This mass gainer helps you recover from your workouts and provides adequate nutrients, plus extra protein, carbohydrates, vitamins, and minerals. Ultimate Weight Gainer can be added to almost any liquid. We recommend taking our flavoured version in milk or some milk substitute. It has a fairly neutral taste and can be mixed with almost anything.
If you are having trouble gaining muscle, especially due to a fast metabolism or not consuming enough calories and protein, this is the best place to gain mass and strength. Ultimate Gainer incorporates rapidly digesting whey isolate protein, maltodextrin, and slower digesting micellar casein and waxy maize. This product has no empty calories.
With such a high-protein-to-carb ratio, you'll have to be physically active to prevent gaining fat when using this mass gainer.
Serving Size – 5 level Scoops 159gm
Calories – 600
Fat – 1.2 gm
Cholesterol – 14 mg
Carbs – 101 gm
Proteins – 46 gm
Dietary Fiber – 0 gm
Sugar – 5.5 gm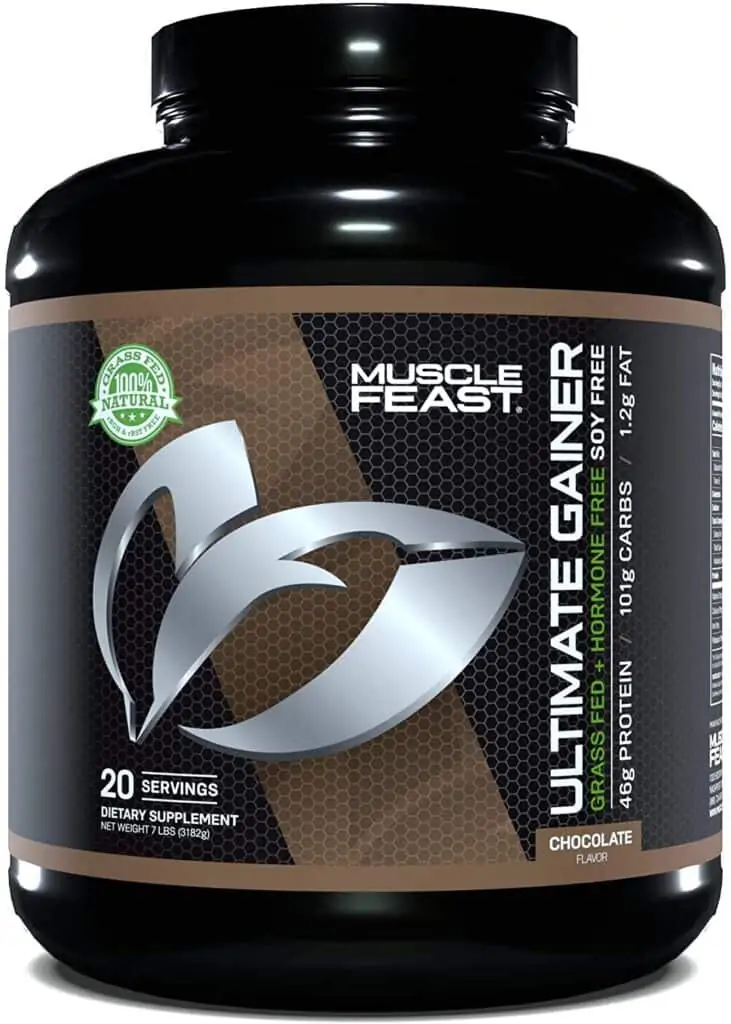 Amazon – Quality ingredients!! Terrible taste….but that's to be expected, honestly.
If you're looking for gains, get it.
If you're sensitive to taste, you prob won't stomach it.
It cleanest stuff I could find on Amazon
Stock & Reviews – Its availability isn't as good as other protein powders.
Rivalus Clean Gainer
I love this Clean-Gainer. Many mass gainers include unhealthy sources of calories and carbs. Also, the flavour is good.
Clean Gainer is a low-glycemic protein shake with low-glycemic carbs and fats. The 3:1 carb-to-protein ratio blends easily and has no grainy consistency like most weight gainers.
Clean Gainer contains a nutritious blend of high-quality carb sources such as quinoa, brown rice, and avocado. Some individuals with lactose intolerance may experience bloating. Thus, bloating is rare.
A calorie shake promotes weight gain. Yet, you must have calorie-rich solid food and the Clean Gainer to gain weight successfully. This product is ideal for those who wish to gain weight but have no appetite.
It has a light consistency and does give a feeling of fullness, but it doesn't fill you to the point where you don't feel like eating for hours.
Serving Size – 1 Scoop 165gm
Calories – 560
Fat – 7 gm
Cholesterol – 75 mg
Carbs – 90 gm
Proteins – 30 gm
Dietary Fiber – 2 gm
Sugar – 8 gm
Contains Oats
Amazon – This stuff is INCREDIBLE! And for several reasons too! Firstly, it tastes pretty good; I will say that whenever I make shakes, I add other things, like peanut butter and stuff like that. But to be fair, I have had a powder that, even after adding other things, still tastes horrible. Second, it has a good price point, which is important when buying it consistently.
Stock – It is easily available at most stores but unavailable on Amazon.
Huel Black Edition
Huel's main product is the Huel Black Edition, an advanced meal replacement. Huel is named after two-hybrid words: Human and Fuel. Huel's formula focuses on giving you all the essential nutrients (vitamins, minerals, essential fats, protein, carbs, and fibre).
The Huel fibre combines soluble and insoluble forms of flaxseed and provides more than most modern solid diets. In the Huel Black Edition, the macronutrient ratios are set at 17:40:40:3; i.e., carbohydrate is 17 percent of the energy, fat is 40 percent, protein is 40 percent, and fibre is 3 percent.
The Huel Black Edition uses pea protein, flaxseed, brown rice protein, sunflower, and coconut for a perfect amino acid profile and a good balance of essential fats. This formula promotes prebiotics and probiotics, while kombucha and green tea extract have been used as natural supplements.
Finally, the Huel Black Edition is non-GMO. It is soy-free, and it is also lactose-free.
Serving Size – 2 Scoops 90gms
Calories – 400
Fat – 17 gm
Cholesterol – 0 mg
Carbs – 24 gm
Proteins – 40 gm
Dietary Fiber – 8 gm
Sugar – 4 gm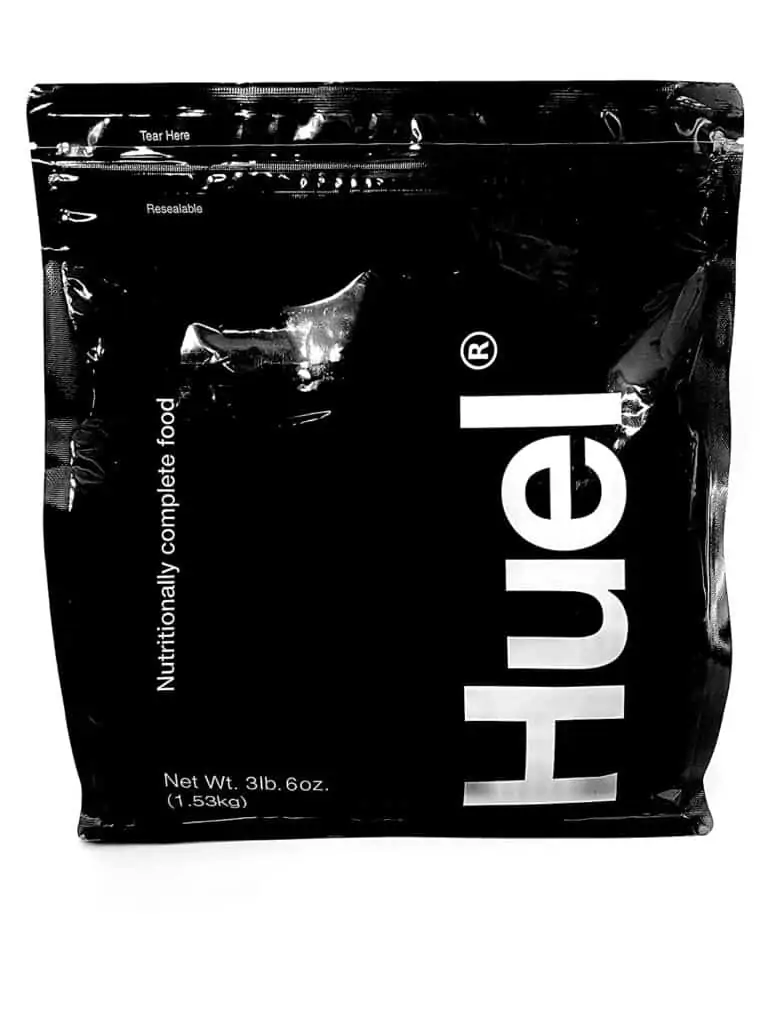 Amazon – This isn't my first time buying Huel. (I attempted it four years ago but forgot they didn't include the scoop.) Luckily, I have my own scale. My 1/3 cup measurement achieved 45g (200 calories). Make the powder flat at the top, not a heaping scoop.
Mixing the water first, rather than the powder, is also much easier to mix. I also use plant-based milk for a few extra calories to add on. It appeals to me primarily because it is cheaper than other meal replacements. According to their website, it is not a meal replacement but a powdered food. The main reason I got it was to help me with my food budget and to eat nutritionally at the same time.
Getting nutritious food at the store these days is prohibitively expensive. I use the one-scoop method per meal to make it last longer. The package states two 90g of 400 calorie scoops, yielding only 17 servings.
Stock – Not available at Amazon
CytoSport Cyto Gainer Protein Powder
The CytoGainer is a protein-rich and calorie-dense mass gainer. This multipurpose protein powder has a very high calorie count, with an equal amount of protein and creatine in each serving. The vanilla crème flavour adds a pleasing taste to high-calorie shakes and smoothies. Cyto Gainer comes in vanilla, chocolate, cookies & cream flavours.
The CYTOSPORT Performance Nutrition System is made to maximize your training adaptation for strength and endurance. It is a high-protein and calorie-dense mass gainer.
Using a blender, you'll get a frothy, creamy end product. Adding Cyto Gainer using a blender bottle results in a poor mixture and is a little clumpy.
Serving Size – 4 Scoops 150gms
Calories – 550
Fat – 5 gm
Cholesterol – 120 mg
Carbs – 73 gm
Proteins – 54 gm
Sugar – 8 gm
Amazon – I'm using the vanilla-flavoured variety and am surprised at how great it tastes. Like a smooth vanilla custard. I typically make this shake ahead of time and let it chill in the fridge during the day until I drink it after work, so the consistency right after mixing may differ. I have used Cytogainer with good results and am now using it to supplement the protein intake I find hard to get through food alone.
Stock – Not available at Amazon
Mass JYM Protein Powder
Mass JYM offers the highest-quality protein powder blend you will find. 50% from micellar casein and milk protein isolate. 40% from cold-filtered whey and milk protein isolate, and 10% from egg white protein. While on the go or for weight gain, the mass powder is excellent.
Using fast, medium, and slow-digested proteins boost protein synthesis, supporting rebuilding. Every scoop of Mass JYM provides both the macronutrient quantities and the macro ratio needed.
There is no better supplement for muscle building and strength than Mass JYM. Mass JYM contains a 1:1 ratio of anabolic protein to low-GI carbs for mass gain. Mix it with water, milk, or almond milk for a delicious high-protein shake or smoothie. It's also available in vanilla.
Serving Size – 1 Scoop 81gms
Calories – 300
Fat – 6 gm
Cholesterol – 20 mg
Carbs – 34 gm
Proteins – 30 gm
Dietary Fibre – 4 gm
Sugar – 10 gm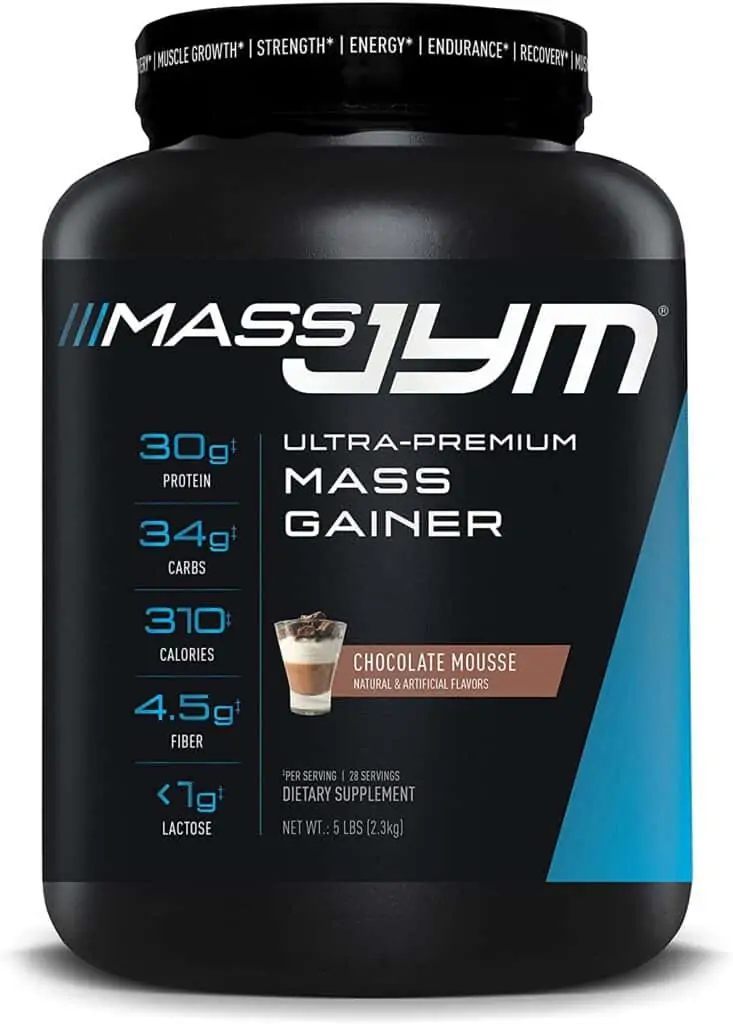 Amazon – Great for anyone that needs to add weight/bulk through protein methods.
Stock – Available at Amazon & Body Building too.
Summary
One significant caution is to start slowly with the mass gainers. As you feel you can digest so much protein powder, you may increase the quantity gradually. Yes, they work well for gaining muscle mass, but only if you work out accordingly.
I have given a small review of five top-rated brands to make it easy for you to choose and buy them.
Anil delights in assisting others in enhancing their health and fitness. Anil, a runner and blogger, has spent the past twenty-four years motivating others to lead healthy, fulfilling lives. Join Anil in his efforts to better the world.