What are Mass Gainers?
Do you want to gain weight?
If you belong to the category of people who want to gain mass, there is an entirely different set of protein powders available in the market. And it has as high as 1000 calories in 1 scoop of weight gainer or even more.
These also have a high quantity of proteins. For convenience sake, people call these mass gainer protein or muscle mass gainer also. But these have a much higher portion of carbs in them. These also have various vitamins and minerals to make them as wholesome as possible. Regular protein powders have 100 to 150 calories per serving.
What is the difference between Mass Gainer & Weight Gainer?
Mass Gainer per serving calories also are very high, ranging from 500 to even 2000 calories. They have up to three times the carbohydrates as compared to proteins. These are generally referred to as mass gainers. Then there are products having up to 5 times the carbohydrates compared to proteins. These are referred to as weight gainers.
A Mass Gainer or Weight Gainers have 20 to 70 gm protein per serving. Extra Nutrients will also be there in most in adequate quantities compared to Protein Powders. So calories in one scoop of weight gainer are the highest.
Calories & Carbs in Mass Gainers
A regular Whey Protein Powder has 20 to 30 gm of protein per serving, 1 to 4 gm Carbs and 1 to 4 gm fat. Except for this, there could be extra BCAAs or EAAs etc. Some will have a couple of different nutrients in small quantities as their positives compared to others available in the market.
While whey protein powder is only to increase lean muscle, Mass Gainer is to increase muscle mass and weight. One trendy brand has Vitamin A, C, D, E, B6, B12, Thiamin, Riboflavin, Niacin, Folate, Biotin, Calcium Iron, Phosphorus, Iodine, Magnesium, Zinc, Copper, Manganese, Chromium, Sodium, Potassium. These have heavy sugar content also. A single serving can have 20 gm sugar or even more.
Unlike protein powders, in which a serving is equal to a scoop, you will be amazed to know that In some cases a scoop is double or triple the size of a protein powder scoop and a single-serving size is as big as 2 to 4 scoops. The main reason for such a big serving size is Carbs.
If your goal is to gain weight and increase muscle mass then Mass Gainers are the product for you. If you cannot get all your micronutrients from your diet then Mass Gainers is recommended.
But with Mass Gainers, your workouts also have to increase and very regularly. Having a Mass Gainer is like having a Tiger by the Tail. The moment your routine slackens, you will start gaining, which you won't like.
You also need to be aware of its ingredients and whether they will suit you or not. For all practical purposes, Mass Gainers are loaded with macro & micronutrients.
So if you have any problem in eating the extra food to add weight, Mass Gainers is the answer.
There are numerous products in the market vying for customer attention. Please keep the following points in mind while buying a mass gainer.
Buy the smallest pack first. I recently bought a product which is ultra sweet and not at all to my liking. If you buy a bigger pack of such a product, it might even go waste.
Whatever product you buy, initially have only half a serving of the size recommended by the company. Some of these products have loads of Proteins, Carbs, Vitamins and other micronutrients. Once your body gets used to such a high dosage, should you start having a dose recommended by the company. Almost all the companies recommend this themselves.
There are hundreds of products in the market. We discuss here the ones most popular and best in quality.
All these Mass gainers have excess Proteins & Carbs to increase your weight. To keep the macro & micronutrient balance they add various vitamins and other micronutrients also.
Which is the Best Mass Gainer?
In the Mass Gainers Category, we have selected five such products
Universal Real Gains Weight Gainer
Optimum Nutrition Pro Gainer
MuscleTech Mass Tech
BSN Sythiya Mass Gainer
Muscle Feast Whole Oat Powder
Universal Real Gains Weight Gainer
This product by Universal is toprated. It delivers slow as well as fast proteins for optimal absorption. One serving is 155 gm. The company recommends that you have it twice a day. Once between meals and at bedtime. You may have an extra serving if skipping a meal. Unlike most mass gainers it doesn't have a very high percentage of Carbs in it.
Universal Real Gains Weight Gainer
| | |
| --- | --- |
| Sodium | Potassium |
| 275mg | 700mg |
Serving Size – 3.5 Scoops(155 gms)
Calories – 600
Fat – 6 gm
Cholestrol – 130 mg
Carbs – 84 gm
Proteins – 53 gm
Dietery Fiber – 5 gm
Sugar – 7 gm
Contains Milk & Soy
Stock & Reviews – The product faces an out of the stock situation at various stores and the reviews are also old compared to others.
Customer Reviews
Amazon India – Regular use with gym (mandatory) results. I've been using it for three months. I gained 8 kg within three months.
Bodybuilding – Absolutely my favorite mass gainer. Shake has a good consistency, mixes well in a blender bottle. No bloat or weird digestion for me. Will continue to buy over and over.
Amazon US – This is the seventh time I've purchased this stuff over the last few months, so I guess I like it. Actually, I love it. I'm 6'1″ and (was) 165 lbs.. I've been a (VERY) hard gainer my entire life and have tried numerous supplements and weight gain products, but I've never had the kind of result I've gotten with this stuff!! I actually might need to stop taking it for a while….it works that well!! I take it twice a day, once in the morning and once in the evening/night. It tastes great by itself, but I always add a banana and a raw egg before I blend it. I still eat three meals a day
Optimum Nutrition Pro Gainer
This product has the maximum micronutrients compared to any other in addition to 60 gm of protein. It has 22 Vitamins and minerals in it. It also has lower Carbs than most other mass gainers. Its one serving is 165 gm. It contains Milk, Egg, Soy and Wheat too.
The company insists that it is a supplement and should be used as one along with a balanced diet.
Optimum Nutrition Pro Gainer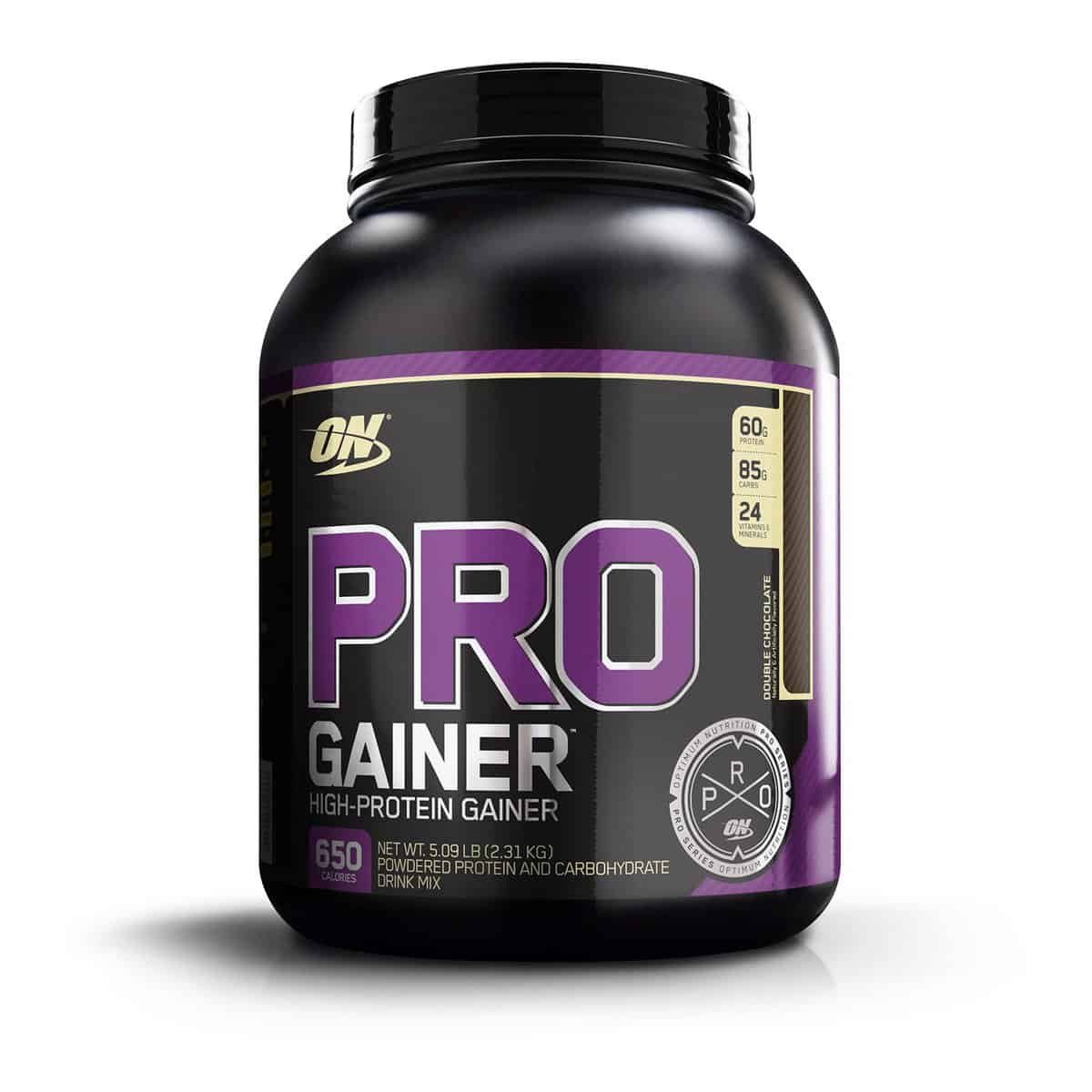 | | | | | | | | | |
| --- | --- | --- | --- | --- | --- | --- | --- | --- |
| Sodium | Potassium | Vitamin A | Vitamin C | Vitamin E | Vitamin B6 | Vitamin B12 | Calcium | Iron |
| 380mg | 350 | 290mcg | 23 mcg | 5.3 mg | 0.4mg | 1.1mcg | 540mg | 4.8mg |
Serving Size – 1 Scoop(165gm)
Calories – 650
Fat – 8 gm
Cholesterol – 80 mg
Carbs – 85 gm
Proteins – 60 gm
Dietary Fiber – 5 gm
Sugar – 7 gm
Contains Milk, Egg, Soy & Wheat.
Stock & Reviews – The product is out of stock at various stores. It has the best reviews of all other products in this category.
Customer Reviews
Bodybuilding – Best hard gainer protein ever. I've been using for years. Price is ridiculous on here but now they price match. I ran out of my last bag (which I caught on sale at vitamin Shoppe for $23.00) 🙌🏾. I ordered Saturday afternoon from bodybuilding and was delivered Sunday morning. Can't beat that..
Amazon US – some mornings I have a hard time getting a meal in. weather I'm in a hurry to get out the door or just can't make myself eat breakfast. I can always smash one of these delicious shakes. mixes easy and tastes the best with milk but taste just as good with cold water.
MuscleTech Mass Tech
This company recommends the giant serving compared to other mass gainers in this category. They want you to have five scoops in one serving in 16 oz milk/water, i.e., 230 gm in one serving. A lot of people think it is too much and change the serving size according to their preferences. But overall, this is a much-liked product as checked on various sites.
MuscleTech Mass Tech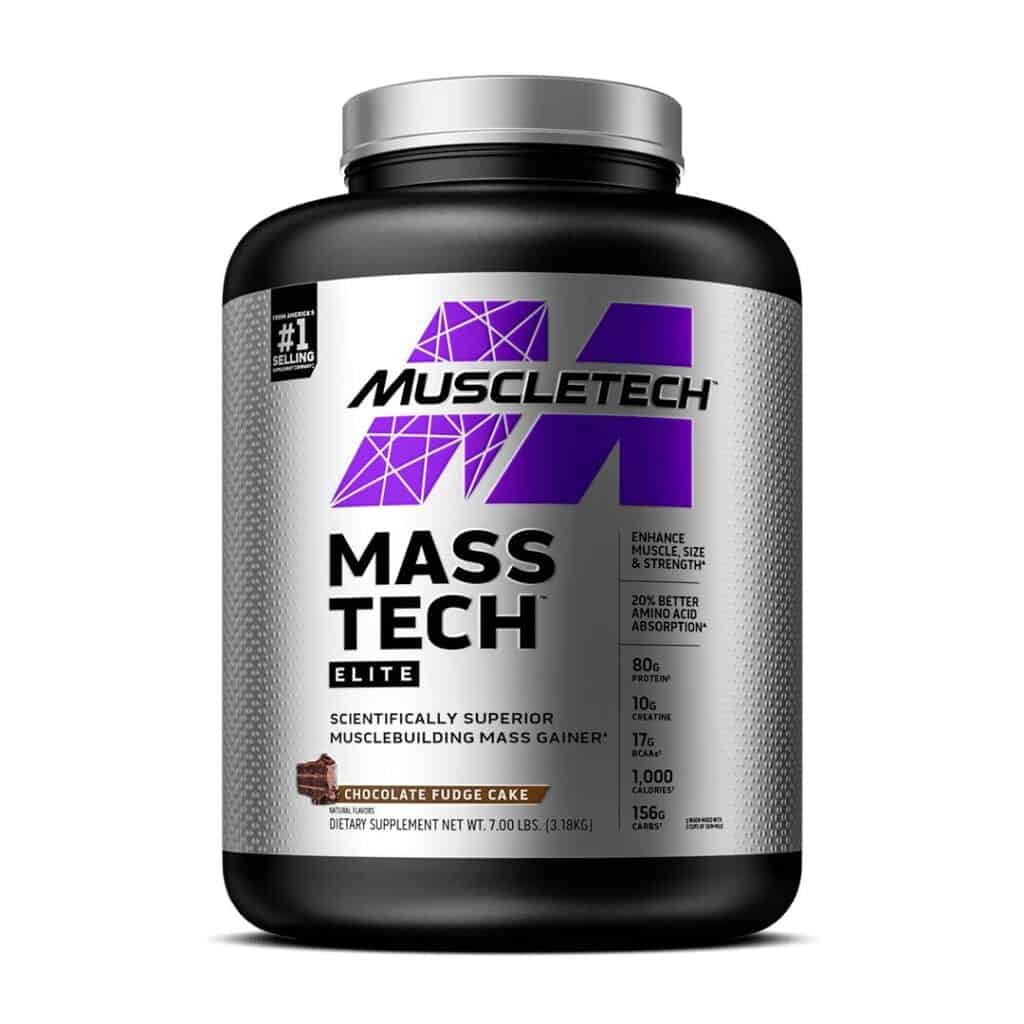 | | | |
| --- | --- | --- |
| Sodium | Calcium | Iron |
| 270mg | 745mg | 0.75mg |
Serving Size – 5 Scoops 230 gm
Calories – 840
Fat – 7 gm
Cholesterol – 200 mg
Carbs – 132 gm
Proteins – 63 gm
Sugar – 9 gm
Contains Milk, Soy, Egg & Coconut
Stock & Reviews – The product is top-rated and available. The reviews are also the latest.
The product has excellent reviews except for the counterfeits available, especially in the Indian market. Thus, the company has made some India-specific products, which is a first by any multinational brand.
Customer Reviews
Amazon India – Received original product…… It's been 10 days since I have been taking it regularly….. I feel the difference and it helps during the workout too… Highly Recommended….. Cheers
Muscle & Strength – I am an ectomorph, very thin build and find it hard to put on muscle. I added Mass Tech (1 serving) every day and started gaining after the first week. I put on 6lbs over the course of 5 weeks, most of it muscle. Excellent product for guys that have trouble gaining, definitely recommend it!*
Bodybuilding.com – I'd have to admit, I'm really not a huge *** fan of muscle Tech technology Labs. I also have to admit, that this is the best tasting protein powder I've come across in years. Especially for a bulking agent. Taste very smooth blends well with milk or water. Vanilla is my top tier, following via cookies & cream🥛🤗
Amazon US – This mass gainer is packed with 1000 calories, about 60 grams of protein, 10 grams of creatine, 160 grams of carbs, and bcaas!!! You are basically getting three products in one. A perfect combination to build some serious muscle. It's definitely the best mass gainer I have had, and I will continue to use it. It mixes great and does not make you feel bloated which many have a tendency to do.
BSN True Mass
A mass gainer for athletes who need a higher caloric intake to build muscle and add weight with improved macros. With a 2-to-1 ratio of carbohydrates to proteins. It increases muscle size and strength, boosting metabolism, exercise recovery and weight gain objectives. With one of the best packaging in the industry, True Mass can be used post-workout, between the meals and before going to bed.
BSN True Mass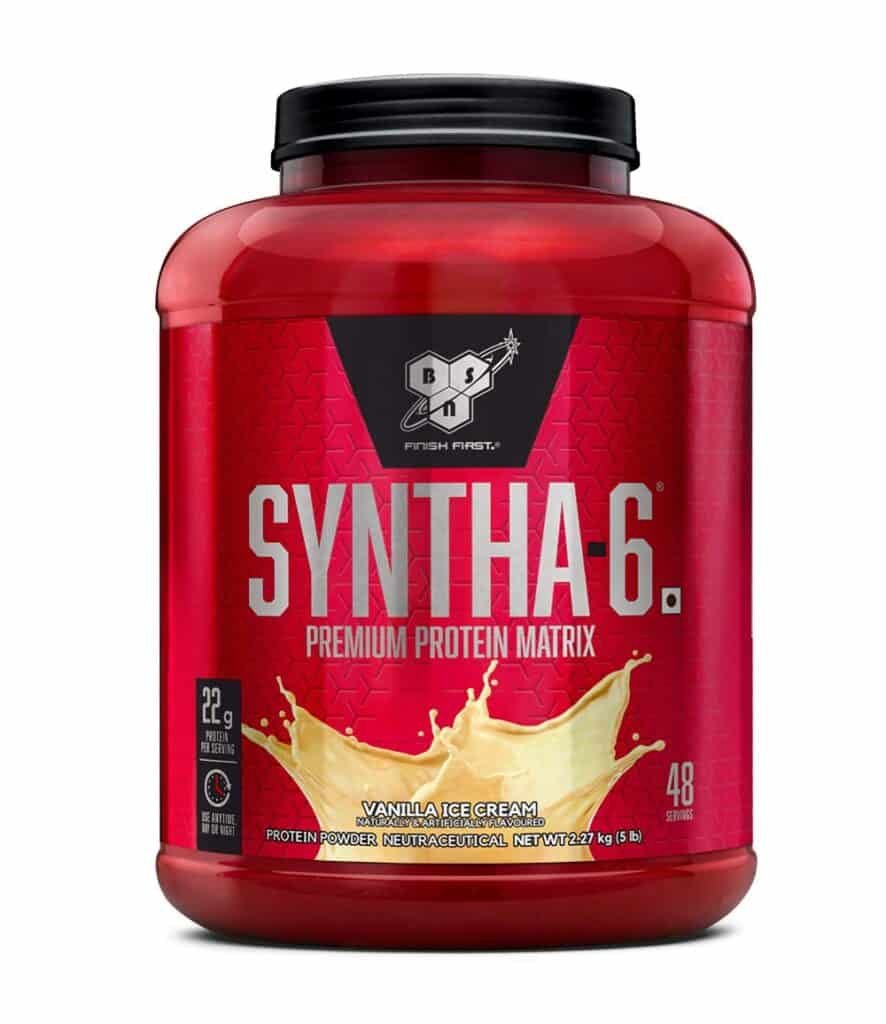 | | | | | | |
| --- | --- | --- | --- | --- | --- |
| Sodium | Potassium | Calcium | Iron | Phosphorus | Magnesium |
| 300mg | 700mg | 540mg | 0.9mg | 400mg | 55mg |
Serving Size – 3 Scoops(165 gm)
Calories – 700
Fat – 17 gm
Cholesterol – 130 mg
Carbs – 90 gm
Proteins – 46 gm
Dietary Fiber – 6 gm
Sugar – 14 gm
Contains Milk, Egg, Wheat And Soy
Customer Reviews
Muscle & Strength – I tried this with milk my first time and it was way too rich so I used water from then on. Mixed very well (shaken). I'd say it's a little above average weight gainer. Nothing too special here, but it gets the job done.
Bodybuilding – Mixes well with water and milk, I lean more towards the chocolate for sure, but either for us delicious!
Amazon India – Best taste ever and provides a moderate amount of sources which the body needs after a workout. Results a bit slower but for skinny beginners, This product is the best.
Stock & Reviews – Stock out situation is some stores. Excellent & fresh reviews on various sites.
Muscle Feast Whole Oat Powder
It's got a one-to-four protein-to-carb ratio. Oats are a great source of high-quality protein. Its amino acid profile is more comprehensive than rice's, and it's high in essential amino acids, which can help promote muscle protein synthesis. It has a good protein-to-carbohydrate ratio for bulk. It's high in phytonutrients and healthy carbs like beta-glucan, which can aid with immunity and digestion.
It's high in phytonutrients and beneficial carbohydrates like beta-glucan, which can aid immunity and reduce the risk of cardiac disease.
Muscle Feast Whole Oat Powder
| | | | | |
| --- | --- | --- | --- | --- |
| Sodium | Calcium | Iron | Potassium | |
| 0.6mg | 18mg | 1.44mg | 152mg | |
Serving Size – 1 Scoop 165 gm
Calories – 142
Fat – 3 gm
Cholesterol – 0 mg
Carbs – 27 gm
Proteins – 7 gm
Dietary Fiber – 4 gm
Sugar – 0.2 gm
Contains Oats
Amazon India – There is amazing praise for this product. Seems who so ever has used it has liked it. In terms of taste, mixability, quality it is a very well appreciated product. All those who have shifted to Oats from whey due to lactose intolerance have liked this product a lot.
Stock & Reviews – Its availability isn't as good as some of the other protein powders but Amazon has this.
Summery
One significant caution is to start slowly on Mass Gainers. As you feel you can digest so much protein powder, you may increase the quantity gradually. Yes, these do work well for gaining muscle mass, but only if you workout accordingly.
I have given a small review only on five top-rated brands to become easy for you to choose and buy.