Equipping your home gym with a high-quality treadmill is easy. But deciding between the two prominent contenders is difficult. Sole F63 vs Horizon 7 0 AT makes the decision even more difficult. Both treadmills are known for durability, performance, and various similar features. So, deciding between the two is tough for fitness enthusiasts. This article will compare Horizon 7.0 vs Sole F63, helping you decide the perfect one.
Comparison Table – Sole F63 vs Horizon 7 0 AT
Here are the specifications and features on which both the treadmills are almost similar. Both treadmills are very similar. Their frame types, running areas, speed incline range etc. are all similar.
Both have almost the exact dimensions and maximum user weight capacity. The difference between their weights is also 10 pounds only. Sole has 10 built-in programs, while Horizon has only 7.
The main difference lies in the features mentioned below. Horizon can be connected with various apps. Its cushioning is also better. The display is slightly bigger and better, and the treadmill includes the heart rate chest strap.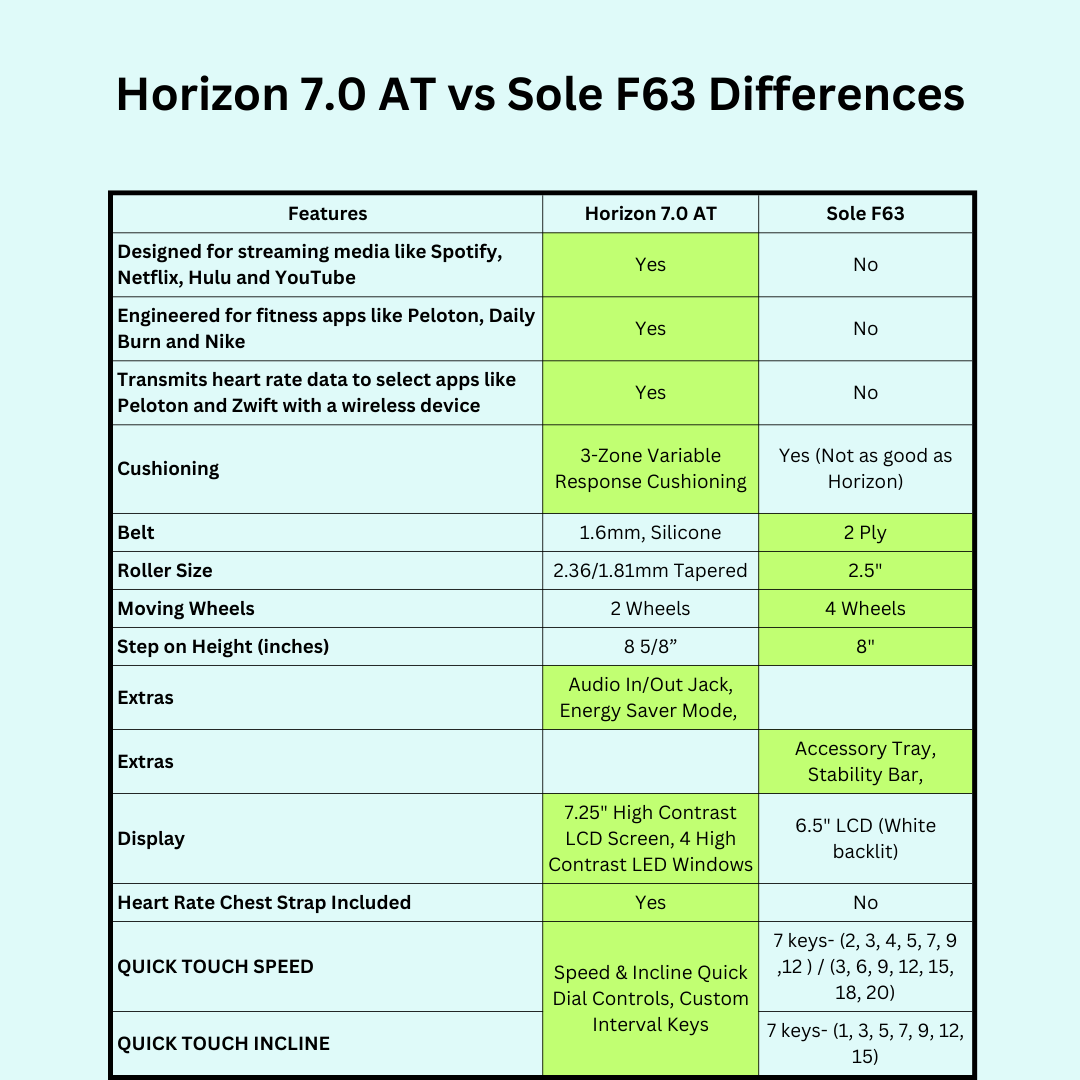 But on the other hand, the F63 has a 2-ply belt, which is not usually available at this price point. It has bigger rollers, which make it smoother and long-lasting. 4 wheels make it comparatively easier to push to a convenient place after the workout. It also has a lower step on height.
The Sole F63 treadmill has garnered a reputation as a standout fitness companion. It offers a perfect blend of performance, durability, and value. As one of the best-selling models from the reputable Sole, the F63 has consistently impressed.
Sole F63 has a powerful 3.0 horsepower motor, capable of supporting users weighing up to 325 pounds. The motor ensures smooth and reliable performance for a seasoned runner or an aspiring fitness enthusiast. Complementing the robust motor is a steel frame that adds sturdiness and durability.
Sole F63 Treadmill
The Sole F63 is an excellent treadmill for the price. It is well-made, reliable, and has various features that make it a good option for home workouts.
The Sole F63 is for light runners. Its 2.5-inch rollers provide optimal support and reduce wear and tear over extended use.
Keeping track of your workout metrics has always been challenging. But the F63's 6.5-inch LCD tracks heart rate, pace incline settings, and calories burned. You can check the heart rate, pace, incline settings, and calories burned.
To enhance your exercise experience, the Sole F63 has thoughtful entertainment features. The tablet holder ensures your devices are readily accessible. It enables you to stream from your favorite fitness apps or workout programs. The Bluetooth speakers deliver crystal-clear sound to your workouts.
Main Takeaways
3.0 HP motor
Top speed of 12 mph
Max incline of 15%
10 workout programs
Bluetooth connectivity
Heart rate monitor included
Lifetime frame and motor warranty
3-year parts and 1-year labor warranty
Reviews:
Many users appreciate the solid construction of the F63, which contributes to its durability and stability. The motor is relatively quiet, allowing users to exercise without disturbing others. But, some users complain about preset workout programs that are rather basic. The incline settings range is also limited compared to other treadmills.
The Horizon 7.0 AT treadmill has significantly impressed the fitness world. It captivates enthusiasts with its advanced features and exceptional performance.
At the core of the Horizon 7.0 AT lies a robust 3.0 horsepower motor, ensuring a consistent performance. Whether walking, jogging, or sprinting, the Horizon 7.0 AT adapts to your pace and intensity, allowing for effective and enjoyable workouts.
Horizon 7.0 AT
It has a three-zone cushioning system that provides a comfortable and supportive workout.
This treadmill has an automatic incline function. It lets you adjust the slope electronically and more swiftly than others. The 7.0 AT simulates uphill climbs, taking your workouts to a new level. It engages different muscle groups and provides a dynamic and immersive exercise experience.
The Horizon 7.0 AT boasts a generously sized running surface 20 inches wide and 60 inches long. This ample space accommodates users of varying heights. It is an ideal treadmill for taller individuals who prefer a more spacious workout area.
The treadmill's console on the Horizon 7.0 AT is user-friendly, featuring an LCD. It shows time, speed, distance, calories burned, and heart rate monitoring. The controls are intuitive and easily accessible, customizing your workouts effortlessly. Bluetooth speakers, a tablet holder, and USB charging ports blend fitness and entertainment perfectly.
Main Takeaways
3.0 HP motor
Top speed of 12 mph
Max incline of 15%
10 workout programs
Bluetooth connectivity
Heart rate monitor compatible
3-year frame and motor warranty
2-year parts and 1-year labor warranty
Reviews:
The Horizon 7.0 is often praised for its solid build quality and stability during workouts. Many users like the variety of workout programs offered by Horizon 7.0. However, some reviewers feel the incline settings are less steep than they would prefer. Compared to higher-end models, the console of the Horizon 7.0 may feel basic to some users. It lacks advanced entertainment or connectivity options.
Horizon 7.0 AT vs Sole F63: Unraveling the Distinctions in Detail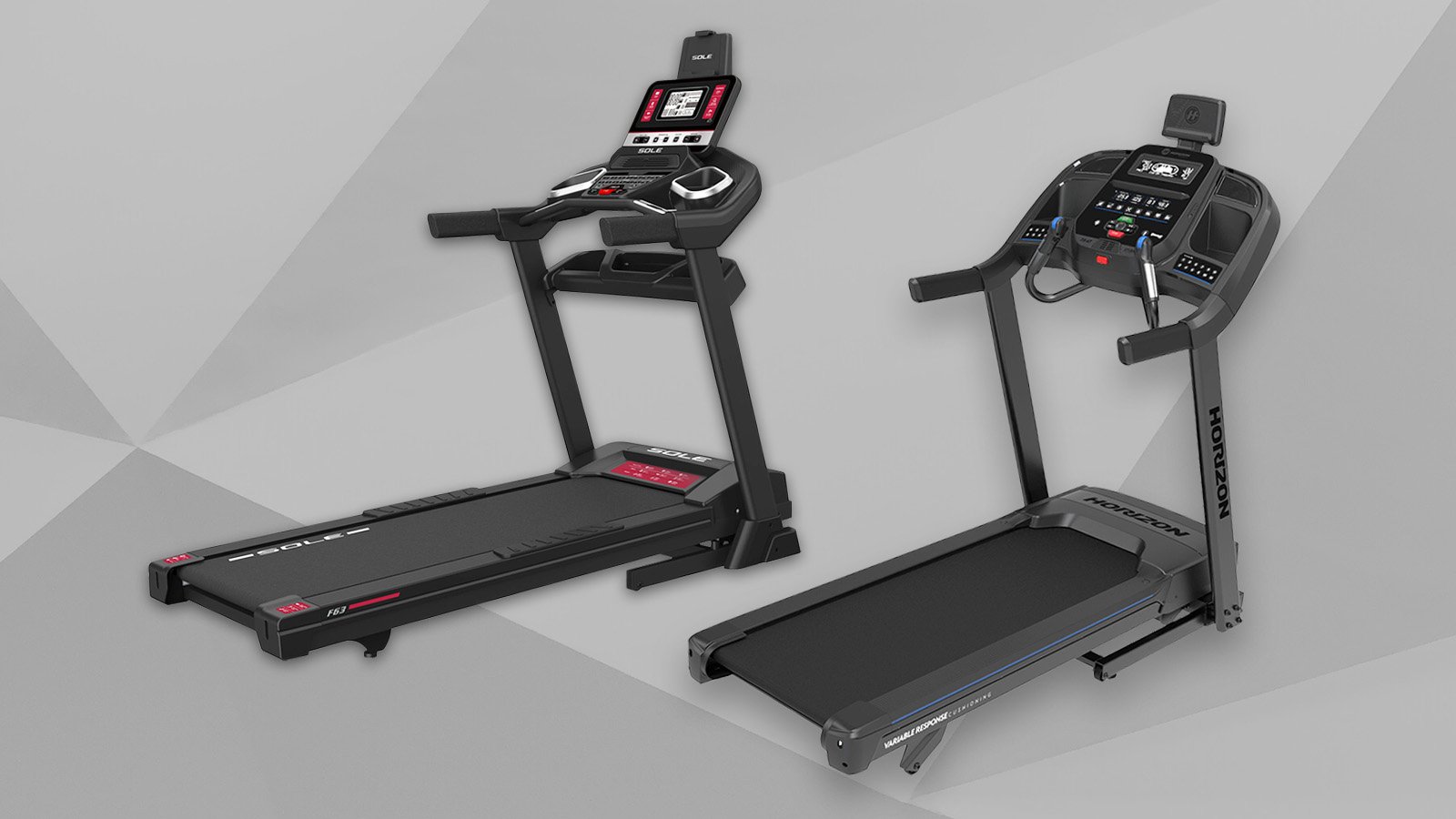 Motor and Performance:
The motor is the powerhouse of any treadmill, dictating its performance and capabilities. Both the Sole F63 and Horizon 7.0 AT boast a robust motor. Both ensure a smooth and steady workout experience, even during training sessions. Both promise reliable performance and consistent speed adjustments.
Running Surface:
The size of the running surface is crucial. Both have running surfaces 20″ wide x 60″ long. It provides ample space for comfortable strides and accommodates various user heights.
Incline Options:
The ability to incline the treadmill adds versatility and intensity to your workouts. The Sole F63 treadmill vs Horizon 7.0 AT on power incline capabilities is similar. Both have a 15% incline and 15 levels. This feature simulates uphill running and challenges different muscle groups.
Display and Console:
Comparing Horizon Fitness 7.0 AT vs Sole F63 on display and console, both have user-friendly consoles featuring LCDs. Horizon's 7.25″ display is 0.75 inches bigger. Both consoles monitor time, speed, distance, and calories and monitor heart rate. Intuitive controls make it hassle-free to customize your workouts on the fly.
Workout Programs:
Variety is the spice of life, and that certainly applies to your fitness routine. Both offer a selection of built-in workout programs designed to challenge you and keep you engaged. These programs often include options for different fitness levels. The goals and specific training targets cater to beginners and advanced users. Horizon 7.0 AT has 7 preset programs against 10 of Sole F63.
Construction and Durability:
The longevity of a treadmill heavily relies on its construction and build quality. Sole and Horizon are reputable brands that produce durable and long-lasting fitness equipment. The F63 and the 7.0 AT treadmills are no exception. These models are constructed with quality materials, ensuring stability and durability.
Warranty:
Warranty coverage provides peace of mind and reflects the manufacturer's confidence in their product. Both offer competitive warranties for their treadmills. While both have a lifetime warranty on the motor on the frame, Horizon's has a 3-year warranty on parts compared to two years by Sole. Both have a year's warranty on labor. However, Sole F63 also has a 90-day cosmetic warranty.
In summary, the Sole F63 and the Horizon 7.0 AT are similar in key aspects. That includes incline, speed-running surface size, entertainment features, price range, design, and console layout. Choosing these two treadmills will ultimately depend on your preferences and fitness needs.
Sole F63 vs Horizon Fitness 7.0 at user reviews
User reviews Sole F63:
Pros:
Users appreciate the sturdy construction and durability of the F63. It can handle frequent and intense workouts without any issues.
The treadmill's motor has smooth and quiet operation, allowing distraction-free workouts.
Many users found the F63's running surface size comfortable and accommodating for various stride lengths.
The incline feature received positive feedback for adding intensity and variety to workouts.
The user-friendly console and controls make tracking workout metrics and customizing settings easy.
F63 offers superb value for money, providing excellent performance at an affordable price.
Cons:
Some users wished the F63 had a decline feature for a more versatile workout experience.
User Reviews for Horizon 7.0 AT:
Pros:
The Horizon 7.0 AT received praise for its incline technology, which users found fast, highly engaging, and effective.
The wider running surface provides more room for comfortable movements during workouts.
The built-in Bluetooth speakers allow for convenient wireless audio while exercising.
Users found the console design and layout to be visually appealing and user-friendly.
The workout programs received positive feedback for offering diverse and challenging exercise options.
Cons:
A few users wished for additional entertainment features. A larger display or more integrated apps can enhance its value.
Which Treadmill Is The Better Option?
So, it is very clear that Horizon 7.0 AT is a better-equipped option. It can be connected to various apps, has better cushioning, energy-saving mode, audio in/out, a better screen, and more.
But Sole F63 scores where it matters more regarding robustness and longevity. 2 ply-belt and bigger rollers make a difference. 4 wheels are very useful if you have to move it frequently, though I suggest not pushing such a heavy treadmill much.
Final Word
The Sole F63 and the Horizon 7.0 AT are impressive treadmills with unique strengths and features. It makes a solid choice for a reliable and budget-friendly treadmill. But, the Horizon 7.0 AT stands out with its high contrast LCD, heart strap, and quick changes in incline and speed, providing a more immersive and dynamic workout experience.
FAQS
What is the maximum weight capacity of the Sole F63?
The Sole F63 treadmill typically has a maximum weight capacity of around 325 pounds (147 kg). It can accommodate a wide range of users.
Does the Horizon 7.0 AT have built-in speakers for music or audio playback?
Yes, the Horizon 7.0 AT features built-in Bluetooth speakers. It allows you to play music or audio from your devices during workouts wirelessly.
Does the size of the rollers on the Sole F63 make it better than the Horizon 7.0 AT?
When choosing between the Horizon 7.0 AT and the Sole F63, the roller size plays a crucial role depending on the types of workouts you intend to pursue. If you are primarily interested in light exercises and daily steps, the 2.36-inch rollers on the 7.0 AT will suffice.
Can the Sole F63 and Horizon 7.0 AT fold?
Yes, the Sole F63 and the Horizon 7.0 AT treadmills have a folding design, allowing for easy storage when not in use. This space-saving feature benefits those with limited space in their gyms or living areas.