Whether you're preparing for a big race or want to increase your endurance, a treadmill is the ideal workout partner to help you achieve your fitness objectives. However, if you're a dedicated runner, finding a treadmill that can keep up with you can be challenging. Consider the Sole F80 vs Horizon 7 4AT. How confusing can this get with similar specifications on so many parameters? Does this sound familiar? We're here to assist you!
You want a machine you can rely on, not one that can break down in the middle of a crucial training session. Our expert advice is on choosing the best treadmill for running between the two.
These models have excellent shock absorption, large running spaces, fantastic incline/decline options to mimic training on actual terrain, and competitive warranties for their price points. Conduct a little extra research before you go shopping.
The Sole Fitness F80 and the Horizon 7.4AT Treadmill are two of the most popular models on the market. Which of the two should you buy? How do they compare? To help you answer these questions, we put these treadmills to the test. Here's a breakdown of their features and how they stack up next to each other.
Related Readings

Best treadmill under $1500: Tough Choice in a Popular Range
Benefits of Under Desk Treadmill: What Do You Need to Know?
9 Treadmill Incline Benefits: Think it is for running only?
Top features: Sole F80 vs Horizon 7 4AT
What are the top technological integrations installed in each?
F80 Sole Fitness
This is an updated version of my review from last year. The Sole F80 is a well-known and well-reviewed intermediate-level treadmill. You may or may not know that Sole Fitness released a better version of the F80. The new version works with Bluetooth and easily connects to your favorite fitness app. In this review, I examine the present model. Continue reading to discover the excitement, what to like, and not to like, potential stumbling blocks, and overall thoughts.
Bluetooth audio speakers: The Sole Fitness F80 is built with Bluetooth technology, which lets users record workout data from their treadmill onto an Android or Apple smart device, track fitness data on the free SOLE FITNESS APP, and send it to other fitness apps that can use it. Using the Bluetooth 3.0 Audio Speakers, you can listen to music from any Bluetooth 3.0-enabled smartphone. You can also connect your device using the auxiliary connection with the speakers.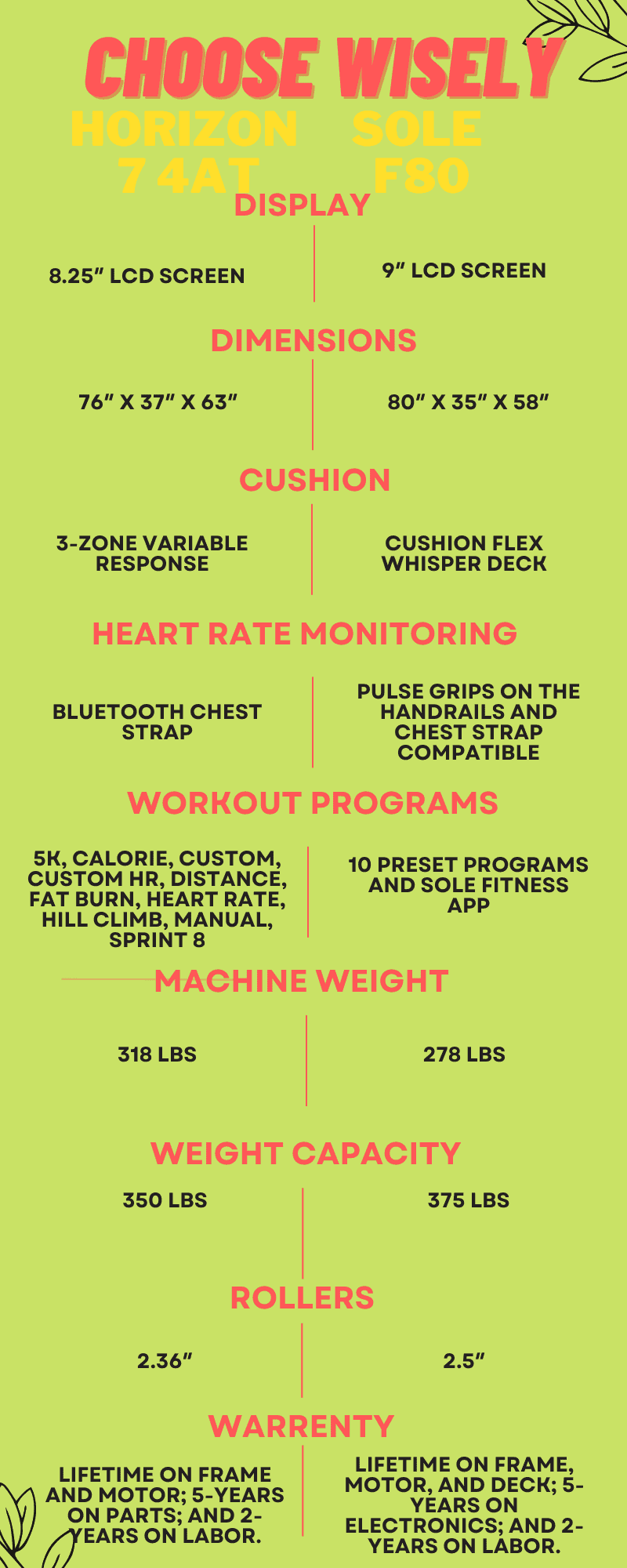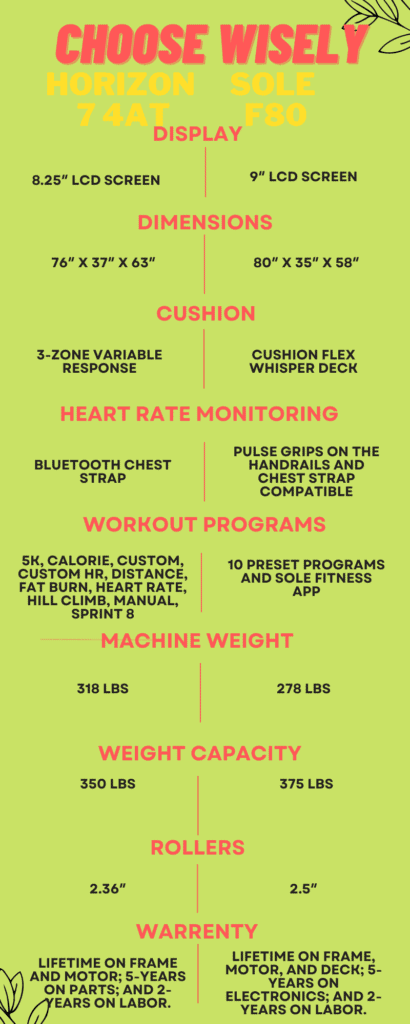 USB port for charging: A USB connector is also available to charge your smart devices while working out.
Tablet holder: This Sole Fitness F80 model variant has a tablet holder. It allows you to use your smart devices to watch shows or keep track of your training habits.
Message board: Sole Fitness F80 has embedded message boards on their products. The Sole Message Board is an alphanumeric text centre that provides scrolling messages to the user to guide them through each workout's intricacies. If you've ever wondered how to set up the user profile workout, press the user profile button, and the message board will lead you through the rest. Consider the message board to be someone standing next to you reading from the owner's manual on what to do next in almost every treadmill function.
Horizon 7.4AT
Horizon Fitness creates fitness equipment for real people in real situations. The equipment will assist you in selecting the ideal piece for your specific needs, ensuring that it fits your body as well as your space and schedule. Whatever you bring home, you can rely on us to provide the high-performance, long-lasting equipment you require to achieve your goals day after day for years. Discover what distinguishes our exercise equipment from others on the home fitness market—and why it is ideal for your specific requirements.
Bluetooth audio speakers (Bluetooth chest strap): It's simple to follow your coach's instructions or listen to music. Advanced Bluetooth connects your smartphone to the integrated speakers on your treadmill for clean, rich stereo sound. Horizon Fitness, Smart Treadmill, Best Home Treadmill, and Bluetooth Treadmill describe this treadmill. Get connected workouts to send speedy and other parameters to popular training applications. Using Bluetooth, connect a chest-strap heart rate monitor to the treadmill. It will give you a more accurate reading of your heart rate.
USB port for charging: There's a USB plug on the table holder, so you can set your intelligent gadgets as you work out.
Device holder: There is a multi-position tablet holder situated above the screen. You don't have to block your exercise data while you're watching a workout on your tablet (or Netflix).
Fitness app integrations: Speed and inclination adjustments are easy using one-touch controls, allowing you to keep up with Peloton, Studiolive, and other fitness streaming apps. The free app manages your workout and shares data with other fitness apps as needed by you. At the same time, the powerful 3.5 CHP motor has 33 per cent faster speed and inclines changes, making it ideal for interval training.
Horizon vs Sole treadmill Winner Round I – In terms of technological integrations, the Horizon 7.4AT seems to be a better option with much more advanced technology than the Sole Fitness F80.
Which one facilitates the most comfort?
Sole Fitness F80
Cushion Flex Whisper Deck: The Sole Fitness F80 treadmill comes with an industry-leading guarantee. The Cushion Flex Whisper Deck has been proven in studies to reduce impact by up to 40% compared to jogging on asphalt. Not only does the deck outperform other commercial brands' treadmills (which can cost thousands of dollars more), but it also comes with a lifetime warranty.
Folding deck design: Sole Fitness F80 takes pride in providing the most excellent folding treadmill design on the market. The F80 also has Easy Assist Folding Deck Design, which allows you to release the deck and step back, and the deck will unfold itself while you watch. Sole's Easy Assist folding deck design is unique and makes developing your treadmill a breeze.
Large Light Commercial Display Screen: The Sole display makes workouts more accessible and successful. The Sole boasts a vivid white back-lit screen with large, clean readouts that provide users with vital information like heart rate, speed, pace, calories burned, and many other valuable bits of information.
Horizon 7.4AT
3-Zone variable response cushioning: Whether you're a sprinter or a jogger, this 22″ x 60″ deck has all the space and comfort you need, to run at your own pace. All Horizon treadmill decks have shock-absorbing 3-Zone Variable Response Cushioning that can be adjusted to give you the right amount of flex and support as you move.
A multitude of training programs: The Horizon 7.4 AT comes with several pre-installed programs. Sprint 8 training is one of the plans, which is a 20-minute HIIT workout divided up into 30-second all-outs and 90-second active recoveries. However, compared to other treadmills on the market, ten programs isn't a lot, so if you're looking for more diversity than just a HIIT or fat-burning workout, you might want to look elsewhere.
QuickDial controls and keys: The Horizon 7.4AT now has the same roll dial controls as the higher-priced 7.8 AT. These rolling dial controls improve your ability to quickly turn the speed or incline up and down with a quick roll of your thumb. These dials feel more natural and responsive to me than touch buttons (although the console has those as well).
Sole F80 vs Horizon 7.4 AT Winner Round II – Horizon's new 7.4 AT offers a lot. The list of available features is rather broad, and the dial controls for speed and incline are excellent additions that I appreciate using to make quick selections. Horizon is heavily marketing this model for use with streaming fitness applications. It is, therefore, technologically impressive, yet it falls short in the fitness department.
Whose construction style is the best among both?
Sole Fitness F80
Running surface: – The F80 has a large 22″ by 60″ belt with plenty of track area, but it still folds up for storage. Sole is also the only business that provides a lifetime warranty on the frame, motor, and deck, demonstrating that they stand behind their products.
Display size: An improved 9-inch LCD screen and a built-in tablet holder allow easy multitasking, entertainment, and workout data synchronization with fitness apps.
Motor: Treadmill motors have a continuous horsepower rating of up to 4.0. These are cooled by heavy-duty flywheels and are likely to live longer than motors with comparable horsepower. They're also surprisingly silent.
Frame: All Sole Fitness F80 treadmills have epoxy powder-coated paint that has been baked for optimum finish and longevity. This finish preserves the all-steel construction, and because the frames are welded rather than fastened, they are indestructible, hence the lifetime warranty.
Horizon 7.4AT
Running surface size: It's like an extra-large running track with the running belt on the 7.4 AT treadmill being two inches wider than the one on the 7.0 AT, measuring 60 inches long and 22 inches wide. It is ideal for taller and heavier runners.
It has a smaller screen, but not one that is very appealing because it has an 8.25-inch LCD screen that doesn't have a touchscreen. It shows workout metrics and data in a simple way.
Motor: The 7.4 AT has a solid frame with a 3.5 CHP motor. When shopping for a treadmill to use for running, we recommend a minimum of 3.5 horsepower. Engines less than 3.5 horsepower are suitable for walking but do not sustain high speeds or extended distances.
Frame: AT 7.4 Horizon claims that this treadmill has a tough and rugged frame structure that improves performance. Thus, leading to better track performance.
Sole vs. Horizon Treadmill Winner Round III – In terms of construction, Sole Fitness F80 was the winner compared to Horizon 7.4AT.
‌Warranty
Sole Fitness F80:
Frame, Motor & Deck: Lifetime warranty
Electronic Parts: 5 Years
Labor: 2 Years
Horizon 7.4AT:
Frame, Motor: Lifetime warranty
Electronic Parts: 5 Years
Labor: 2 Years
Sole F80 vs Horizon 7 4AT Winner Round IV – Both the Sole Fitness F80 and Horizon 7.4AT are equally important in warranty providence.
Conclusion
Overall, the Sole Fitness F80 and the Horizon 7.4AT have excellent features, including running surfaces and decks comparable in size. However, the Horizon 7.4AT stands out regarding technological integrations and comfortable features that complement the overall fitness experience.
In terms of fitness, both are ideal for aerobic training, weight loss, stamina, and strength building, as well as providing the training settings necessary for long-distance runners. Last but not least, always check for excellent value for money. It's not the cheapest model, but its overall build quality and feature set more than make up for it.