Soy Protein Powder can easily be termed as best vegan protein powder. Soy protein powder is produced and marketed in two primary ways.
Soy Protein Concentrate
Soy protein concentrate is made by removing the fat from soybeans, leaving a white flaky material behind. After adding an ethanol extract to neutralize the pH, the flakes are firm enough to sell or use in prepared meals.
A low level of isoflavones is due to ethanol extraction.
Soy Protein Isolate
After soy produces white flakes, the concentrate is centrifuged to obtain the greatest protein content. However, because ethanol extraction is omitted, the isoflavone levels remain greater than in soy protein concentrate. Therefore, men worried about oestrogen should avoid high doses of soy protein isolate.
Is Soy Protein Safe?
Soybeans may be consumed whole or processed into products like tofu or tempeh and various meat substitutes. Soy milk is also very popular. It also makes best plant-based protein powder.
Soy Protein Powder is produced soybean flakes. These flakes are defatted and washed. That removes sugars and fibre. Some times these are washed in alcohol too. Then, they're dehydrated and powdered. This product is low in fat and cholesterol.
Soy protein is a complete protein, unlike other plant proteins as it has all essential amino acids(EAAs). These amino acids cannot be produced by the body and must obtain through your diet. In one study, soy protein performed better than whey protein but worse than casein in muscle protein synthesis, perhaps due to digestion rate or leucine content. While soy protein includes the BCAA leucine and may increase muscle protein synthesis, it seems inferior to whey protein for developing muscles.
Soy protein may be equally helpful as animal protein in promoting weight reduction. Soy protein has several health advantages. For example, replacing animal protein with soy protein decreases cholesterol and triglycerides.
Vegetarians and vegans who don't eat animal protein may receive the essential advantages of this from soy protein.
Related Readins

Benefits of Egg White Protein Powder and 9 Top Selling
11 Best Unflavored Protein Powders in 2021- Inexpensive but Better
Treadmill Running made Interesting: The Best 7 in 2021
Soy Causes Some Worry
Soy protein isolate powder includes phytates, which may reduce mineral absorption. Phytates are antinutrients that decrease iron and zinc in soy.
Soy consumption may potentially influence thyroid function. But according to some studies the effect of soy is either nill or mild on our thyroid function. Also, many people avoid it due to phytoestrogen content, fearing that these may disrupt our natural hormone levels.
Many men fear decrease in testosterone levels due to soy protein.
A comprehensive research study found that soy meals or isoflavone supplementation does not affect testosterone levels in males (GMO). There is presently no proof that eating GMO soybeans is harmful to your health.
While soy has certain potential disadvantages, the data indicates that most individuals can take it without a problem. Soy is a full protein source though whey is better for muscle development. If you enjoy the flavor or follow a plant-based diet, try soy protein too.
Soybean Protein Powder Benefits
Soy is a complete protein containing all nine necessary amino acids. Health advantages of Soy Protein
Cholesterol is a type of fat found in the Soy protein that helps reduce LDL and triglycerides.
Soy is a good source of protein for vegetarians and vegans not eating animal proteins and may benefit your heart health. In addition, soy protein helps you feel full.
Soy protein is high in fibre, which is good for your gut. Fibre keeps your stomach and intestines healthy.
Soy meals are rich in vitamin B, zinc, and iron. Some supplements include calcium and vitamin D. Soy contains several antioxidants.
Studies have connected isoflavones, compounds contained in soy protein, to bone loss prevention and cancer prevention.
Soy Protein Isolate
Soy protein isolate is a soybean protein. It is inexpensive and easy to incorporate into your diet.
Soy protein may help you lose weight, gain energy and muscle. Soya protein isolate may also help manage hormonal imbalance and lower the breast cancer risk, heart disease, and osteoporosis.
Other plant proteins lack soy protein benefits. Therefore, you may need to supplement those plant proteins with vitamins and minerals.
Soy protein may also improve your intestinal barrier, allowing your body to absorb nutrients quicker. A diet rich in soy protein may also boost your immune system.
Is Soy Protein Healthier than Meat?
There are various benefits of soy protein over meat.
Soy in its entire form, such as edamame, tofu, and soy milk, is healthier than meat because it has more protein, fibre, vitamins, and minerals than meat without the cholesterol and saturated fat.
Soy protein helps reduce LDL (bad) cholesterol and triglycerides. Soy protein isolate has no cholesterol.
On the other hand high protein, high-fat diets especially red meat have been proven to raise cholesterol. Saturated fat raises cholesterol and is linked to heart disease.
Not eating animal proteins may benefit your heart health. Soy protein isolate supplements help you feel full. Soy protein is high in fibre, which is good for your gut. Fiber keeps your stomach and intestines healthy.
High-protein meat diets especially red meat may damage the gut microbiota. Inflammatory bowel disease (IBD), a chronic illness that may indicate poor gut health, is linked to excessive protein consumption, especially animal protein.
Vegetarians have been shown to have reduced body weight, cholesterol, and blood pressure.
Non-vegetarians are at greater risk of stroke, cancer, and heart disease.
Soy Protein vs Whey Protein
Protein Classification
The amino acid profile is an essential element to consider when assessing protein powders. The human body needs 22 amino acids, which cannot be produced and must be acquired via food. Soy and whey protein are both "complete" proteins, containing all nine necessary amino acids. However, their relative amounts of critical amino acids vary somewhat. Whey protein, for example, has more leucine, isoleucine, methionine, and lysine. On the other hand, Soy protein has more arginine, phenylalanine, and tryptophan than whey protein.
Many bodybuilders prefer whey protein for its better amino acid profile, including lysine for muscle development and methionine for fat reduction. The amino acid profile of soy and whey protein is sufficient to maintain general health.
Dietary Restriction
Other dietary limitations may dictate a soy or whey protein choice. For example, whey protein is derived from milk and, therefore, not suitable for vegans. However, soy protein is vegan-friendly and may help vegans obtain adequate protein.
Lactose intolerant individuals should also examine their protein choices. Soy protein has no lactose and is suitable for lactose sensitive individuals. When it comes to whey protein, it depends on the kind. Whey protein is available in three forms: concentrates, isolates, and hydro-isolates. Whey concentrates have some lactose removed. However, lactose intolerant individuals may still experience gastrointestinal issues. Lactose is extracted from whey isolates or hydro-isolates, making them suitable for lactose-intolerant people.
Other Nutrients
Protein isn't the sole factor in whey or soy powder selection. Some of these powders also include vitamins and minerals. For example, soy contains B vitamins, vitamin E, zinc, iron, phosphorus, and potassium. Whey protein is high in calcium, iron, potassium, phosphorus, and magnesium. The quantities of essential minerals vary by brand, so read nutrition labels before buying.
Soy protein has a higher phytoestrogen concentration than whey protein. Soybeans contain phytoestrogens, which behave like estradiol, the female sex hormone. Some individuals have worried that consuming soy may raise oestrogen levels while lowering testosterone. However, a recent study indicates that soy intake negatively impacts hormone levels or human health. In addition, soy protein intake has been proven to increase lean muscle mass while decreasing body fat. Therefore, soy protein's phytoestrogen concentration is not compelling to prefer whey protein over soy protein.
Best Soy Protein Powders
Myprotein® MYVEGAN Soy Protein Isolate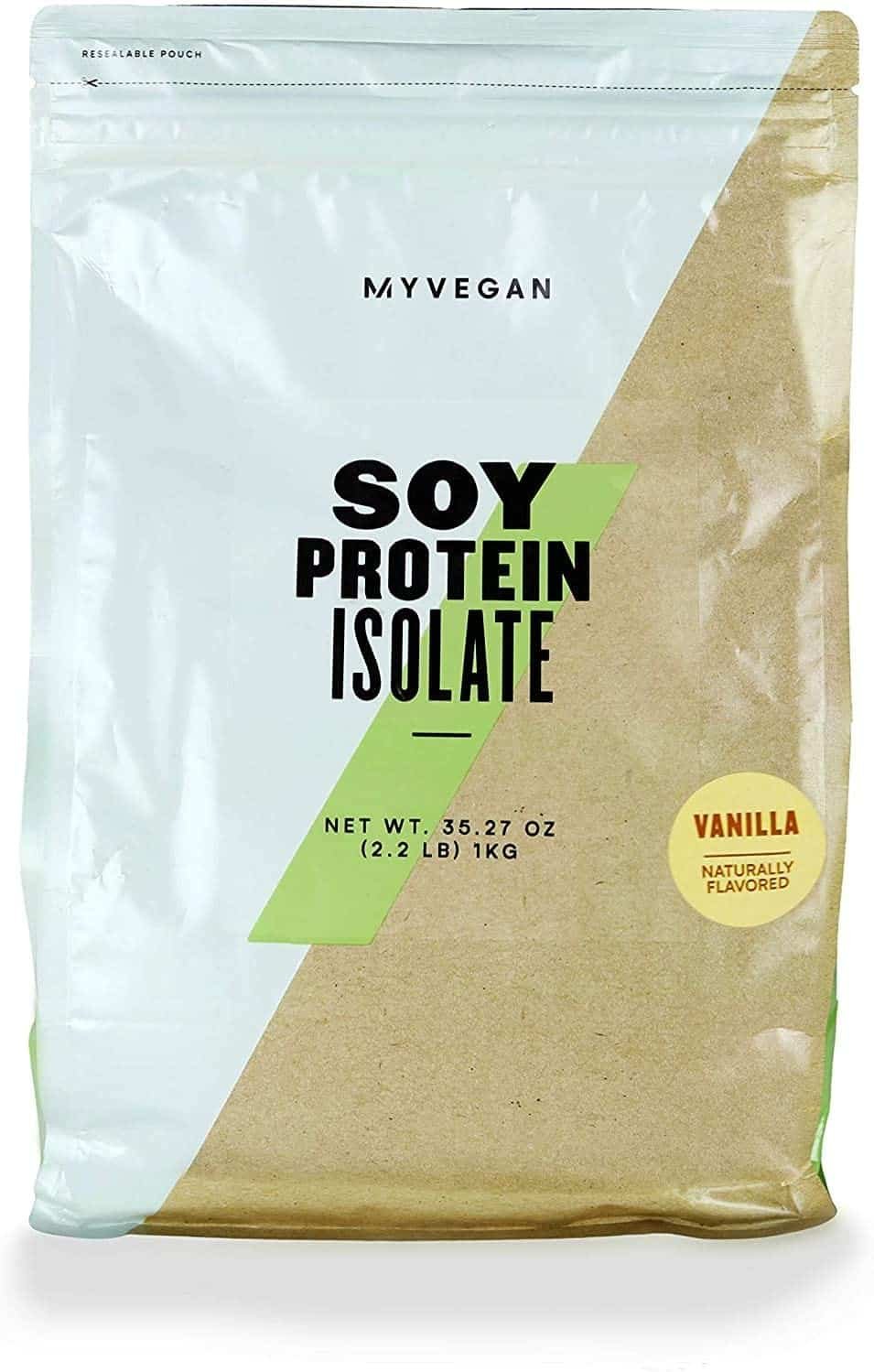 Contains Soy protein isolate & Stevia leaf extract, natural flavor & salt
Naturally flavored Vanila
Vegan, Vegatarian, Dairy Free, Gluten Free
One 30gm serving of soy protein powder offers 25gm protein, 100 calories, 1gm Carb, 0gm fat, Sodium & Calcium.
Best soy protein powder for weight loss
Bob's Red Mill Soy Protein Powder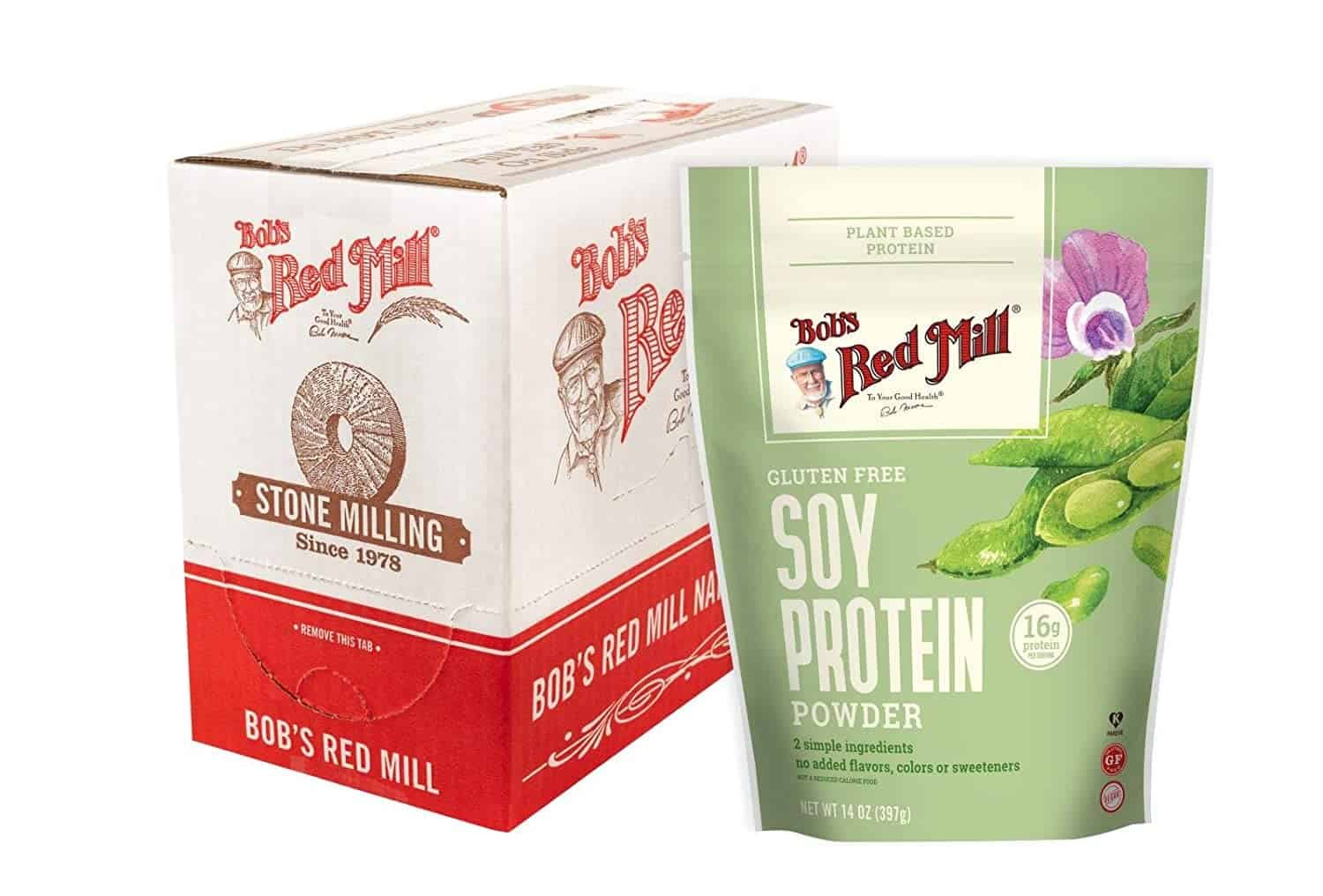 This dairy-free, unsweetened soy protein powder is a simple method for vegans and vegetarians to boost their protein consumption.
To ensure the quality of gluten-free goods, the company has a separate facility and use an ELISA Gluten Assay test in quality control laboratory.
One 19gm serving of soy protein powder offers 16 grams protein, 70 calories, 1gm fat, 1gm Carbs, Sodium, Calcium & Iron.
Soy Protein Isolate Powder by Horbaach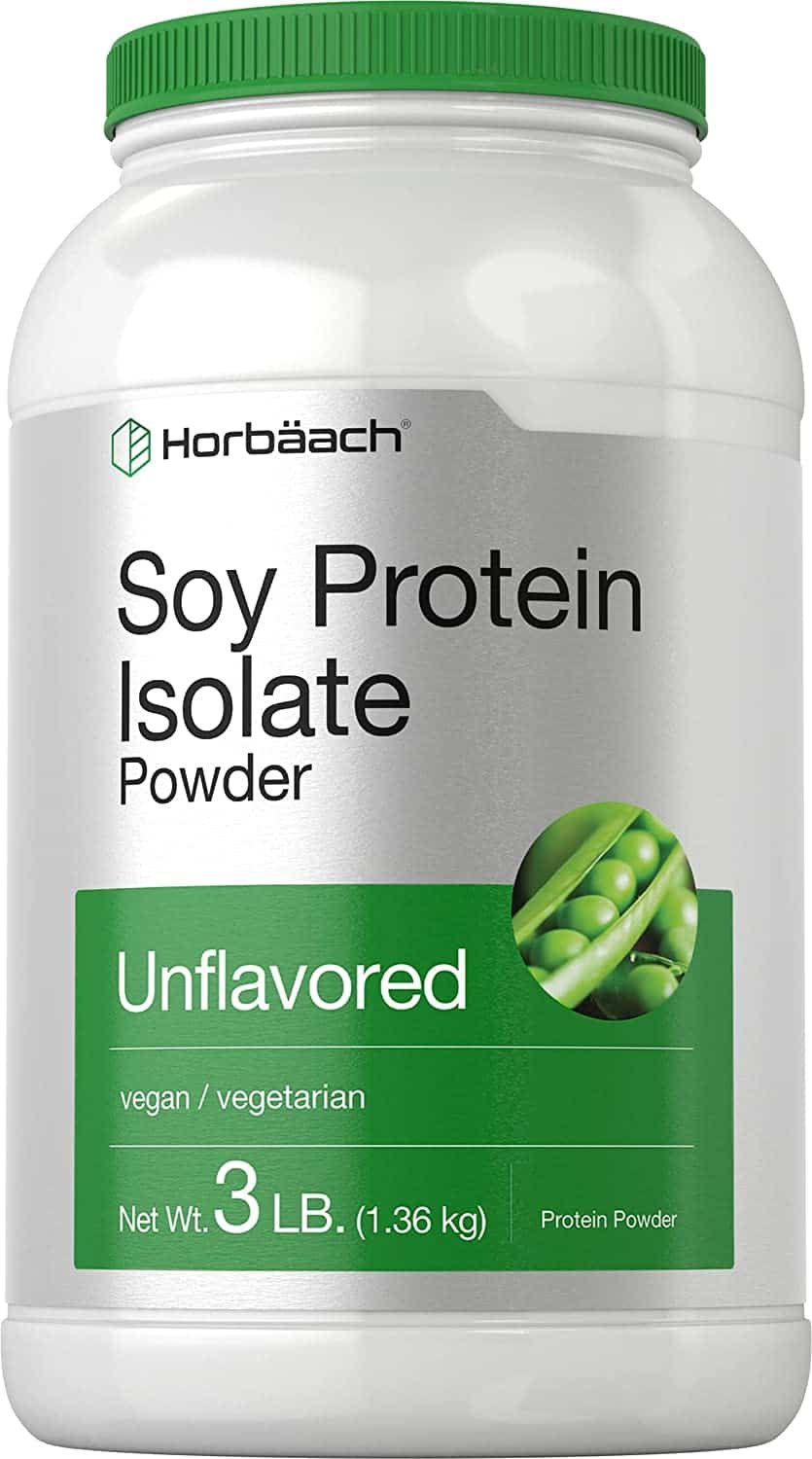 Vegan, Vegetarian, Gluten-Free, Unflavored

Soy Protein Isolate from Non-GMO Soybeans

Lab-tested, high-quality ingredients, guaranteed!

Contains no wheat, yeast, artificial flavour, sweetener, or preservatives.
One 30gm serving of soy protein powder offers 25 grams protein, 110 calories, 0gm fat, 0gm Carbs, Sodium & Calcium.
Naturade Total Soy Protein Powder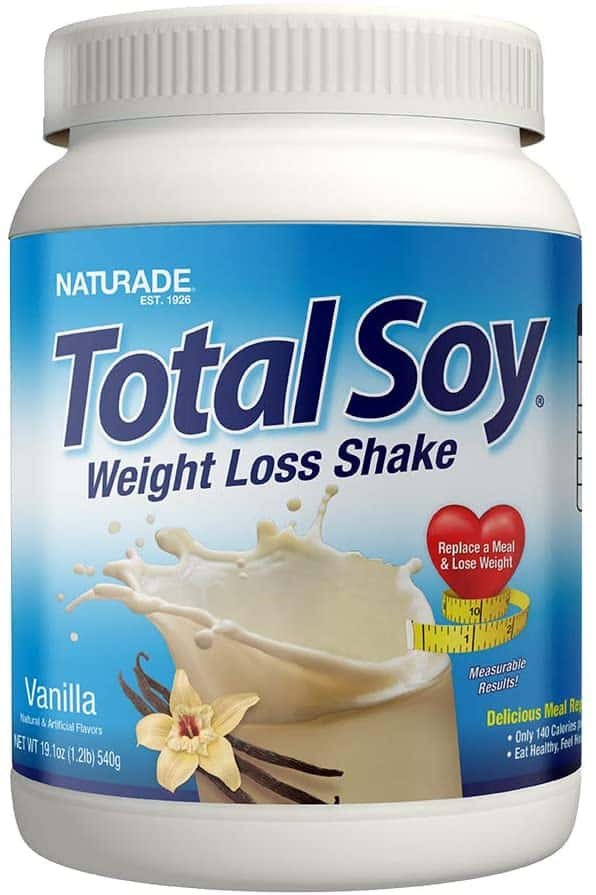 This vanilla protein smoothie powder has only 13gm protein but 24 vitamins and minerals.
Drinking lots of water and eating nutritious whole foods can help you lose weight quickly. Replace one meal with a smoothie and do 30-60 minutes of mild activity 4 days a week.
This lactose-free, gluten-free vanilla shake is created with non-GMO soy to assist women and men lose weight.
One 36gm serving of soy protein powder offers 13 grams protein, 140 calories, 0gm fat, 17gm Carbs, Fiber-1gm, Vitamin A,C,D,E and minerals.
BulkSupplements.com Soy Protein Isolate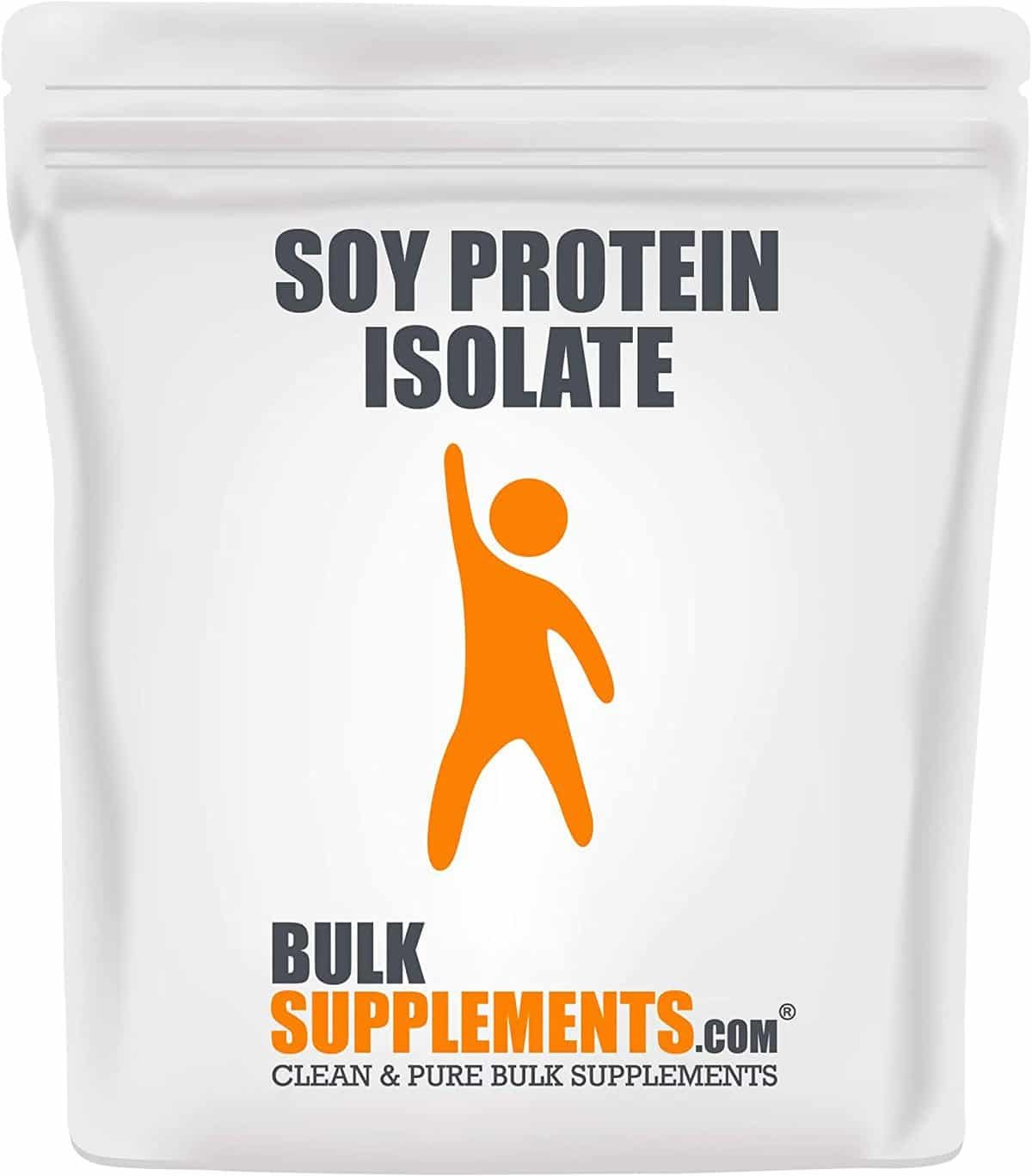 Bulksupplements pure soy protein isolate powder is a flavourless protein that may be used in smoothies, baking, and cooking. It's perfect for people with delicate palates.
Soy Protein Isolate is high in BCAAs which may assist with muscle repair after a hard workout.
Soy protein isolate is completely vegan and vegan friendly. It's also lactose-free so that you can enjoy your favourite dishes without concern.
One 33gm serving of soy protein powder offers 27 grams protein, 117 calories, 0gm fat, 1gm Carb, Vitamins and minerals.
Bulk soy protein powder is my favorite with 92 percent calories from protein. Besides with zero fat and only a gram of carbs it is almost an "only protein" powder.
With no added flavours and compact packaging, Bulksupplements Soy Protein Isolate is one of the cheapest protein powders available. By minimising fat gain while increasing lean muscle mass, this vegan soy protein powder benefits muscle growth while minimising fat gain.
NOW Sports Nutrition Soy Protein Isolate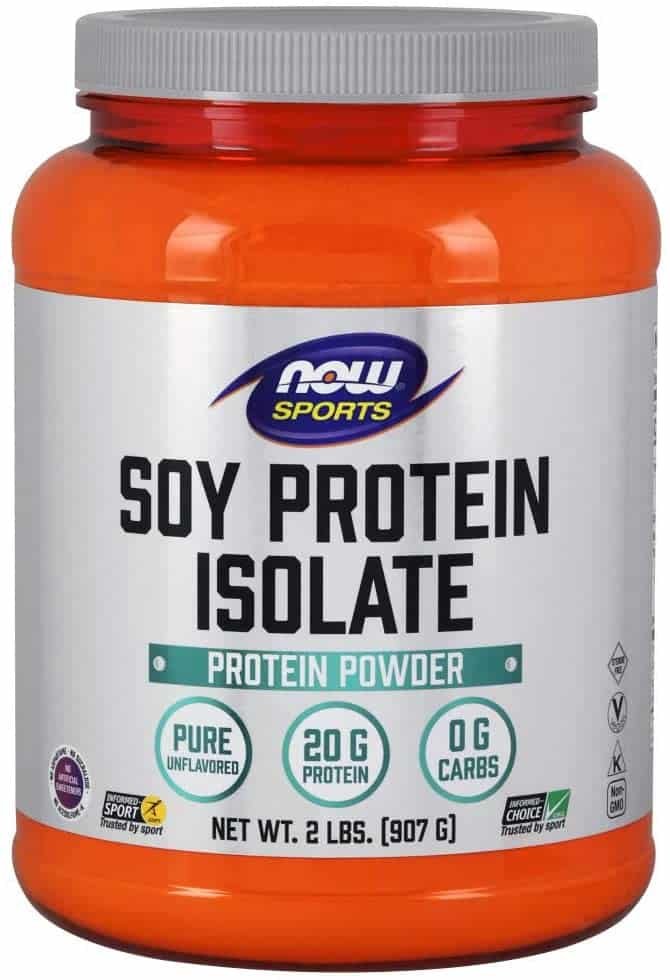 The amino acid profile of Soy Protein Isolate is excellent.
The GMP accreditation implies that every part of production process, including laboratory/testing procedures, has been scrutinised for stability, potency, and product formulation.
One 24gm serving of soy protein powder offers 20 grams protein, 90 calories, 0.5gm fat, 0gm Carb, and minerals.
Horbaach Soy Protein Isolate Powder Unflavored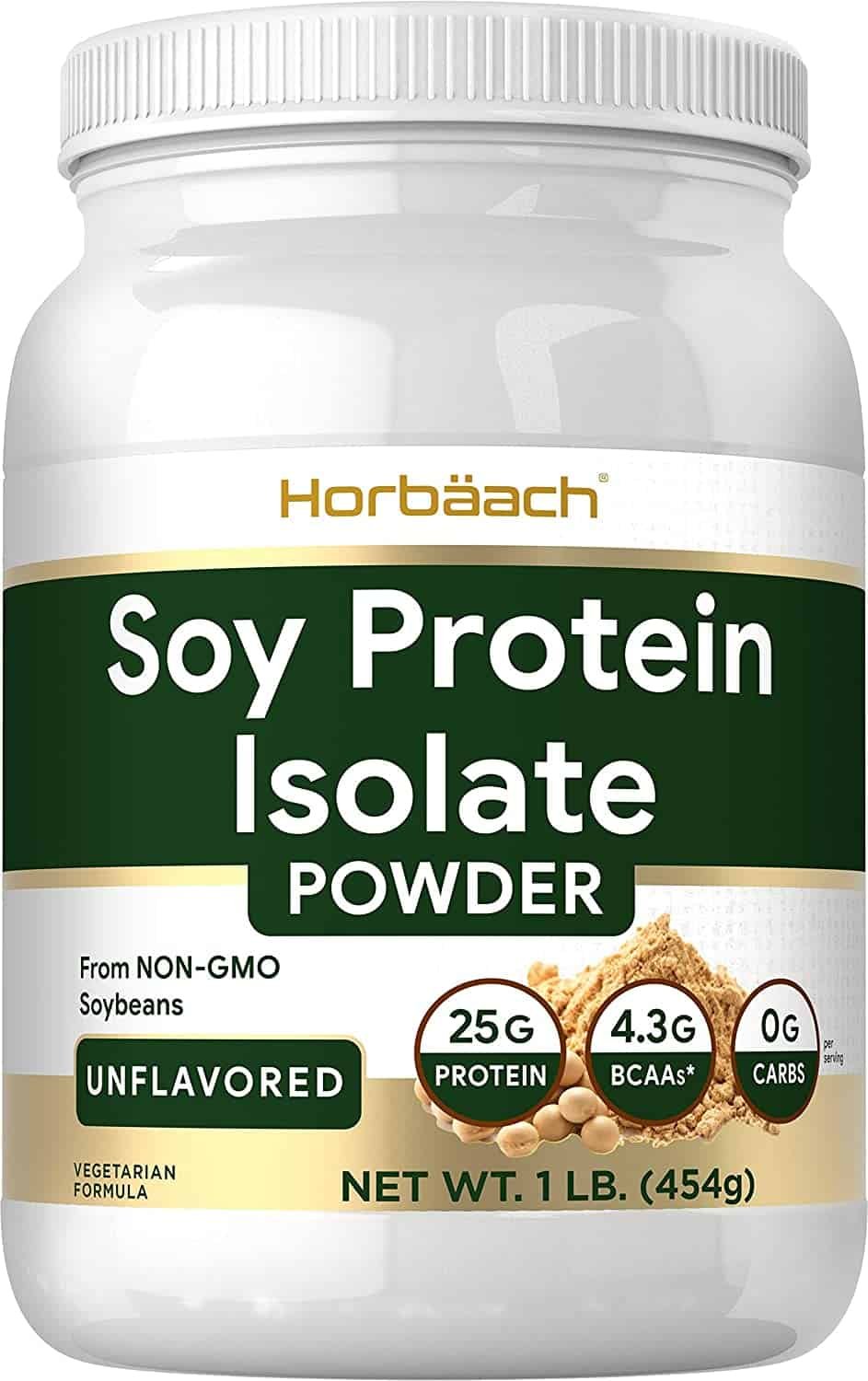 Horbaach Soy Protein Isolate Powder Vegan, Vegetarian, Non-GMO, Gluten-Free

Lab-tested, high-quality ingredients, guaranteed!

It contains no wheat, yeast, artificial flavour, sweetener, or preservatives.
One 30gm serving of soy protein powder offers 25grams protein, 110 calories, 0gm fat, 0gm Carb, Sodium & Calcium.
Almased Meal Replacement Shake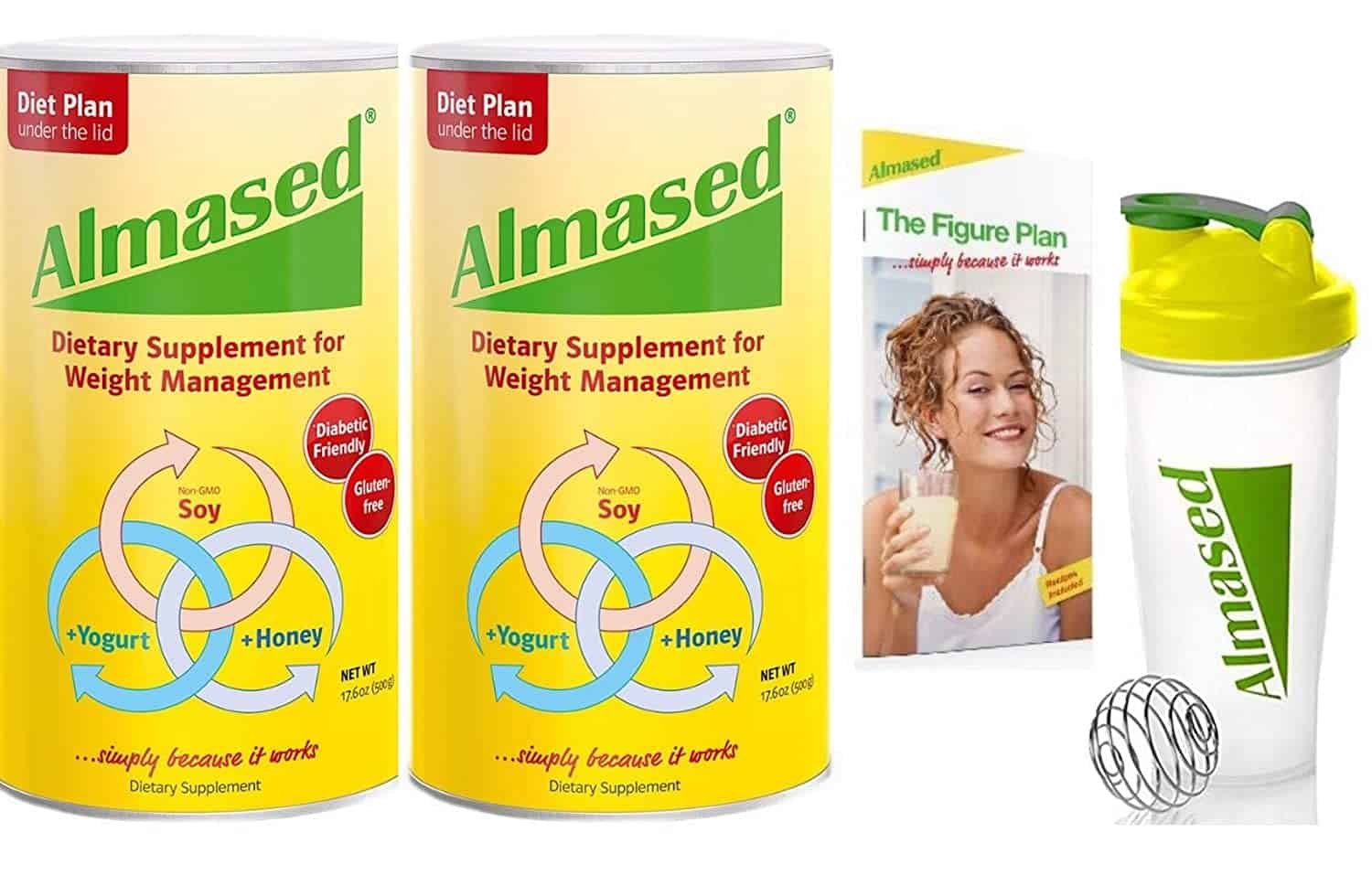 Almased is a meal replacement smoothie. This smoothie contains soy protein, yogurt, and honey.

Almased lowers insulin levels and curbs hunger and sugar cravings.

8 tbsp Almased in 10-12 oz bottled or filtered water, skim milk, or unsweetened almond milk
Almased contains NO artificial flavours, fillers, added sugars, preservatives, stimulants, gluten or genetically modified ingredients
One 50gm serving of soy protein powder offers 27grams protein, 180 calories, 1gm fat, 15gm Carbs, Vitamins & minerals.
Natural Nutra Organic Soy Protein Isolate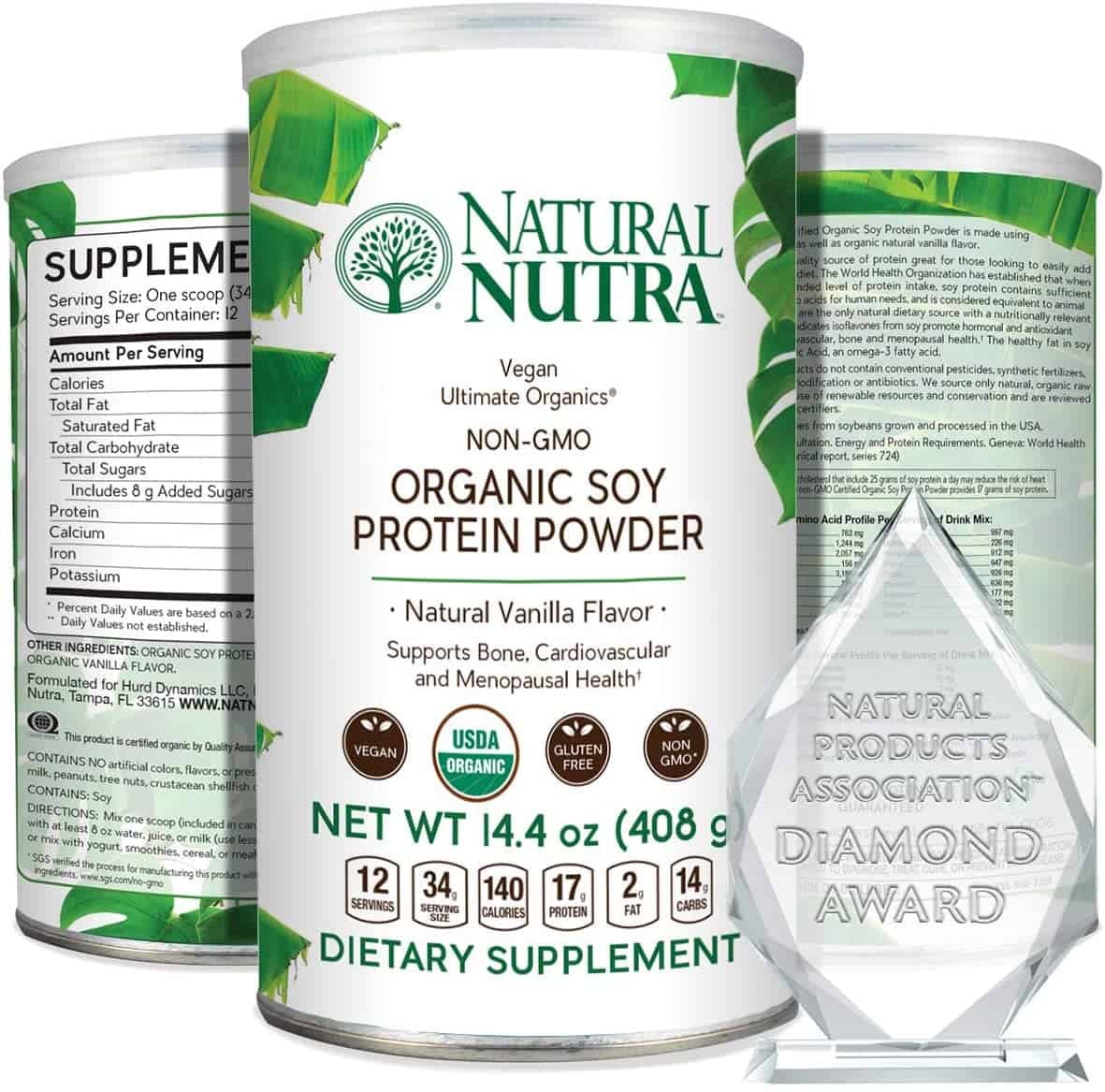 Contains more antioxidants, minerals, phytochemicals, and isoflavones than other protein powders. Soy protein isoflavones support hormonal, digestive, bone, and menopausal health.
It is good for making vegan protein shakes that help regulate blood sugar, curb cravings, burns fat, and builds lean muscle.
This gluten-free, vegan, vegetarian, and non-GMO powder contains 12 oz.
One 34gm serving of soy protein powder offers 17grams protein, 140 calories, 2gm fat, 14gm Carbs & minerals.