Treadly makes foldable and ultra-thin treadmills, perfect for urban homes. Because of its modern features, it is a standout exercise item.
Treadly 2 is a small and sleek treadmill that takes up very little space. When folded, it's only 3.7 inches in height. Treadly is a home treadmill with innovative connected features that increase engagement. Aesthetically, it is less intrusive than most exercise equipment, even when left out in the open.
Treadly isn't cheap, but it feels durable and long-lasting and has a solid build. It is quite stable with a smoothly moving belt and without hiccups.
Construction
Treadly is easy to use right away after unboxing. Unfolding the handrails is the only action that needs to be performed. And plug in the treadmill. So within five minutes, you can start it. Once set up, you may use it with or without the railings.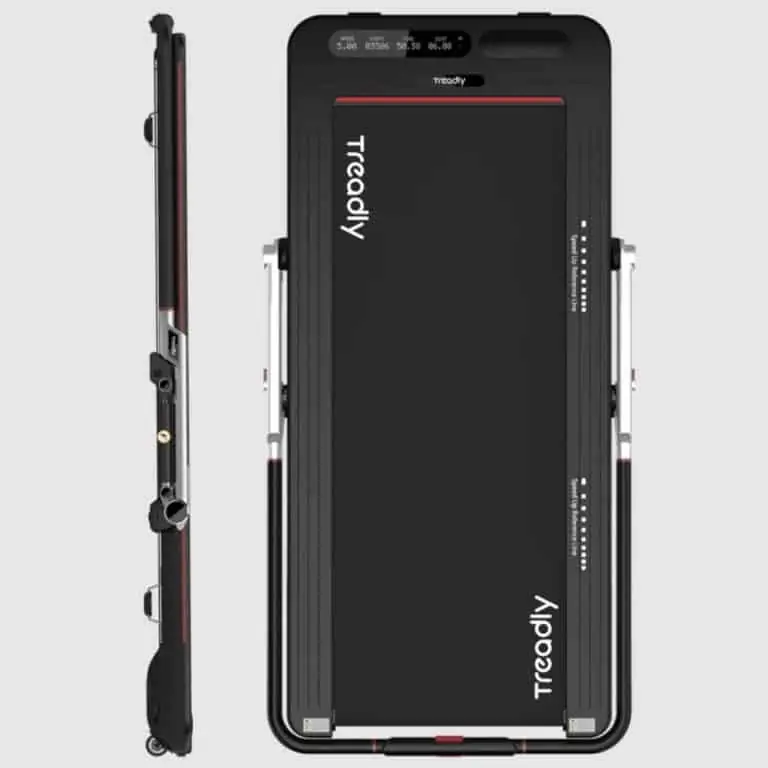 Related Readings

Best Under Desk Treadmills in 2022: Walk While Working
The LifeSpan TR1200-DT3 Treadmill Base – A Fair Review
The Rebel Treadmill 1000 for In Office Walks – A Fair Review
Treadly is 3.7 inches tall at the base and weighs only 73 lb. The deck is 56″ L x 25″ W, with a flip-down handle that you extend for jogging and fold away for walking workouts.
Treadly's design is compact, making it ideal for small spaces. Its low height allows it to slide under most couches easily, and you can also store it vertically against a wall or in a closet.
The Treadly flat treadmill has Bluetooth, handrail speed adjustment, and a 265 lb weight capacity. It also sits higher off the ground, allowing it to work on hard surfaces and carpets.
You can easily adjust the Treadly 2 Basic's settings using the small remote. The most notable new feature is the handrail control panel, which folds flush with the side of the machine, taking up almost no storage space. It also has a new motor-cooling system.
The Pro includes the Treadly phone app and Basic's new features, which sync your workout data with your phone.
Treadly uses your workout data to create virtual workout groups. Daily workout groups help beginners, and there are chat rooms and audio options to find a walking or jogging partner.
Motor
Treadly has a simple and convenient one-horsepower motor.
The belt makes a whirring sound while walking or running, but it is not loud or distracting.
Speed & Incline
Treadly starts at one mph, and you can increase the speed to 3.7 mph while the handrail is down by utilizing the footfalls. To start moving the belt, you only have to take three strides on it, and it starts. It takes a few steps to do it correctly. 3.7 mph is as good as a brisk walk.
You can also control the speed with the Treadly 2 Pro app or the remote control on the Treadly 2 Basic.
The maximum speed is five mph with the handlebars up, which is a low-intensity jog for most people.
It doesn't have an incline, which some perceive as a shortcoming. The outside terrain generally has some inclines and declines, however slight. Most trainers say that if you want to build muscle or lose weight, you should tilt your treadmill.
The speed settings on the Treadly 2 are more than enough for most people who don't want to live a sedentary life.
If the treadmill is left idle for a few minutes, it goes into sleep mode.
Console & Display
The Treadly 2 Pro's handrail features
On/off Switch
Pause/Speed Control
A big, prominently visible red emergency stop button.
A manual/automatic pacing switch.
The deck itself has a built-in LCD screen. It shows vital statistics like speed, total steps, time, and distance. Using the buttons on the pulled-up handrails is simple. You can start, stop, or pause the treadmill. You can also use them to change the speed.
A dedicated remote control for the basic model is included, but the Treadly app can control the Treadly 2 Pro via Bluetooth.
Take three steps on the deck with the handrails down to start it. The steps to start the treadmill are the first step at the back, then the middle, and the last step at the front. It takes 3 to 4 tries to get used to this method of starting the treadmill.
Easy to Move
Treadly has two wheels for moving it around and a slim handrail that folds up and down for balance.
It stands 3.5 feet tall when fully extended and only 3.7 inches when folded for storage.
Treadly's main selling point is that it is smaller, lighter, and easier to store than a full-size treadmill. It easily tucks under a bed, in a closet, or against the wall.
Similarly, when the handle is lowered, the Treadly slips neatly beneath the work desk. Transporting it is made simple by its 73 lb weight and wheels.
STABILITY
Running Track
Treadly 2's belt is 47 inches long and 18 inches wide.
With Treadly 2's new and improved cooling system, there's no time limit on how long you can use the treadmill at 5 mph. So it can also be used as an office treadmill, where the maximum speed needed is only two mph, but the hours of use are much more. If the rate is more than two mph, you will spoil your writing or typing, and even reading is improper.
SAFETY
Treadly 2 has a prominently visible red emergency stop button on the handrail.
If left idle for a few minutes, the treadmill goes to sleep mode. For the safety of kids and pets, this is a good feature.
RELIABILITY
Weight & Weighing Capacity
Treadly is a tiny treadmill. Its weight is 73 lbs. The Treadly weight limit is 265 pounds. Despite the low weight, it is a very robust treadmill.
INNOVATION
Important Features
The Treadly has an auto-align belt and an internal temperature management system to avoid tripping, so you can use it for as long as you want without it sputtering out.
The Pro connects to a free Android and iOS to control the machine, while the Basic comes with its remote.
The Treadly app is easy to use and displays the distance travelled, time spent, and current pace. You can set your targets for all parameters and add Treadly friends to collaborate on workouts. Besides, you may listen to music or a podcast during the exercise. It is a free app as of now.
To avoid accidental or potentially dangerous handrail pop-ups during use, lift the handrail to 45 degrees and let go. The railing will slowly lift itself, the balance 45 degrees. It is one of many thoughtful, innovative design elements.
The Treadly app tracks your steps and other data, syncs it with your smartwatch and invites you to join the Treadly community.
You can join live workout and walking groups via video or create your own. The app will either suggest groups based on common interests or allow you to create your own.
The Treadly 2 also has a built-in Bluetooth speaker, so you can connect your phone and play music from any app. Treadly's iOS app also integrates live video and iterative community training. Treadly also introduces new group features to allow users to form communities and new challenges, such as step count records.
The primary remote is practical and compact and comes with a wrist strap for easy tracking while using the treadmill.
VALUE
Price
Treadly now has two models.
With free shipping, the Treadly 2 Basic is currently $749 (a $100 discount off the original price).
The Treadly 2 Pro is now $849, down from $949.
Drawbacks
The Treadly is flat, which is good for storage but bad for muscle growth.
Treadly does not include all of the features you'd expect in a treadmill, which is not the best value for money.
Due to its small size, exercise options are limited.
Its warranty period is only one year.
Warranty
One-year limited warranty.
30-day money-back guarantee.
Conclusion
The Treadly 2 is a connected treadmill that offers good value. The store-easy, space-saving design and various app-related social benefits make it a treadmill worth consideration.
Though not meant for HIIT or super active athletes, it is helpful for people who want to shed their sedentary lifestyle. It's an excellent way to stay active during our great winter months.