Treadmill prices start from as low as a few hundred dollars. Some people say these are not worth buying nor long-lasting. Besides these also have very few functions. It is but interesting to note that this segment still has the highest sale.
Although there are many low-cost treadmills available, some are better and worth investing in.
Consider the value. Do cheap treadmills work and are they worth it?
The Benefits of a Budget Treadmill
It is comparatively an easy equipment to use.
With a predictable running surface it is better than running outside as you dont need the sidewalks, curbs etc.
All aspects of the workout like speed, incline, time, calories can be controlled by the user
Many features of a high-end treadmill
These treadmills are great for home gyms and can have multiple users
Some of these are suitable for walking & jogging only but are excellent for that. One has no reason to buy an expensive treadmill if it is needed for walking or jogging only.
Some reviewers compare these with highclass treadmills like Nordictrack X22i and then give these a single star on a scale of five. But doing that is like comparing apples with oranges.
These treadmills generally have a peak horse power of 2.50 and they donot even announce CHP for these treadmills.
Shortcomings of a Budget Treadmill
Looking for a treadmill but on a tight budget? Treadmills under $500 have fewer options for speed, incline, and preset programs.
They will generally inform you about their peak horse power instead of continuous horse power.
Limit their use to walking and jogging. Regular running should be avoided especially by tall athletes as these have a shorter running track.
These should not be used for more than 45 to 50 minutes at a stretch.
The cushioned track surface might not be enough to absorb the impact of running on joints.
They still are the largest peice of exercise equipment in a home.
If you are going to comply with all these rules then you can buy one of the following and it will work wonderfully too.
Name of the Product
HP
Track
Manual Incline
(%)
Speed
(mph)
Weight
Capacity
(lbs)
Folding
Price
Exerpeutic TF1000 Treadmill
1.50
40 x 20″
No
4
400
Yes
499
SereneLife SLFTRD25
1.50
43.3×15.75''
3-Manual
7.5
265
Yes
449.99
Efitment T012
2.20
47 x 15.6″
10% Auto
9
220
Yes
409.98
Merax L510C Treadmill
1.50
43.3×15.7″
Fixed Inc
6.2
240
Yes
400
Sunny Health & Fitness SF-T4400
2.20
49×15.75″
Manual-5%
9
220
Yes
395
Xterra Fitness TR150 Treadmill
2.25
50 x 16″
3-Manual
10
250
Yes
392
Weslo Cadence G5.9
2.25
50 x 16″
2-Manual
10
275
Yes
287
Exerpeutic TF1000 Treadmill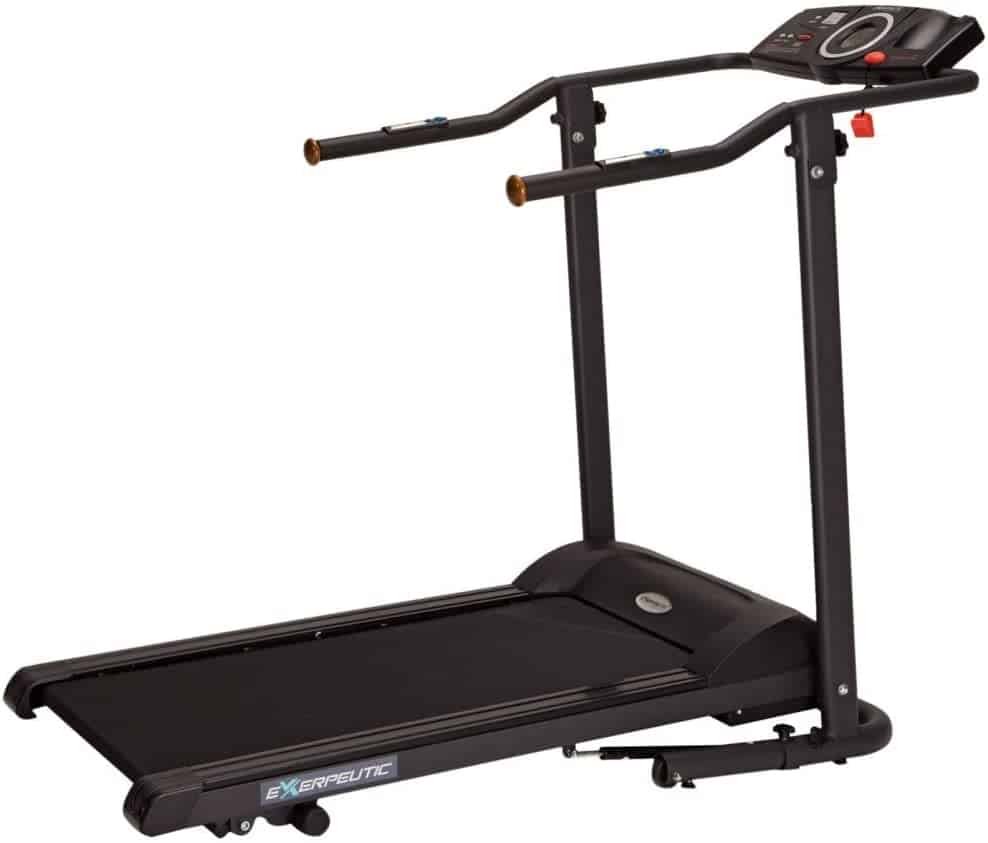 Warranty – Frame & Motor – 10yrs, Parts & Labor – 5yrs
Workout Programs – Nill
Exerpeutic TF1000 High Capacity Walking treadmill. In short, it's a treadmill for walkers of any weight. The TF1000 has a lot of capacity. Handrail-based heart rate readers are also included in the 20 x 40″ track. It has a simple data screen but no workout programmes. A vertical folding frame with transport wheels.
Exerpeutic TF1000 comes almost fully assembled. To begin, the owner must mount the data monitor to the treadmill frame. Unboxing and assembly take about 30 minutes.
Exerpeutic treadmills have a high capacity for their price range. The TF1000 can carry 400 lbs. Long handrails on this treadmill keep users safe while exercising. This treadmill does not provide workout programmes nor has an incline, unlike many others. The track on this treadmill is 20′′ wide (industry standard), but only 40′′ long.
This treadmill lacks a good impact absorption system. Cushioning is less important on walkers' treadmills than on runners' treadmills. The Exerpeutic TF1000 High Capacity Walk to Fitness Electric Treadmill is a powerful tool for "walking to fitness." It has a short track, a low top speed, and no programming, among other drawbacks.
Pros
Very good weight capacity @ 400 lbs
Walking only, treadmill.
Cons
No preset program
Very slow – Maximum speed only 4mph
Short track
SereneLife SLFTRD25
Warranty – One year limited warranty
Workout Programs – 16 preset plus Manual
The SereneLife SLFTRD25 is more expensive but has more features compared to its earlier avatar. It has an upgraded 1.5 HP motor, a slightly larger running surface, and a 3-level manual incline system. It has a relatively quiet operation and an aluminium frame with ABS side rails.
The integrated crossbar at the front base and its assembled weight of 74.96 lbs ensures enhanced stability during a workout. Transport wheels are integrated for easy relocation. When folded, its length is halved. The soft drop system using a hydraulic cylinder aids folding and unfolding. The running surface is too small for tall runners, but most people can walk, jog, and run on it. The cushioned deck reduces joint stress while jogging or running. It has Bluetooth 4.0 with a range of 16+. With the help of the FitShow app, you can track your progress and share fitness goals online.
Time, Distance, Speed, Calories, and Heart Rate are all tracked on the console's 5″ blue backlit LCD monitor. The heart rate is visible by holding contact grips during the workout. There are 16 preset workout programmes.
It includes 2 cup holders, a tablet holder, a card reader, a USB port, and built-in speakers & an MP3 port. The Slftrd25 has a 3-level manual incline system. The soft drop system aids in folding it.
Pros
Its compact and foldable design allows it to fit into a small space.
The 4-layer running surface is textured and cushioned for comfort and safety.

The 5″ LCD monitor tracks time, distance, speed, calories, and pulse.

Easy Assembly
Cons
The tread belt is small for serious runners.
Low motor capacity.
Warranty time too short
Efitment T012
Warranty – Frame: 3 years, Parts: 90 days
Workout Programs – 10 preset programs
The Efitment T012 can be classified as a "light" treadmill based on motor capacity and tread belt dimensions, but it is not exactly light when fully assembled. The metallic front base is equipped with transport wheels, so moving it should be simple. The deck's rear "feet" also have wheels.
The Efitment T012 is a small running machine. It also has a folding frame. The deck's base has a hydraulic cylinder to help you lower it.
The Efitment T012 treadmill has a 47′′L x 15.6′′W walking surface with a 1-ply rubber belt. It has four long silicone pads that absorb some of the shocks during the workout. Due to the lack of impact on your joints, walking or running on this machine is less painful.
Last but not least, the machine's paint finish. All steel parts have corrosion- and scratch-resistant powder finish. The machine's logo and part number are printed on the base in black/blue.
The Efitment T012 treadmill has a motorised incline system, so the deck angle can only be adjusted from the console. On the front of the deck are a motor and a small lever for incline. The motor powers the lever that lifts the front of the deck as you select an incline level on the console.
The incline range is 0 – 10%. The machine's console has several incline programmes that will automatically adjust the deck's slope when used.
Finally, because it is a basic motor, its power consumption is low. In other words, even if you use it daily, it shouldn't add much to your electric bill. The motor itself does not make a lot of noise, but your cadence may make more or less noise depending on your speed.
On this Efitment treadmill, the console has a large LCD display with an LED backlight. There's a timer, a distance metre, incline, calories, and heart It has a step count that other machines lack. The display also shows the distance travelled.
Only miles and MPH are shown. Because the console is not telemetric, you must hold on to the side handlebar sensors to track your heart rate. There is also a timer, distance, and calorie counter.
Before the first use, the deck should be lubricated, and then every 2-3 months thereafter. Keep the belt clean to avoid fibres or other objects getting caught in the motor. Other than that, check for loose parts and bolts and re-center the belt as needed.
Pros
15-level motorised incline (up to 10%)

0.1 MPH speed increments

LED backlight
Bluetooth for sound system
Easily assembled.
Low upkeep required.
Cons
No heart rate monitoring or online data tracking with Bluetooth
Merax L510C Treadmill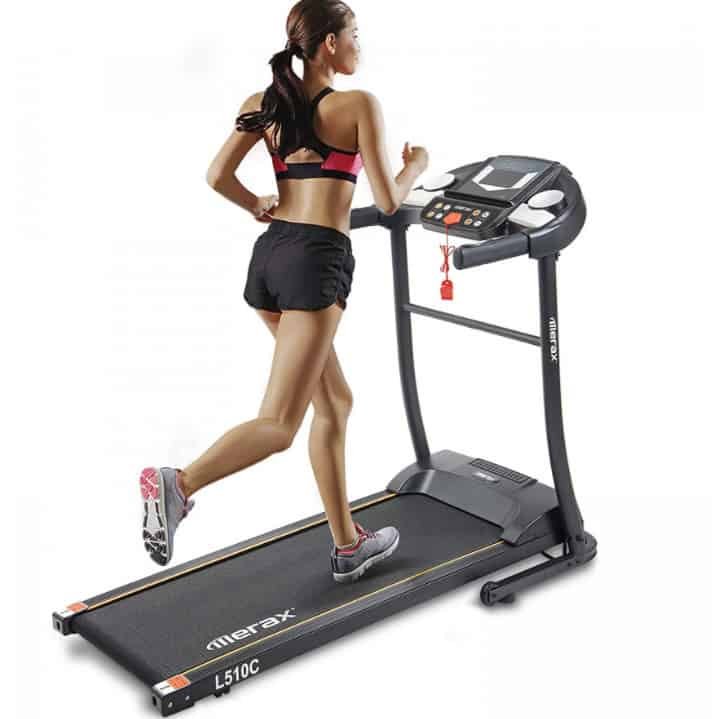 Warranty – 12 Months
Workout Programs – 12 preset programs
It's a compact treadmill that folds up for storage after use. Large cupholders provide ample storage. You can also dock your tablet in the holder.
The Merax L510C is anything but sturdy at 73 pounds. This means it's easy to move around. It also has transport wheels. Connect your phone to the Merax L510C's MP3/audio auxiliary port to listen to your favourite workout playlists. A safety clip that you can attach to your clothes activates an auto-stop function if you fall back. The handlebars have quick controls for adjusting the speed, which is limited to 6 mph.
The Merax L510C can only reach 6.2 mph, which is well below average even for models in this price range.
Although the Merax L510C has a 'manual fixed incline,' this simply means that it is fixed at a slight incline and is not adjustable. The fact that it is so compact means that it can only be used for walking, as demonstrated by the very weak motor and low top speed.
Pros
It is a compact and lightweight treadmill perfect for walking.
It has a fixed incline
Cons
It is not a very silent treadmill.
The treadmill shakes if you run on it.
There are various service-related complaints about the treadmill.
Sunny Health & Fitness SF-T4400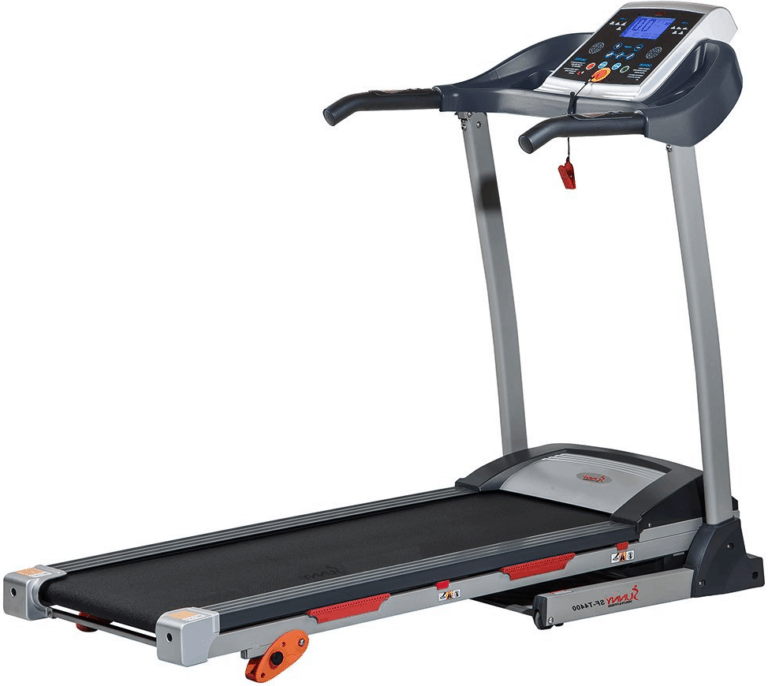 Warranty – Frame – 3 yrs, Other Parts & Components 180 days.
Workout Programs – 9 preset plus Manual
Sunny Health & Fitness SF-T4400 is a simple, budget-friendly treadmill ideal for someone looking for a walking treadmill with relatively good construction. It also has a manual incline.
The SF-T4400 treadmill has nine preset programs and a manual one. It is equipped with features like hand grips for a pulse, controls on handrails for speed, a soft drop system for folding, a safety key, a tablet holder, etc.
It can be easily folded up and stored after use. Lubrication oil and tools are also provided for maintenance.
Pros
Good feature mix.
Handgrip pulse sensors for tracking heart rate
3-speed buttons to quickly change speed.
Shock absorption technology to reduce the impact on legs, joints and knees.
Handrail controls to start, stop and adjust speed.
Two bottle-holders and a media rack
Cons
Narrow & short track for tall runners
Weight capacity low
Small warranty period
Xterra Fitness TR150 Treadmill
Warranty – Lifetime Frame,Motor- 1Yr, Deck, Parts & in-home labor – 90 days
Workout Programs – 12 preset plus Manual
The Xterra Fitness TR150 folding treadmill is one of the best in its price range for running, jogging, or fast walking. And for those looking for a low-cost home treadmill, this model is unbeatable. The motor has a power capacity of 2.25 HP, which is above average for an exercise machine at this price.
Some features are missing in this price range, which may make you want to invest a bit more in a slightly better machine. This treadmill does not have built-in speakers, does not sync with fitness apps, and has no USB port. Also, the incline (only 3 levels) is lacking for those who enjoy it.
It is a steal for the price. Most Xterra Fitness TR150 reviews on Amazon agree. It's a good basic model for home use, and the 10mph max speed should be sufficient for most runners. Who can use it? To me, this is an entry-level model best suited for beginners or intermediate runners.
Pros
Wheels for easy transport
Folding deck for compact storage
XTRAsoft cushioning prevents impact injuries.
Dashboard accessory trays and tablet holder
Assembly is quick and easy.
Cons
No Bluetooth
No room for POLAR or chest strap.
No USB port and a fan.
Not suitable for heavier runners (250 lbs).
Weslo Cadence G5.9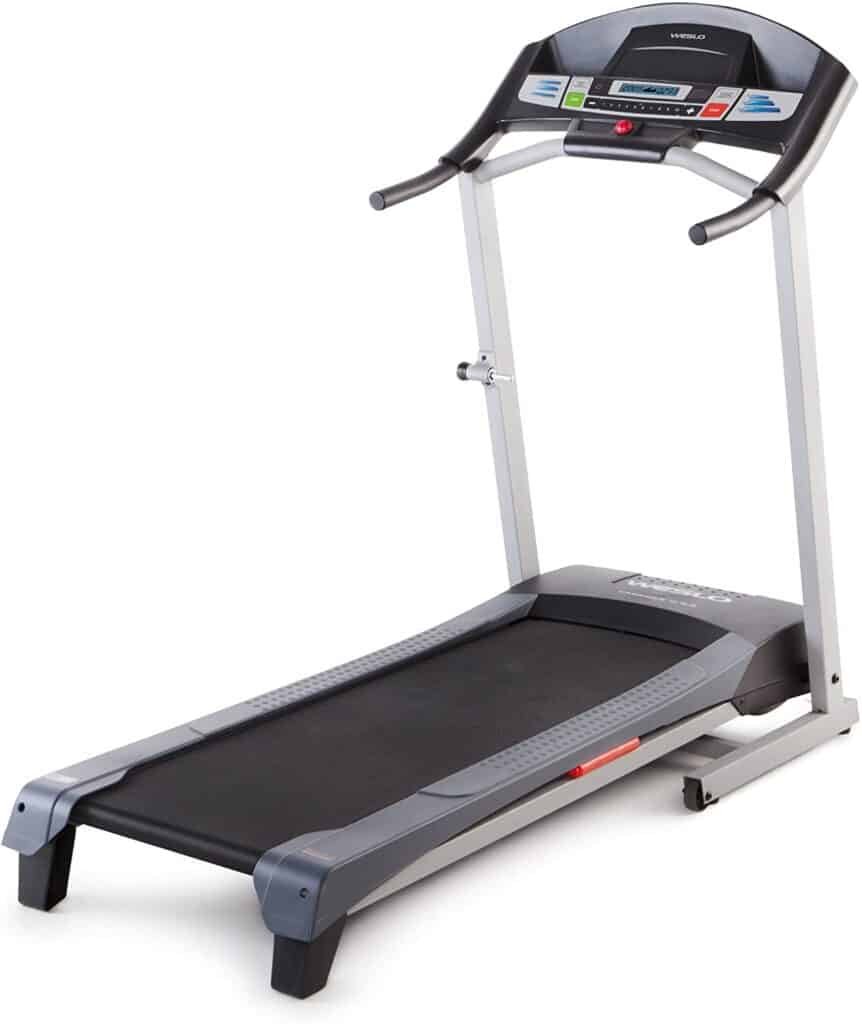 Warranty – Motor – One year, Parts- 90 days
Workout Programs – 6 preset plus Manual
This treadmill has Comfort Cell cushioning to reduce shock and joint impact. This reduces the impact on your body compared to running on concrete or asphalt.
This treadmill's LCD is blue. This display shows time, distance, speed, heart rate, and calories burned during your workout. Because the LCD window isn't backlit, you'll need good lighting over your treadmill console to see the data.
The console has a tablet holder shelf that securely holds your tablet or personal device to display iFit workouts.
A certified personal trainer has created six workout programmes for the Cadence G 5.9 treadmill. These pre-made workout programmes should help you stay motivated to exercise.
Train on the Cadence G5.9i with iFit and improve your health and life. Connecting to iFit personal trainers and programmes via Bluetooth enhances and enhances your workout!
This treadmill has a speed range of 0.5 – 10 MPH and a good motor. Using the plus/minus buttons, you can change speeds incrementally, which is impressive for such a low-cost treadmill.
A great option for light jogging or walking.
Pros
Very inexpensive
It can be folded and the deck can be flipped vertically.
Bluetooth connects to iFit free for a month.
Cons
Not for serious training
The treadmill belt is thin and the rollers small.
Deck cushioning is not as soft.
Beginner's treadmill
This treadmill is ideal for both beginners and those not very regular with their workouts, looking to lose weight or work out at home. My choice would be a low-cost option, a folding treadmill.
Do treadmill walks count?
If you can't get away from work to run on the treadmill, an under-desk treadmill may be the answer!
An incline on a treadmill adds resistance, resulting in more effective muscle workouts. Visualize jogging up a hill while on a flat surface. Guess the impact.
Why run when you can use a treadmill? Your best bet is this affordable walking option. Its small size makes it ideal for small spaces in any home. Just get on and walk!
Treadmills burn overall body fat, including from around your belly and can help you lose weight quickly.
Make sure your treadmill has a reliable heart rate monitor. This will be crucial in the future.
Suitable only for walking and light jogging.
Most cardio workouts involve treadmill running or walking. And you don't need a fancy treadmill unless you are training for a marathon. These treadmills, despite their low cost, are adequate for the job.
A good treadmill workout will benefit your entire body. Improved cardiovascular system, fat burning, and core muscle strength for more strenuous exercises. Furthermore, a treadmill workout increases blood flow and oxygen circulation while reenergizing neural connectivity.
An adjustable treadmill with quality onboard workout programmes is a huge plus. You don't have to plan your own workouts. The road works like that, right?
So you're likely doing more sitting and less walking at your new at-home desk. It allows you to exercise without ever leaving your desk. This walking device has an LED touch screen to track your workout and remote control to change speeds while walking.
FAQs
When buying a 'cheap' treadmill, you can sacrifice features but not build quality. It should rather be the best affordable treadmill rather than a cheap treadmill. It is better to understand your requirement first.
Why do you need it? For Walking, Jogging or running?
If you need a machine for some serious running then go for a higher-end model. These are good for walking, jogging or occasional running only.
Are you a serious runner or are you buying it only to keep fit?
If you are buying a machine to increase your stamina, endurance or running time then this is not the treadmill for you. This is for serious walking and jogging, for weight reduction to an extent, for senior citizens.
Are you a first-time buyer?
If you have used a treadmill earlier then you know exactly what you need from your new machine. Buy on that basis and preferably a higher-end model now.
How many hours a day it will be used and by how many members?
If you are going to use it continuously for more than 45 minutes buy a higher-end model. After every one hour run, it needs a rest for about 15 to 20 minutes.