Do you, or do you know someone else who does, have a job that requires you to sit for more than seven hours a day on a task? There is a strong possibility that you do. But have you ever heard of something like a WALK-i-TASK?
There is a strong possibility that you do. There is a correlation between sitting for extended periods of time doing your tasks and developing lower back pain, having poor circulation, and even having a shorter life expectancy.
I don't know about you, but I don't think that would be very enjoyable.
Have you ever come across the proverb that states, "Sitting is the new smoking"?
Use the discount code 'ACTIVE50' and you will additional $10 off on your purchase.
Sedentary Lifestyle
Currently, a significant number of us are working from home. We no longer stroll around the workplace, take a walk during lunch with our favorite co-workers, or even leave the house anymore. The steps that we are skipping are far more significant than the majority of us now recognize, but we are still skipping them.
These days, more than ever, we are struggling with the mental and physical repercussions that come along with leading a sedentary lifestyle (back pain, weight gain, chronic illness, etc.).
WALK-i-TASK height adjustable desk
Convert the treadmill to the walking desk. The WALK-i-TASK is an adjustable desk for your home treadmill that allows you to modify the height of the desk. So your treadmill becomes a walk desk.
Because of its ergonomic design, it enables you to do things while you are standing up, even though you would normally do them while seated.
What sets the WALK-i-TASK apart from any other desk that is currently available on the market?
It can be adjusted to accommodate the majority of different brands and models of treadmills, and it has a height adjustment so that people of varying heights may use it comfortably without having to stoop over.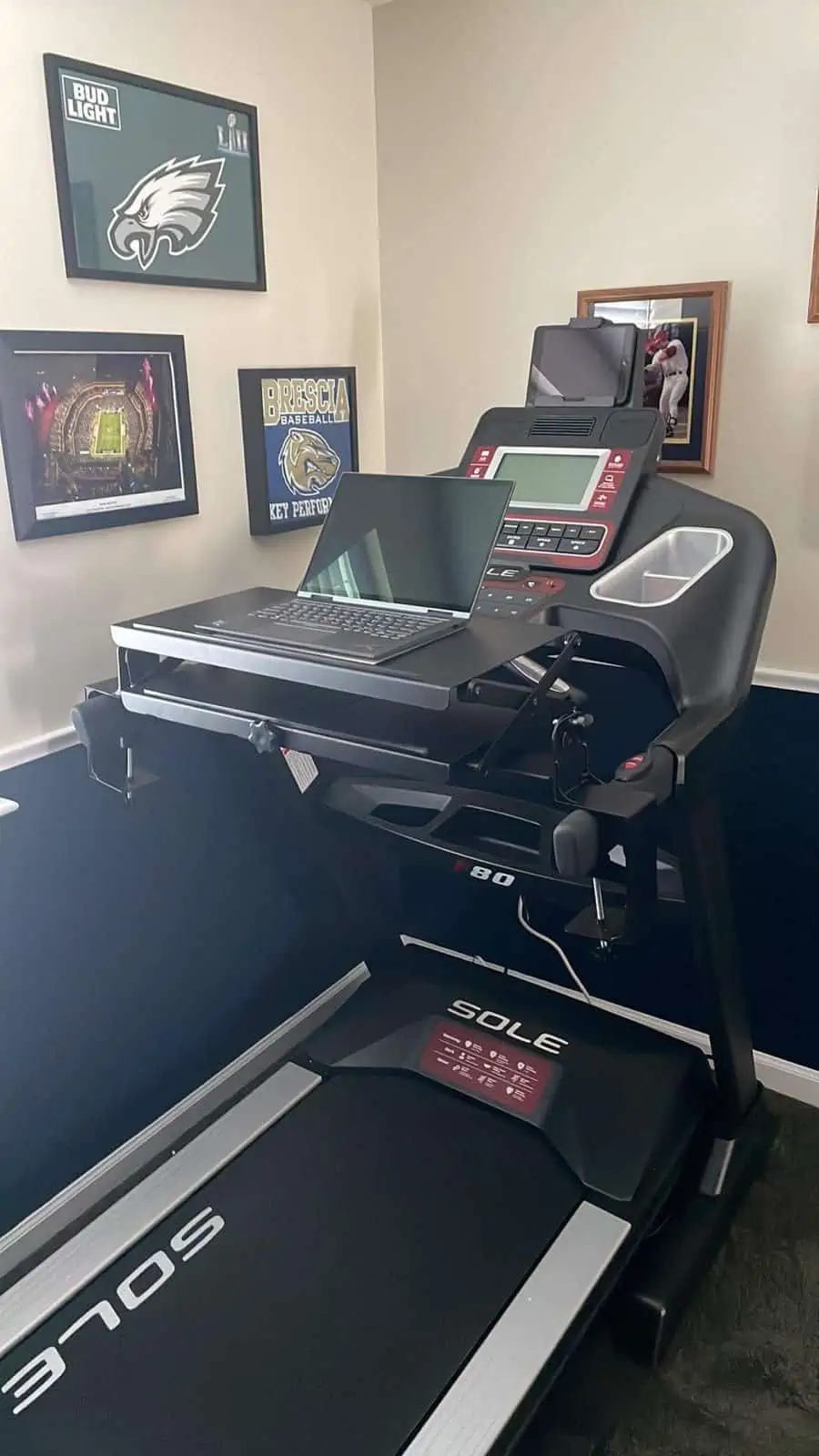 The ability to modify the height of the desk is required in order to prevent strain on the back and neck.
Product Details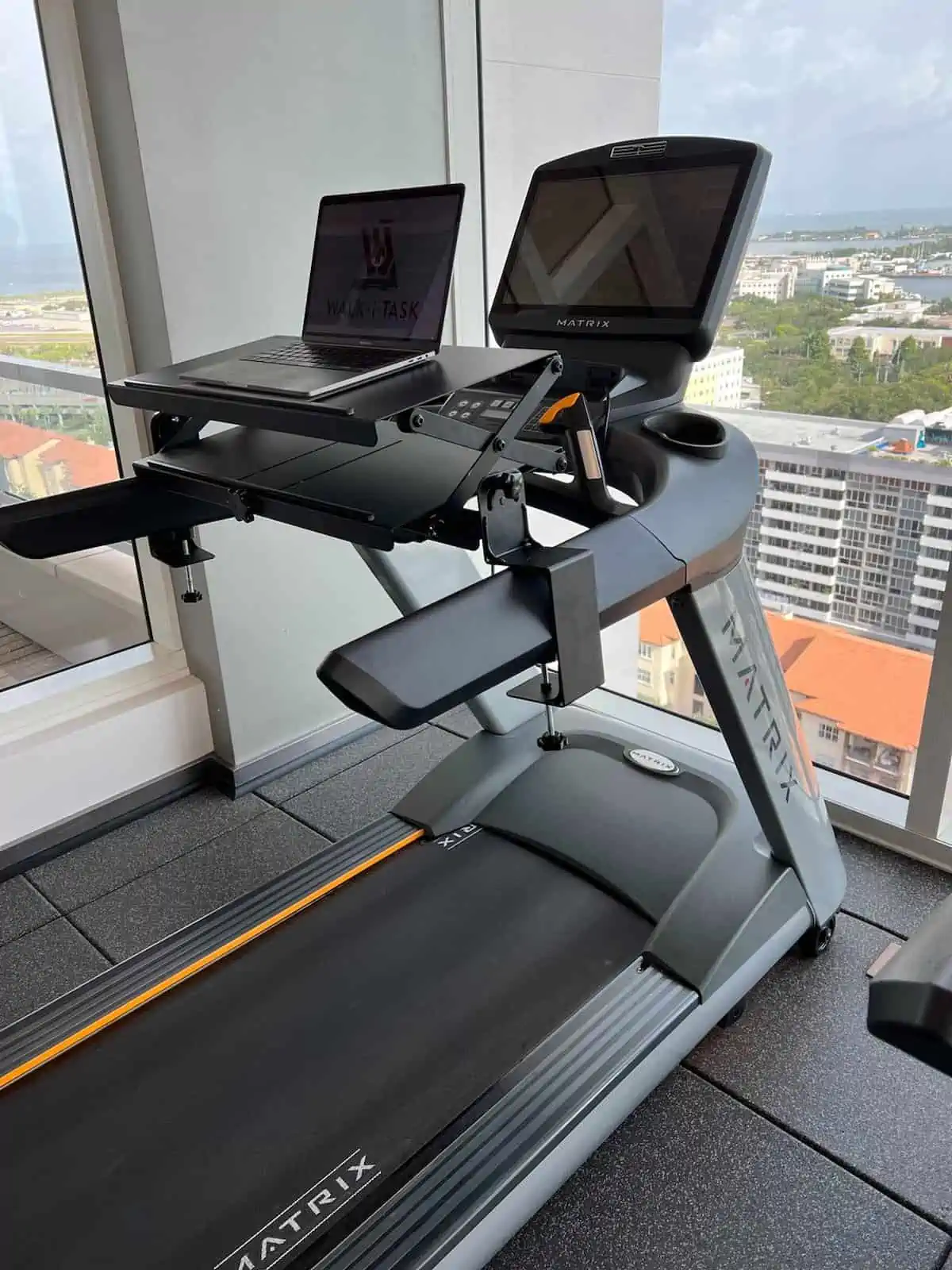 Adjustable Height For Your Optimal Comfort
Fits Most Treadmill Brands & Models
Simple To Attach & Detach From Treadmill
For A Large & Sturdy Desk For Laptops & Textbooks
Can Be Inclined To Comfortable Reading
WALK-i-TASK Features
• Height Adjustable
• Tilts To An Angle
• Adjust To Fit Different Treadmill Handrail Widths
• Secures To Treadmill Handrails By Tightening Knob
• Ventilation To Help Prevent Devices From Overheating
• Rubber Pad On Top Platform To Rest Your Wrists
Product Information
• Material: Aluminum
• Weight: 15 lbs
• Top Platform Dimensions: 23in x 12in
• Design: Patent Pending*
Many clients of WALK-i-TASK work from home, and they adore the fact that they no longer have to prioritize their careers above their health.
Did you know that walking can burn up to 250% more calories than sitting for the same amount of time?
The steps you can achieve while doing things like responding to emails, creating proposals, or participating in video conferences can be life-changing.
Is increasing the number of steps you take on a daily basis something that you or someone you know is interested in doing?
To find out more, please go to www.walkitask.com.
If the idea of walking while working makes you nervous, you may take advantage of their free trial period of 21 days to determine whether or not you truly enjoy the activity.
Walk-i-TASK provides FREE SHIPPING on their products, and there is no assembly required to set up your desk.
Have any questions?
You can get in touch with their wonderful customer support team through the website's Live Chat feature or by sending an email to info@walkitask.com.
Today is the day to start making changes to your sedentary lifestyle so that it becomes more active. You can get $45 off your order by entering the code "WALK45" at checkout.