Cardio equipment ranges from workout cycles to ellipticals.
A treadmill is hard to beat as workout equipment for home workouts. The issue is finding a cost-effective treadmill.
Compared to ultra-cheap treadmills, a treadmill under $1000 usually offers more value for money.
A budget-friendly treadmill is desirable. But, of course, you want a good deal on a good treadmill. There are some very good options in this segment.
Whether you want to walk, jog, or run on a treadmill, we have the best options for you.
Just choose the best treadmill under $1000 for yourself.
Related Reading

7 Best Budget Treadmills under $500 – Are they worth investing in?
Best Treadmill Buying Guide in 2021: Know The Complete Specs?
Benefits of Egg White Protein Powder and 9 Top Selling
A High-Quality Treadmill for less than $1,000?
You can certainly get a high-quality treadmill for less than $1,000. There are several options for treadmills priced below $1,000.
You can get a treadmill
Only for walking
For the elderly
For light running, jogging, and walking
A collapsible treadmill that you can push under a bed
You can get a treadmill with up to a 3 CHP motor. These come with very good quality parameters like 2-ply tracks, iFit technology, 22″ x 60″ tracks, lifetime warranty etc. We recommend light running for such treadmills.
Choose the Right Treadmill
Do you have enough space to keep a treadmill? There should be at least a couple of feet of space on all four sides of the treadmill.
What do you need? Do you want to walk, jog, do a light run or do marathon training?
For marathon training, you will not get a treadmill for under $1,000.
Are you sure you are going to use your treadmill regularly? We need to survey how many treadmills are being used as clotheslines at any time.
So get used to your planned exercise first for at least a quarter of a year.
Within $1000, you get limited features. For example, the maximum speed you get is 12 mph, and the incline is 15%. Not that 15% is a bad incline. Running at that speed and incline leaves me gasping within minutes, though I am a marathon runner.
Workout Programs: You get limited programs within this budget unless you opt for an iFit linked treadmill. In that case, there is a monthly instalment after the initial one-month free period.
Other treadmills will give you 5 to 30 built-in programs within this budget.
Extra Features: You get limited features within this budget. There are features like a fan, a bottle holder, a tablet holder, a bigger screen, and Bluetooth. Depending on the company and model, you might get some of these.
Choosing the Best Treadmill for Home Use
People looking for the best treadmill for home use that costs less than $1000 have a lot of choices to choose from.
Below is a comparison of treadmills that cost less than $1000.The green figures signify the highest and the red lowest. The F63 and Xterra TRX 3500 have the highest CHP motors, while the Xterra TRX 3500 has the largest track and the most built-in programs.
So if you want a higher incline treadmill for under $1000, buy the SoleF63, but if you want a treadmill for a heavy person and need a wider track, then buy the Xterra TRAX 3500.
Do not ignore the Sole F63 just because it has the lowest built-in programs, and do not buy it just because its weight capacity is the highest. You need to check all the parameters and understand your needs as well.
Similarly, do not ignore Horizon T101 just because it is the lowest on the grid. If you are less than 260 lbs., of average height, and have rarely run in your life, then maybe this one is for you. It has 30 built-in programs, which might be of more benefit to you.
And with all the specifications mentioned below, the most important thing is their service and warranty. My choice for a good treadmill under $1000 will always be one with a full warranty and the best service. The best-known names sometimes have the shortest period of warranty. Most of them, though, have a lifetime warranty on the frame and motors, which speaks volumes about their confidence in their product.
Sole is known for its best after-sales service, but it is best to check the service in your region. Service generally depends on the local agency, so it varies.
All the treadmills fold and have a hydraulic soft drop mechanism.
Best treadmill under $1000
Sole F63
A powder-coated steel structure. The Sole F63 treadmill has a fan. The vents on the console cannot be adjusted lower, which may be problematic depending on the user's height.
The 6.5-inch LCD monitor tracks workout progress and syncs with the Sole Fitness smartphone app for wireless monitoring and sharing. The software works on both iOS and Android devices so that you can track your progress on your phone in real-time. The F63 also has a built-in tablet holder, Bluetooth speakers, and a USB charging connector.
Sole F63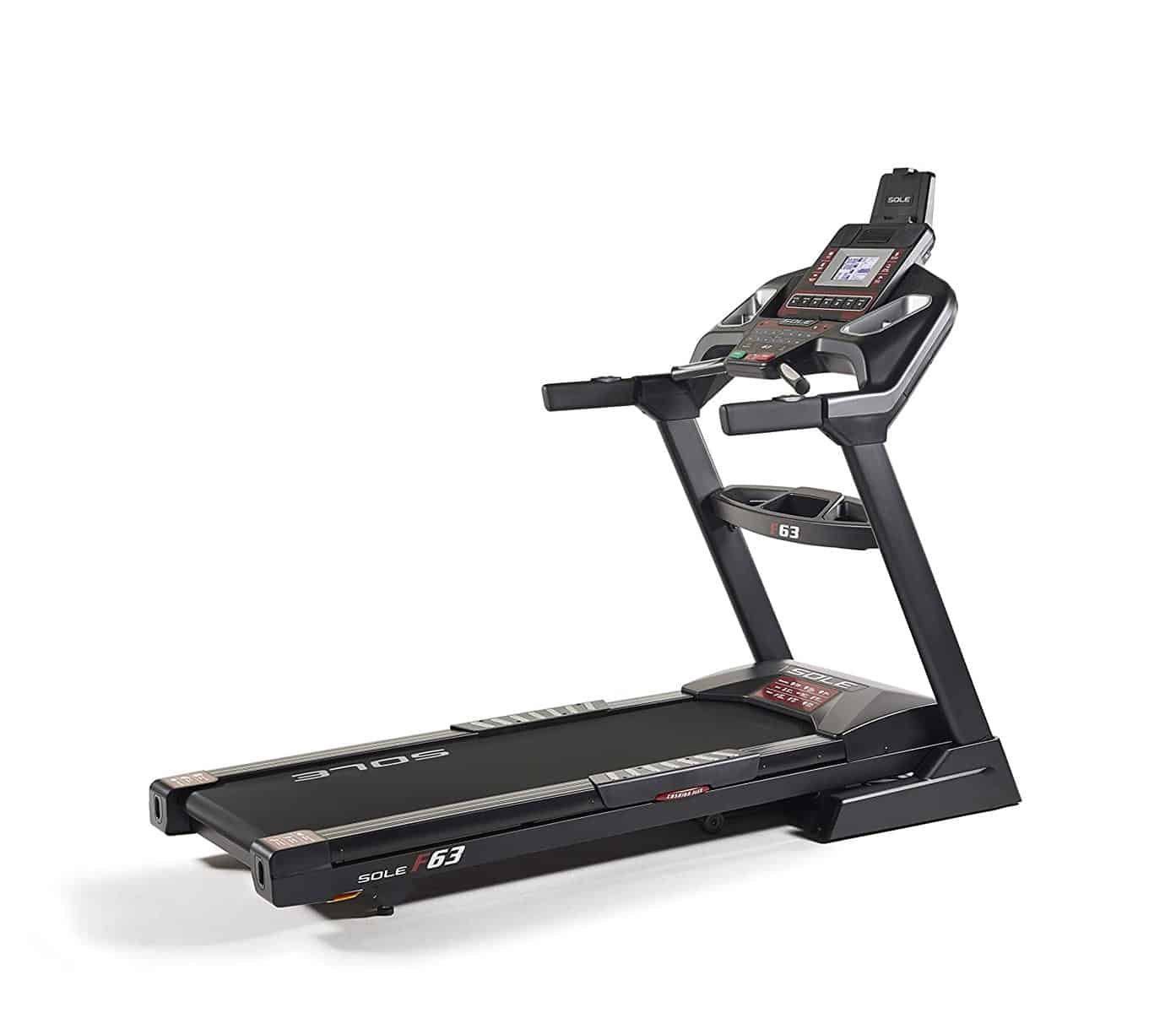 Warranty
Frame – Lifetime
Motor – Lifetime
Parts, Deck, Electronics – 3 Yrs
Labor – 1yr.
App – Sole app can connect with other applications like Fitbit and MyFitnessPal
Sole treadmills include commercial-grade components, including improved cushioning, big track rollers, and a heavy-duty engine. Its 3.0 CHP motor is kept cool by heavy-duty flywheels, ensuring longevity.
The machine is silent and has controls on the handlebars and console. The F63 has built-in contact pulse monitors and wireless chest straps for simple heart rate monitoring. You may also use your heart rate to control the machine's difficulty and change the pace of your walk or run at any moment.
The F63 has ten preset workouts to help you achieve your fitness objectives and two user profiles with personalized information. The 6.5-inch LCD screen shows you your exercise stats.
Cushion Flex Whisper Deck reduces the joint impact on the treadmill, reducing joint pain. Compared to jogging on pavement, this feature reduces joint impact by 35-45%.
It folds quickly and has a hydraulic shock aid soft drop mechanism for easy removal. In addition, it is extremely sturdy and won't wobble like many other folding treadmills in its class.
The Sole F63 is a great value for money and with a long guarantee. The commercial-grade motor and cushioned track can sustain years of dependable and pleasant usage, and the revised, longer track accommodates taller riders.
Despite some users' complaints about its poor speed changes and inclines, it consistently ranks as the best affordable treadmill under $1000. Besides the company has improved on that parameter too.
Horizon 7.0 AT
The Horizon 7.0 AT has almost all of the essential treadmill features.
Indoor walking on a cushioned surface can help improve overall mobility. In addition to a powerful motor, it can easily sync with third-party fitness apps. The treadmill's steel frame is strong and durable for long runs. The longer track is ideal for taller runners.
Its 3.0 CHP motor is durable, reliable, and quiet. It has a simple and clean interface. The top speed is 12 mph, and the incline is 15%, making running and intervals easy. The handlebars also have dials to change settings quickly.
Horizon 7.0 AT has two screens. The 7-inch upper LCD screen is not touch-enabled. It shows calories burned, heart rate, distance travelled, speed, incline, and time. There's also a 16-digit LED.
The upright handles connect to the console and have QuickDial controls for speed and incline. An intuitive hydraulic system for smooth folding and unfolding. 76.5″L x 36″W x 59″H. It folds into a V, making it difficult to store. Seven preset programmes You can just run and set your speed. Both screens show your stats if you run manually.
The Horizon 7.0 AT's 60-inch length allows taller users to stride fully. There is room to walk or jog. The 20″ x 60″ deck allows taller runners with longer strides and heavier runners. The belt is 1.6 mm thick, and the roller is 2.5 inches. A three-zone variable response cushioning system, like the Horizon 303, reduces joint impact and allows runners to run longer and faster.
This treadmill weighs 253 lbs. and has a 325 lb. weight capacity, making it difficult to move. However, the machine's Bluetooth can connect to Zwift and sync stats. You can stream workouts to your treadmill via Bluetooth using the tablet holder. It syncs with Peloton, Map My Run, and ViaFit. Horizon 7.0 comes with AFG PRO or Netflix on the tablet rack.
The 7.0 AT console has a small fan near the base, but it doesn't blow much air. The 7.0 AT's curved handlebar pulse grips are stylish and functional. Bluetooth speakers allow you to stream music from your Bluetooth-enabled devices. While streaming classes, you can charge your phone or tablet via USB.
It should be the low-cost treadmill of choice. The main competitor of the Sole F63, it is the best treadmill under $1000 and outperforms Sole F63 on a variety of parameters.
Xterra TRX 3500
The XTERRA TRX3500 is a dependable treadmill and the best value for money. The workout track is substantial for the price, and the belt can go up to 12 mph.
XTERRA treadmills self-fold to save space. The TRX3500 console has 30 preset exercise routines and accepts a wireless chest strap for use with a heart rate-regulated exercise. Wireless heart rate control is uncommon on a treadmill under $1000.
Xterra TRX 3500
Warranty
Frame – Lifetime,
Motor – Lifetime,
Deck & Parts – 2 Yrs,
In-Home Labor – 1yr.
XTERRA home treadmills are among the most value-for-money choices with excellent quality. The TRX3500 is big enough to run and small enough to store and has a nickel-coloured frame. XTERRA exercise belts are two-ply and noticeably thick. Thick belts make treadmills quieter. Controls for speed and inclination are integrated into the handlebars and console.
XTERRA treadmill decks have two shock deflection settings. You can run with or without padding as per your preference and choose the five to 99 minutes duration. It also has two user profiles. Each user may store two workouts.
The TRX3500 treadmill provides pulse-controlled exercises. The treadmill's heart rate management software helps you exercise at your desired heart rate. You may use a wireless chest strap with it.
ProForm Carbon T7
The Carbon T7 is compact and is a good bargain treadmill under $1000 for power walkers, hikers, and joggers.
The first month of an iFit subscription is free for the Carbon T7. The Carbon T7, with 2.6 CHP, is suitable for walking and jogging but not running. The track length is also short for runners over 6 feet tall. The top speed is ten mph, the incline is 10%, and the rollers are 1.9 inches thick. Likewise, the maximum weight capacity is 300 lbs. The carbon T7 weighs 223 lbs.
ProForm Carbon T7
Warranty
Frame – 10 yrs,
Parts – 2yrs
Labor – 1yr.

App – Interactive Plan – IFit with hundreds of distinct exercises
The Carbon T7's iFit's smart HD training screen is 7 inches big. A one-year iFit subscription gives you access to virtually unlimited training sessions and Google Maps trails. iFit trainers can automatically adjust the pace and incline of your T7 treadmill during workouts. T7 has no built-in programs, which is surprising. The treadmill is free with a three-year iFit subscription.
If you want to walk or run, the foldable treadmill's deck isn't the most cushioned on the market, but it's good for both. It has ISO Flex Cushioning for excellent joint protection. It's got a full-deck shock-absorber. The 20×55-inch ISO Flex deck provides a softer landing surface for your legs so you can work out comfortably.
The Carbon T7 has a SpaceSaver design that folds the deck to save space. The T7's EKG-grip pulse heart rate sensor can monitor your heart rate. It's not the most precise method, but it's simple.
You can't use the iFit with your tablet because it lacks Bluetooth. You can listen to music or watch videos on the two 2-inch speakers and connect your mobile device via the auxiliary audio connector. It has a cool air fan and one-year parts and labour warranty.
This is the best buy as a treadmill under $1000 if you want to use iFit.
Schwinn 830
Schwinn treadmill monitors provide more input than normal, including time, speed, distance, laps, calories, heart rate, and incline. The machine can store four user profiles. It also records your development over time. After each exercise, you may view your previous session, seven days and 30-day metrics. You'll also see your best calorie burn and exercise time.
Schwinn provides the 830 treadmills with a sturdy exercise belt. The belt also runs over 2.5-inch crowned rollers, which are class-leading. The 830 treadmill console includes a ledge for a smartphone, a USB charging port, and speakers.
The Schwinn treadmill's built-in pulse sensors are on the handlebar. Separate wireless heart rate transmitters are also available. The new Schwinn 830 comes with 22 workout programs that regulate the treadmill's pace and inclination. They're categorized by heart health, interval, and weight loss. Each user may also store two custom procedures.
The 830 has a media ledge, a USB charging port, smartphone-compatible speakers, and a three-speed fan. The 830's deck is thinner and not as sound-absorbing. The suspension for the 830 decks is basic. Customers will notice outstanding features like goal monitoring and Bluetooth telemetry.
With 22 workout programs, it is only second to Xterra, but it has various other features not available on any treadmill under $1000.
NordicTrack T Series 6.5S
This foldable frame treadmill has a commercial-quality motor. The running belt has FlexSelect Cushioning. With this function, you can simulate road jogging or provide extra padding to minimize stress on your joints.
Your teacher can change the slope and pace throughout your live exercise session. It interacts with iFit's Google Maps component, allowing you to run or stroll on paths all around the globe. Run, and the inclination function will change to match the terrain's hills and dips. It will help you get more exercise.
NordicTrack T Series 6.5S
Warranty
Frame – 10-yrs
Parts – 2 yrs
Labour – 1 yr
App – One month iFit subscription with 100s of exercise plans and Google Maps
The T 6.5 Si has a 10-inch HD touch screen display, enabling optimal viewing of training programs and scenery. There is no built-in fan, but two large storage/cup holders are there. It features two built-in speakers and an auxiliary audio connection but no USB charging connector. The machine has 20 built-in exercise routines that are free forever.
There are more programmes on the T 6.5 Si than on other treadmills in its class, even without the free 1-year iFit subscription.
The running track is too small for tall runners over 6 feet tall. The speed and incline are slightly lower than on other treadmills.
If you want to use iFit, you have another choice choose a treadmill under $1000.
Lifespan TR1200i
The LifeSpan TR1200i treadmill is a well-made and reasonably priced piece of fitness equipment. Expert treadmill reviewers and consumer organizations have praised this treadmill a lot.
It has 17 preset routines, two heart rates, and two user-controlled programs that offer plenty of exercise variation. You may choose three intensity levels for the predefined routines and 15 inclination levels. Members of the LifeSpan Fitness Club may also download personalized exercises.
Lifespan TR1200i
Warranty
Frame and motor – Lifetime
Parts – 3 yrs
Labour – 1 Yr
App – Lifespan Fitness Club & Lifespan Data monitoring Service
The two-ply belt and broad rollers are more durable than other entry-level treadmill belts. Shock absorbers and a cushioned deck support it.
The 56-inch tread belt might be a bit short for runners who are over 6 feet. It has a strong motor to control its 15 inclination levels. A powerful 2.5 CHP motor has enough power for lengthy jogs and doesn't stutter during speed adjustments.
The TR1200i has high-fidelity speakers and a smartphone port. Buttons on the handlebars control exercise intensity or activate a heart rate monitor. It stores exercise data on a USB. The trainee may then go online and receive comprehensive workout records or personalized training programs.
You'll overheat without one, so get one with this treadmill.
LifeSpan's data monitoring service is only available for four months with new treadmills. Then you must purchase a subscription. But the personalized exercises are worth the small membership cost for a lifetime.
Lifespan has certain very well-established treadmills, and the TR1200i is another very good treadmill under $1000.
FAQs
Are treadmills under 1000 worth it?
Yes, there are some very good treadmills costing less than $1000.
How much does a good quality treadmill cost?
That depends on your requirement. If you need a treadmill for a half n hour walk every day, you can get it for around $500. On the other hand, if you need a treadmill for your next marathon training you will need a 4HP work horse costing close to $2000.
Can you get a good quality treadmill for under $1000?
Yes, we can get some very good quality treadmills for under $1000 that are mainly good for walking.
What is the best treadmill under 1000 dollars?
The treadmills mentioned in this article are all under 1000 dollars and are the best in the category.