Low Carb Protein Powders or Carb Free Protein Powder? What is the carb content of a low carbohydrate protein powder? Last year, we published an article on the Best Protein Powders. We've got a lot of questions about the carbohydrate content of these. Various kinds of protein powder with carbs are available on the market, including no carbs, low carbs, and high carbs. As a result, we published another article about higher carbohydrate levels.
Related Readings – High Carbs Protein Powder

10 Best Mass Gainers: 1000 Calories in 1 Scoop of Weight Gainer
7 Best Weight Gainers on The Market: Still, Do You Need Them?
Best treadmill under $1500: Tough Choice in a Popular Range
Low Carb Protein Powder for Weight Loss
The main reason for its demand is the weight loss industry and, particularly, the Keto Diet.
You can achieve Ketosis by consuming only 10% of your calories from carbohydrates. However, according to another study, 35 gm of carbohydrates is sufficient to initiate Ketosis.
According to the American Dietary Guidelines, carbohydrates can account for 45 to 65 percent of daily calories. So, if you consume 2,000 calories a day, carbohydrates should account for between 900 and 1,300 calories. But a person on the Keto diet has to limit it to 10% only. As a result, he must consume only 200 calories from carbohydrates and, in effect, 50 gm of carbohydrates per day because one gm of carbohydrate equals four calories.
We can fulfill the requirements of carbohydrates with other whole foods that we consume throughout the day. So managing that isn't an issue, or is it? Keeping it so low is difficult if we already eat a high carb diet at home.
The difficult part is increasing fat consumption to 70% of the total diet. The dietary reference intake (DRI) for fat ranges from 20% to 35% of total calories in adults. If you consume 2,000 calories a day, you can consume between 44 and 77 gm of fat. But under Ketosis, this has to be increased to 70%, i.e., 1400 calories should come from fat. Fat amounts to 156 gms from any source of fat per day, at a rate of 9 calories per gm. Some kinds of fat are advised to be consumed in greater quantities because they provide health benefits.
As a result, you must consume eggs, lamb, chicken, and various other meats and seafood. Fish is also mostly carb-free. Similarly, except for starchy root vegetables, most vegetables are low-carb foods. For added fat, there's coconut oil, coconut milk, almond milk, and almond butter.
Best Low Carb Protein – Home Food
During Ketosis, to keep our food balanced, we need to check our sources of protein. It is critical that the protein source, whatever it is, is low in carbohydrates and high in fat content. In addition, a person on a Keto diet needs to keep protein intake in control as only 20% of calories should come from all protein types.
According to the Centers for Disease Control and Prevention, protein should account for 10% to 35% of your daily calories. However, during Ketosis, it must be limited to 20%, which is 400 calories on a 2000 calorie diet, or 100 gm of protein per day. It is because proteins have a calorie content of 4 per gm.
We should first try and achieve our daily protein requirements from whole foods only. Homemade protein shake recipes are becoming popular for this reason. This meal replacement shake aids in dieting as well.
For additional protein replenishment, you can add unflavored protein powders, though there are various flavored varieties.
Types of Low Carb Protein Powders
We studied about 116 brands worldwide to select the best low carb, low calorie protein powders. And there are dozens of them on the market. So why not look at gm of protein rather than carbohydrates? Why not go for protein powders that have no carbs?
We can try Collagen Protein powder, which is usually without carbohydrates. Various other options are available, such as pumpkin seed protein, hemp protein, beef protein, etc. All these are Keto-friendly protein powders. However, many people, including vegans and vegetarians, do not prefer meat-based proteins.
Various plant-based protein powders and egg protein powders are either low in carbs or have no carbs at all. That is another reason why vegan protein powders are being preferred now.
Though brown and white are high in carbs, a low-carb rice protein is available on the market.
We can have protein powders that have artificial sweeteners like Stevia that do not have carbs. Then, you can use the same thing to satisfy your sweet tooth if needed.
Benefits of Keto Diet
Low carb diets with extra gms of vital proteins are safe and effective in most clinical trials and have several proven health benefits. So, low-carb protein shakes are becoming more popular.
Various benefits of protein are already known to us.
A protein boost during Keto dieting helps in reducing weight as well as building muscles.
Dieting's greatest side effect is typically hunger. It's one of the biggest reasons that so many people are unhappy and give up. Low-carb eating, on the other hand, causes a reduction in appetite. (1) Trusted Source
More Initial Weight Loss
The initial weight loss which happens due to the depletion of carbs, water and protein is the fastest. In fact cutting carbs is one of the simplest and most effective ways to lose weight initially. Studies illustrate that low-carb diets lose more weight faster than low-fat diets, even when the latter actively restrict calories. (2)
Does Keto Burn Stomach Fat?
Visceral fat tends to lodge around your organs. Excess visceral fat is associated with inflammation, insulin resistance and may drive metabolic dysfunction. Low-carb diets along with strength training are very effective at reducing this harmful abdominal fat. (3) Triglycerides tend to drop drastically. These are fat molecules that circulate in your bloodstream. (4)
Increased Levels of 'Good' HDL Cholesterol
The higher your levels of HDL relative to LDL, the lower your risk of heart disease. One of the best ways to increase HDL levels is to eat low-carb diets that include a lot of fat. (5)
Reduced Blood Sugar and Insulin Levels
Low-carb and ketogenic diets can also be particularly helpful for people with diabetes and insulin resistance, which affect millions of people worldwide. (6)
Let me now share the list of the ten best lowest carb protein powders in the USA. These are also low cholesterol protein powders, with some of them having zero cholesterol.
MyProtein The Whey
Serving Size – 32 gm
Calories – 120 gm
Proteins – 25 gm
Carbs – 2 gm
Fat – 1.5 gm
Cholesterol – 10 mg
In addition to three kinds of whey, it includes enzymes that may help it digest quicker than other proteins. Its enzyme combination of three whey kinds may help it digest quicker. Whey Isolate, Concentrate, and Hydrolyzed. The enzymes may help with digestion as well as absorption. I've never seen a protein powder so focused on delicate stomachs.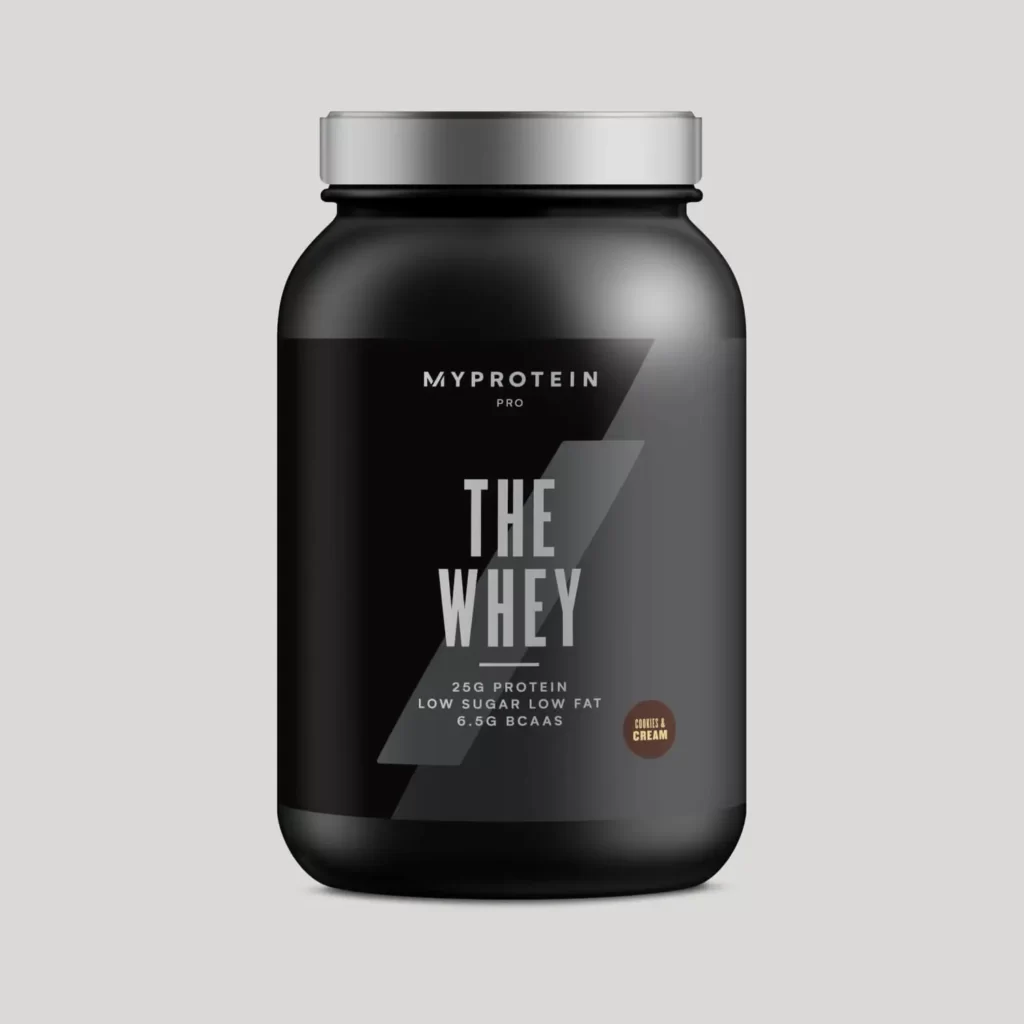 The protein-to-calorie ratio is good. It's a whey protein with all the necessary amino acids and some BCAAs. The price is approximately typical for whey mixtures, if not a bit high.
With more protein and less fat than MyProtein's Impact Whey, it does absorb quicker. It is a good protein if you don't mind artificial ingredients and most protein powders upset your stomach.
Gold Standard 100% Whey Protein Powder
Serving Size – 30.4 gm
Calories – 120 gm
Proteins – 24 gm
Carbs – 3 gm
Fat – 1.5 gm
Cholesterol – 35 mg
It is the best tasting low carb protein powder. It's one of the most flavorful powders. It's also my favorite.
Consider this tested whey protein powder a cost-effective and dependable product. The term "Gold Standard Whey" is appropriate since it is the gold standard. It is a perfect economical choice for those looking for a whey protein supplement.
Optimum Nutrition has also compiled a list of recipes that use the powder. The powder is both clean and accurate, as well as having a good feel. Many bodybuilders and experts highly recommend it.
Garden of Life Organic Grass Fed Whey Protein
Serving Size – 33 gm
Calories – 130 gm
Proteins – 22 gm
Carbs – 7 gm
Fat – 2.5 gm
Cholesterol – 65 mg
Are you worried about your stomach? Along with the 21 gm of protein per serving, this certified organic whey protein powder comes from grass-fed cows and includes probiotics that aid digestion.
For a fair price, this Organic Non-GMO Project Verified powder contains plenty of protein, as well as BCAAs and probiotics. The powder is available in five different flavors at an affordable price.
Whey Protein Naked Whey
Serving Size – 38 gm
Calories – 160 gm
Proteins – 25 gm
Carbs – 8 gm
Fat – 3 gm
Cholesterol – 50 mg
Naked whey protein powder is devoid of both flavors and sweeteners, leaving only the whey. According to the manufacturer, cold processing ensures that no chemical detergents, plastic ingredients, or heavy metals contaminate the supplement.
Muscle Pharma Combat Protein Powder
Serving Size – 33.6 gm
Calories – 130 gm
Proteins – 25 gm
Carbs – 4 gm
Fat – 1.5 gm
Cholesterol – 46 mg
A combination of fast-acting whey protein and slow-digesting casein fuels muscle regeneration and development, thus quelling post-workout hunger pangs. In addition, drinking 20 gm of casein protein combined with water makes us feel fuller than drinking whey or pea protein solutions.
Legion Athletics Whey Isolate Protein Powder
Serving Size – 28.9 gm
Calories – 100 gm
Proteins – 22 gm
Carbs – 3 gm
Fat – 0 gm
Cholesterol – 0 mg
It is a cholesterol free protein powder. It's made from grass-fed milk from small Irish dairy farmers and has a few additional ingredients.
It is also a zero sugar protein powder.
Instead, Stevia, a plant-based sugar substitute, is used to sweeten it. Antibiotics, hormones, and GMOs are also absent from the powder. Legion Athletics promises a full refund within 90 days of your order date if you are not happy for any reason.
Dymatize ISO 100 Whey Hydrolyzed
Serving Size – 30 gm
Calories – 110 gm
Proteins – 25 gm
Carbs – 1 gm
Fat – 0 gm
Cholesterol – 10 mg
This ultra-pure whey isolate packs a punch in terms of protein and taste. If you combine your protein with milk, your drink becomes a delicious vanilla milkshake. In addition, it makes use of hydrolyzed isolate protein, which aids digestion and absorption.
The powder received high marks for its nutritional value and product purity tests. However, it has little impact on the digestive system.
Raw Grass Fed Whey
Serving Size – 25 gm
Calories – 97.5 gm
Proteins – 21 gm
Carbs – 2 gm
Fat – 1 gm
Cholesterol – 52 mg
Whey is produced without the use of growth hormones from pastured cows raised on organic farms. Instead, it is a whey protein used by bulked-up growers.
As a result, it's gluten-free, herbal, soy-free, and sugar-free. In addition, heavy metals, antibiotics, poisons, and mycotoxins are screened for in Raw Organic Whey by third-party laboratories. You can find the test details on the company's website.
Cellucor Whey Protein Isolate & Concentrate Blend Powder
Serving Size – 31 gm
Calories – 120 gm
Proteins – 24 gm
Carbs – 4 gm
Fat – 1.5 gm
Cholesterol – 35 mg
It is one of the easiest and most cost-effective choices, and it also tastes fine. According to the reviewer, Wirecutter recommends it because of its flavor, and the texture is smooth, dense, and foamy. Its silky smoothness is unrivaled. It is gluten-free, contains whey concentrate, isolates low cholesterol, and contains protease and lactase to aid digestion and absorption.
Isopure Zero Carb
Serving Size – 31 gm
Calories – 100 gm
Proteins – 25 gm
Carbs – 0 gm
Fat – 0 gm
Cholesterol – 10 mg
ISOpure is a very high quality, no carb protein powder. It has only protein calories and nothing else, no carbs and no fats or very little depending on flavor. As a result, it is isolated and has a devoted following among bodybuilders and athletes.
Besides, due to its zero carbs, it is also very popular with weight watchers. It comes in various flavors and sizes. It also has various minerals, vitamins, and additional amino acids for additional benefits.
BSN SYNTHA-6 Protein Powder Isolate
Serving Size – 47 gm
Calories – 200 gm
Proteins – 22 gm
Carbs – 15 gm
Fat – 6 gm
Cholesterol – 70 mg
BSN Syntha 6 is a protein powder that releases protein slowly over a long period. It delivers a steady supply of amino acids to your muscles by combining six different protein sources in a creative mix.
It isn't the cheapest protein powder on the market, but it is moderately priced and offers excellent value with the wide variety of high-quality protein sources it uses.
Trusted Source
(1) Studies consistently show that cutting carbs and increasing protein and fat intake results in far fewer calories consumed. Therefore, cutting carbs can help you lose weight by lowering your appetite and calorie intake.
(2) In studies comparing low-carb and low-fat diets, people restricting their carbs sometimes lose 2–3 times as much weight without being hungry.
(3) This should lead to a drastically reduced risk of heart disease and type 2 diabetes over time.
(4) Triglycerides are fat molecules that circulate in your bloodstream.
(5) Low-carb diets tend to be high in fat, which leads to an impressive increase in blood levels of "good" HDL cholesterol.
(6) The best way to lower blood sugar and insulin levels is to reduce carb consumption, which may treat and possibly even reverse type 2 diabetes.
Healthline.com