Benefits of unflavored protein powder described by a company spokesperson – It contains 25 gm of protein per serving and is lactose-free, gluten-free, and non-GMO.
Introduction
You need protein powder to back yourself up to get that extra oomph in the gym. However, some taste like trash when taking protein powder, especially the unflavored ones.
What does unflavored protein powder taste like?
For unflavored whey protein, the milk-derived flavour and aroma are best described. We have researched various unflavored protein powders that will tickle your taste buds.
Let's see the 11 best-unflavored protein powders on the market today.
Why Choose Unflavored Protein Powders?
With flavored and unflavored protein powders on the market, people often get confused about which works best for them. However, unflavored protein powders have enough benefits to becoming a regular diet staple.
Also, unflavored protein powders can be plant-based, unflavored egg white powder, unflavored whey powder, or unflavored casein powder. Unflavored protein powder comes with no artificial sweeteners, flavors, or colors. It makes it possible to create delicious protein shakes by adding bananas, strawberries, berries, etc.
Therefore, if you are health-conscious and do not want to use additives or artificial flavorings, go for the unflavored version. It is going to be useful for you in every way. You can keep your diet as clean as possible to keep yourself in shape.
The Benefits of Unflavored Protein Powders
The Flavor of Your Choice
The unflavored powders are better if you prefer to control your protein shakes and smoothies' taste and components. You can have sugar-free protein shakes and add flavors as per your desire.
It is less costly.
No-flavor protein powder is cheaper since it does not need blending or other requirements. Buy the unflavored variety, as it is less expensive.
More Protein
If you buy unflavored isolate, you will quickly realize it has more grams of protein per serving than other whey powders, but it is still less expensive.
No Artificial Sweeteners
Many health-conscious people choose the best protein powder unflavored to avoid artificial sweeteners, sugar, and flavors that may cause digestive issues.
Various consumption options
The number of ways to use tasteless protein powder is far greater than that of flavored protein powder. You can use it in shakes and smoothies, but you can also knead it in any flour you want and use it for cooking, baking, frying, etc. Cooking with chia seeds may double the protein and is easy and fun. You may have to experiment a lot with recipes. The sky's the limit.
Sugar-Free Protein Powder
The No-taste protein powder without artificial sweeteners and flavors is a more flexible alternative that may save you time and money. We all have different objectives, health concerns, preferences, and allergies, but we all want a quality protein supplement.
Unflavored whey has some appealing features. But, in the end, it's up to you. Flavorless protein powder is the way to go if you want to control what you put in your body, have taste diversity, and have the sweetness you want.
No unnecessary ingredients
A high-quality, flavorless whey protein powder has 1–3 components. No more unnecessary ingredients.
A balanced diet and fitness regimen include a daily protein requirement. Eating complete proteins like whey as we age is essential to keep our muscles healthy. It is an unflavored, guilt-free protein powder. But how to use it?
Once you know how much protein you should consume daily, you can experiment with dishes. Smoothies and shakes are obvious options, but protein powder isn't restricted to sugary beverages.
Unflavored protein powder is more versatile. Fruity Rich Chocolate protein powder is more neutral than Fruity No Taste.
You can even make garlic bread, fried chicken, etc. The options are limitless.
Remember that bland doesn't mean protein powder is tasteless. If you don't like the taste or texture of unflavored protein powder, you may disguise it with nuts, butter, cheese, fruits, chocolate, or herbs. Add it to milk with peanut butter, and double your protein intake. If you're unsure, start with tiny quantities of powder and work your way up until you start to like it.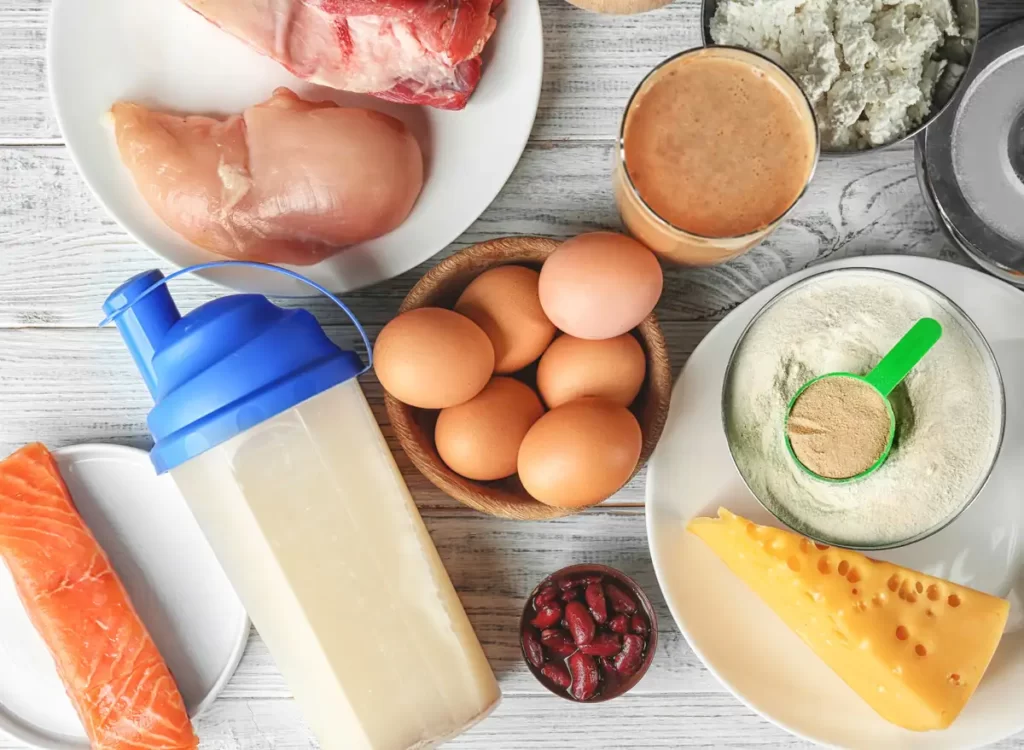 Interesting Read

Facts on Creatine Powder: Important FAQs and 9 Best Sellers
Collagen Powder Ultimate Benefits and 9 Best Selling in 2021
Top 7 Manual Treadmills: The Lowest Costing & Most Useful
Best Unflavored Protein Powders
Here we have a variety of protein powders to make no-sugar protein shakes.
Protein Powder
One Serving
(gm)
Protein
(gm)
Sodium
(mg)
Carbs
(gm)
Fats
(gm)
Kcal
Naked WHEY 100% Grass Fed Protein
30
25-83%
45
3
2
120
NOW Sports Nutrition, Soy Protein Isolate
24
20-89%
170
0
0.5
90
Isopure Zero Carb
29
25-100%
160
0
0
100
Orgain Organic Plant Based Protein
36
21-60%
190
7
4.5
140
GNC Pro Performance 100% Whey Protein
33.6
24-74%
60
4
2
130
BulkSupplements Whey Isolate Powder 90%
30
27-94%
75
<1
<1
115
PlantFusion Complete Protein
28
21-70%
390
2
3
120
TGS Whey Protein Powder
30
25-77%
55
2
2
130
It's Just – Egg White Protein Powder
16
13-74%
210
<1
0
70
Quest Nutrition Multi-purpose Protein
28
23-92%
115
<1
0.5
100
UNJURY Unflavored Whey Protein Powder
24
21-93%
55
0
0
90
Naked Whey 100% Grass Fed Unflavored Whey Protein Powder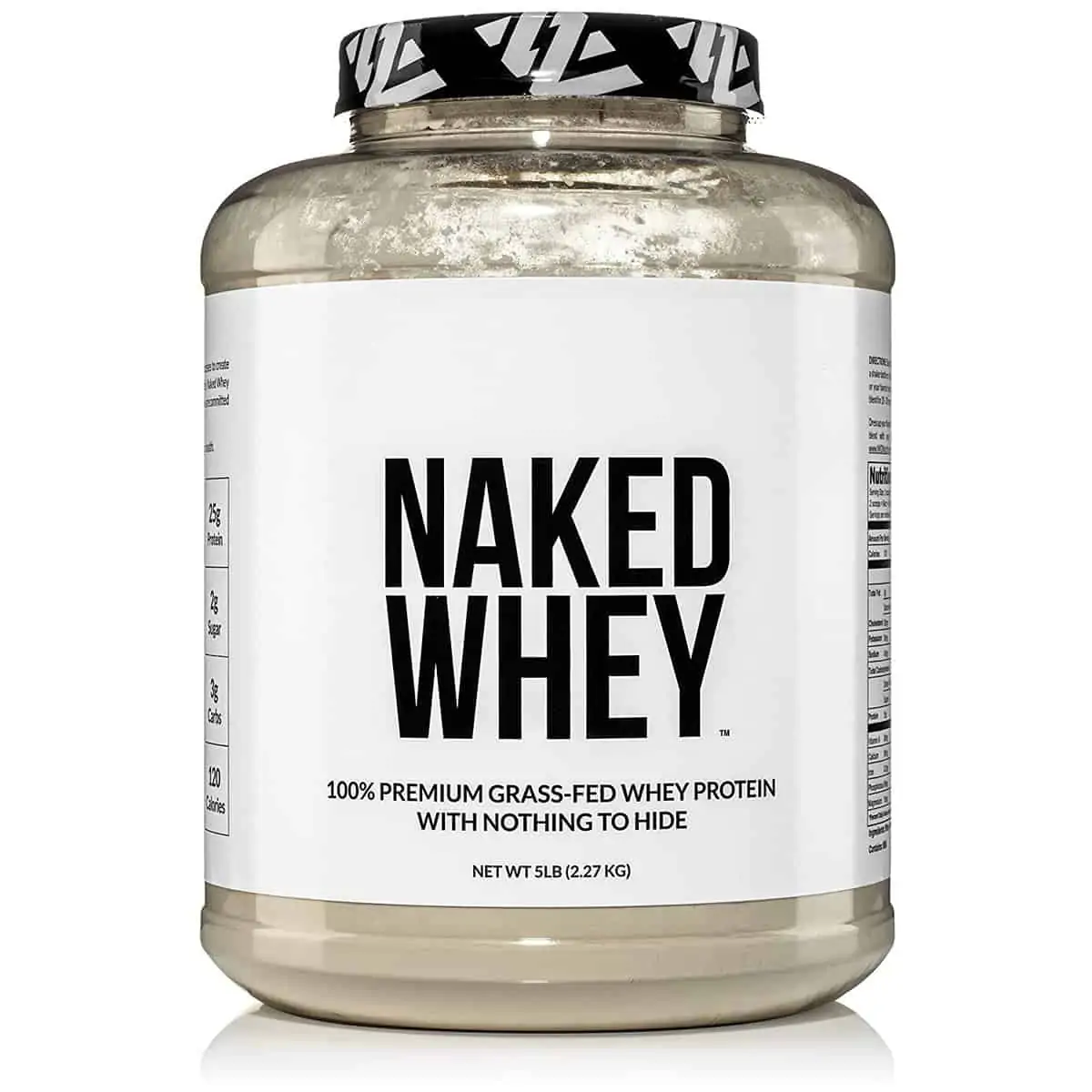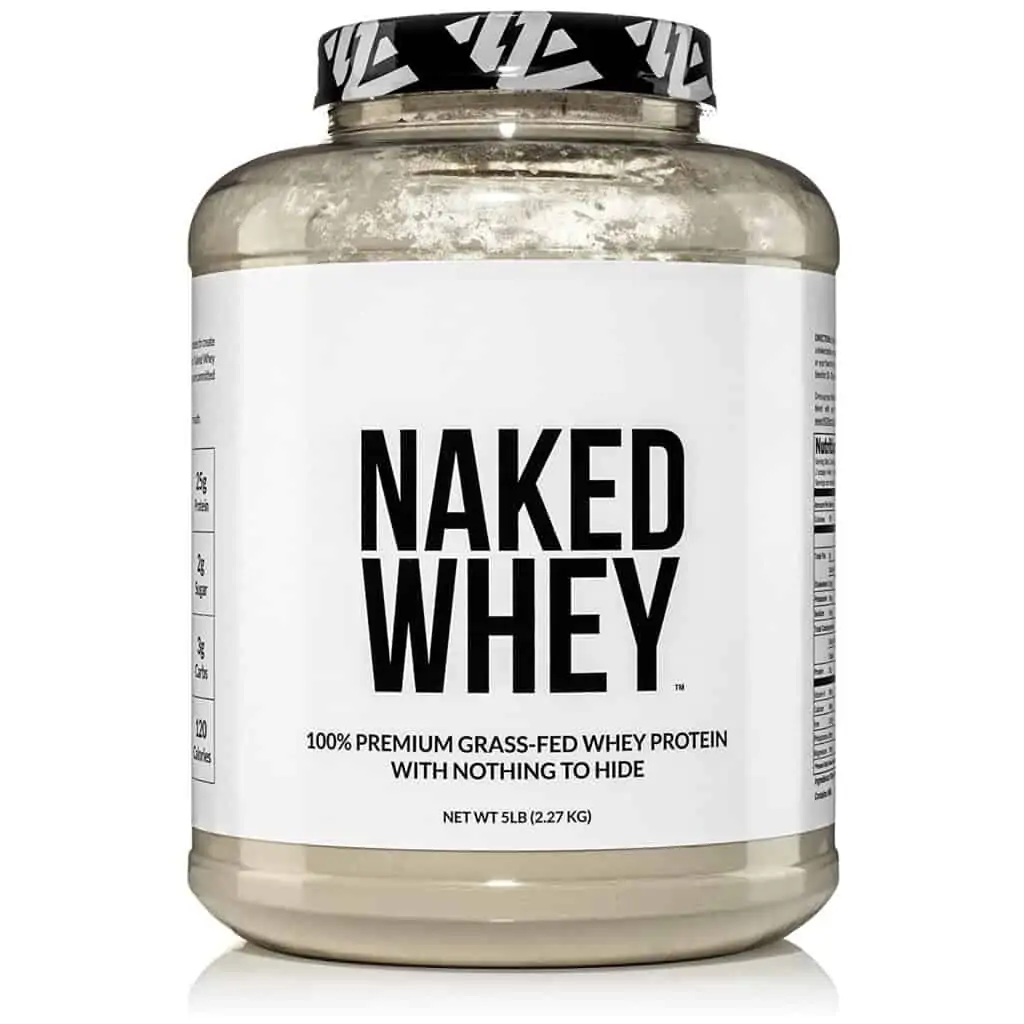 Exclusively grass-fed pure Naked protein without any adjustments is GMO-Free, rBGH-Free, Soy-Free, and Gluten-Free.
Grass-Fed Whey is derived from small dairy farms in California with vital amino acids, pure protein, and glutathione.
Unlike other whey protein powders, Naked Nutrition Grass-Fed Whey Protein Powder is cold processed to preserve essential naturally occurring growth ingredients.
Create before and after-exercise whey drinks, smoothies, and recipes to maximize muscle growth and recovery. This is an excellent powder for your sugar-free protein drinks.
Pros
It is obtained from USD-certified grass-fed dairy cows.
Free of hormones and other preservatives,
It contains 5.5 g of naturally occurring BCAAs.
It contains essential amino acids.
NOW Sports Nutrition, Unflavored Soy Protein Powder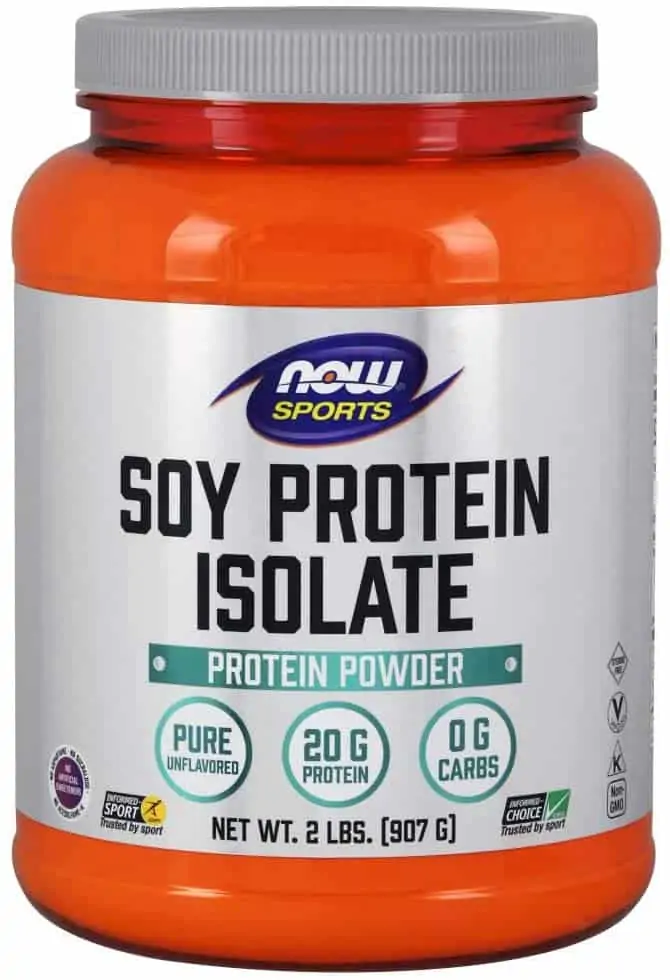 Soy Protein Isolate is a reliable, complete protein source with a decent amino acid profile.
20 g protein, 0 g carbohydrates! Our GMP accreditation implies that every part of our production process, including laboratory procedures, has been scrutinized for stability, potency, and product formulation.
NOW® Sports uses non-GMO soybeans to make Soy Protein Isolate protein powder. Soybeans, like many beans, are a natural source of high-quality vegetable protein with minimal fat and carbohydrate content. Currently available in unflavored, chocolate, and vanilla. Pour into water, milk, or shakes!
NOW Sports Soy Protein Isolate is a high-quality complete protein with a balanced amino acid profile. Soy products include phytoestrogens and helpful proteins, including genistein and daidzein. High-grade protein isolate is the foundation of excellent health!
Free of soy and eggs
GMP quality assurance.
Per serving, there are no carbohydrates.
It contains an excellent amino acid profile.
Price-to-value
It blends beautifully
Isopure Unflavored Whey Protein Isolate Powder-Zero Carb
Another protein powder for a sugar-free protein shake, this flavourless protein powder has only protein calories in it, and it is one of the few powders of such high quality. There are only two ingredients in it. Whey protein isolate and Soy lecithin.
There are zero carbs and zero fat in it. The only high-quality protein source that provides 25 grams of protein per serving to help promote muscle growth.
An excellent powder for people using it for weight loss. It is beneficial to people who are monitoring their calorie consumption. Literally zero calories from fat or carbs.
Except for this, it has only 7% of Sodium and 6% of Calcium for daily requirements.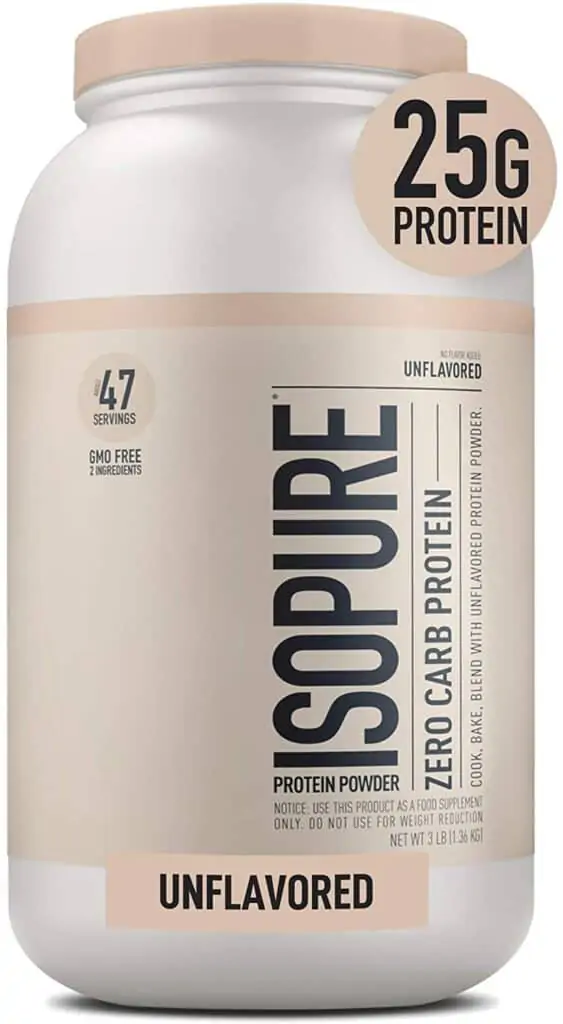 Pros
Perfect for Keto dieters.
It contains zero carbohydrates.
Free of gluten
It can be easily dissolved with any liquid.
It is inexpensive.
It contains added minerals and vitamins.
Cons
It leaves an unpleasant aftertaste.
Orgain Organic Plant-Based Protein Powder
Orgain organic unflavored protein powder is again plant-based, natural, and unsweetened.
One hundred forty calories per serving, 21 grams of organic plant-based protein including pea, brown rice, and chia seeds. It has various kinds of protein in it though total protein calories are only 84, i.e. 60% of the total. It has comparatively higher carbs, fat, and organic dietary fibre but 0-gram sugar.
It is certified USDA organic, gluten, dairy, soy, and lactose-free. It has no added sugar, is non-GMO and is artificial ingredient-free. Nor does it have caffeine.
So you can have this even if you have lactose intolerance. Combine it with water or Almond milk for a quick breakfast or snack. You can also make a smoothie by adding your favourite flavours. Use baking grains to add protein and energy to your cakes.
For men, women, and children, it's ideal for nutritious nourishment. These are excellent for meal replacements, smoothie boosts, gaining lean muscle mass, and muscle rehabilitation before and after exercise.
Pros
The entire range is organic.
GMO-free
It is entirely plant-based.
There is no artificial sweetener or added sugar.
Free of gluten
Free of soy
It tastes good.
Made from whole food plants.
Cons
Mixability is not 10 out of 10.
GNC Pro Performance 100% Unflavored Whey Protein Powder
One of the better-unflavored protein powders, GNC is my favourite too. It is a gluten-free protein powder that promotes healthy metabolism and lean muscle repair. Its raw material is procured from Glanbia, the same as ISOpure and Gold Standard.
It is a banned Substance Free and tested to industry standards. It comes in three flavours, including one unflavored variant. Unflavored, Natural Chocolate, Vanilla Cream, and more.
Is GNC Pro Performance Whey a good protein powder? It's a good choice if you want to save money on protein. A cheaper, higher-fat version of whey isolate, whey concentrate is the first component.
Whey is a byproduct of cheesemaking, and Glanbia utilizes it to manufacture protein supplements. So the whey itself should be comparable to the more well-known brands.
The carb count is the only thing worth mentioning here. But, unfortunately, it also lacks digestive enzymes. It costs less per gram of protein than MuscleTech Premium Gold, MusclePharm Combat Whey, Isopure Low Carb, and Optimum Nutrition.
It's one of the cheapest whey isolate protein powders on the market. It dissolves readily in water but not in milk. Compared to other inexpensive protein powders, it has more whey carbohydrates. But if you can fit them in your macros, it's a good alternative to whey.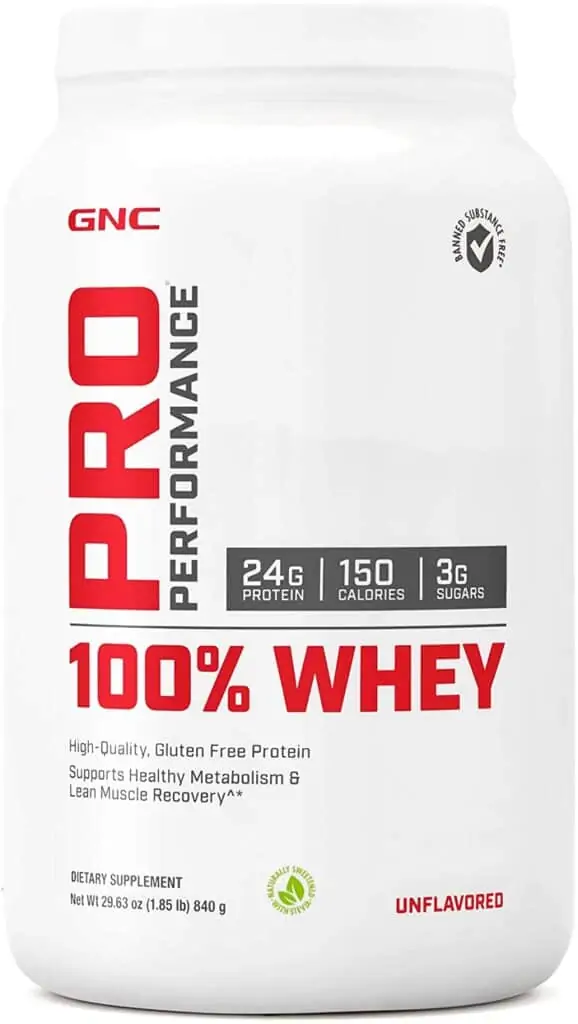 Pros
It contains essential amino acids.
Protein powder of superior quality
Free of gluten
It is inexpensive.
It contains no artificial flavors.
No banned substances here.
Cons
It contains the artificial sweetener sucralose.
It does not mix well.
There are no digestive enzymes.
High in carbs and fat.
BulkSupplements Whey Protein Isolate Powder 90%
Whey protein isolate is a high protein source that may help promote muscle development and recovery after anaerobic activity. This protein powder contains leucine and branched-chain amino acids (BCAAs), important amino acids in muscle cells needed to make proteins.
It is soy-free, which may cause allergic reactions in certain individuals. It also doesn't include artificial sweeteners or flavours, which may harm your health.
This whey protein isolate is procured from American dairy farms that use sustainable agricultural methods. In addition, cutting-edge technologies are used to ensure these are free of hazardous chemicals and additives. Mix with water or skim milk for a nutritious meal replacement shake!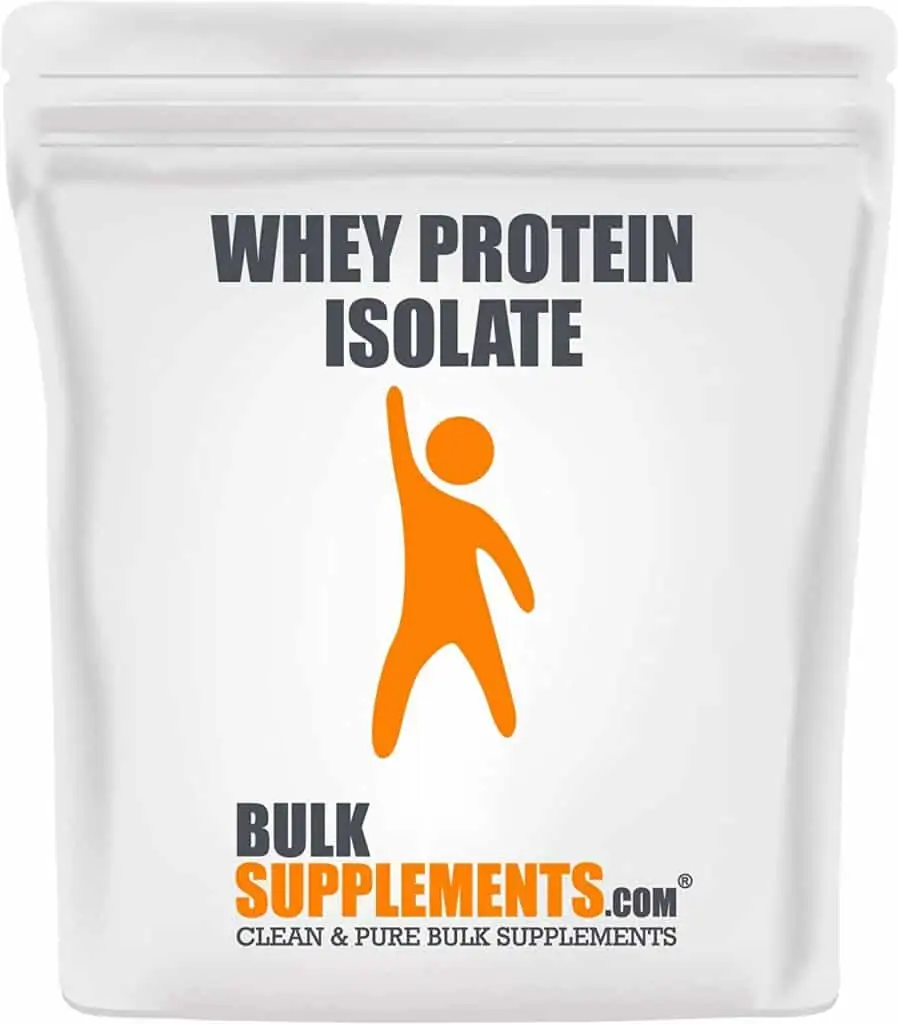 Pros
It is both digestible and bioavailable.
High-quality unflavored protein powder
It contains glutamine powder to support the immune system.
It is American-made.
PlantFusion Complete Protein – Unflavored Vegan Protein Powder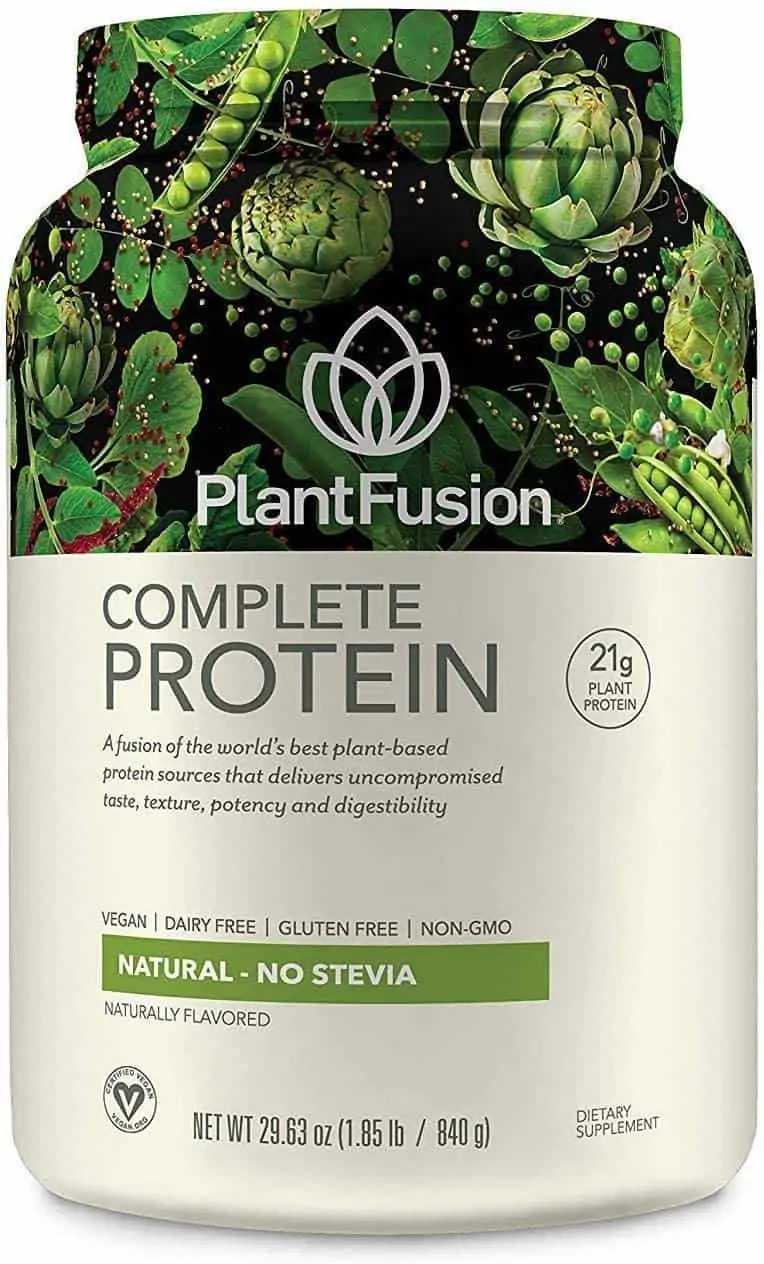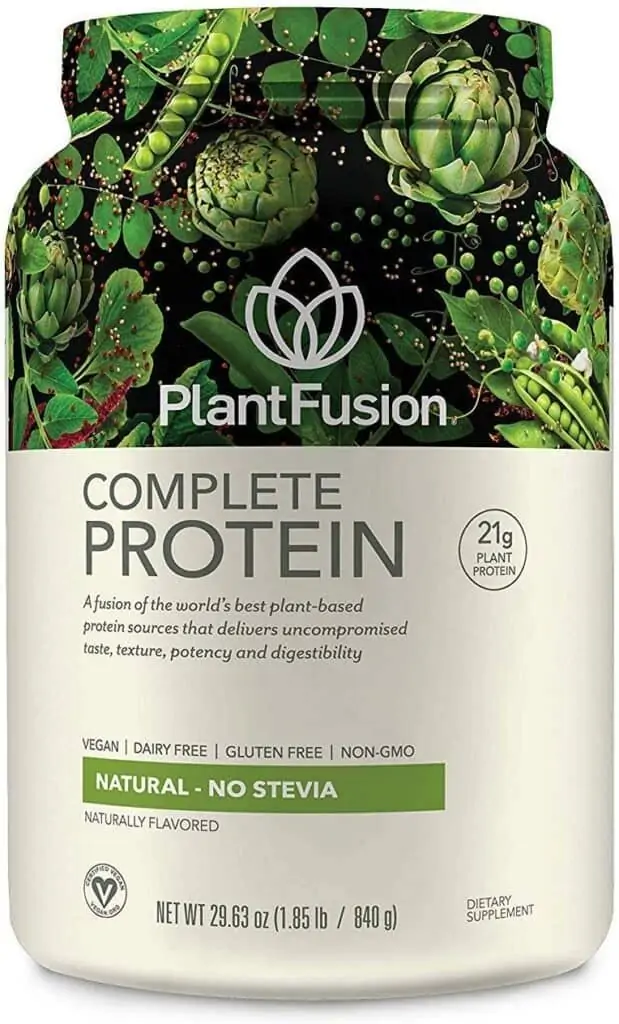 Certified Non-GMO, Gluten-Free, and Vegan Protein Powder. It does not include dairy, soy, whey, rice, eggs, fish, tree nuts, shellfish, artificial flavours, or colours.
The fine source plant-based protein powder for men and women has 21g of plant-based protein from peas, artichokes, algae, and organic superfoods. Complete protein mix with amino acids. The only plant protein powder that compares to whey.
This sugar-free protein powder contains digestive enzymes. Consumers regularly rate it as one of the finest-tasting protein shakes. Thirty healthy, delicious servings per 2 lb tub. This product's components seem to be carefully chosen. It has nutritional value even when an item is chosen for a practical reason like mixability.
This product does not include any cautions made on equipment that may have processed allergens. However, this is because PlantFusion exclusively utilizes its technology to create hypoallergenic vegan goods. So this is the best option if you want to avoid allergens.
A complete protein is a vegan protein with high protein content and low carbohydrate and fat. This protein is a great all-arounder.
It is not the cheapest vegan product available but is of excellent quality and efficacy. This product's mixability scored highly. It mixes better than other plant protein products we've tested, and it, coupled with the taste, made for a silky texture.
The smart mix of natural ingredients delivers a protein punch that exceeds expectations. This product is ideal for vegetarians, allergy sufferers, and naturalists. It is an excellent value for money and comes highly recommended.
Pros
It is entirely plant-based.
Vegan at all times.
It contains amino acid-infused protein.
Free of stevia
It mixes well with both water and milk.
It is made from organic sprouted quinoa powder.
Ketogenic-friendly
Cons
It is not entirely organic.
It contains a higher sodium value
TGS Whey Protein Powder
No additional sugars, fillers, artificial colours, flavours, additions, sweeteners, or preservatives. No soy, no gluten, no GMO.
You get 25 undenatured protein grams and all nine essential amino acids in each scoop. It contains 5.5g of naturally occurring BCAAs, making it an ideal post-workout protein for muscle repair, growth, and overall fitness.
For keto and other low-carb diets. Low calorie makes it ideal for diet shakes. Delicious in protein bars, loaves of bread, pastries, sauces, and more.
By preventing denaturation, our sophisticated micro-filtration technology produces high-grade undenatured whey protein concentrate.
Please have what you want when you want it and never get bored. Pre-or post-workout, drink it simply with water or customize it to taste like a vanilla coffee protein shake or strawberry banana protein smoothie.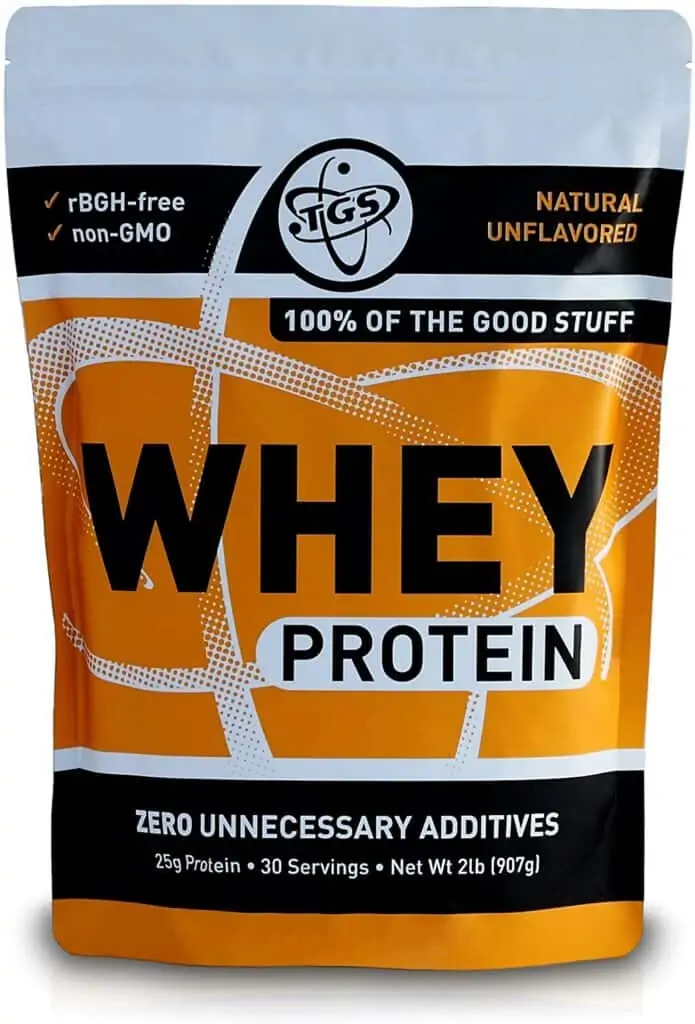 Pros
It is suitable for both cooking and baking.
It is made of 100% undenatured whey protein.
It is best used for lean muscle growth.
GMO-free
Free of gluten
100% Vegetarian
Cons
It is not suitable for lactose-intolerant people.
It's Just – Egg White Protein Powder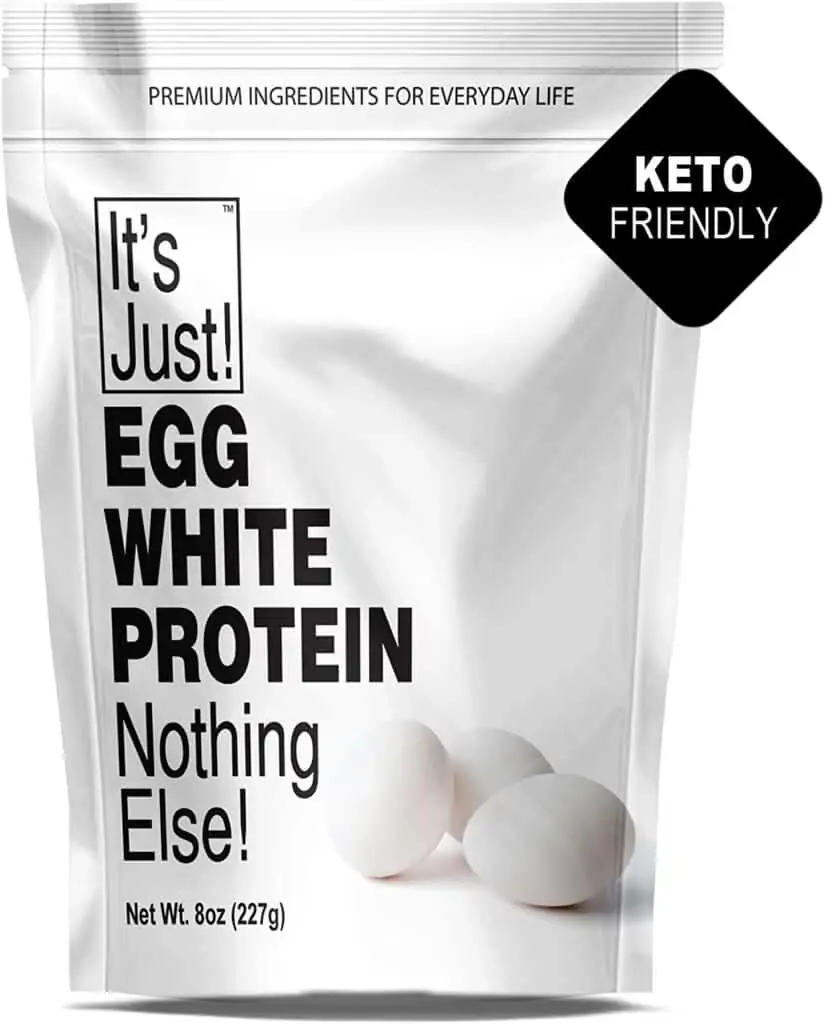 It is unflavored egg white protein powder. One Ingredient only – Powdered egg white protein. Unflavored premium stand-up pouch with resealable zipper for long shelf life. No soy, sugar, preservatives, lecithin or fillers.
Suitable for keto and paleo baking. Makes protein-rich keto loaves of bread.
Flash pasteurized for a pure, simple flavor. Sodium-rich egg whites with a salty flavor, are a great base to add flavorings to. Make protein smoothies for the day. Inherently
Gluten, Lactose, and Dairy Free, Egg Whites Nutritious Basics Complete protein for muscular growth. It provides essential minerals and vitamins for the immune system and metabolism. Low calorie, low cholesterol. Great for weight loss and high protein diets.
Pros
It contains no added flavor or fillers.
It contains 100% pure, unflavored egg white protein powder.
It gives the natural taste of egg whites.
It is ideal for Keto baking.
Free of gluten
Low carbohydrate
The mixture is smooth and does not create any lumps.
Cons
It is not available in bigger package sizes.
Quest Nutrition Multi-purpose Protein Powder
Quest Multi-Purpose Mix Protein Powder contains 23gm protein, 1gm net carbohydrates, and 0 gm of sugar. It was earlier Quest unflavored protein powder.
It is dairy-based. It offers the perfect workout balance of 60% fast-absorbing Isolate and 40% slow-absorbing Micellar Casein.
Add protein to your favorite meals, shakes, smoothies, and bakery. It displays a sophisticated multivitamin formula that supplements the diet. Combined with sports supplements to reduce muscular pain, It improves strength, performance, recovery, and endurance.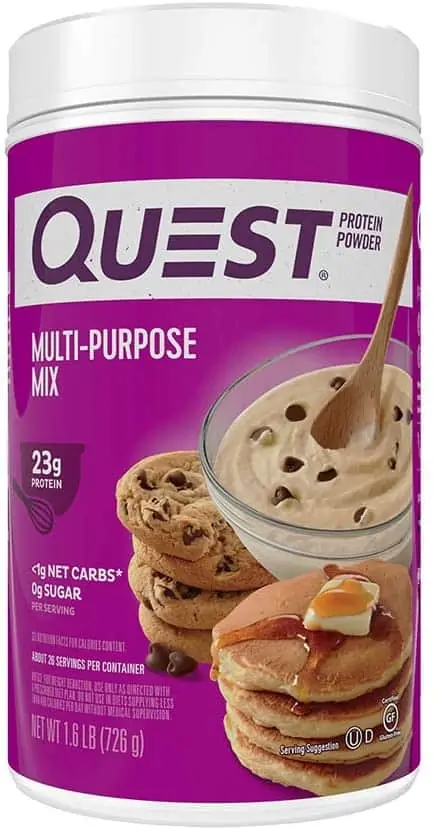 Pros
It contains 100% natural flavor.
It contains a decent amount of calcium that helps in bone growth.
It contains fast-digesting protein.
Low-calorie intake
It tastes good.
Cons
It contains artificial sweeteners like sucralose and stevia.
UNJURY Unflavored Protein Powder
UNJURY Unflavored Protein Powder UNJURY exclusively utilizes premium whey protein isolate.
Guaranteed 100% satisfaction. When buying straight from UNJURY, you get great service, recipes, and fast shipping! Enjoy a delicious unflavored high-protein drink mix. Ideal for bariatric, gastric sleeve, and non-surgical weight reduction. It is refreshingly simple to make.
You may use UNJURY Unflavored Protein in any recipe. You can make a smoothie or a shake with it or add it to your lunch dishes. Some consumers prefer to add unflavored UNJURY® with milk to their breakfast.
A professional nutritionist created UNJURY® Unflavored Whey Protein Supplement to provide Medical Quality protein. UNJURY® utilizes only premium Whey Protein Isolate.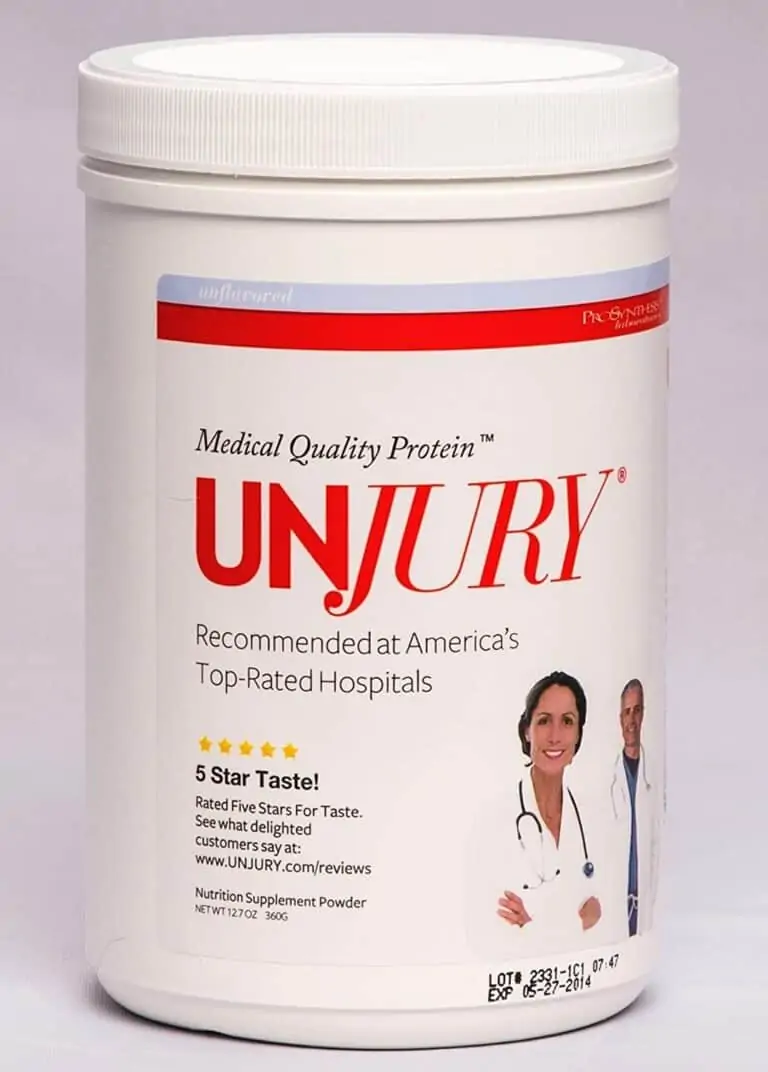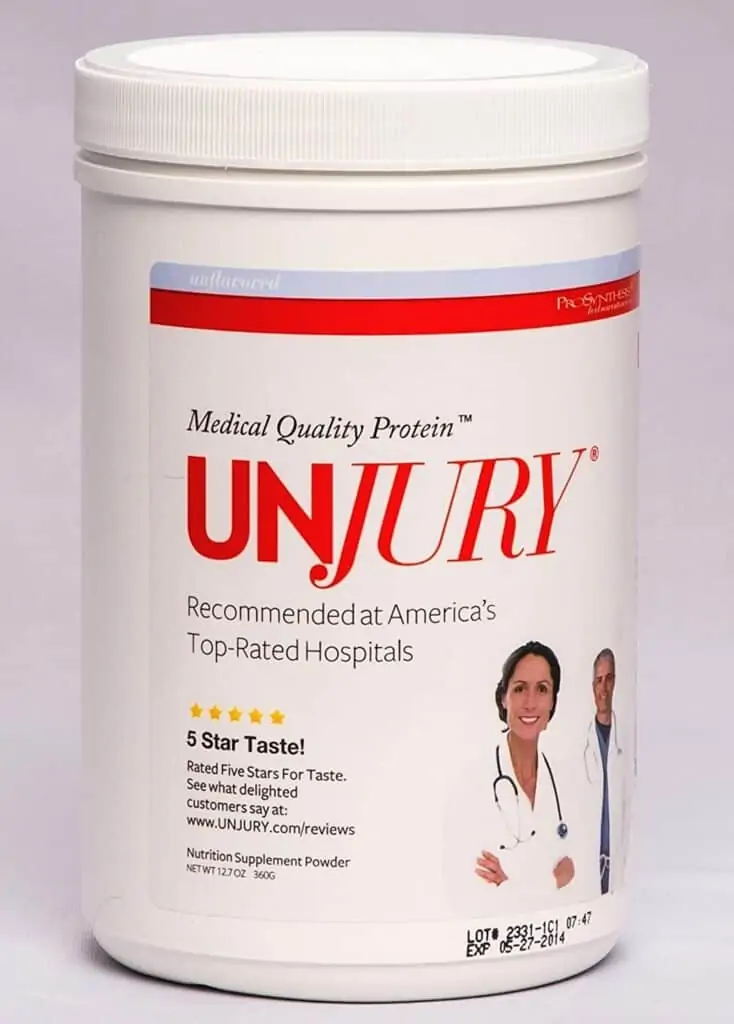 Pros
It contains fast-digesting protein.
It has a high level of bioavailability.
Low in carbs and sugar
Cons
It contains artificial sweeteners like fructose and acesulfame potassium.