Constantly on the go? Training for your next race? Always running after the kids? Protein powders for women will help you to maintain your A-game.
Experts agree that protein needs increase with pregnancy, exercise, illness, and age. Adults 65+ may need up to 2x more protein than younger adults to maintain muscle for strength and energy.
You may start losing muscle mass at age 40, increasing your protein needs. Start good protein habits early. That's why protein powders work as an additional benefit to a women's diet. It overall helps in general health, improves muscle growth, and aids in losing weight.
Related Readings:
The Best Protein Bread: Nutrient-Dense and Popular in 2022
Importance of Protein to Our Body
18-20% of our body is a protein in our skin, muscles, and connective tissues
Our body contributes about 100,000 different types of protein. Protein helps our body to develop, recover, and carry out nearly every chemical reaction in the body.
Our body needs 9 essential amino acids because it can't make them, and you can get all of them from protein.
Our body can't store protein, so we need it regularly.
Pregnant women need 50% more protein than non-pregnant women.
How does Protein Help Women in their Daily Activities?
Run the Extra Mile– Protein helps your body rebuild muscle tissue damaged during intense, prolonged exercise.
Conquer the Art of Multitasking– Protein takes longer to digest and helps prolong energy delivery, keeping you going through your busy day.
Bypass Mindless Snacking– High protein foods slow down the movement of food through your digestive system, helping you control your appetite and keep you feeling fuller longer.
Protein Intake for Women in Different Life Stages
65 with Health Setback– 109 Grams of Protein
65 and Thriving– 80 Grams of Protein
Marathon Warrior– 116 Grams of Protein
Mommy-To-Be– 71 Grams of Protein
25 and SPRY– 58 Grams of Protein
Women & Protein Busting Myth
I Only Need Protein if I'm Building Muscle– False! Protein is necessary for structure in the body, including connective tissue, hair, nails, metabolism, a healthy immune system, and so much more.
Protein will bulk me up– Protein is necessary for hypertrophy only if you train accordingly, but it won't happen without weight lifting.
Too much protein will make me fat– If a woman's overall calorie intake is too high, a higher protein ratio generally supports weight loss because it helps keep her feeling full and satiated.
Too much protein weakens my bones– An excessive amount of protein can indeed reduce calcium levels. But it takes a lot of protein for this to occur. An adequate amount of protein strengthens bones.
Protein damages the kidneys– Again, only accurate with an excessive amount of protein, which doesn't happen quickly. Even eating protein on the high end of the healthy spectrums will not cause kidney damage.
Protein supplements are better than protein foods– Manufacturers of protein powders often push the benefits of their products, even to the point of telling consumers they are better than whole foods. Powders can be helpful as a supplement, but they are not better than starting with a healthy, complete food diet.
Vegans can't get enough protein– False! There are many plants and vegan-friendly supplements that provide protein. It is essential to eat various foods to get protein, including nuts, seeds, legumes, soy, whole grains, and vegetables.
Is Protein Powder Good for Women?
Absolutely yes! Women experience more benefits with protein powder than men do. When women fall short of having enough protein in their daily diet, protein powder can help fill in the gaps. Also, when women try to lose weight by cutting down their calorie intake, they require more protein to fill that gap.
Furthermore, consuming protein powder daily will also save you tons of calories. Protein powder consists of the lowest-cal to help you lose stubborn fat quickly. It is because protein powder contributes few grams of fat or carbohydrates.
One of the best ways to consume protein powder is using it as a pre or post-workout shake or smoothies.
When Should a Woman Drink a Protein Shake?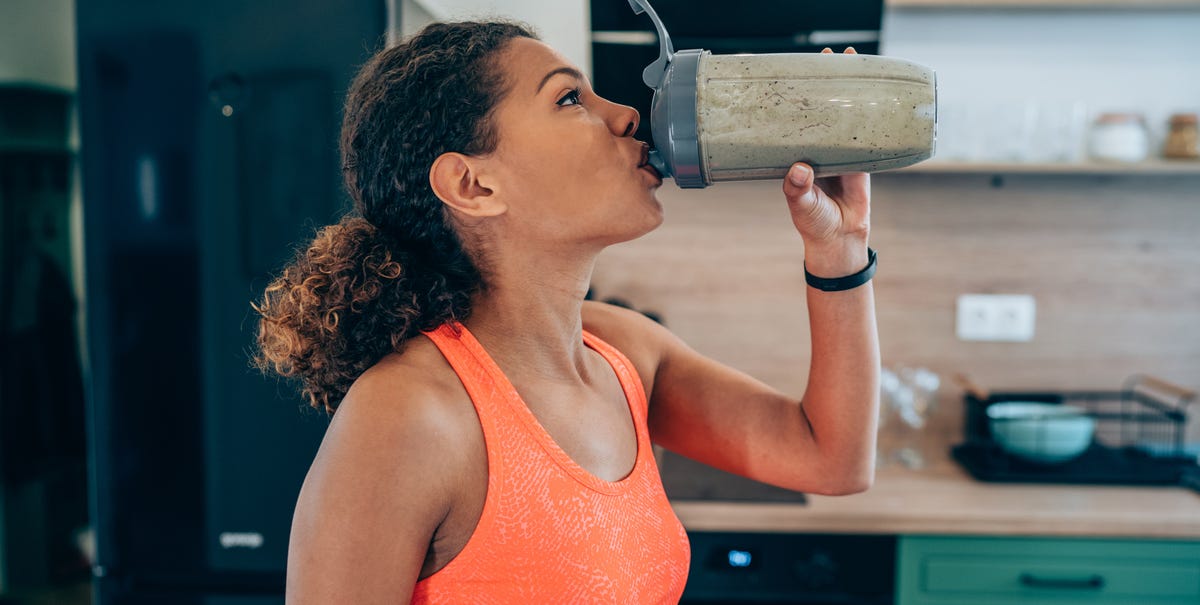 A protein shake is a quick or fast-absorbing liquid that works excellent as a morning meal. Being fast-absorbing, it is easy to digest. Another way you can have a protein shake is to use it as a pre-workout snack 45 minutes before exercise.
Consuming protein shake daily helps in improving energy levels, endurance, and increasing stamina. This will help you go harder in the gym for more extended periods.
Using Protein Powder for Lunch & Dinner
Soup and Curries– Add to broth/liquid and blend well before adding solid ingredients. It will whiten the liquid.
Mash– One scoop of protein powder per 1lb potato or another vegetable. Use milk etc., as usual.
Salad Dressing– Don't use too much. Just a tablespoon maximum; otherwise, it will thicken it
Hummus– Add one scoop of protein powder per 1 can of chickpeas in the recipe.
Baking Goods– Replace ½ flour for protein powder in cakes, cookies, and baked goods recipes.
3 Things to Avoid When Adding Protein Shakes to Your Diet
High daily protein intake is probably not inadequate for your health unless you are dehydrated or have pre-existing kidney problems. Below are some things to avoid when adding additional protein to your diet.
Not eating enough whole foods– It would be best if you didn't use protein shakes as your staple food for your meal. Eat a diverse diet of whole foods to get your body's nutrients.
Overeating protein daily– There's the sweet spot for benefits, and you hit a point of diminishing returns. Try eating 20-30% of overall calories from protein for the most help.
Putting supplements before diet and exercise– Supplements alone are not enough to help you reach your goals. Focus on the fundamentals of nutrition and fitness first.
Things to Consider When Buying a High-Quality Protein Powder
Third-Party Testing– You must look for a product through third-party testing to ensure accuracy, potency, and quality.
Nutritional Value– When buying protein powder, ensure you check the product's nutritional value from the product label.
Quality Ingredients– Ensure you check the type and quality of the ingredients used in the product. It includes artificial sweeteners, artificial flavours, additives, preservatives, fillers, or artificial ingredients.
Choosing the Best Protein Powder for Women
Women are prone to lose muscle mass at the age of 40. Here comes the power of protein powder. Protein powder helps to boost muscle mass and aid in weight loss management. Also, protein supplements are a quick and convenient way to add more protein to the daily diet.
But with so many brands, types, and flavours available in the market today, it becomes a challenging task to find the best one out of many. Therefore, it can be overwhelming trying to decide which powder to choose.
Let's look at the 11 best protein powders for women in the market today:
Orgain Organic Plant-Based Protein + Superfoods Powder
It is a plant-based protein powder that works great for vegans and vegetarians. It is available in two flavours- Vanilla and Chocolate. The cost of 1.12 pounds is $15, and the cost of 2.02 pounds is $35.99.
It is dairy-free, gluten-free, soy-free, and contains no added sugar. It maintains the non-GMO standard. It has an impressive nutritional profile and high-quality ingredients. It also contains essential minerals that help women go through all health issues. Therefore, it is an excellent option for women to meet their dietary needs and preferences.
Nutrition Value:
Calories- 160
Protein- 21 Grams
Carbs- 21 Grams
Protein Type- Chia Seed, Pea, and Brown Rice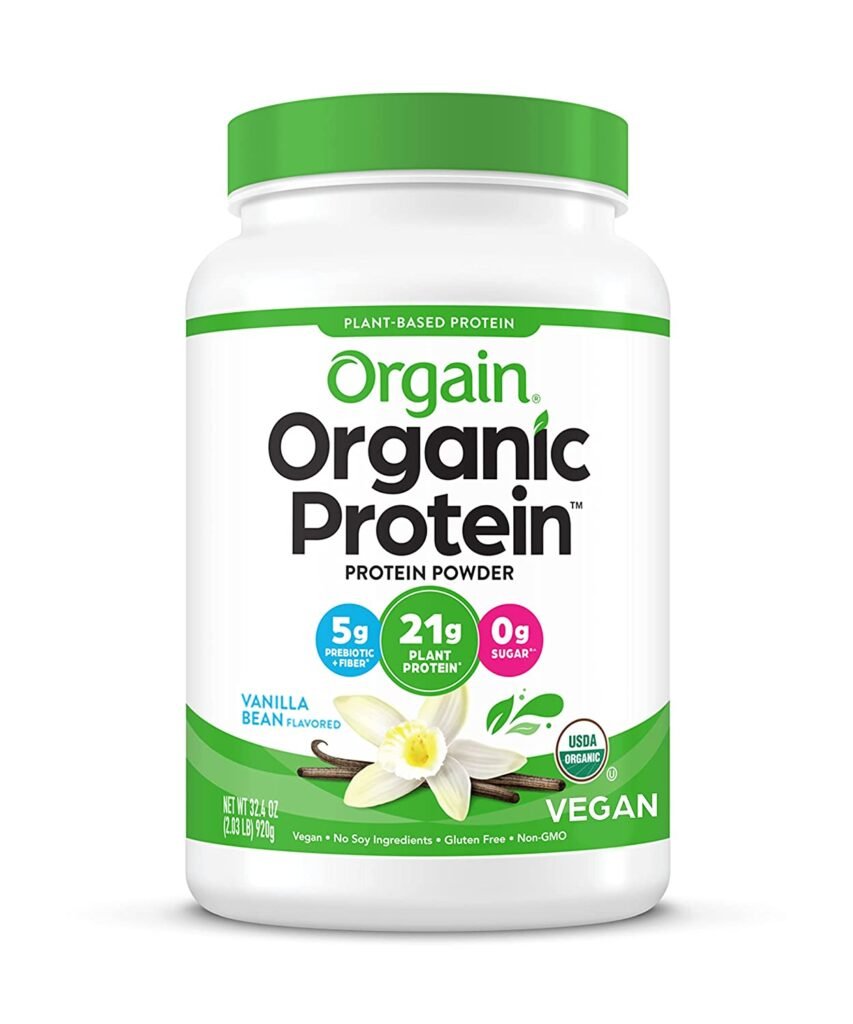 Naked Whey Grass-Fed Unflavored Protein Powder
It has a vital amino acid profile that has become a popular choice among women in the US today. It helps to ramp up their protein intake efficiently. It is free of artificial sweeteners, fillers, growth hormones, and additives. The product obtains from grass-fed cows.
It consists of nutrients like omega-3 fatty acids that work for the overall growth of a woman. Furthermore, Naked Whey is certified and tested to ensure quality and safety. It can be used as a protein shake, smoothies, or adding to your favourite beverage.
Nutrition Value:
Calories- 120
Protein- 25 Grams
Carbs- 3 Grams
Added Sugar- 2 Grams
Protein Type- Whey
Anthony's Premium Pea Protein Powder
Pea Protein Powder goes well for a vegan diet. Furthermore, suppose you are lactose-intolerant or allergic to the dairy product. In that case, this product is just right for you—this product is made from one essential ingredient, i.e. vegetable pea protein isolate.
Women who lack iron can use this pea protein powder to boost their iron deficiency. So, it's a good source of iron and has been tested for quality. It is available in an unflavored and unsweetened form used as smoothies, shakes, or baking goods.
Nutrition Value:
Calories- 35
Protein- 8 Grams
Carbs- <1 Grams
Protein Type- Pea
KOS Organic Plant-Based Protein Powder
It is a plant-based protein powder that works great for vegan and vegetarian diets. The price for 15 servings is $32.99, and the price for 10 servings is $18.79. It is available in chocolate flavour. It is an award-winning protein blend that contributes to a complete protein diet.
It efficiently works for weight management and digestion support. Further, it keeps you feeling full for a more extended period. Thus, it helps you eat less when binging on other calories. It is also healthier than regular whey protein, which allows the body to maximize absorption. Also, it plays a crucial role in improving skin health and the immune system.
Nutrition Value:
Calories- 170
Protein- 20 Grams
Carbs- 9 Grams
Added Sugar- 2 Grams
Protein Type- Pea, Chia Seeds, Quinoa, Pumpkin Seeds, Flaxseeds
Natural Force Organic Whey Protein
If you are following any dietary restrictions, this whey protein powder will work excellently. It will serve your purpose in maintaining your actual weight. It is both keto-friendly and paleo-friendly. Also, it is free from artificial ingredients. It contributes all essential amino acids that help to support muscle growth.
The product goes through third-party testing to ensure quality, potency, and purity. It works as a great addition to your favourite smoothies, shakes, and baking goods. Also, it is essential to keep in mind that people who are lactose-intolerant or allergic to a dairy product must avoid it altogether.
Nutrition Value:
Calories- 100
Protein- 30 Grams
Carbs- 2 Grams
Added Sugar- 1 Gram
Protein Type- Whey
Vegas Sports Premium Protein Powder
Are you looking to boost your lost energy after a workout, Vagas Sports Premium Protein Powder will serve your purpose efficiently. It is a plant-based protein powder that works great for vegan and vegetarian diets. It contains probiotics that help to support gut health, female reproductive health, and immune system.
This supplement is NSF certified, ensuring it's free of substances banned among athletes. To make it more nutritious, you can blend it with your favourite fruits or veggies to achieve the best results.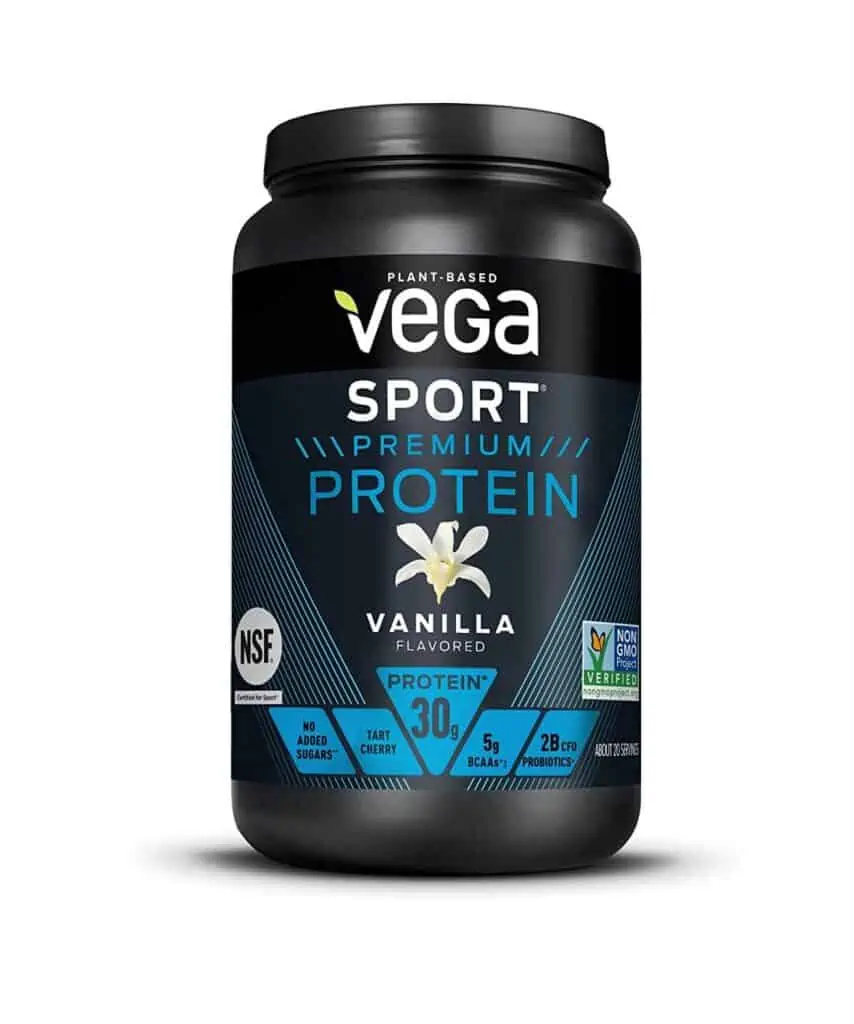 Nutrition Value:
Calories- 160
Protein- 20 Grams
Carbs- 5 Grams
Added Sugar- 2 Grams
Protein Type- Alfalfa, Pumpkin Seeds, Pea, and Sunflower Seeds
Garden of Life Sport Organic Plant-Based Protein Powder
It is another plant-based protein powder that completely suits the vegan diet. It is 100% organic and pure. It is both gluten and dairy-free. It contains probiotics that help to support immune function and digestive health.
Again, it is NSF certified to boost immune power in professional athletes. The powder has a thick, gritty texture that tastes best when blended with other ingredients.
Nutrition Value:
Calories- 160
Protein- 30 Grams
Carbs- 7 Grams
Added Sugar- <1 Gram
Protein Type- Sprouted Garbanzo Bean, Pea, Cranberry, Sprouted Lentil Bean, and Sprouted Navy Bean
ALOHA Organic Plant-Based Protein Powder
This product is a natural sweetener and makes the healthiest protein smoothie at home. It is a plant-based protein powder that works as an excellent choice for women's overall health. It not only improves bowel regularity but also stabilizes blood sugar levels.
It is 100% vegan and organic and completely free from additives, artificial ingredients, and preservatives. It is best used for making delicious smoothies or making homemade baking goods.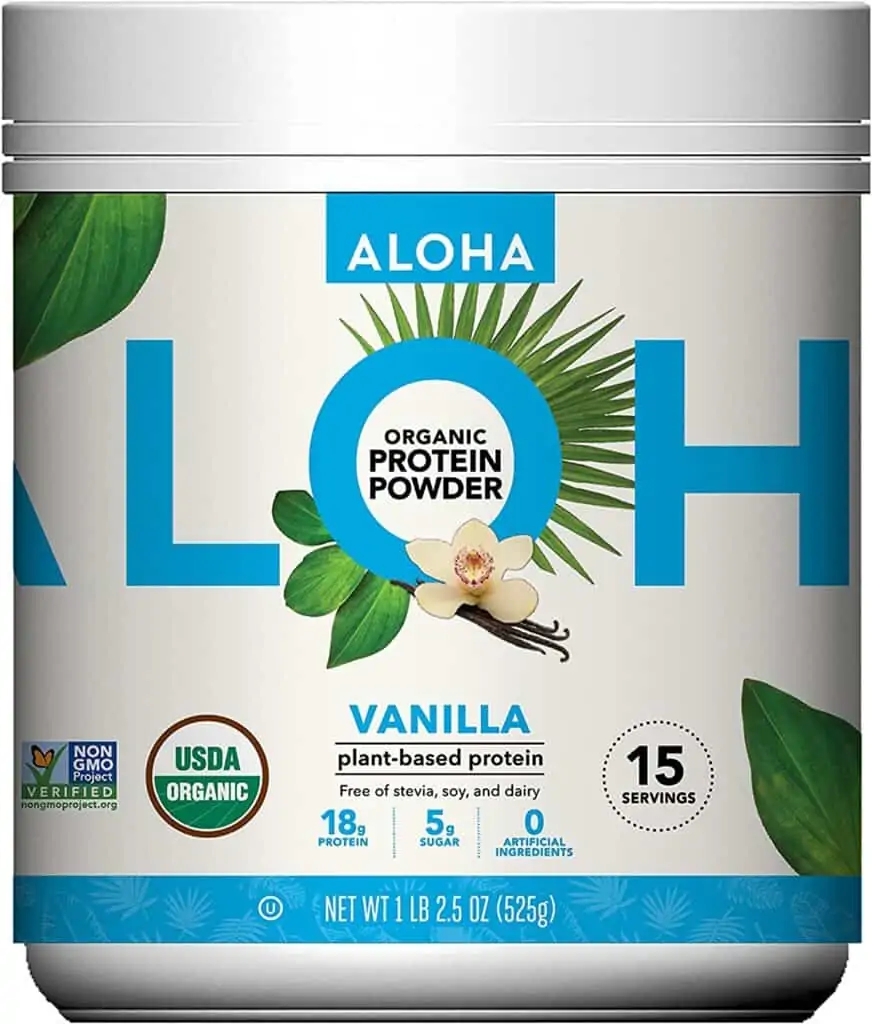 Nutrition Value:
Calories- 130
Protein- 18 Grams
Carbs- 10 Grams
Added Sugar- 4 Grams
Protein Type- Brown Rice, Pea, Pumpkin Seeds, and Hemp Seeds
Ritual Essential Protein Daily Shake 18+
It has an impressive essential amino acid profile. It is made of clean ingredients. It also contains a range of vitamins necessary for pregnancy and postpartum. Furthermore, it is gluten-free, soy-free, and, most importantly, vegan-friendly. The product is a formulation without GMOs. It also contains choline which improves brain functions. However, it does not suit all ages.
Nutrition Value:
Calories- 115
Protein- 20 Grams
Carbs- 3 Grams
Protein Type- Pea
Tone It Up Plant-Based Protein Powder
It is sugar-free, dairy-free, gluten-free, and 100% organic plant-based protein powder. It has good value among women in the market. It is low in the carb that works great for weight loss management. Also, it has low calories per serving.
This product goes well for those who have an active lifestyle. If you are conscious about your daily calorie intake, this product will serve you the best results. Therefore, if you want to firm up your body, this will work for you efficiently.
Nutrition Value:
Calories- 90
Protein- 15 Grams
Carbs- 2 Grams
Protein Type- Pea
Ora Organic Vegan Protein Powder
It is 100% plant-based protein powder that contains all-natural ingredients. It is entirely suitable for vegan diets. It is a little expensive compared to other protein powders on the market. It is fast-absorbing and easy to digest. In short, it is made of organic ingredients.
It is also great for those who are following a low-carb diet. It's easy on the stomach and aids in smooth digestion.
Nutrition Value:
Calories- 130
Protein- 22 Grams
Carbs- 5 Grams
Protein Type- Pea, Rice, and Blend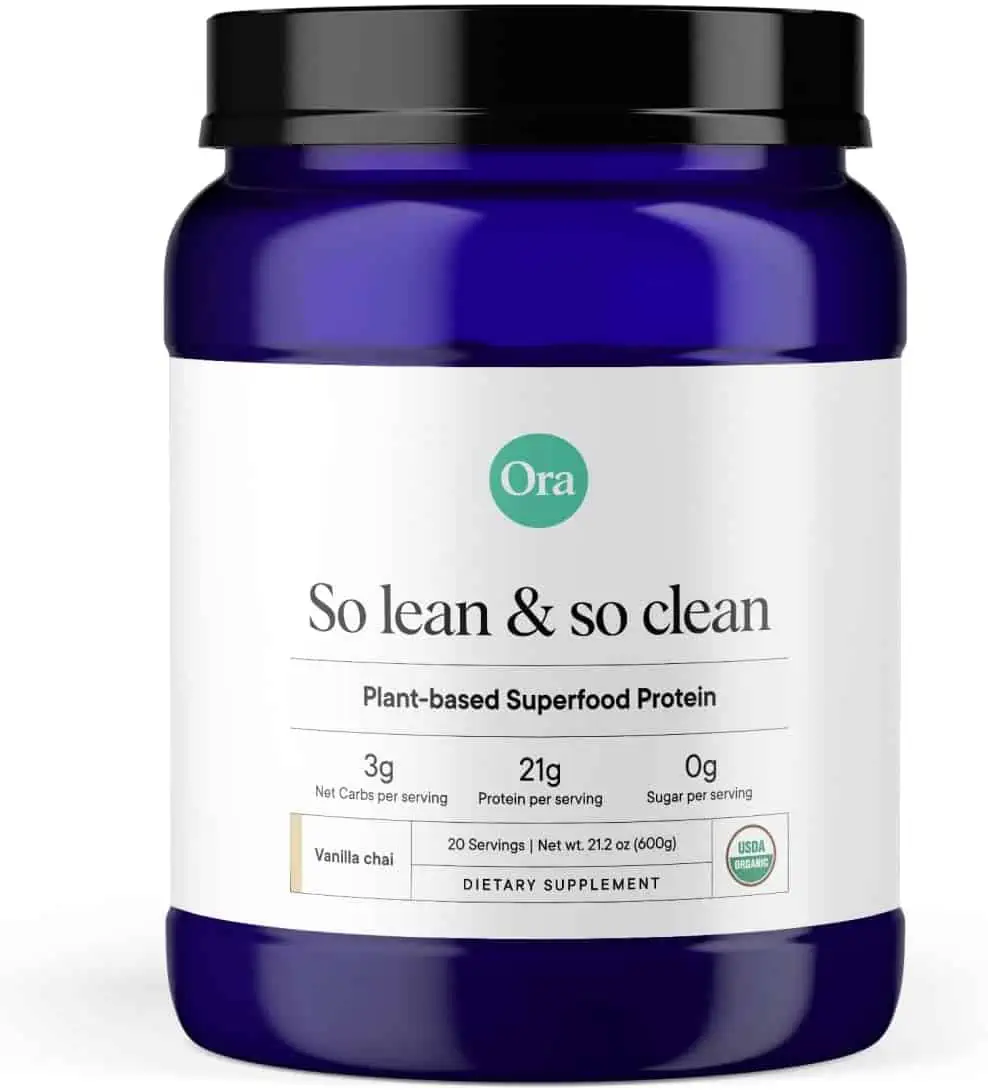 Conclusion
You must look for protein supplements that offer a variety of flavours for baking goods, making smoothies, or protein shakes. Make it enjoyable, every bit of it to meet your nutritional needs. These protein powders contain healthy nutrients that offer unique benefits for women.
To help down your search, opt for third-party tested products to ensure potency, accuracy, safety, and quality.