Treadmills with long handles help us keep going when our legs and bodies fail us. But is it wise to do it? Are treadmills safe for the elderly?
Treadmills provide great exercise for all fitness levels. But it's critical to utilize it appropriately to maximize your walk or run.
Long Handrail treadmills are designed as special-purpose treadmills. But in no case are the treadmill handrails designed to be held continuously while walking or jogging on the treadmill.
Long handrail treadmills have various pros and cons, especially for seniors.
Is it ok to hold on while on the treadmill?
But mostly, we are advised not to use the treadmill handles during workouts. Let us know the reasons behind the same.
Holding the railing prevents you from swinging your arms while walking, essential for proper stride. To propel your body forward, you need to use your arms.
Working out with your hands on the handrails will make your exercise less efficient.
It lessens the impact of the gradient.
Reduces the total quantity of calories that are expended. Clinging to the rails while working out saps your workout's intensity.
Destroys one's posture and sense of bodily alignment
Chances of losing your balance. Your body will not be able to acquire the skill of balance, and your posture and body alignment will suffer as a result.
Some fitness experts even say that holding on to the treadmill's handrails is a bad habit because it takes away from the benefits of walking and running.
Using handles on the treadmill
When questions like "Are treadmills safe for the elderly?" come up, treadmills with long handles are the answer.
Long Handrail treadmills are designed to assist you to get on and off the machine safely.
If you have any significant disabilities, your physician may recommend that you grasp the handrails when walking or running. The railings are there only for your protection.
When you keep your hands on the rails, your legs don't have to work as hard, but your lower body has to do more work.
We mainly have handles on treadmills to help us in case of an accident. Rather than serving as a long-term remedy, they're supposed to be used in urgent situations.
In particular, if you're performing interval training with some sprints, you may use the handles occasionally to keep yourself from tumbling.
Manual treadmills are a rare exception. We have to exert much effort to move these models without a motor. By gripping the treadmill's side handles, we can exercise significant force.
Popular treadmills with long handles
Though a treadmill for a 60-year-old person should have long handrails in most cases, we have added a couple of regular treadmills, too, in case the elderly don't feel the need for a long-handle treadmill. We also have budget treadmills and some of the best manual treadmills for seniors.
Exerpeutic TF1000 Treadmill
The Exerpeutic TF1000 is one of the best folding treadmills for seniors. It has a high-torque motor that puts out 1.5 horsepower. Speed can be adjusted in 0.1 miles per hour increments, up to 4 miles per hour. The treadmill belt is 20 inches wide and has extra-long safety handles measuring 18 inches in length.
51.2 inches long by 32 inches wide by 63 inches tall; 40 inches by 20 inches running area. The frame folds down and holds up to 400 pounds. The guarantee is for 5 years on the motor and 1 year on the frame. Time, distance, the number of calories expended, speed, and pulse are all shown on an LCD screen.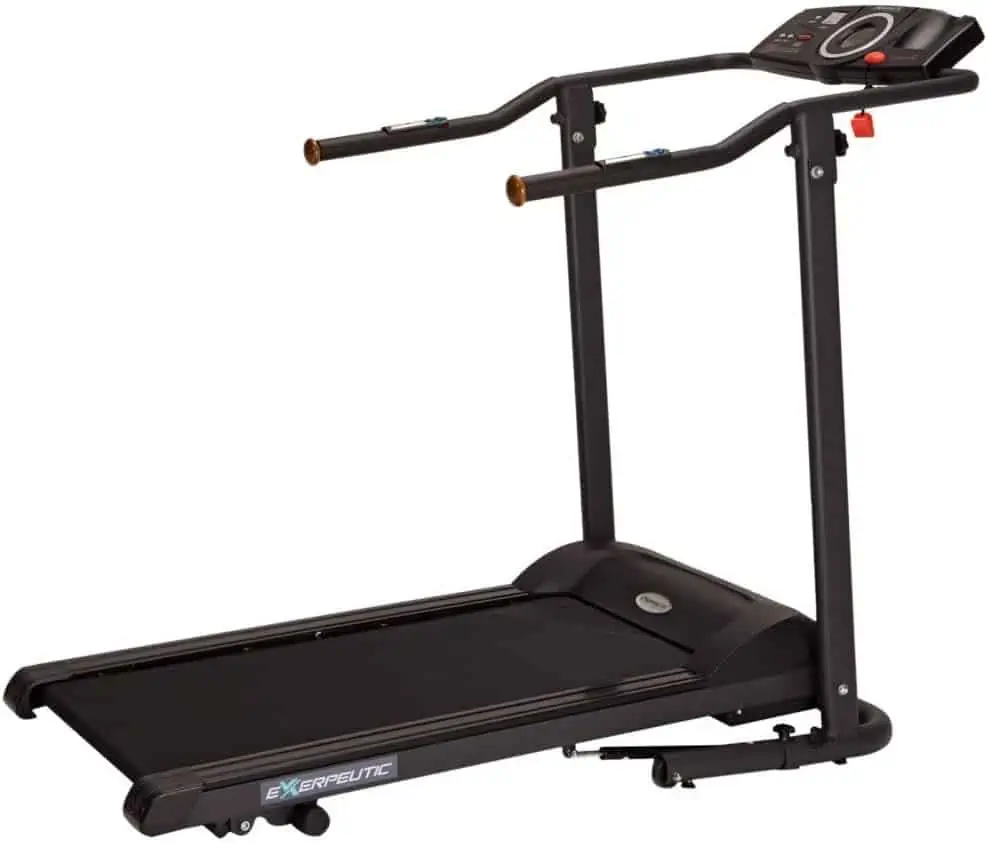 Pros
It has a 400 lbs weight capacity.
Long handrails on this treadmill make workouts safer.
It has a folding frame despite the long handrails.
A 20″ wide belt is rare in this category.
Cons
No Workout Programs.
Does not have an incline.
The track isn't well cushioned. Though not much is needed on a walking treadmill.
Exerpeutic 100xl
It's hard to beat the value and superb safety features of the Exerpeutic 100XL. It is the best treadmill with long handrails and has 8 different magnetic tension levels, making it a better way to work out with your body weight than its electrical counterparts.
Extra-long safety grips on the 100XL provide more stability and improved balance. Due to the strengthened structure, people weighing up to 325 pounds can walk comfortably. The belt size is 45" L x 16" W
This machine has smaller incline increments (8, 10, and 15) than most others, so muscles and ankles don't have to work as hard.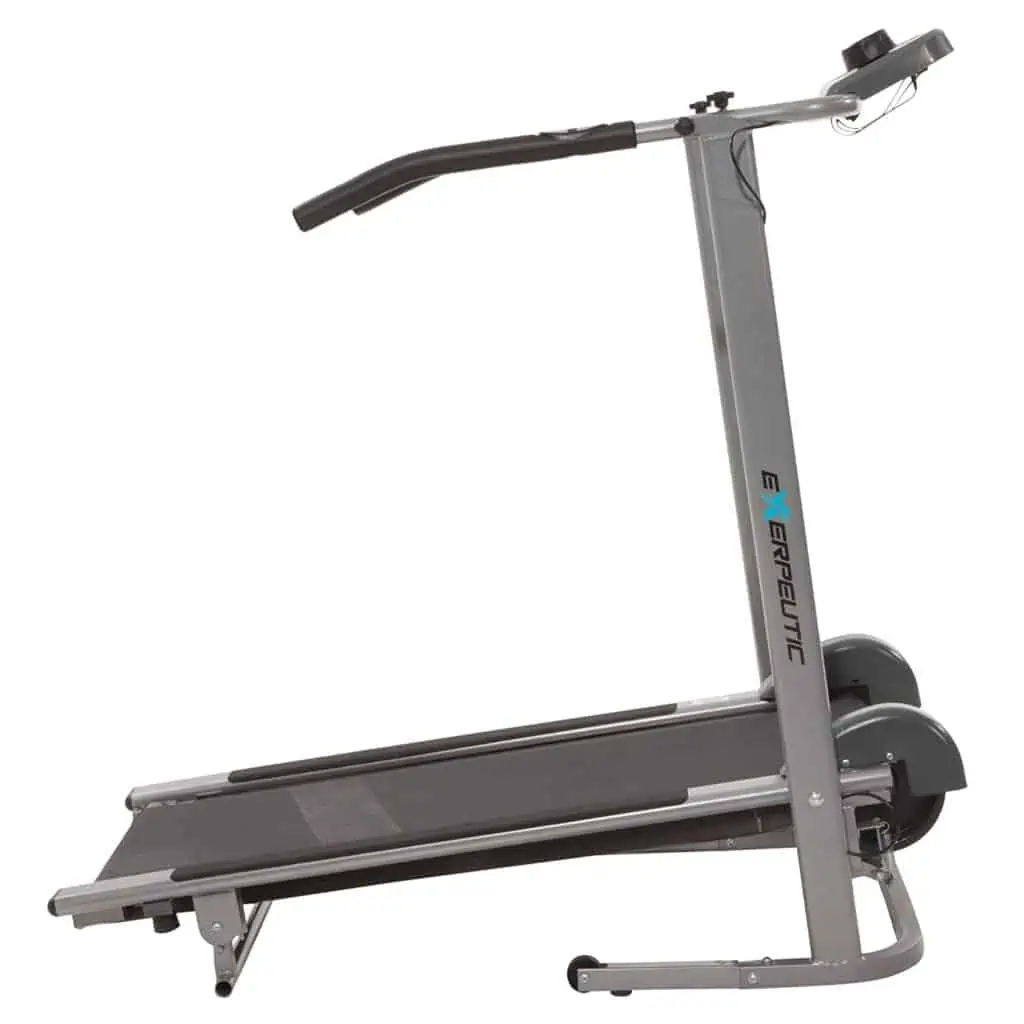 Pros
Long Reaching Distance
A maximum load of 325 pounds.
Heart rate monitoring pads
It has a Foldable Design for Storage
Cons
For best results, use a front-end weight or a support mat.
Batteries Are Necessary for the Electronic Display.
Some People Aren't Able to Take the Incline
PhysioMill HCI Fitness
The PhysioMill's low curved corners and full-frame handles make it wheelchair-accessible. With an orthopedic belt for impact joint support, the deck is 6.25" low.
This model's contact heart rate monitor and easy-to-read display keep consumers informed in addition to cushioning. With the two emergency stop buttons on the portable remote, physical therapists can start and stop exercises and stop them during rehabilitation.
The PhysioMill has a reinforced weight capacity of 500 lb and 0.1 MPH increment controls of up to 12 MPH to ensure your safety. The belt size of this extra long treadmill is 21" x 63"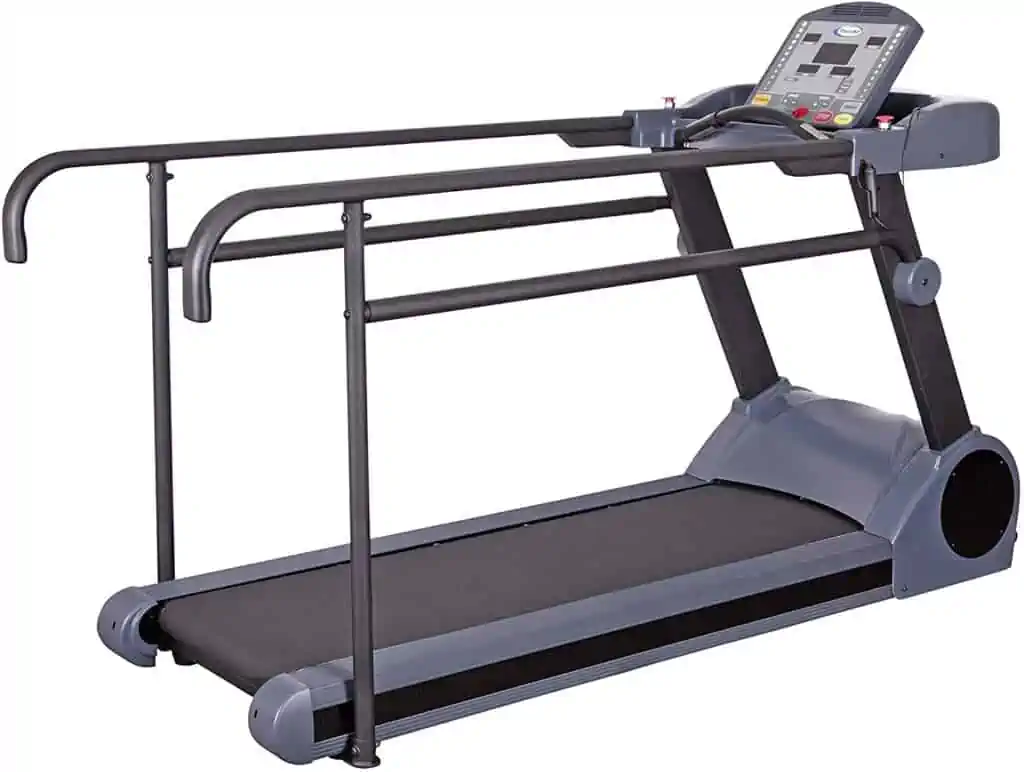 Pros
Powerful motor
Shock Absorption by ErgoDeck.
Features of Professional-Grade Security.
500-pound weight capacity
Cons
It isn't easy to move a 345lb frame.
Professional-Level Cost.
Sunny Health and Fitness T1407M
This manual type has a 220 lb weight capacity, a 42″ x 13″ belt size, and a 13.5 percent slope. Those with good balance should avoid this treadmill due to the steep inclination and the limited running surface, but you can level it out with mats, books, or blocks if you're feeling adventurous.
A pair of well-gritted shoes and at least one hand on the handles are recommended for belt circulation, and the manual nature of the SF-T1407M is more suited for walking than sprinting.
Unfortunately, there is no emergency stop on this particular model. Put both feet on the sideboards simultaneously to stop walking, and keep your steps centered on the belt for the most stability.
The compact folded proportions of the micro-monitor guarantee convenient storage of time, speed, calories, and steps. The SF-T1407M makes up for its lack of adaptability with its compactness, simplicity, and low cost.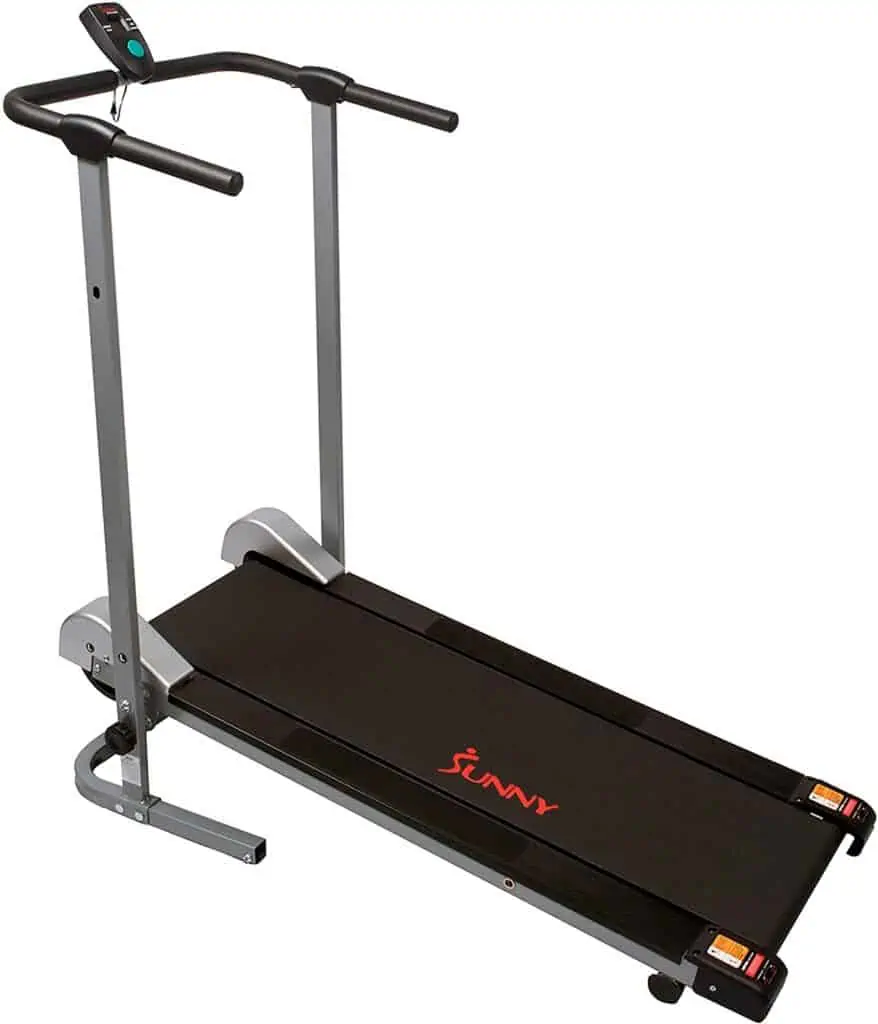 Pros
Storage space is minimal.
Training using your body weight
A three-year frame and a 190-day parts warranty are included with this deal.
Cons
Fixed Elevation.
The track width is narrow.
Emergency brakes are not available.
Sunny Health & Fitness T7857
The Sunny Health & Fitness T7857 is a top-rated senior treadmill time and time again. Shock absorption and a low deck make the SF-T7857 an excellent choice for anyone with poor knees or balance issues who wants to exercise. Its belt size is 44″ L x 19.5″ W.
Unlike other treadmills, this one has cushioned handrails on all three sides of the frame to make it as comfortable as possible.
The SF-emergency TL857 has a safety key that stops the treadmill when removing the safety clip. It also helps you stay balanced.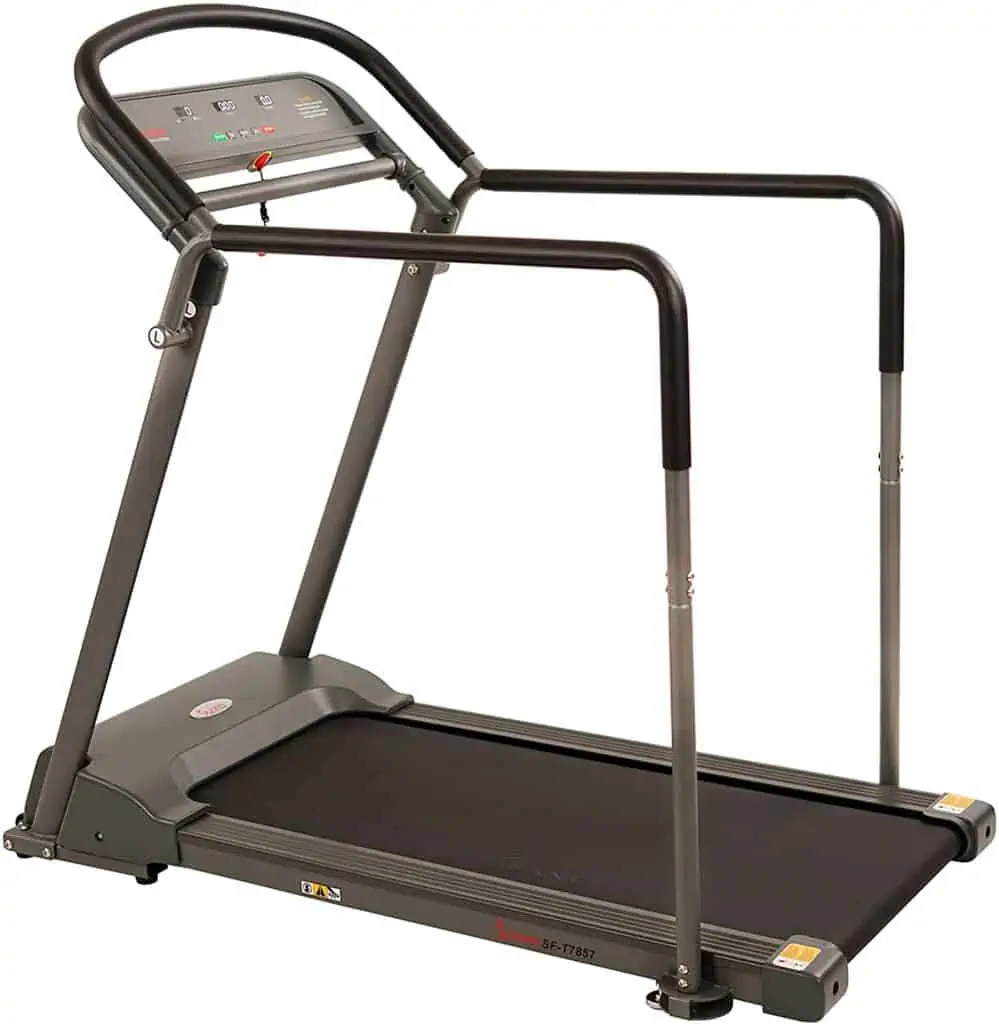 Pros:
Enhanced Balance and Joint Support.
Stopping in an emergency is possible thanks to this feature.
Easy to use controls.
Wide Running Track with Easy-Mount Design.
Cons:
There is no way to monitor your heart rate.
Not inclined.
Exerpeutic TF2000 Recovery Treadmill
Treadmill walking burns calories and promotes a healthy lifestyle. The Exerpeutic Recovery Fitness Walking Treadmill is intended for those in recovery and the elderly. TF2000 has 49″ "Full-length foam-padded walking aid handrails providing safety and stability. The belt size is 50" L x 16" W.
Backlit LCD displays time, speed, distance, calories burned, and pulse. Users may walk slowly up to 4 mph with a 300 lb weight capacity. 10 shock-absorbing deck cushions lessen knee, leg, and ankle discomfort. With the Exerpeutic TF2000, becoming healthy is effortless.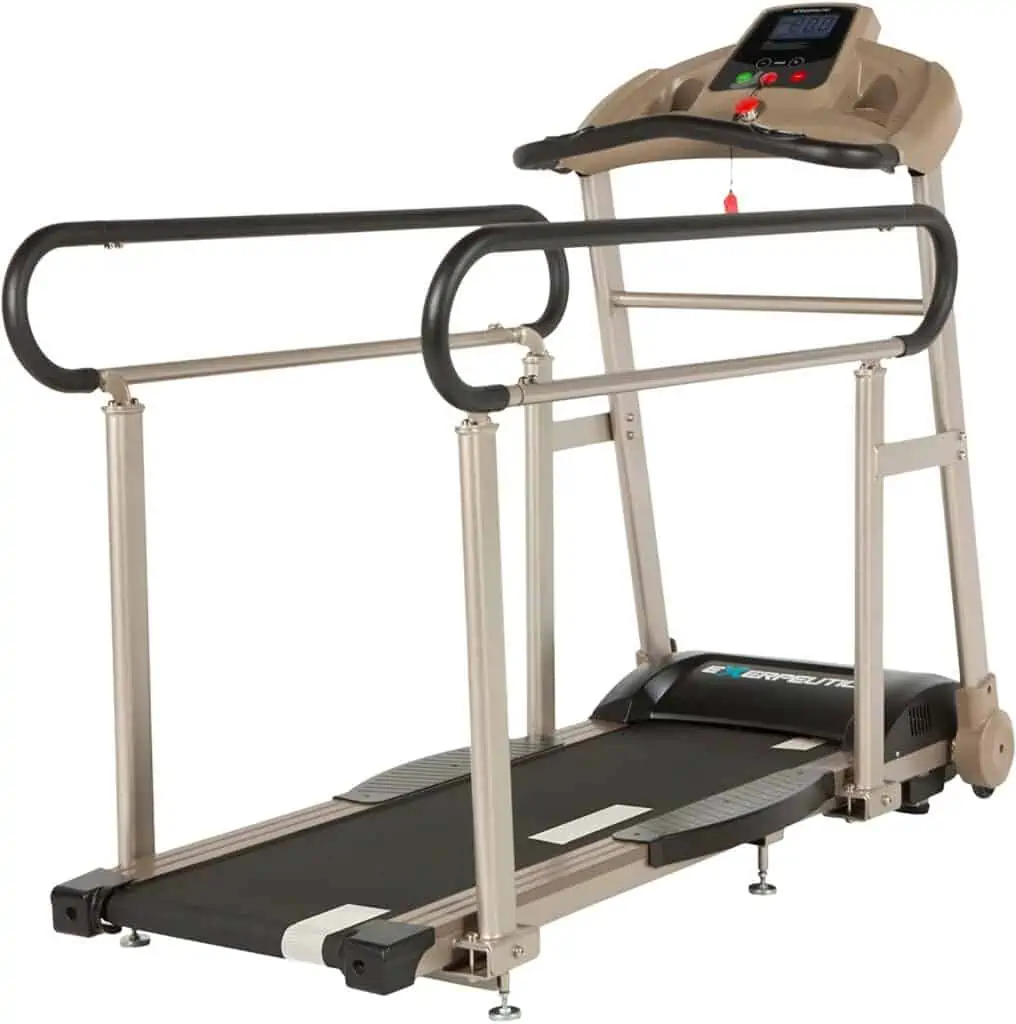 The 1.5 HP high torque motor uses "Quiet Drive" to decrease walking noise. It has a hand pulse to determine the target heart rate. The deck includes four leveling stabilizers. 5″ deck height for convenient access. Belt size is 50″x16″, and it has an emergency stop clip and button. It also includes two accessory holders and wheels for easy transport.
Vehpro Electric Treadmill for the Elderly
Treadmill with LCD LED display for seniors. This treadmill offers a low speed of 0.5 km/h and three slope settings. You can fulfill varied fitness intensity needs by altering the slope and training difficulty. Control your running pace by mastering your heart rate; improve the quality and effectiveness of your workouts. The belt size is 14″ x 40″
To boost safety, railings are installed and prolonged. Seniors may exercise safely. The safety auxiliary belt prevents running injuries and makes reverse walking simpler.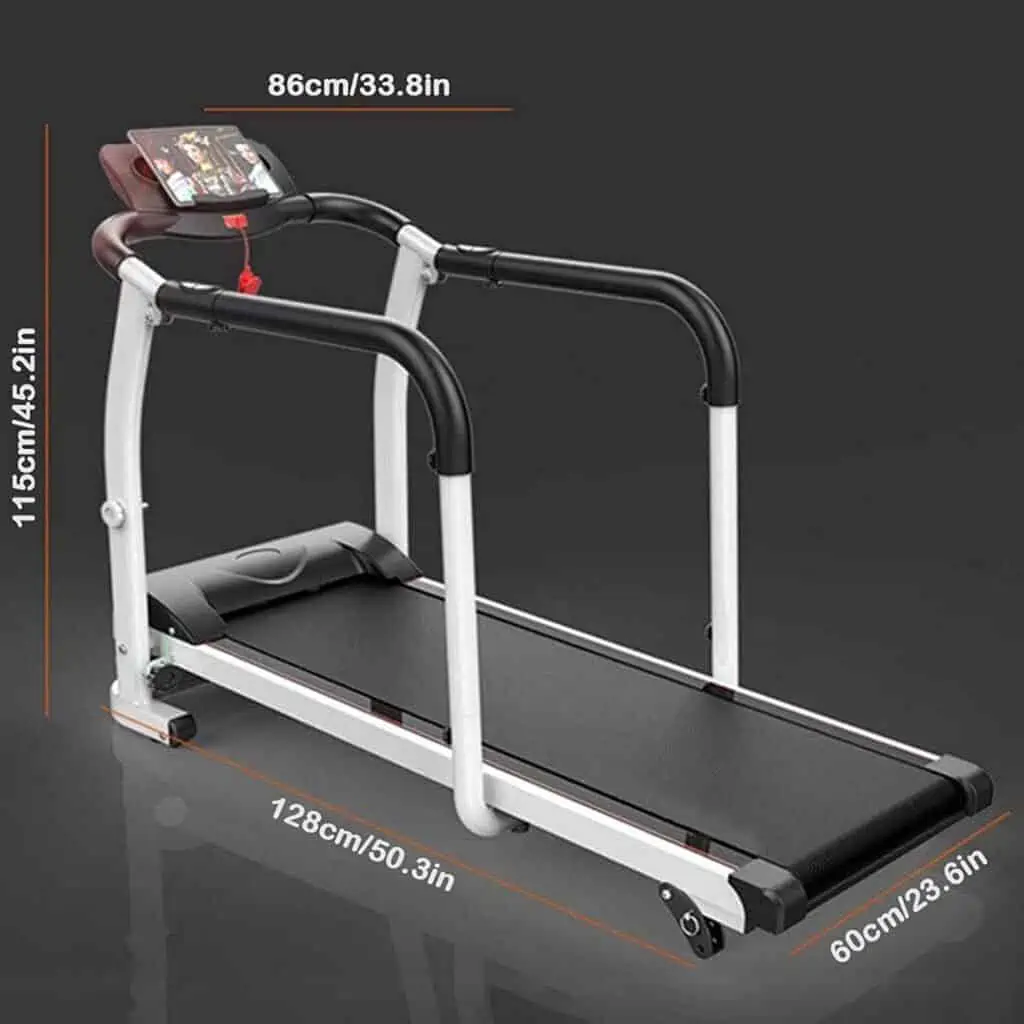 The 6 shock-absorbing pads on the base buffer pressure and create friction to avoid slipping and scratching.
NordicTrack T6.5s
NordicTrack has your back when looking for the finest treadmill for the elderly. The NordicTrack T Series 6.5S has a 2.5 HP engine and an extra-wide belt that provides stability and support for the elderly.
Furthermore, the 10% automatic inclination increases calorie burn and reduces joint strain by providing extra support for your knees and ankles. An EasyLift hydraulics mechanism folds the 6.5S into a vertical position for more accessible storage, making transporting it more convenient.
With the built-in heart rate monitor and Bluetooth controls on the handles, you can make any exercise more fun. NordicTrack T6.5s treadmill's belt is 20″ X 55."
There are 20 pre-set workouts made by personal trainers and hundreds more with an iFit membership. You can change the pace and incline settings on the treadmill in real time based on what your virtual coach tells you to do.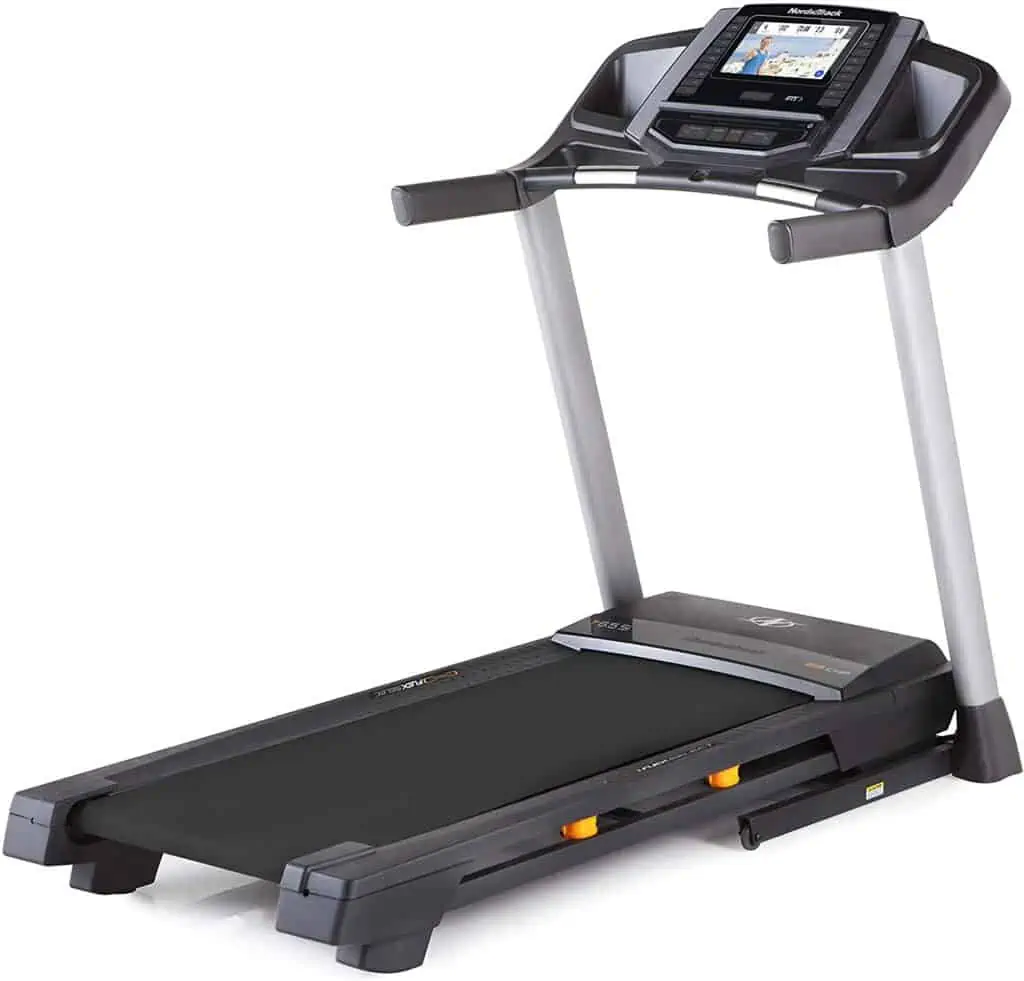 Pros
Cushioning using FlexSelect technology.
EasyLift Assist is a hydraulic device that makes lifting objects easier.
It has a weight capacity of 300 pounds
Running Belt with a Wider Width.
Cons
Handrails that are just a few inches long
The activation process requires an iFit account.
Only a Limited Time Warranty is offered.
The Redliro Walking Treadmill with Long Handrail is an excellent option for seniors who want to get regular exercise without leaving the comfort of their own homes. It is equipped with several features that make it safe and easy to use, including:
Extended handrails for added support
The walking Belt size is 41″ x 16."
Six-layer thickened running belt and super shock absorption system to protect your knees.
Backlit LCD display that tracks your progress
12 preset modes and simple buttons for easy operation
Phone and water cup holder
2.25-peak horsepower motor that provides quiet and smooth operation
Premium materials and stable construction that support up to 300 pounds
Foldable design for easy storage and transportation
The Redliro Walking Treadmill with Long Handrail is a great way to stay active and healthy at home. It is safe, easy to use, and provides various features to help you reach your fitness goals.
If you want a safe and easy way to exercise regularly at home, the Redliro Walking Treadmill with Long Handrail is an excellent option.
XTERRA TR150
The XTRA Comfortable Deck cushioning keeps your strides soft no matter how fast you go. It is the best inexpensive treadmill for seniors. There are 12 preprogrammed exercise programs and speed options ranging from 1 to 9 MPH on the LCD panel, making it simple to keep track of your progress. The treadmill belt size is 16″ X 50″.
Despite the deck's smaller design, a modest 4 – 5.5″ step-up allows simple access. A two-person team should have no problem setting up the treadmill.
As a result of its low weight and wheels, the TR150 is accessible to transport and store. The XTERRA Fitness TR150 is the best foldable treadmill for the elderly.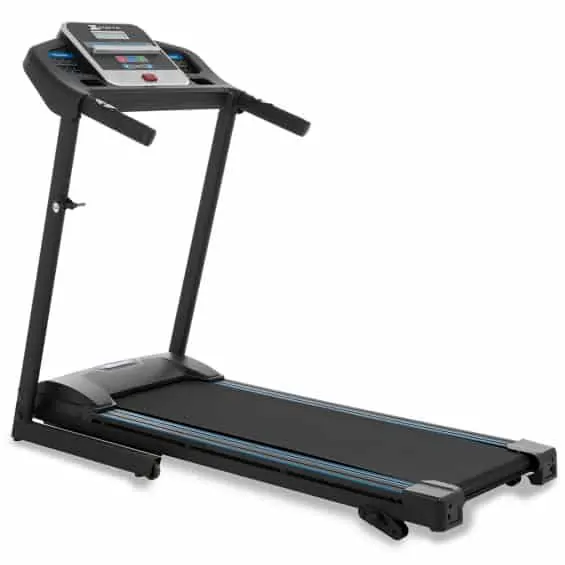 Pros
Intensely cushioned.
Direct Control of Speed.
Storage Space Savings.
Cons
Incline Controls Operated By Hand
Warranty: 1 year on the motor, 90 days on parts and labor.
Conclusion
Though several treadmills are in this category, Exerpeutic, Sunny, and Xterra are the most popular.