Collagen Powder is the man made varient of Collagen, the body's most abundant protein, accounting for one-third of its protein content. Collagen gives structure to bones, skin, tendons, and ligaments. In addition, collagen is present in blood vessels, corneas, and teeth. It's like the "glue" that binds everything together. In reality, the term originates from the Greek word for glue, kólla.
Collagen helps the body's joints to stretch as also the skin. It is present in your bones and muscles. It is also present in blood and makes up a third of your body's protein.
"Collagen plays an important role in building and supporting many tissues, from bones and cartilage to skin, hair, eyes, and the digestive system," says Sonya Angelone, RDN, who practices in San Francisco and is a spokesperson for the Academy of Nutrition and Dietetics.
With age, the body's collagen production slows down. Due to this, many individuals use collagen powder or other such supplements. These are typically pills and liquids, in addition to powders.
The body makes collagen from amino acids.
Suggested Reading

Amazing Benefits of Chlorophyll Water and 7 Best Sellers,
Top 7 Manual Treadmills: The Lowest Costing & Most Useful
How to Boost Metabolism after 40? 15 Simple Life Style Changes
Collagen Supplements and Health
Collagen is important for human health since it is found in so many vital organs. However, less certain are the advantages of collagen supplementation. While they may help keep skin moisturized and ease osteoarthritis pain, further study is required into other advantages, including reducing blood pressure/sugar levels.
Collagen Powder Benefits
Collagen Powder for Skin
The skin contains a lot of collagen. It helps to strengthen the skin and improve elasticity and hydration. As we age, our bodies generate less collagen, causing dry skin and wrinkles.

However, collagen peptides or collagen supplements may help reduce wrinkles and dryness in the skin.
Women who take a collagen supplement regularly for two months may have reduced skin dryness and more elasticity than those who do not.
It is because collagen supplements reduce wrinkles by stimulating the body's natural collagen production.
Oral supplements enhance skin moisture and elasticity in the elderly. They may also help smooth wrinkles.
Better Bones
Bones grow less thick and brittle with age, fracturing more readily and healing slower. In addition to making your bones denser, regular collagen supplements may help your body create new bones.
Hair Growth
Many people suffer from hair loss with age. However, people with hair loss who took daily collagen supplements experienced substantial improvements in hair quantity, scalp covering, and thickness.
Better Nails
Some people's nails are brittle and and grow slower. For example, after just a month of regular collagen supplementation, women's nails grew quicker and had fewer cracks or damage.
Painless Osteoarthritis
Oral collagen supplements may help osteoarthritic knees by reducing discomfort and improving joint function. However, it may take upto five months of regular therapy to see results.
Muscle Mass Gain
Incorporating collagen peptide with strength training may assist in building lean muscle and strength.
Dangers of Collagen Supplements
There are no known major collagen powder side effects. These are uncommon. Some bloating or mild diarhea is reported some times.
If you're pregnant or nursing, you should avoid using collagen supplements. This caution is until further study is done on their safety.
Collagen supplements aren't advised for those who are prone to kidney stones. Taken in moderation, collagen powder side effects on kidney are unlikely.
Better Options
Rather than purchasing collagen pills or powder, you may help your body produce collagen by eating a nutritious diet.
Various amino acids like glycine, proline etc., are combined with Copper, vitamin C and Zinc to make collagen. Therefore, eating glycine-and proline-rich foods, including beans, chicken, cattle, dairy, eggs, and fish, may help your body manufacture collagen. In addition, citrus fruits, leafy greens vegetables, tomatoes, seafood and nuts provide copper, vitamin C and zinc. Whole grains also provide the same.
Best Selling Collagen Powder
Vital Proteins Collagen Peptides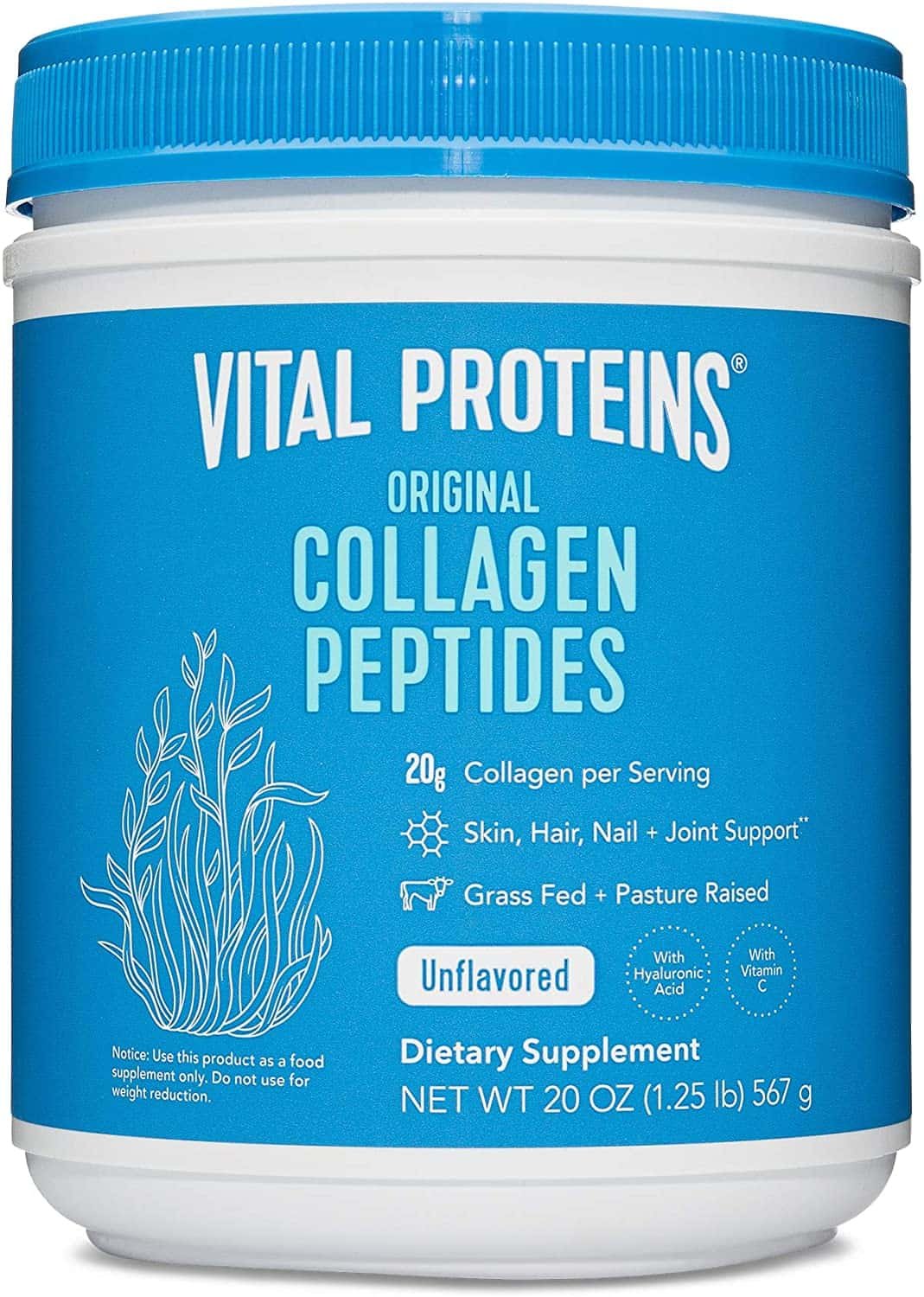 Serving Size – 20 gm
Calories – 70
Protein 18 gm
Vitamin C – 90 mg
Sodium – 110 mg
Hydrolyzed Collagen – 20 gm
Hyaluronic Acid – 80 mg
Grass-fed, pasture-raised cattle. Fast digestion and absorption for optimum benefit. It improves hair, skin, nails, joints, ligaments, and tendons. It is easily dissolved in hot or cold beverages such as coffee and tea. No taste or odor. It is low in cholesterol and heavy metals. Non-GMO, paleo-friendly, gluten-free.
Vital Proteins add vitamin C to their powdered collagen to help it absorb better. The collagen blend also includes hyaluronic acid, a naturally occurring chemical that promotes collagen production. So you may add it to coffee, smoothies, or other drinks.
Vital Proteins Beauty Collagen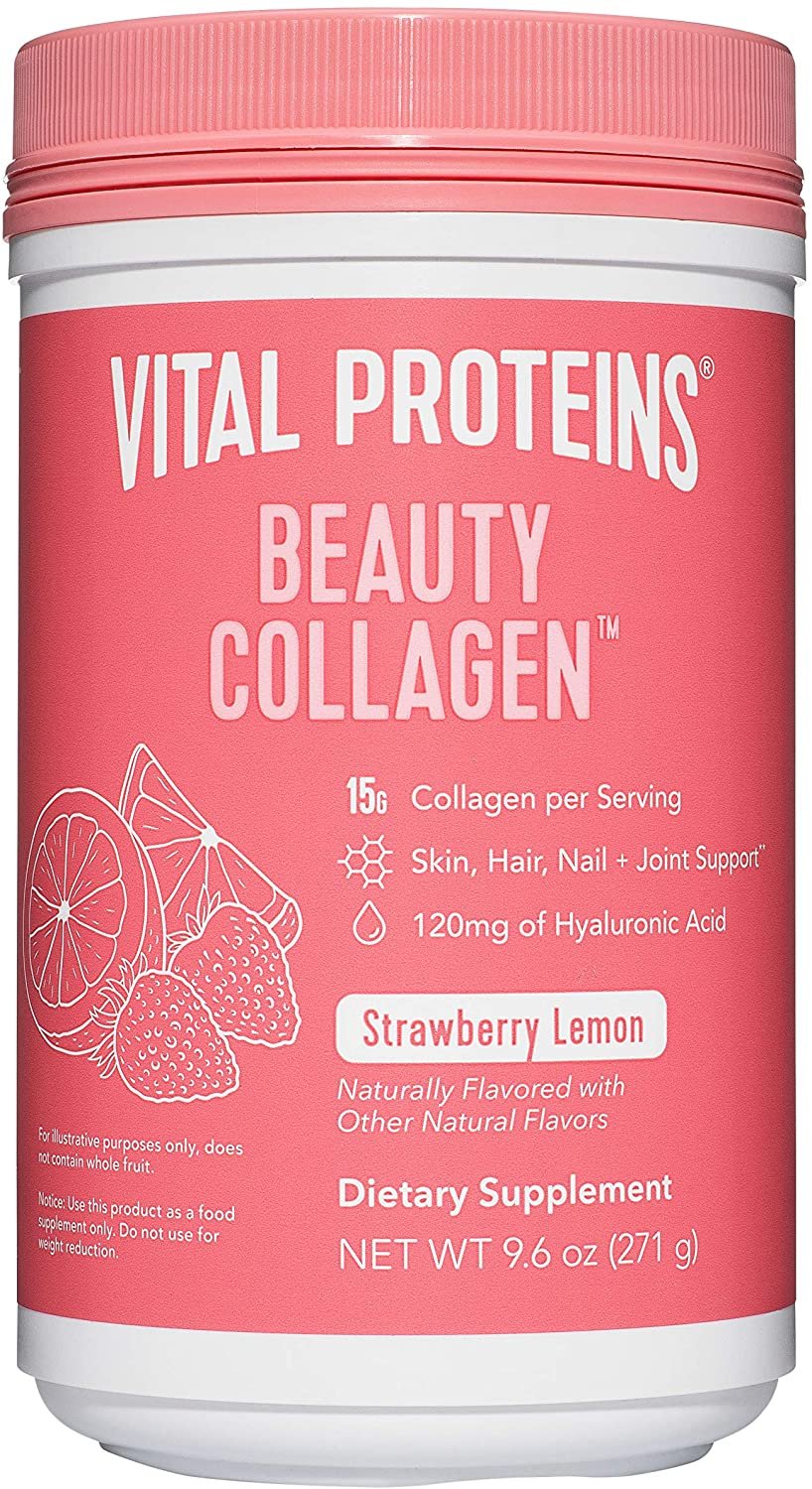 Serving Size – 19 gm
Calories – 70
Protein – 14 gm
Carbs – 3 gm
Sodium – 100 mg
Collagen Peptides – 15 gm
Hyaluronic Acid – 120 mg
Sweetened with organic lemon, strawberry, and beet. A mix of bovine hide collagen peptides.
It contains probiotics and 120mg of hyaluronic acid to assist for hydration and elasticity of the skin.
Drinkable hot or cold, including coffee, smoothies, and tea. It is important for skin restoration, wound healing, and tissue regeneration.
Vital Proteins is made in a GMP-certified facility devoid of gluten, dairy, fillers, sugars, and additives.
NSF evaluates goods for quality and potency. Meanwhile, GMP is a quality standard established by the FDA (FDA).
Garden of Life Hydrolyzed Collagen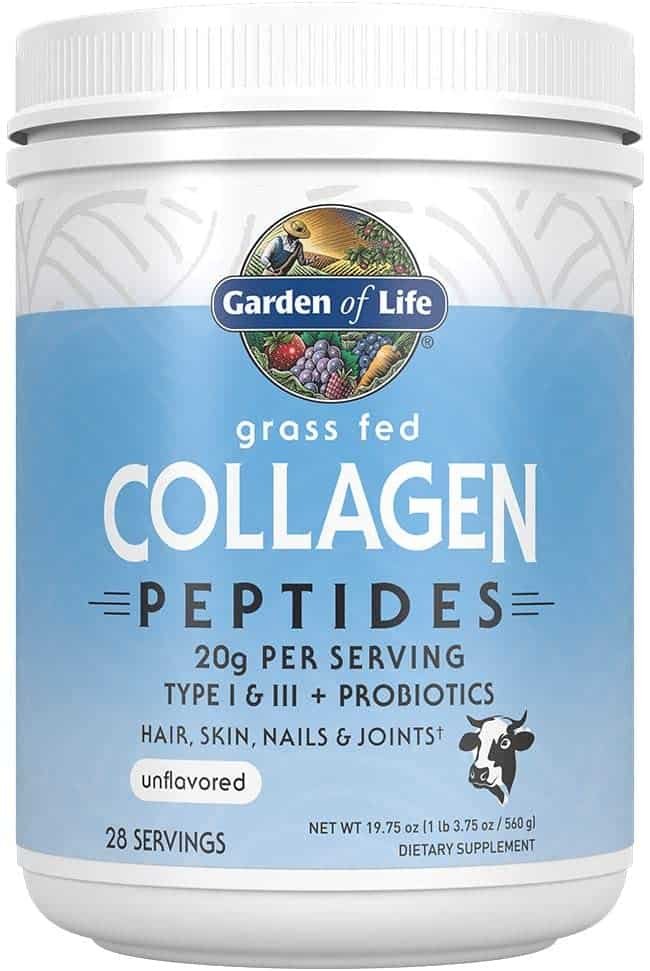 Serving Size – 20 gm
Calories – 70
Protein – 18 gm
Sodium – 100 mg
Collagen Peptides – 20 gm
Bovine peptides contain essential amino acids and branched-chain amino acids (BCAAs), essential for healthy cartilage, joints, ligaments, tendons, and tissues.
Third-party tested, tasteless collagen from pasture-raised cows. Non-GMO gluten-free, Keto & paleo certified by NSF.
This implies no pesticides or fertilisers. It is then hydrolyzed into a powder for better absorption. Probiotic Lactobacillus Plantarum 1.5 billion CFU. This aids with digestion, immunity, and nutrition absorption.
The amino acid protein content makes this an excellent supplement for muscle development and weight reduction. It includes all necessary amino acids.
You may also utilise hot drinks like coffee, as recommended on their website.
Live Conscious Collagen Peptides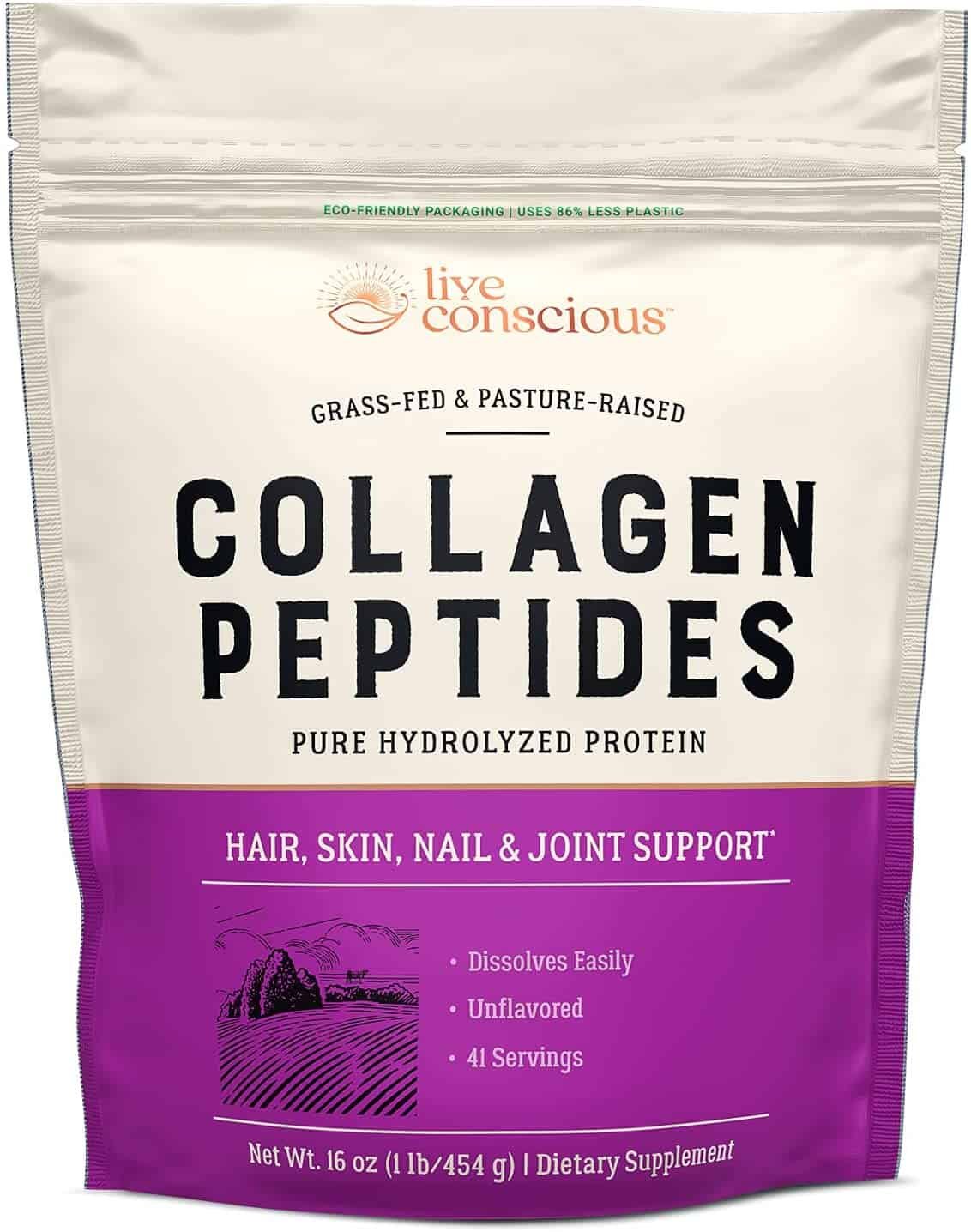 Serving Size – 11 gm
Calories – 40
Protein 10 gm
Calcium – 4 mg
Sodium – 55 mg
Iron – 22 mg
LiveWell Labs utilizes hydrolyzed collagen peptides from grass-fed and pasture-raised cattle. It has a moderate flavor. It contains both Type I and III collagen to promote skin health.
It also includes amino acids that help create and repair tissue. Collagen and amino acids may also accelerate wound healing. It is derived from grass-fed, pasture-raised cows. It's non-GMO and devoid of fillers.
It is third-party tested and manufactured in a GMP-compliant facility.
Great Lakes Gelatin Collagen Hydrolysate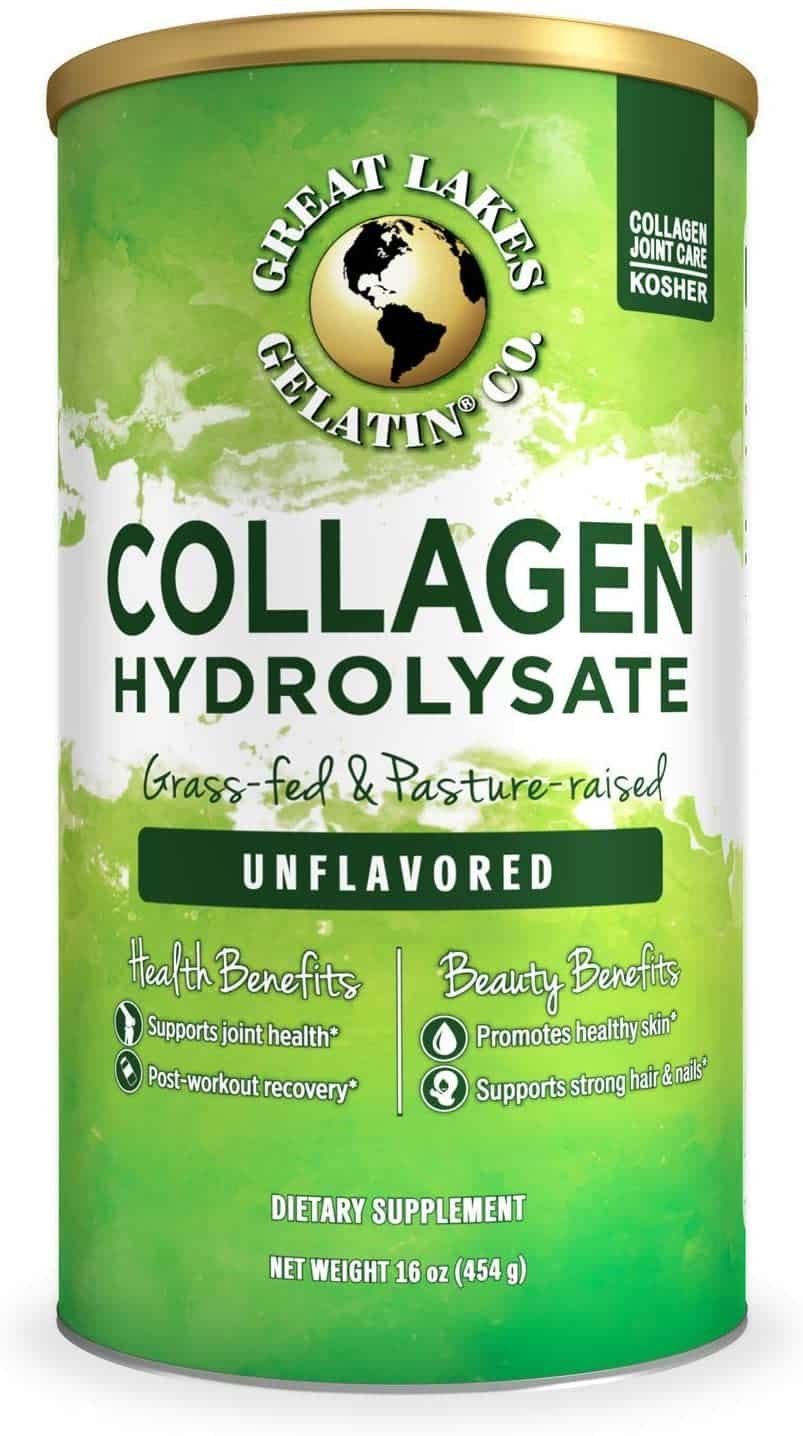 Serving Size – 12 gm
Calories – 45
Protein 11 gm
Sodium – 35 mg
Collagen Hydrolysate – 12 gm
A nutritional supplement with a healthy amino acid combination. Aids in post-workout recovery.
100% grass-fed & pasture-raised, Paleo/Keto, Gluten-Free, Non-GMO. The product is pesticide-free and devoid of sulfates and antibiotics. It has collagen types I & III.
Consumer Labs, a third-party testing firm, has also approved this product and verified that the contents match the statements on the label. The unflavored powder blends nicely with anything from tea to protein shakes.
Orgain Hydrolyzed Collagen Peptides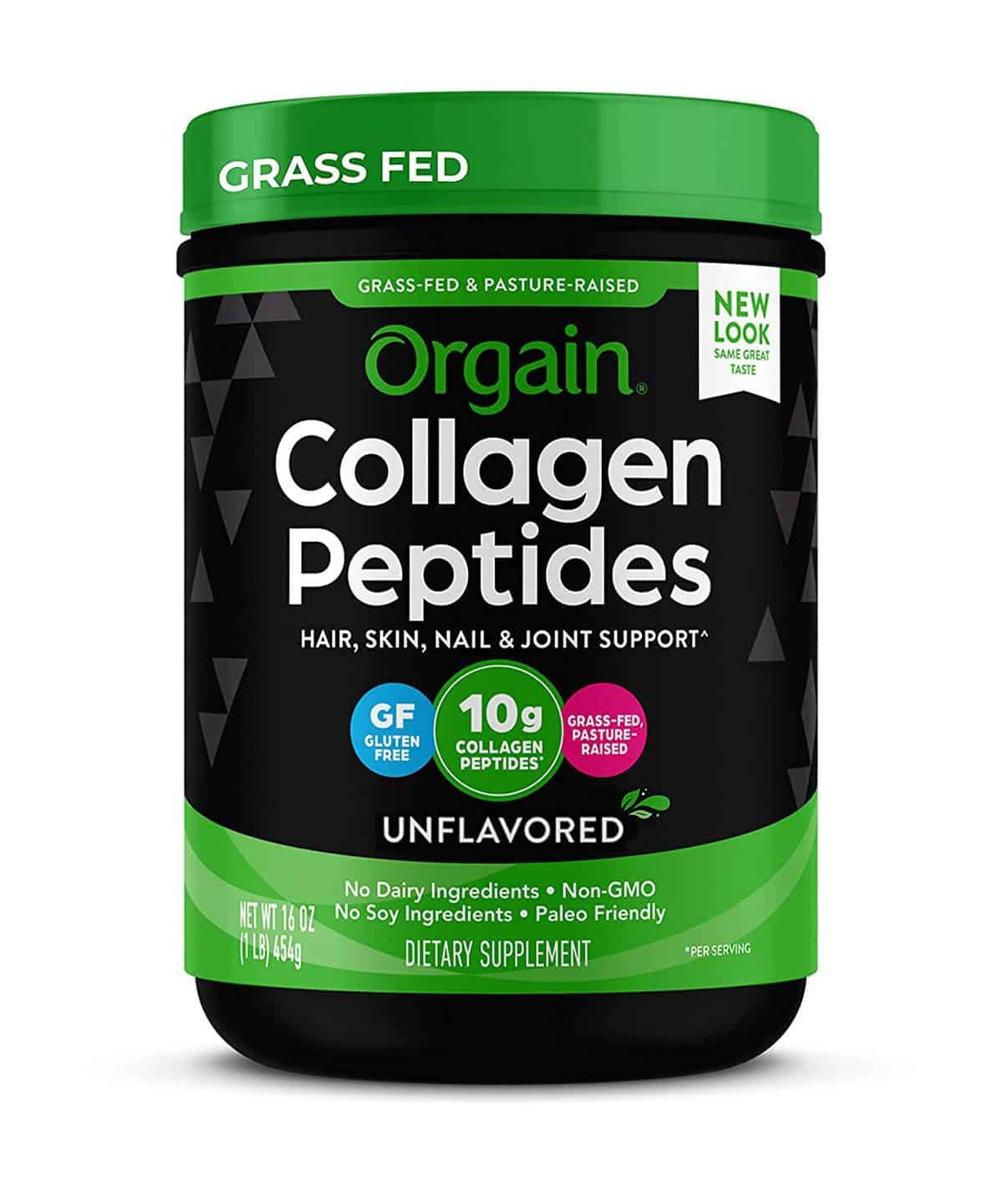 Serving Size – 10 gm
Calories – 35
Protein – 9 gm
Sodium – 50 mg
Collagen Hydrolysate – 10 gm
Paleo and Keto friendly, sugar-free, no soy, no GMO, odorless and bland. It easily blends into any meal or drink. Use in protein shakes or smoothies.
These collagen peptides come from grass-fed, pasture-raised animals for the purest protein available. It is vital for collagen products since the quality of the cattle influences the quality of the collagen. None of the common allergies are present in this collagen product.
Each serving of collagen peptides contains eight important amino acids that we need in our diets. There's no sugar or preservatives.
Ancient Nutrition Multi Collagen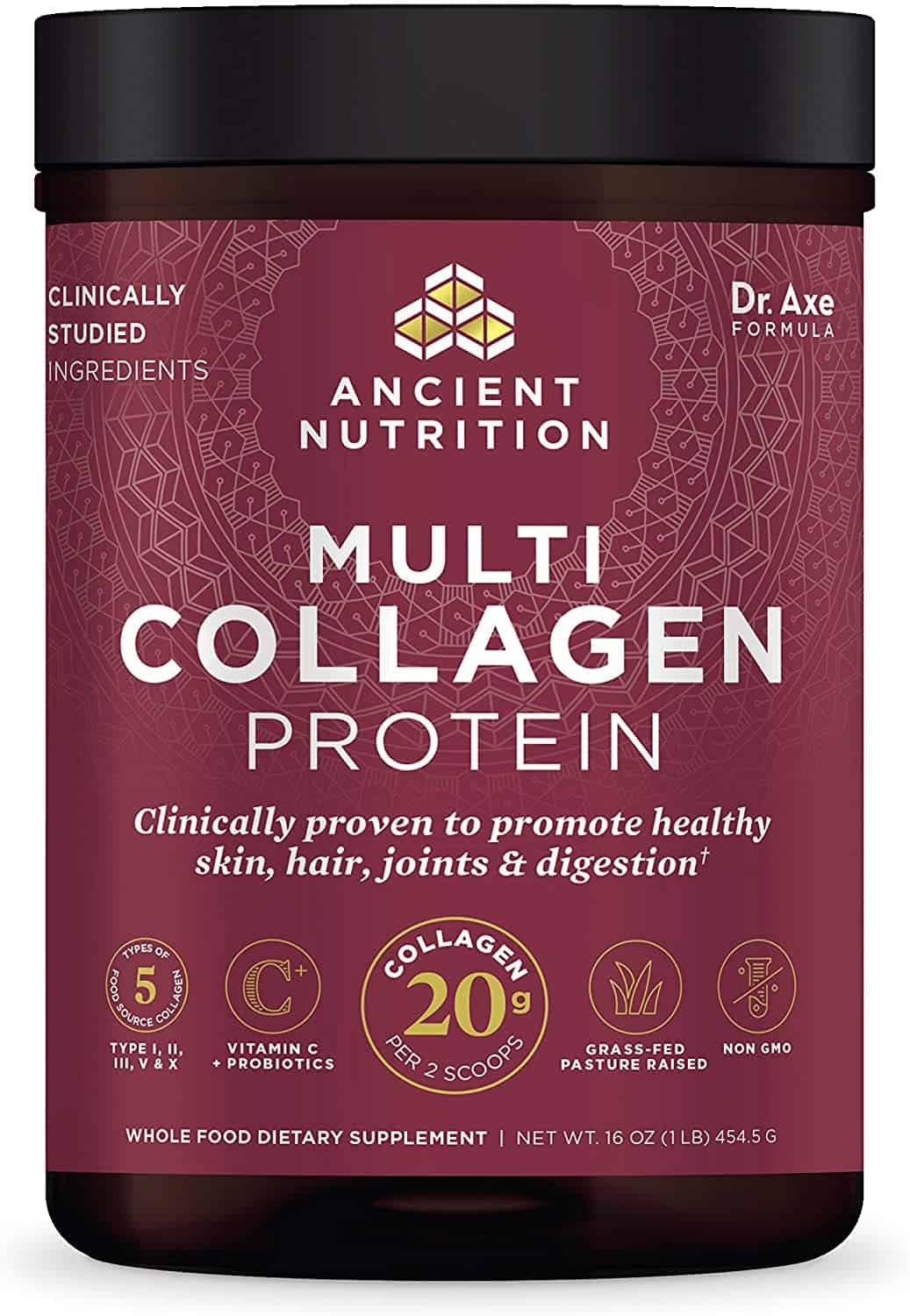 Serving Size – 10.1 gm
Calories – 35
Protein – 9 gm
Vitamin C – 90 mg
Multi Collagen Complex – 10 gm
Each scoop contains hydrolyzed collagen types I, II, III, V, and X from 4 different food sources (Beef, Chicken, Fish, and Eggshell Membrane). It is non-GMO, grass-fed, and pasture-raised, hormone-free, cage-free, and cruelty-free. Available in single servings unflavored or flavored with vanilla, chocolate, or cucumber lime.
This collagen powder has no carbohydrates or sugars. As a result, it's devoid of antibiotics, growth hormones, and toxins and is good for your skin, stomach, and joints. In addition, this unflavored powder blends readily into liquids without clumping or chalkiness, making it ideal for hot or cold beverages, cooking, and baking.
NeoCell Super Collagen Peptides
Serving Size – 10 gm
Calories – 35
Protein – 8 gm
Sodium – 50 mg
Hydrolyzed Bovine Collagen – 10 gm
Neocell's collagen comes from grass-fed bovine. The sole active component is hydrolyzed type I and III collagen. Each dose of this collagen supplement includes 10,000 mg of collagen types 1 and 3. No soy or artificial flavors.
It promises to boost collagen production for younger-looking skin, hair, and nails. It comes in unflavored, berry lemon and French vanilla tastes. It may also be used in other dishes, like baked products and soups.
Neocell has been making collagen supplements for over two decades. They have utilised their expertise to create a line of collagen supplements that are highly bioavailable and readily absorbed by the body.
In addition to supporting increased skin hydration and firmness, NeoCell Super Collagen is designed to treat some of the most prevalent symptoms of ageing.
Wholesome Wellness Multi Collagen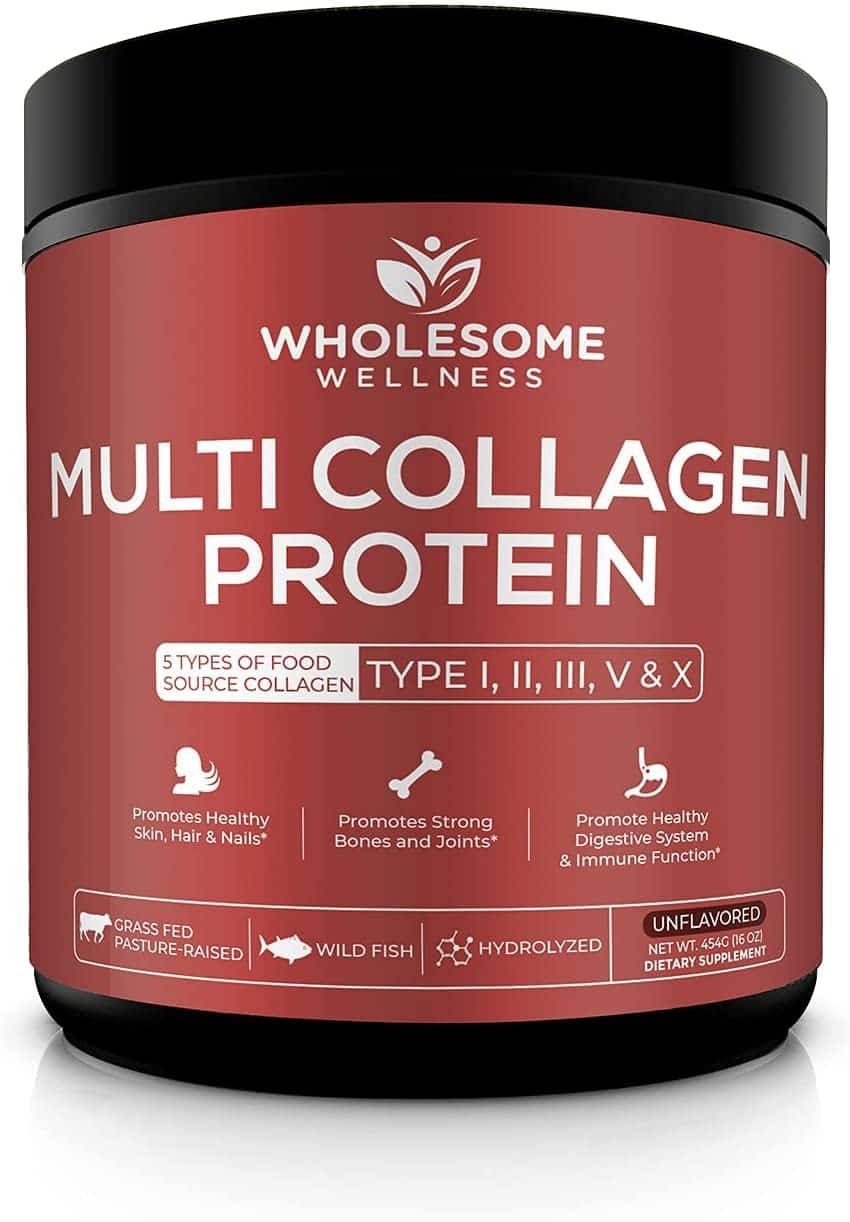 Serving Size – 7.8 gm
Calories – 30
Protein – 7 gm
Sodium – 45 mg
Multi Collagen Complex – 7.8 gm
Bone Broth Collagen Peptides The All-in-one powder supplement provides collagen types I, II, III, V, and X
Produced using GMP standards, 100% hydrolyzed grass-fed beef, eggshell membrane, certified wild fish, organic and gluten-free ingredients.
Wholesome Wellness' collagen supplement supports hair, nails, and skin. It supports our bones and joints. Most importantly it may assist with hormonal balance, sleep, and even cellulite.