While using a manual treadmill, your feet move the belt, which only moves as long as you move it. When you run or walk on a manual treadmill, you spend more effort than when you use a motorised treadmill.
A manual treadmill can provide an effective workout in the comfort of your own home. If you have any health conditions that prevent you from walking or running outside, this type of machine will allow you to stay active indoors.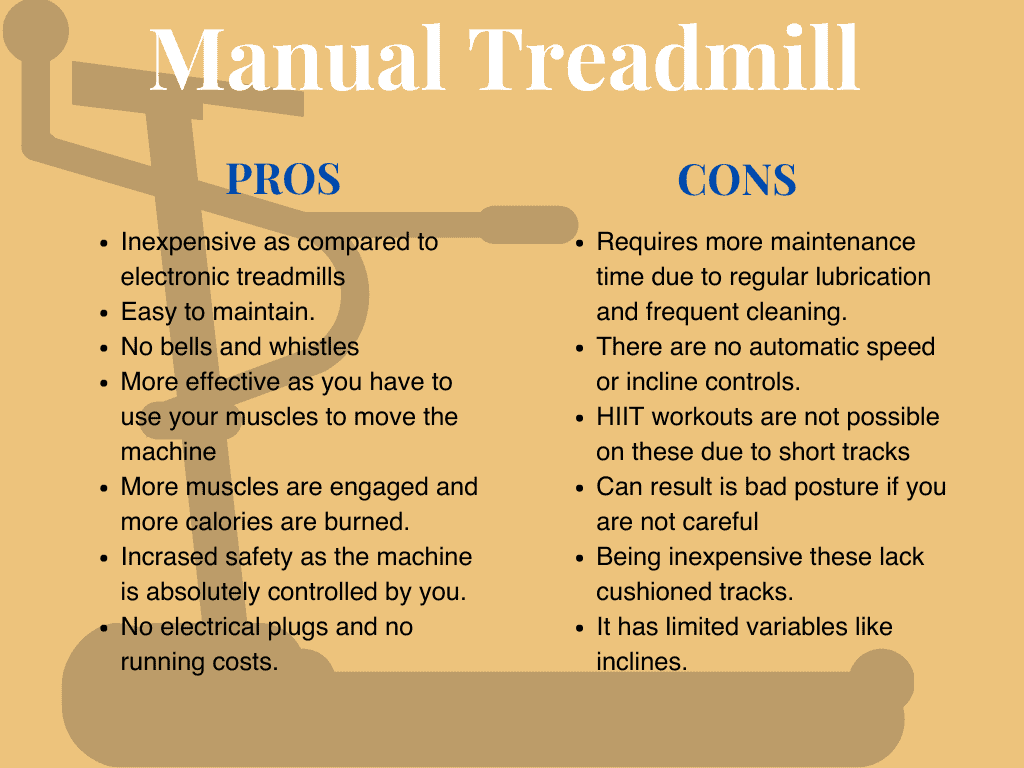 You don't even have to leave your house! With a manual treadmill, there are no distractions like traffic noise, weather changes, or any interruptions like power cuts. Besides these are very inexpensive too.
Difference between Manual and Electric Treadmill?
Electronic treadmills typically use motors to propel the belt instead of human effort. Many models also incorporate other advanced technology including automatic belts, dual speeds, and variable inclines. Manual treadmills can be moved only by moving your feet. The speed of a manual treadmill is equal to the speed you run.
To stay on the electronic treadmill you have to match your steps with the speed of the treadmill whereas on a manual treadmill you only have to keep walking or jogging and the treadmill will match your speed.
Best selling Manual Treadmills
| | | | | | |
| --- | --- | --- | --- | --- | --- |
| Manual Treadmill | Dimensions | Track | Weight Capacity | Incline | Price$ |
| Sunny Health & Fitness SF-T1407M | 49 x 23 x 50″ | 42 x 13″ | 220lbs | 13.5 | 163 |
| Fitness Reality TR3000 | 50 x 29 x 50″ | 45 x 16″ | 325lbs | 13 | 214 |
| Exerpeutic 100XL High Capacity | 50 x 29 x 50″ | 45 x 16″ | 300lbs | 12 | 461 |
| Sunny Health & Fitness Force Fitmill | 59 x 27 x 55″ | 53 x 16″ | 300lbs | 13 | 480 |
| Stamina Inmotion Manual Treadmill | 47 x 22 x 45″ | 41 x 12.5″ | 225lbs | 10 | 117 |
| ProGear 190 Manual Treadmill | 47 x 23 x 51″ | 43 x 13″ | 230lbs | 10 | 151 |
| Weslo CardioStride 4.0 | 50 x 27 x 47.5″ | 41 x 16" | 250lbs | 19 | 298 |
Sunny Health & Fitness SF-T1407M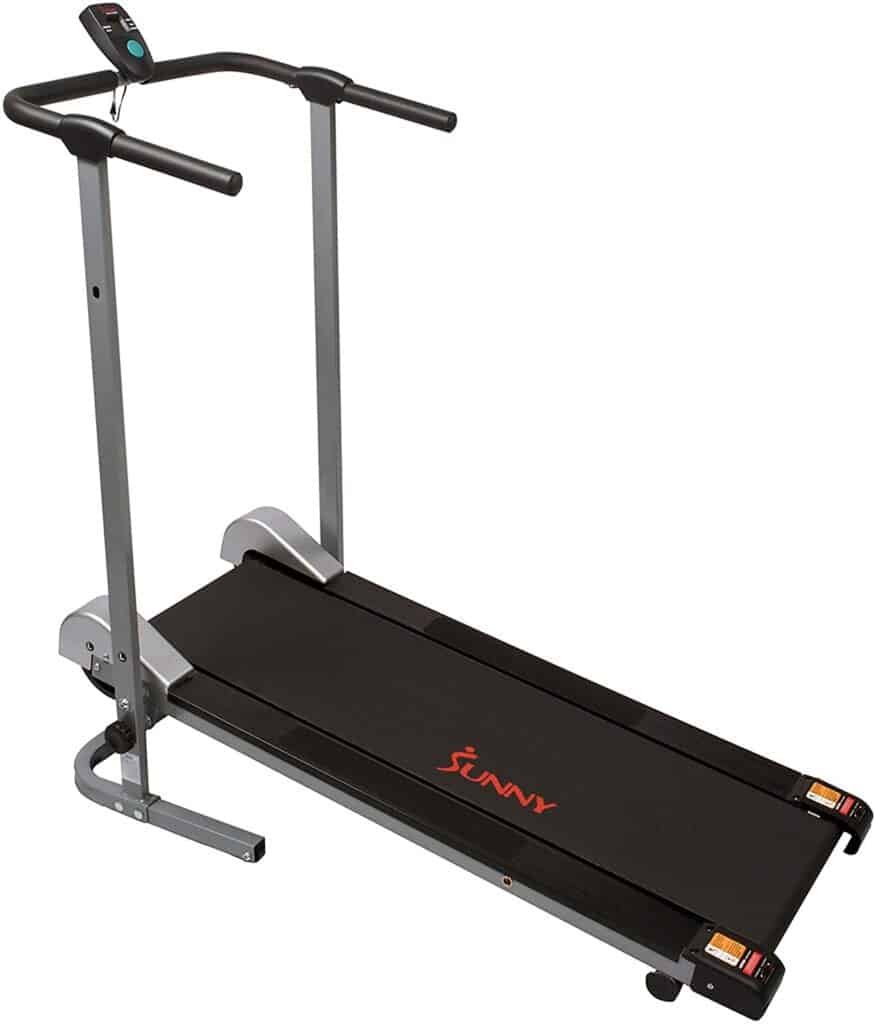 Warranty – Frame 3Yrs, Parts & Components – 180 days
The Sunny SF-T1407M comes pre-assembled and features a sturdy steel frame. It is foldable and may be stored in a tiny nook or beneath the bed to conserve room and it weighs just 46.7 lbs.
A battery-powered, simple-to-use console with an LCD tracks time, distance, speed, and calories. 2 AA batteries power the console.
Although this is a walking treadmill, its 13″ width is a bit too narrow for walking. However, those recuperating from sickness or surgery, those with impairments or mobility issues, and the elderly will find it acceptable. In addition, it comes with non-slip soft foam handlebars on this treadmill to enhance control and stability.

The Sunny SF-T1407M has twin weighted flywheels that offer resistance as users increase speed, power output, and tension. In addition, perspiration guard covers prevent sweat and debris from accumulating on the flywheels.

The Sunny SF-T1407M has floor stabilizers to help level uneven floors. These allow consumers to exercise without fear. The Sunny SF-T1407M is non-electric and operates quietly. It is helpful for those who like early morning workouts and don't want to wake up family or neighbors.
Fitness Reality TR3000
1 year limited + 5 years extra if bought on FitnessReality.com
The Fitness Reality TR3000 manual treadmill is a good buy with a lot of great features.
The TR3000 is extremely simple to assemble. Only a console is to be connected to the frame, which takes about 15 minutes.
It is made of steel and is very robust. Moreover, it's a trendy dark grey.
The TR3000 features eight levels of magnetic tension. The flywheel is linked to the belt, creating magnetic resistance to enhance the exercise intensity. The console has a knob to adjust the resistance.
Its compact form allows it to be folded and stowed after use behind a door or under a bed, ideal for tiny areas. The base has transfer wheels for simple movement.
The LCD displays distance, time, speed, calories burned, and pulse rate. But the screen isn't illuminated. 2 AA batteries are supplied for LCD.
The TR3000's most significant feature is its three manual inclination settings. 8°, 10°, and 13° This adds variation to the exercise and allows users to choose their workout intensity. In addition, a quick-release mechanism allows changing the inclination.
The TR3000 is not entirely silent. The TR3000 console includes a slot for a phone, tablet, or TV remote.
The TR3000 comes with lubrication oil, and the user manual explains how to use it in the "Lubrication" section.
The Fitness Reality TR3000 manual treadmill features extra-long handrails for safety and balance, heart pulse pads, eight resistance levels, 6-inch dual flywheels, and three magnetic resistance levels, all remarkable for the low price. For longer strides or jogging, you may adjust the running belt to 6 'or higher.
It is an excellent buy for the typical user looking for low-cost, easy-to-use exercise equipment for home use, strength development, muscle toning, injury rehabilitation, or for seniors.
Exerpeutic 100XL High Capacity
Warranty – 3-Year limited warranty
Exerpeutic 100XL is a Walk-only treadmill. It has two flywheels, three inclination levels, and a wide walking/running deck for jogging.
In addition to reducing mechanical complexity and weight, this function relies on the person walking or running to drive the belt. The device arrives nearly built, and the user has to do little to get it operating.
You may fold a convenient folding unit upwards to conserve space. With its tiny transport wheels and lightweight construction, the Exerpeutic 100XL can be moved easily.
The belt is wide enough for walking, and the flywheels allow for mild running too. The incline has three potential locations-8°, 10°, and 12°.
The magnetic resistance (8 levels) is more than adequate for most people. The treadmill's console is highly user-friendly. It has a single LCD panel that shows time, distance, calories burned, walking pace, and heart rate through heart rate sensors on the handlebars.
The console also has tiny storage space for a TV remote or similar device. It is extremely quiet when used by lightweight trainees. It is a basic, sturdy, and inexpensive walking treadmill, the Exerpeutic 100XL High Capacity Magnetic Resistance Manual Treadmill.
SUNNY HEALTH & FITNESS FORCE FITMILL MANUAL TREADMILL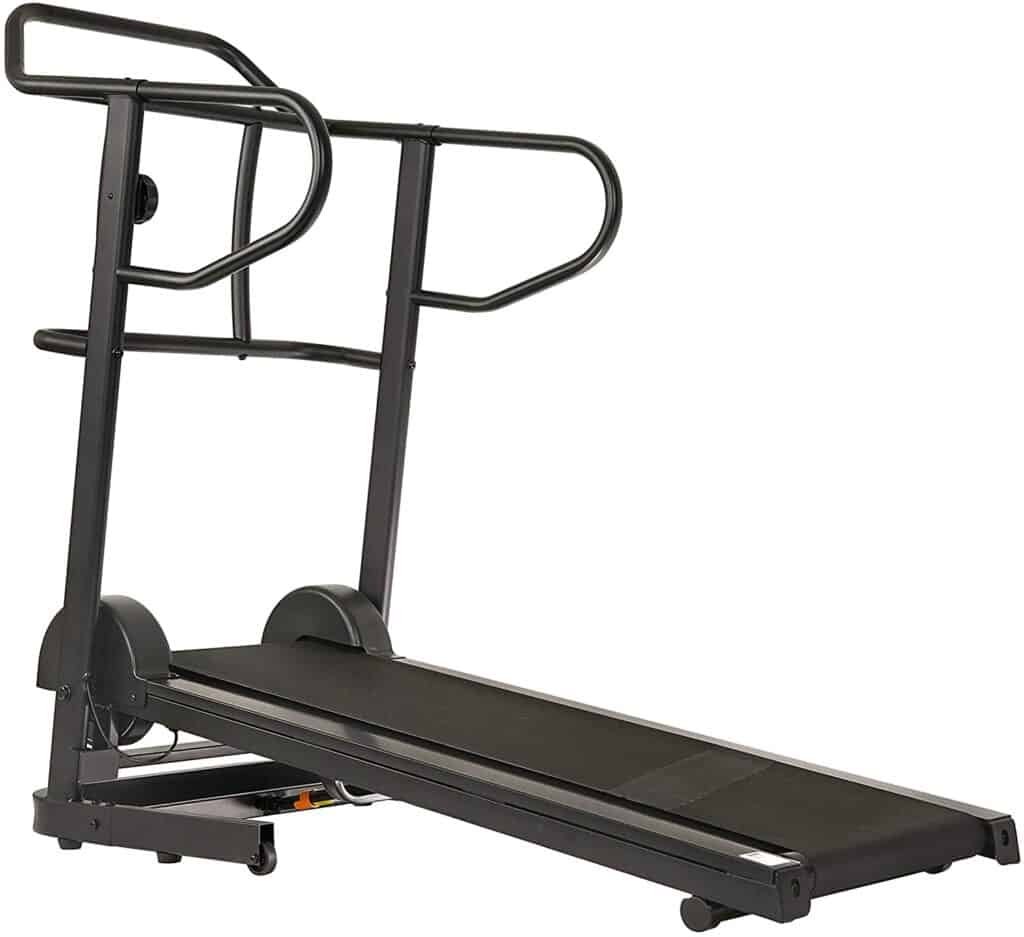 Warranty: 3 year structural frame 180 days other parts and components
For high-intensity exercise and increased muscle strength, this heavy-duty fitness training gadget delivers. The self-powered treadmill inclines 13.5 percent to encourage a more fluid running action. The high-density handrails promote multi-grip functionality for a demanding cardio workout.
In addition, it has slip-resistant rails for resting the shoulders. Increase magnetic tension up to 16 levels for a workout that improves hilly and flat terrain performance. Dual flywheels provide a more steady and smooth reaction for the user.
Full-body cardio exercise with a fixed incline and 16 magnetic tension levels.
The Sunny treadmills' soft-drop hydraulic system enables the deck to descend to the floor softly. The hydraulic gentle drop system ensures safe unfolding. You won't have to worry about your treadmill falling on your floor. Instead, fold your treadmill for storage and unfold it for use.
With these handy travel wheels, your house can quickly become your workout studio. No heavy lifting or muscular strain is required. The front wheels enable the customer to quickly move their device from room to room or store it out of sight.
Stamina InMotion Treadmill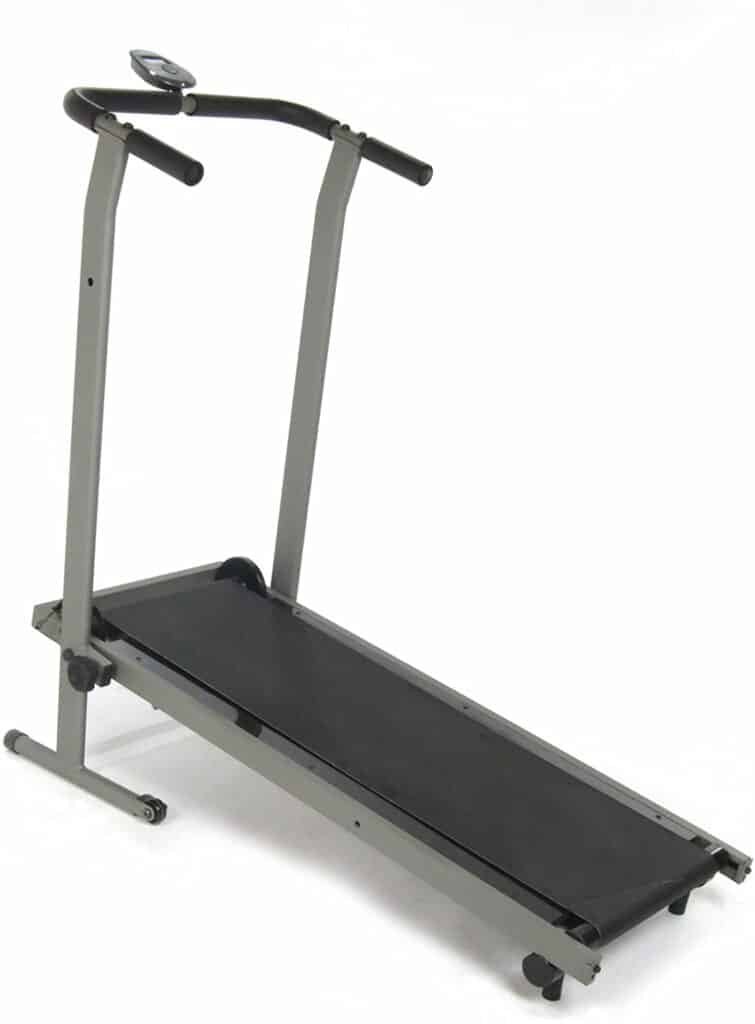 Warranty- Frame – 1 Yr, Parts – 90 days
For walking and jogging, the Stamina InMotion Manual Treadmill is a great option. Its belt runs only on user motion. This equipment may be utilized flat or at two incline settings (8 and 10%) for added difficulty. Exercise time, distance, pace, and calories are shown.

The Stamina InMotion Manual Treadmill is best used as a rainy day treadmill or to supplement cardio training. You will be disappointed if you expect a cheap but dependable alternative to a conventionally powered treadmill.

The inclination choices are 8% and 10%. Using an inclination increases calorie burn without increasing pace. The slope levels make this treadmill a good option for training calf muscles. For added traction, the track is textured, unlike other manual treadmills.
This machine weighs just 49 pounds, a quarter of a standard home treadmill. Simple and low-quality parts like thin track material and tiny track rollers help to reduce the treadmill's weight.
There are no predefined exercises on this treadmill. Its tiny display shows speed, distance, time, and calories with one button scan. The calorie count is an estimate and is not dependent on the user's weight.
The tread belt needs regular maintenance to ensure good operation.
ProGear 190 Manual Treadmill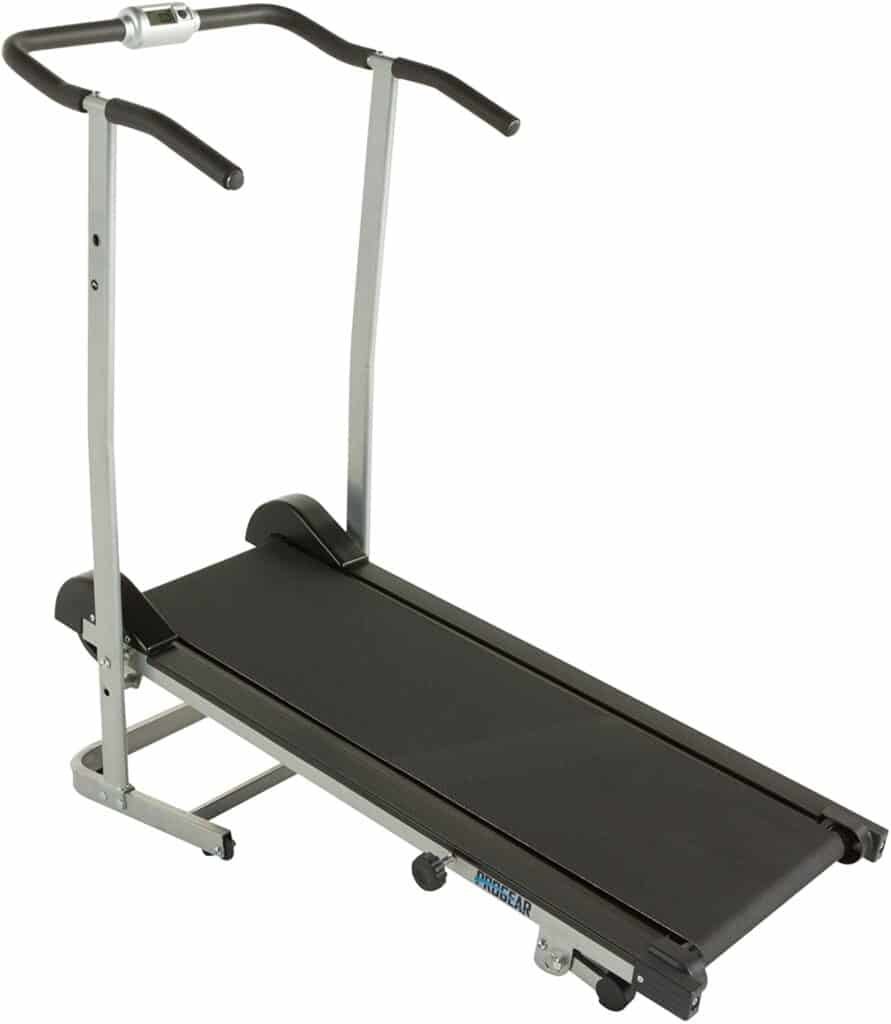 Warranty: Frame – 1 yr, All other components – 90 days
The ProGear 190 Manual Treadmill is a piece of versatile workout equipment.
An excellent exercise, with no power, no maintenance, and a folding space-saving design, with a sturdy steel frame, long and broadside safety rails, and the ability to incline for a more intensive workout
So, in summary, this machine is efficient and handy for increasing strength, stamina, growing muscle, and reducing weight. Minimal assembly is required. The kit includes all necessary tools, and the handbook includes detailed instructions and pictures.

Steel frame with powder coating protects ProGear 190. This treadmill has longer than usual handles with foam grips for added safety and balance. The ProGear 190 console is simple, with an LCD showing time, distance, speed, and calories.

The display does not reflect both readings. To switch between values, users must keep pushing a button on the screen. As a manual treadmill, it has no motor, just like the user's stride.

The ProGear 190 has two quick-set inclination settings of 6 and 10 degrees. These inclination levels are great for short exercise and calorie burn. A low-cost treadmill with high inclination levels, possibly the only one on the market.
Weslo CardioStride 4.0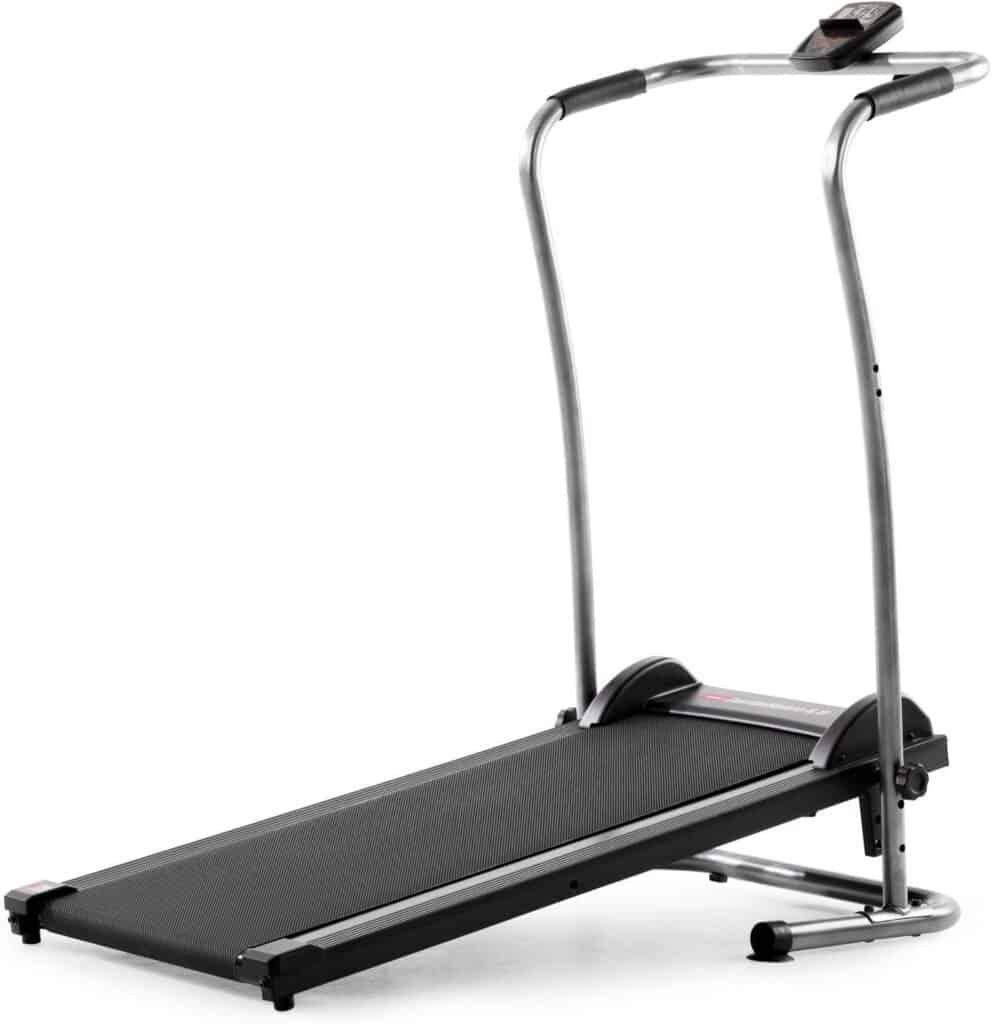 Warranty – Parts & Labour – 90 days
Weslo CardioStride 4.0 Manual Treadmill For Cardio Training is a budget-friendly option constructed of solid steel. Low-impact exercise equipment is excellent for older adults who do not want to strain their joints.
Weslo's treadmill design is collapsible and space-saving, making it ideal for tight areas. It has tiny wheels attached, making it readily movable. It's self-powered and features a big LCD to track your exercise.
It includes a built-in device holder for your smartphone or tablet. In addition, two-position adjustable incline trainers provide a tailored exercise.
It is light in weight. It increases calorie burn and minimises stress on the joints and knees. The tread belt is broad enough for jogging and walking. It features excellent parts and components quality and a strong guarantee.
The CardioStride 4.0 Manual Treadmill has a big LCD that shows exercise data, including speed, distance, heart rate, time, and calories burned. The Weslo CardioStride 4.0 treadmill has two manually adjustable inclination settings up to 19 degrees, giving less stress on joints and greater exercise intensity.
This treadmill has a phone/tablet holder to view a movie/video or listen to music while exercising. This tread belt moves with the user's steps, depending on his pace.
Its features are great, particularly the tablet holder. Its tread belt size, LCD, and other parts allow for decent cardio exercise at home. It is also one of the most affordable treadmills.
Related Articles

7 Best Silent Treadmills: Get Fit While the Neighbors Sleep

7 Best Budget Treadmills under $500 – Are they worth investing in?
Can you lose weight on a manual treadmill?
Yes, but only if you use an incline. Losing weight is all about expending more calories than you consume. Using the incline feature of a treadmill while running or walking burns many more calories than anyone on a plain surface. If not, then there's no point in having the treadmill at all!
A manual incline means that the person operating the treadmill controls how steeply the ground moves under the footpad. This type of incline allows users to get in shape without straining themselves too much. However, if you want to burn fat faster, then you should opt for a higher incline setting.
The best thing about a manual treadmill is that it can be used with any type of exercise equipment such as free weights or dumbbells etc. You don't have to worry about getting your body into position for some fancy machine because this will happen automatically when you start walking/running on it.
Generally speaking, 30 minutes workout is enough to see results. This means you could spend 10 minutes warming up and 20 minutes working out. Of course, if you feel comfortable, you could increase these times.
Can you jog on a manual treadmill?
Yes, but it might take longer than other types of jogging machines. It depends on how fast you go. The faster you go, the more difficult it becomes to keep going. So if you're looking to burn calories just doing a slow jog, then yes, it would probably work fine. But if you want to build muscle mass while burning fat, you'd really need something else.
Manual Treadmill for running?
It might require some initial training before you know what works well for you. It might be difficult to run on most of the manual treadmills as their track is short and narrow.
Is manual treadmill bad for knees?
No, unless you've got arthritis. Most manufacturers recommend against using them if you suffer from joint problems. However, if you're healthy, then why wouldn't you give it ago?
Can I use a Manual Treadmill while Pregnant?
Yes, but make sure to consult your doctor before starting a new fitness routine. Exercise during pregnancy may be beneficial for both mother and baby, however, some exercises might not be safe for either party. Talk to your doctor first so he/she can recommend what kind of exercise would best suit your needs.