The popularity of Blackwater is slowly increasing. Fitness-conscious celebrities the world over are very particular about their drinking water, flavoured as well as unflavored. They go to extreme levels to ensure that the water they are drinking is best suited to their bodies.
Dwayne Johnson(The Rock) and Kim Kardashian have been seen regularly having VOSS water sourced from Iceland and Norway. Shawn Mendes and Gwyneth Paltrow have been seen drinking Flow Water. Various A-listers have shown their liking for Svalbarði polar iceberg water.
Paris Hilton and Gabrielle Union endorsed Bling H2o. Most of these celebrities are very specific about their water, to the extent that they even include riders in their contracts demanding specific brands only.
Recently, a lot of celebrities associated with fitness in India too have been seen drinking black water. These include the fittest cricket star, Virat Kohli, and the ever-fit Malaika Arora, Shruti Haasan, and Urvashi Rautela. All of them are known for their extreme fitness routines and inspirational body dynamics. I am sure if these stars are having black water then it is healthy, to say the least.
Related Readings


Why does Protein make You Feel Full? 2 Solid Reasons
The Best Protein Bread: Nutrient-Dense and Popular in 2022
Blackwater is water that includes fulvic acid (FvA), humic acid and perhaps additional minerals or vitamins. Alternate terms for black water include "fulvic water" and "natural mineral alkaline water". Blackwater is less acidic than bottled or tap water due to its greater pH and alkalinity. Naturalists and researchers have been touting the potential health advantages of black water.
Fulvic acid has been studied extensively for its health advantages. Currently, research indicates that fulvic acid may help enhance health and decrease illness. Fulvic acid has been shown to:
Enable better gut health by promoting healthy gut bacteria.
Aid in electrolyte absorption.
Aids mineral transport and absorption into cells.
Reduce inflammation and free radical damage which are the main causes of many illnesses.
Prevent Alzheimer's disease and other degenerative brain diseases.
May help avoid allergy disorders.
Boost testosterone and sperm count in males.
Natural Fulvic Acid
Shilajit, an old Chinese and Indian Ayurvedic medicine, a tar-like substance found in the Himalayas, has 15-20% Fulvic acid which affects the immune system. It is an antioxidant, and diuretic, and also lowers blood sugar.
Humic Acid
Humic acid is found in soil, sediment and aquatic environments. Humic acid is a byproduct of plant degradation. It's used in medicine. Humic acid is used to boost the immune system and cure viral illnesses including the flu, avian flu, and swine flu.
Is Black Drinking Water Safe?
The dark colour of black water may take some getting accustomed to, but it is safe to drink. Given that black water manufacturers add fulvic acid to water, the real issue is, "Is fulvic acid safe?"
Several studies show that fulvic acid in modest dosages is safe. Shilajit is its primary source. As with Shilajit's impact on testosterone levels, It has no negative effects up to 250mg twice daily.
Natural spring water is considered the purest and healthiest water to consume due to its natural filtering process. Springwater from aquifers is also mineral-rich. Aquifers are a water-saturated layer of rock and sediment under the earth's crust. Natural springs arise when an aquifer overflows and springs to the surface.
How can Alkaline Water Boost Immune System?
Alkaline water is ionised and therefore has a higher pH level of about 8 or 9 than normal tap water which has a pH value of 7. It balances the body's acidity, avoiding many illnesses and chronic diseases.
Alkaline water is readily absorbed by the body and helps it remain hydrated for a long period. It enhances the circulation system, allowing more oxygen to reach critical organs. Alkaline water contains minerals including calcium, potassium, sodium, magnesium, and other trace components that can boost the immune system. It also slows the ageing process by preventing free radical development in the body. Alkaline water is also good for individuals with high blood pressure, diabetes, and cholesterol.
Evidence-Based Complementary and Alternative Medicine reports that alkaline water increases lifespan and improves physiological survival functions. Another research in Alternative Therapies in Health and Medicine says drinking alkaline water regularly prevents osteoporosis and preserves pancreatic beta cells. Another research in the Public Library of Science indicates that alkaline water increases hydration, acid-base balance, and anaerobic workout performance.
Benefits of Alkaline Water
Compared to mineral water, black alkaline water has a pH of over 8.5. It contains over 70 naturally occurring minerals, making it a natural health and wellness solution.
Toxins are flushed out of our bodies by drinking Black Alkaline Water which has a high pH and over 70 natural minerals.
Black alkaline water is high in oxygen dissolved in it. This aids the body's metabolism, which turns calories into energy.
Black alkaline water, like other alkaline waters, helps to balance the body's acidity. This promotes bone health and reduces the chance of osteoporosis. Its balancing effect makes it a great hangover treatment. Drinking black alkaline water successfully restores the body's natural equilibrium and gets rid of a hangover. It's also fun to combine alcohol with black alkaline water, particularly whiskey or vodka.
The minerals in black alkaline water help break down the nutrients in our meals. This guarantees that our bodies actively absorb all the nutrients from our meals, leaving us with a healthy immune system. Due to its alkaline composition, it is also used to treat heartburn and gastroesophageal reflux.
However, it is evident that drinking black alkaline water promotes a healthy mind and body, better equipped to fight illnesses and viruses.
Celeb's Favorite Natural Alkaline Waters
blk. is fulvic-enhanced all-natural mineral water. Powerful electrolytes and a high pH improve hydration and balance.
Contains nutrient-dense fulvic and humic acids, which provide your body with electrolytes, antioxidants, and amino acids.
No calories, sugar, or carbohydrates and there is no taste.
Restores energy, skin elasticity, and system balance. Take with supplements to enhance the effectiveness of blk.
This natural sparkling water gives you long-lasting energy.
Organic guarana, ginseng, B vitamins (B-3, B-5, B-6, & B-12), and caffeine are in Hiball Sparkling Energy Water.
No preservatives or artificial sweeteners are used. Hiball is a no-sugar-added energy drink.
Grapefruit, Lemon Lime, Peach, Vanilla, Blackberry, Watermelon Mint, and Wild Berry.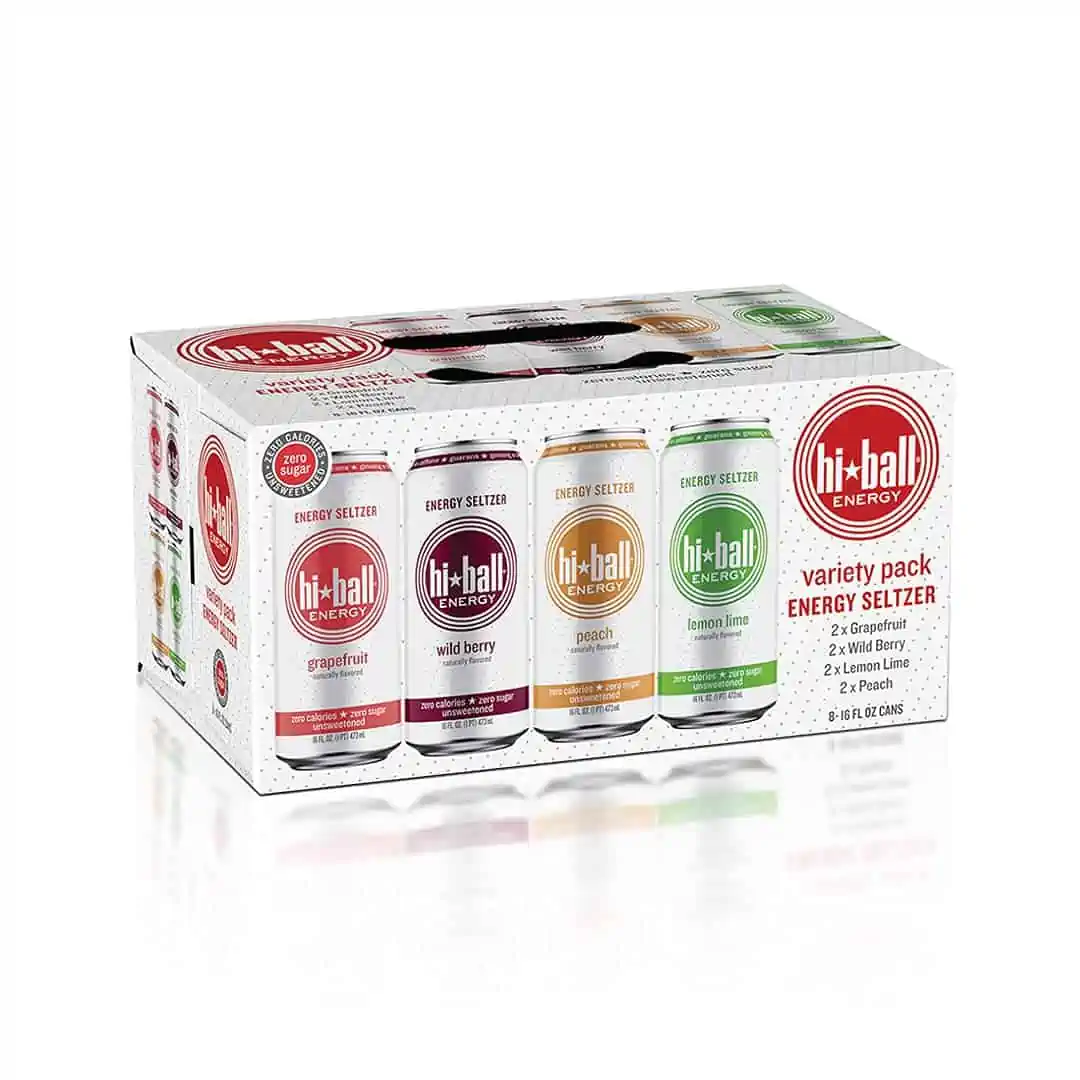 Natural spring mineral water is always refreshing.
Naturally hydrating and electrolyte-rich.
Unique flavour due to its balanced mineral makeup and naturally occurring electrolytes.
Naturally filtered via glacial rocks, giving it its purity, mineral richness, and neutral pH of 7.2.
Contains up to 35% recycled plastic.
VOSS still bottled water comes from an underground reservoir. The outcome is clean, crisp, and pleasant water.
The VOSS water bottle is a symbol of quality and flavour.
VOSS has a clear, fresh, but unique flavour with low mineral content.
Water bottles with a larger opening for infusing fruit.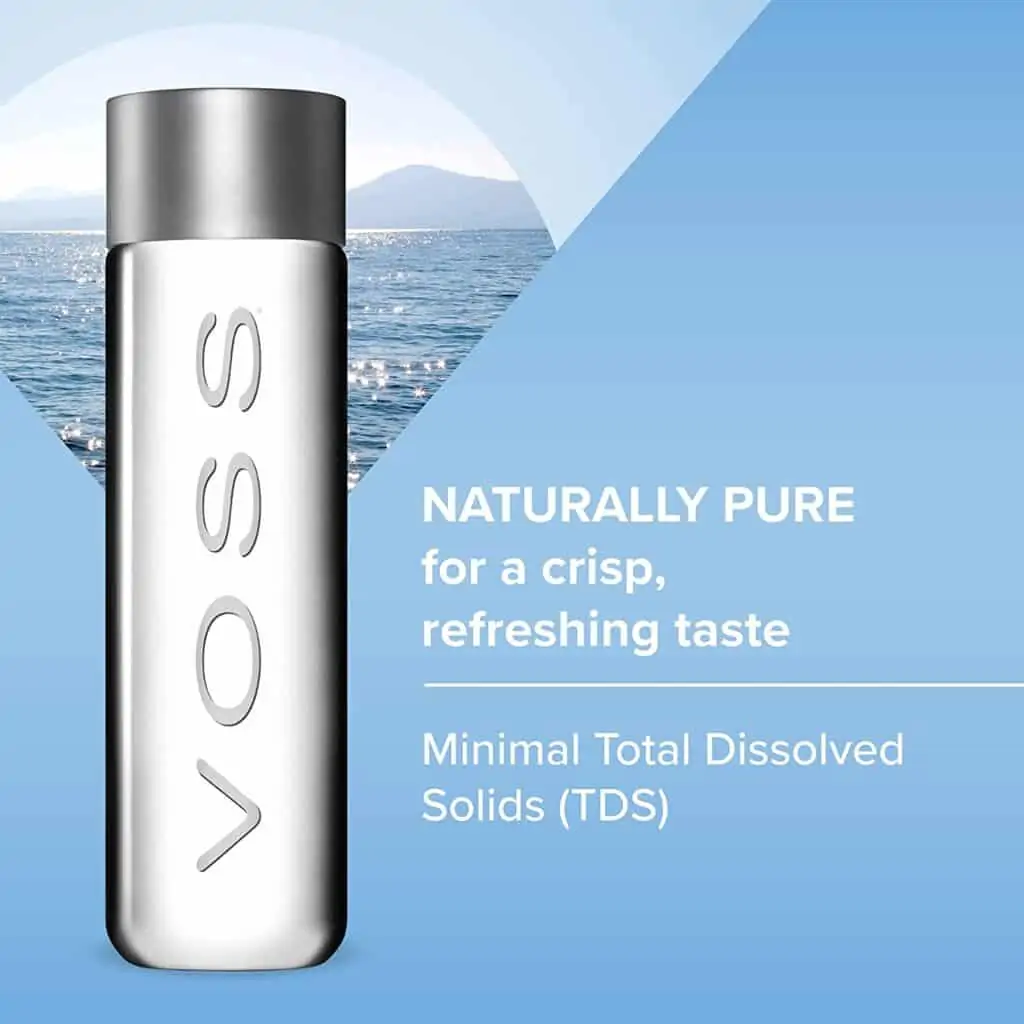 Minerals and electrolytes for hydration in 100% naturally alkaline spring water. pH 8.1
Includes natural minerals including calcium, potassium, magnesium, and bicarbonate, which give it a pleasant flavour.
Made with 75% renewable materials, 100% recyclable and a plant-based cap.
Family-owned artesian spring.
Flavoured with organic cucumber and mint. No sugar, no juice, no calories, no GMOs.
To get a soft, smooth flavour, FIJI Water contains double the electrolytes as other premium bottled water products. Naturally filtered through volcanic rock.
Bottled from a remote Fijian artesian aquifer, untouched by hand.
Rain gently filters through volcanic rock, giving FIJI Water its characteristic 7.7 pH and gentle smooth flavour.
Twenty-four 20 fl oz (591 mL) Essentia Water bottles of 99.9% pure, alkaline water with a pH of 9.5 or higher and a clean, smooth taste.
Essentia Water is purified by micro-filtration.
A proprietary blend of electrolytes enhances the taste and the body's natural mix.
The ionisation process removes bitter-tasting acidic ions.
Supercharged Ionized Alkaline Water.
Lemon & Lemon Zest and various other flavours.
A strong citrus fragrance with a delicate and exquisite flavour accentuated by polished bubbles.
Delicate and unique flavours give a delicious touch to your meals without adding calories
Premium packaging design
Smartwater Bottled Water
Electrolytes were added for flavour.
The naturally cleaned water is produced by vapour distillation.
Unique calcium, magnesium, and potassium combination produce a flavour that is fresh, crisp, and clean.
Hydrates and quenches thirst effectively.
700mL sports cap for quick opening and shutting